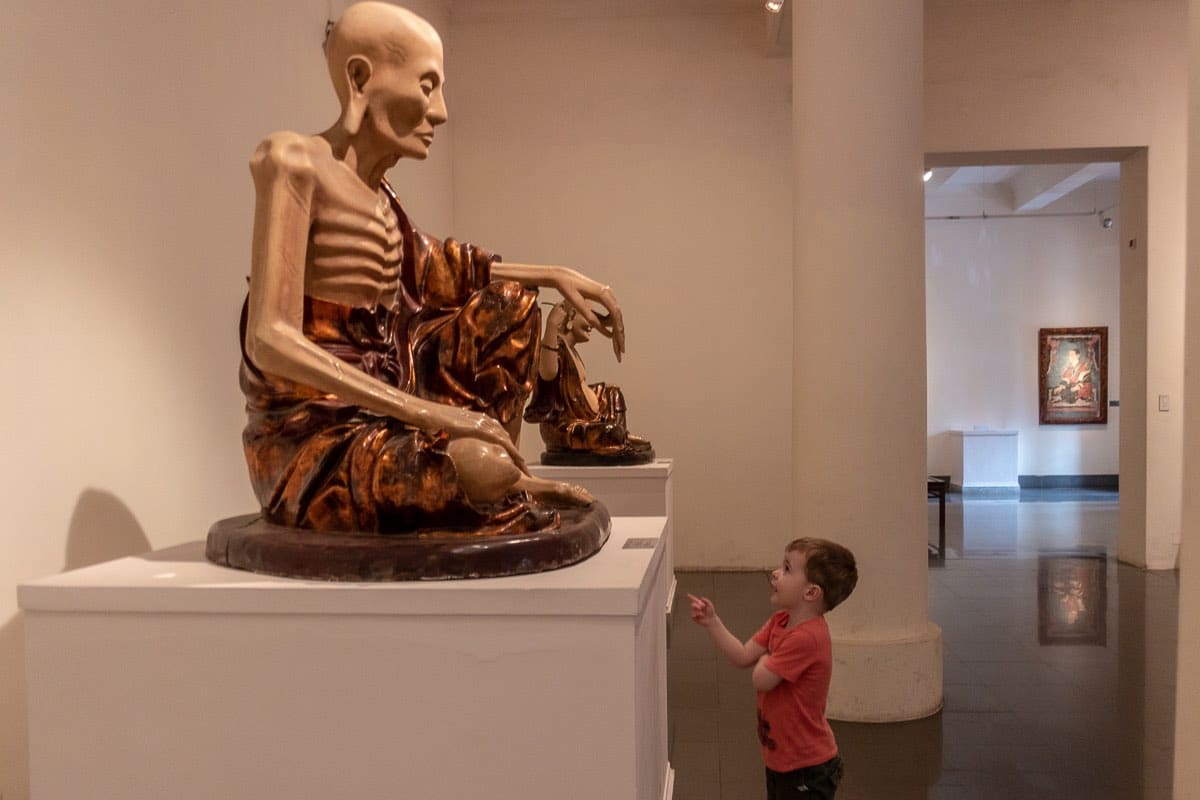 Not only has Hanoi changed since our last visit, but we've changed. Tom and I have several more years of travel under our belt, and our family has grown to include a daughter-in-law and two grandchildren. In 2012, our meandering travels through Vietnam–from Ho Chi Minh City to Hoi An, Hue and Hanoi–were pure discovery. We wrote about where to eat and what to see from the perspective of first time visitors.
This visit to Hanoi in early 2019 came with advance planning and the company of our son and his family, including an almost three-year-old boy and an eight-month-old girl. Since our daughter-in-love had business meetings in Hanoi, the destination was predetermined. She also did the search for accommodation options, looking for best areas to stay. She booked two different Hanoi hotels in two neighborhoods.
Let's clarify up front we wouldn't choose Hanoi as a top destination for family travel with a toddler. But at the same time, we had two weeks to learn our way around, check out a couple neighborhoods, and imagine what it would be like to live in Hanoi, with children. We returned to Hanoi attractions and restaurants we remembered from our previous visit, and checked out some new ones, too.
Some posts on Travel Past 50 may contain affiliate links. If you buy something through one of those links, we may earn a small commission. As an Amazon associate, we earn from qualifying purchases.
Our late February arrival coincided with the ill-conceived meetings between President Trump and North Korea's Kim Jong-Un. While Hanoi was excited to show off its growing economic vitality and peaceful climate, the leaders had little effect other than some closures and traffic jams, further restricting our movement around town.
With that, here's our slanted guide to visiting Hanoi with kids or without, featuring two neighborhoods: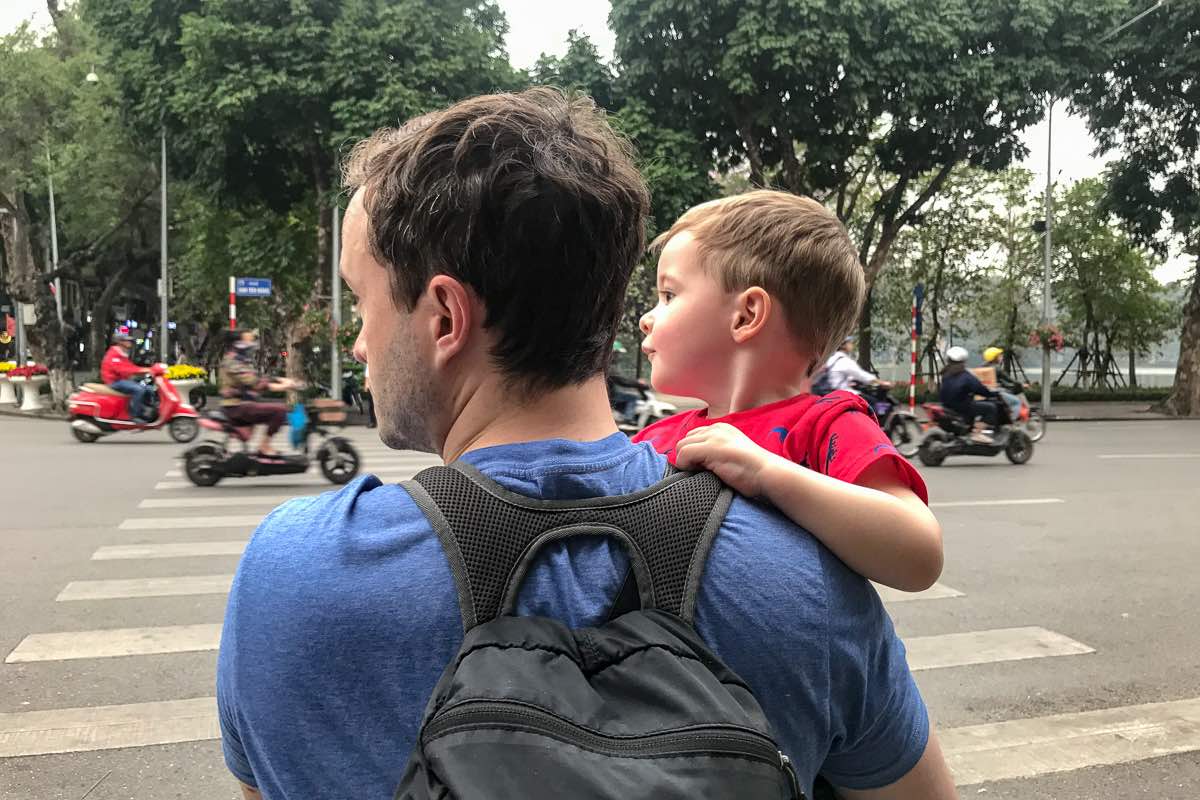 West Lake (Tay Ho) Area
Where to stay: Hanoi West Lake
We were booking for six people–grandparents, parents and two kids. So practical considerations meant we searched for a place with two bedrooms, a kitchen, space for a crib, for naps, and for hanging out without disturbing others.
Elegant Suites in West Lake/Tay Ho Area fit the bill. These apartment suites are popular with family travelers and with young, international professionals with children. Our eighth floor suite allowed views and ventilation. Although we had a kitchen, we took advantage of the breakfast served in the hotel restaurant every day, enjoying the buffet and selections from the menu.
The big hit was a playroom in view of the breakfast area. So breakfast went on a long time. This luxury resort hotel also has a pool and a garden area with more outdoor play space (alas, it was too cold when we were there), plus a huge gym, work-out classes, and full hotel spa services. The big lobby, with a fun display dedicated to the Year of the Pig, allowed some running room. I stole away to the hotel's restaurant a couple evenings for work and a bowl of their delicious soup.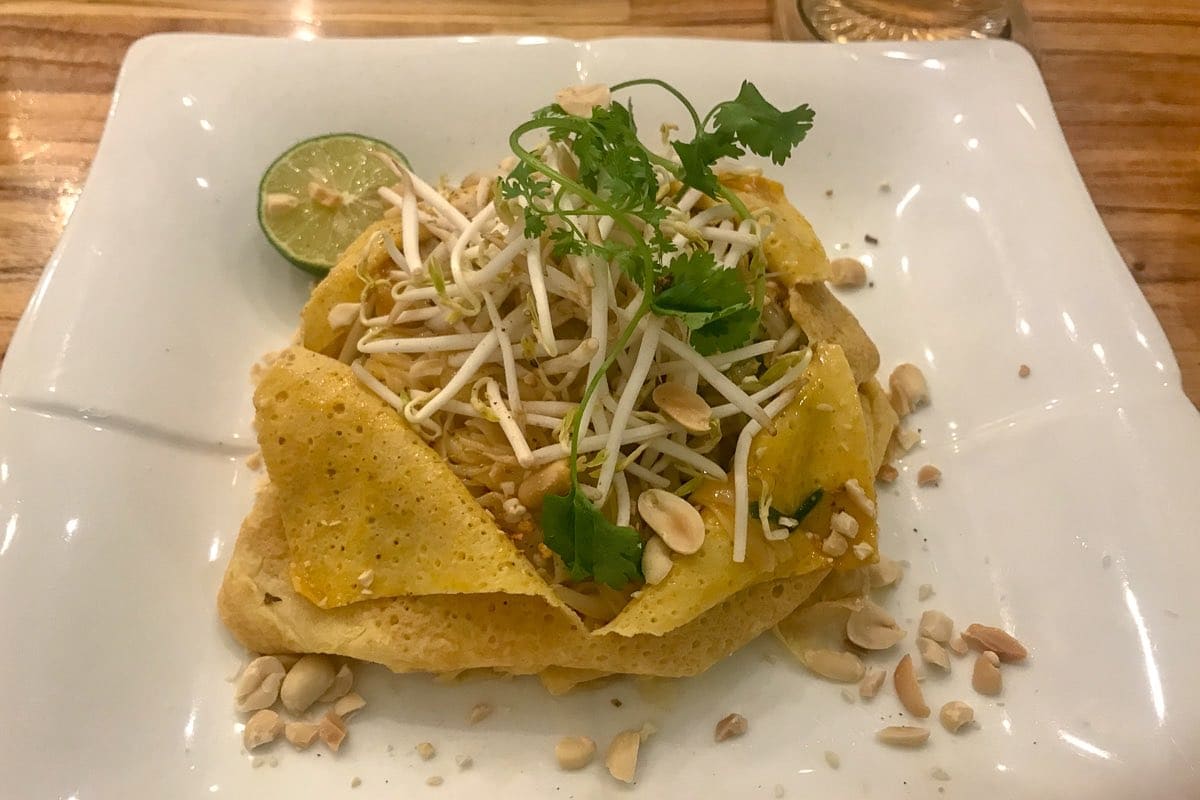 Where to eat: Hanoi West Lake
While staying at Elegant Suites, we were all lagging from travel. We kept thinking we would get out more, but stayed within walking distance except one day. Fortunately, the restaurants in the neighborhood were good and friendly.
May Taste. This reliable little spot is just across the street from Elegant Suites. Get your comfort food here–pho, spring rolls, or the pad Thai pictured here. We returned a couple times and ordered a takeaway dinner here, too.
Pepe La Poule. Our best meal out in this neighborhood was at Pepe La Poule, an easy walk from Elegant Suites through a green and quiet neighborhood of substantial homes. Lunchtime set menus offer samples of the restaurant's contemporary twist on Vietnamese cuisine with a dash of Spanish tapas thrown in. The food is complemented by views toward the lake's shoreline park.
Da Paolo. Instead of hauling kids out to eat, one night we ordered a pizza from the nearby Da Paolo restaurant (recommended by the able front desk staff). It was top notch. A bottle of wine from the hotel restaurant added a festive note. Though we tried, we never achieved this level of delivery or take out nirvana for the remainder of our trip. I'm sure a visit to Da Paolo for a look at their full menu would be worthwhile.
For errands and other restaurant options, we walked up the street to the Fraser Building and Syrena Shopping Tower, a busy intersection of offices, condos and hotels. The grocery store was well stocked in the snack and dairy items we wanted, and there are fast food options within the center, too. We chowed down with a quick Japanese style lunch at Hokkaido Ramen.
Things to do in Hanoi West Lake
While the West Lake neighborhood is quieter than being in the middle of the city, there are few options for outings. Even in this relatively calm area, it's still crazy being a pedestrian along roads shared with bikes, cycles, cars, chairs and market stalls. We tried taking a walk to the lakeside one evening, but quickly abandoned the stroll due to lack of sidewalks and surplus of bugs.
We had hoped to walk to the famous Tran Quoc Pagoda, the ancient Buddhist Temple further south on a wee island of Tay Ho (West Lake ). But we were advised it wasn't a walkable route from our hotel. Finally, we hired a car for a half day (needing car seats which aren't available in a taxi) and did an outing to Vietnam Museum of Ethnology. See below.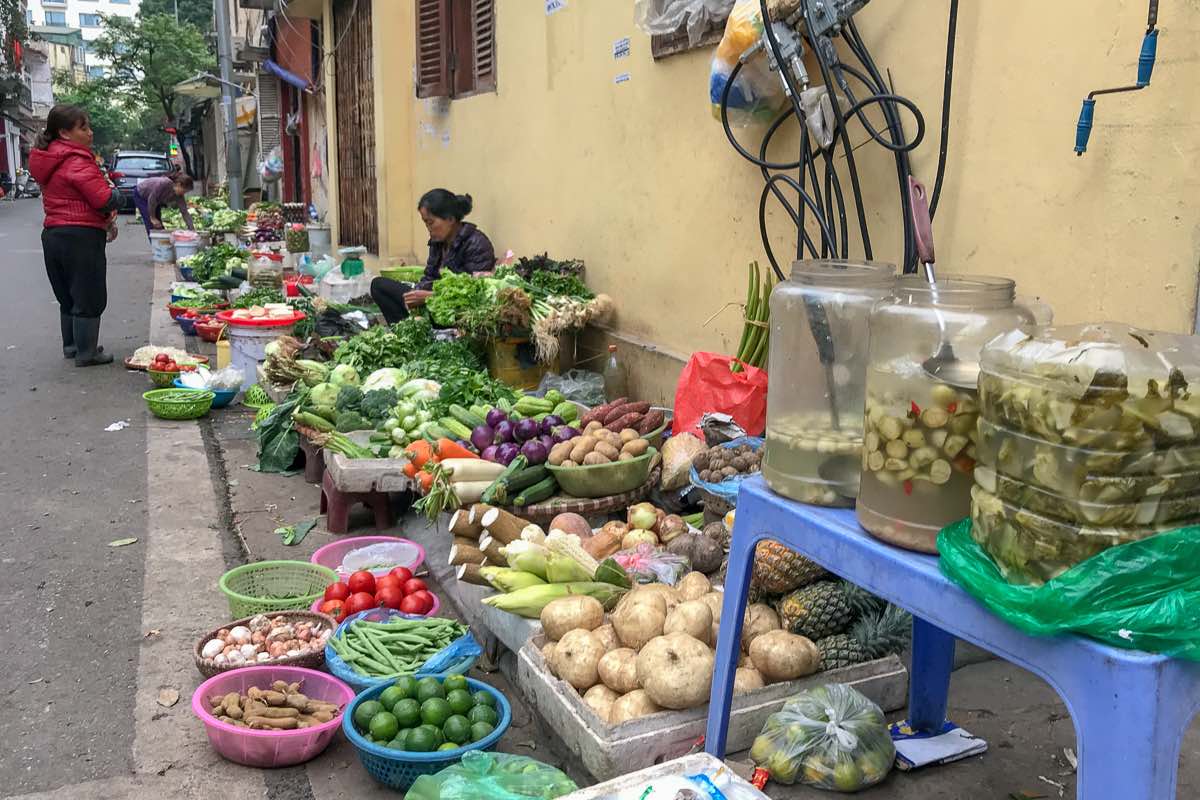 Central Hanoi
To mix things up, we booked our second Hanoi week in the midst of the city at Atlanta Residences. We were less than 10 minutes walk to the Hanoi Opera House in the French Quarter and 15 or 20 minutes walk to Hoan Kiem Lake in the heart of Hanoi's Old Quarter.
Where to stay: Central Hanoi
This neighborhood is reasonably priced, still in an area of high-end hotels, but in a 'normal' neighborhood rather than in the cramped Old Quarter. The Atlanta Residences serviced apartments gave us a really big living space and well-equipped kitchen with eating area, two bedrooms, and a little balcony over our tree-lined street. A big bonus for us was having a Circle K convenience store off the lobby of the hotel, where iced coffee could be had any time of day. With or without sugar!
Where to eat: Central Hanoi
Although our hotel had no restaurant on site, we didn't need it. Next door was a large restaurant where local businessmen seemed to gather for lunch and beers. Very handy, with space to pull in a baby carrier or stroller.
Pho Thin. Highly recommended. Just sit down (or wait, or order take-out) and be served the one and only dish on the menu, Pho (beef or chicken). Lace your heaping bowl with dashes of pepper sauce, and slurp it up with some bread, sold separately. This is widely regarded as one of the best Pho restaurants in Hanoi, and you will not be disappointed. All in, with a beer, will cost about $5-6 per person.
A more elegant experience will be found at RuNam Bistro. With several locations in Hanoi and Saigon, they are famous for their coffee drinks and pleasant Euro-cafe atmosphere. We enjoyed lunch of assorted tartine dishes, chicken wings, and spring rolls, with a sweet to share.  The location near the Hanoi Opera House lies in a district full of nice shops and restaurants, wide sidewalks and French colonial architecture.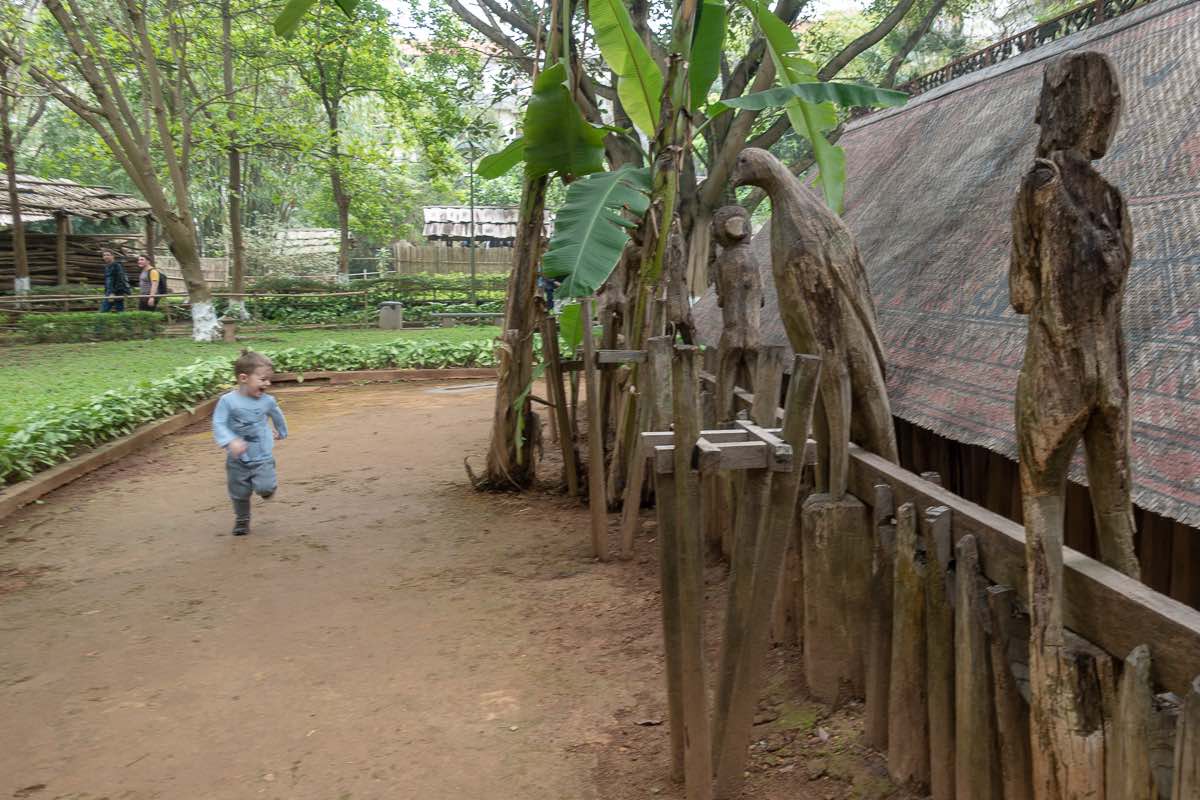 What to see in Hanoi with kids
Our main objective in Hanoi was to find places with space for a toddler to run around. Here are best places in Hanoi to visit with kids:
Vietnam Museum of Ethnology combines displays of artifacts with an open air 'living museum' of houses, all representing the various ethnic groups of Vietnam through history. Our little guy especially liked crawling into the homes and running around the property. Much can be learned from the displays in the main building, but creative parents might encourage a scavenger hunt outside, discovering ritual puppets, funeral icons, gongs and bells, or items of clothing. A restaurant on site welcomes the weary.
Hoan Kiem Lake. The centerpiece of Hanoi may not hold a toddler's attention for long. But walking the encircling parkway is a good way to tire kids out. Stop for photos of the lake and temple, and be prepared to stop for more photos of hugs and kisses which locals love to bestow on babies and little boys.
Ngoc Son Temple. Temple of the Jade Mountain on an island in Hoan Kiem Lake is approached over the picturesque red bridge. Intimate temple spaces inside are richly adorned. But kids will love the huge (375 pound) embalmed turtle with a lake lore of its own. This creature of good omens died in 2016 and was presented for display in early 2019.
The Thang Long Imperial Citadel is a UNESCO World Heritage Site. While Tom delved into the history (see his post here), our little guy mostly enjoyed being out in the open with other children and adoring parents offering sweet treats to the wee American.
Vietnam National Museum of Fine Arts. This is an excellent museum for all ages. What works for a visit with children is that the exhibits range from ancient to contemporary art, painting and sculptures, depicting everything from nature scenes to epic tales, from Buddhist gods to everyday life. We especially enjoyed the rare collections of painting on silk and on glass. With a two-year-old, we covered the permanent collection but skipped the temporary exhibit rooms.
If it isn't lunch or nap time, also visit the Temple of Literature near the Fine Arts Museum. Again, there's a good balance of exotic history and green space to take in (and run around in).
No, we didn't go to a puppet show along the lake. It seemed like too much effort for something that probably would not have held the attention of a 2-year-old, much less his grandparents.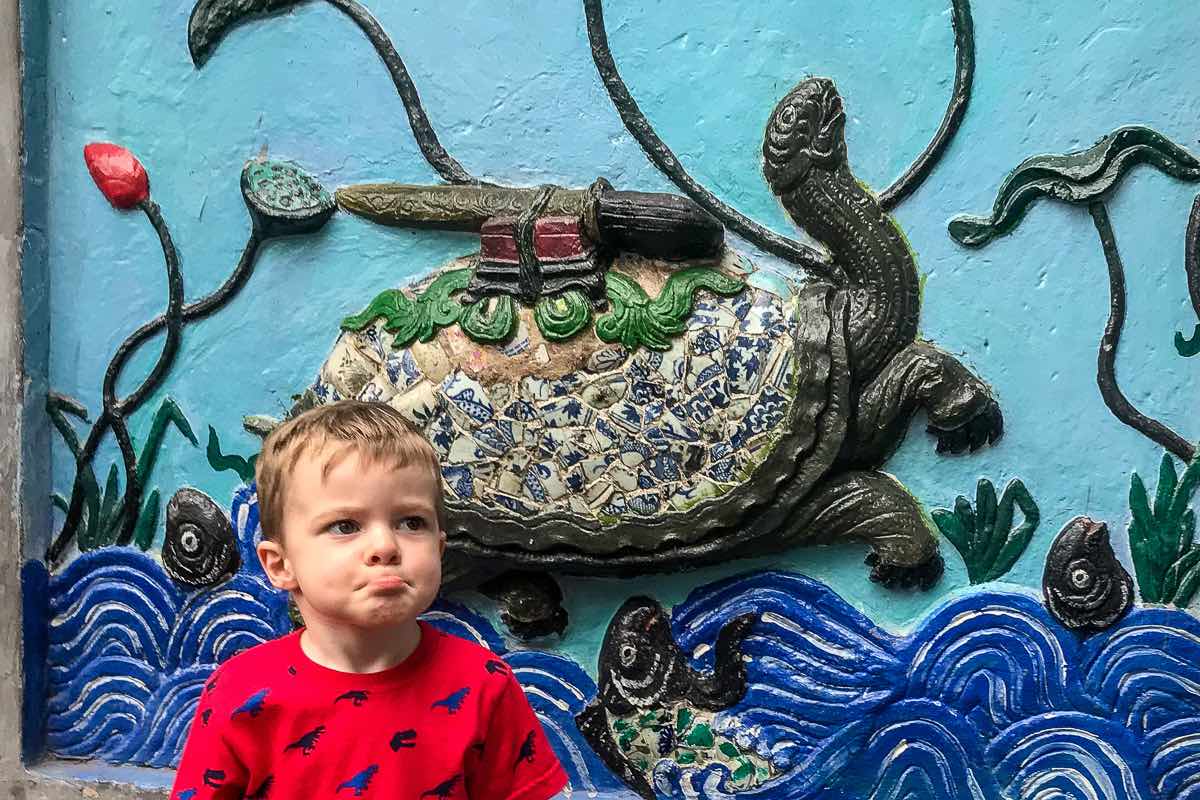 Family travel outside of Hanoi
The six of us planned a weekend escape to Ha Long Bay. Apart from the traffic jam impeding our way out of town (thanks, Kim Jong-un) it was a welcome break from the city to this beautiful UNESCO World Heritage Site. Read about our family travel to Ha Long Bay here.
More to see in Hanoi: Walking the Old Quarter
Our kids and grandkids left Hanoi a day before us, so we took to the streets on a self-guided walking tour. Follow along here to see the best of Hanoi's Old Quarter:
Start at Hanoi's Opera House, in a neighborhood we likely didn't visit on our earlier visit. We were impressed by the colonial architecture and the nice galleries and shops along Hai Ba Trung and Hang Khay streets.
From the Opera House continue west to Hoan Kiem Lake, then walk up Hang Trong (on the west side of Hoan Kiem Lake). Now you're in the heart of the Old Quarter where shops are roughly organized by trade. Much of this street has shifted to souvenirs, but galleries and shops with arts and crafts are plentiful. Once you wander a block further north, you're suddenly in the hardware and plumbing district, also fascinating.
Circle back south on Ly Quoc Su (one street to the west) and then zigzag through this neighborhood cutting west again on Ngo Huyen (past Duong's Restaurant and various hostels).
Next we traced back east along Au Trieu. Here, surprisingly, is the comfy Pasteur Street Brewing (where we stopped for a couple cold ones) and some bright boutique shops, in sharp contrast to the dull cramped shops of yore.
Au Trieu puts you out at St. Joseph's Cathedral and a lively square packed with students at the end of the day.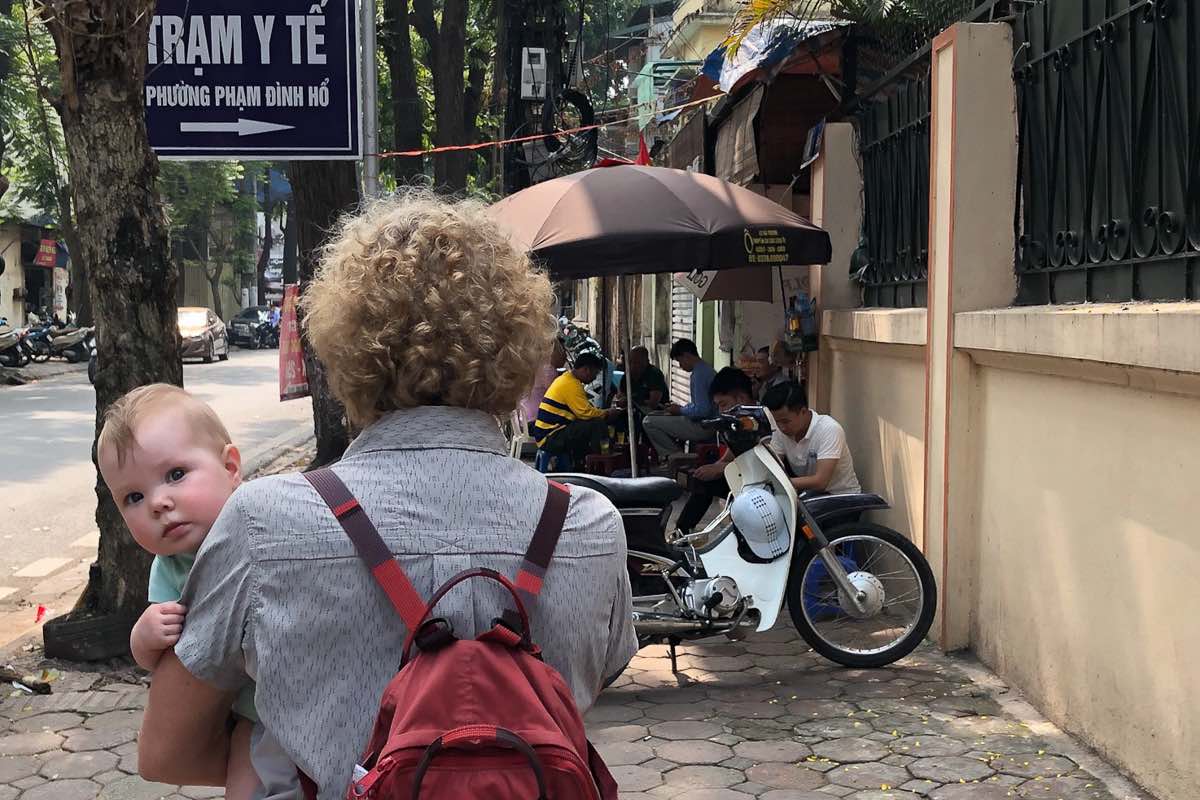 On our way back to our Atlanta Residence hotel, we were struck by the changes in Hanoi and the many contrasts at street level. (This area south of Hoan Kiem Lake, btw, is where you'll find two popular Hanoi attractions: the "Hanoi Hilton" Hoa Lo Prison and the Vietnamese Woman's Museum.)
Hanoi Revisited, Seven Years Later
We hadn't recalled all these wide streets and sidewalks, traffic lights, and modern shopping malls. But by the same token, we were still surrounded by the familiar sights of Hanoi: street food stands, cooking on the sidewalk, motorbikes ignoring one-way streets, little plastic chairs everywhere, and people gathered around their coffee drinks.
Hanoi is functioning in a more highly organized fashion than in 2012. And yet, much of Hanoi is still reaching out and welcoming visitors in the same old way: with smiles, iced coffee, and delicious food to share.
On a related note, Kris writes about her trip to the emergency room in Hanoi after getting bit by a dog–inside a shop in the middle of the city! Read the story here.
On a brighter note, read about our little side trip from Hanoi to HaLong Bay, pretty as the pictures.
A visa is necessary for Americans to travel to Vietnam. We use iVisa whenever we need a visa for any country. Great service, and a small price to pay for them to navigate the visa process for you.

You can click the link above, or use this widget below to start the process of getting a visa for any country.
Save or share this post using these pins or any of the social media buttons above.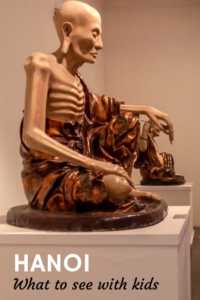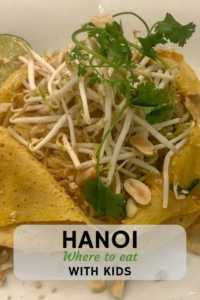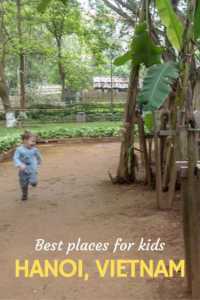 Travel Planning Resources
Looking to book your next trip? Use these resources that are tried and tested by us. Flights: Start finding the very best flight deals by subscribing to
Thrifty Traveler
. Book your Hotel: Find the best prices on hotels with
Booking.com
. Find Apartment Rentals: Find the cheapest prices on apartment rentals with
VRBO
. Travel Insurance: Don't leave home without it. We recommend
Allianz Travel Insurance
. Need more help planning your trip? Make sure to check out our
Resources Page
where we highlight all the great travel companies and products that we trust. See all of the gear and books we like in one place on our
Amazon shop
.