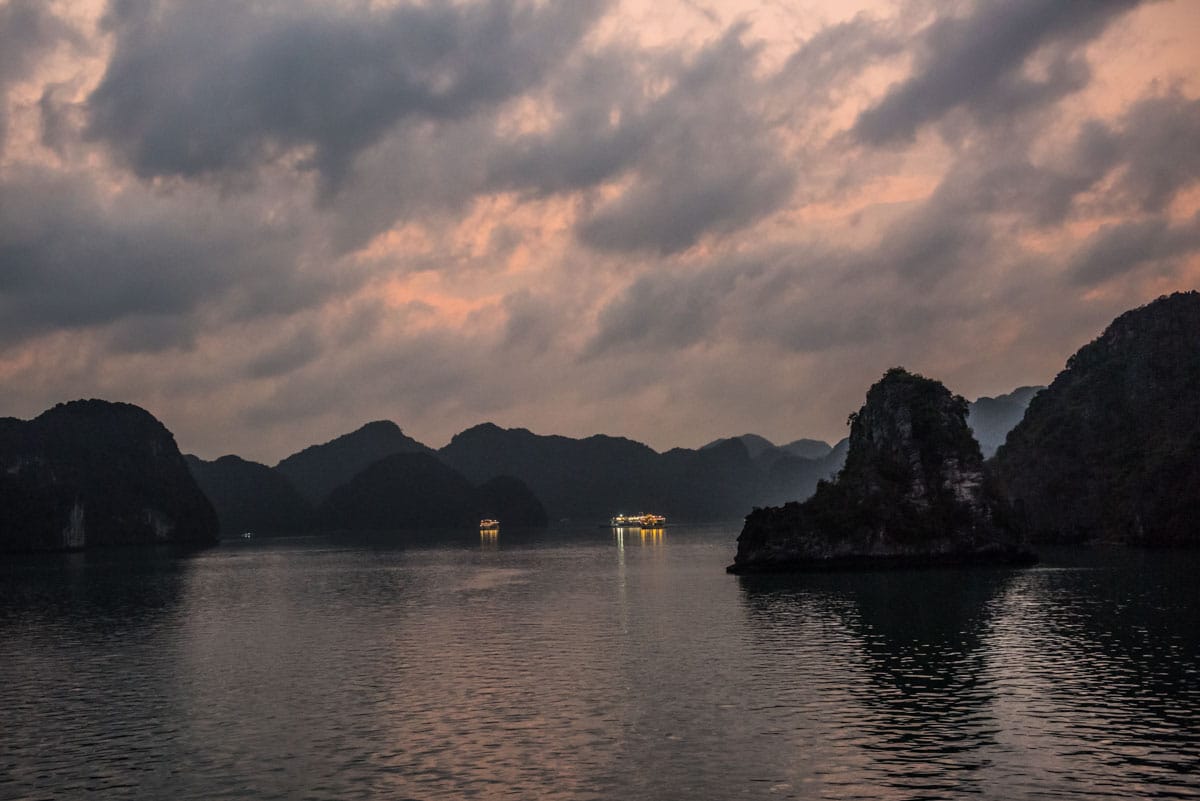 We debated long and hard about our travel plans to Ha Long Bay in northern Vietnam. With almost two weeks based in Hanoi, we had plenty of time to do the side trip. And it was pretty high on our list: the entire bay is a UNESCO World Heritage Site we hadn't visited on our previous trip to Vietnam. The question for us was whether a Ha Long Bay cruise would be right for our family travel with a toddler, infant, and four adults.
Just days before leaving for Vietnam, we booked a one-night two-day Ha Long Bay cruise with Stellar of the Seas. We were drawn by the boat–the newest and nicest on the bay–and the photos of the on-deck pool and 3-hole mini golf course. It seemed this would be good for kids, and it promised to sail beyond the most crowded corners of Ha Long Bay.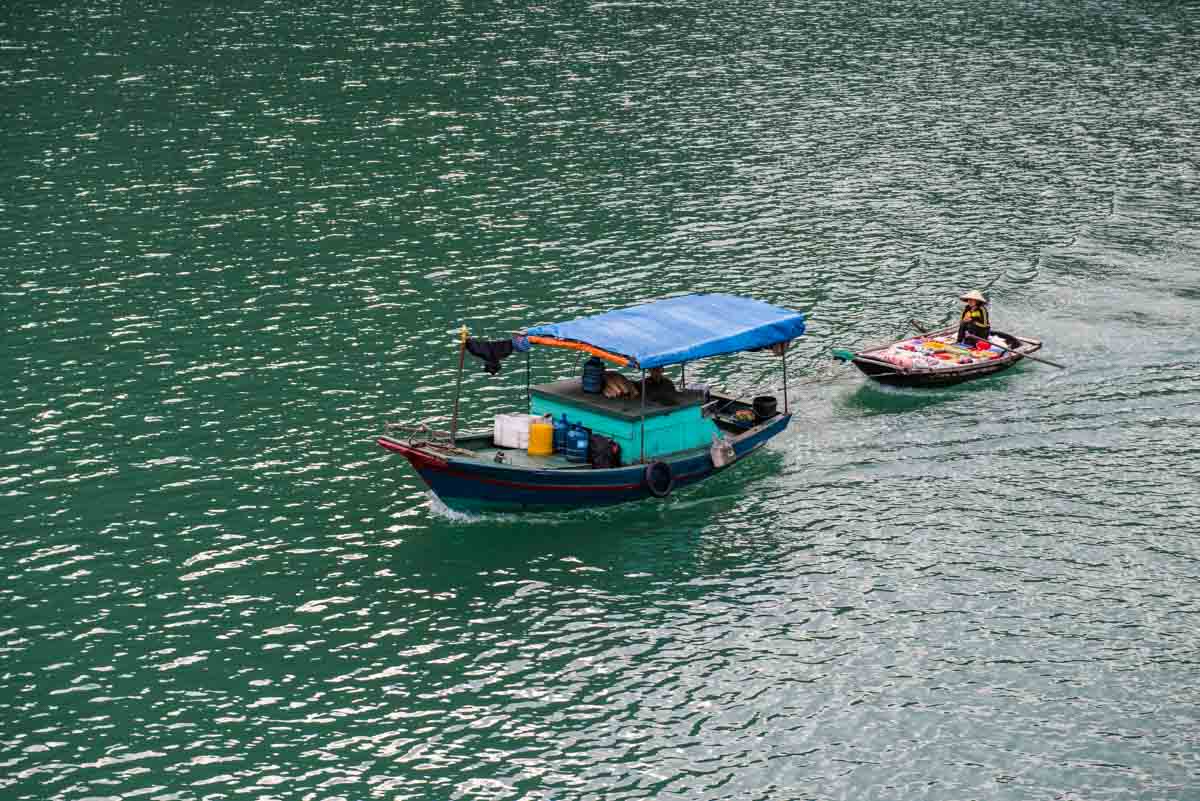 UNESCO World Heritage Site
Inscribed in 1994 as one of UNESCO's 'Natural Sites' (and one of eight World Heritage Sites in Vietnam), Ha Long Bay is noted for its scenic beauty and biological interest. The bay is up in the northeastern corner of Vietnam, near the top of the Gulf of Tonkin, and holds over 1,600 islands. Remarkable for their limestone karst formations jutting up out of the water, the islands give the bay its name. 'Ha Long' means 'descending dragon,' an image derived from the undulating protrusions. The small, steep islands are covered with greenery. But, for the most part, the land is too drastically vertical to accommodate people, hence the islands' intact bio systems.
Planning the Trip and Transfer
At one point, we considered staying on land, not sure if being 'stuck' on a boat would be wise. But Haiphong, the nearest large city, is too big, too distant from the water, and would have required more logistics transferring by car for day trips. The town of Ha Long is a crowded touristy place built where everyone boards and disembarks, but otherwise has nothing going on. We considered Cat Ba Island, large enough for a national park, trails, and some accommodations, but nothing convinced us we'd be comfortable there with kids and be able to take in the scenery.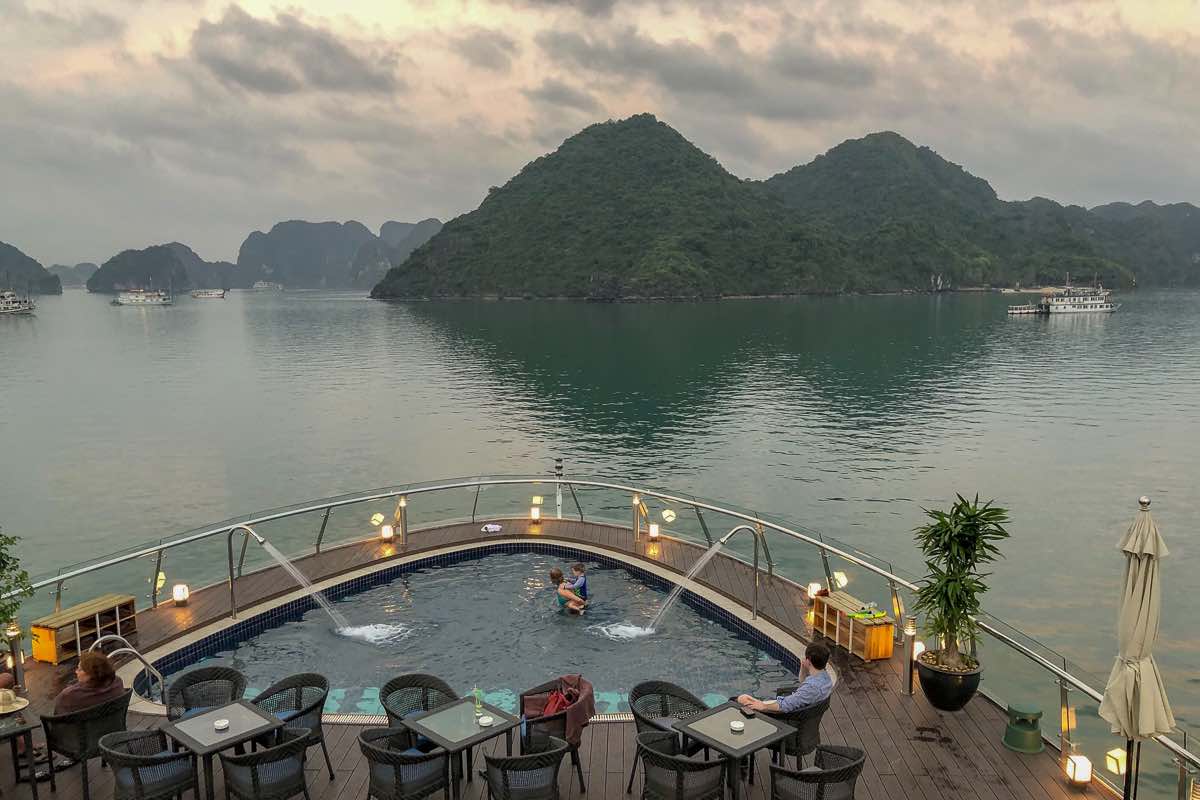 We finally pulled the trigger on the Stellar of the Sea cruise despite it being a little pricey, because it looked much nicer than some of the dubious cruises and excursions out there. The price via Booking.com was about $450 per cabin, including meals and extra crib/bed in each of our rooms. We paid $180 for 6 person round-trip transfers from Hanoi ($15pp each way), using one of our own car seats and one supplied by Stellar. (We were glad to have booked the transfer with Stellar rather than on our own, as the day of departure was total gridlock in Hanoi due to North Korea's Kim Jong Un leaving town. At least Stellar staff knew we were accounted for, though late.)
On Board our Ha Long Bay Cruise
The Ha Long Bay Cruise delivered us to the scenic sites, and added to the experience with some good food and a couple excursions off ship. The basic itinerary starts around noon in Ha Long City, where passengers are ferried to the ship which is anchored about 20 minutes away. (Ha Long's shallow port can only handle the shallow-hulled vessels that fill the tourist routes. Many are wooden, some are decorated to look like old sailing junk boats, and most show their age.)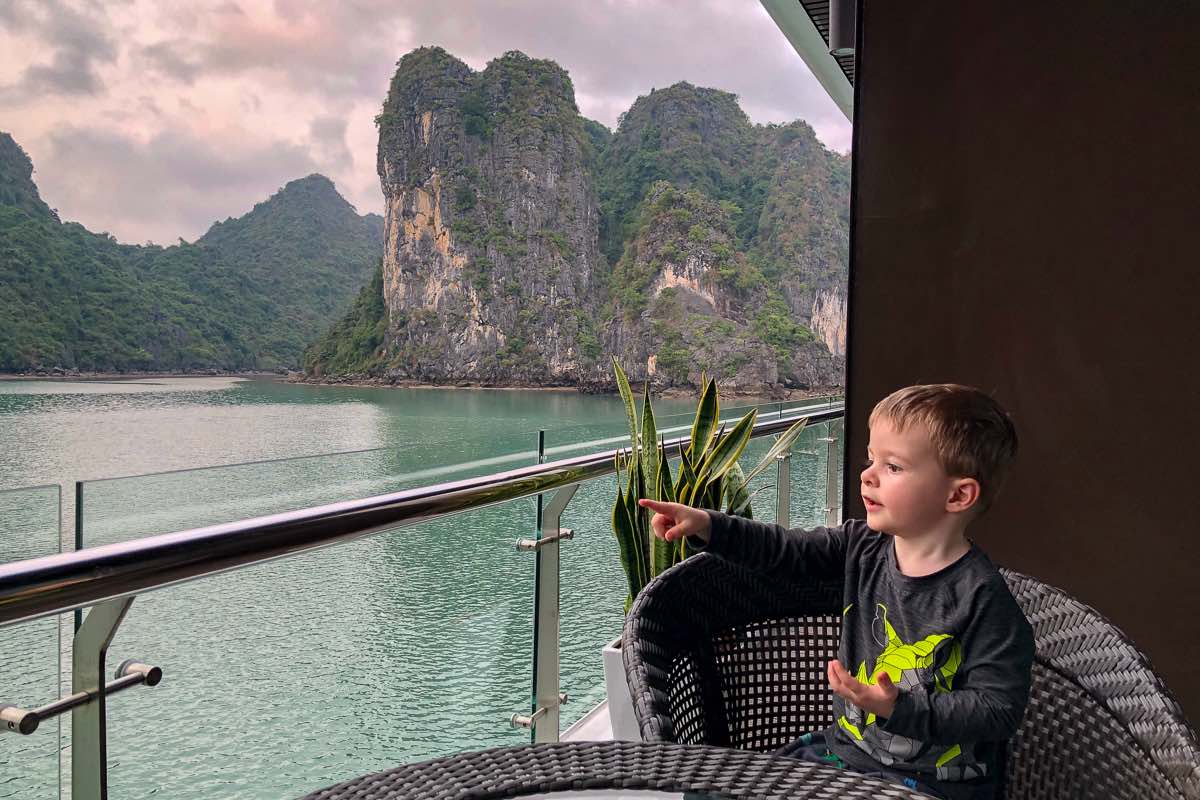 After boarding Stellar of the Seas, we were served a set course menu with soup, salmon, and a pleasant view as we sailed out of the main harbor. Once we checked out our cabins, spacious and opening to balconies, the parents of said children immediately considered extending our voyage another night. Or two. For family travel in Vietnam, this is a great break from Hanoi.
The bay outside Ha Long City sees about 250-300 boats heading out per day, with some 10-15,000 passengers. Yes, it's crowded out there. Another 20 ships, including Stellar, are licensed to follow routes to the southeast, a bit further afield toward the leeward side of Cat Ba.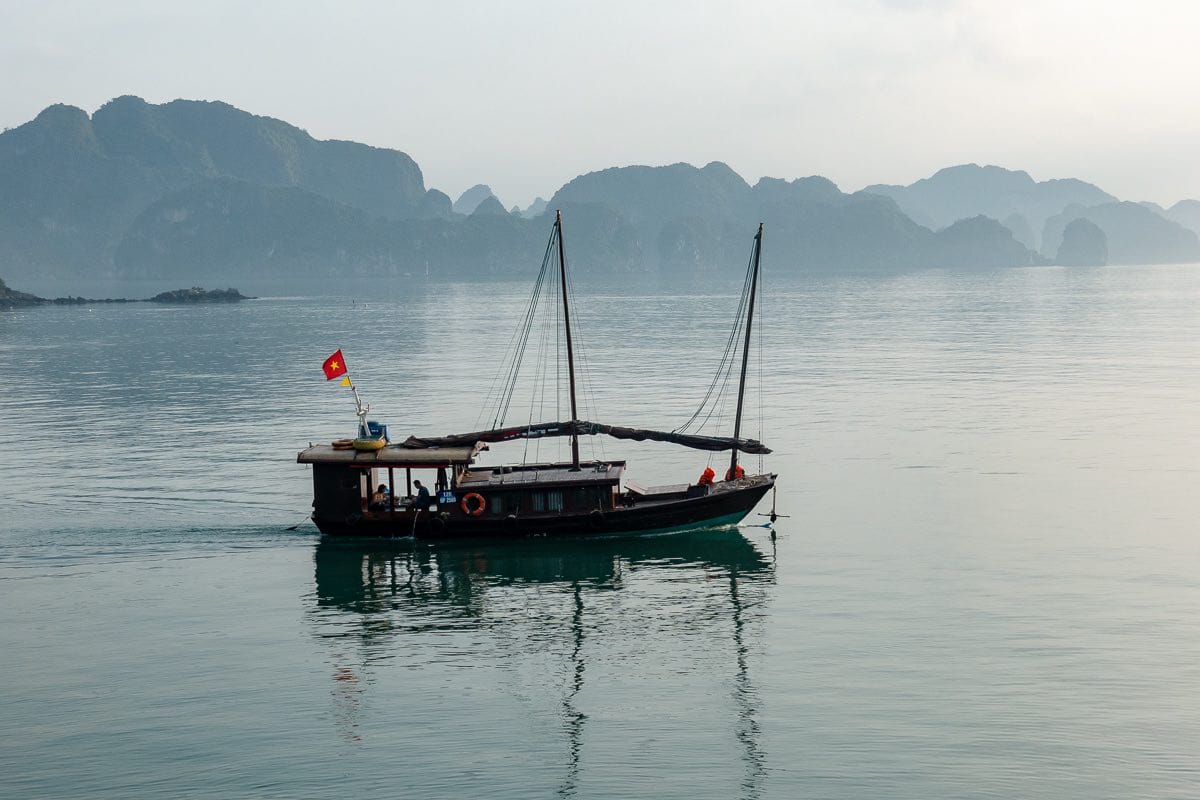 Once we'd reached our designated area, guests were free to venture out on kayaks or lounge around the ship. By kayak, I explored around a couple islands, through some shallow channels, under rocky overhangs, and along shores strewn with abandoned fishing cages. Nearby was the floating office of an enterprising kayak provider who supplied the ships that were anchored there, and a family fishing operation. Both had pulled together a hodgepodge of docks and huts so that they could eat, sleep, work, sell, and otherwise amuse themselves out on the water.
Out on Ha Long Bay, you are never really removed from the city, much less civilization. The community is spread across the water. But still, the scenery and light are the main focus.
Evening options for us included enjoying the sunset, taking photos, goofing around in the pool, and enjoying the balconies of the very nice cabins. Even the bathrooms were spacious! After dark, when we had approached our overnight mooring, the front deck was set up with a bar-b-que buffet, and guests ate inside or out as they wished.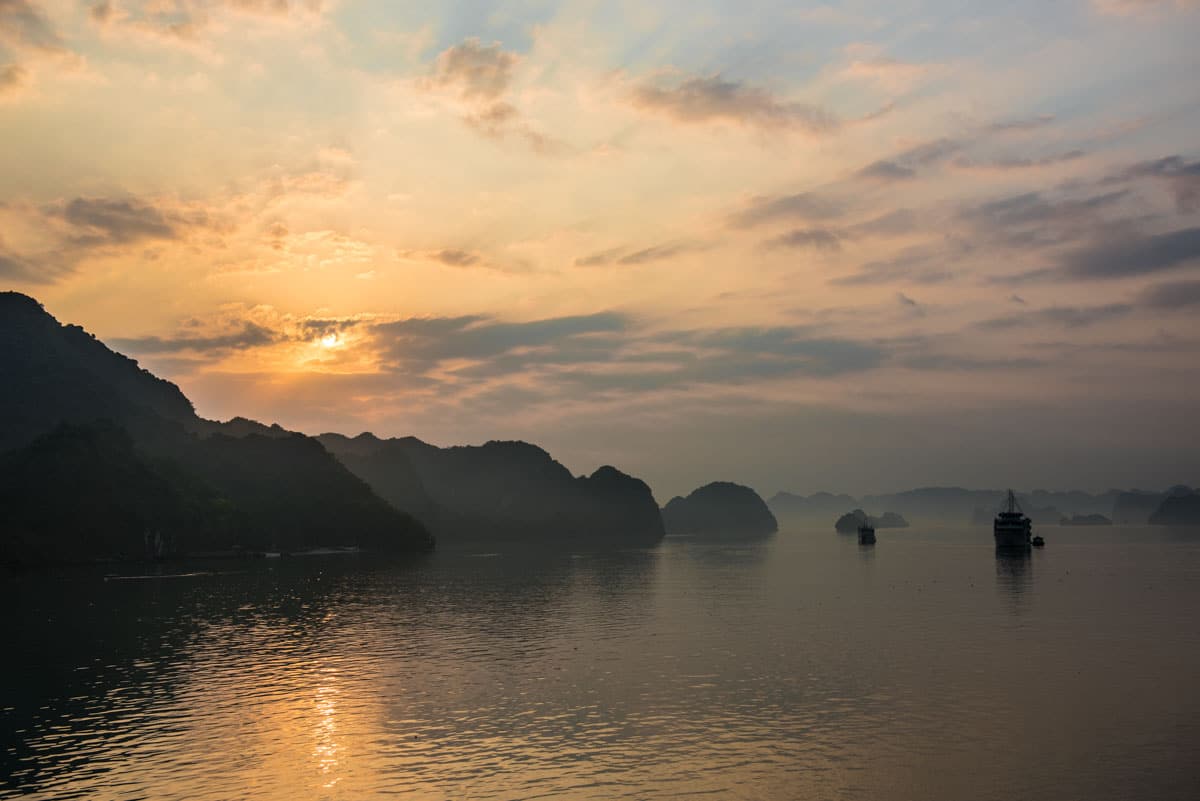 Day two started at sunrise, or even earlier if you have an infant who's sleeping according to North American time zones. Tai Chi at sunrise is wonderful, and a breakfast buffet gives guests an easy way to start the day.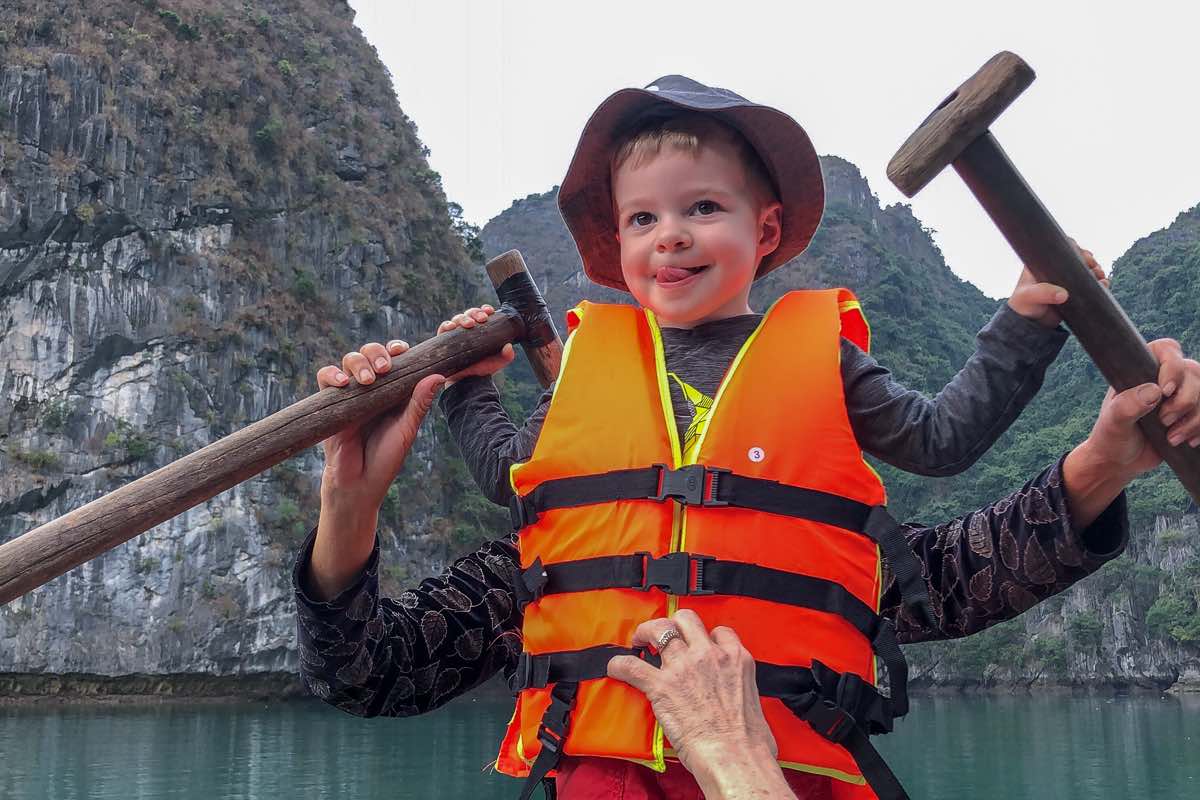 The morning excursion was to the Dark and Bright Cave. This turned out to be perfectly appropriate for our toddler, even though it meant being confined to smaller boats for a couple hours. Again, there was a shuttle by boat to a floating fishing farm, and then a transfer to a rowed wooden boat. After 10 minutes rowing, we were delivered through the cave to a big peaceful inlet surrounded by steep karst mountains, secluded from the rest of the world.
We returned to the ship in time to pack our overnight bags and head back to the dining room for another very nice set menu meal: clam soup, scallops, and a platter of fixings to make your own spring rolls.
Though we would have loved to add another day to our Ha Long Bay cruise, other commitments prompted us to return to Hanoi. The fresh air did us all good, and the two babies slept nearly all of the three hour drive back to the city.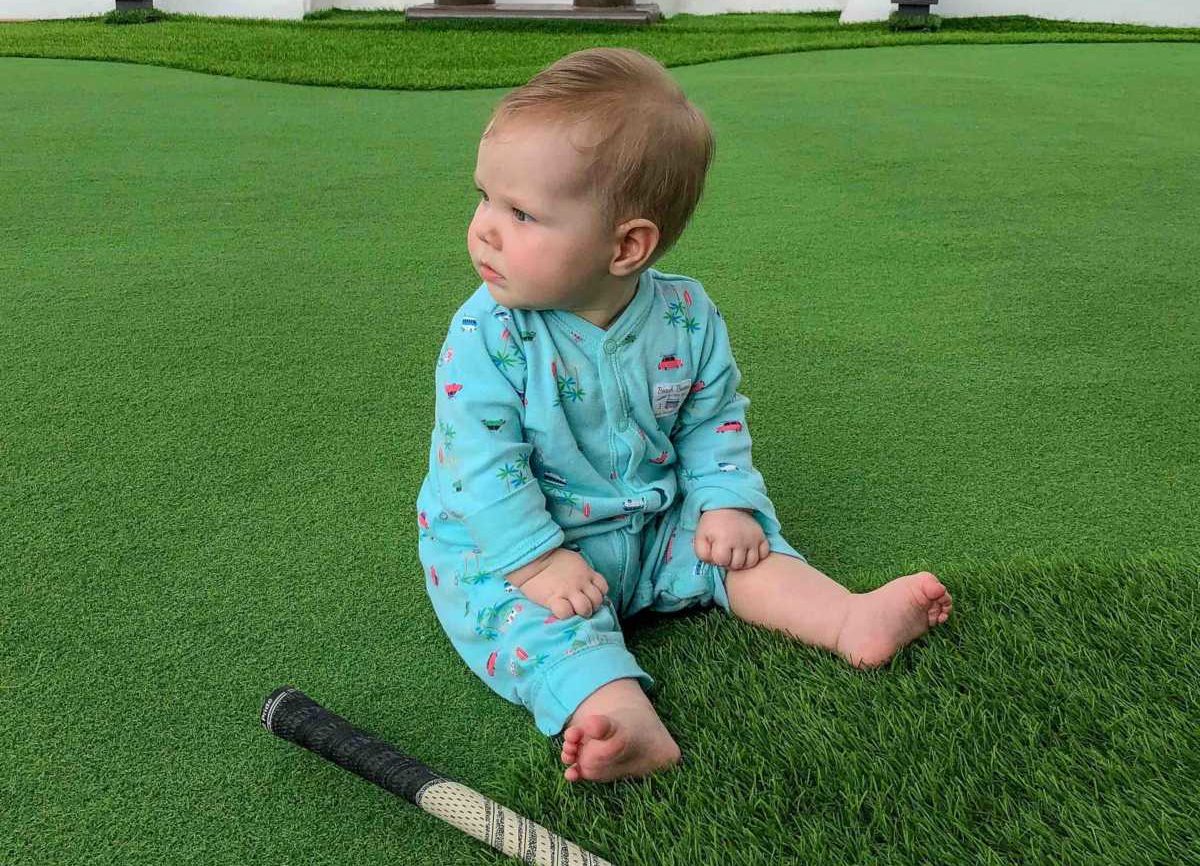 A visa is necessary for Americans to travel to Vietnam. We use iVisa whenever we need a visa for any country. Great service, and a small price to pay for them to navigate the visa process for you.

You can click the link above, or use this widget below to start the process of getting a visa for any country.
When you're thinking of traveling, your first stop should be our Travel Resources page, where we list all the essentials you need to make your travels easier, cheaper, safer, and more fun.
You can also help yourself get ready for your travels by reading our Get Started Planning Your Trip Now page.
We love traveling–with the right gear. We've gathered a lot of the stuff we use to make travel more pleasant and efficient all on one page. Shop our Travel Past 50 Amazon page to find our favorite gear. If you purchase something from the store, Travel Past 50, as an Amazon affiliate, may receive a small commission at no extra charge to you. Thanks.
We never leave home without our travel insurance. Nor should you. Search for the travel insurance from Allianz that best meets your needs, whether it be an annual plan or a single trip.
You can see (and buy prints) of most of our travel photos in one place on this page.
Note: This post and other posts on TravelPast50.com may contain paid or affiliate advertising links. As an Amazon Associate we earn from qualifying purchases.