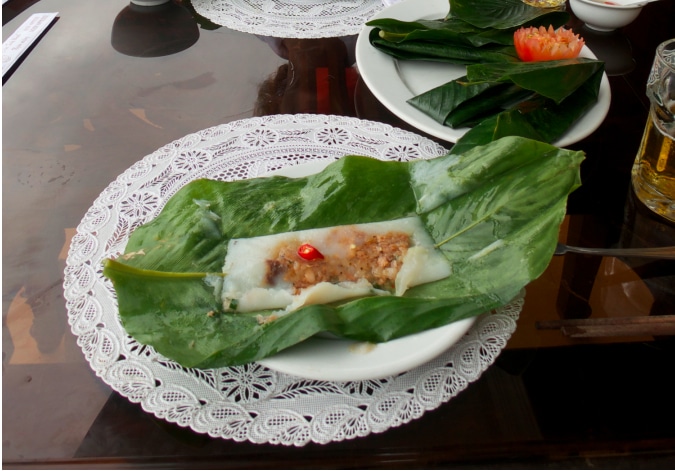 Like I said, enough of the war stuff. Let's talk about the food in Vietnam.
(You can see Kris's take on Vietnamese food here.)
We've been in Asia for three months now and it seems like wherever we go, the food keeps getting better. It was wonderful in Bali, better and spicier in Thailand (although I did get a bit of gastro distress from one street food experience) and subtler, yet perhaps even tastier in Vietnam.
I've covered the former two, so let's recount Vietnam. Our first meal in Ho Chi Minh City was at a place called We near the War Remnants Museum. I'm of the opinion that a good way to pick restaurants, or street food for that matter, is to look for crowds of locals. That usually means good food and reasonable prices. Now a restaurant will never be as cheap as street food, but you do have to pay something for service and a table, and the tables at We were crowded with Vietnamese. In fact, when we sat down, we were the only foreigners in the place.
I'm a big fan of spring rolls, and as far as I'm concerned, the spring rolls define whether an Asian restaurant can do things right. They were right here. Hot, thin skinned and crunchy. Like I like them. And with a fish sauce that was slightly sweet and tangy at the same time. Perfect. I honestly don't remember what else I had, but I'm sure it was good since I sure don't remember it being bad. (I usually remember the bad meals more than the good.) Kris had some sort of crunchy fish thing, I remember, and she loved it. We each had a beer, too, and the whole thing came to about $14. That's two appetizers, two mains, two beers, and a nice clean modern place with good service, which we craved after eating mostly street food in Chiang Mai.
Another meal in Saigon (will I ever get used to calling it Ho Chi Minh City?) was outstanding, too. The restaurant Nha Hang Ngon, which was in a garden setting of outdoor seating with lush trees and open walled seats under cover inside. We went inside, mostly for the shade. (Saigon is hot, and noisy, so sometimes getting off the street is a good idea, even if you somehow feel you ought to nag at yourself to accept the authentic ambiance that is offered.) There, I had the Pho Ga (chicken soup with veggies) and Kris had, Banh Xeo–marvelous crisp pancakes stuffed with shrimp, pork and veggies, and which represents itself as the signature dish of Saigon. Fantastic. We had the spring rolls, too, out of my aforementioned habit. Kris had a beer and I had a tonic to ward off possible malaria. We had coffee and ice cream for dessert, and again the whole thing came to about $14, plus tip.
Make a point of looking up both these places between stopping for skewers of meat and pho on the street (those will run you about $5 for a full meal's worth for two people.) For the extra nine bucks you get beer, dessert and a much more comfortable chair.
On to Hoi An, which we had been told was the culinary capital of Vietnam. A deserved reputation, I'll say.
The most noteworthy restaurant is Morning Glory, which seems to be sort of a collection of various street food vendors that have cooperated to offer their wares under one roof. There, we sampled the signature dish of Hoi An, which are called White Rose Dumplings in English. That's what they are: tender steamed rice dumplings stuffed with shrimp and then dipped in a fish sauce as you plop them into your mouth. Delicate is the word, both in texture and flavor, which is a nice change from the usual red peppery fare we'd had heretofore.
We followed these again with crispy pancakes stuffed with a sweet and spicy mix of shrimp, pork, sprouts, star fruit and green banana and then some rice paper rolls, also with a shrimp and pork stuffing. Seems like a bit of duplication, but those are your choices usually, and the preparations were entirely different.
Spring rolls, too, again, and then fresh fruit, ice cream, and coffee for dessert. Along with two beers each, this came to about $25, including tip, which was our splurge meal for the week.
Since we'd blown the budget the day before, we wandered the waterfront the next day for lunch. We stumbled upon a little hole in the wall with four tables called Friendship. They enticed us out of the midday heat with draft beers for 40 cents each, then got us to stay with a three course meal for $4 each. Those included the White Roses as a starter for Kris, more spring rolls for me, then a veggie dish featuring eggplant in a clay pot for Kris and pork and noodles for me. We added on some more beers, a mango smoothie and some fresh pineapple and banana for dessert. The whole deal, because we splurged on the smoothie, came to $10 for the two of us. We liked it so much, we came back the next day for a cooking class. Kris wrote a bit about that here.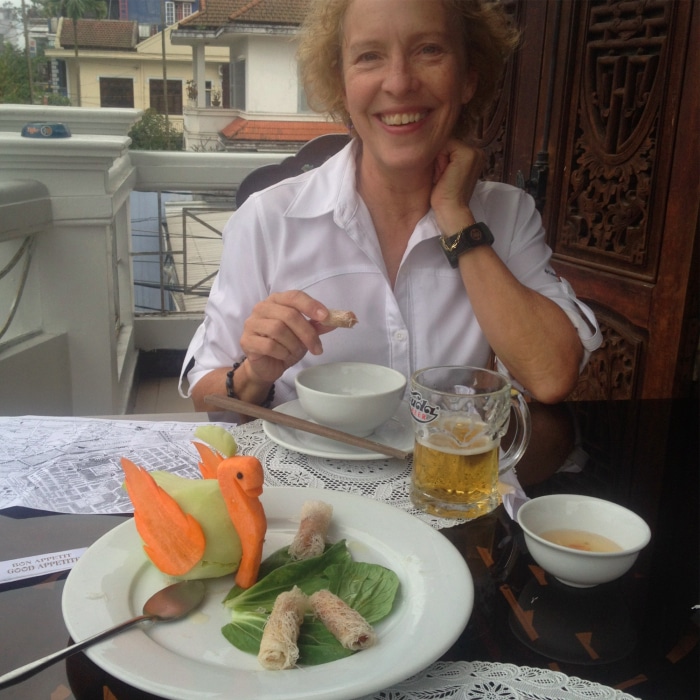 Our next stop in Hue was also full of good stuff, but there are two worth special mention. The first was right after arrival at our hotel in the late afternoon, we followed a recommendation to a place called Anh Binh. We splurged there on a few courses. A soft rice dough enchilada thing which enveloped chopped shrimp and was wrapped and steamed in banana leaves. As the waiter opened them for us, he spooned vinegar in which hot peppers had been steeped over each roll. Just the right amount to set off, but not overwhelm the soft shrimp and rice flour concoction.
We, again, (I know I'm boring) ordered spring rolls, but these were different in that the outer shell was a web of crispy rice paper rather than a solid sheet. Much more crunchy than usual, less greasy, and let the flavor of the shrimp, pork and onion stuffing come through perfectly. Probably the best spring rolls of my life.
We followed up with the waiter's suggestion of pork ribs for Kris and chicken with chili and ginger for me. The pork ribs were young and tender and fattier than we're used to in the US. Their sauce though was a familiar sweet barbecue. The chicken was fried so hot and fast that the skin was a perfect crunch yet the insides were perfectly cooked to a moist and tender spicy deliciousness. The rubbed in chili and ginger were perfect. All this came to about $20.
This was wonderful, but was perhaps surpassed by a meal at Quan 99 food stall with a friend of a friend from the US.
Randi was in Hue for a few months as a volunteer English teacher, and had scouted the best street food and led us right to it. There is a great line of stalls on the walk on the south side of the Perfume River east of the Trang Tien bridge. The "chef" at Quan 99 was a former cook at one of the elegant hotels in Hue who had left the corporate world to cook for herself on the quay. Like some of the finer restaurants we're used to in Spain, she had plates of her ingredients sitting out on a table in front of her cooktop. From them, we chose some chicken wings, some fried rice, roast quail, some pork stuffed pancakes, and a few other delectable tidbits. Kris and Randi had three local Huda beers each, (I had four) which are light and delicious, and boast of their Danish "technology" on the front of the can. They're the best beer we had in Vietnam, btw. We ate and drank and chatted for almost three hours, and the whole thing set us back a total of $21, which we felt sort of guilty about and so left an unheard of 40 percent tip.
I think it was the beers that made me so crazy. They were about 60 cents each, and so I sort of lost my head.
You can check out some more info on Vietnam in our guide for the first time visitor to Vietnam. Also, some musings on being an American in Vietnam.
Here is our post about the Museums in Hanoi, which are definitely worth the visit.
You can read about another significant Vietnam Museum, the Museum of War Remnants in Ho Chi Minh City (Saigon.)
A visa is necessary for Americans to travel to Vietnam. We use iVisa whenever we need a visa for any country. Great service, and a small price to pay for them to navigate the visa process for you.

You can click the link above, or use this widget below to start the process of getting a visa for any country.
When you're thinking of traveling, your first stop should be our Travel Resources page, where we list all the essentials you need to make your travels easier, cheaper, safer, and more fun.
You can also help yourself get ready for your travels by reading our Get Started Planning Your Trip Now page.
We love traveling–with the right gear. We've gathered a lot of the stuff we use to make travel more pleasant and efficient all on one page. Shop our Travel Past 50 Amazon page to find our favorite gear. If you purchase something from the store, Travel Past 50, as an Amazon affiliate, may receive a small commission at no extra charge to you. Thanks.
We never leave home without our travel insurance. Nor should you. Search for the travel insurance from Allianz that best meets your needs, whether it be an annual plan or a single trip.
You can see (and buy prints) of most of our travel photos in one place on this page.
Note: This post and other posts on TravelPast50.com may contain paid or affiliate advertising links. As an Amazon Associate we earn from qualifying purchases.