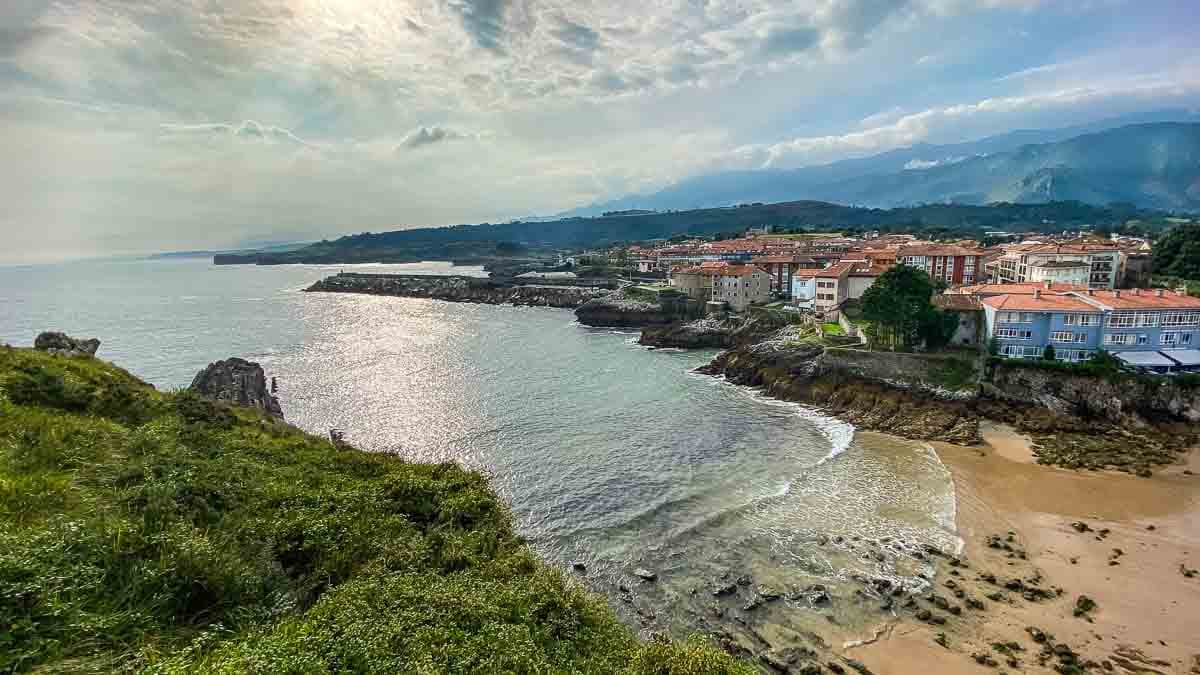 References to Spain's Camino de Santiago, the world's most popular pilgrimage, usually refer to the most frequently traveled route, the Camino Francés, or the French Way. But there are alternatives, including the Northern Way and the Camino Primitivo which we've been itching to explore. Even though we didn't bike or walk the Camino del Norte this trip, we were able to visit Cantabria, Asturias, and Galicia to learn about these northern regions (known as Autonomous Communities) and visit portions of oldest of the Camino routes.
In fact, we learned about a couple pilgrimages in Spain that culminate in places other than Santiago de Compostela. One of these, the Camino Lebaniego in Cantabria passes through the Picos de Europa mountains between the old whaling village of San Vicente de la Barquera and Santo Toribio, where the monastery of Santo Toribio de Liébana holds relics and the key to your plenary indulgence. More on that later. But note that 2023 will be a Holy Year for the Camino Lebaniego to Santo Toribio.
(The other Spanish pilgrimage leads to Caravaca de la Cruz in Murcia. Outside of Rome and Jerusalem, then, three of the five Catholic Christianity holy cities are in Spain.]
Which Way to Santiago de Compostela?
For starters, a refresher on the more familiar Camino Francés. From various points east, even Eastern and Northern Europe, it passes through (or starts in) France, as ours did ten years ago in St. Jean Pied de Port. The French Way crosses through Pamplona then Burgos and León, the heart of the Castile and León region, before crossing into Galicia and finishing–as all the Camino de Santiago routes do–in Santiago de Compostela. Ours was a 500-mile (800 kilometer) journey.
Though steeped in the historic and religious objectives of the Caminos – reaching the Cathedral that celebrates the life of Saint James (San Diego or Santiago, in Spanish) – the Camino del Norte (the Northern Way) today attracts pilgrims for all sorts of reasons. Most walking the Camino de Santiago these days want the physical challenge, the discipline, the spiritual and emotional impact of such an accomplishment.
After spending more time in Cantabria, Asturias, and Galicia, and returning to Santiago de Compostela, we can certify the Northern Way is appealing for a number of reasons. It's less crowded than the French Way and it's surrounded by spectacular mountain and seaside scenery. The Northern way boasts wonderful cuisine (sourced from land and sea) and the fascinating backdrop of northern Spain's distinct culture and history. To keep things in perspective, weather might be less cooperative on this route, and the terrain more difficult to trek.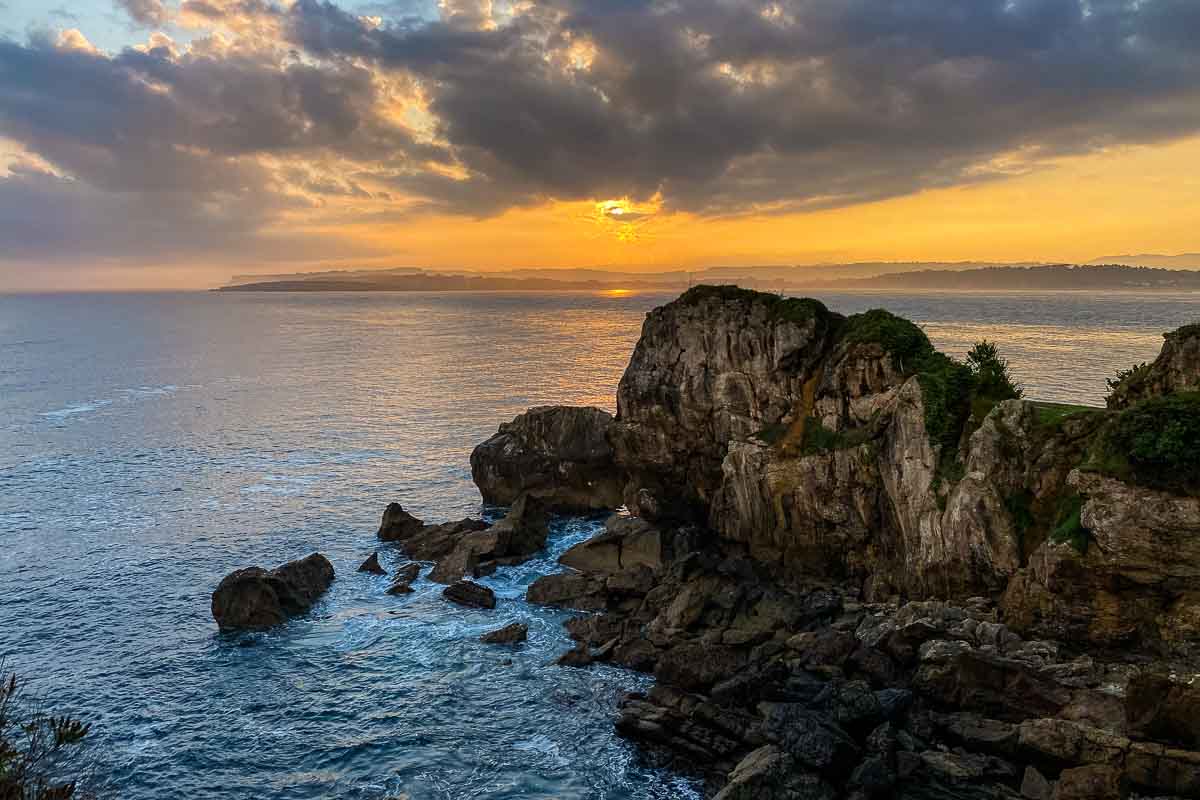 Highlights along the Camino del Norte
When you walk Camino de Santiago's Northern Way, you'll want to include time for these highlights.
Cantabria
Green Cantabria, as it's known, gets special recognition for starting us on our Camino del Norte way. It is indeed green and beautiful, as we discovered when we house sat here some years ago. Cantabria, an overlooked tourist destination, is the anchovy and sardine capital of the world (according to me) and is the only region that hosts two separate pilgrimage routes.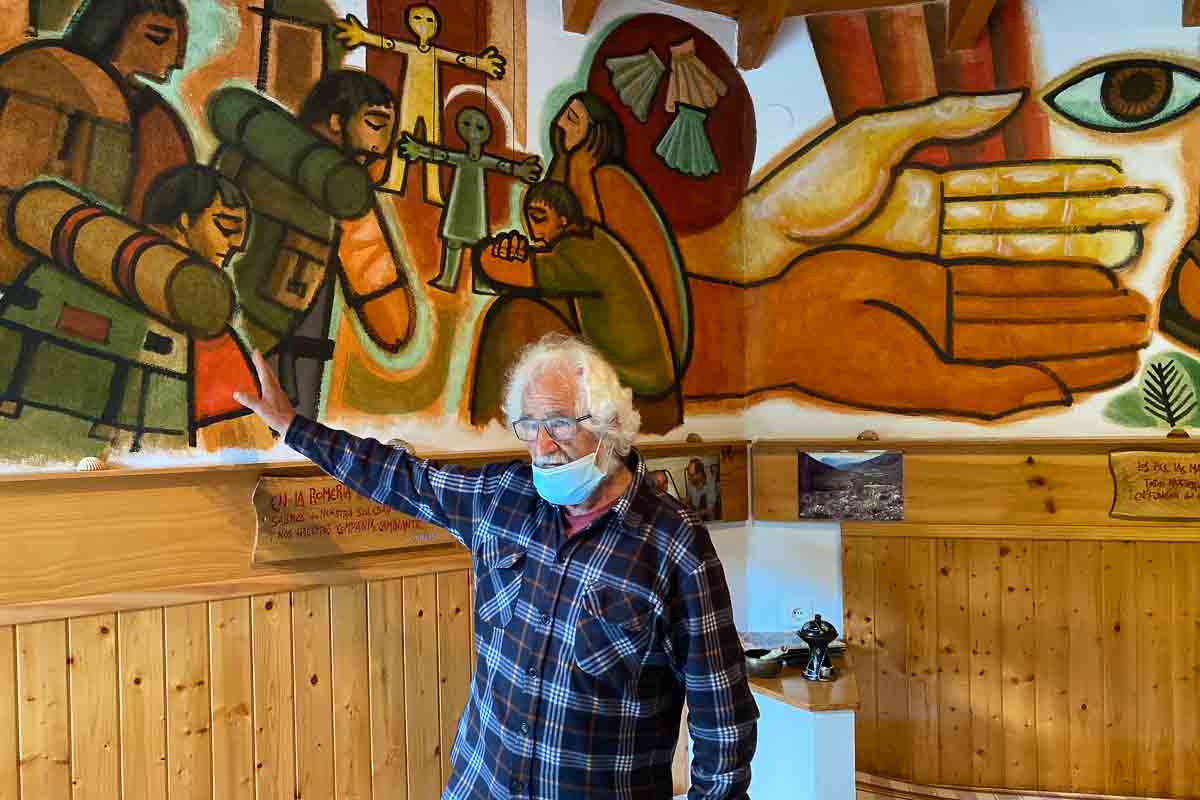 La Cabaña del Abuelo Peuto: An Albergue with a Story
In the words of Ernesto, whose family property he's turned into a shelter for pilgrims on the Camino de Santiago, every pilgrimage starts at home. But if you are jumping to Cantabria to start your Camino del Norte, be sure to begin east of this important stop in Güemes, Spain.
"La Cabaña" is part albergue (as the hostels along the Camino routes are known), part museum, and part homage to the "University of Life." To stay here as you head west on your pilgrimage will surely put you in the right frame of mind for your journey.
Ernesto Bustio, at 84, is the son of the youngest child and only survivor of the abuelos, the grandparents who first built this house over 100 years ago.The farmhouse began to take shape as an albergue in the 1960s; Ernesto embarked on his life-changing journey from 1979-1981.
A tour of the property showcases some of his hundreds of pictures from his life travels, particularly across South America in a Land Rover (also on display). The photos are loosely arranged according to his studies of popular culture: work, groups, men, women, light, mountains, fauna, etc.). Meeting rooms and his office contain mountains of slides, drawings, thank-you notes, and press clippings about the man and the hospitality served here. One room is dedicated to other pueblos around the world named Güemes.
Ernesto reminds us that the Camino, any camino, is not of a religion nor of a country, but an ecumenical experience. After his passing, the property, he proclaims, will be managed or sold for the benefit of Third World communities, "because we have so much and so many have so little."
Note: La Cabaña is about 18 kilometers east of Santander, outside of Güemes. It is volunteer run; donations and testimonials are invited.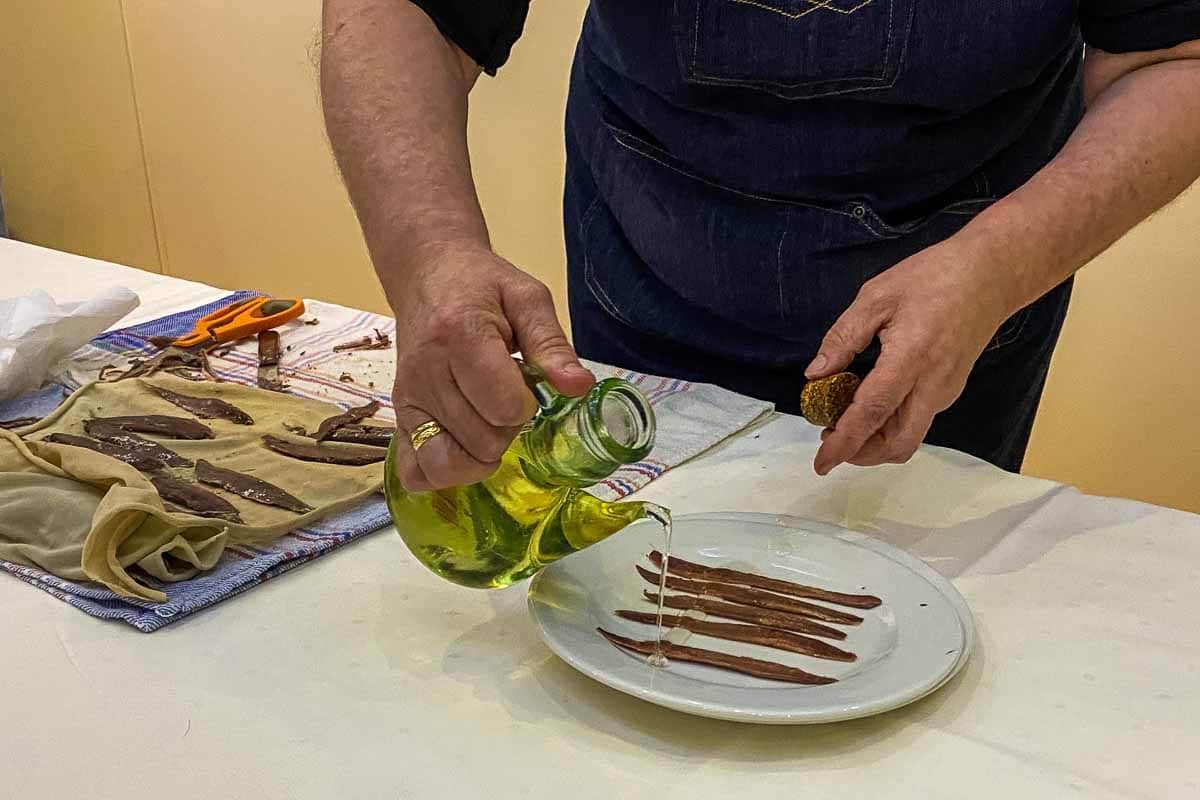 Santander and Anchovies
The two main reasons to stop in Santander are the anchovies and the lovely esplanade walk extending all along the city's shoreline. As a bonus, there's plenty of beach for swimming or surfing, and an historic palace on the picturesque Magdalena peninsula.
But a word about anchovies. Not all anchovies are equal. These are worth a tour and tasting to understand the fishing industry and the preparation of the world's best anchovies: salted and filleted by hand.
The precious result is a dark fillet, almost burgundy, that tastes mellow and has an al dente bite to it. In season, some 250 fishing boats, each with a crew of about 15-17, haul in 10 tons of anchovies a day, immediately freezing them before beginning the months-long process of salting.
The tradition dates back to when the Sicilians were looking for better fishing grounds and found the Cantabrian coast fit the bill. These wonderful cold-water anchovies are fished about 4 miles off the north coast of Spain.
Check out the Cantabria tourism site for more anchovy info.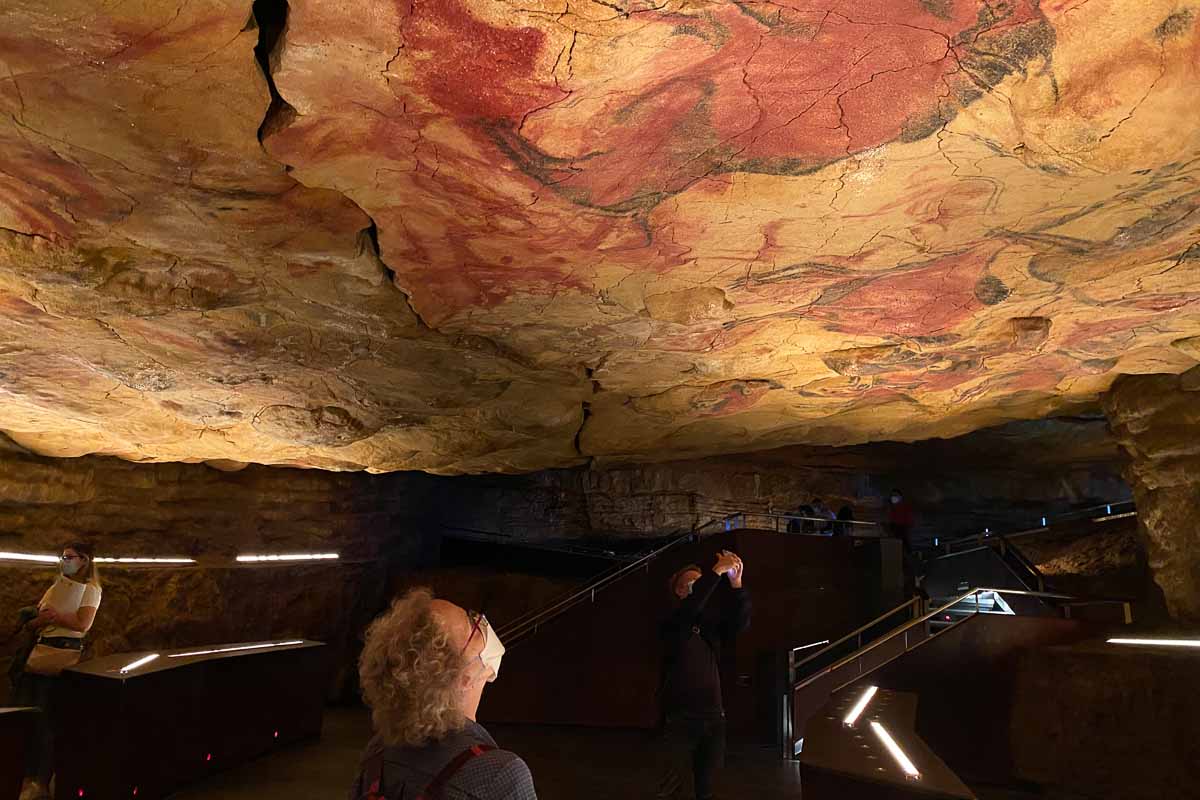 Altamira Caves and Santillana del Mar
The Camino del Norte, or Northern Way of the Camino de Santiago, passes through rare territory that was home to people over 15,000 years ago. So, near the town of Santillana del Mar, you can visit the Altamira Caves, or rather the museum that has meticulously recreated these caves and cave paintings. Well worth the visit to the Altamira caves (and others) to understand not only the lives of the cave painters, but the efforts to preserve the art. This, along with 16 other Paleolithic painted caves, is a UNESCO World Heritage Site.
(We spent some time in the other caves of Cantabria when we lived for a few months in Cantabria in 2012-2013.)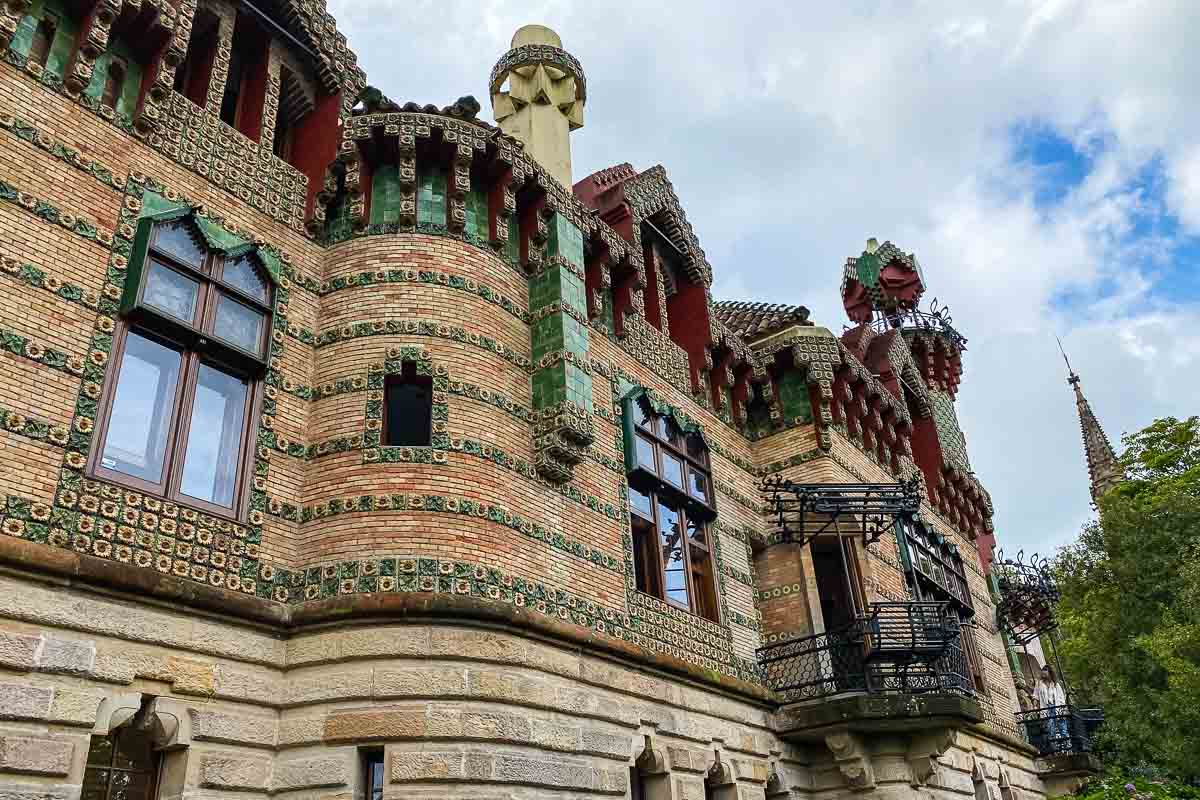 Comillas and El Capricho by Gaudí
The picturesque town, not on the way to anywhere, is known for its classy Casonas Indianas, or the large homes built by the successful families who had made their wealth in the New World (primarily Cuba and Argentina) and returned to Spain to show off the new ways. Bright colors, palm trees, and landscaped gardens are typical of the style. You'll find pockets of this rich architectural style along the north coast and even on the Costa Brava in Catalunya.
In Comillas, however, the jewel of private homes is El Capricho, designed by Gaudí for a single gentleman. With Gaudi flair, the home also feels personal and livable. We loved the way it folds around a large, plant-filled conservatory on the south side. Take the tour.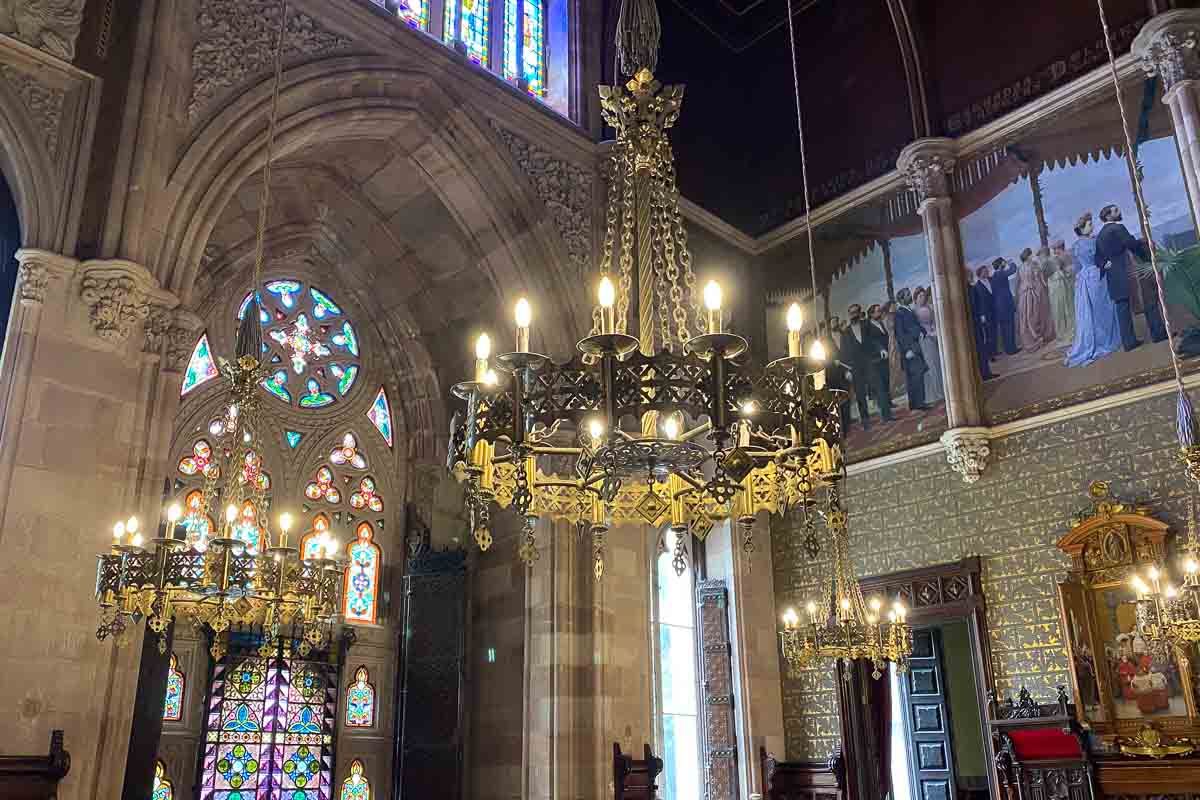 Also in Comillas, and really over the top, is the Palacio de Sobrellano y Capilla Panteón. This extravagant 19th Century home was built for the First Marquis of Comillas, shipping magnate D. Antonio López. The family's history takes center stage in the palace's art and the chapel's tombs. Look for the Gaudi-designed pews in the chapel.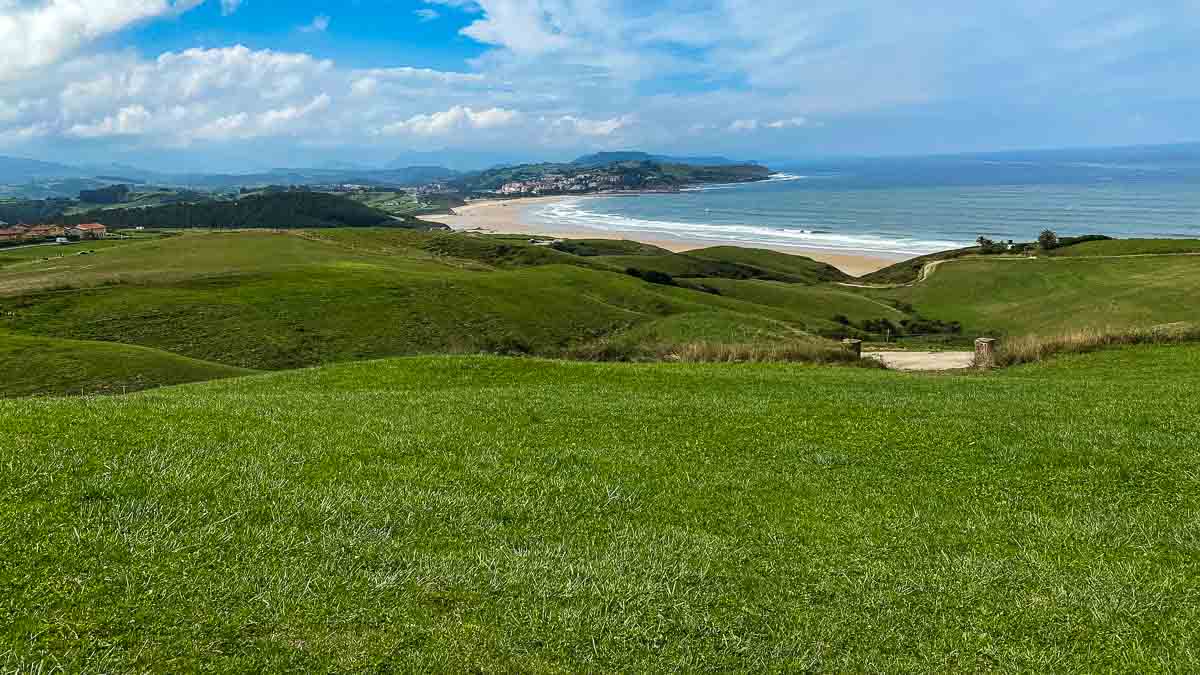 San Vicente de la Barquera
A bit further along the coast is the important seaside village of San Vicente de la Barquera. With the sea to one side and the Picos de Europa to the other, this is a fitting place to embark on the Lebaniego Way, which briefly merges here with the Camino del Norte.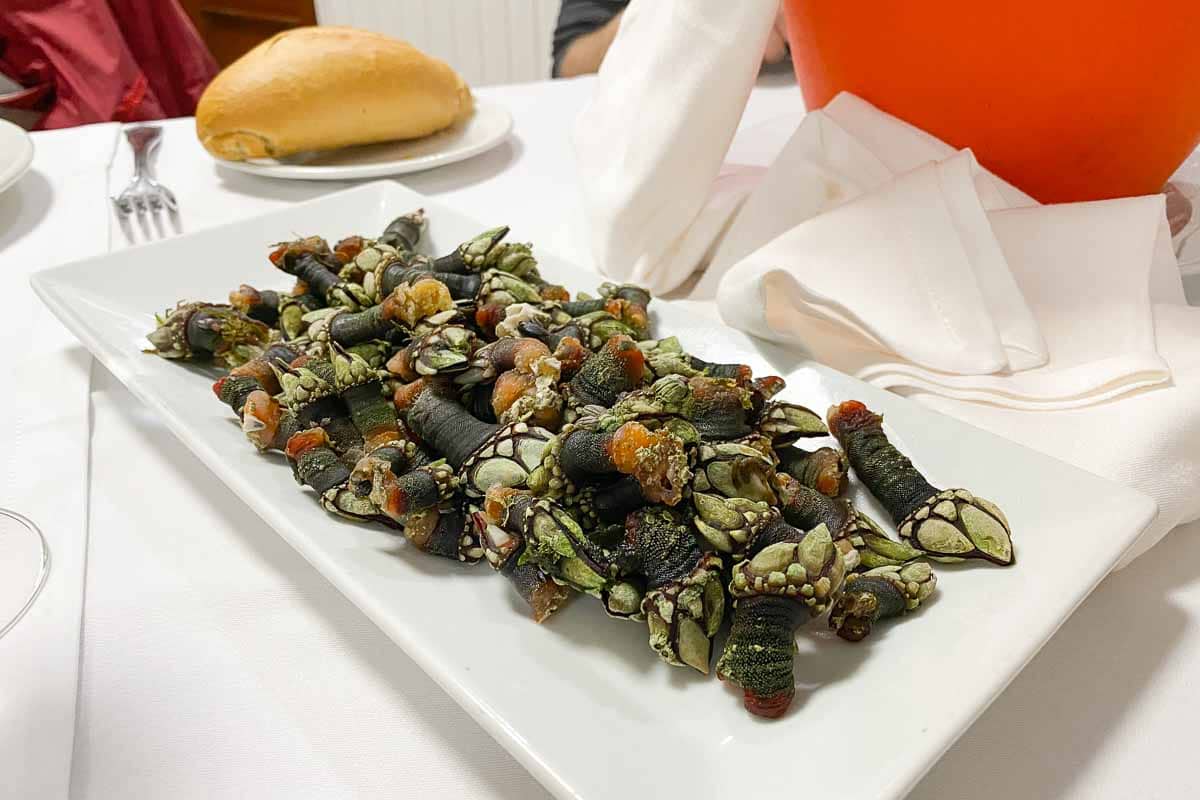 But first, plan on lunch at the wonderful restaurant, El Bodegón, where we were invited into the kitchen to say hi. Before the main course of giant lobster with rice, we enjoyed our first tasting of percebes, or barnacles. Now we're experts and can show you how to enjoy them, yum.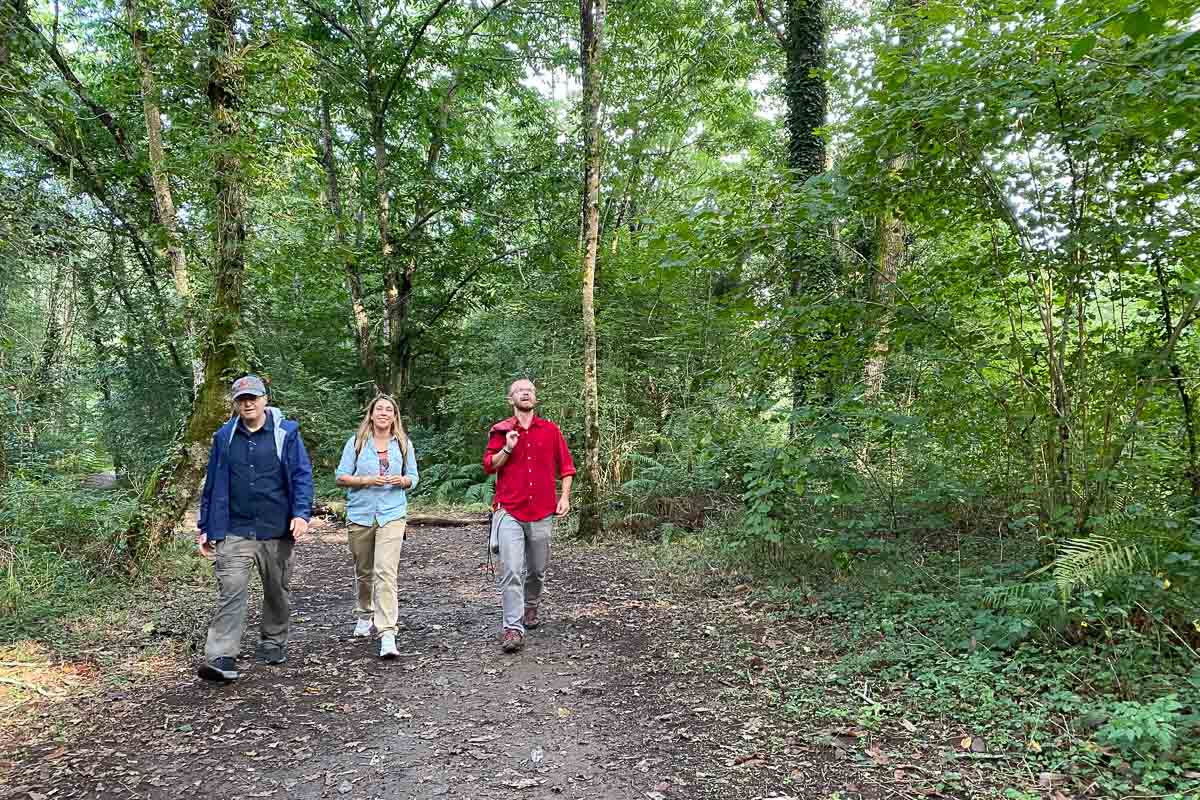 Nansa River Trails
The village of San Vincente de la Barquera sits at the mouth of the Nansa River. Whether you you want to sample a bit of the Lebaniego Way, or simply want to day-hike in the area, you'll discover over a dozen beautiful and well-marked trail options here. We found landscapes, plants and birds unlike any we'd seen elsewhere in Spain.
Asturias
It's little surprise that Asturias was one of the last regions in Spain we hadn't yet visited. Approximately 75 percent of Asturias is protected land, combining wilderness, coastline, and scenic rural areas. In Asturias, among native chestnut trees and invasive Eucalyptus, are remains of pre-Roman villages and some of the earliest recognized connections with Celtic culture. These castros will be high on our list for our next visit, as will be the Covadonga lakes. Oh, and the food in Asturias is amazing, including its D.O. cider and four D.O. cheeses of the region (Cabrales, Gamuneu, Casín, and Afuegal Pitu).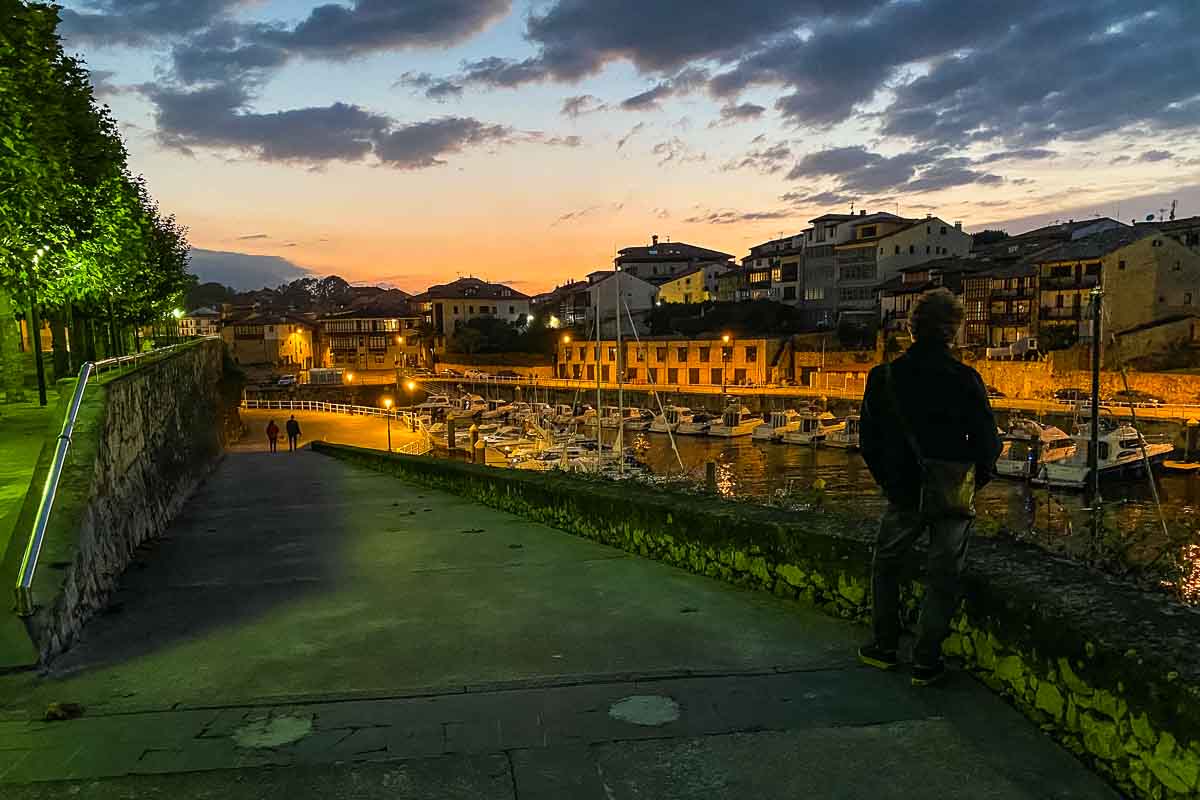 Llanes
First stop for us in Asturias was the port town of Llanes. We arrived in the evening in time to walk along the harbor and see the "Cubes of Memory" art installation by Basque artist Ibarrola. The huge, colorful, concrete blocks, each with a particular painting related to Llanes, line the breakwater pier. Over time, the cubes have shifted in the sea waters, so that the story and sculptural landscape also change.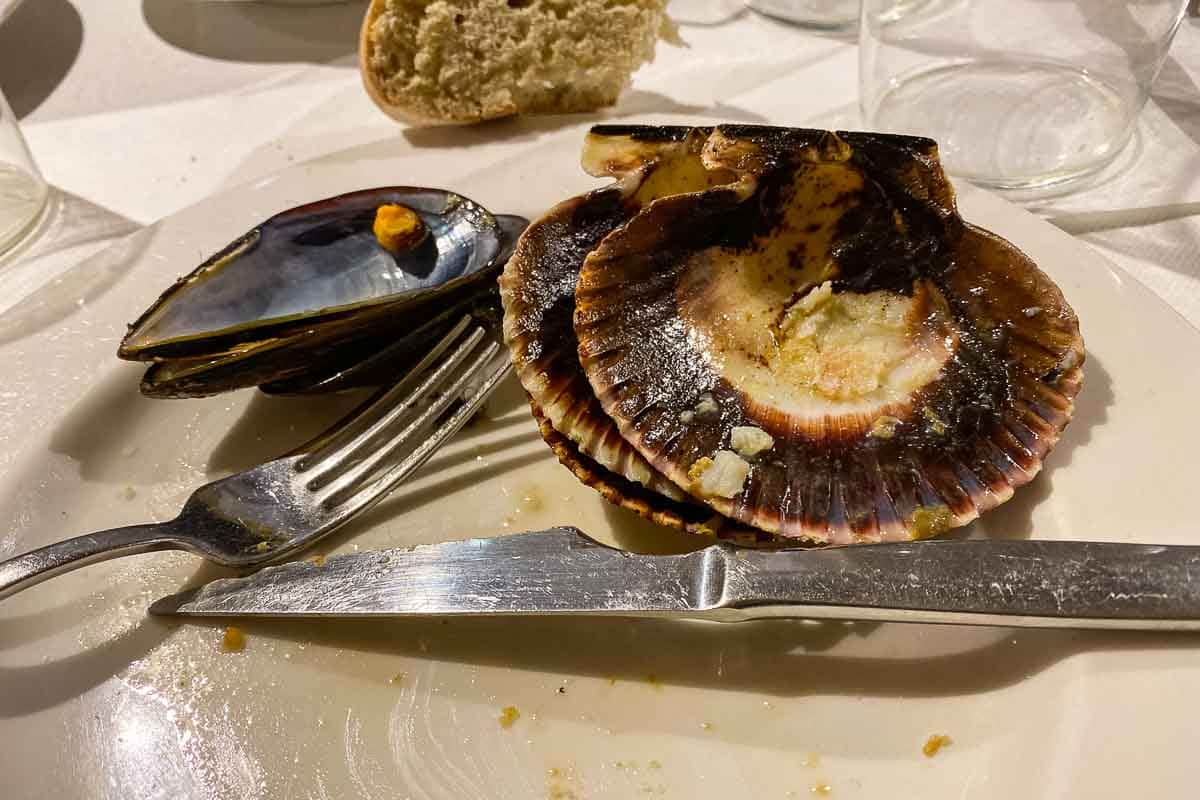 And what a great introduction to Asturian food right beside the harbor at Sidreria El Puerto. As we sampled different varieties of cider (yes, poured from on high to a glass held low so as to aerate the hard juice), we swooned over scallops, anchovies, mussels, calamari, octopus with potatoes, and finally a delicious maiz torta with pork and cabrales cheese.
Tired pilgrims might want to treat themselves here in Llanes. The Hotel Hacienda de Don Juan offers spa services.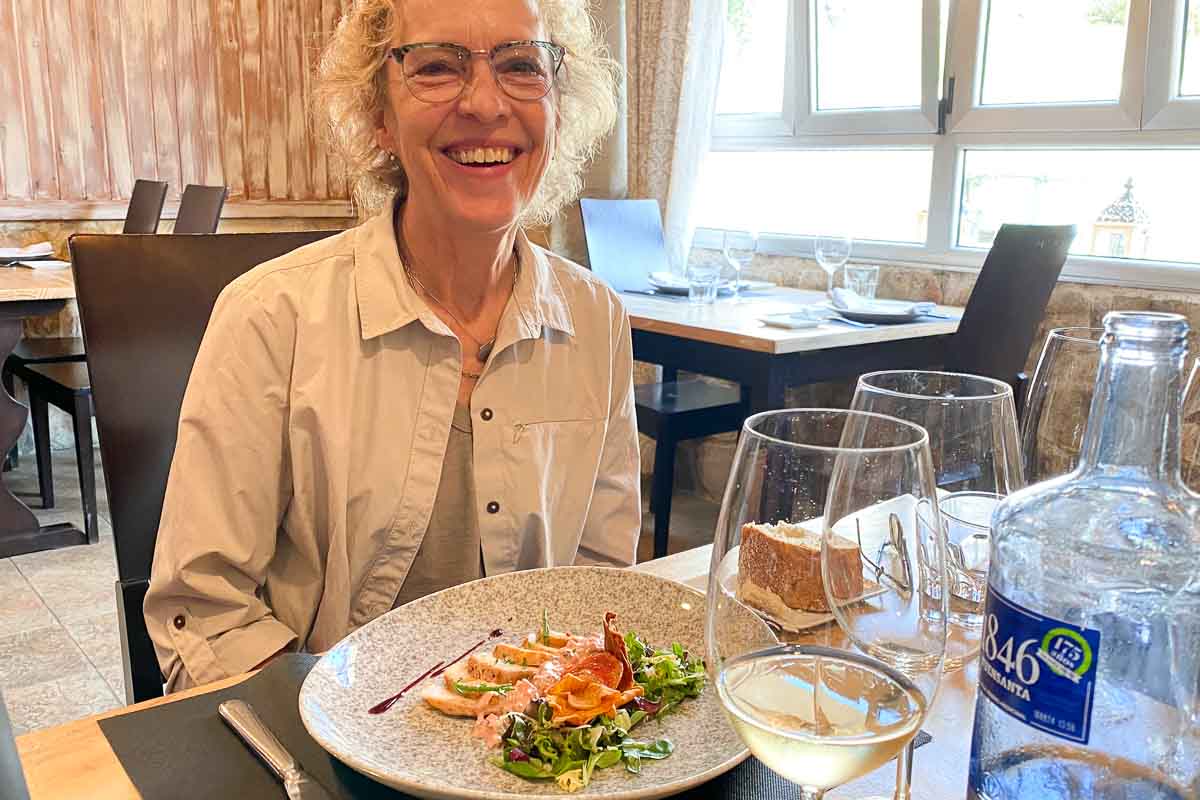 Lastres
This little old whaling village still displays the bells used to raise the alarm at a whale sighting. Today the port is used only by smaller fishing boats. Protected by the small breakwater is a picturesque crescent beach. While in Lastres, be sure to stop in El Barrigón de Bertín. They served some of the best octopus we ate (and we ate a lot), plain and simple, with fresh micro greens and a vibrant sun-dried tomato sauce with capers on the side.
Jurassic Museum of Asturias (MUJA)
Just up the road from Lastres is the Jurassic Museum of Asturias (MUJA). Inside, the museum covers the whole chronological gambit of dinosaurs. Outside is an open play area for kids (or silly adults). And from above, you'll recognize (via your drone perhaps?) that the museum is built in the shape of a large pterodactyl footprint. Fun.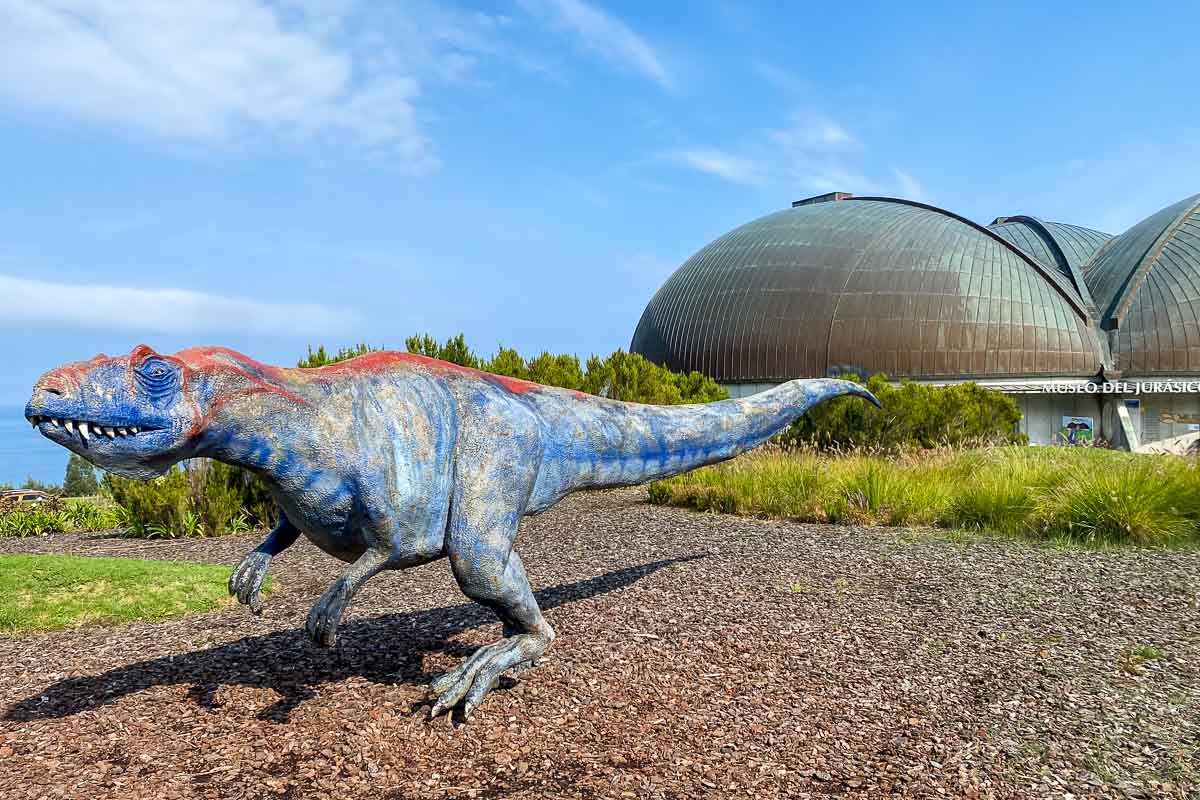 Mirador Providencia
Westward, just before arriving in Gijón, be sure to stop at Mirador Providencia, a magical viewpoint for much of the Asturian coast. We all wanted to linger here, watching kites flying, dogs running, paragliders drifting, and children playing.
Gijón
Others in our small band of travelers who knew Gijón before, marveled at how the city has been cleaned up. As first-time visitors, we simply gathered a handful of impressions in the hours we were there.
First is the sensory-satisfying walk around Cimadevilla, the peninsula head that juts out over the waters to the north of the city. Fragrant pine trees line the residential street leading to the head of the peninsula. The striking "Elegy to the Horizon" sculpture at the point embraces its visitors and amplifies the sound of the waves inside its parabolic arms.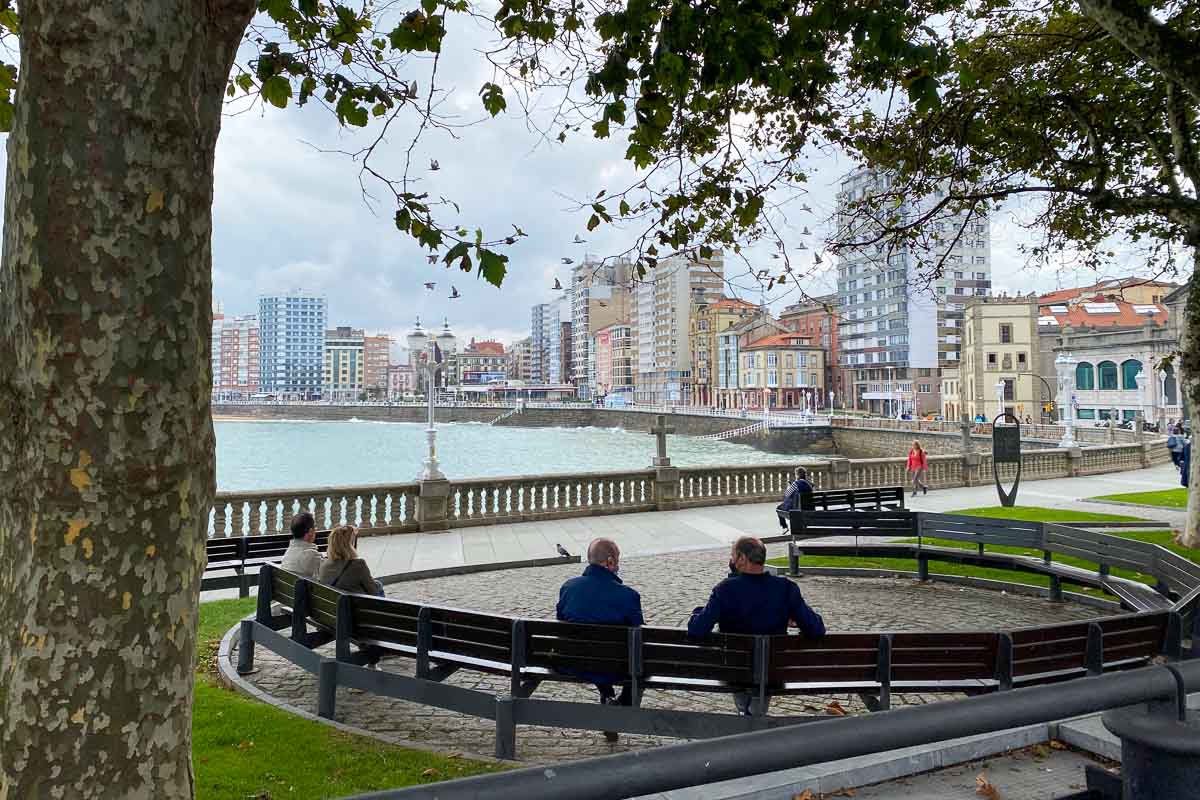 Gijón enjoys miles of beaches and promenades. Much of the city faces north to this shoreline. But tucked behind the west side of the peninsula you'll find the busy harbor filled with yachts and fishing boats and all sorts of vessels worth ogling at. Find a table outside for a coffee or beer and happily watch the world go by.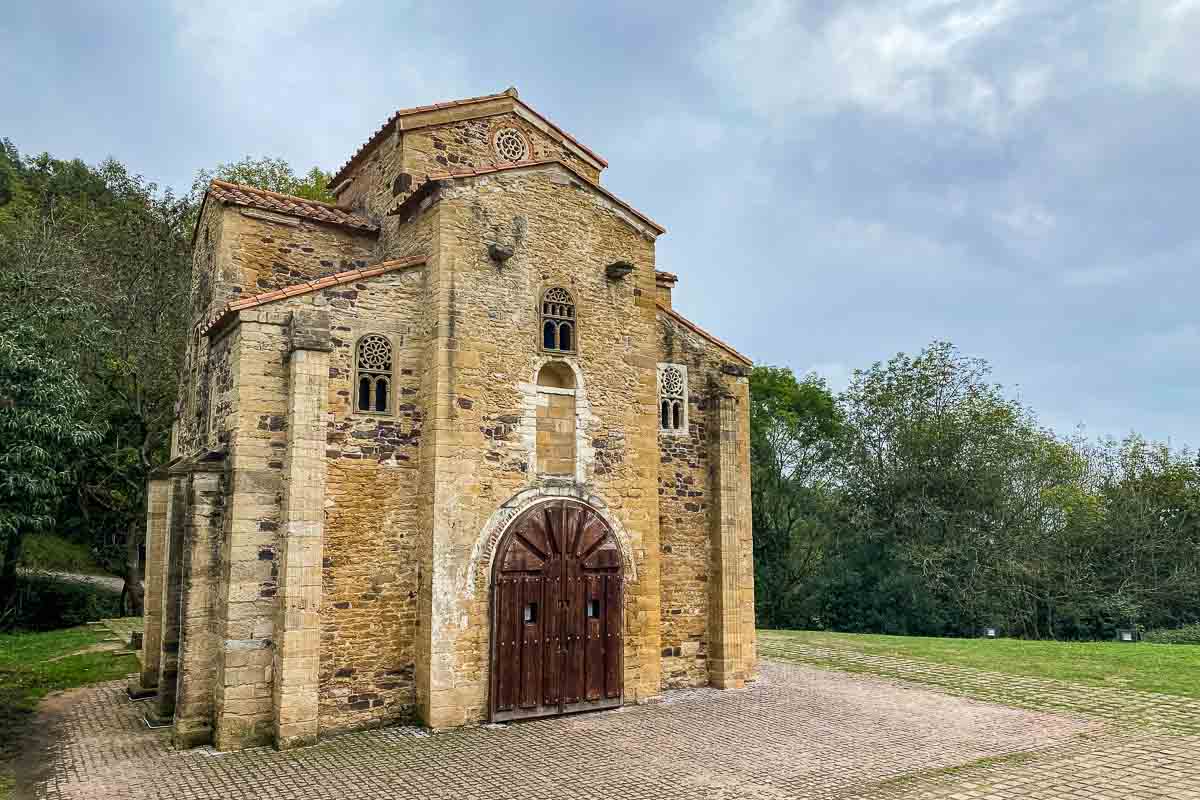 Pre-Romanesque Monuments (near Oviedo)
Much to our chagrin, we were whisked past these UNESCO World Heritage monuments with barely time for exterior photos. But don't miss the twin sites of the Santa Maria del Naranco, including the San Migel de Lillo church and the nearby (really, you can walk) Palacio de Ramiro. The first was initially a royal residence, later (around the 10th Century) converted to a church. The Palacio is a remarkable example of pre-Romanesque architecture from the middle ages, harkening back to Greek temples.
History Break
Ramiro I was the King of Asturias from about 790 – 850, back when the Kingdom of Asturias (essentially all of modern-day Spain) was fending off both the Visigoths to the north and the Moors to the South. Given his success, and the difficulties the Moors had attacking over the rugged and snowy mountains, Asturians will proudly proclaim their region was never really occupied by the Moors. At any rate, the Camino Primitivo, the earliest of the Camino routes to Santiago, starts near Oviedo. That's because as other parts of Spain were involved in the reconquest, this kingdom in the north was already building commerce and Christian routes to maintain and expand its power.
Oviedo
Oviedo, it should be noted, is not precisely part of the Camino del Norte, but marks the beginning of the Camino Primitivo. (See sidebar above.) We recommend, no matter your route, taking an extra day here; we wish we'd had a full day. Oviedo highlights include its medieval historic city center, the San Salvador Cathedral (where Ramiro I is interred), and modern-day conveniences like a bustling food market. We wish we could tell you more. Like Gijón, reports on Oviedo mention how much it's been improved in recent years.
Cudillero
From Oviedo, on to another fishing village, this one even recommended by our Asturian amigo Dani. Cudillero stands out for its tiny but authentic working harbor for small fishing boats, for its lighthouse, and for its interesting tidal barrier. Great little place for photographs and a fresh air break before continuing to Galicia.
If you're choosing to travel these days, be sure you buy travel insurance. And, be sure your policy includes coverage for any problem caused by the Covid pandemic. For the latest information on travel insurance with epidemic coverage, check out our post on
What's New in Travel Insurance and Epidemic Coverage
.
Galicia
The home stretch for any Camino de Santiago pilgrimage. Galicia is famous for its seafood, white wines, comforting stew, and its unique language and Celtic ties.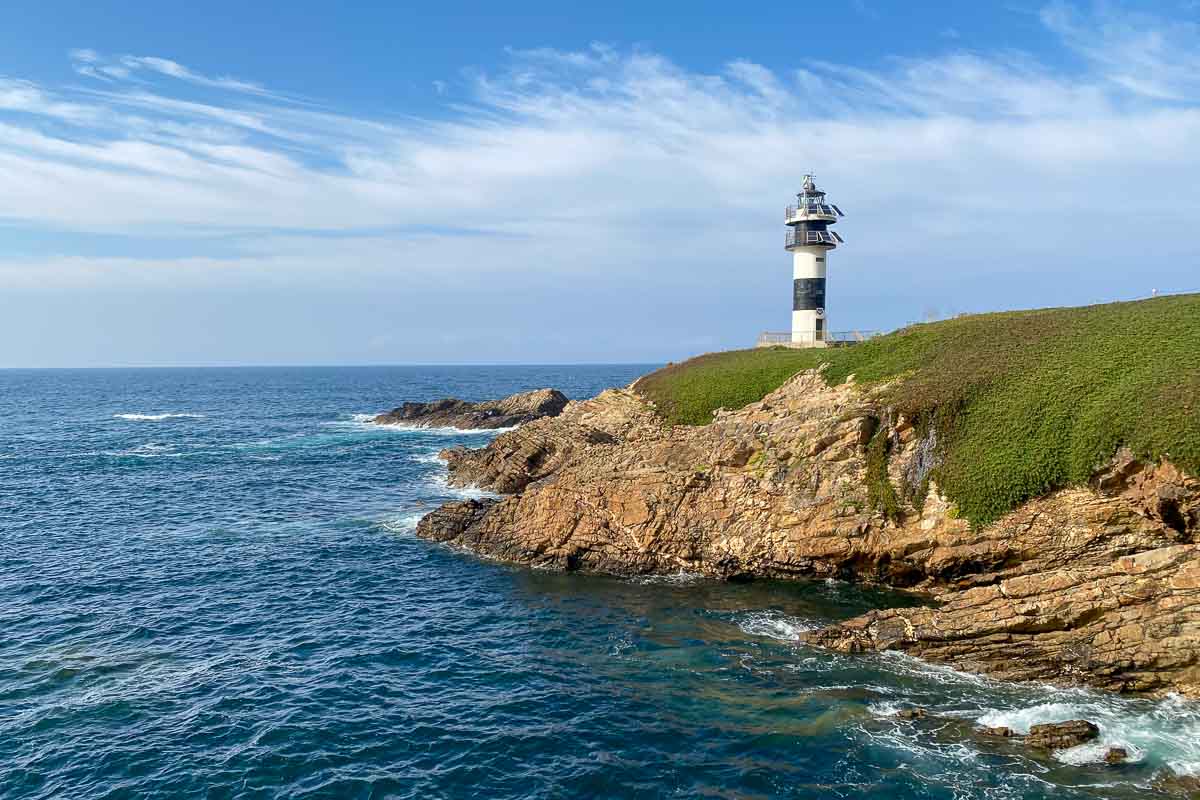 Ribadeo
The wide estuary of the River Eo (or the Ria del Eo) creates the border between Asturias and Galicia. The town of Ribadeo on the Galician side was our first stop: the Restaurante San Miguel, perched high over the river just next to the bridge, served up one of our favorite meals along the entire Northern Way.
Our Lunch in Ribadeo
Pastel de Cabracho (a bright orange fish pâté)
Ensalada de Fabada de Lorenzana (a salad with octopus, faba beans, lettuce, tomato, and onion with a tomato vinaigrette)
Viera a la Gallega (scallops with jamón serrano and tomato)
Arroz Caldoso con Bogavante 'Necoras' and Almejas (stewed lobster and clams with rice)
Postre (a dessert of grape liqueur ice cream topped with vanilla and coffee sauces)
Wines Tabú Godello y Tabú Mencia
Well, that was satisfying! All we had to do after lunch was peer out the window of our van at colorful Casonas Indianas (the large New World style homes) in Ribadeo as we digested.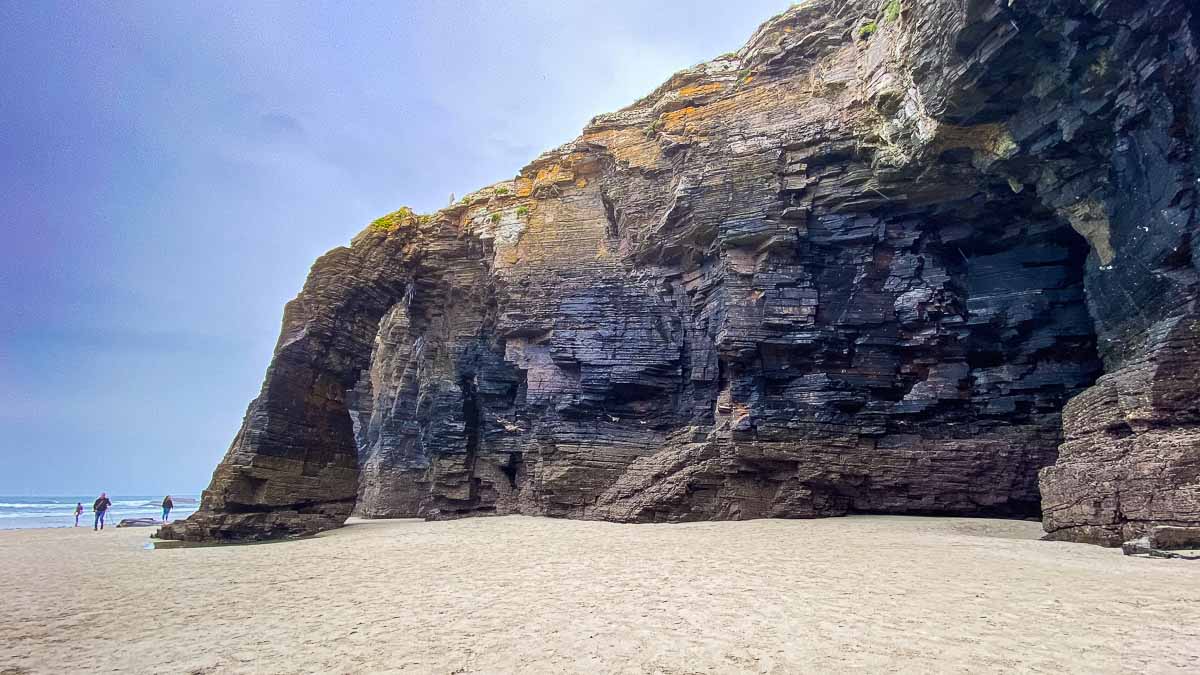 Playa de las Catedrales
Just about 6 miles past Ribadeo is the really cool Beach of the Cathedral Arches. These are natural arches carved by tides and winds and time. The wide beach puts on its tidal show twice a day, so access varies. But a nature area at the top of the cliffs provides alternate trails. We were lucky to roam the sandy beach and explore below the towering ridges of striated rock shoved up from the Earth millennia ago, and eroded ever since.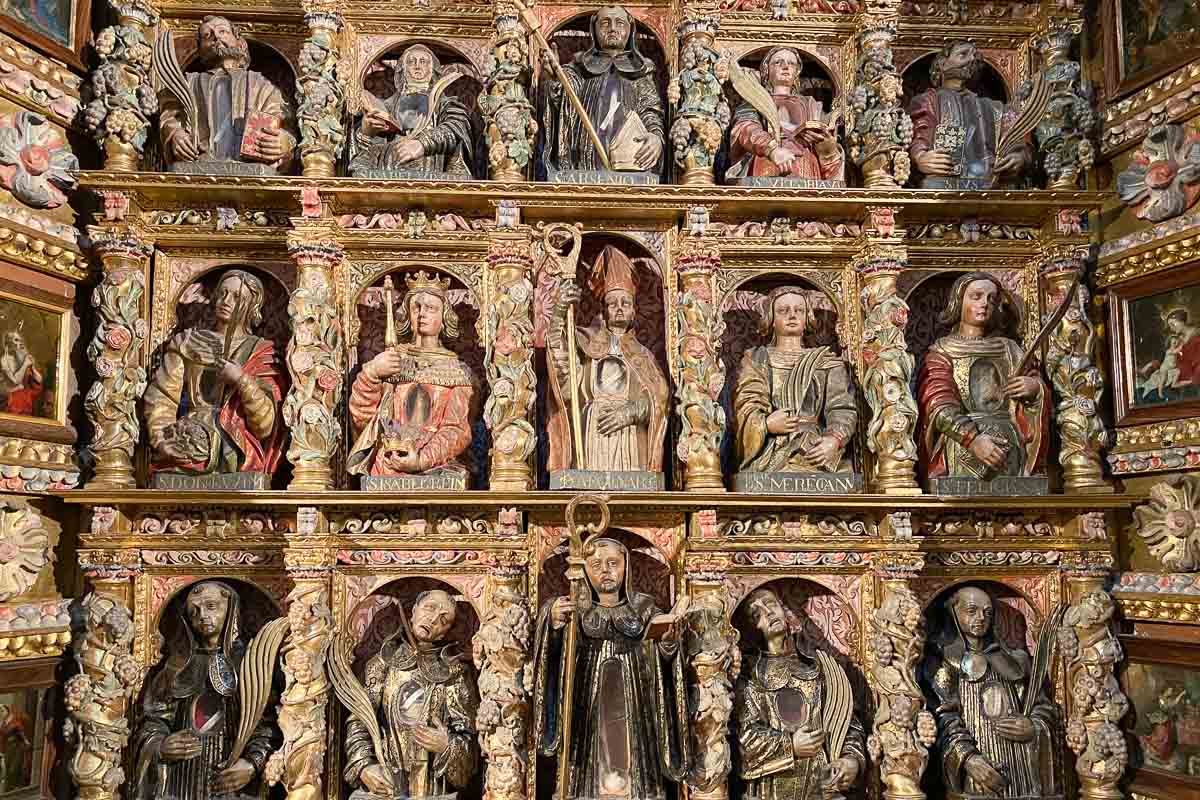 Lourenzá
Turning inland for the last 100 miles or so of the Camino del Norte, the number of historic and religious sites increases. Lourenzá, in particular, caught our attention for its collection of religious art. On display in the sacristy of the church of Santa Maria de Valdeflores, is an impressive 17th Century work of art. The baroque tableau consists of 28 17th Century reliquaries, each encased behind hand-carved wooden doors, painted and gilded. The Monastery of San Salvador de Vilanova houses the Museum of Religious Art, and its baroque church facade was, in fact, a trial design for the later similar facade of the cathedral in Santiago de Compostela.
Mondoñedo, Vilalba, and Sobrado Dos Monxes
The last few days walking the Northern Way of the Camino de Santiago will take pilgrims through these three historic towns. Mondoñedo historic center and imposing cathedral seem to pop up out of nowhere. Vilalba is the site of the Andrade family's 13th Century castle, the tower of which is now a national Parador hotel.
Regrettably, we saw only the exterior of the Santa Maria Sobrado dos Monxes monastery. It was believed to have been founded in the 10th Century, abandoned, rebuilt in the 12th Century, and expanded in the 16th and 17th Centuries. Spain declared it a National Historic-Artistic Monument in 1931 and again in 2015.
Finally, the town of Arzúa marks the point where the Camino del Norte, the Camino Primitivo, and the Camino Francés all merge for the final run to Santiago. These routes combined are inscribed on the list of UNESCO World Heritage Sites: Routes of Santiago de Compostela.
Albergue Monte de Gozo
We started this journey with a visit to La Cabaña albergue in Güemes, Cantabria, and we end with a visit to this great big complex at Monte de Gozo. The two properties couldn't be more different.
Monte de Gozo is memorable for any pilgrim headed to Santiago de Compostela because it offers the first view of Santiago's cathedral towers. The site is just 5 kilometers (3 miles) from the cathedral, but many stop here to collect themselves, begin to celebrate, and prepare for an early morning entrance into the cathedral square in Santiago.
This albergue, now privately operated (as opposed to most which are church or municipal affiliated), has expanded to meet the huge increase in pilgrims over the past ten years. It offers 1,900 beds in modern buildings that accommodate doubles, quads, and bunks for eight. Sheets and towels are provided (for a little extra). And common areas provide indoor and outdoor seating for cafeteria style food. An outdoor concert stage and bar featuring Galicia's famous pulpo (octopus) round out the welcoming scene. This is luxury.
Compared to when we walked the Camino Francés ten years ago, lots of things have changed. This albergue, for one, didn't exist. And it never occurred to us to map our way or book lodging in advance with our smart phones.
While this may seem more like big business than a wayside rest, it's important to remember that everyone on these three major routes walks through this point. That includes school children, first-timers, many repeat pilgrims, those who do the minimum required for the plenary indulgence, and those who push themselves from all corners of the world, just for the sake of it.
We learned that the post-pandemic pilgrim traffic is beginning to build back up. (In September 2021, the Monte de Gozo Albergue was operating at about 50 percent capacity, with some weekends filled to 70 percent.) Staff at Monte de Gozo estimate 70 percent of pilgrims these days are doing the Camino in groups. And, much more than before, many are accompanied by dogs, they observe. Lots of dogs!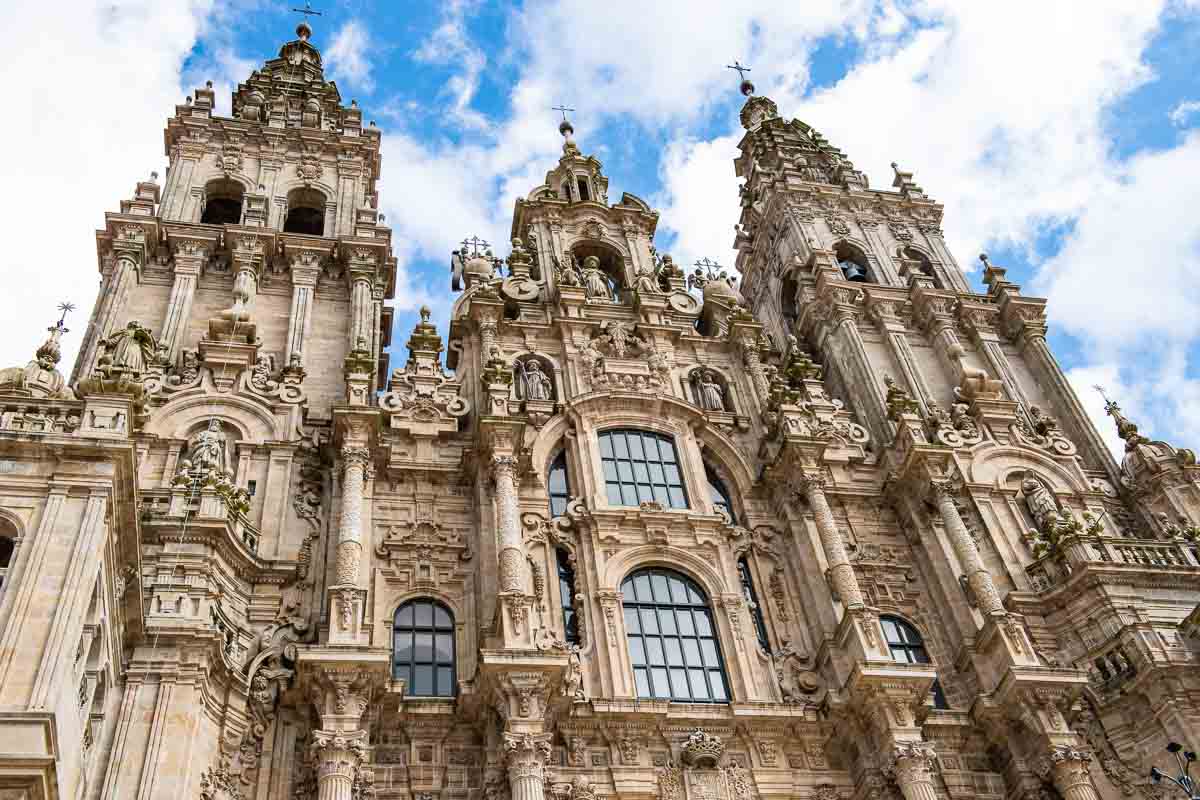 Santiago de Compostela
It will always be a thrill to stand in the square in front of the cathedral of Santiago de Compostela. This is where pilgrims drop their bags, hug, smile, cry, and mug for cameras. In the course of a few minutes we saw the whole cross section: a couple, a pair of friends, a small group, another pair; a solo man, a solo woman; buddies rolling in on bikes; groups of young people; backpacks with babies, trailers with dogs.
The accomplishment of reaching this destination is palpable. Bagpipes fill the air, and a young mother starts to cry in relief. As her husband beams, their little one starts to toddle across the paver stones, tripping here and there. I imagine this baby's first steps were on the Camino de Santiago. Not a bad start.
We stayed on in Santiago for a few days at the very nice Hotel Compostela and discovered the city is becoming a major culinary capitol. See this post all about where to eat in Santiago de Compostela.
¡Buen Camino!
More on Northern Spain Cuisine
We chatted with Travel Writers Radio about the great food we encountered while traveling across the North Coast of Spain. Listen to the interview with Kris here.
When you're thinking of traveling, your first stop should be our Travel Resources page, where we list all the essentials you need to make your travels easier, cheaper, safer, and more fun.
You can also help yourself get ready for your travels by reading our Get Started Planning Your Trip Now page.
We love traveling–with the right gear. We've gathered a lot of the stuff we use to make travel more pleasant and efficient all on one page. Shop our Travel Past 50 Amazon page to find our favorite gear. If you purchase something from the store, Travel Past 50, as an Amazon affiliate, may receive a small commission at no extra charge to you. Thanks.
We never leave home without our travel insurance. Nor should you. Search for the travel insurance from Allianz that best meets your needs, whether it be an annual plan or a single trip.
You can see (and buy prints) of most of our travel photos in one place on this page.
Note: This post and other posts on TravelPast50.com may contain paid or affiliate advertising links. As an Amazon Associate we earn from qualifying purchases.