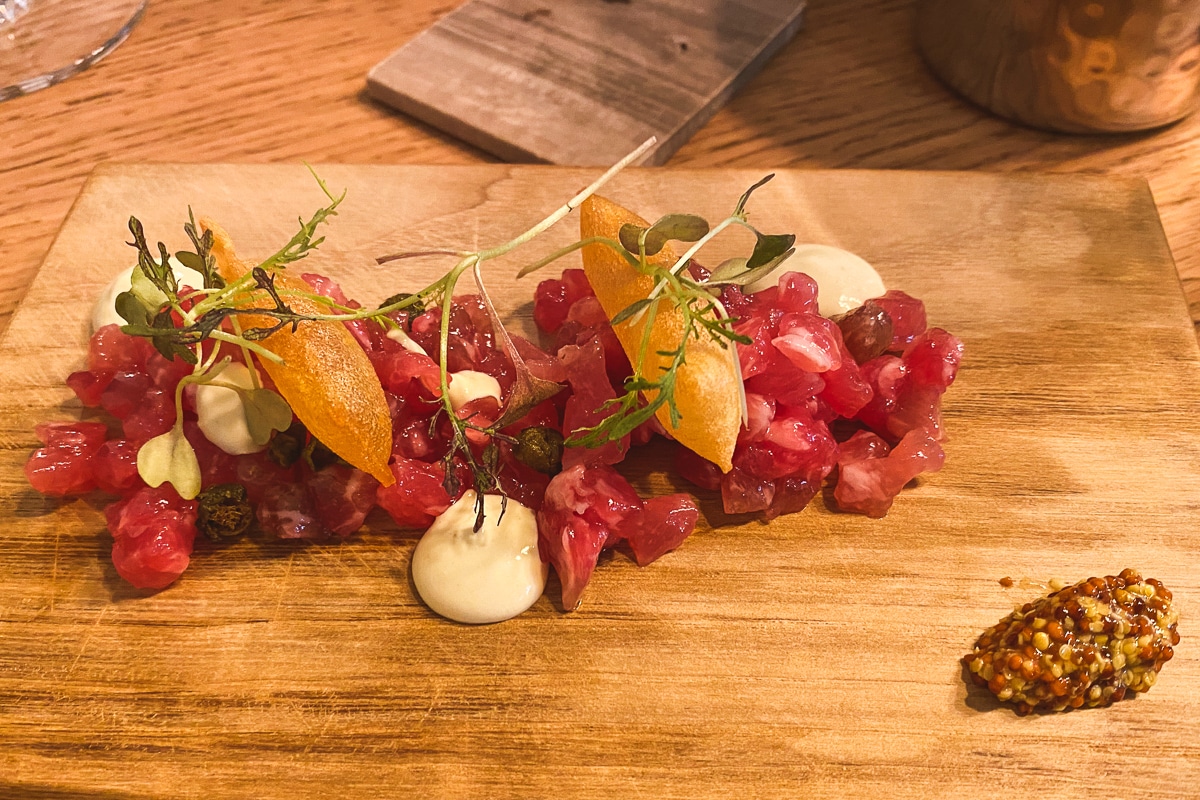 You've arrived! Chances are good that if you are visiting Santiago de Compostela in Spain's Galicia region, who have arrived on foot. But even if you didn't participate in the famous Camino de Santiago pilgrimage, who will quickly feel the exuberance of all those around you who've accomplished this feat. Emotions and stories are in the air. We advise taking a couple extra days to soak it up and to enjoy the great restaurant scene of Santiago.
We've visited Santiago four times, once at the culmination of our 500-mile pilgrimage, and other times arriving by train. The most recent visit was after a tour of the Camino del Norte, a week that was built on food finds and outstanding scenery, rather than on footsteps.
So maybe we were more tuned into food this visit, or maybe Santiago has elevated its cuisine game over recent years. Or both. The city is now home to hundreds of fine dining spots, a great international selection of foods, and more than a dozen Michelin Guide listed restaurants.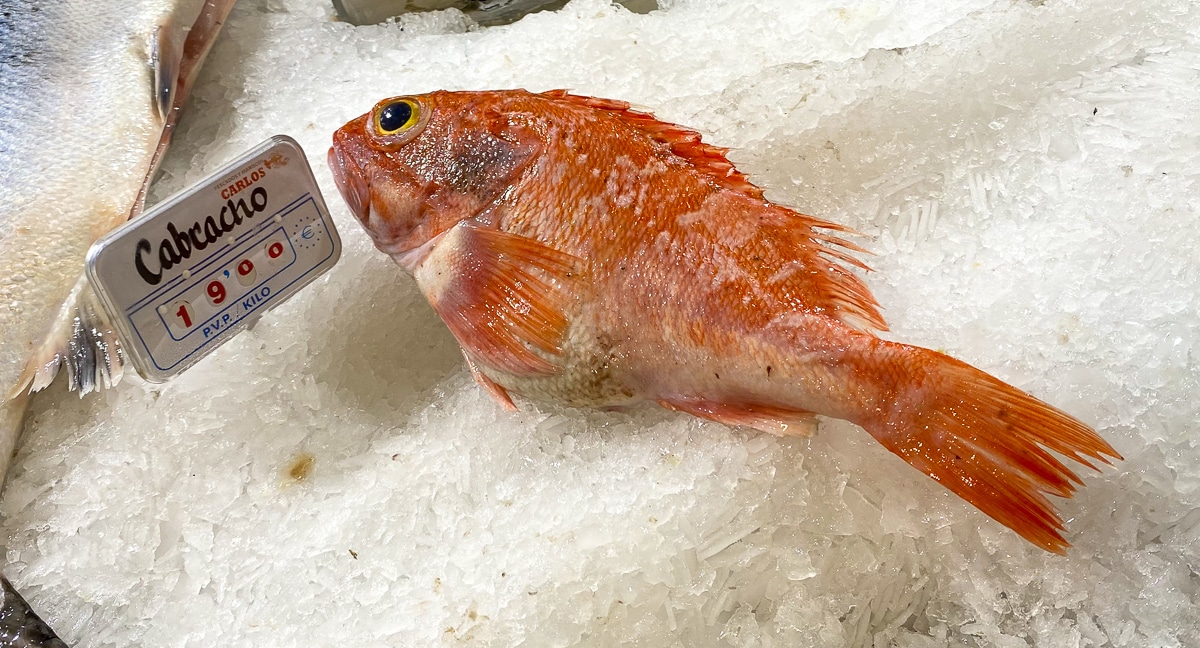 Santiago de Compostela Food and Wine
The local Galician cuisine can be difficult to pin down, because it is typified by seafood (especially octopus), by hearty stews, by cheeses, wines, and sweets. All of the above.
A great introduction to all these possibilities can be found at the Mercado de Abastos, perhaps Santiago's most popular tourist attraction after the Cathedral. Here you'll find the meats and vegetables that go into Cocido Gallego, and the showstopper fish, crustaceans and mollusks pulled from the Atlantic and the Bay of Biscay near here, but renowned throughout Spain and the Continent.
Within the market – and increasingly in the surrounding neighborhood – food stalls and restaurants offer products using the region's superior ingredients: empanadas, charcuteries, Gallegan veal, roasted vegetables, delicate fruits, soups and stews.
And on almost every street in Santiago de Compostela, you'll find the delicious Tarta de Santiago, or almond cake dusted with powdered sugar. If you've walked 500 miles, or even 10, it's not hard to justify a second helping.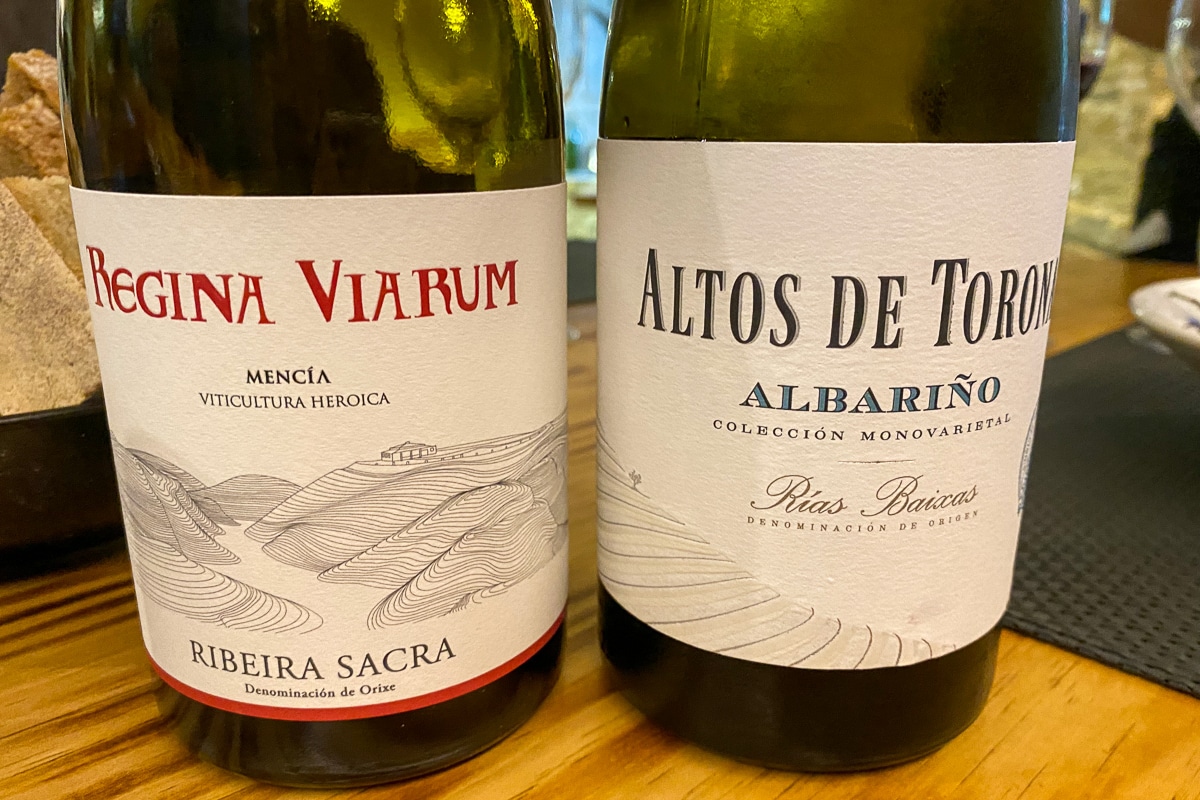 Without studying Spanish wines, it's highly likely you've sampled some. Five certified varietals some from Galicia, the most famous being the albariño, an almost effervescent white from the Rias Baixas region. (According to Santiago's tourism office, Galicia is the only Spanish wine-producing area where wines are called by the name of the grape rather the region.) In reds, look for mencía (Ribeiro Sacra) or godello (Valdeorras).
All sorts of up-to-date information on Santaigo's tasty food offerings is available on the city's tourist website. Since Santiago may be near the end of your journey before returning home, you'll do well to purchase some items to carry with you. Gifts of food are simply the best way to recall your Spain experience.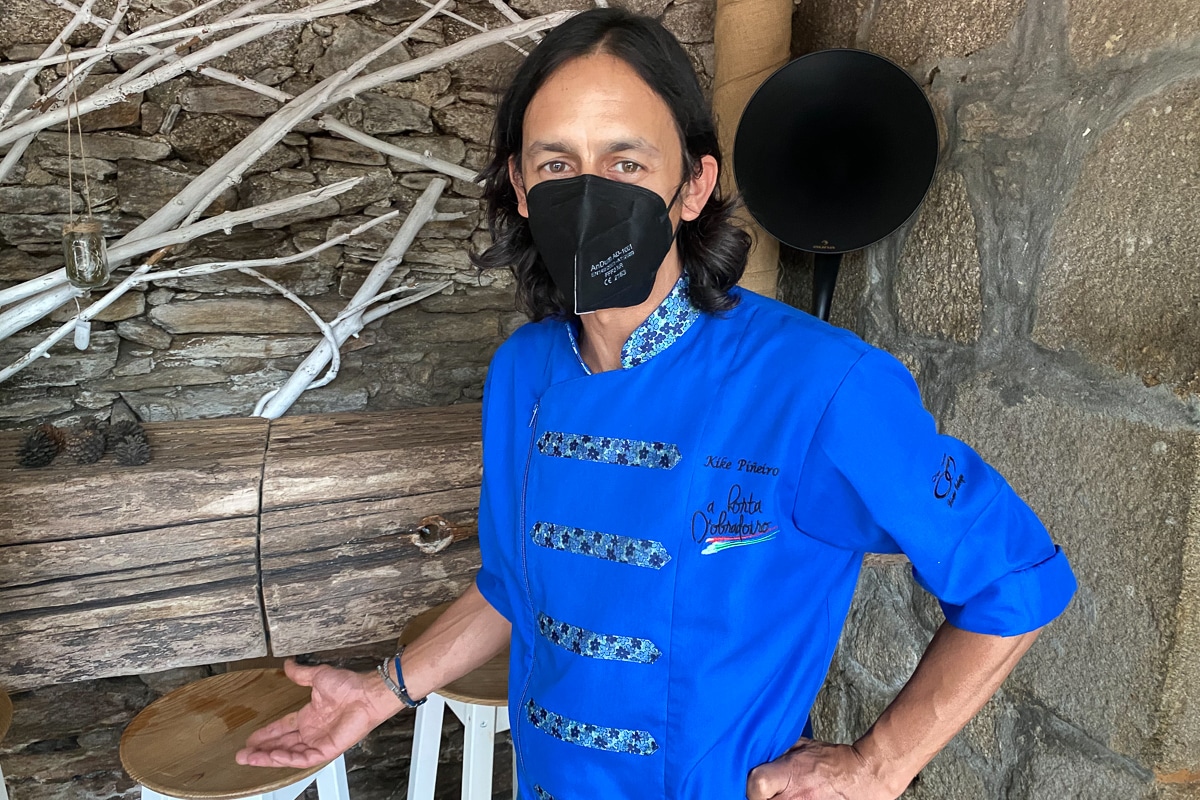 Santiago de Compostela Notable Restaurants
We hope our simple reporting on the foods we ate in these first two restaurants will convince you of their quality. The secret is really no secret: fresh local ingredients assembled with creative energy by passionate chefs.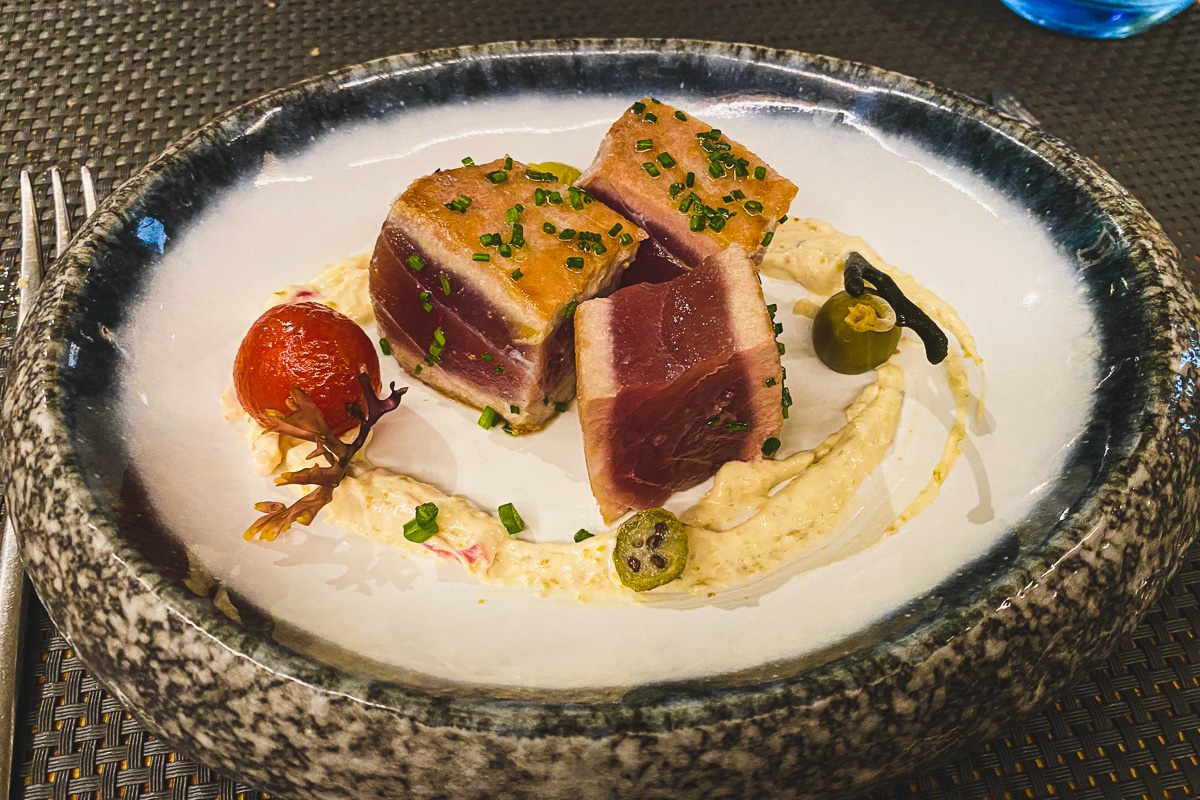 Restaurante A Horta do Obradoiro
Chef Kike Piñeiro. Our menu kept delivering, every course a treat and beautifully presented.
Sardines and onion on focaccia
Navajas, razor clams, are a favorite of Tom's
Atlantic tuna over puree of potatoes with pimiento and capers
Potato topped with a spicy pork salsa
Meluza, hake, over vegetables with warm sweet vinegar poured over at tableside
Veal pot roast with mushroom sauce
Cinnamon ice cream with apple whipped delight topped with toasted crumbs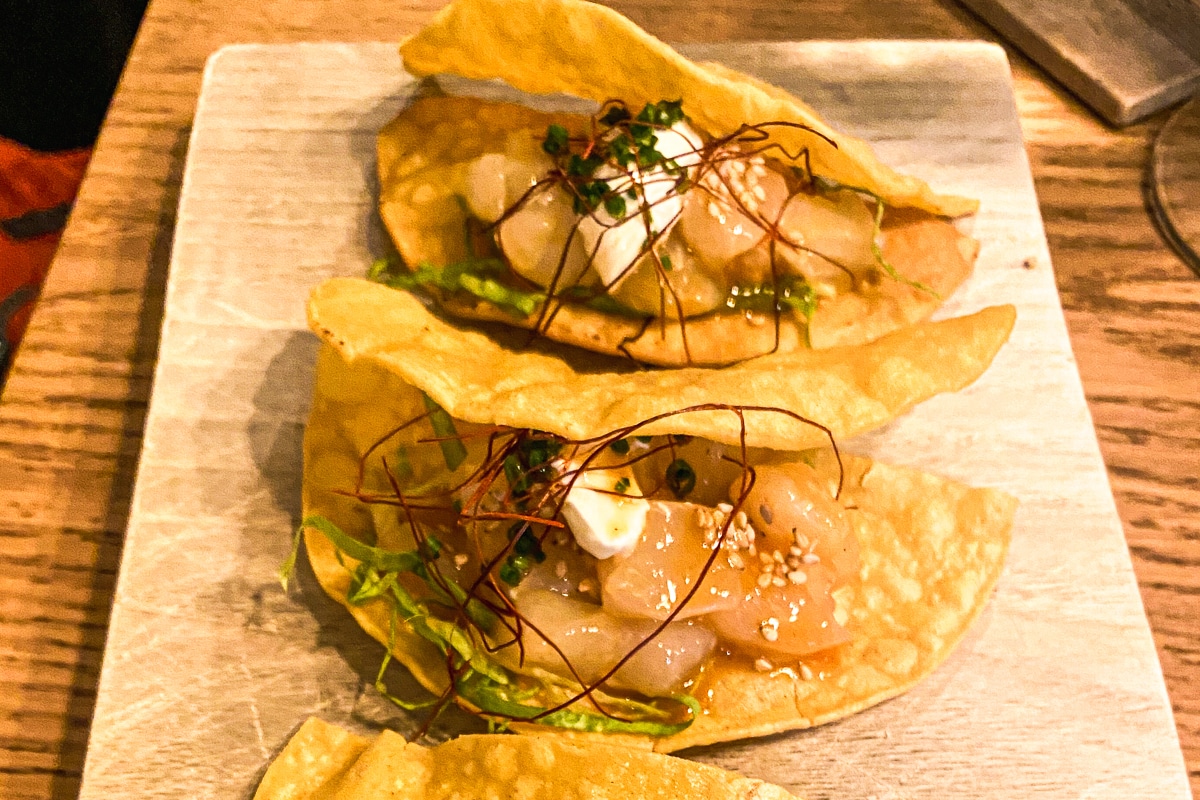 La Radio
Chef Pepe Solla restaurant opened in 2019, celebrating the one of life's finest combinations: good music and great food. In addition to the local wine selection, we were introduced to the tasty local beer, 1906.
Cabbage kimchi soup with fish broth
Corn flour empanadas with leek and merluza, served with Jamon Iberico tartare with smoked oil
Corn tacos with sushi (merluza) and marinated kimchi
Ham and merluza croquettes
Toro tail braised with aromatic herbs
Ensaladilla: potatoes and carrots with asweet pepper foam and seaweed vinegar drizzle
Iberian pork loin with tomatoes
L'Incontro
Not the chef-driven groundbreaking sort of restaurant as those above, but a very pleasant meal and experience. Located right in the heart of the restaurant zone near the cathedral, L'Incontro surprised us with available seating at a busy time, quality classic pasta dishes, and fresh attractive salads. Sometimes, we all need to include a fine Italian meal in the mix.
When you're thinking of traveling, your first stop should be our Travel Resources page, where we list all the essentials you need to make your travels easier, cheaper, safer, and more fun.
You can also help yourself get ready for your travels by reading our Get Started Planning Your Trip Now page.
We love traveling–with the right gear. We've gathered a lot of the stuff we use to make travel more pleasant and efficient all on one page. Shop our Travel Past 50 Amazon page to find our favorite gear. If you purchase something from the store, Travel Past 50, as an Amazon affiliate, may receive a small commission at no extra charge to you. Thanks.
We never leave home without our travel insurance. Nor should you. Search for the travel insurance from Allianz that best meets your needs, whether it be an annual plan or a single trip.
You can see (and buy prints) of most of our travel photos in one place on this page.
Note: This post and other posts on TravelPast50.com may contain paid or affiliate advertising links. As an Amazon Associate we earn from qualifying purchases.