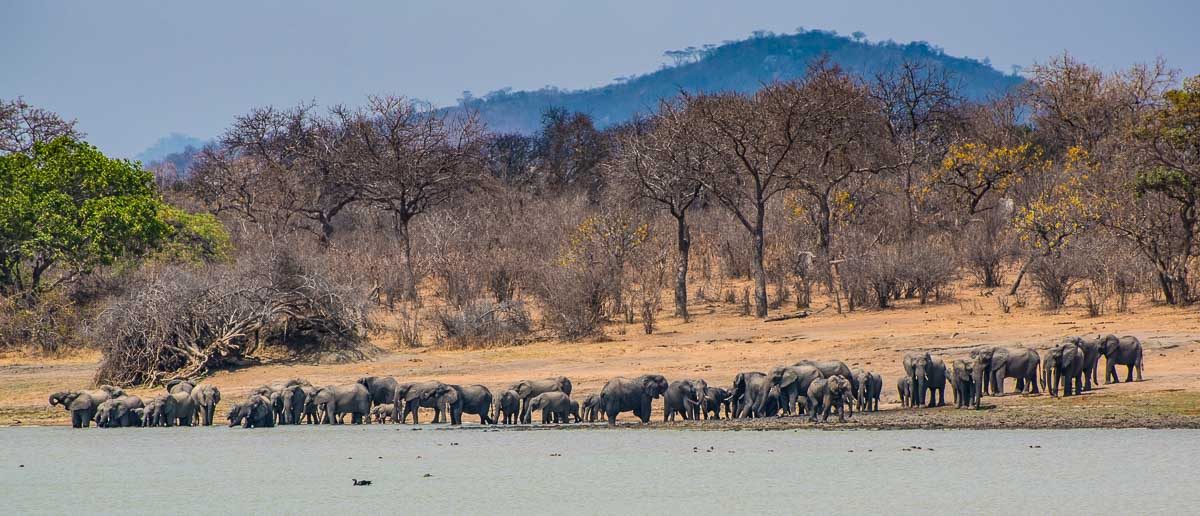 I knew I wasn't on one of those luxe African animal safaris the second night in camp when a cobra slithered up next to our tents. But, other than providing a startling and colorful introduction to the south African animals we'd come to Malawi to see, the cobra's brief appearance was less spectacular than the constant parade of elephants by the camp. That was impressive.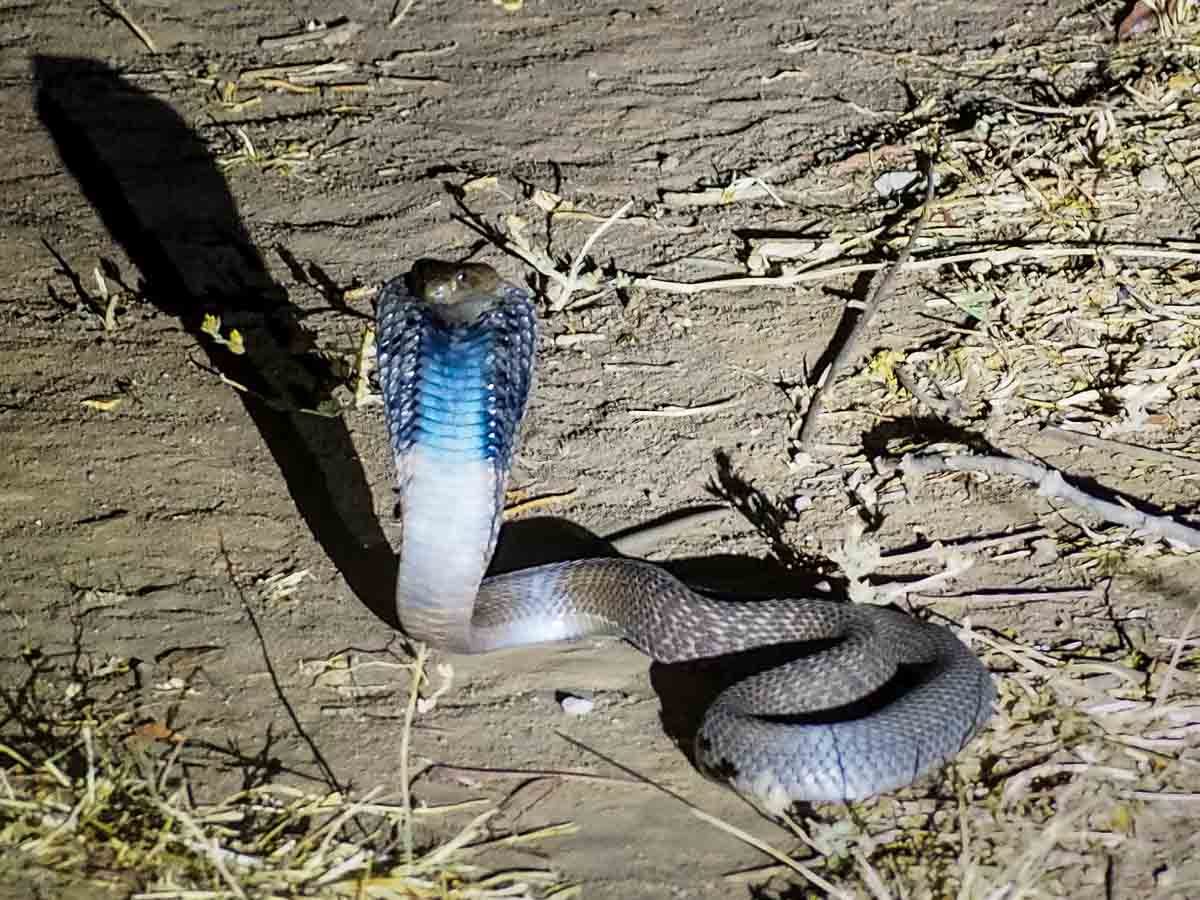 For my first trip to sub Saharan Africa, I was able to latch on as a journalist with Biosphere Expeditions' Malawi animal research program.
Being a wildlife conservation volunteer with Biosphere Expeditions
According to Biosphere Expeditions statement of purpose, successful conservation is the result of the collective effort of individuals. I would add that it's also the result of an impressive attention to detail and organization that makes their expeditions enjoyable and stimulating in equal measure.
Some posts on Travel Past 50 may contain affiliate links. If you buy something through one of those links, we may earn a small commission. As an Amazon associate, we earn from qualifying purchases.
Volunteering with animals
But of course that's all incidental to the reason why you're there in the first place: to volunteer in Africa to benefit south African animals.
In the case of Biosphere Expeditions, you'll be working with real scientists as their research assistants. There is actual training in the scientific method, data collection, use of technology, and animal appearance and behavior. We observed and recorded everything from elephants to butterflies and beetles. Obviously, methods varied, but all involved venturing deep into the bush, either on foot on in vehicles. And it was genuinely rewarding to do so with a purpose other than just gaping at animals.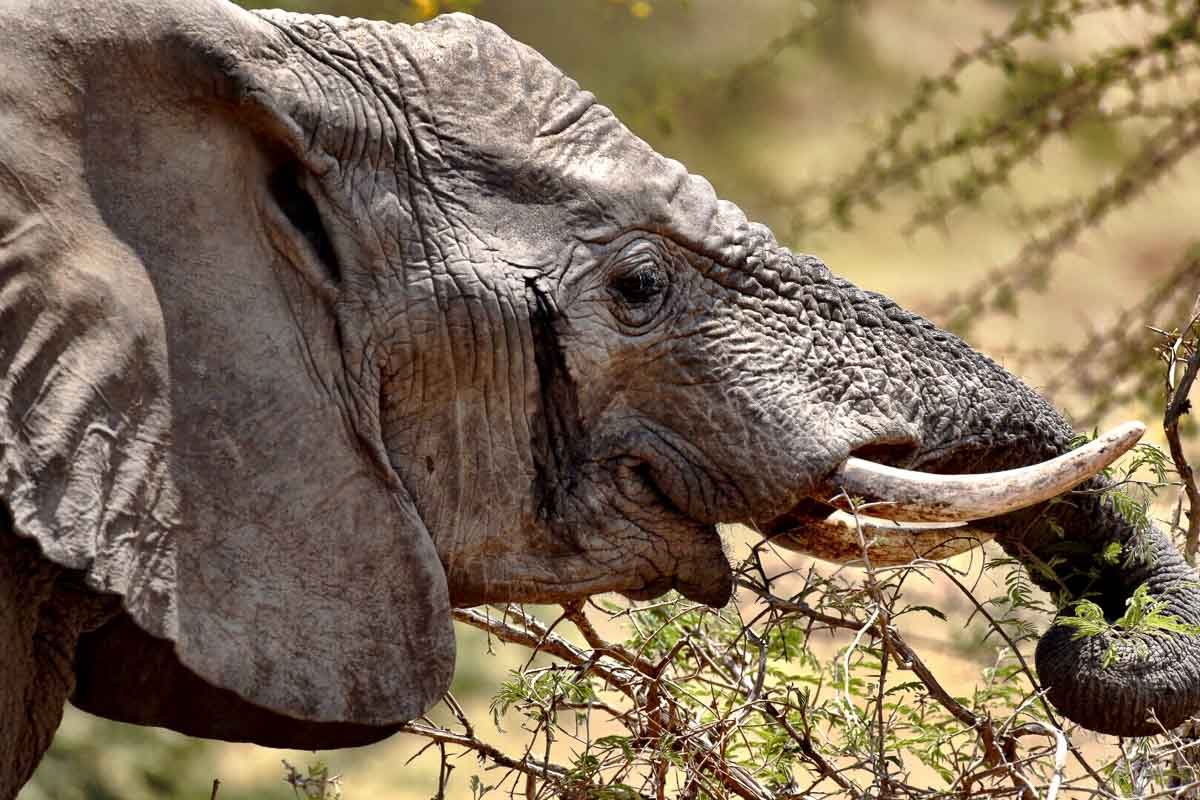 Elephants
The king of African safari animals is the elephant, or at least it was for us since there are no lions in Vwaza Marsh. (A single lion was observed recently on one of the capture cameras that are spread through the reserve, but he hasn't been seen since. One of the naturalists told us he was probably transiting the area, looking for a pride, and had since moved on.)
We were able to observe, count, and even name some elephants often from the comfort of our own veranda. Elephants paraded past the camp every day we were there but two. They came out of the bush across the lake, stopped for a drink, and then came around the end of the lake in front of camp. And sometimes even into camp for a snack on the nearest trees.
The elephant observation involved counting males and females, adults, adolescents, and juveniles, plotting their location, and even identifying them by name. They were identified by notches in their ears that all elephants will acquire over the course of their lives. Tails are also distinctive. If you discovered an elephant who wasn't yet in the "book" you got to name him. Our group named five. The identification was usually done by making video, then examining it in detail. It's awful hard to count moving elephants in real time.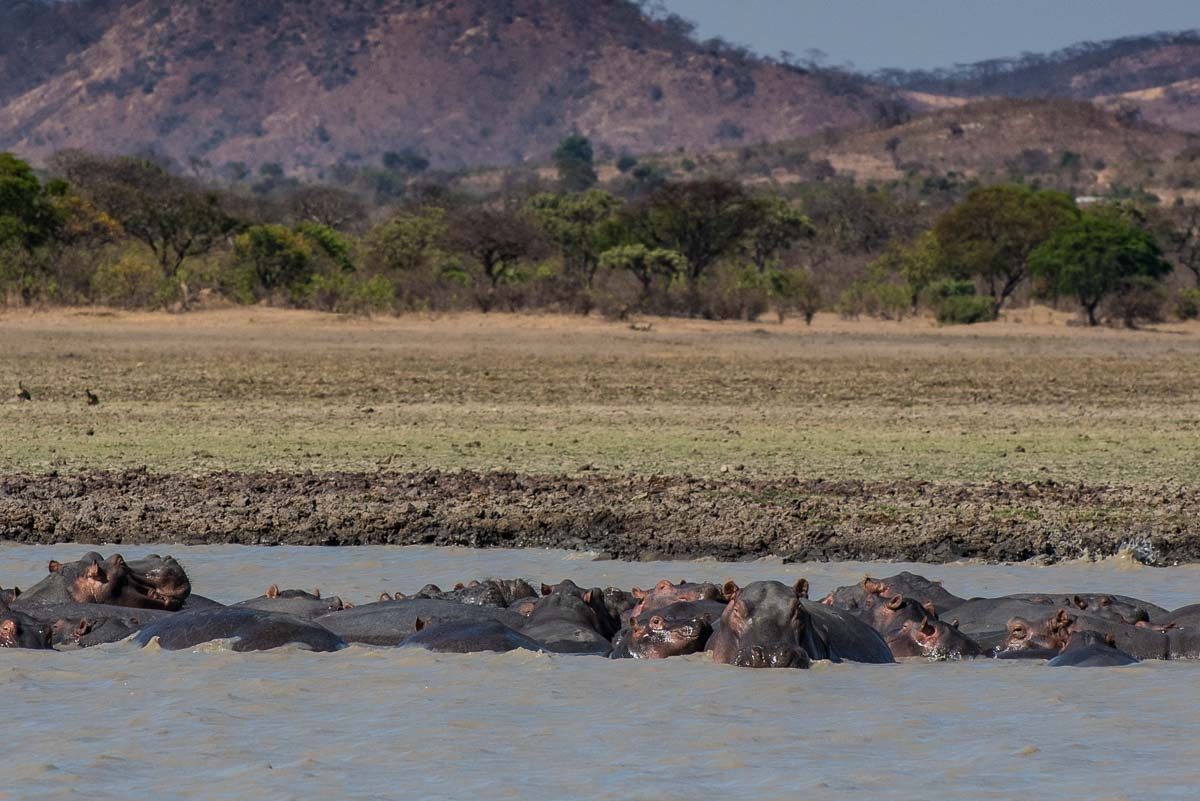 Hippos
The daily hippo walks-called "transects"-were my favorite activity. A group of five or so, with a scientist and an armed park ranger, would walk exactly five kilometers around the nearby lake, counting hippos, and plotting their exact locations with GPS, compass, and rangefinders. The methodology was easy and fun to learn and you could see how you could then plot the hippos' locations with great accuracy on a map. Most of the hippos we saw were in the water, where they were inclined to stay during the heat of the day. We saw very few on the shore and gave them a wide berth, as they are notoriously dangerous if you get between them and the water.
As we learned quickly, they like to come ashore at night to graze, and they, too, weren't shy about wandering into camp after dark. Noisy bastards they are, too. Be sure to have a good lookout if you have to get up to use the bathroom after dark.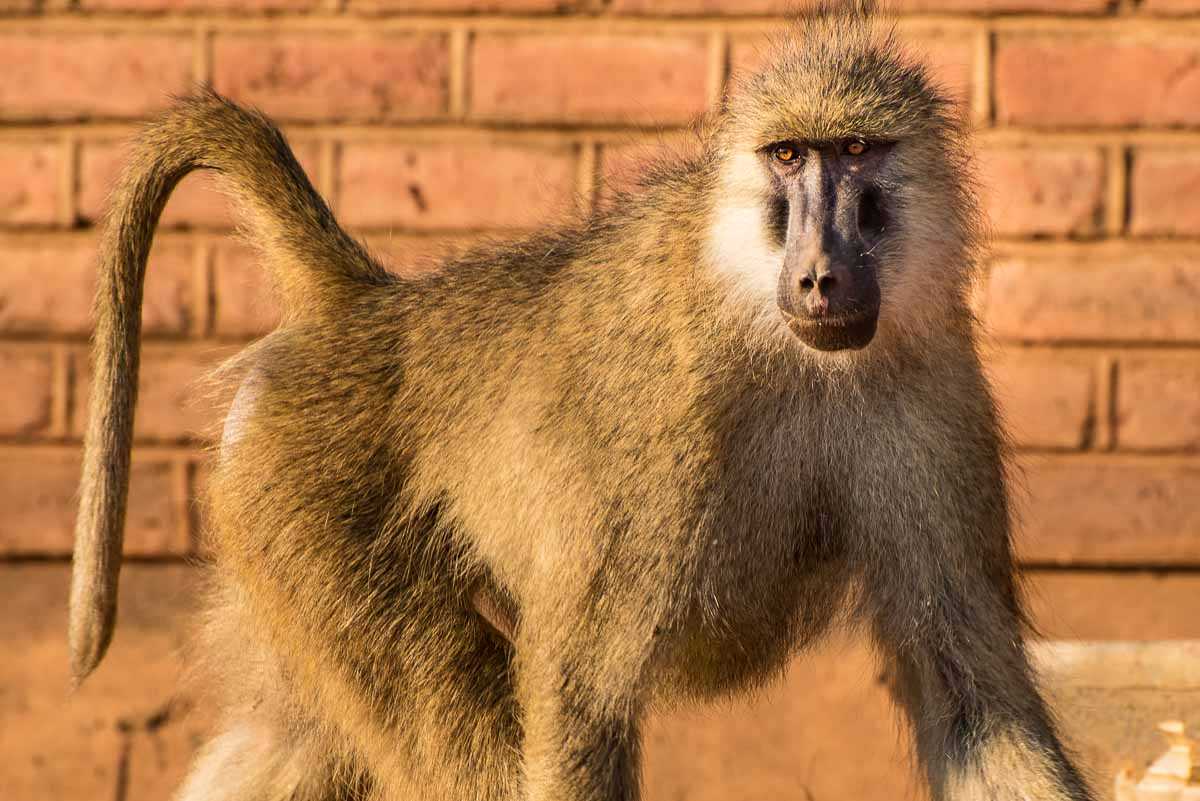 Baboons
Like the elephants, the baboons sort of came to us. We observed them constantly around the camp, and had to guard against them barging right in and stealing anything they liked. We were told that was a constant problem until full-time camp guards were hired, mostly to shoo the baboons.
The formal baboon observation usually involved walking to the village up the hill from the camp where the baboons and the families of the park rangers seemingly peacefully coexisted. At any one time, there was a troop of 20 or so baboons roaming the village. So, it was easy to observe them at our leisure and without having to do much hiking. The methodology was simple and actually sort of elegant. One camper would observe and call out the age, sex (if known) and behavior. For example, adult male foraging, or two juveniles playing, or adult female grooming. Or even, on occasion, two adults mating.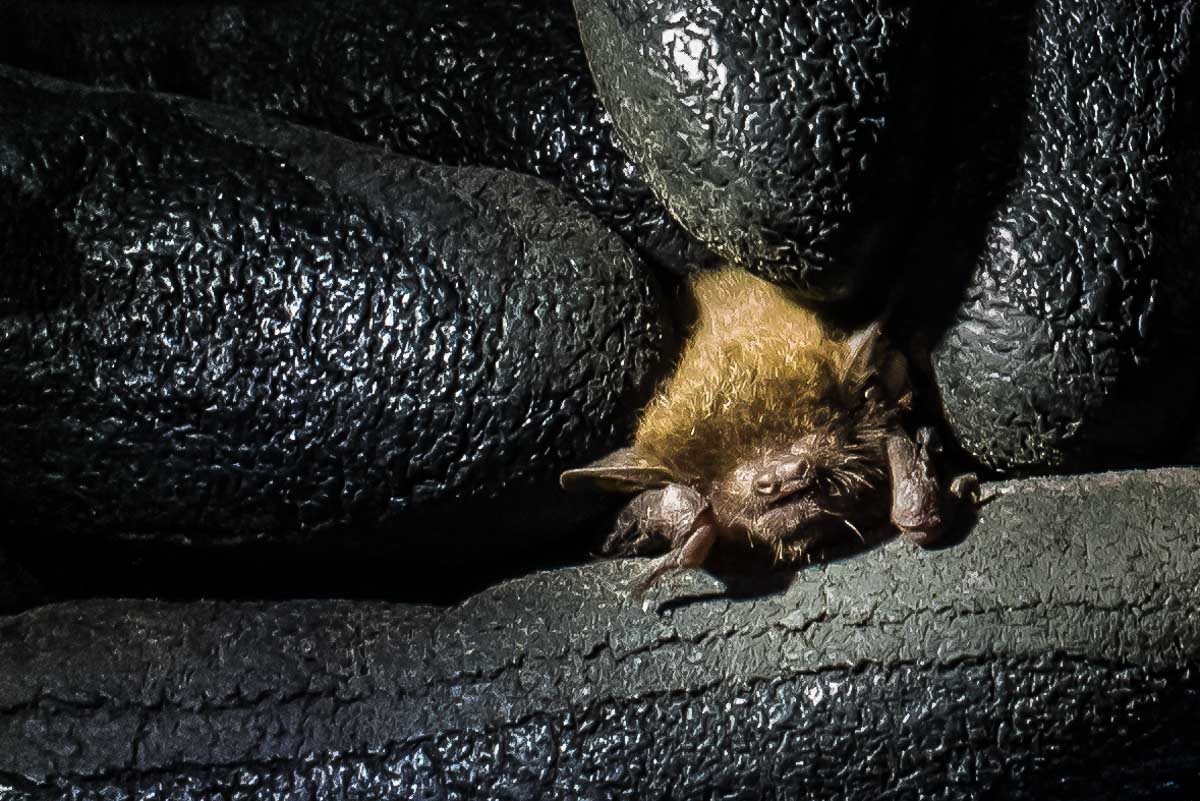 Bats and Bugs
Bats were captured in delicate "harp" traps and fine nets. The harps were two grids of fine filaments, like fishing line strung and set up in a "funnel" of vegetation where the bats would normally fly. The bats would fly in one side, hit the filaments on the other and fall into a cloth trough. From there, they were picked by gloved hands and delicately measured, catalogued by sex and species, and released.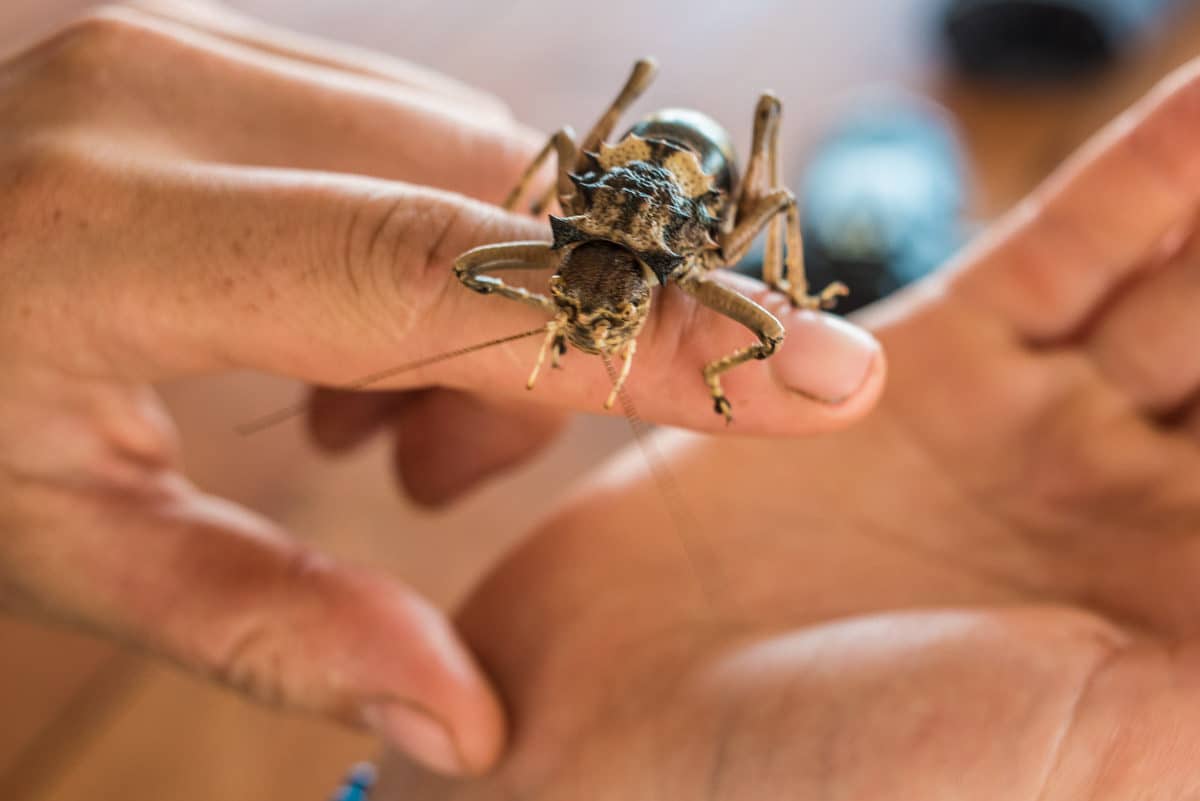 Flying insects such as butterflies and moths were trapped in cheese cloth funnels, baited with overripe bananas. Crawling insects were collected by placing "deadfalls" of large plastic cups in the ground, and letting the beetles and others simply fall in to be retrieved the next day.
The camp at Vwaza Marsh Wildlife Reserve
The Vwaza Marsh Wildlife Reserve is a 900 square kilometer reserve in the northwest part of Malawi. The environment is described as flat savannah woodland. While we were there in October it was dry, dusty, and hot. We were told that the rainy season starts the end of November, and that the environment changes to wet, muddy, and muggy.
If the above-mentioned cobra weren't hint enough, the accommodations in our Vwaza Marsh camp were not the sort advertised in the typical African safari brochures. There were shared canvas tents for two or three people, with slat beds with minimal mattress pads and mandatory mosquito nets. There were two toilets of the "long drop" outhouse variety and you ladled a cup of ash and a cup of sawdust into the hole after use. Outside of each little house was a water jug and soap for your hands.
There were a couple more washing stations for hands and teeth outside the rows of tents, and one more near the kitchen and eating tables.
Two shower stalls made from reeds and a rope-hung bucket with spigot were at one side of the camp. Half a bucket of water was more than enough to wet, soap up, and rinse off, if you shut off the spigot in between. I could usually do it with a little more than a quarter bucket.
Behind the kitchen were a few wash tubs for clothes, and lines for hanging with the cheapest crappiest clothes pins ever. The ground was littered with the broken ones. The plastic was so thin they broke under the slightest finger pressure. I guessed this was just a small indication of what life in Malawi would be like for the citizens.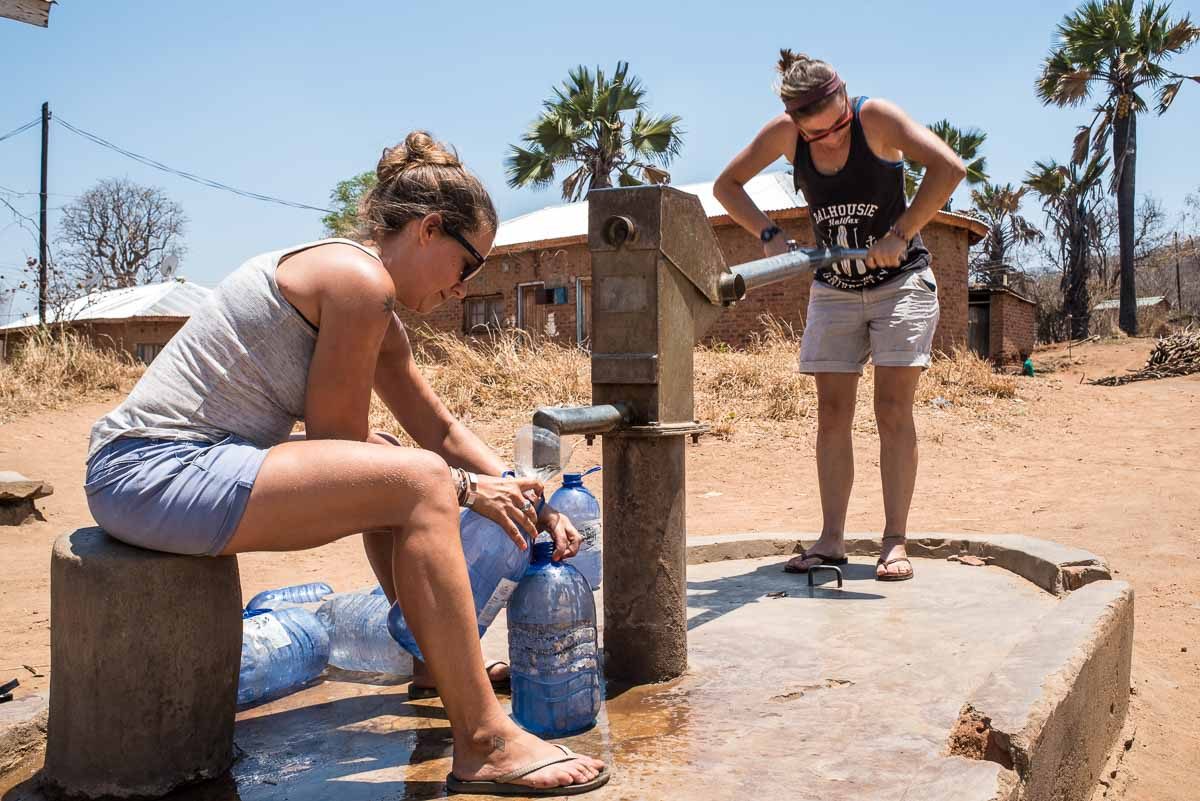 Crews of four campers took daily turns filling the dozen 20-liter jerry cans and a few 5-liter jugs from the pump we shared with the village up the hill. Water for drinking and washing was precious. It cost labor in the hot sun.
We got three, mostly tasty, vegetarian meals a day, cooked by Emmanuel, and soaked by most of the campers in sweet spicy Thai sauce. Drinks were water, Cokes and Fantas in three flavors, and two varieties of Carlsberg beer, although, there was always competition in the small fridge for beer space among the food stuff. Sometimes the beers were not as cold as you'd like after a hot day of hiking in the bush. You had to remember to stock the old fridge several hours before you were going to want that beer.
The camp setting was not for everyone, and it seemed as though there were at least a couple of campers who weren't really prepared for it. It was a long way from the nearest hotel with hot showers and cold drinking water. Which, to me, made it all the more fun.
But the best fun was actually doing real science on a Biosphere Expedition. T hat leaves you with a sense of accomplishment and gratitude that you've actually contributed something toward a worthy cause. That's citizen science that makes a difference.
How to get to Malawi
Malawi cannot be reached by direct flight from outside Africa. The most popular ways to arrive in the capital of Lilongwe are via Addis Ababa on Ethiopian Airlines, Nairobi on Kenya Airlines, or as I did, from Johannesburg on South African Airways. The visa process is pretty straightforward. You fill out the form. (It will go quicker if you have it done in advance.) And when you arrive, there will be a four part process to actually get in. It will probably take around 40 minutes–your first introduction to "Malawi time"–to shuffle along a poorly organized row of kiosks to 1) Certify that you're eligible for a visa; 2) Take the "certification" to the next window where you'll pay $75USD, in correct change and get a receipt; 3) Give the receipt to the next window where you'll receive your visa sticker; and finally 4) get your stamp on the visa and actually get into Malawi.
From there, pick up your luggage, and change money at one of the money windows. Although normally we withdraw cash from an ATM, I wouldn't count on one of those to actually work. Just use the money changer windows, and don't be surprised at the huge stacks of Kwacha bills you'll get for your American dollars. One hundred dollar bill equals about 3/4 of an inch of Malawian 2000 Kwacha notes. A ride into the city will cost you the equivalent of $35-40 and takes about an hour.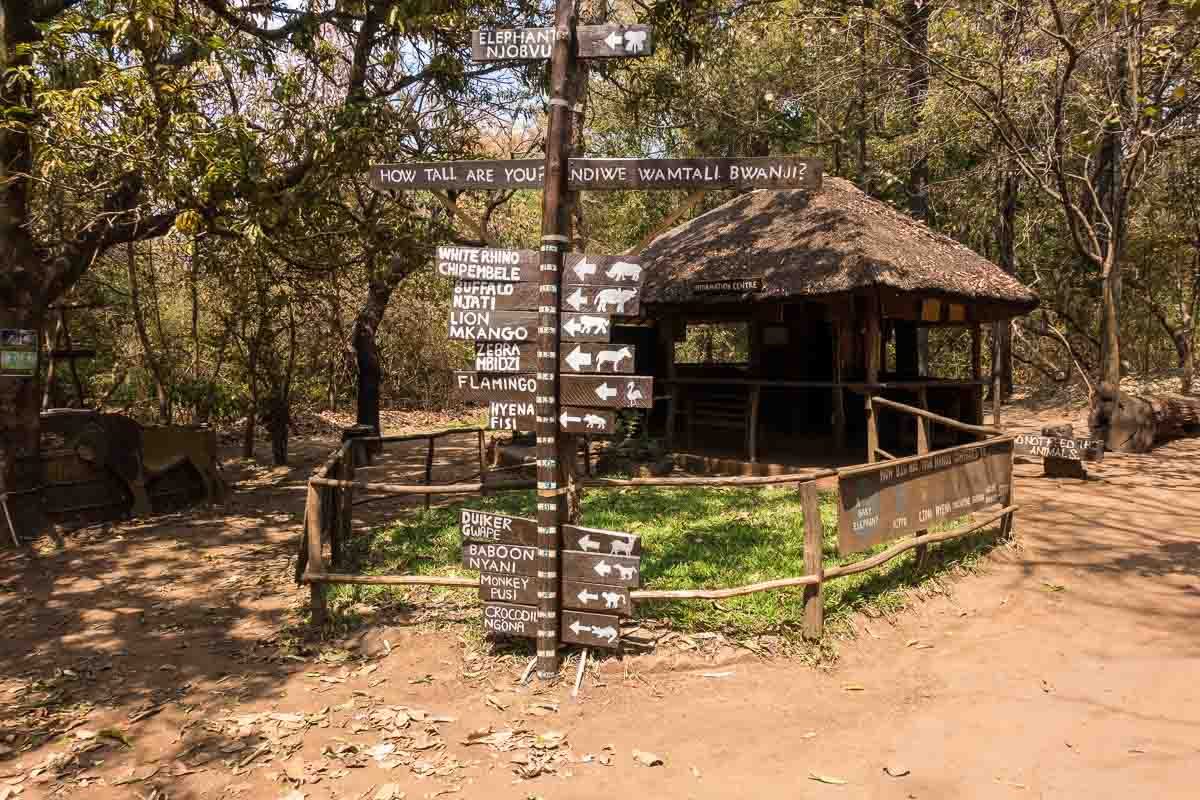 One day in Lilongwe
I'm sure there are more things to do in Lilongwe than I discovered, but a long part of the day was taken up with the dreadful task of getting a SIM for my phone, which it turned out I didn't need anyway. (T-Mobile, update your website. Your service does work in Malawi.) But from there, we took a taxi to the Lilongwe Wildlife Trust animal rehab facility, which I didn't realize at the time was the organization we'd be working with later at Vwaza.
I had a nice one hour tour of the Sanctuary, where I saw baboons, crocodiles, monkeys and owls–all being rehabbed with the ultimate aim of being released again into the wild.
I stayed in the Mafumu Hotel, which was very nice, with a good restaurant for breakfast and dinner.
For a list of what I packed for this trip, see this post on what to pack for Africa.
For a great article on how to photograph animals on an African safari, check out this guest post by our friend Susan Portnoy of The Insatiable Traveler. Susan is, for my money, one of the best wildlife photographers out there.
And, never undertake a trip like this without taking out travel insurance.
You can hear more about working as a citizen scientist in Africa in these two interviews with a primatologist and a fellow citizen volunteer.
A visa is necessary for Americans to travel to Malawi. We use iVisa whenever we need a visa for any country. Great service, and a small price to pay for them to navigate the visa process for you.

You can click the link above, or use this widget below to start the process of getting a visa for any country.
Travel Planning Resources
Looking to book your next trip? Use these resources that are tried and tested by us. Flights: Start finding the very best flight deals by subscribing to
Thrifty Traveler
. Book your Hotel: Find the best prices on hotels with
Booking.com
. Find Apartment Rentals: Find the cheapest prices on apartment rentals with
VRBO
. Travel Insurance: Don't leave home without it. We recommend
Allianz Travel Insurance
. Need more help planning your trip? Make sure to check out our
Resources Page
where we highlight all the great travel companies and products that we trust. See all of the gear and books we like in one place on our
Amazon shop
.