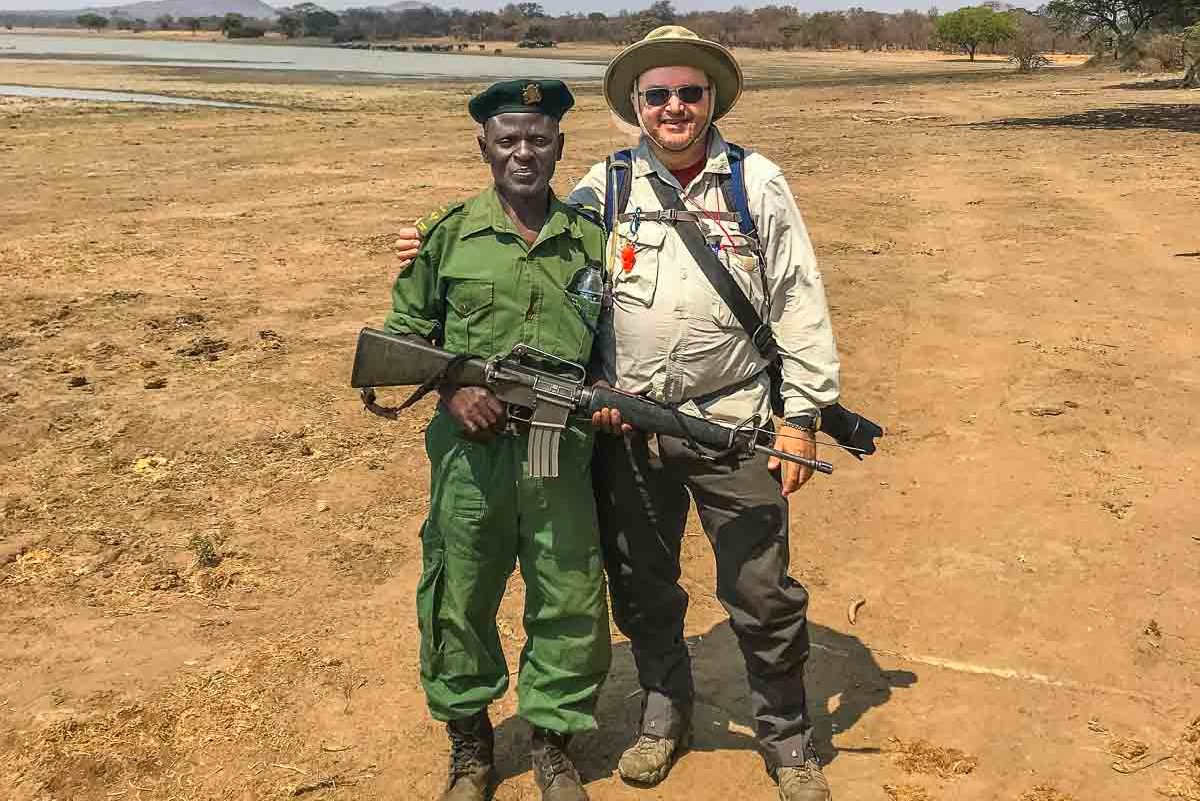 There are two main things to keep in mind when you're going to Africa to see the animals: sun and insects. It's worth preparing well for your African safari so that you can comfortably focus on the wild beauty before you.
Here's a list of what to consider when you're deciding what to pack for an African safari, and how to prepare for a walking safari. We've included a few other things you'll want to bring, based on Tom's experience in Malawi.
Pack for the heat
Cool shirts
For cool, it's hard to beat the ExOfficio Men's Air Strip Long Sleeve Shirt. They have good sun protection, which includes long sleeves and a collar that unrolls to protect the back of your neck. ExOfficio also makes versions with Insect Shield technology (see below.)
T-shirts
Again ExOfficio for me. Sweat wicking is the key. And, when you rinse them out, they're quick drying.
Underwear
Ok, it's getting tedious, but I'm a big ExOfficio fan here, too. Cool, washable, and quick drying. And yes, I'm a boxers kind of guy.
Pants–go for durable over light weight
I varied here from the pure concern for cool and bought tough Carhartt Men's Rugged Flex Rigby Dungarees. If you're walking through the bush, keep in mind that the animals and bugs aren't the only things that are aggressive. It seems that most African plants have thorns, or at least pointy brittle branches. And the grasses often have little serrations. So, all that requires something tougher than the typical nylon blend travel pants. Remember, too, when choosing all your clothes, to pick colors other than blue or black. Those colors attract tsetse flies. Really. The Malawian park service actually hangs poisoned blue/black cloths on the trees in the park to attract tsetse flies.
Gaiters
You might want to add gaiters to your anti-vegetation armor. Optional, but also keeping the thorns and sharp seeds out of your socks is not a bad idea.
Socks
I've used a variety of socks over the years, but I just got some Point6 recently and they're fast becoming my faves. They have all the usual wash and quick dry attributes, but I particularly like the fit and breathability. And, they slide around nicely inside my boots. No blisters!
Insect repellent
Deet. It works, too. But you probably don't want it on your hands while you're eating. Use the strong stuff. African mosquitos are relentless. But don't forget to wash it off when you go inside.
A head net and other natural anti-insect ideas
Yeah, a head net can look sort of silly. But note that while Deet will keep the mosquitoes away, it seems to have no effect on tsetse flies. There will be at least one time when you'll be glad you have this. Or you can just swing your hands around frantically and constantly.
You also might consider some of these non-Deet wipes for your hands and face, especially when you're eating.
Finally, some of the campers used clove oil as a tsetse repellent. Not sure it worked, but it sure smells good.
All the other miscellaneous stuff you'll want to pack for Africa
I'm not going to go into long explanations of why you should carry these. It should be fairly obvious why you need them.
Oh, and one more thing. Never undertake a trip like this–or any other long trip, for that matter–without travel insurance. We use Allianz Travel Insurance. Check them out.
While you're packing for Africa, don't forget your tech needs. You can see our recommendations for your best travel tech accessories here.
If you want to double check your packing list, see these handy, infographics from our sponsor Go2Africa: what to pack for an African safari, and how to prepare for a walking safari.
This is an update to a post originally published in 2018, just after my first trip to Africa. We're in the midst of planning another trip to Kenya soon, so we revisited our preparations.
I visited Africa as part of Biosphere Expeditions expedition to Malawi to study elephants, hippos, baboons, bats, and bugs.
Note: This post and other posts on TravelPast50.com may contain paid or affiliate advertising links. As an Amazon Associate we earn from qualifying purchases.