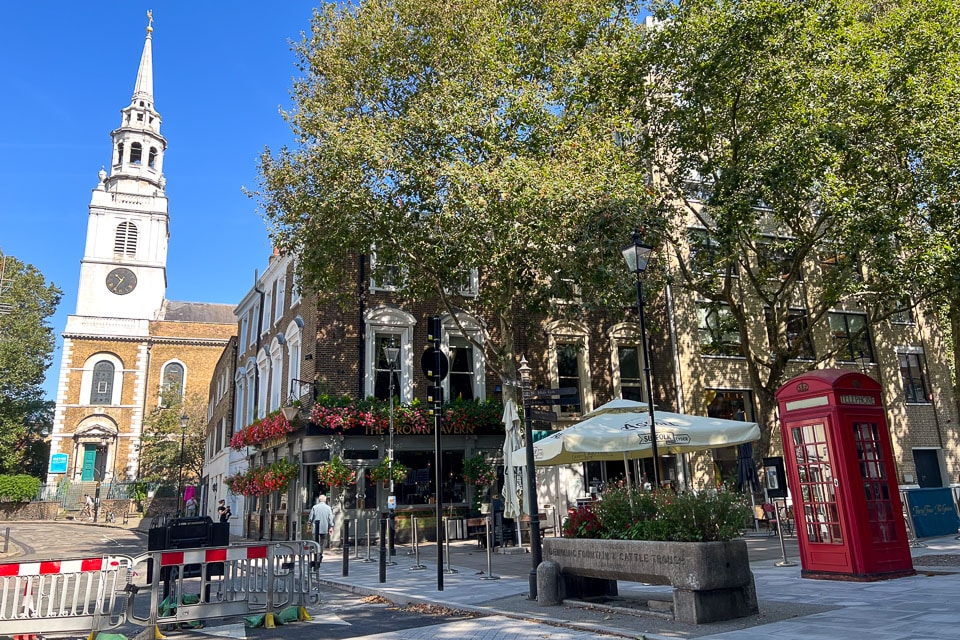 Three days in London may not seem like enough time to enjoy this great British city. But our quick London getaway surely reminded us of how much we love what London has to offer, and that it remains one of the world's most fascinating cities. We had sufficient time to sample a few of our favorite things.
Our three-day itinerary was partly planned and partly spontaneous. For us – and, we suspect, for other couples who've visited London many times over the years – the priorities are to see live theater; to visit some of the incredible, free, national museums; and to walk and walk and walk enjoying monumental sites, busy neighborhoods, vast parks, and cozy pubs.
This short visit to London could be enjoyed any time of year. Because it was just the two of us, we had little trouble navigating busy streets and galleries in the high tourist season. As for major attractions, we settled for unexpected glimpses of Parliament and St. Paul's Cathedral from wherever we happened to be.
It's been a long while since our last visit, so we'll include some tips on where to stay and how to get around, too.
London Theater Scene: How to Find and Book Tickets
Long before New York's Broadway became synonymous with live theater, there was the London Theater District. In the mid 1600s, Puritans insisted on shuttering all London's theaters, a closure that lasted for 17 years. But since 1660, Theatreland in London's West End has blossomed with theaters. Now about 40 theaters in the area stage dramatic plays, comedies, musicals, and opera.
Give some respect to the country that bore William Shakespeare, the Globe Theater, and the present-day National Theater and Royal Shakespeare Companies. Seeing live theater in London is always a treat and a privilege.
Our first approach to planning a visit to London is to see what's playing. Here are some resources we use to browse what's on and to book tickets.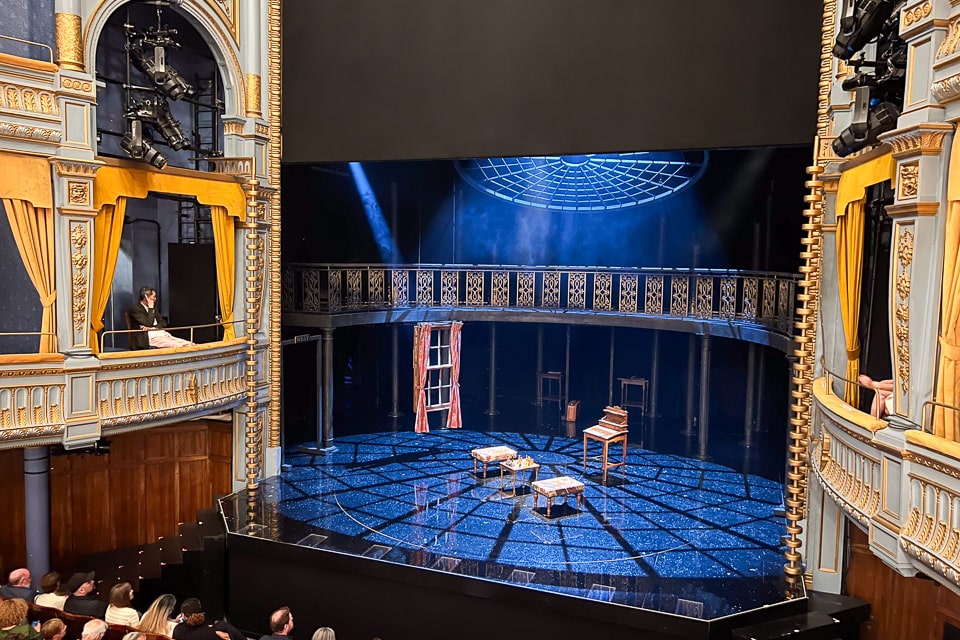 Purchasing theater tickets
National Theatre. We love the National for its wide selection of productions, it's top-notch company of actors, and for its vibrant main stage location south of the river (though NT productions may be presented at other theaters about town and across the country). Usually we see at least one NT production per UK visit. When you are browsing the site, keep your eyes open for NT productions on film at select cinemas internationally, or others available for streaming. That might be a nice warm-up. But, the point is to get yourself to live theater.
Royal Shakespeare Theatre (RSC). Presenting the ultimate productions of every Shakespeare play you may want to see, plus non-Shakespeare productions as well. The RSC is based in Bill's hometown of Stratford-upon-Avon, but their productions can be seen in London and elsewhere in England, too. While you can expect to find at least one Shakespeare play being performed in all seasons, the RSC is also known for excellent, innovative productions of other plays and musicals, including new work. The RSC website now offers limited, discounted rush seating tickets for sale online.
Barbican Centre. Because the Barbican Centre is outside the West End theatre district, it's worthwhile to check their listings separately. The sprawling arts center in East London is know for it Brutalist architecture and its "city-within-a-city" style, quite innovative for its time. (Barbican was built in the 1970s, completed in 1982, and located in an area destroyed by World War II bombing. Hence the blank slate and absence of historic preservation requirements.)
At any rate, the Barbican houses two theater stages (presenting musicals, plays, and dance), a concert hall, visual art galleries, a library, and more. Allow extra time to walk around the area, especially on the elevated pedestrian levels. Architectural tours are available. It's worth noting that this newer theater provides more ample seating and restrooms than the cramped but quaint Victorian era theaters of the West End.
Official London Theatre. For a comprehensive listing of what's playing in London, visit OfficialLondonTheatre.com where you can search by musical, play, comedy, or family performances, and purchase tickets. The Plan Your Theatre Visit section provides handy information on the theatre venues including accessibility details and nearest Tube stations and bus stops. Note that discounted TKTS for day-of-performance purchase are available through this site, too.
London Theatre Direct also provides direct booking of London theatre plays and musicals, often at a discount. Be sure to check it in addition to other sites before you book to get the best price.
TKTS. For good deals on same-day performances and a real person to help advise you, visit the free-standing ticket office in Leicester Square in the heart of West End London. For best selection, get there early. We suggest using your savings to buy best seats available.
Theater Reviews and Resources
It used to be that Time Out London was the bible for all theater and music listings. It's online now, of course, and includes useful restaurant information, arts news and reviews, special Time Out deals, and listings of (almost) everything to do in London.
For critical reviews and a better understanding of the productions you are considering, read The Guardian's theater reviews.
Choices. There are plenty of choices! If you attend any production in London, you have our support. But we will gently urge you to look beyond the long-running, big production musicals in favor of smaller dramatic choices. The big musicals ultimately transfer to (or from) Broadway and to regional theaters in the States. So find something that you won't likely be able to see anywhere else but in London.
What we saw August 2023. We have a a whole box of saved theater programs, tucked in a corner of a closet, in case we want to recall who we saw in what a couple decades ago. For the record, during our quick August 2023 London visit, we saw:
A Strange Loop at the Barbican Theatre. The musical that won all the Tony Awards and handed playwright and lyricist Michael R. Jackson the 2020 Pulitzer Prize for Drama.
The Crucible at the Gielgud Theatre. When you see the Royal National Theatre's production of a play you might have read in high school…
Dr. Semmelweis at the Harold Pinter Theatre. A groundbreaking ensemble performance about the Hungarian doctor who discovered the life-saving importance of hand-washing to obstetrics. A National Theatre production of a play created by Academy Award winner Mark Rylance.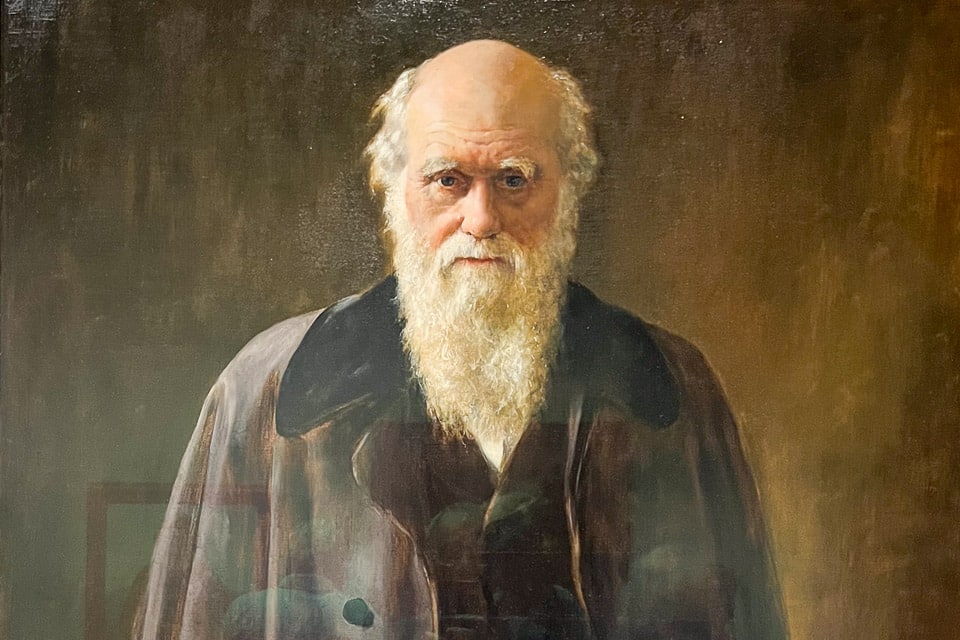 Over the years and many visits to London, we've covered several quiet attractions within easy reach of the city center. Check out these posts for more ideas for your 3-day London itinerary.
Earl's Court, London
Royal Botanic Gardens, Kew, London
Maritime Greenwich, England
And for more about The British Museum and London's fantastic theater, The Two Best Reasons to Go To London.
National Museums
Our typical visit to London includes the British Museum and the Tate or Tate Modern. We will always recommend these outstanding museums. During this recent visit, however, we met friends at the recently renovated National Portrait Gallery one day, and visited the National Gallery the next. We were glad for the change-up to our habits. By the way, these National Galleries are just a couple minutes walk from Leicester Square and Theaterland, and admission is free.
National Portrait Gallery. Essentially a new gallery after a major renovation, it's a pleasure to view portraiture from the Tudors to contemporary paintings and photography. Organized chronologically, the subjects are from political, science, arts, and everyday life. I especially enjoyed the literary figures: Pope, Wordsworth, Coleridge, Byron, Blake, Shelley, and the iconic photo of Oscar Wilde. Free with the exception of the temporary exhibits. We skipped paying to see Paul McCartney's photos.
The National Gallery. Something for everyone who's ever appreciated a painting. Highlights include Leonardo Da Vinci (Virgin of the Rocks and The Burlington House Cartoon), Rubens (Samson and Delilah), Rembrandt, Georges Seurat, Monet, Van Gogh, J.M.W. Turner, and lots more. Timed entry tickets can be reserved online in advance. Without reservations, we waited in line about 15 minutes, not bad for August. Free.
British Museum. The tag line is "Experience cultures across the globe, from the dawn of human history to the present." Yes, right or wrong, the collections of Greek and Roman artifacts are here, for the time being. I get goosebumps just seeing the library. Free.
Tate Britain and Tate Modern. The best of British art, loosely organized from Tudor times to WWII, then 1940 to today. But the main attraction is the JMW Turner collection. For more challenging contemporary art – from early 20th Century to today, and not all British – get thee to the Tate Modern. Both are free, with the exception of some special exhibitions where advance booking is recommended.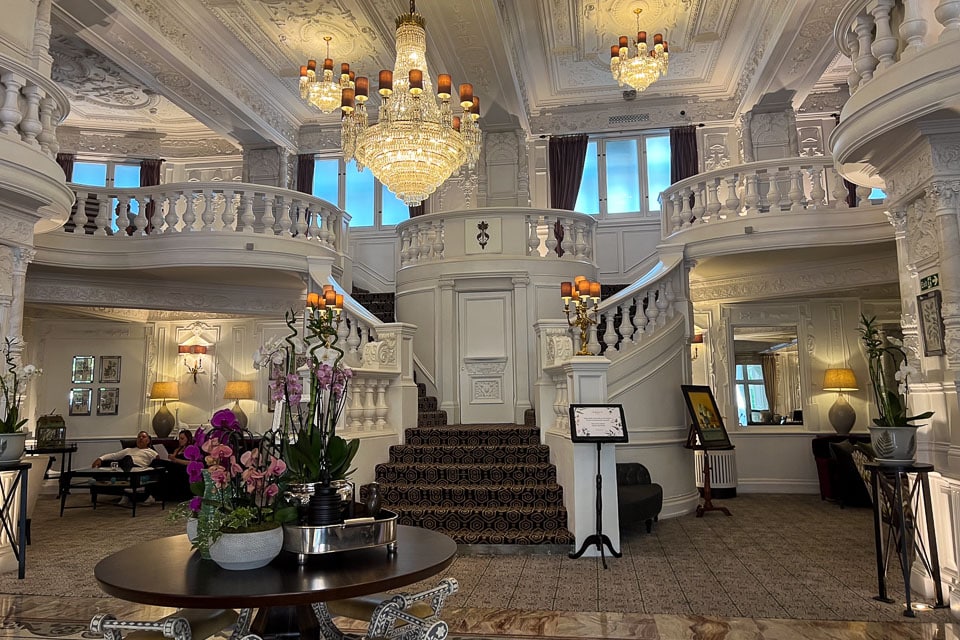 Hotels and Neighborhood Notes
Classic London Hotels
St. Ermin's Hotel. Put me up here, please. A great location tucked between the Palace and Parliament, and just a couple minutes from St. James Park. St. Ermin's is the sort of historic hotel that's hard to resist. Its carefully preserved interior displays flourishes in plaster, wood, fabrics, and floor tiles, the effects created by its theater designer architect back around 1900. A rooftop garden provides botanics for the hotel restaurant and its infused gins. The banquet rooms are perfect, and a hotel suite definitely passed inspection, though we didn't stay overnight.
Best of all is the spy history that permeates the hotel. From World War II to more recent double agent affairs involving the UK, USA and Russia, various episodes are noted in historic displays in the bar and lobby. (John le Carré's Tinker, Tailor, Soldier, Spy is reported to be based on Russian mole Kim Philby who frequented the hotel.) Kids are welcome here, and provided with a "Top Secret" spy activity folder.
The Londoner. OK, we haven't stayed here either, but we thought we should mention it because a) we stumbled upon the hotel's little speakeasy-type bar through a separate entrance (see below) and b) it's smack-dab in the middle of Theatreland, at Leicester Square.
Newer Hotels/Different Neighborhoods
Yotel Clerkenwell. This is the first time we've stayed in the Clerkenwell area, which we selected based on reasonable hotel rates and walkable distance to Central London. Just about everything in the hotel is designed to save space, so expect tight quarters. We found much to like in this artsy neighborhood. (See Bars and Restaurants below.) Tube stop: Farringdon, where we could catch the Elizabeth line directly to Heathrow Airport.
CitizenM Hotel Shoreditch. Another modern hotel keeping rooms small. But we have it on good authority that this neighborhood is perfect for walkers like us. Check out the Spittlefield market and the food and shops along Brick Lane.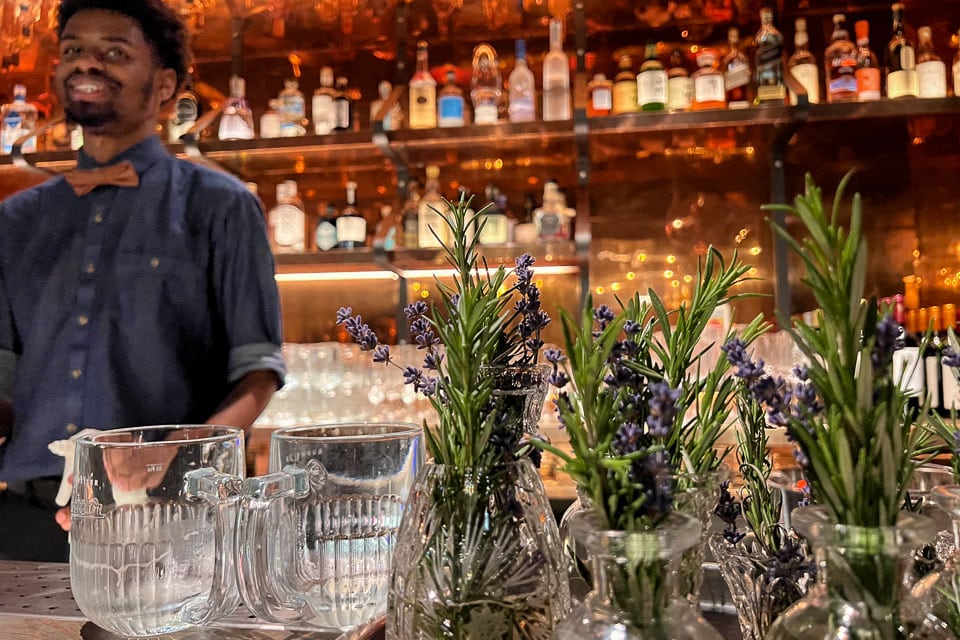 Restaurants and Bars
Our 3-day itinerary gave us a chance to check out a wide range of places across town. Note for late-nighters: Closing times may surprise you, especially after the theater. Most bars close at 11 p.m. and that means last call is 10:45. Hotel restaurants and bars and some places right in the theater district may be open later – but don't count on it.
Central London
St. Ermin's Caxton Grill. Lunch or tea here is a good choice. Steak tartare and perfectly cooked salmon were key to our fine lunch.
Joshua's Tavern Hmmmm, 40 kinds of gin, knowledgeable staff, tables out or inside, fine for pint of ale, too. Joshua's Tavern is hiding in plain site, just a block off Leicester Square but away from the crowds.
Bar Kroketa (Soho) Meet up with friends at this Spanish themed bistro when you take a break from shopping. Fine food in a casual setting, best when enjoyed with friends, a la Spain.
Arthur's Cafe at Liberty of London Liberty is practically a museum, a department store famous for it's Liberty patterned silk scarves. Wander through for the sake of browsing and climb the old wooden stairs to enjoy an iced tea at Arthur's.
Clerkenwell
Near Farringdon tube stop, this neighborhood is really still Central London, just not as close to the theater district. From Picadilly, we variously walked, taxied, and took the Tube to get to our hotel.
The Crown Tavern. Classic, close to our hotel in Clerkenwell, relaxed, good food, nice looking, some outdoor seating on a little pedestrian triangle.
The Clerkenwell Kitchen. So perfect for breakfast that we returned for a second day. They were preparing some awesome-looking catered lunches while serving locals inside and out on a quiet interior courtyard.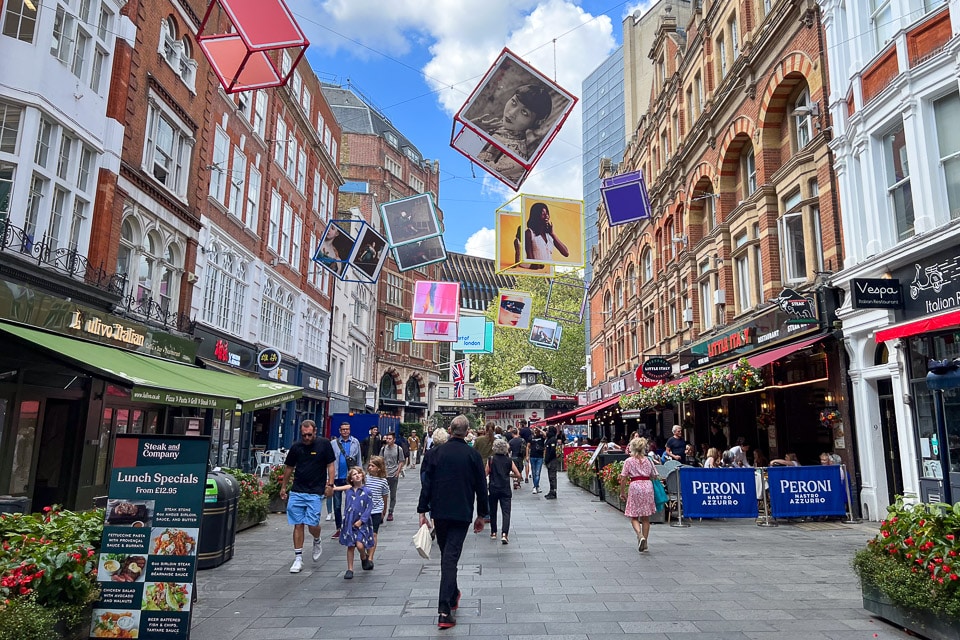 Getting Around
Getting into London
Since we started in Henley on Thames (for a family wedding) we took a train into London. From Henley at off-peak hours on a Monday, the train cost £26.20 (US$33), took about an hour and a half with one change, and included bus or Tube transit in London Zones 1-6 all day.
For arrivals from Heathrow and Gatwick airports, trains are pretty easy and of course taxis and rideshare options are available, too. We recommend the app Trainline to plan your transportation upon arrival.
Oyster Card for Tube and Bus
Miraculously, we laid hands on our Oyster cards from previous visits, and were able to "top up" the cards with additional money. You can purchase a card or add value to yours at any Tube station machine, or online at Oyster Card.
Use the TfL Go app to plan your trips. It show accurate walking time, transfers, and specific train and bus info
Taxis
The best way to get around central London if you are tired of walking is to take a taxi. It's fun, comfortable, and reasonably priced. We used a taxi when we were running late for an appointment, and enjoyed a conversation about electric versus gas cars and the lure of the American Corvette.
Uber is available in London, but is perhaps best used for airport runs or longer distances.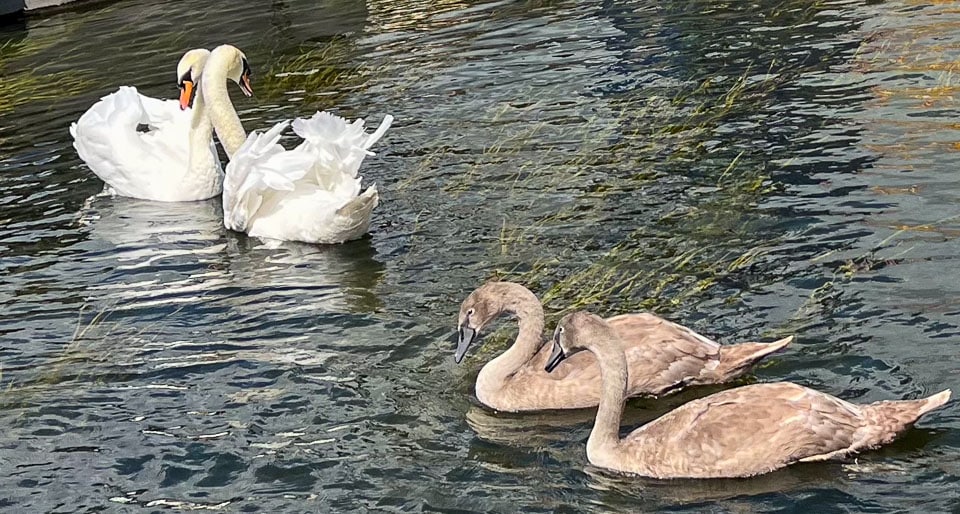 When you're thinking of traveling, your first stop should be our Travel Resources page, where we list all the essentials you need to make your travels easier, cheaper, safer, and more fun.
We love traveling–with the right gear. We've gathered a lot of the stuff we use to make travel more pleasant and efficient all on one page. Shop our Travel Past 50 Amazon page to find our favorite gear. If you purchase something from the store, Travel Past 50, as an Amazon affiliate, may receive a small commission at no extra charge to you. Thanks.
We never leave home without our travel insurance. Nor should you. Search for the travel insurance from Allianz that best meets your needs, whether it be an annual plan or a single trip.
You can see (and buy prints) of most of our travel photos in one place on this page.
Note: This post and other posts on TravelPast50.com may contain paid or affiliate advertising links. As an Amazon Associate we earn from qualifying purchases.