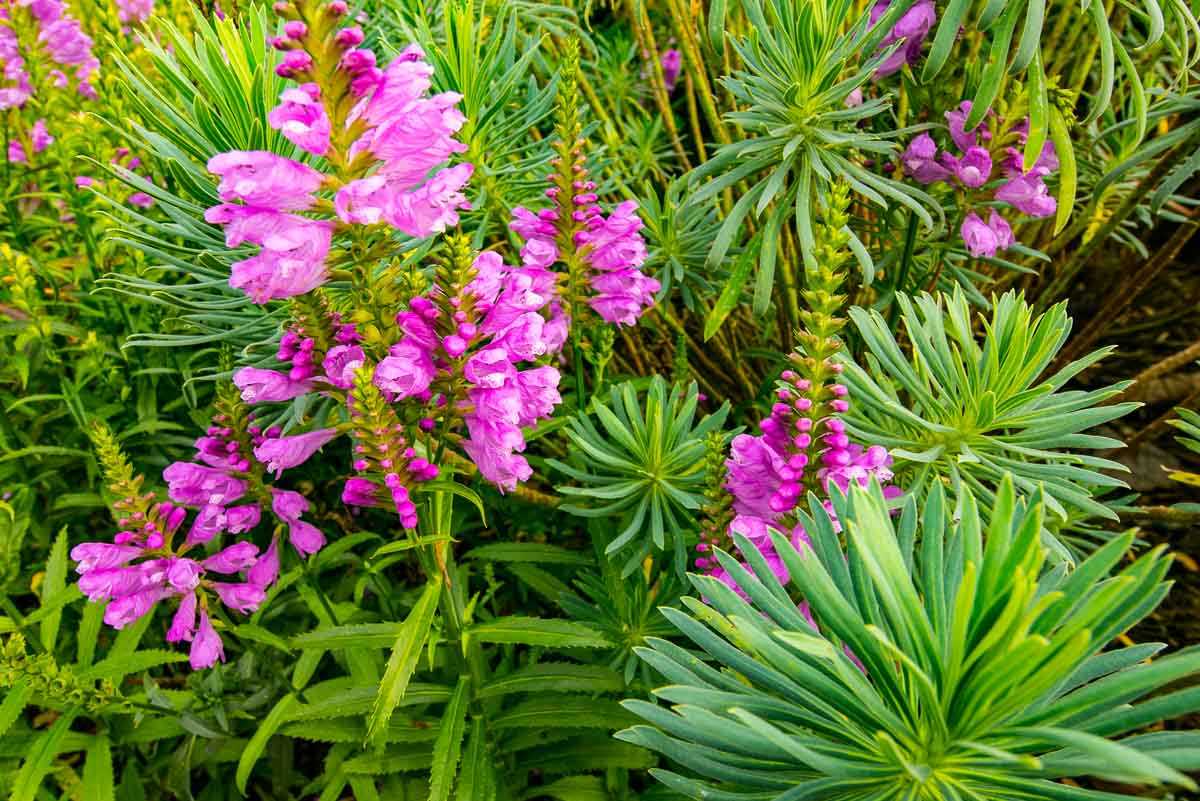 The Royal Botanic Gardens at Kew, or Kew Gardens as they are familiarly known, are difficult to sum up. First, of course, there is a huge garden in the English landscape garden tradition. Elements of the historic landscape garden illustrate significant characteristics of the art of gardens from the 18th to the 20th centuries. What that means, practically, is there are miles of enjoyable walkways among thick plantings of flowers, trees, and green bushes.
Kew Gardens is set among a series of parks and estates along the River Thames' southwestern reaches and include work by several internationally renowned English landscape architects. This location also means that it's right around the corner from some incredible British cottages, so why not rent one of these to stay within walking distance of the Gardens."
The Thames river side of the gardens features one of the homes of English King George III and his wife, Queen Charlotte, along with her small private gardens. You are free to walk through the the small home and Charlotte's gardens.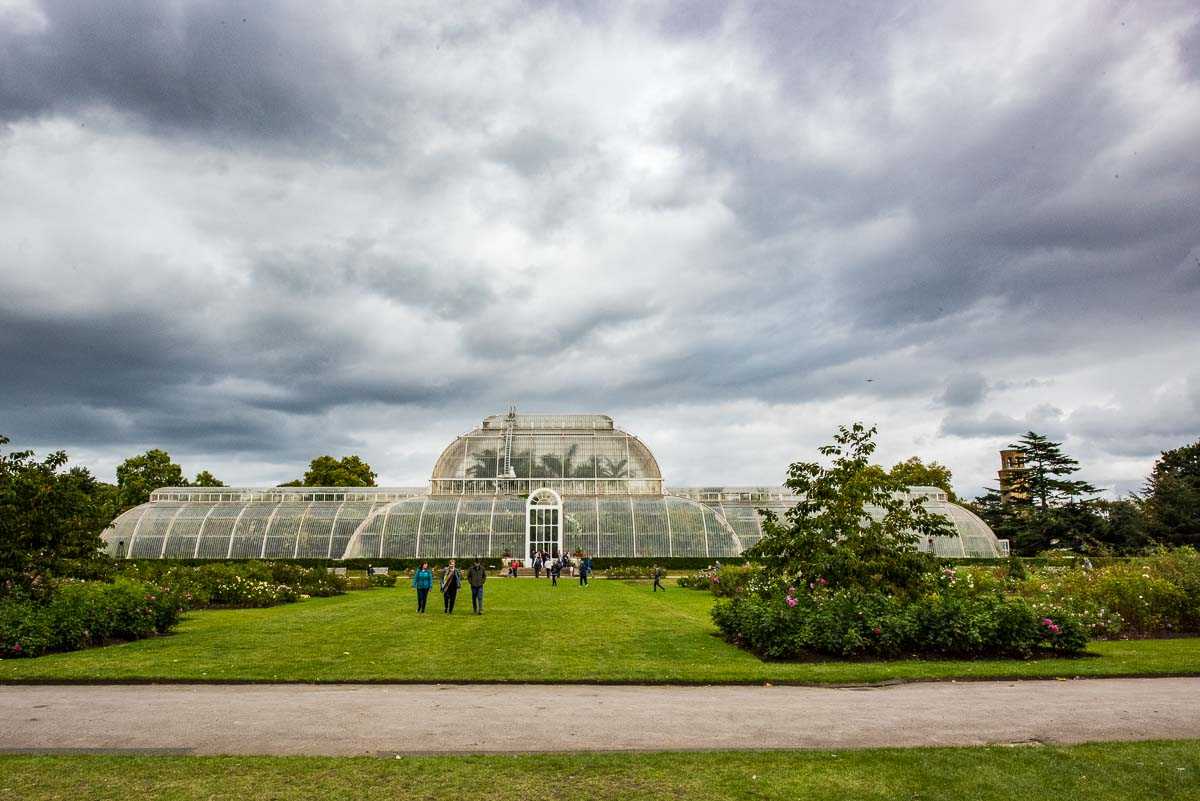 Second, Kew Gardens is a huge botanical reserve. The gardens house collections of conserved and living plants, and documentary records plants, that have been enriched through the centuries. Since Kew Gardens' creation in 1759, they have made a contribution to the study of plant diversity and economic botany.
The focus of the botanic activity is centered on two large iron framed glasshouses, the Palm House and the Temperate House, that became models for conservatories around the world. These buildings and collections became the exemplary developments in garden art and botanical science that were subsequently diffused around the world.
Kew's influence in horticulture, plant classification and economic botany spread to Europe and internationally from the time of eminent botanist Joseph Banks' directorship in the 1770s. The herbariums and plant collections instituted by Banks, who was the botanist on the first voyage of Captain James Cook, and expanded over the 18th and 19th Centuries, signify the bridges between the Gardens' original development from royal retreat and pleasure garden to national botanical and horticultural garden, and a modern institution of conservation ecology.
Other notable features of Kew Gardens include the Orangery, Queen Charlotte's Cottage, the folly temples, several ornamental lakes and ponds, and a unique feature of British landscape architecture: a boundary ha-ha. There is also a lovely long vista to a multistory pagoda situated near the west end of the gardens. If you're up for climbing about 250 steps, you can get a view of the entire garden from the pagoda.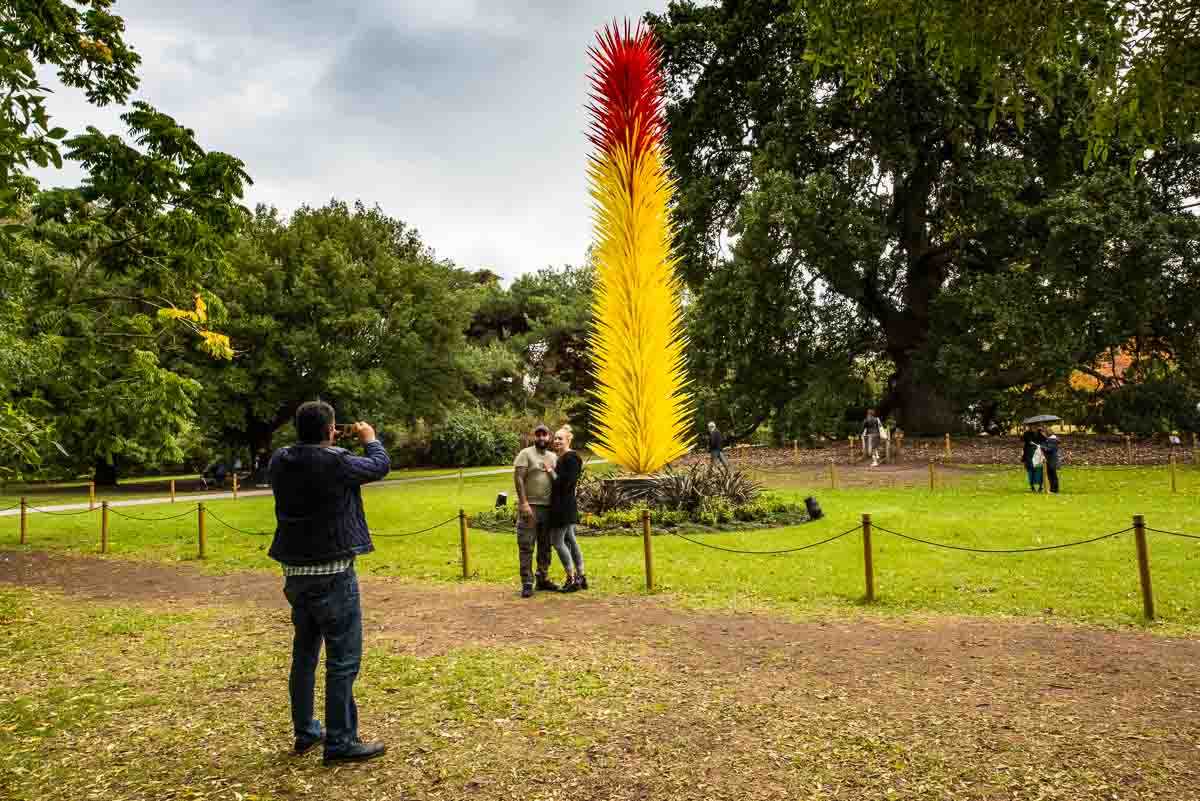 Kew Gardens are a UNESCO World Heritage site in the United Kingdom. Click the link to see a full list of the UNESCO sites in the UK, with links to our stories about the ones we've visited.
How to get to Kew Gardens
From central London, Kew Gardens are easily reached on the Underground. Take a District Line train (be sure you're on the right one that has a terminus of Richmond) and get off at the Kew Gardens station. It's about a 25 minute ride, not counting any changes, from central London. From the Kew Gardens station, it's about a 10-minute (half a kilometer) walk to the Victoria Entrance of the Gardens.
You should allow at least a couple hours to wander the grounds. And be sure to bring good walking shoes.
Admission to Kew Gardens is £16.50 for adults, and £14.50 for adults over age 60. Students are £8. Buy your tickets online at these prices to save from the gate prices. There are also packages for adults with children available on the web site. It's a great day for children. I saw hundreds on the day I visited.
You can help yourself get ready for your own travels by reading our Get Started Planning Your Trip Now page.
We love traveling–with the right gear. We've gathered a lot of the stuff we use to make travel more pleasant and efficient all on one page. Shop our Travel Past 50 Amazon page to find our favorite gear. If you purchase something from the store, Travel Past 50, as an Amazon affiliate, may receive a small commission at no extra charge to you. Thanks.
We never leave home without our travel insurance. Nor should you. Search for the travel insurance from Allianz that best meets your needs, whether it be an annual plan or a single trip.
Note: This post and other posts on TravelPast50.com may contain paid or affiliate advertising links.
Like it? Pin it, or use any of the social share buttons above.