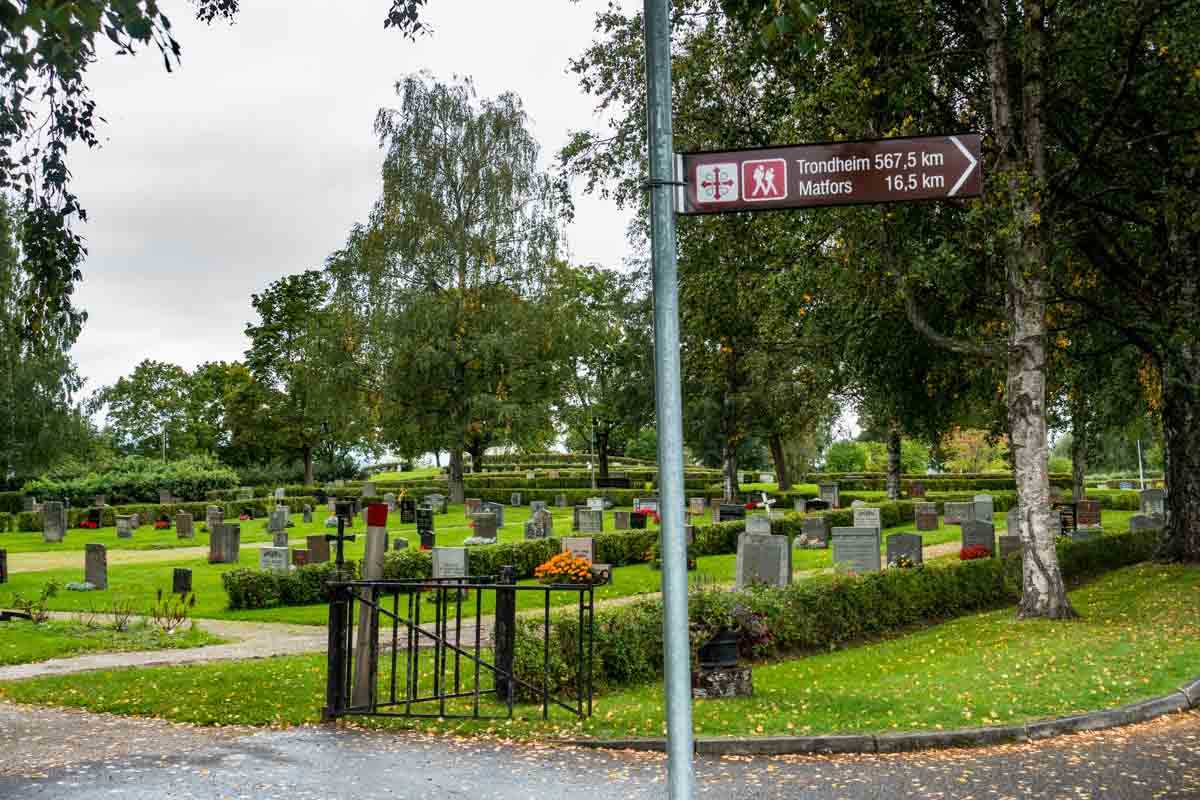 What is the St. Olavsleden? Or, for English speakers, What is the St. Olav's Path? or the St. Olav's Way? Or the St. Olav's Pilgrimage?
I should admit right off that I didn't know what it was either. Until this year. Now I know enough to know that I'm as determined to do it as I was to do the Camino de Santiago in 2011.
Here, in a nutshell, is the bare minimum description of the hike.
The St. Olav's Way starts in Selånger, on the east coast of Sweden, and ends at Nidaros Cathedral in Trondheim, on the west coast of Norway. It follows the road King Olav Haraldsson traveled in the summer of 1030 when he came back from Novgorod in Russia to reclaim the Norwegian throne. The 564 km long pilgrim path runs from coast to coast – through two countries – in the footsteps of St. Olav.
Perhaps it's best to back up a bit and talk about St. Olav.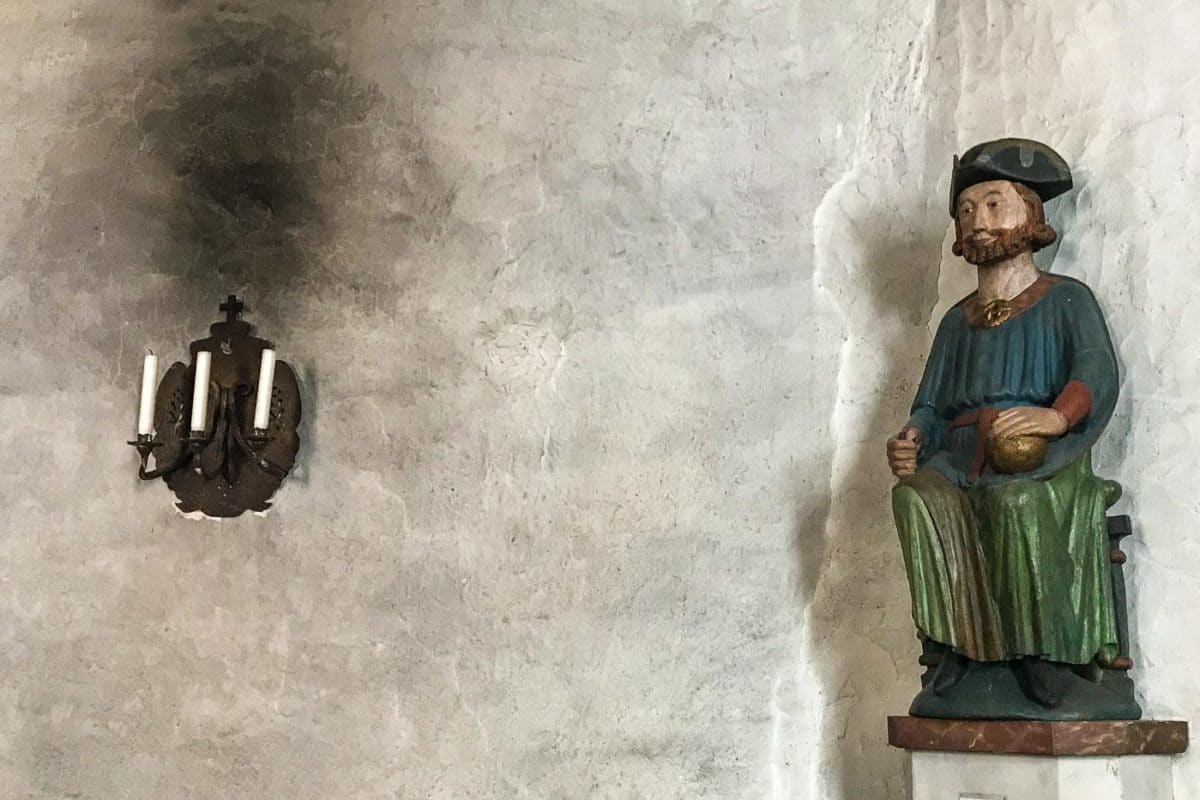 Olav Heraldsson, or Olaf, if you're going with the Swedish and American spelling, was King of Norway from 1015 to 1028. He was deposed by the Norwegian nobles, and fled to what is now Russia. He raised another army and brought it to the port of Selånger, Sweden, and began his march across Sweden toward Norway. He was killed at the Battle of Stiklestad in what is now Norway.
Traditionally, Olav has been seen as the man who Christianized Scandinavia, although some controversy about his motives certainly exists. According to myth, his grave was opened one year after his death, and his body was uncorrupted–and even "smelled like roses." Add that to a few stories about his blood curing wounds, and well water he drank from curing disease, and you've got yourself a saint.

He was quickly named Patron Saint of Norway by the local bishop, his body was carried to Nidaros, (now Trondheim) and a cathedral was erected on the spot. His local canonization was confirmed in 1164 by Pope Alexander III, making him a universally recognized saint of the Roman Catholic Church.
Pilgrimages to the saint's burial place began almost immediately, but pilgrimages were banned with the advent of the Reformation, and the St. Olav's Pilgrimage route fell into disuse.
Things pretty much remained that way until this decade when the tourism authorities of both Norway and Sweden got together to revive the route, both as a pilgrimage and as a darn nice hike through Sweden and Norway. (You can read a bit about the Norwegian St. Olav's Pilgrimage here.)
I had the privilege to walk selected bits of the St. Olav's Path in early September of 2018. What really made it a joy was hiking chunks of it with Putte Eby, the man in charge of the restoration of the path in Sweden.
In all, I walked stretches of the path which had been selected by Putte, and was able to sample not only the stunning peace and beauty of the path, but also a cross section of the accommodations available along the way.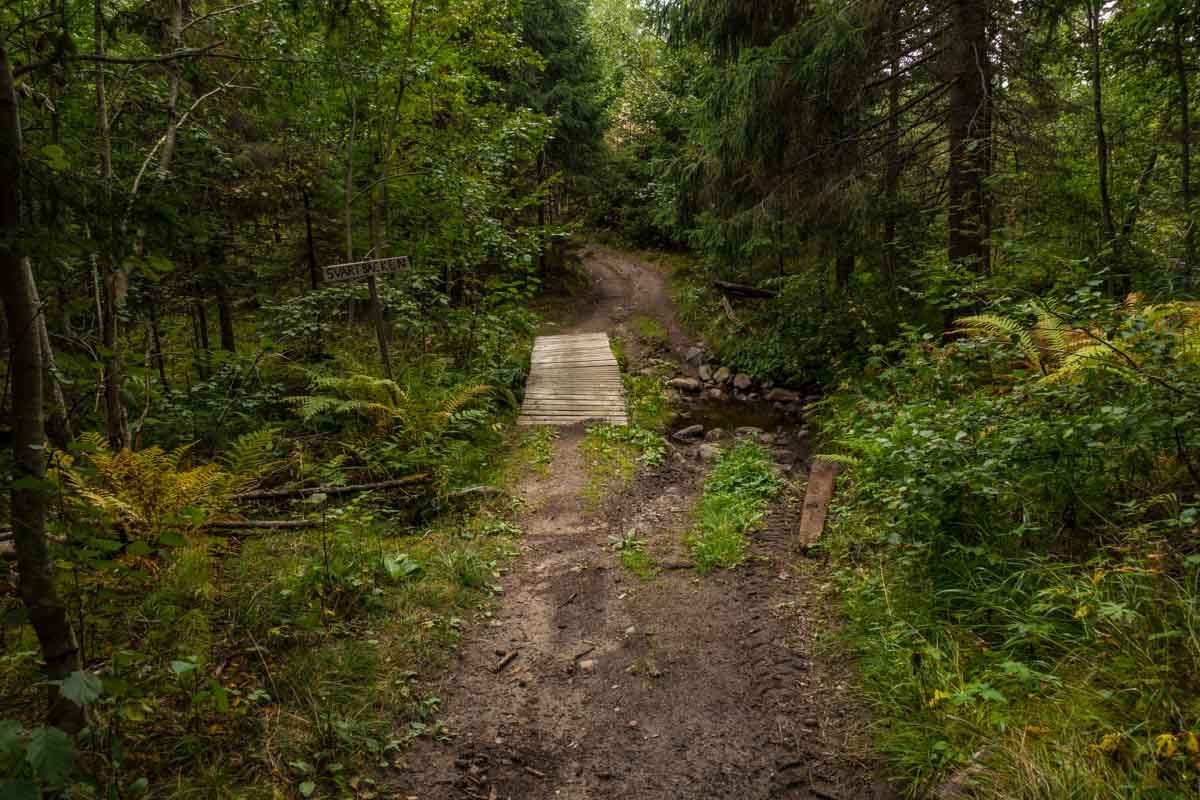 First, a note about the path itself: it's beautiful, and completely different from its Spanish counterpart. With a few exceptions, the Camino in Spain is dry as dust, and often hot as hell. Also, Spain is not known for its forests. In contrast, the majority of the ten sections of the St. Olav's Way I hiked were either farm roads that took you from one picturesque Swedish farm tableau to another, or forest paths that varied from barely trampled animal trails to barely maintained old logging roads. All seemed to wind along water in some way. Crossing streams, walking along big lakes, limning rivers to vistas of rapids and waterfalls. In other words, they were all green and moist and accompanied only by the wind in the high pines, the trickle of the brook, the lapping of lake waves, or resounding cataracts. Hiking in Sweden and Norway is all together a much more pleasant experience.
The St. Olav's Way also differs from the Camino in that there aren't albergues all along the way that you can just walk into and plop down on a bed. You can, like the Camino, camp if you like. The Swedish law and tradition of Allemansrätten–"every man's right"–means, within reason, you have the right to hike, and camp, pretty much wherever you like. There are shelters, too, along many parts of the path, although they are completely rustic and, in some spots, badly in need of repair. In other words, bring a tent.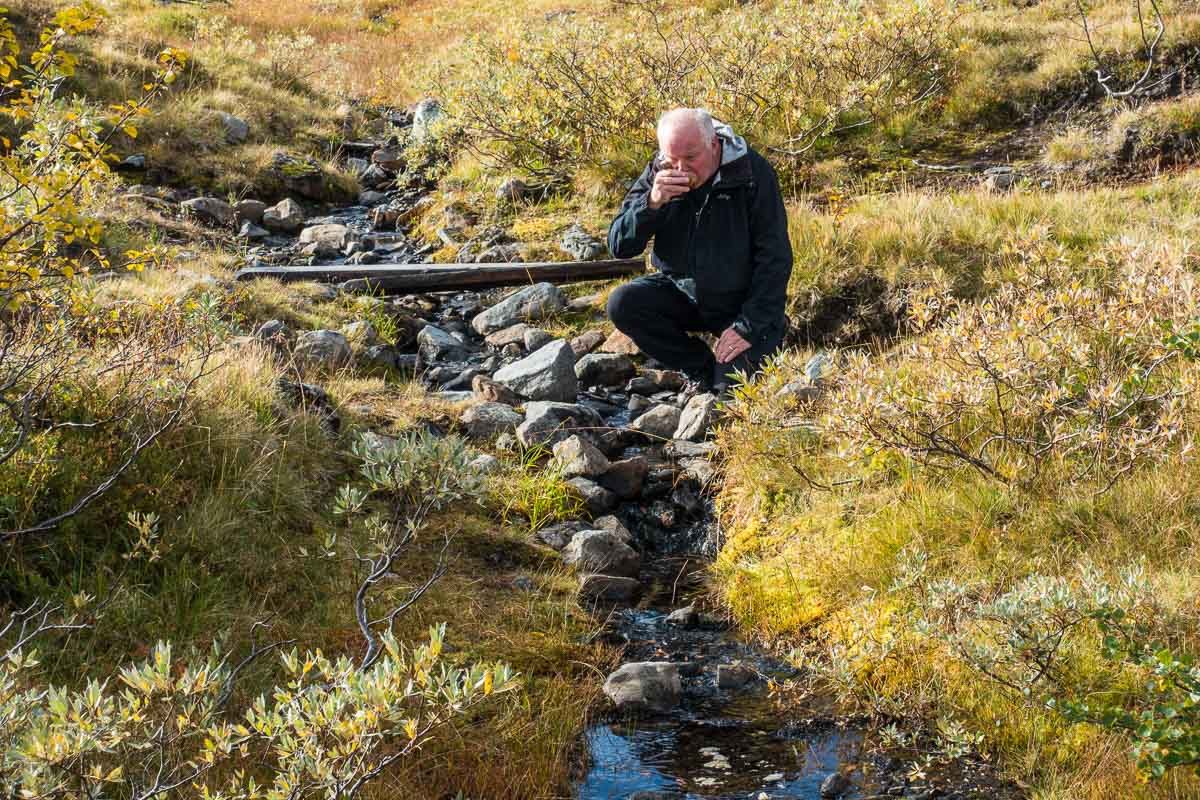 But, if you're like me and prefer your comforts, there are literally hundreds of Scandinavian farmers and other residents along the St. Olav's Way who have opened up rooms in their homes or out buildings and converted them into comfortable mini dorms where you can stay, probably get a shower, and, for a little bit more, even a hearty Swedish breakfast and their famous strong coffee. Be aware, of course, that this is Sweden and Norway, and you'll be paying Scandinavian prices for your accommodations. One of the places I stayed was the equivalent of about $20 USD for a bed in a room with six beds, and a shower across the yard. Another more luxe option was a place like Brunkulla Gård. It cost the equivalent of $160 USD, but had en suite bath and a sauna down the hill by the lake. Also included was a spectacular breakfast of eggs, meats, cheeses, breads and jams, all made on the farm. I stayed there the first night. Absolutely first rate. I especially liked the tour of the farm from Niklas and Camilla.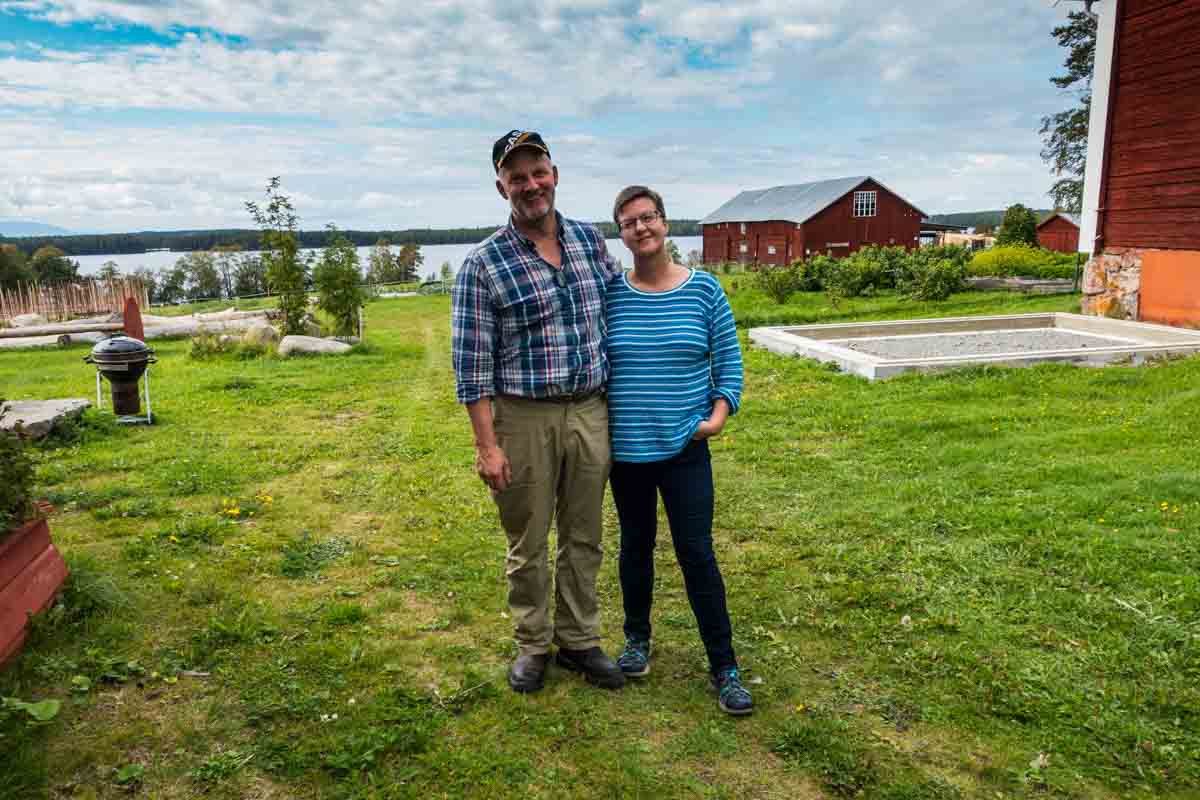 The only hitch is you'll have to call ahead for accommodations. Some spots have websites or email addresses you can use to make your arrangements. You can download the list, which is being constantly updated, at this link. You'll have to download the map that accompanies it and match the accommodations to the map as you go. Please be sure you get the latest version before you go. It would be an improvement if the list included price ranges. It does not currently.
Or, you can arrange with an agent such as Nordic Pilgrim who will make all your arrangements for you, and even carry your backpack from stop to stop. (You'll have to translate the Nordic Pilgrim page to English.)
I should also note that the St. Olav's Way can be done on bike or horseback. The routes are a bit different, of course, but you end up in the same place. Those maps are also available at the same link as above.
Disclaimer: I was hosted for my accommodations by Adventure Sweden, the city of Östersund, Sweden, and several lodgings along the way. Two of those were hotels that deserve special mention: The Clarion Hotel Grand in Östersund, which features a restaurant conceived by the Michelin winning chef Marcus Samuelsson, and the Copperhill Lodge in Åre, where we stayed in our earlier visit to the region, and also features spectacular food to go with spectacular views.
Worth mentioning, of course, is that this is a long hike. Although I never did more than 12 kilometers (7.5 miles) in a day, I still was very protective of my feet. This is the first longer trek I've made with my Oboz Sawtooth model shoes. The feature that sold me on Oboz hiking shoes in the first place is that they come in wide widths. But they also have a great insole, and they are the most comfortable shoes I've ever owned. I also have a pair of Oboz Bridger model waterproof shoes. If I were doing this again, I'd be tempted to bring both pairs, as there are some soggy bits on the path. You can see more discussion of hiking footwear here.
Socks are also important, and I spent most days in Point 6 medium hiking socks. In a word, they're great, including remaining comfortable even after they got wet. (I did change into another pair at the first opportunity.)
You can read some more about hiking in Sweden here. You can learn more about St. Olav Ways options in our post from Trondheim, Norway, where we interviewed a director of the Pilgrim routes.
Disclosure: I received a pair of shoes from Oboz and a few pairs of socks from Point 6 to test. They wanted my honest evaluation, and here it is: I love them both.
St. Olav's Way expert Putte Eby on the history of the Pilgrimage
Putte on why to walk St. Olav's Path today
Some useful links for the St. Olav's Way
Downloadable map of the route through Sweden
The whole story of the Swedish route
The story of the Norwegian routes

Here are some more tips for hiking locations, routes, preparation and equipment, all in one spot.
When you're thinking of traveling, your first stop should be our Travel Resources page, where we list all the essentials you need to make your travels easier, cheaper, safer, and more fun.
You can also help yourself get ready for your travels by reading our Get Started Planning Your Trip Now page.
We love traveling–with the right gear. We've gathered a lot of the stuff we use to make travel more pleasant and efficient all on one page. Shop our Travel Past 50 Amazon page to find our favorite gear. If you purchase something from the store, Travel Past 50, as an Amazon affiliate, may receive a small commission at no extra charge to you. Thanks.
We never leave home without our travel insurance. Nor should you. Search for the travel insurance from Allianz that best meets your needs, whether it be an annual plan or a single trip.
You can see (and buy prints) of most of our travel photos in one place on this page.
Note: This post and other posts on TravelPast50.com may contain paid or affiliate advertising links. As an Amazon Associate we earn from qualifying purchases.