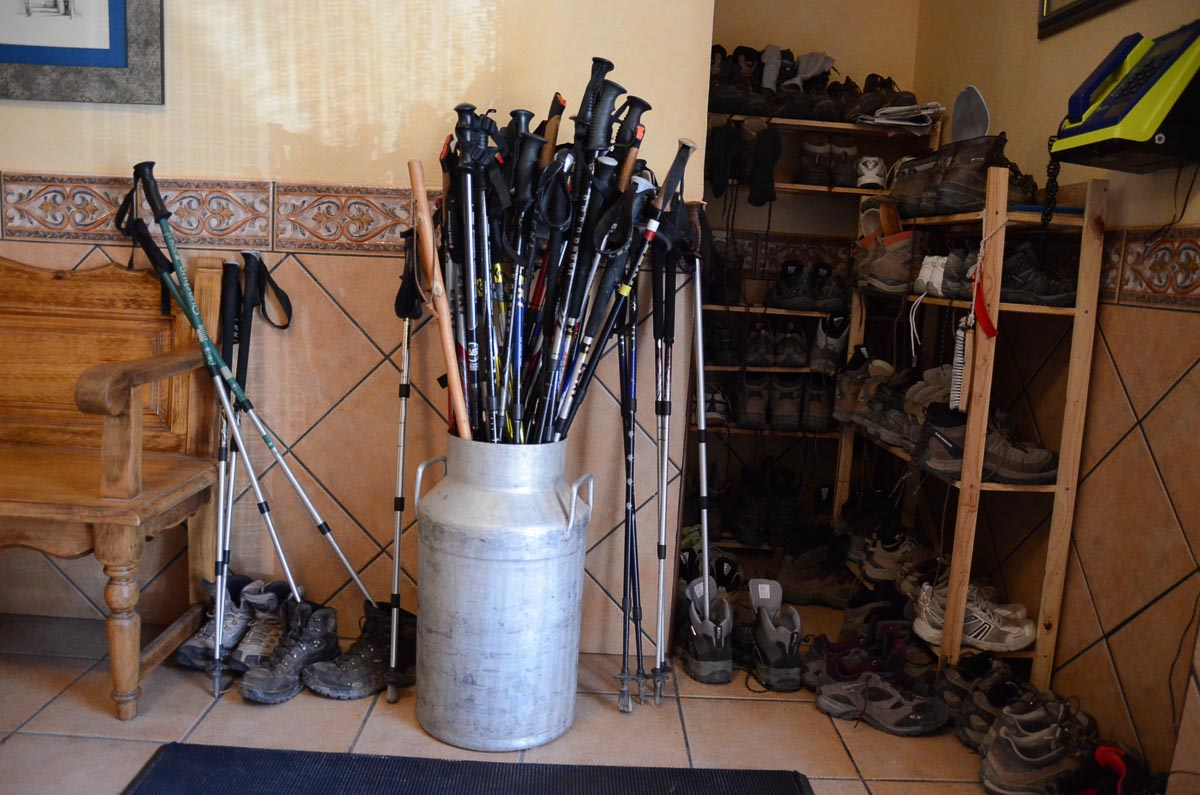 This is a 2019 update to a post originally published in 2013.
To see all of our posts on tips for the Camino de Santiago, click here: Camino de Santiago.
The Camino de Santiago is, above all, a long hike. Your Camino footwear matters. A lot. Take the time to pick the right Camino shoes for you, and break them in before you start. Everyone gets blisters. The trick is to limit your foot problems to just blisters. I saw much worse.
What are the best shoes for hiking the Camino de Santiago?
Shoes or boots? What type of shoe?
Those are the questions. And the answer is, it depends on lots of things.
First, I do not recommend using "running" or "walking" shoes. The harder soles and deeper treads of trail shoes are essential.
I wore two identical pairs of Adidas Response Trail shoes that I alternated daily. (They don't make that model any more, but there are plenty of Adidas Terrex trial shoes I've had since then that I love.) Kris wore one pair of Adidas Response Trail shoes and one pair of high ankle hiking boots that she alternated. We were both right.
The advantages of a good pair of trail shoes is that they're lighter than boots, yet still have a tough tread that works on the various surfaces you're going to encounter. Another feature of trail shoes over walking shoes is that the sole is harder and protects the bottom of your feet from the uneven and sometimes sharp rocks you'll be hiking over. (I also particularly liked the articulated heel of the Adidas Response shoe—very helpful at keeping maximum tread on the ground as you're descending.) Another advantage of this particular shoe (and many other trail shoes) is that they have at least some mesh fabric in the upper that allows your foot to breathe and cool better.
The main disadvantage of trail shoes is that they provide less ankle support than high top boots. As you consider high top boots, remember this: you're always just one rolled ankle away from the end of your Camino. A high top boot can save you from injury if you do turn your ankle slightly.
But, even better, keep this in mind. While you hike the Camino, hike. Don't gape distractedly at the beautiful landscape. Always watch where you're stepping. If you want to gaze at the countryside, stop walking.
What is the best trail shoe for the Camino?
I'm not here to review Camino trail shoes, because shoes are such a personal preference. I really liked the Adidas shoes because they were the right fit for me, and had the other attributes I mentioned above. Your best bet is to go to a reputable outdoor store and try on several pairs and pick the one that's right for you.
I have a good pair of low top Merrill hiking boots that I've used for mountain hiking in the Rockies and Andes mountains and am very fond of, but I decided at the last minute to leave them at home and just go with the trail shoes. The amount of rugged terrain on the Camino is limited (although very uneven and challenging) and you have to decide whether it's worth trading the extra weight for the extra support for about five percent of the path. I'd say the verdict as expressed by most pilgrims was about 50-50.
Why two pairs of shoes? Aside from being able to change if one gets wet from rain or wading across the occasional shallow stream, you will find that the sweat from one day's walking will often not dry before the next morning. I found it a lot more comfortable to be able to put on a dry pair of shoes every morning. That was worth the weight of an extra pair to me.
Every day, I'd tie yesterday's shoes to the outside of my pack with the packs straps and two carabiners. As I walked, they got the air and sun they needed to be nice and dry for the next day.
The best women's shoes for the Camino
As I mentioned above, Kris also had two pairs Camino footwear: one pair of trail shoes and a pair of high top La Sportiva hiking boots. All the above advice for picking and fitting your footwear goes equally for men and women, with one distinction. I've been told by a favorite orthopedist that women tend to have "looser" joints than men, i.e. they're more flexible. The implication of this is that women are perhaps more susceptible to ankle injuries, so consider that when you are choosing between high and low top shoes.
Kris has written an entire post about traveling shoes for women in which she talks about all the things she thinks about when she's choosing her shoes for all purposes.
Breaking in and fitting your shoes
A note on fit and breaking in your shoes: I like plenty of toe room, both width and length, and so I allow for a little more when I buy them. You'll find, especially when you are descending steep inclines, that you will be jamming your toes into the ends of your shoes. I can't tell you how many people I saw with blackened toenails—toenails they were going to lose and toenails that were going to cause a lot of pain every day until then. Leave those toes some room to move.
As for breaking in your shoes, obviously, only an idiot starts an 800 kilometer hike in new shoes. (We met such a person. She was incapacitated by blisters by day three and had to abandon the Camino.) However, the cushioning inherent in a good walking shoe is important. Don't wear it out before you start. A week or two of wearing the shoes before you start is probably plenty.
What to wear after your hike
You're going to want something to wear after you're done walking for the day. A good quality pair of cushioned sandals, such as OOFOS Post Run Recovery Slide Sandal, work great and can also serve as shower shoes for the albergue. These OOFOS are the softest, most comfortable sandals I've ever owned. (One note: the OOFOS only come in whole sizes and run a little big. So if you wear a half size shoe, size down to the lower size for these.)
Tie your shoes properly
By the way, here's a good video on how to tie your trail shoes properly to minimize blisters. I wish I'd known this technique earlier.
Update on my shoes, 2019
I've recently purchased a pair of Oboz hiking shoes that I love. I wore them for several day hikes in Patagonia and for some extended hiking along the Way of St Olav in Sweden and Norway. One reason I love them is that they come in widths, and for someone like me with EE feet, that's a real blessing. I liked my original pair so much, I bought a pair of high top water proof Oboz boots for winter. Again, keep in mind your own personal preference. The Oboz are heavier duty, and heavier, than the Adidas trail shoes I mention above.
Read Kris's post on what it's actually like to walk the Camino de Santiago. If you're interested in pilgrimage-type walks, you should also look into the Way of St. Olav in Sweden and Norway.
The gear you want to pack
The right clothes
Your first aid kit
Walking sticks
The low down on socks
Shoes or boots?
The best way to carry water
When you're thinking of traveling, your first stop should be our Travel Resources page, where we list all the essentials you need to make your travels easier, cheaper, safer, and more fun.
You can also help yourself get ready for your travels by reading our Get Started Planning Your Trip Now page.
We love traveling–with the right gear. We've gathered a lot of the stuff we use to make travel more pleasant and efficient all on one page. Shop our Travel Past 50 Amazon page to find our favorite gear. If you purchase something from the store, Travel Past 50, as an Amazon affiliate, may receive a small commission at no extra charge to you. Thanks.
We never leave home without our travel insurance. Nor should you. Search for the travel insurance from Allianz that best meets your needs, whether it be an annual plan or a single trip.
You can see (and buy prints) of most of our travel photos in one place on this page.
Note: This post and other posts on TravelPast50.com may contain paid or affiliate advertising links. As an Amazon Associate we earn from qualifying purchases.