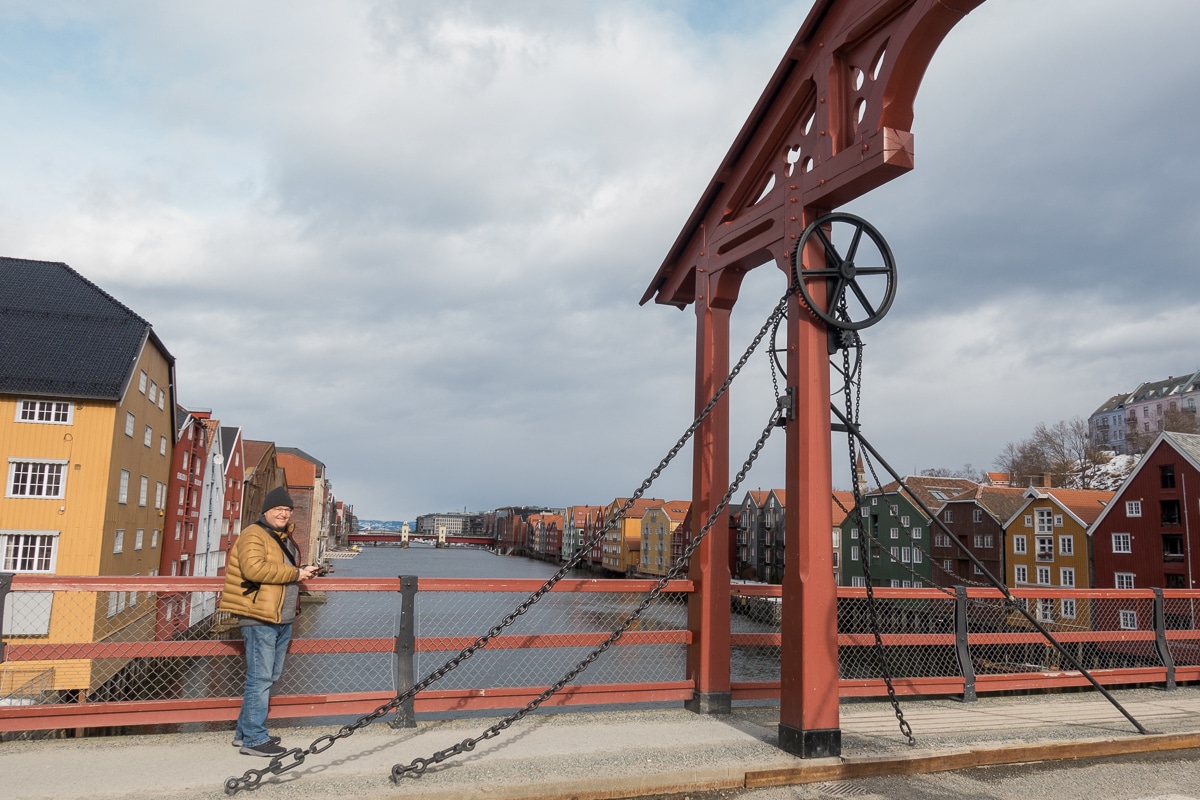 Many roads lead to Trondheim, Norway, but visitors don't necessarily take the time to get to know this important town midway up the Norwegian Sea coast.
Even though Trondheim is Norway's third largest metro area (pop. 275,000) it may seem like an unlikely destination. It's some 500 kilometers (310 miles) from Oslo and a very long day's drive from Bergen, which would involve toll roads, ferries, or both. (Fjords have a way of interrupting land travel.)
Today what attracts many to Trondheim is that it's the burial place of Saint Olav and the culminating point of St. Olav Ways, a network of pilgrim paths to Trondheim. This King Olav (one of several) was the one who brought Christianity to Scandinavia for good, changing over the region from paganism of Viking times. Though he died during battle in 1030, his remains were carried to Trondheim and buried near what is now the Nidaros Cathedral. Olav was sainted and Trondheim became the seat of the Catholic Archdiocese until 1537 when, following the Reformation, it became a Lutheran church center. For centuries it was the capital of Norway and is still the site of royal coronations.
For more information on traveling any of the nine pilgrim routes to Trondheim, see below. We've included useful links and our interview with Mattias Janssen of the National Pilgrim Center.
Even before it was a pilgrimage route, from Medieval times and the Viking era, the growing settlement of Trondheim served as a trading post. Shipping routes to Europe and the East and to Greenland and the West were launched here. Today visitors arrive by ship, train, car…or on foot.
No matter what path or mode of transportation, visitors find Trondheim well situated above the 63rd parallel where Northern Lights are commonly visible. Tucked into Trondheim Fjord (Norway's largest if not most picturesque fjord), the city is protected from the sea which moderates temperatures even through the winter.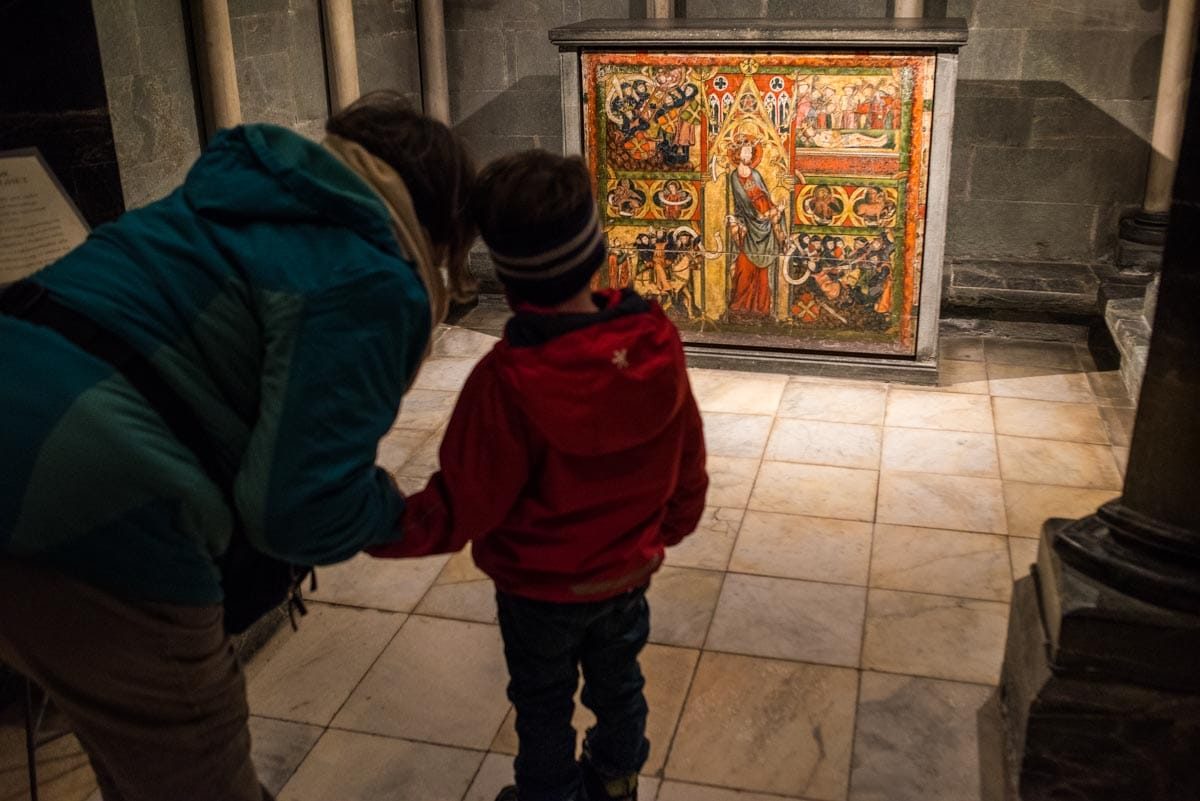 Things to Do and See in Trondheim
It's not all ancient history and geography in Trondheim. We recently spent a little extra time in the city to learn more. The more we learned, the more we liked this youthful city, steeped in a mixed bag of students, musicians, entrepreneurs, tech start-ups, breweries, and hospitality. Here's our quick guide to discovering Trondheim, with notes on the many pilgrim routes and ways to visit via St. Olav's Way.
Nidaros Cathedral and Museums
As the Cathedral de Santiago (Saint James) de Compostela is to the Camino in Spain, so are St. Olav and the Nidaros Cathedral to the Scandinavian pilgrimage. The Cathedral is generally the first stop for visitors, but don't hesitate to refer to schedules of events and return for plenty of touring time.
A guided tour is a good option––or use the kiosks in the transept to read more about the evolution and features of the current cathedral. Highlights include the Octagon, said to replicate that of Jerusalem's church; the painted tomb of St. Olav behind the altar; St. Olav's Well built into one of the walls; the crypt; the organs and windows; and, of course, the later statues on the west façade.
Tickets are available in the adjacent visitor center (110 NK or about US $12). For 160 NK (about US $18) admission includes the Archbishop's Palace complex, too. The Palace grounds contain a cathedral museum with models of the church building through the ages and original statues from the west façade. But this site was also effectively the town center for centuries, so the archeology in the lower level reveals many layers of foundations. The remains of a small mint factory are especially intriguing.
The Palace ticket also includes entrance to an armory and to displays of crown jewels.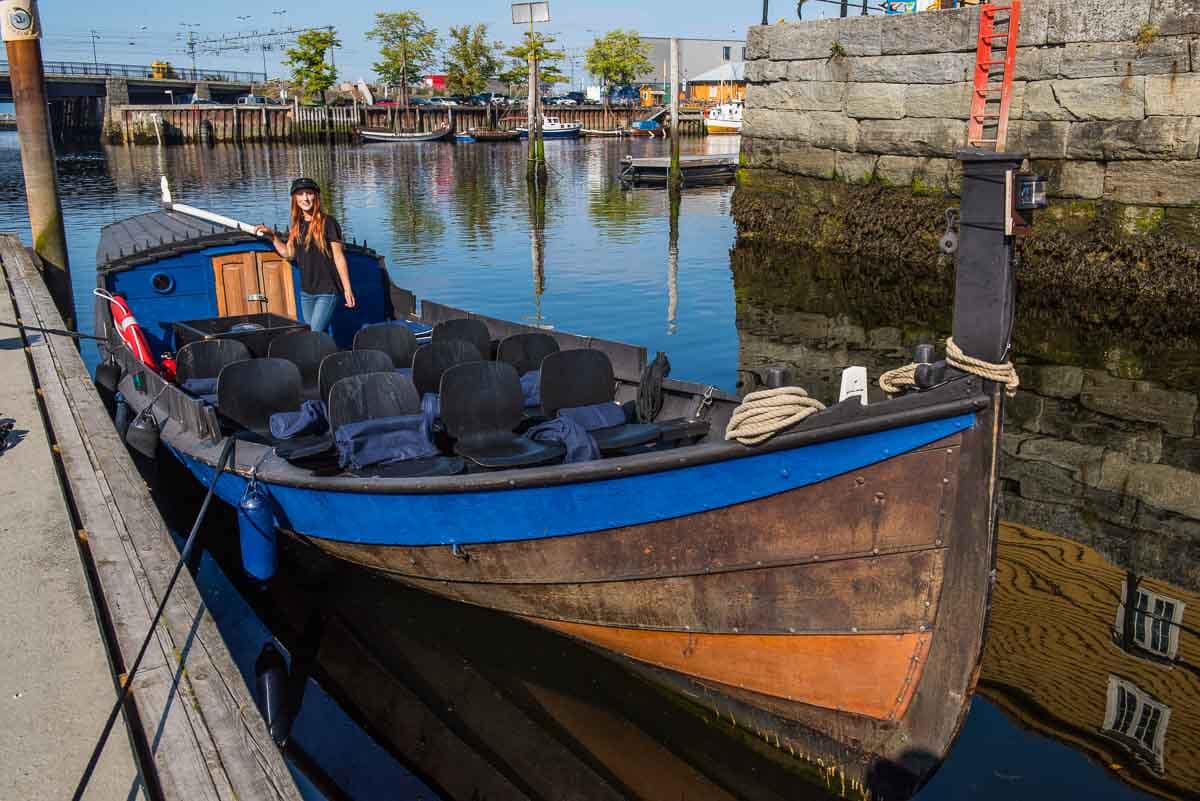 Trondheim by Boat
For first-time visitors or for a new angle on Trondheim, we recommend the Trondheim by Boat tour by the charming Captain Amanda. Book online in advance for afternoon or sunset sightseeing tours or schedule a fishing tour. All start from the little Ravnkloa landing area on the north side of the old town, right next to the Ravnkloa fish market.
Narrated by Captain Amanda, the sightseeing tour includes notes on the historic riverfront. The Nidelva River wraps nearly all the way around the old walled city, which has been built and rebuilt (and rebuilt) from timbers. Today, the historic buildings are gradually being approved for reuse as offices and condos, but retain their character and color.
Read on, or listen to our interview with Captain Amanda. She even sings us a traditional Trondheim tune!

Part of the tour curls up into the industrial area of Trondheim where, during World War II, Germans constructed giant concrete submarine bunkers. We slipped part way into "Dora I" where dozens of U-Boats could be concealed. The submarine base is one remnant of German occupation of Trondheim. Resistance here was largely futile, as German command was intent on making Trondheim its chief marine base.
We sailed out into the fjord to learn more about Trondheim's seafaring history, marine life, and to take a closer look at Munkholmen, the island once a monastery, later a prison, and now a seasonal resort used primarily by locals for a day of swimming and leisure.
Along the way we learned about the vibrant town of Trondheim and appreciated learning more about its neighborhoods. Thanks, Amanda, it was such a pleasure.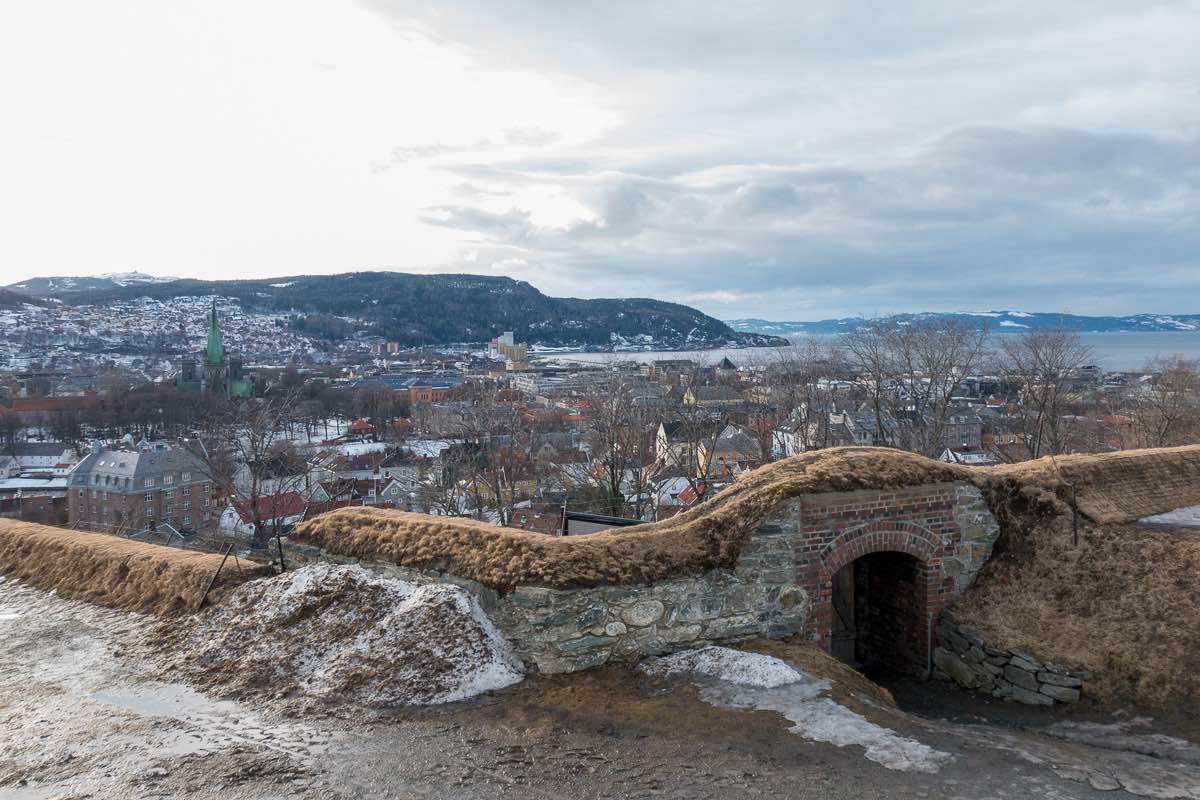 Walking Highlights
Of course, one of the best ways to get a sense of a town to meander around on your own. Here are some of the neighborhoods we've covered.
Bakklandet. This is the only part of the old walled city that lies on the opposite side of the Nidelva River. It's quiet, picturesque, and has plenty of restaurants. Some of the best views of the city and cathedral are from this neighborhood, across the old bridge. If you are up to it, walk up the hill to the old fort for best panoramas.
Solsiden. "Sunnyside" refers to this south-facing renovated warehouse district now filled with a shopping center and restaurants. A pedestrian bridge leads to this good place for happy hour.
Brattora. The pier area north of the train station is a little out of the way from the old town, but accommodates big hotels and conferences to easily handle groups delivered to the city's port or train station. There's some interesting architecture here, including the Rockheim (popular music) Museum and Pirbadet, the giant indoor water and fitness area that is filled with people and light all year round. Check out the Leiv Eriksson statue, also called Emigrants Monument, donated by Norwegian American groups. Plaques describe Erikkson's Greenland and New World connections. And you might find some family names listed among the donors.
Midbyen. This is central Trondheim, within the original city walls. The cathedral, city hall, museums and shopping are all easily accessed here, or you can simply stroll the perimeter along the river.
The Lade Trail. This and other circuits near the city center are options year round! The Lade Trail, on a peninsula to the northeast side of town, offers great views of the fjord and region and can be broken down to whatever distance you like. It might include a stop at the Ringve Music Museum, Norway's national museum of music and musical instruments.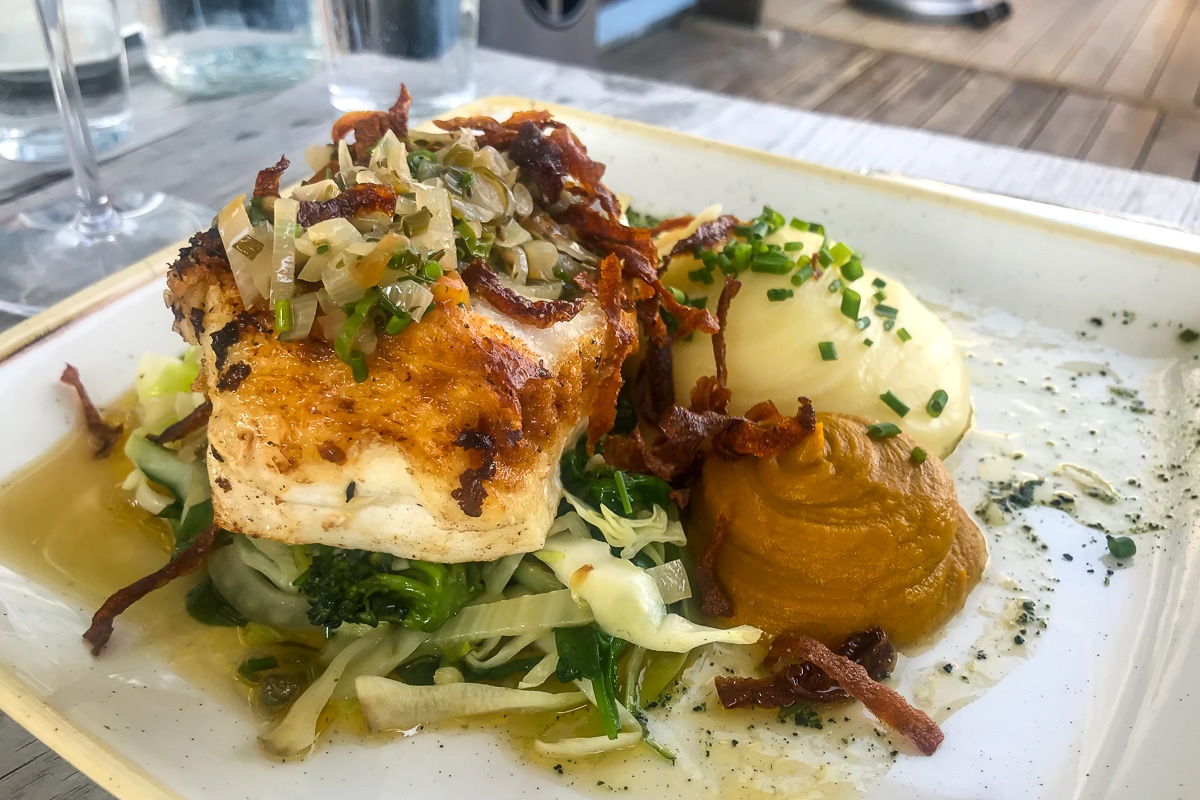 Trondheim Hotels and Restaurants
Clarion Hotel Trondheim. We didn't choose this one ourselves, due to its size and location. But it turned out to be an easy base for our short stay. Based on our visit to another Clarion (in Östersund, Sweden), the Marcus Samuelsson inspired hotel restaurant, Kitchen and Table, is worth a reservation.
Skydsstation. A wonderful, traditional spot with a choice of smorgasbord or menu selections. Think herring, meatloaf, potato salad, beets, pickles, scallop potatoes, paté, and much more, all home cooked and pleasantly served by the familiar staff.
Troll. We arrived early for best seating and big appetites, and were rewarded with good outdoor seating, great wait staff, and fresh–and I mean fresh–fish. The chef buys from a local fisherman and proudly photographs prize catches as they come in the door. I tried to take a picture of the dessert, but it was gone before I could pull my camera up off my lap.
More about St. Olav's Way
We're written about our experiences hiking along St. Olav's Way from Sweden into Norway. But that is just one of nine pilgrim trails that lead to Trondheim. The second main route travels from Oslo north to Trondheim.
We talked with Mattias Jansson, senior advisor to the Norwegian National Pilgrim Center, and began to understand how many different trails one can follow, and the range of trip styles and lengths one can arrange individually. The newest route even follows the ancient shipping paths, for those who want to take to the sea.
Our best advice is to check out the Pilgrim Center's St. Olav website, and contact the center to help design the path that fits you best. For a colorful description of the possibilities, listen to our interview with Mattias here.

Listen to a variety of Travel Past 50's audio posts and interviews here.
You can help yourself get ready for your own travels by reading our Get Started Planning Your Trip Now page.
We love traveling–with the right gear. We've gathered a lot of the stuff we use to make travel more pleasant and efficient all on one page. Shop our Travel Past 50 Amazon page to find our favorite gear. If you purchase something from the store, Travel Past 50, as an Amazon affiliate, may receive a small commission at no extra charge to you. Thanks.
We never leave home without our travel insurance. Nor should you. Search for the travel insurance from Allianz that best meets your needs, whether it be an annual plan or a single trip.
Note: This post and other posts on TravelPast50.com may contain paid or affiliate advertising links.