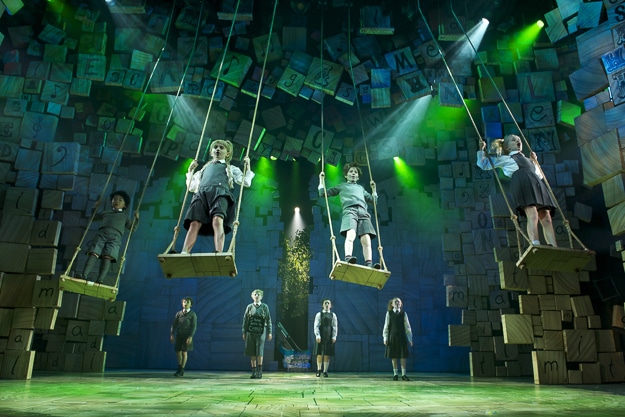 Back when we were working stiffs, Kris and I still made plans to go to London every few years just to go to the theater. We both studied theater there, back in the 1970s, and it instilled a life-long love and appreciation for first rate productions.
And, since London is the home of great theater (check the listings of what's playing in New York some time and see how much of it has transferred from England) what better place to indulge our stage fascination?
So, as we often have, we checked into a cheap hotel, The Beaver in Earls Court, and immediately made our way on the Piccadilly Line up to Leicester Square, where there's a TKTS booth that sells discounted tickets for same day performances of most of what you can see in London.
For those of you familiar with New York theater, you'll recognize TKTS, the arm of New York's Theatre Development Fund which sells discounted Broadway and Off Broadway tickets in Times Square and a couple of other New York locations. It's the same deal in London and you can often get up to 50 percent off good seats on most of the popular shows.
Notice I said "most" of the popular shows. Notable exceptions are productions of the National Theatre and other shows that are still selling out. However, if you're not too picky about what you see…and many tourists aren't…TKTS is a great deal.
Here is what we saw in London in June. Most of the productions are still on and you can usually get tickets the day of the show, although for the most popular shows you're going to want to book in advance and, unfortunately, pay full price.
Matilda, The Musical at the Cambridge Theatre was our first night. We intentionally picked something loud and lively to combat the first day jet lag and, wow, was that a good idea. Matilda is the musical adaptation of the Roald Dahl book, and, if I had to send a theater novice to one production so they could see what theater can be, this might be the show. It was originally produced by the Royal Shakespeare Company, and is an absolute riot of song, dance, satire and sarcasm. And, to make it even more incredible, most of the cast is about 10 years old and display an amazing level of talent.  And, you should keep in mind that the show has four rotating youth casts to comply with child labor laws. The fact that they even have that many children with that much talent in England is a marvel.
Unfortunately, because Matilda is still so popular, there is no discounting going on that we could find. My advice on Matilda is to splurge and buy the best seats available, even if they're £60 or so. It's worth it, and the dialog will be more intelligible if you're not in the balcony like we were.
Our second night, we went to see War Horse at the New London Theatre on Drury Lane. It's the National Theatre production that was made into the Steven Spielberg movie of the same name. Skip the movie and see this. And, if you're wondering how they get a herd of horses and World War I on stage, the answer is life size puppets. The story is lovely, but the sheer artistry of the puppeteers is worth the price. We did get discounts on this show, and, is often the case, ended up in fantastic seats–fifth row center.
We signed up for a matinee of a play we'd read a lot about before we got to London, and that was our next treat. For deep discounts, we got second row tickets to see perhaps the most talented actor on the London stage today, Simon Russell Beale, in Harold Pinter's Hot House at the Trafalgar Studios, near the Square of the same name. Unfortunately, this production is now closed, but I'd advise you to go see what ever Beale is in the next time you're in town. Several years ago, we made a special trip to New York to see him in Tom Stoppard's Jumpers on Broadway, and in addition to seeing a great show, got to hob nob a bit with Stephen Colbert in the lobby at intermission.
Some of the other things we really wanted to see, such as A Midsummer Night's Dream at Shakespeare's Globe, and Othello at the National Theatre, were sold out during our brief stay. So, like I said, if you have your heart set, book in advance.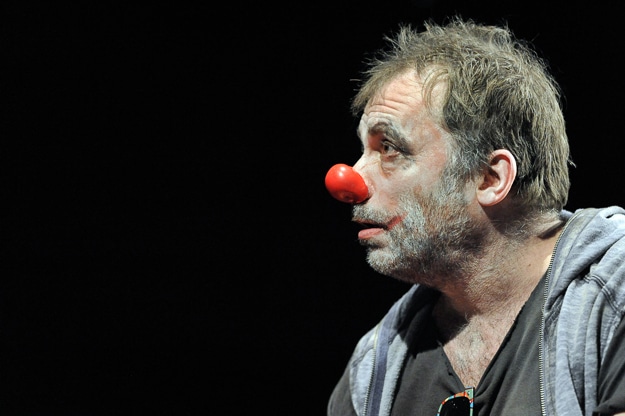 Don't forget, too, that not all the great theater is in London. Stratford upon Avon is not far away, and that, of course, is the home of the Royal Shakespeare Company. Booking through their site (and because we're considered seniors) we got fifth row seats for £30 for a marvelous production of As You Like It.
One caveat about Stratford: if you're going in the summer, you may find that, not only is the theater fully booked for the show you want, but so are most of the reasonably priced hotel rooms. We ended up staying 10 miles away from Stratford in Henley, which was nice, except for trying to find parking when we drove over to Stratford for the play.
You may have noticed that we tend to drift toward productions of the Royal Shakespeare Company and the National Theatre. Both companies are heavily subsidized by the UK government. If only we had such vision in this country–to make it a national priority to recognize such art as patrimony that could enrich our intellectual environment–not to mention the tourism industry.
But hey, instead of Matilda, we have Honey Boo Boo.
Get all our travel tips delivered to your inbox
Subscribe to our email newsletter