We're out of practice. Getting ready to travel means gathering the right gear, preparing to leave the home base, and estimating what you'll need along the way. At this point, we won't even get into those questions about where and when you'll travel. Our mantra is simply, "be ready".
But the truth is, things change. New products are released and put into action. While we were standing by for over a year watching coverage of COVID-19 and politics 2020, a lot of energetic folks kept on working and inventing.
We've written about all sorts of travel gear: tech gear, cycling gear, Camino de Santiago and day pack for hiking (at MNTrips.com), and about our favorite travel bags, too.

Don't miss our comprehensive packing list in this post, What to Pack for Your Trip.
Here are some of the new items we're using and planning to pack for our next adventures.
For Active Travel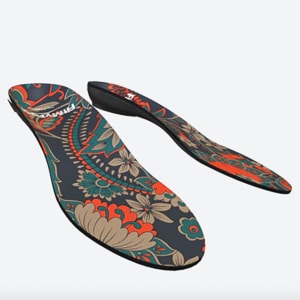 FitMyFoot Insoles: There's an app for that!
We write about shoes and socks a lot…but consider how much time we spend on our feet. Through our many travel years, we've sampled loads of walking shoes and hiking books, sandals, orthotics, and, well, you name it. But here's a new experience: ordering custom insoles without the hassle and expense of prescription foot devices.
FitMyFoot uses an app which, in turn, uses your phone camera to build an image of your foot. I completed the simple process and am now using my custom insoles, making my favorite shoes like new again. True to promise, the precise fit boasts a deep heel cushion, custom arch, and durable footbed with breathable fabric and lots of fun designs to choose from. The foot imagery is saved in the app. So now that I've tried out the insoles, it will take me just a few seconds to order up another set or try the custom flip-flops. Who doesn't want a pair of flip-flops that have enough support to wear all day? Use TRAVELPAST50 for a discount of 20%!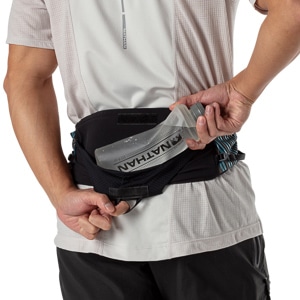 Nathan Pinnacle Hydration Belt
For urban excursions and most day hikes, I don one of my favorite little backpacks. But, in fact, I'd prefer to walk without the satchel on my back, the straps slipping, and the weight unevenly distributed. This Pinnacle Belt by Nathan will keep my water and essentials while supporting my back and protecting my gait. It holds two soft water bladders plus phone, keys, face mask, and essentials. Nathan makes some lightweight hydration vests, too.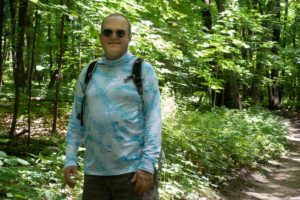 Fieldsheer Shirts with Mobile Cooling
Heading into summer, we're psyched about our new shirts with built-in cooling capacity plus sun and odor protection, from
Fieldsheer
. We won't bore you with all the tech details–you can find those on their website–but we're happy to know that the performance properties are suitable for work or play and are backed by years of experience. The company got its start making protective wear for motorcyclists, including heated clothing.
Here's Tom's review after a 6-mile walk in 97 degree weather: "Quite simply, I love the shirt. It wicked away sweat like a champ and, honestly, kept me far cooler than I had a right to expect."
For Road Tripping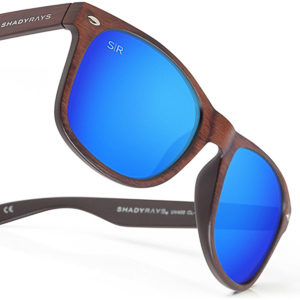 Shady Rays prescription polarized sunglasses
It's easier than ever to order stylish, high-quality, affordable prescription eyewear–without leaving home. Start by checking out the
Shady Rays website
. Besides choosing your frames, options include progressive or single vision correction, lens color, mirrored or not, and with or without anti-reflective coating. Of course polychromatic and blue-light lenses are also available, as well as regular, non-prescription shades for men, women and kids. Speedy delivery and lost/broken protection is part of the deal.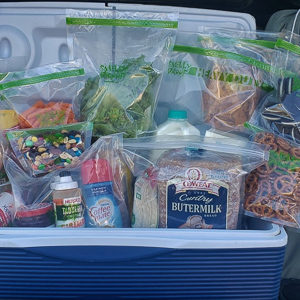 Smelly Proof reusable food bags
You are going to be packing a cooler, right? And no matter what you eat or drink, you want to keep the smelly stuff away from the other smelly stuff. And away from the bears. Try these Smelly Proof bags, available from Macys.com and Amazon, for food prep (think marinades), snacks, or storage. Liquid, moisture and puncture resistant.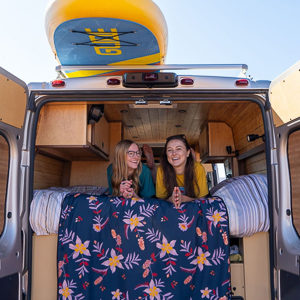 Kachula adventure blanket
This is not yet Kris and Tom-tested, but it caught our eye. From Coalatree, great for cross-country road trips (or backyard BBQs and 4th of July fireworks) is this awesome water resistant puffy blanket. It looks great for snuggling on the ground or around a fire…or donned as a makeshift poncho.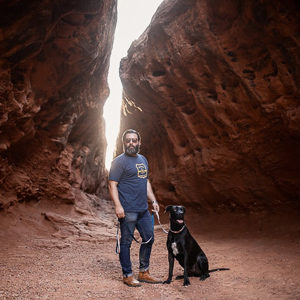 For the travelin' pups
Doggies need attention, too. Keep your pet safe and under control with
Wolfgang Man & Beast leashes
, collars and harnesses. They use only American leathers and textiles and, in their own words, "create products domestically, transport them minimally, and replace them rarely."
Safety in Transit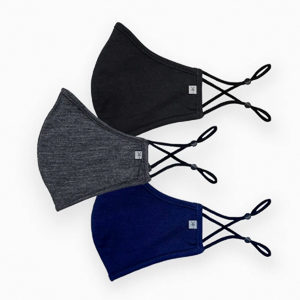 Ibex Merino wool face mask
The Ibex Merino wool face mask lives in my day pack for walks and urban bike rides. It's soft, cool, and easy to fit, even with sunglasses. Of all my masks, this is the most breathable, even as it protects. Washable, of course, so these Ibex masks are worth stocking up on, one for each pack or car. We'd like to see these in kid sizes, too. We swear by Merino wool under layers, too.
Travel Books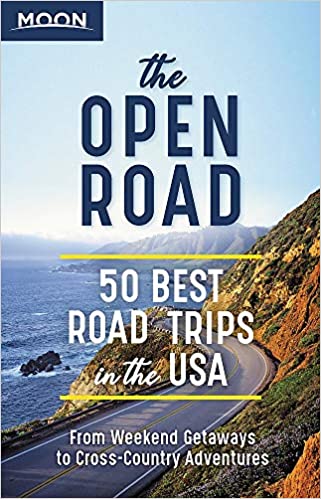 The Open Road: 50 Best Road Trips in the USA
Brought to us by Moon Guides (Hachette Book Group), this book is meant to last for many trips and various seasons. The selected road trips from all across the country will serve those planning a weekend getaway or a cross-country adventure. We like that the itineraries take all sorts of interests into account: vistas, food, hikes, kids, Americana. Punctuating each section are a local playlist, maps, photos, and resources. Plus, what sort of road trip guide book would it be without driving directions and a pull-out map of the country? Yes, Alaska and Hawaii are included.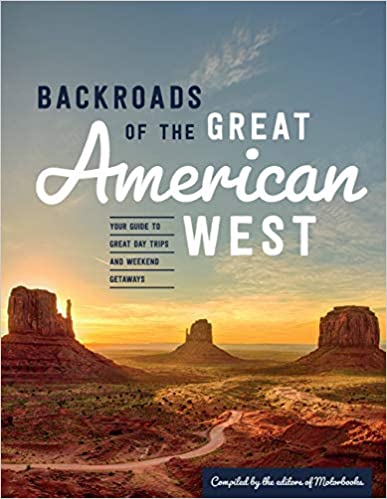 Backroads of the Great American West
This brand new (June 2021) release is a refreshing digestible guide to day trips and weekend getaways. Rather than covering the whole of America,
Backroads
delves into Western regional recommendations only, by local historians, writers and photographers. The intriguing routes are divvied into seven chapters, each sprinkled with cultural tidbits: Washington, Oregon, Utah, Northern and Southern California, Colorado, and New Mexico/Arizona.
The selections are largely off the beaten path, but include, too, such popular day trips as Mount Tamalpais (combined with Muir Woods and Stinson Beach in the San Francisco Bay area). All told, this book offers 30 short road trip ideas, presented with wonderful photography, clear route maps, and descriptions both evocative and useful.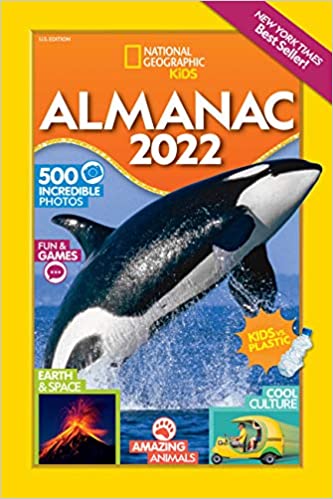 National Geographic Kids Almanac 2022
For the kids, we're pulling out all the stops via this colorful guide to the world. As you'd expect from Nat Geo, beautiful photo illustrations tell the stories. But this edition is also packed with info and tidbits inquisitive kids will love, about animals and nature, history and culture, science and technology, geography, space and Earth. It even addresses issues like "kids vs. plastics" and includes a few jokes and games, too.
You can help yourself get ready for your own travels by reading our
Get Started Planning Your Trip Now
page.
We love traveling–with the right gear. We've gathered a lot of the stuff we use to make travel more pleasant and efficient all on one page. Shop our Travel Past 50 Amazon page to find our favorite gear. If you purchase something from the store, Travel Past 50, as an Amazon affiliate, may receive a small commission at no extra charge to you. Thanks.
We never leave home without our travel insurance. Nor should you. Search for the travel insurance from Allianz that best meets your needs, whether it be an annual plan or a single trip.
You can see (and buy prints) of most of our travel photos in one place on this page.
Note: This post and other posts on TravelPast50.com may contain paid or affiliate advertising links.