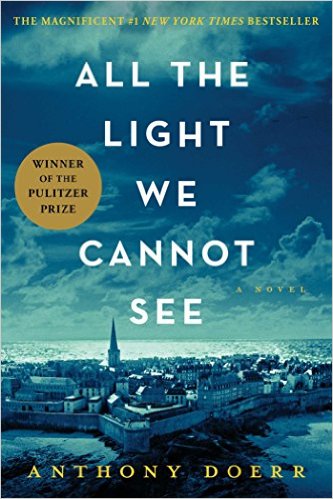 I look back at the books I've read in 2015 as a sort of musical accompaniment to our travels, a backdrop to the scenes in front of me.
It's curious, serendipitous, how these titles lined up. My book group's selections show up. So do books I found lying around, and a couple I bought while traveling. Usually I read on a Kindle Paperwhite. Because we had a two-month road trip, I read a few more than usual in paperback. Most are recently published, but the Edith Wharton was published in 1905, and a few go back to mid-century. One (Astoria) I read specifically because it related to where I was: the Pacific Northwest. But nearly all piqued my interest in some geographical area. Not by design, most of the books I read this year relate to war. One thing leads to another.
Here are the books that traveled with me this year, and will stay with me a while longer.
Books Related to War
All the Light We Cannot See
by Anthony Doerr. The story–both realistic and magical–of two young people whose lives change course during World War II. One is a blind French girl who lives with her father, a museum caretaker, in Paris; the other a young German boy whose skills as a radio engineer are co-opted by the military. Their two life stories are separate, described alternately chapter by chapter as the reader anticipates how the two paths might merge. Their stories inevitably intersect, not so much in a physical way, but in a breathtaking and ethereal fashion. Travelers will appreciate scenes in Paris and in Belgium by the sea, if not the imaginings of wartime German and Russian landscapes.
The Daughters of Mars
by Thomas Keneally. The story of two Australian sisters who join the Great War (WWI) as nurses. They are buffeted about, together and separately, from Australia to Cairo, Gallipoli to Malta, and into the thick of the war's Western Front, which we glean from the chaos inside medical tents. The war, their friends and lovers, their relative position in the family back home, and their individual choices are all part of the elastic attraction and distance between these two.
Good Night, Mr. Wodehouse
by Faith Sullivan is not as specifically a war story as the two above. It takes place in small-town Minnesota, far from World War I. But it is a war story nonetheless. The protagonist is Nell Stillman, and the setting rarely strays from her apartment above the butcher shop, or the town's library and landmark homes. Central to the story is her son Hilly, who enlists in the army as a fit young man of vast potential, and returns a casualty, literally unable to tie his shoes. Nell's life is defined as a widow, teacher, mother, advocate, friend, lover, and voracious reader. Her suffering and losses, her care-taking, aging, perseverance, and optimism in the face of loneliness hardly seem the stuff of war novels. But she's affected deeply and equally, it seems, by small town squabbles, society's judgments, world war, and international incidents (like the sinking of the Lusitania), because each of these episodes is ultimately personal.
So I went on to read a war classic, All Quiet on the Western Front
by Erich Maria Remarque, the amazing telling of the stark, existential life of a German soldier in the trenches during World War I. It is a timeless story in particular because of its reflections on the future of the young soldiers who had not established themselves with families or livelihoods prior to entering the war. As such, with no home life, they have little hope–can't even imagine–life outside of wartime.
Non-Fiction
The War Came Home with Him: A Daughter's Memoir
by Catherine Madison (like Faith, a personal friend and fellow Minneapolitan). It describes the death march and tortuous imprisonment of Cathy's father, Doc Boysen, in Korea, and the impact of this experience on his personality and on the young family. Military assignments lead the family to several states and Germany, while daily life revolves around the man whom his children dub Colonel Surgeon Father God.
One book I bought along my travels was Astoria: John Jacob Astor and Thomas Jefferson's Lost Pacific Empire
, which I picked up at the great Village Books (Fairhaven) in Bellingham, Washington. Astoria is the impressive well-researched and engaging account of two separate expeditions funded by John Jacob Astor, to establish a western trading post on the North American continent. One group traveled by sea around South America and by way of Hawaii. The other traveled overland, abandoning the Lewis and Clark route to find their own harrowing way. It didn't hurt my enjoyment that I'd just driven across much of this territory and could appreciate the size of the mountains and length of the journey. Both dramatic routes are filled with facts and personalities missing from many history books.
Classics and Epics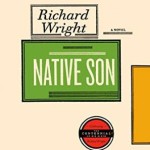 Because of the road trip, I felt comfortable dragging along a thick paperback classic I'd bought last year at an indie bookstore in Colorado: Native Son
 by Richard Wright. I can't believe I hadn't read this earlier. A masterpiece of psychology and social commentary in a gritty, painful, but loving telling of the life of Bigger Thomas. Young, Black, fatherless, poor, and hopeless in 1930s Chicago, Thomas commits a crime and seals his fate.
The Son
by Philipp Meyer was one of my favorites of the year. Hard to categorize, this western and historic novel follows Eli McCullough, the son of Texas ranchers who survives the Comanche raid that kills his family. He is raised among his captors, eventually estranged from both his Texas and Indian families. As it continues over decades and generations, this story manages to comment on land management, migrants, family feuds and domineering women; it has some beautiful descriptions of the West and our connection to nature, as well as some pithy descriptions of Texas, the oil business, and land grabs.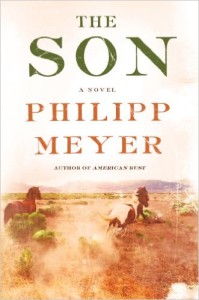 The House of the Spirits
by Isabel Allende. Another classic that was lying around in paperback. The saga of the Trueba family, from Esteban and Clara to their daughter Blanca to her daughter Alba. Not just about the clashes among family members or economic and cultural classes, the book relates the ephemeral ways we adapt and and create our own worlds within worlds.
The House of Mirth
by Edith Wharton. Maybe this relates to Daughters of Mars in the mix of individual fortitude in the face of societal norms and demands. Keeping up appearances can be fatal.
A Dash of Humor
Not all my reading was about war and loneliness; some was about pain and loneliness…with resilient characters and a dash of humor.
The Martian
by Andy Weir. I'm glad I read this before seeing the movie. I loved the combination of creative problem solving, self-deprecating humor, and suspense.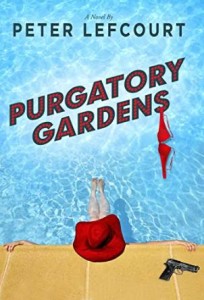 Best to Laugh
by Lorna Landvik (more talent from Minneapolis) is an enjoyable and inspiring account of a young stand-up comedian finding her friends and her chops in 1970s Hollywood.
Peter Lefcourt's Purgatory Gardens
. I'll give this an award: "Most likely not to be selected by my book group," but I wish it would be. A fun account of two down-and-out crooks who have designs on the same woman in their apartment complex, and how they are going to win her over. The characters' bald-faced idiocy might remind you of the Coen Brothers, and the comic, close-to-home dialogue feels like it's from a good guilty-pleasure TV show, perhaps. We met Peter and partner Terri Hanauer on travels in France, and were lucky to visit them in LA in September during the premier of Peter's new play, "Cafe Society," directed by Terri.
Also Read
When Madeline Was Young
by Jane Hamilton. It's been a year since I read this, so I nearly left it off the list. But now that I think about it, there are some parallels here between the character Madeline, severely injured in a bicycle accident, and the damaged life of Hilly (or Cora) in Good Night, Mr. Wodehouse, and the repercussions for family and friends.
The Impossible Lives of Greta Wells
by Andrew Sean Greer. Not the most memorable book of the year for me, but interesting in its time shifting and attempts to re-imagine life were we transplanted to another era.
Coming Home Books
Returning home from travels can be reality enough. I escaped with, Slade House
by David Mitchell. I kept checking to see if this was, in fact, the same author of The Thousand Autumns of Jacob de Zoet
! It's a compelling story of the select few who enter a 'haunted house' that appears only once every nine years. Behind the barely discernible little iron door is a weird world, ancient and obscure, but also contemporary, sharp, mystifying, and charming. Fun, quick read.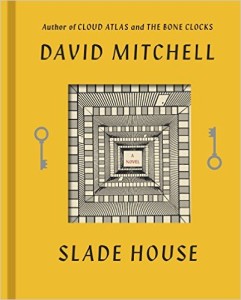 Oops, one more, as we speak: Must You Go?: My LIfe With Harold Pinter
by Antonia Fraser. Purchased when we stopped in Ashland, Oregon, to see a few Oregon Shakespeare Festival productions. A breezy, diary-based account of the lives of Harold Pinter and his lover Antonia Fraser, filled with plenty of references to other theater folks of the day.
We do an annual roundup of books (and sometimes beds) every year. Here are the posts from those years.
Recommended books for 2014
Books, 2015.
Books and Beds, 2016.
Books and Beds, 2017.