2014 was our biggest year of traveling yet. We visited 19 countries, including a long driving trip in the western United States. We saw, in order, the United States, Belgium, Luxembourg, Netherlands, Germany, Denmark, Sweden, Finland, Norway, Estonia, Latvia, Lithuania, Poland, back to the United States, Greece, England, France, Switzerland, Italy, and Slovenia.
I made well over 10,000 exposures. Many, of course, went right into the trash. But out of the 3700 I kept, I picked 50 to show you. Some of these I'm publishing for the first time. Others, you may have seen before. I'm not sure these are all my "favorites," but I do like them. I hope you do, too.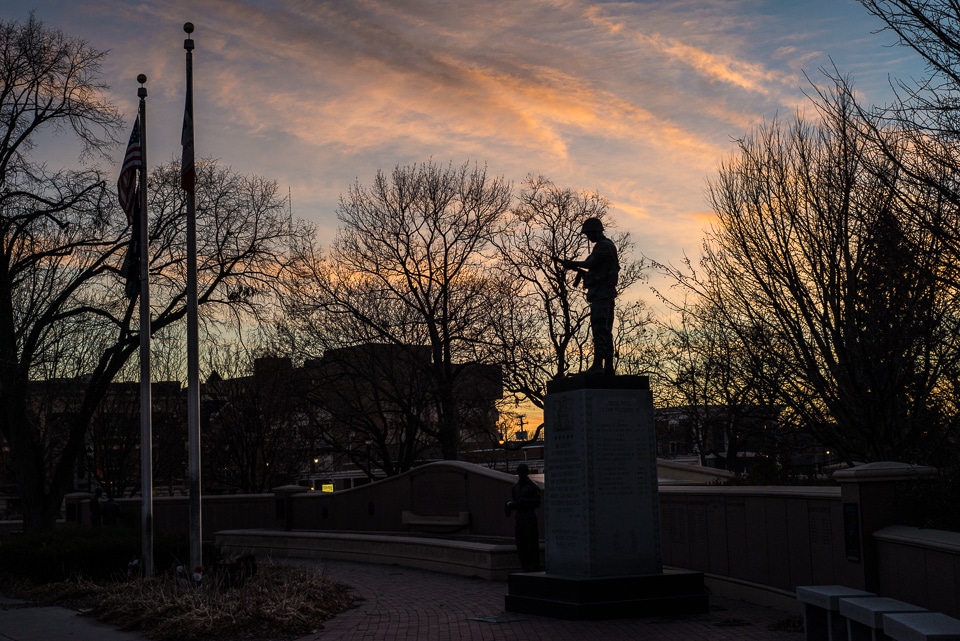 [1] Bayliss Park, Council Bluffs, Iowa
Just in the last few years, my hometown of Council Bluffs, Iowa completely renovated its town square park, putting in a new fountain and lining the block with memorials to the city's war dead.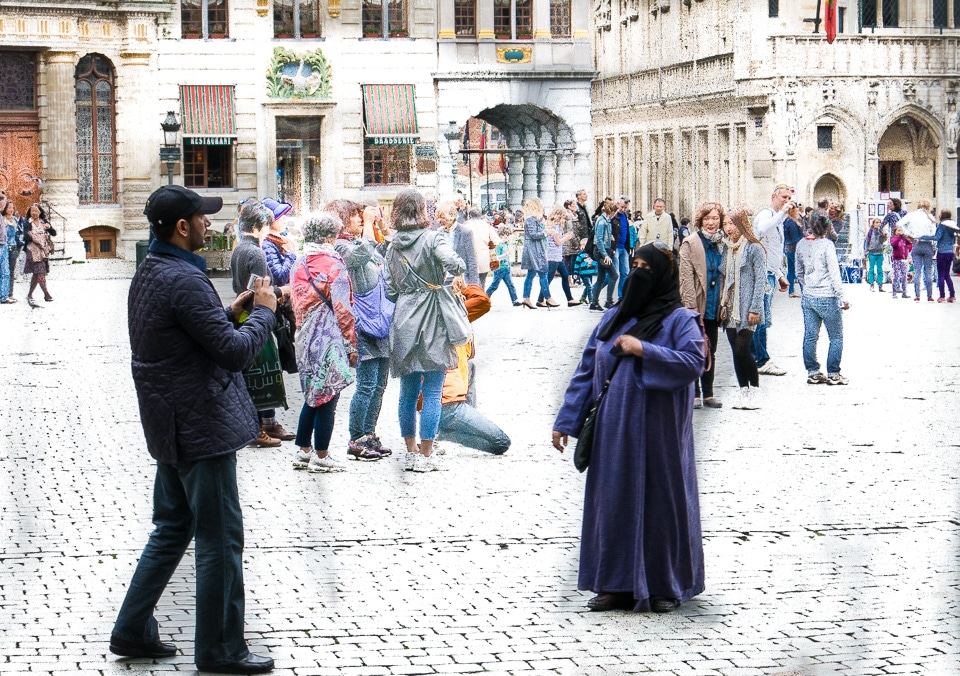 [2] Grand Place, Brussels, Belgium
When I saw this guy taking the inevitable tourist shot of his wife, I couldn't help but laugh. What did he say to her? "Smile?"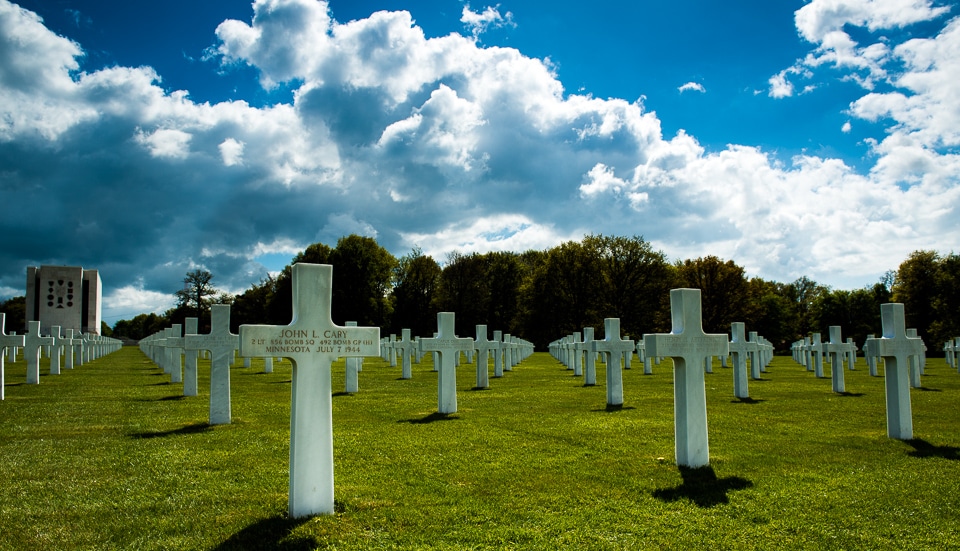 [3] Ardennes American Cemetery, Liege, Belgium
Kris's uncle, John L. (Pete) Cary was an American bomber pilot who was killed over Germany in 1944. We visited his grave at the American military cemetery in Belgium.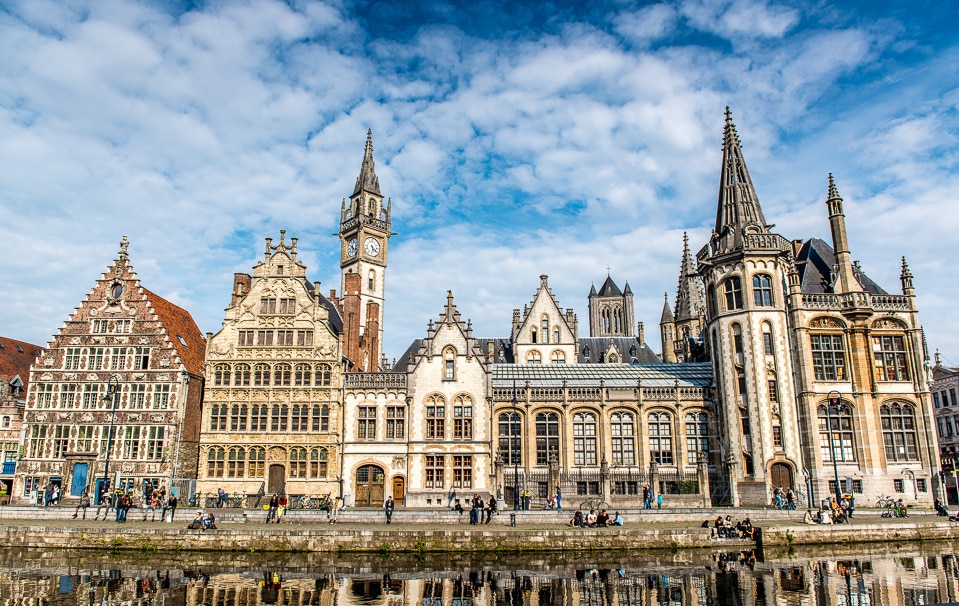 [4] Canal Front Buildings, Ghent, Belgium
Ghent was a happy find on our driving trip through Belgium. I walked down the canal until the sun came out just for this shot. I love these buildings.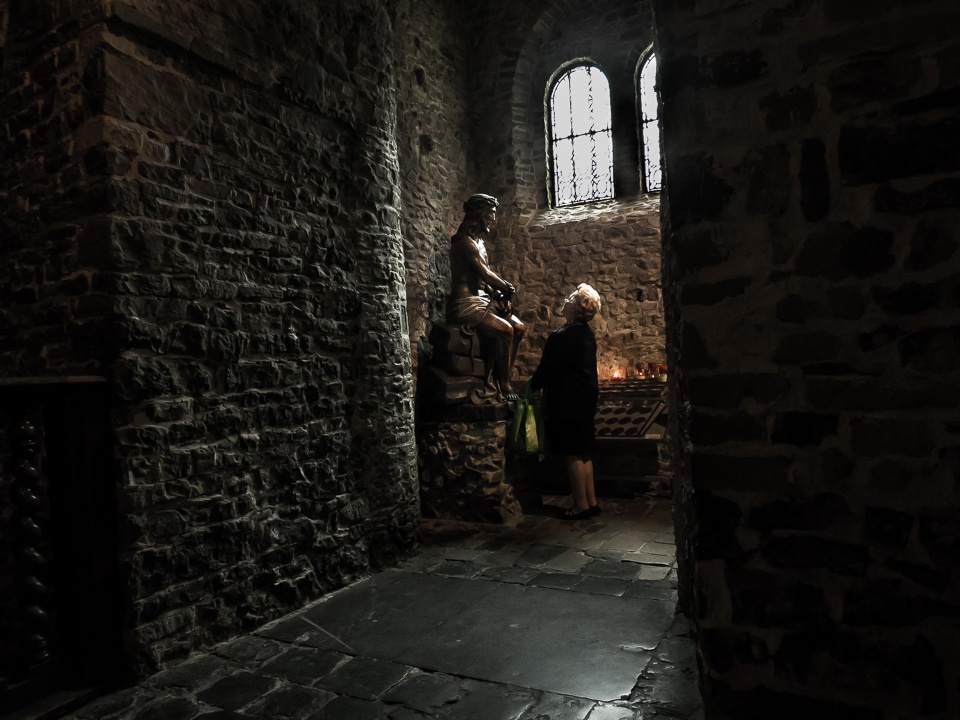 [5] Church of the Sacred Blood, Bruges, Belgium
One of the strangest churches we visited was the Church of the Sacred Blood in Bruges. There's a relic there, which you can pay to see, of a bit of a cloth with the blood of Jesus. Once a year, it supposedly liquifies. This woman though, was just praying in front of a statue in one of the chapels. Evidently, she couldn't wait for the feast day.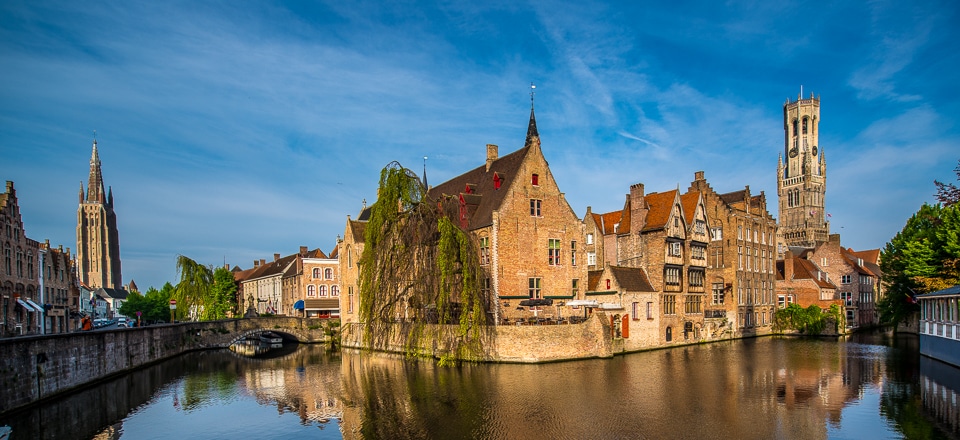 [6] Canal Front, Bruges, Belgium
Bruges is a city of one scenic view after another. We saw this one at the end of the day, when the sun was behind it. I told myself it would look good in the morning with the sun on the building faces. So I got up at seven the next day, walked 20 minutes back to the canal intersection and took this shot.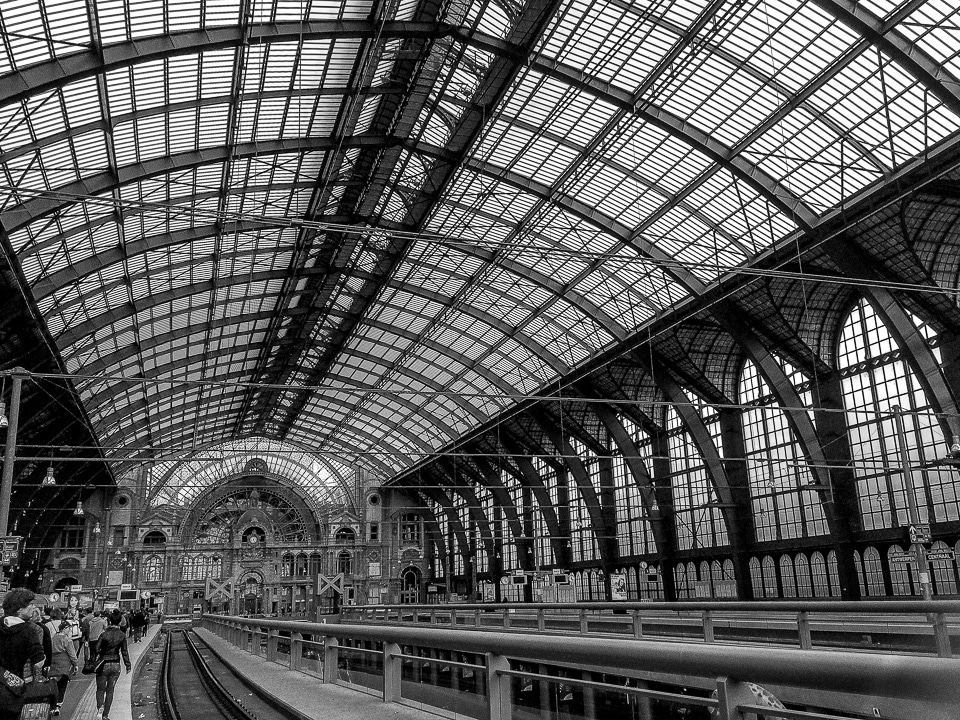 [7] Train Station, Antwerp, Belgium
We got off the train in Antwerp, and I liked this view. All my cameras were packed in my backpack, so I just pulled out my iPhone and shot this. Great camera on those phones.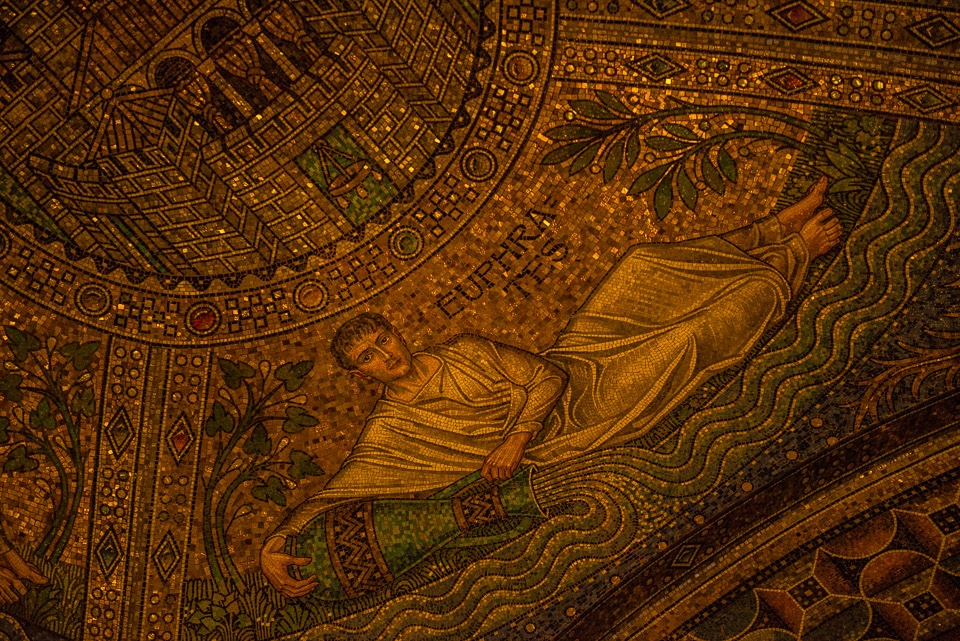 [8] Mosaic, Aachen Cathedral, Germany
We went out of our way just to see the cathedral at Aachen, which was Charlemagne's capital and the site of his tomb. There were some amazing things in this church, but I was somehow more intrigued by this detail of the mosaics that covered the entire church ceiling.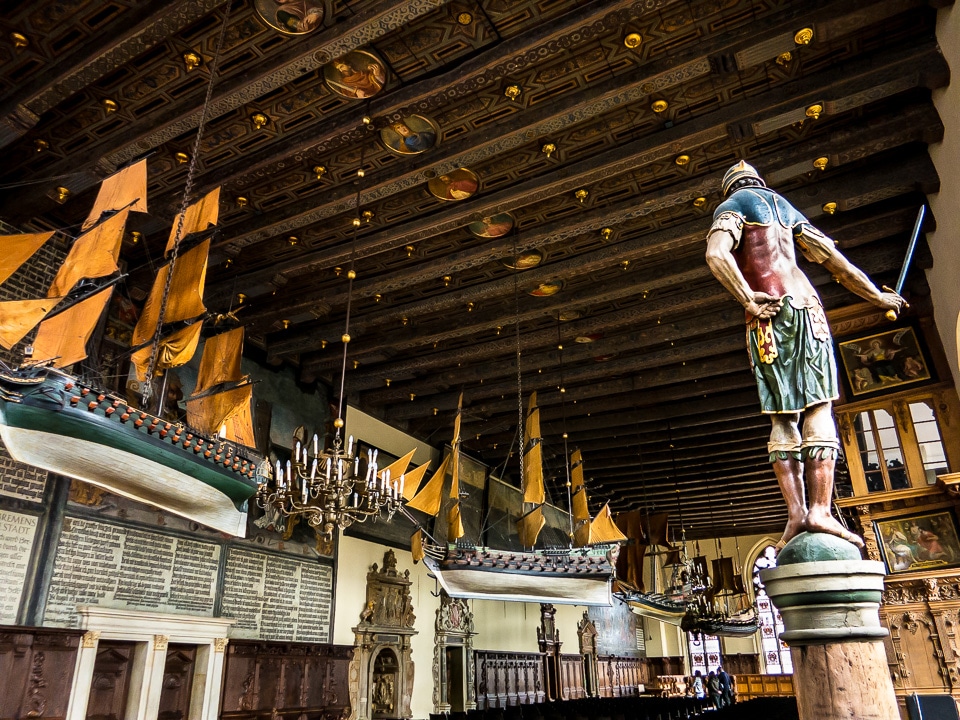 [9] City Hall, Bremen, Germany
This Unesco World Heritage site was luckily spared by Allied bombers in World War II. It's all wood, so it would have gone up pretty easily. I love the ships sailing across the ceiling of the council chamber.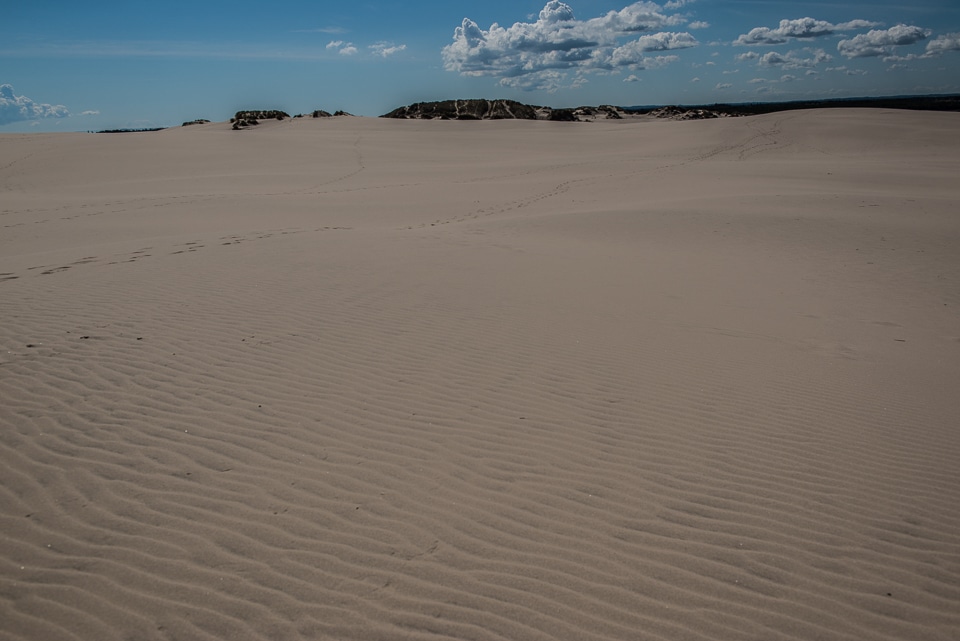 [10] Sand Dunes, Jutland, Denmark
Perhaps the most unexpected land form of our travels to date was finding a mini desert on the northern peninsula of Denmark. It's all blown up there by the prevailing westerly winds over the Jutland peninsula, and changes constantly.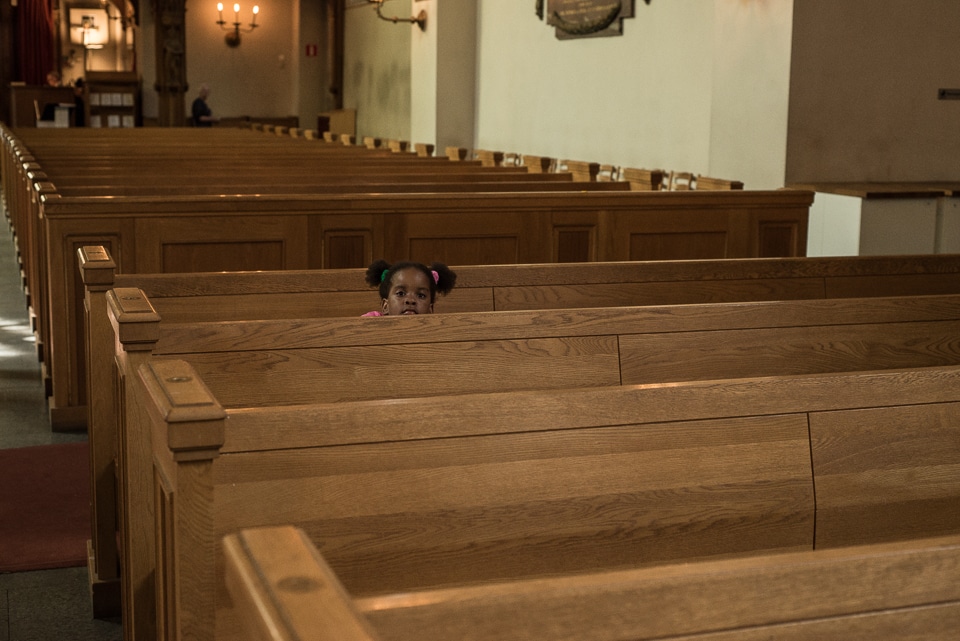 [11] Girl at Santa Clara Church, Stockholm, Sweden
This girl separated from her parents on the boring church tour and watched me as I walked around the church taking pictures, which was probably even more boring.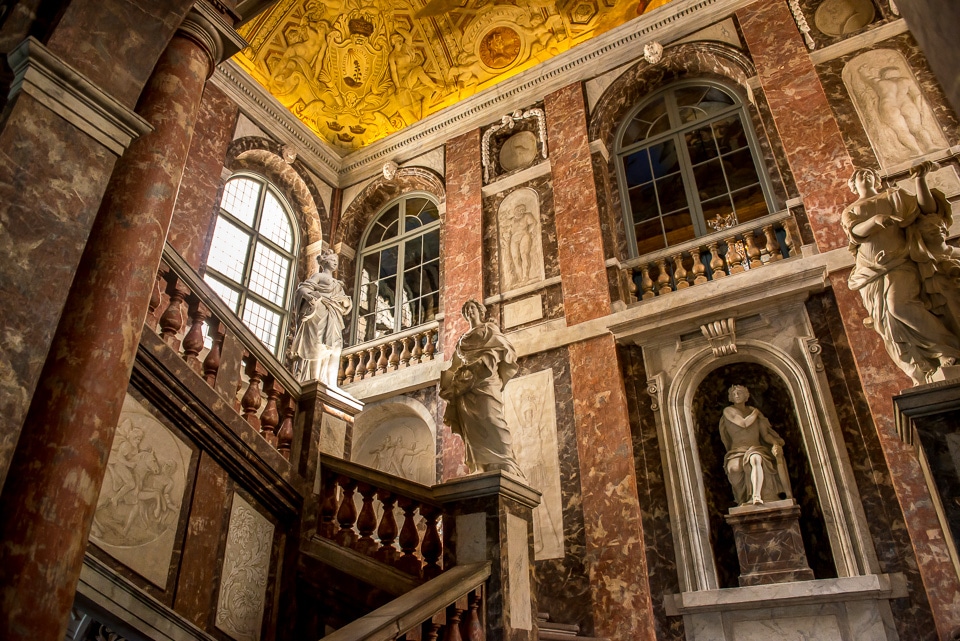 [12] Drottningholm Palace, Stockholm, Sweden
They don't allow photography inside the Drottningholm Palace outside Stockholm, so if anyone asks, I didn't take this picture when nobody was looking.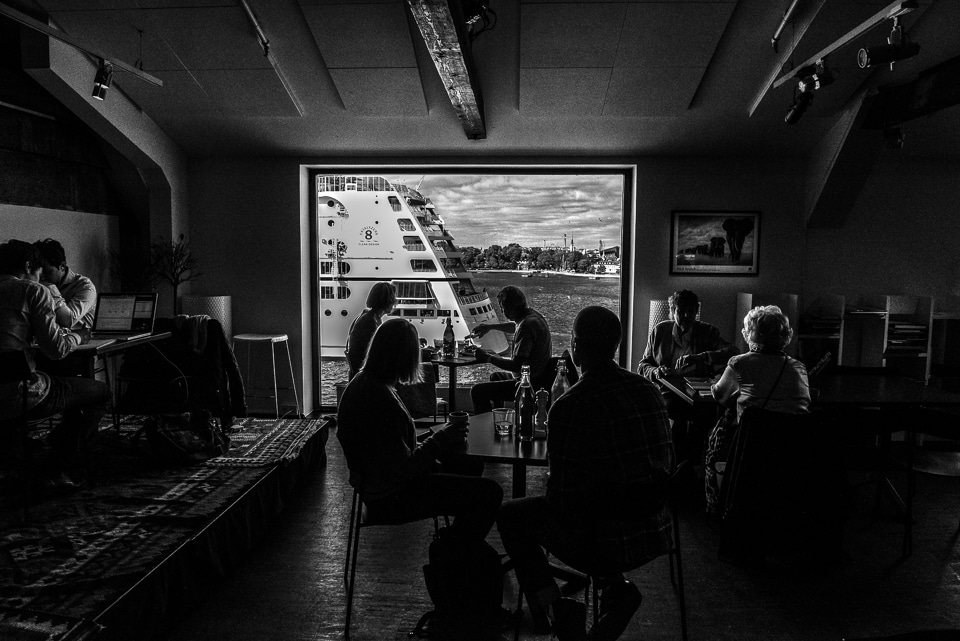 [13] Photography Museum, Stockholm, Sweden
One of the cool things about Stockholm is that you never can tell when a large ship is going to pass by the cafeteria window when you're having coffee.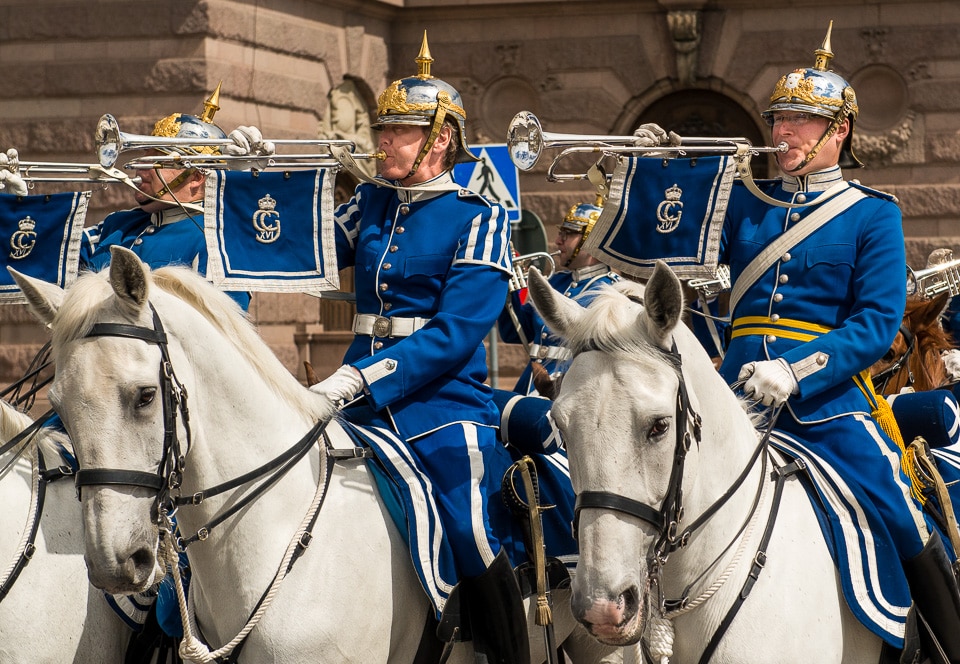 [14] Parade, Stockholm, Sweden
We were just about to cross the street when a police car pulled up and made us stop, seemingly for no reason. But down the block a parade was forming, so we waited to watch it go by on its way to the palace up the street. It's good to be king and have a parade whenever you feel like it in the middle of a weekday afternoon.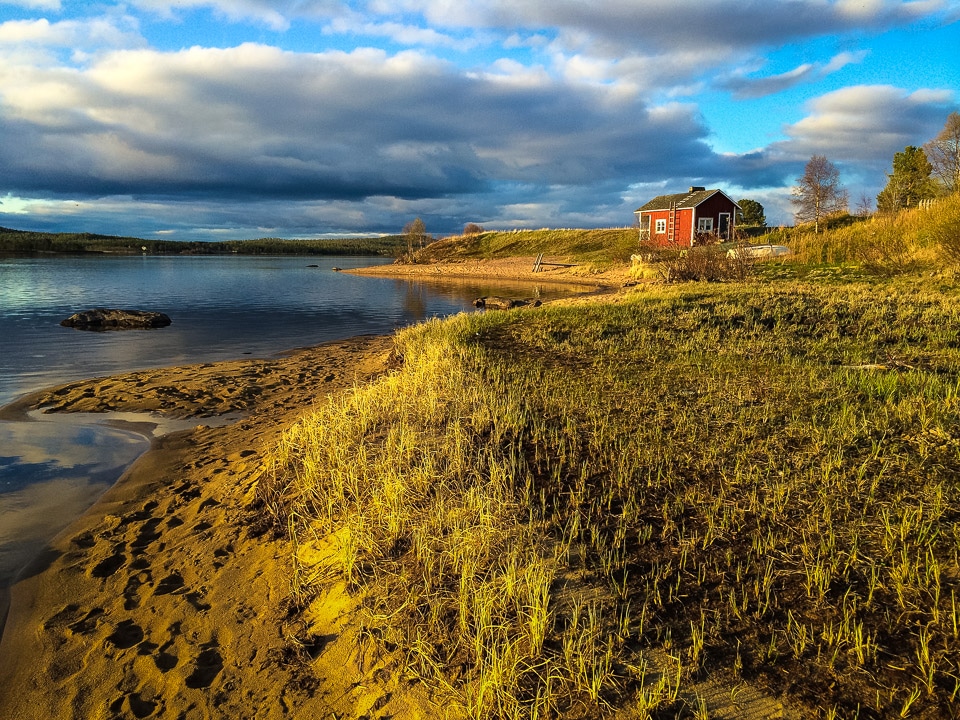 [15] Lake Inari, Inari, Finland
The cool thing about this shot is that was taken at about 11 p.m. on a summer's night above the Arctic Circle–with my iPhone. Lovely light. Glad I had the phone with me. I thought I was just going across the street for a reindeer burger.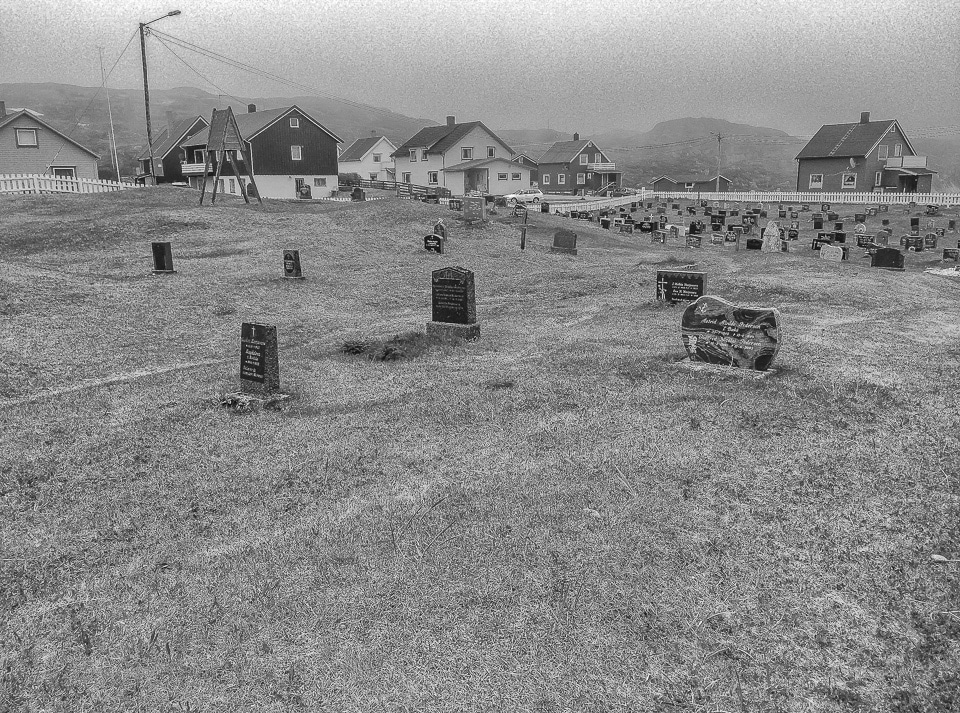 [16] Graveyard, Burgoynes, Norway
We drove from northern Finland even further north to Norway just to see some fjords. We saw some, but it was so foggy there were no dramatic photos to be had. So we drove into this little fishing village. We looked around for a while and did not see one living person. Perhaps they were all out fishing.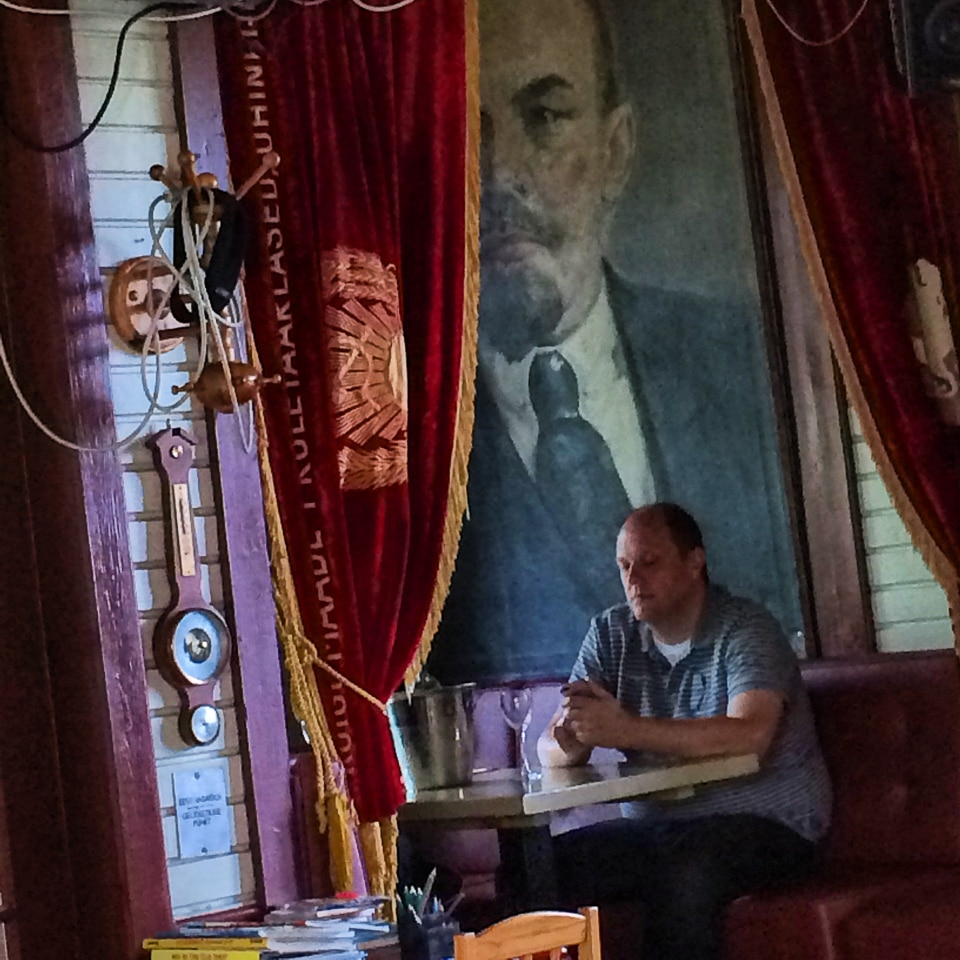 [17] Old Communist Bar, Saaremaa, Estonia
Gone but not forgotten. There's still evidence of the old ways in the former Soviet republic of Estonia.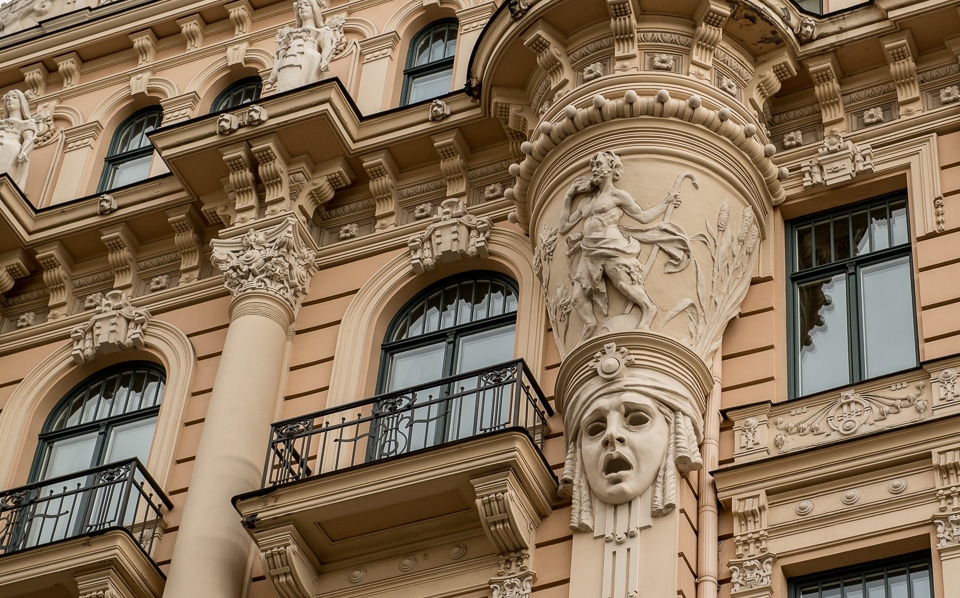 [18] Art Noveau, Riga, Latvia
There are blocks of these buildings in Riga, and it seems that the decorator of every building tried to outdo the guy next door. This is what makes walking around old cities fun.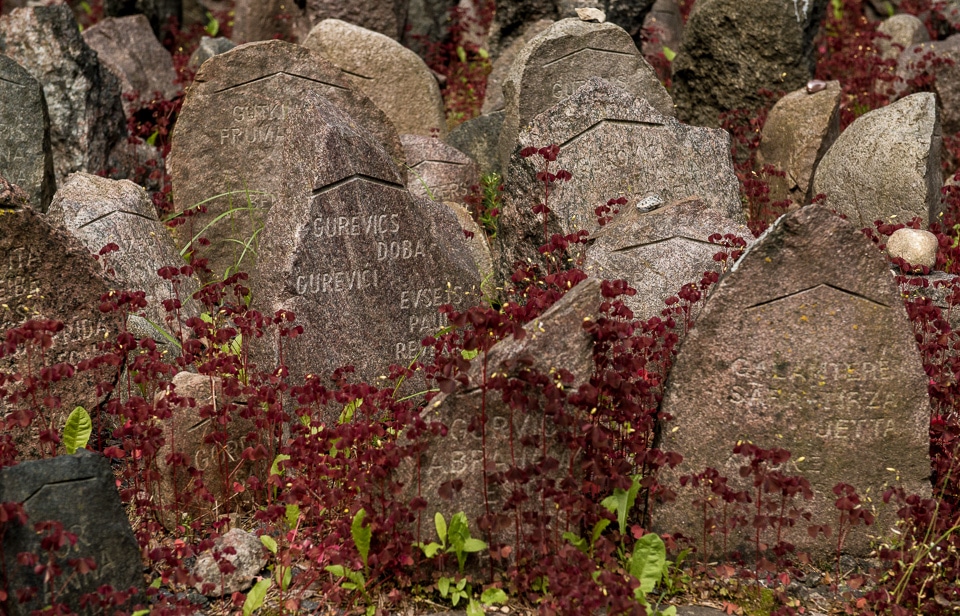 [19] Holocaust Memorial, Rumbula, Latvia
Before there were the Nazi death camps like Auschwitz and Birkenau, there were impromptu mass killings of Jews in Eastern Europe. After the Nazis captured Latvia from the Russians, one of the first jobs was to round up the Jews. They marched 25,000 of them outside of Riga to a small town called Rumbula, where they shot them so they'd fall into graves dug by Russian prisoners. Today there's a memorial, which includes some gravestones–some with names, others blank for unknown victims.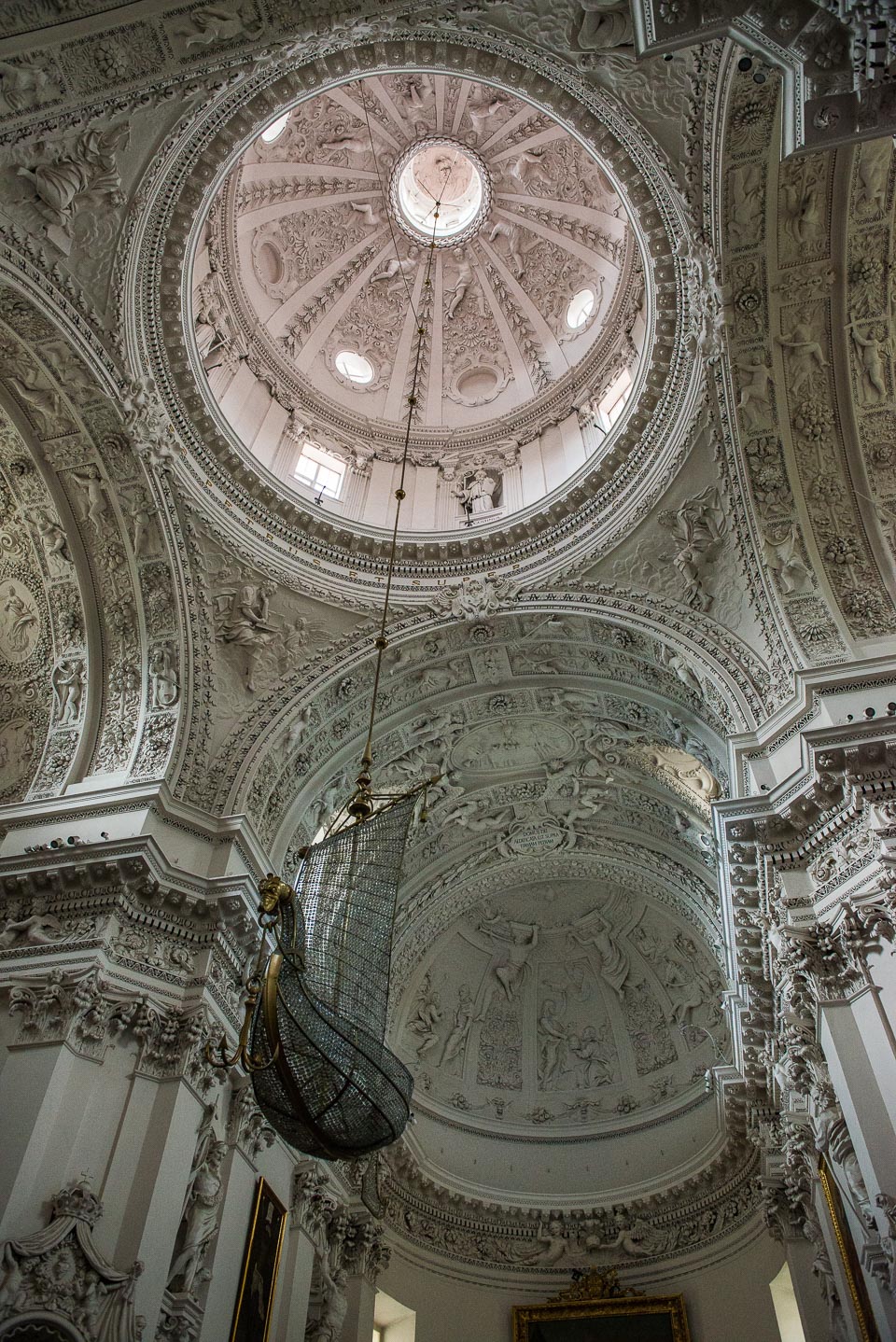 [20] Saints Peter and Paul Church, Vilnius, Lithuania
When it comes to late Baroque, this one is hard to top. It's especially impressive because there's really no color. It's all just pure decoration.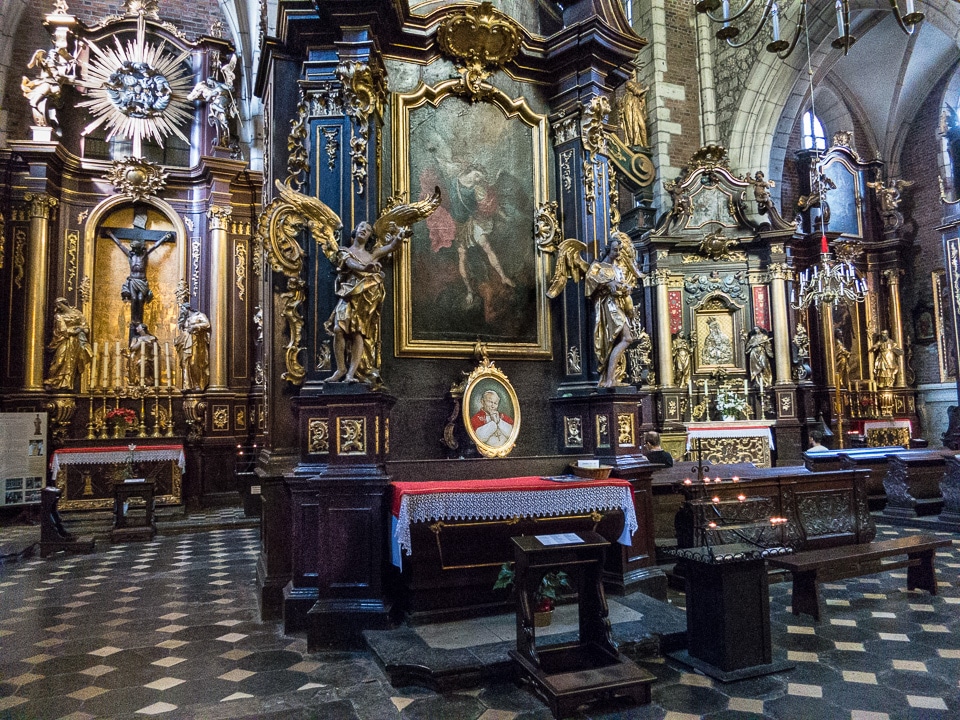 [21] Saint John Paul II Portrait, Basilica of Krakow, Poland
It was hard to walk around Krakow without tripping over a picture of favorite son and newest saint, Karol Wojtyła.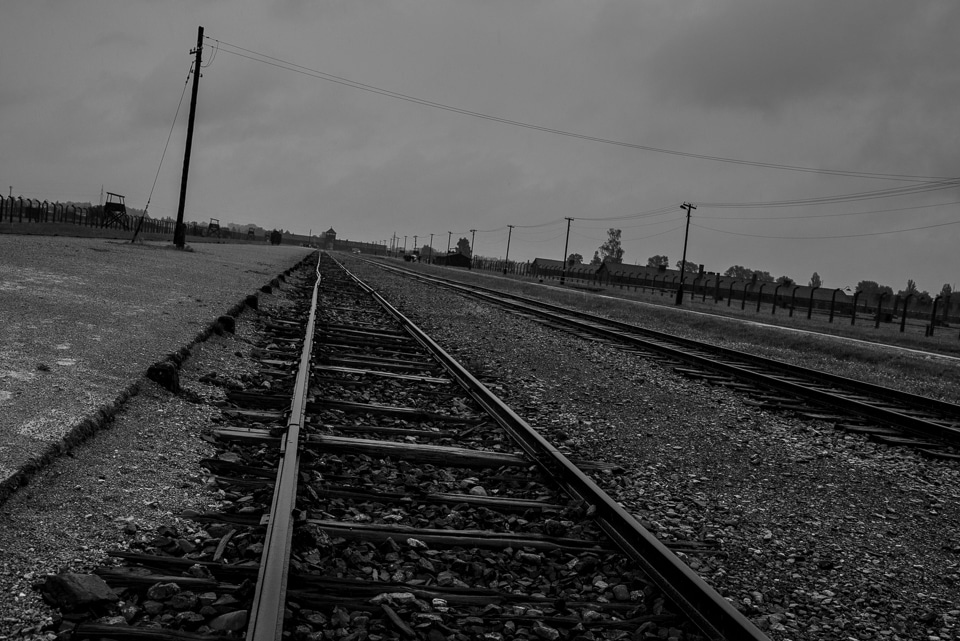 [22] Train Tracks, Birkenau Camp, Poland
Without doubt, the worst day of our travels was our day at Auschwitz and Birkenau. Impossible to summarize in a photo caption.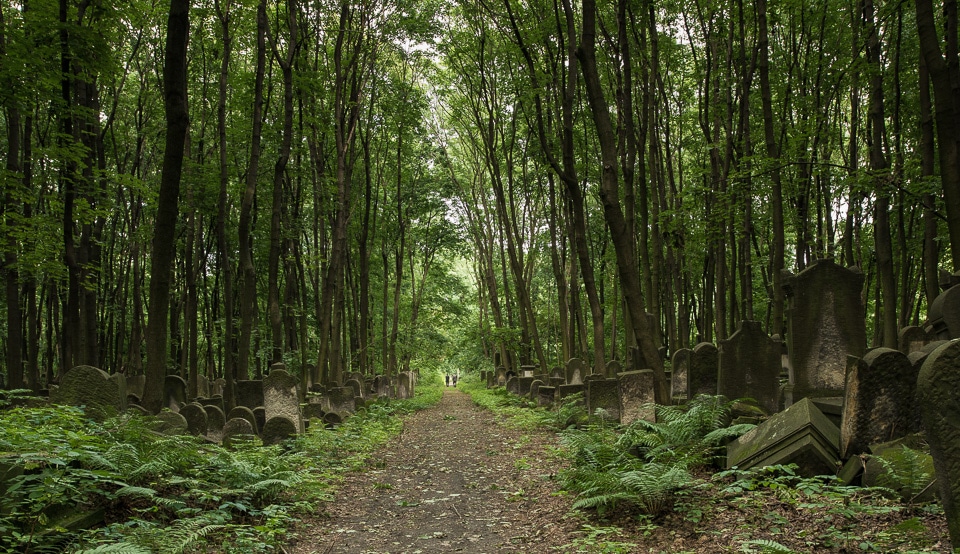 [23] Jewish Cemetery, Warsaw, Poland
The Jewish population of Warsaw was wiped out in World War II, and the huge old cemetery was neglected until very recently. A forest has grown up and tossed the thousands of grave stones with no respect for the history. Now the cemetery is under care again, and a gradual process of restoration is underway. But we only saw two caretakers, and there are acres and acres of wood to reclaim.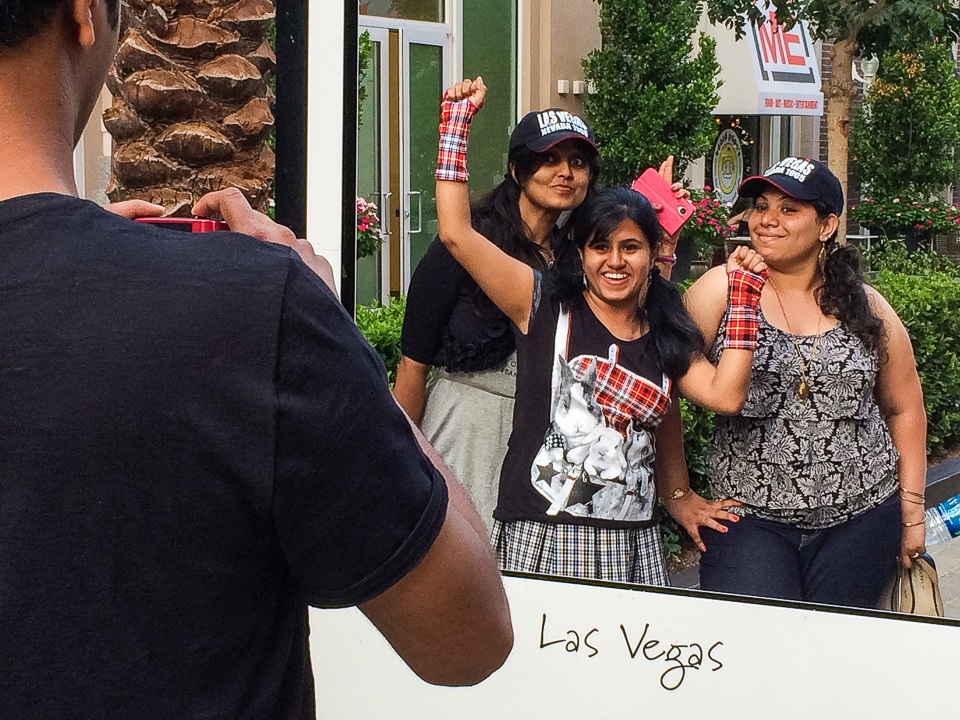 [24] Girls Having Their Picture Taken, Las Vegas, Nevada
Las Vegas is one of my favorite places. My favorite things to do there are play poker, eat, and watch other people have fun.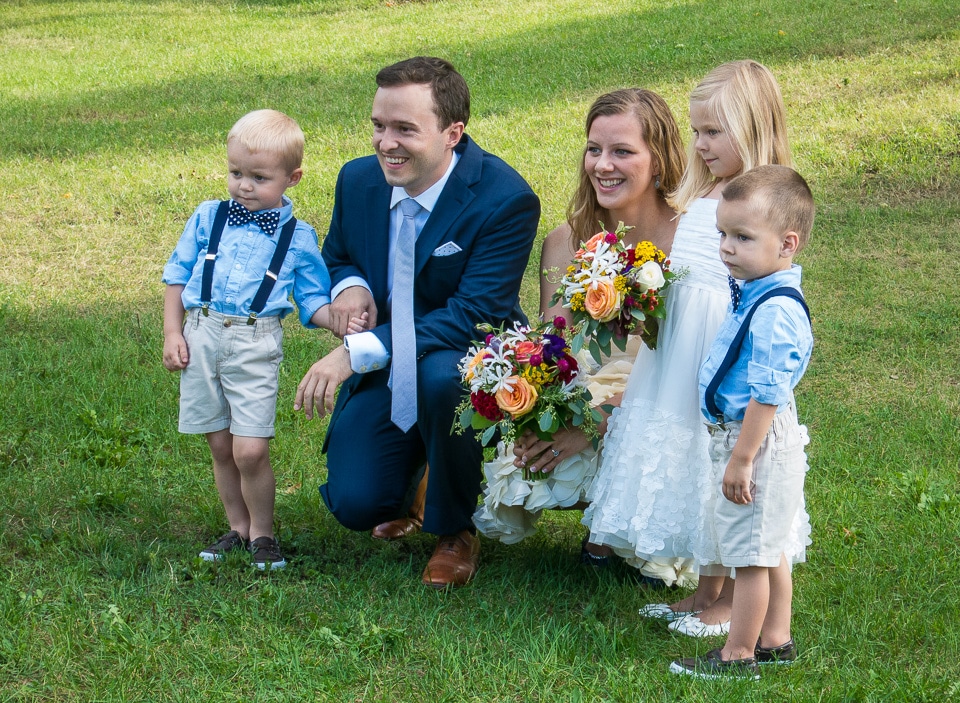 [25] Wedding Photos, Minneapolis, Minnesota
One of the hardest jobs on the planet, if you ask me, is being a wedding photographer. I wouldn't dream of trying it. Think of the pressure. If you screw it up, somebody is going to hate you for the rest of their lives. Luckily, this wedding photographer seemed to know what she was doing, even though organizing three kids under the age of six is a near impossible task. I know she did a great job, because I've seen the results. The groom is my son, Matt, and the lovely lady is our new daughter-in-law, Amy. I only took four shots with my little camera this day.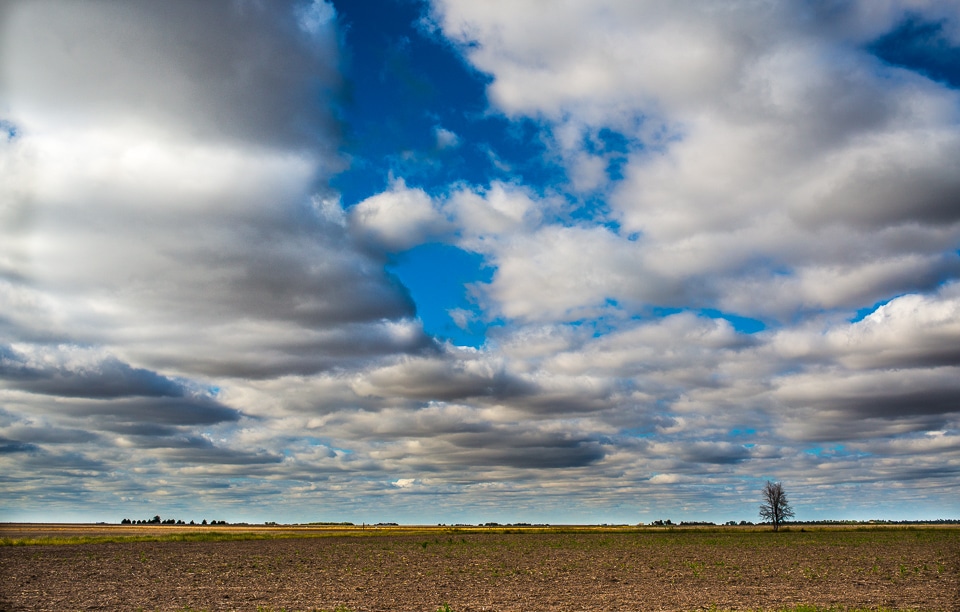 [26] The Prairie, Western Kansas
Is Kansas really that flat? Not all of it, but yeah, some of it. I think the leading cause of death of the pioneers moving across the Santa Fe Trail in Kansas was probably boredom.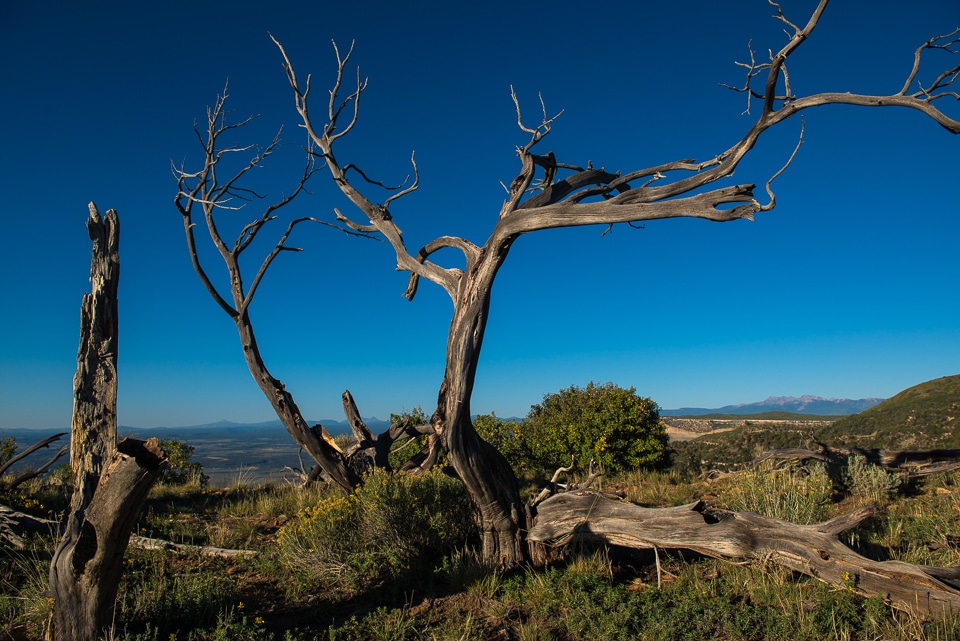 [27] Dead Tree, Mesa Verde, Colorado
The National Parks of the Western United States are stunning. But, they're difficult to photograph because what can you do that someone else hasn't done before? Nothing probably, so I just pick out a detail sometime and let it go at that.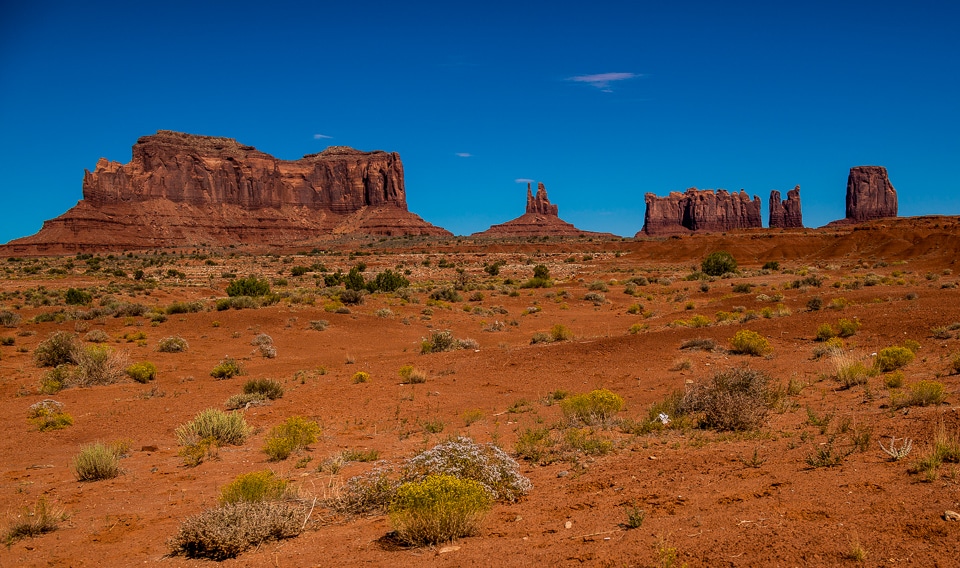 [28] Monument Valley, Utah
Monument Valley has served as the backdrop for several iconic American western movies, such as John Ford's Cavalry Trilogy. Getting to Monument Valley isn't easy. You have to drive from Colorado into Arizona, and then double back north into Utah.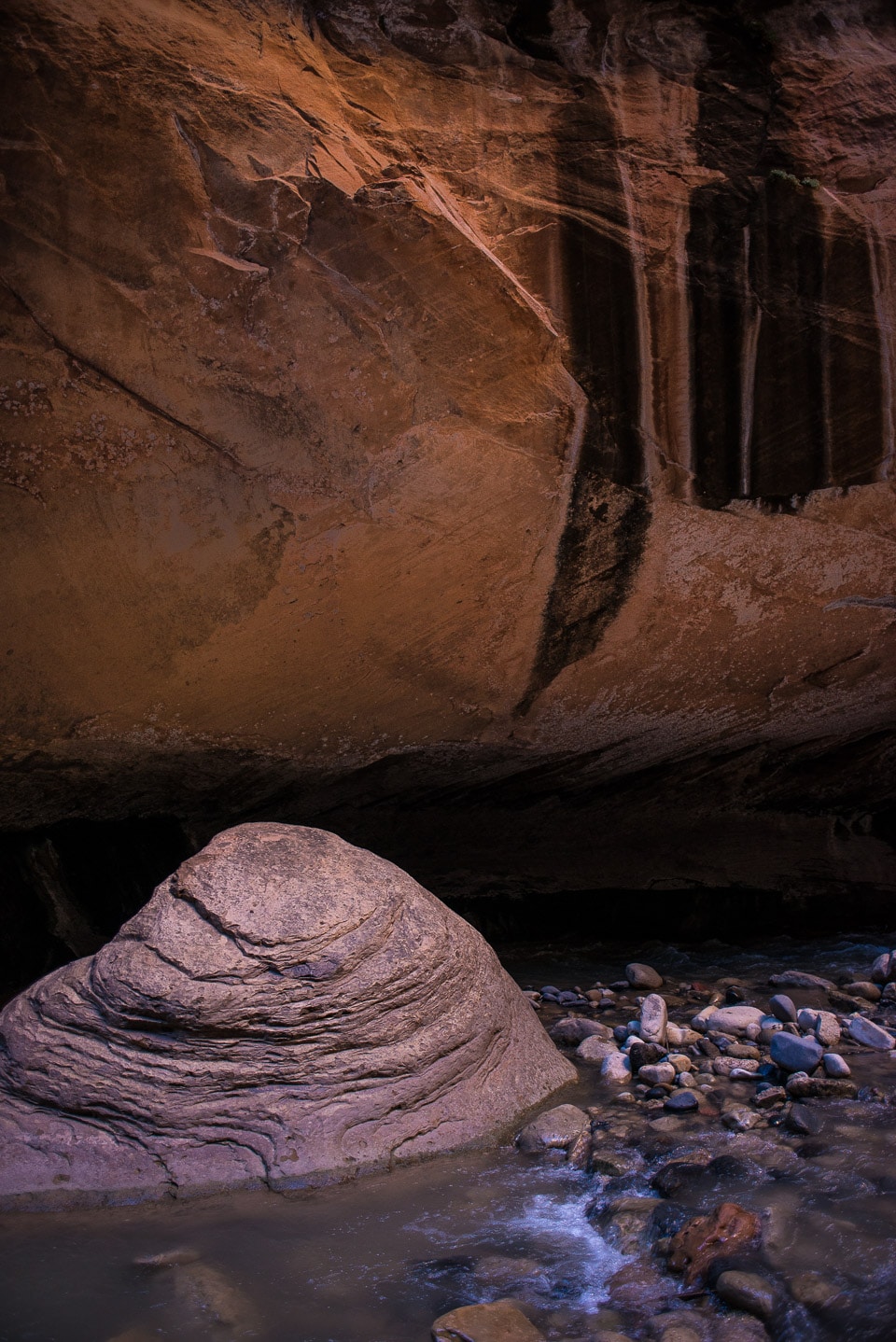 [29] The Narrows, Zion National Park, Utah
The hike up the canyon, most of which is spent knee deep in a rushing river, is extremely difficult to photograph. The sheer canyon walls are mostly in deep shadow, except for the parts that are in bright sun. So, you have exposure problems every time you try to shoot up the walls to the sky. But, I made a lot of exposures and even managed to make the entire ten miles without dumping my camera in the river. A still life, more or less.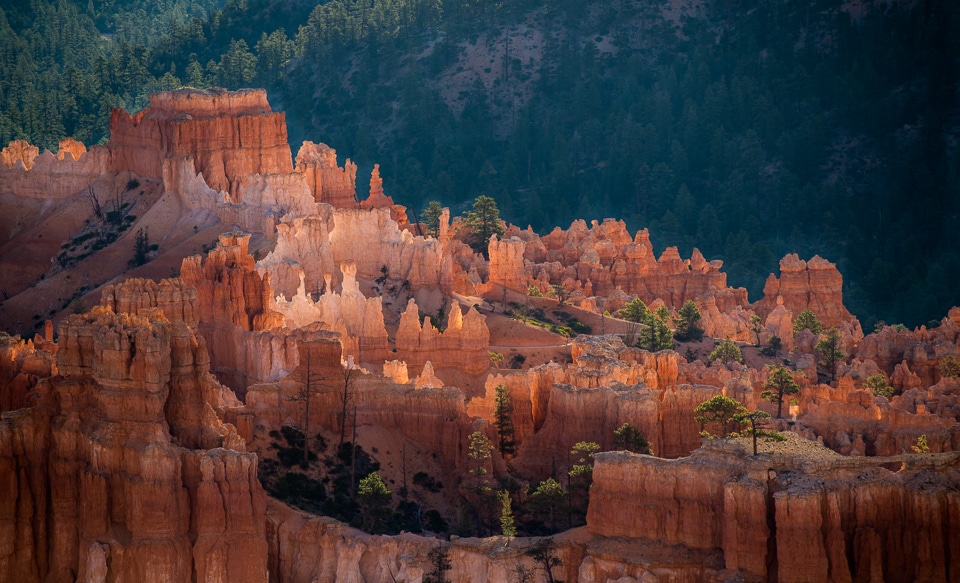 [30] Inspiration Point, Bryce Canyon National Park, Utah
While we were watching the sunrise over one part of Bryce Canyon, Kris called out, "Look at that!" pointing to a different part of the canyon a long ways off. Luckily, I'd brought the long lens and got this shot of the translucent fairy skyline as the sun hit it from the back.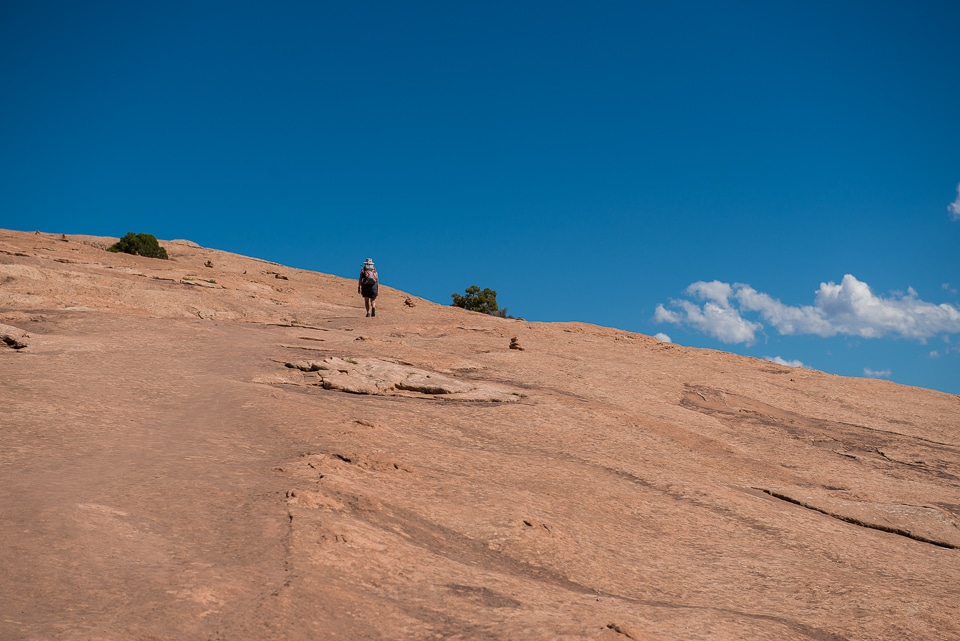 [31] The Frying Pan, Arches National Park, Utah
To get to the so-called Delicate Arch at Arches National Park, we had to hike for two hours on the hottest day of the year on sheer rock with absolutely no shade. That's Kris up there, and yes, we are that stupid.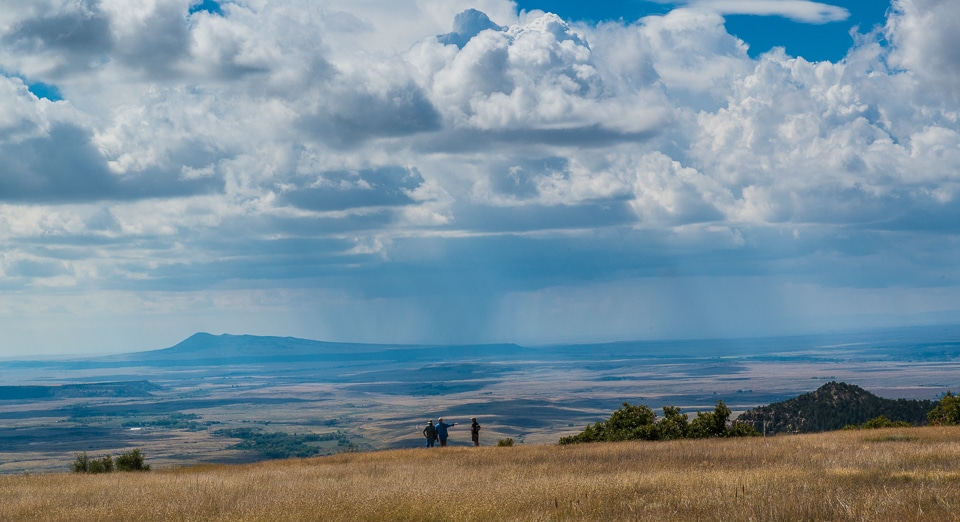 [32] View from the Ranch, Raton, New Mexico
Kris and I split up for a few days in September. She went to Aspen for a spa retreat with our daughter, and I hung out on a ranch with a few old college buddies. We didn't have a spa, but we had beer and whiskey and views like this.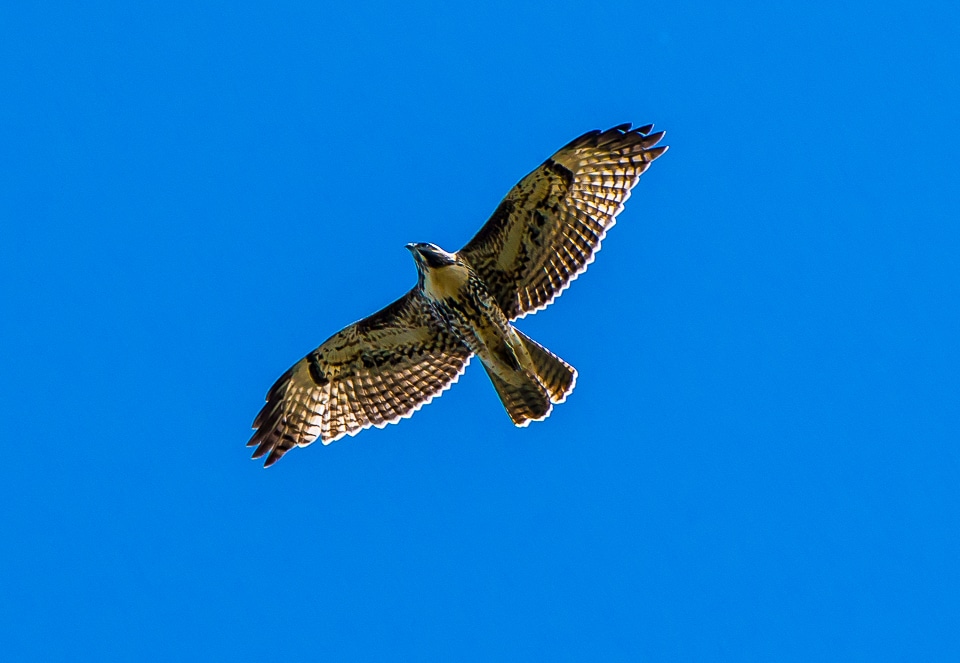 [33] Swainson's Hawk, Raton, New Mexico
As we were walking the high mesa, we were treated to the view of a couple of these guys soaring overhead looking for lunch in the tall grass. I spent an hour poring over bird books back at the ranch before identifying this guy as a Swainson's hawk.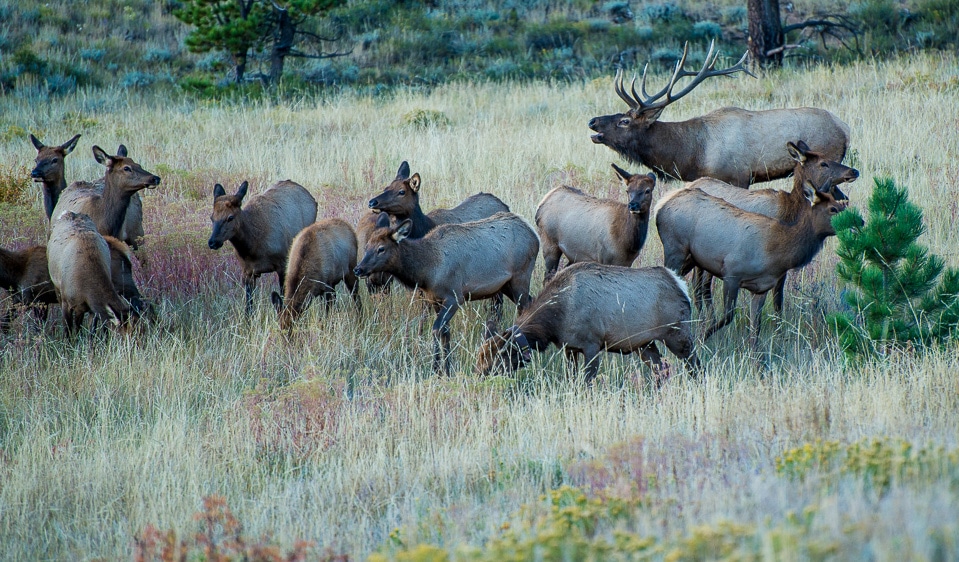 [34] Elk Gathering his Harem, Rocky Mountain National Park, Colorado
We were just in time for the elk mating season in Rocky Mountain National Park and got to watch the dominant male gather his personal herd of females for some later frolicking. We saw some of that frolicking, but I'll save the photos of that for a racier blog.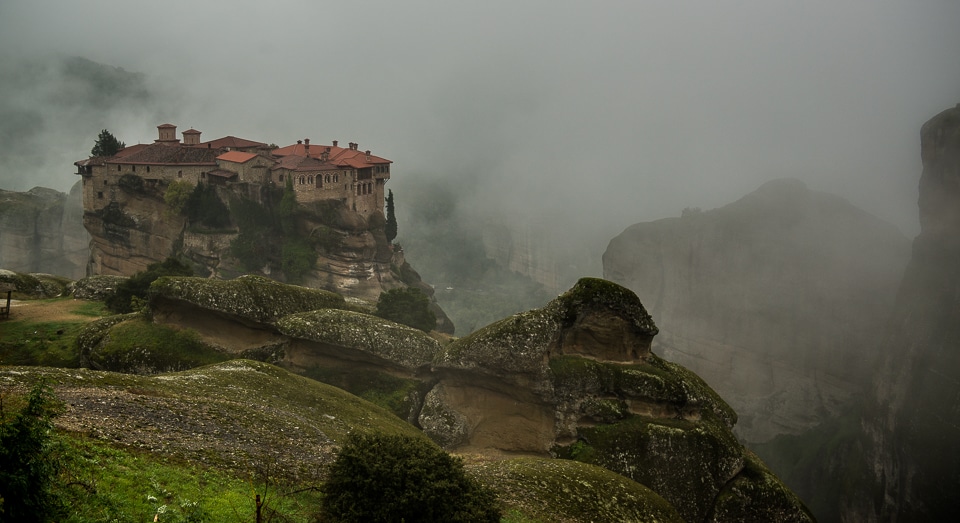 [35] Foggy Day, Meteora, Greece
We spent three days in Meteora, and two of them were shrouded in dense fog. So the trip by bus up to the various monasteries yielded few opportunities. But every now and then, something peeked out.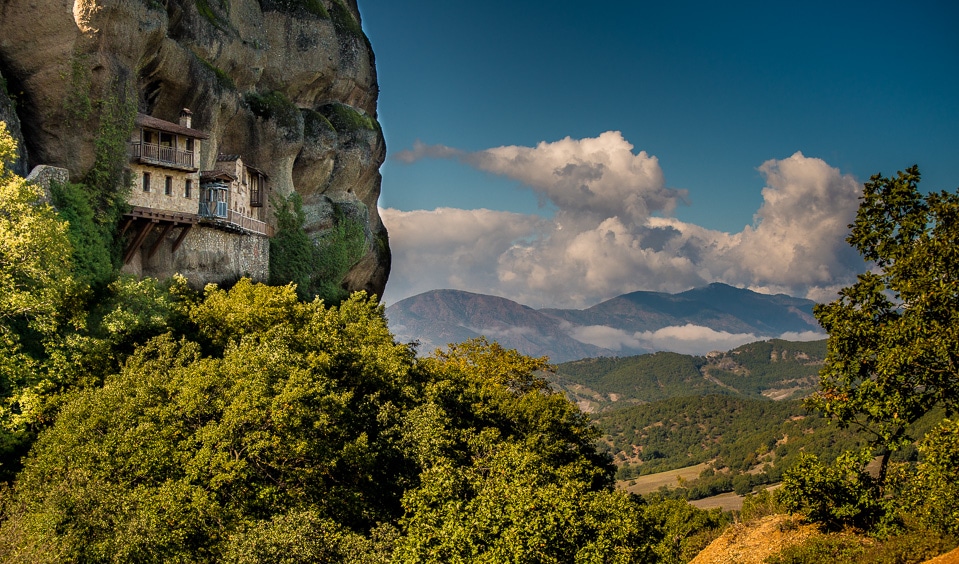 [36] Cave Monastery, Meteora, Greece
On our third day in Meteora, the sun came out just in time for us to take a guided hike through the back paths to the monasteries. There was some climbing, but the views afforded on the clear, yet picturesque day, were astounding.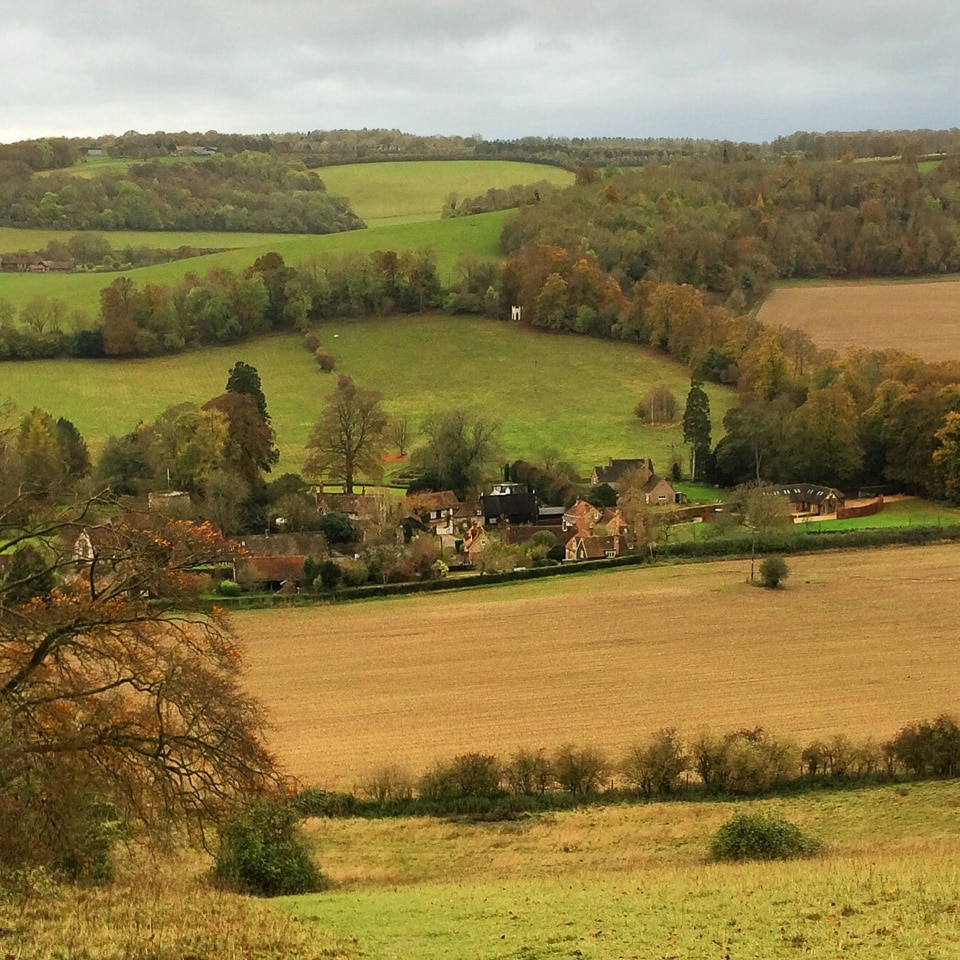 [37] Turville Village, Buckinghamshire, England
What's better than a walk in the English countryside? A walk in the English countryside followed by a few pints in the Turville public house.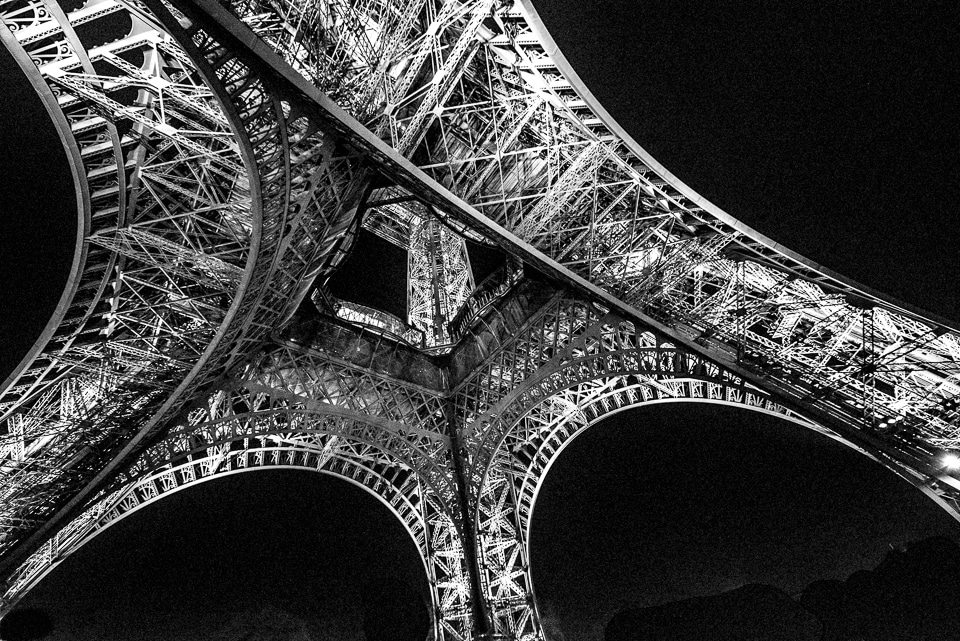 [38] The Eiffel Tower, Paris, France
There was a recent flap about the French claim that it's a violation of copyright to take a picture of the Eiffel Tower when it's lit up at night. So I didn't take this picture with a camera. I drew it with a black pencil.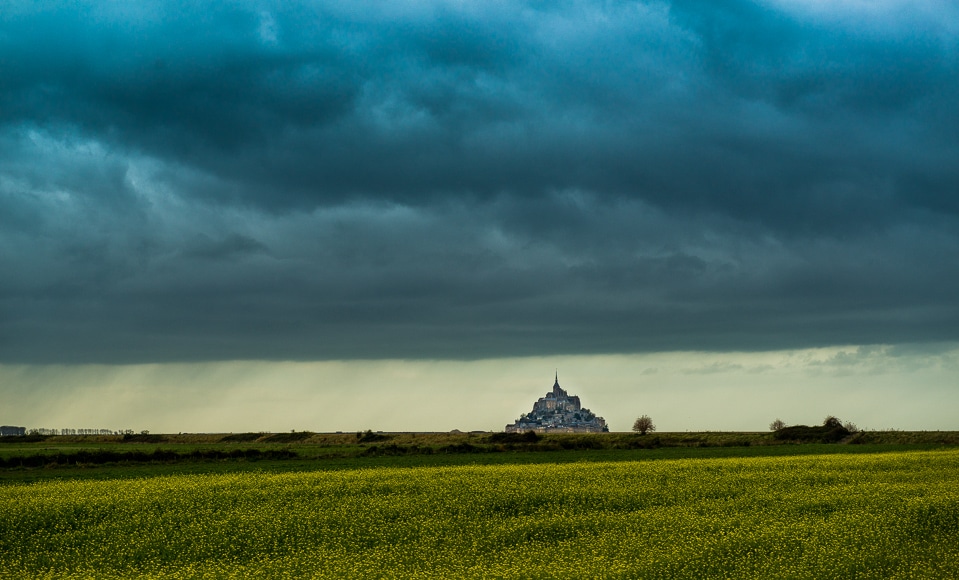 [39] Mont Saint-Michel, Normandy, France
We drove about 200 kilometers just to see Mont Saint-Michel, the famous island fortress monastery off the Normandy coast. It's a lovely and historical site, but unfortunately has been completely turned into a tourist site, complete with parking that costs €12. It's best seen from a distance to avoid the inevitable disillusionment.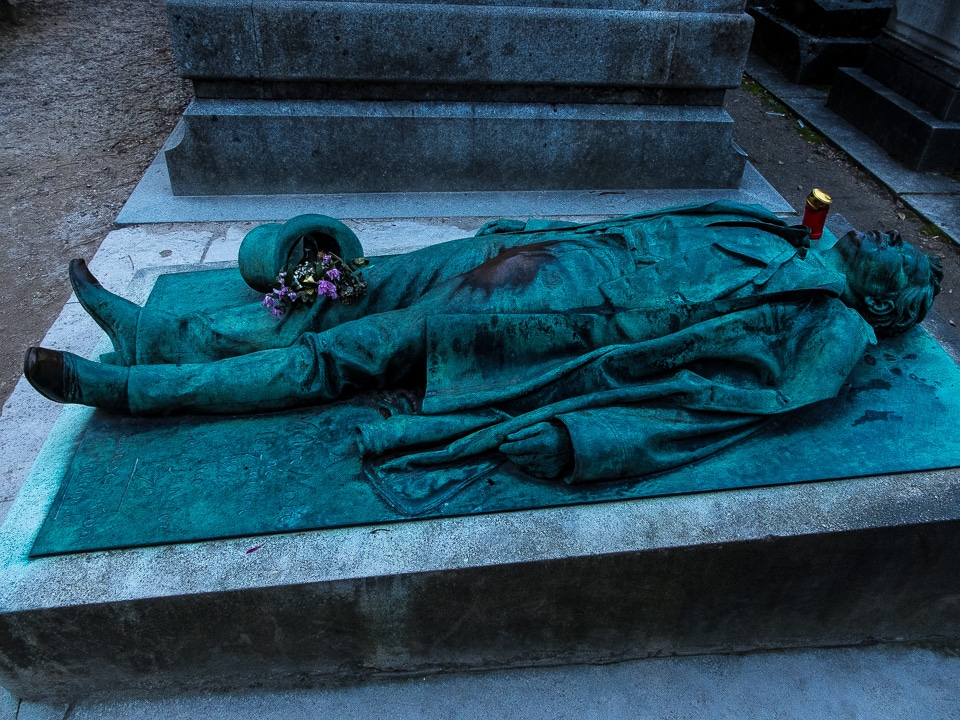 [40] Gravestone, Pere Lachaise Cemetery, Paris, France
Yup, he's dead alright.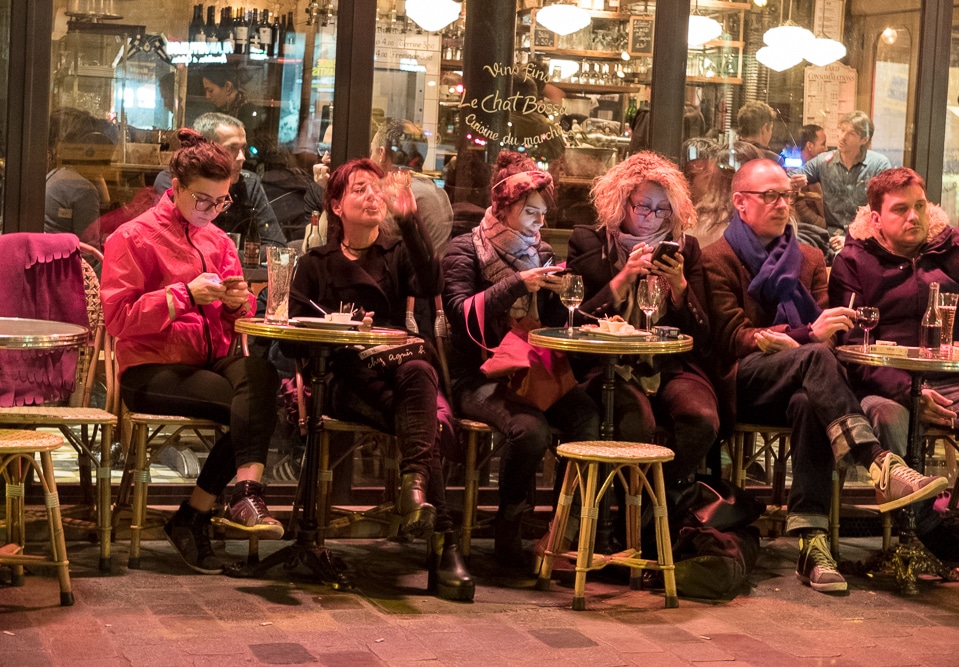 [41] Sidewalk Cafe, Paris, France
Americans aren't the only ones who can't put down their phones.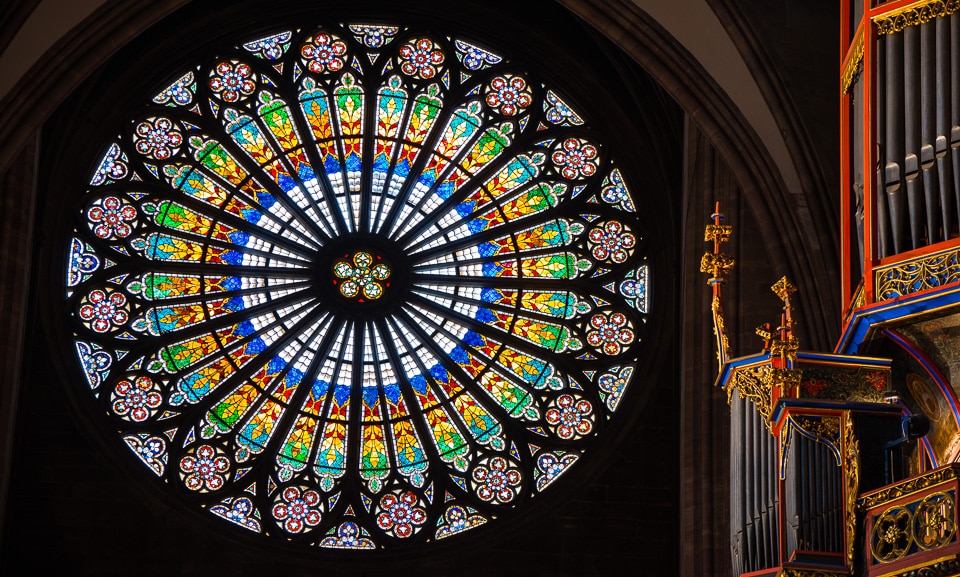 [42] Rosette Window, Strasbourg Cathedral, France
The Gothic Strasbourg Cathedral offers so many details, it was hard to pick just one to feature here. But this rosette is among the best I've seen, and with the sun behind it, the colors are stunning.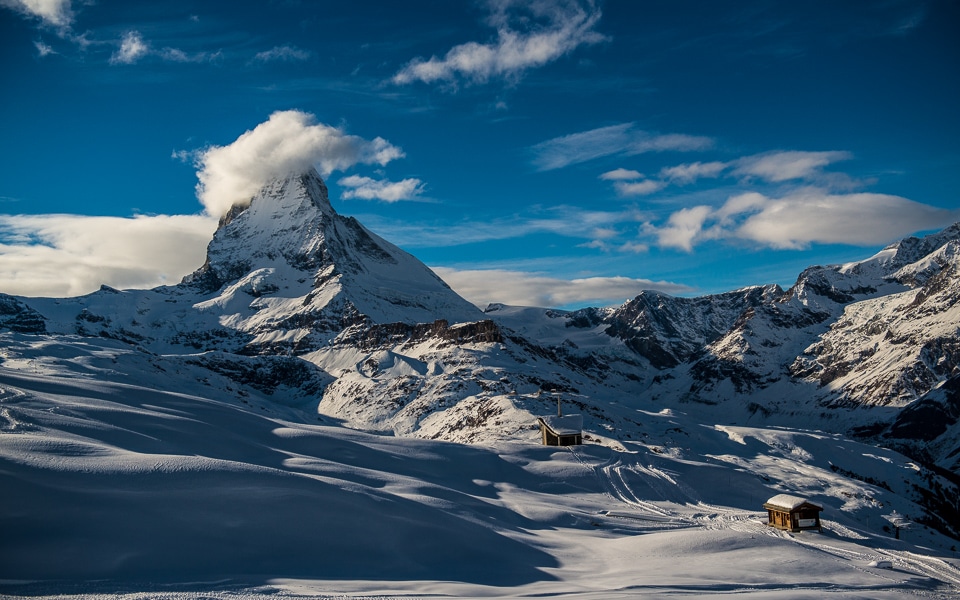 [43] The Matterhorn, Zermatt, Switzerland
It costs $80 for the half hour train ride up from Zermatt to get a good look at the Matterhorn, but you can shoot to your heart's content out the window of the slow moving train. Cheaper than hiring a model, I guess.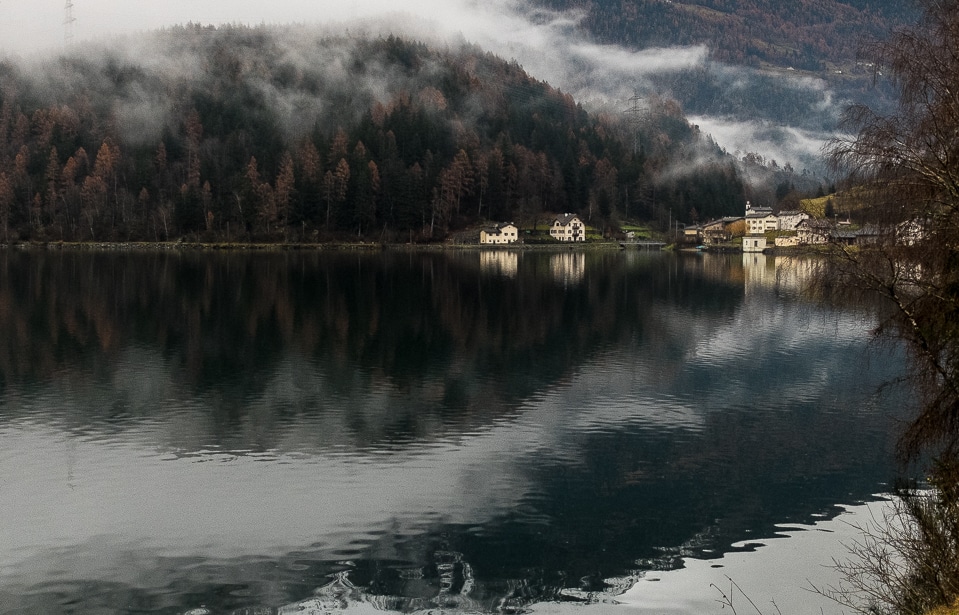 [44] Lago di Poschiavo, Switzerland
We spent four days covering a lot of Switzerland by train. And most of that time I spent hanging out the window with my camera. This one was shot as we came around a curve and this lovely lakeside village came into view.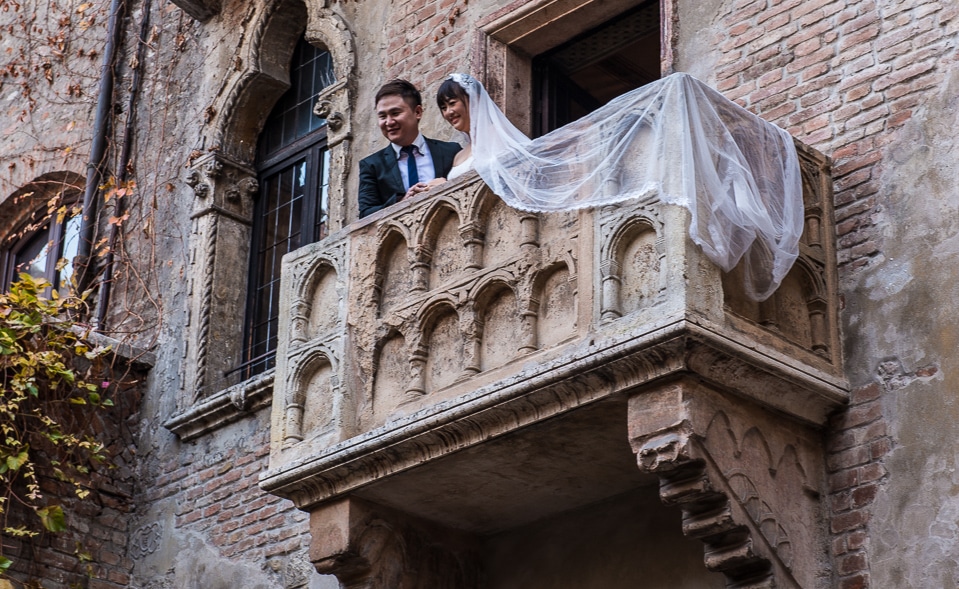 [45] Juliet's Balcony, Verona, Italy
Just as we arrived at Juliet's home in Verona, this newlywed couple stepped out on the balcony to reenact a scene from the play. They do realize it's a tragedy, right?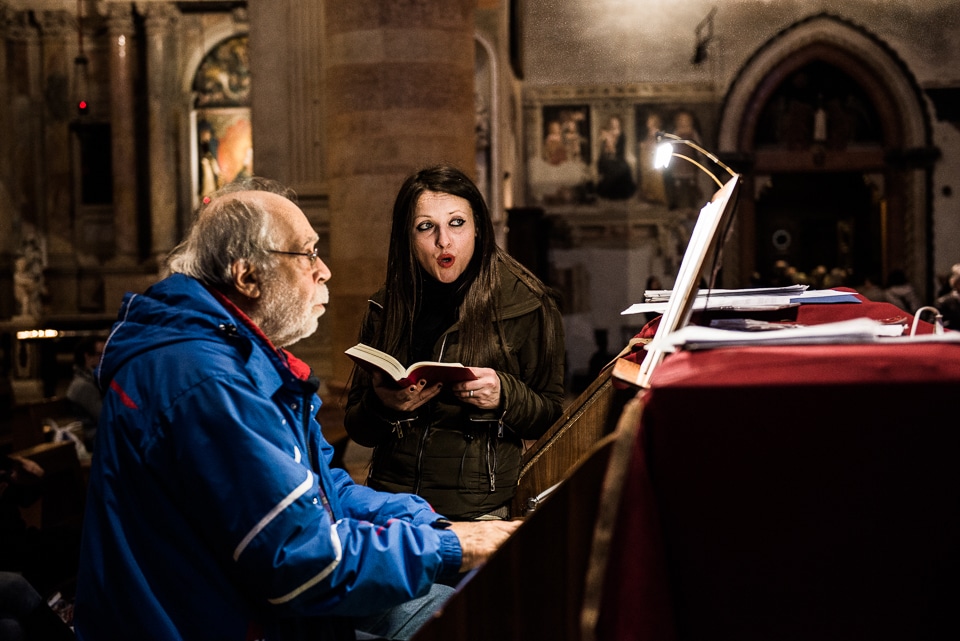 [46] Music Rehearsal, Verona Cathedral, Italy
We were doing our usual pilgrimage to the cathedral in every town we visit, and the photography wasn't going so well because it was already dark. And then this girl started to sing. She was rehearsing for an upcoming concert of Christmas music that I'm very sorry to have missed. But I got to hear half an hour of her practice, and it was beautiful.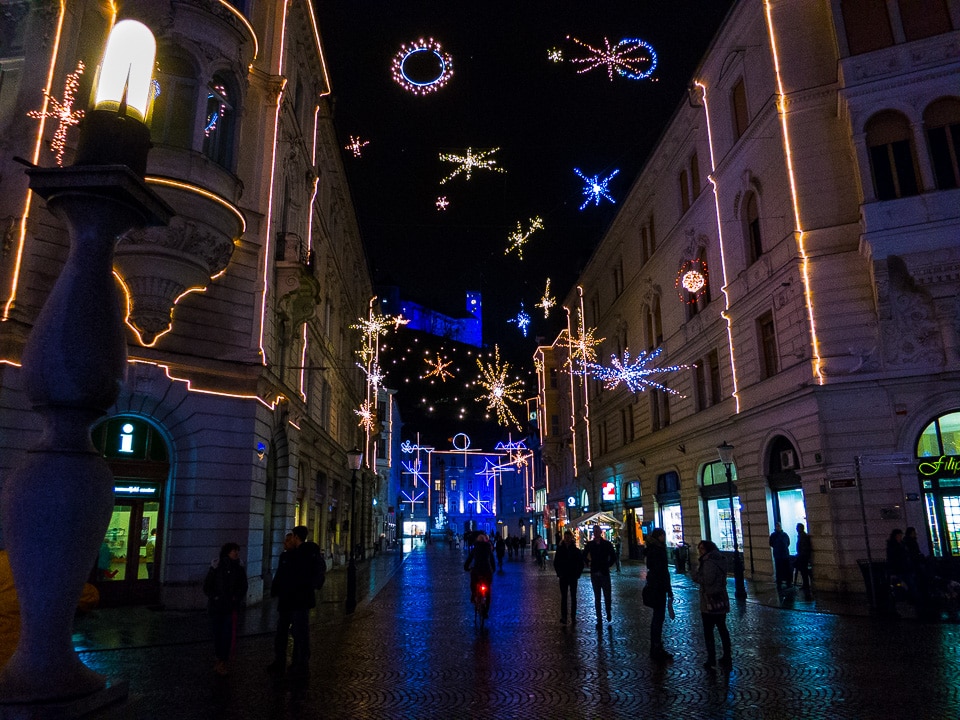 [47] Christmas Market Lights, Ljubljana, Slovenia
We only spent four days in Slovenia, and I wish we'd had a lot more. But Ljubljana's Christmas market was delightful, and I loved that her lights were so simple and elegant and spare and beautiful. Just like the city itself.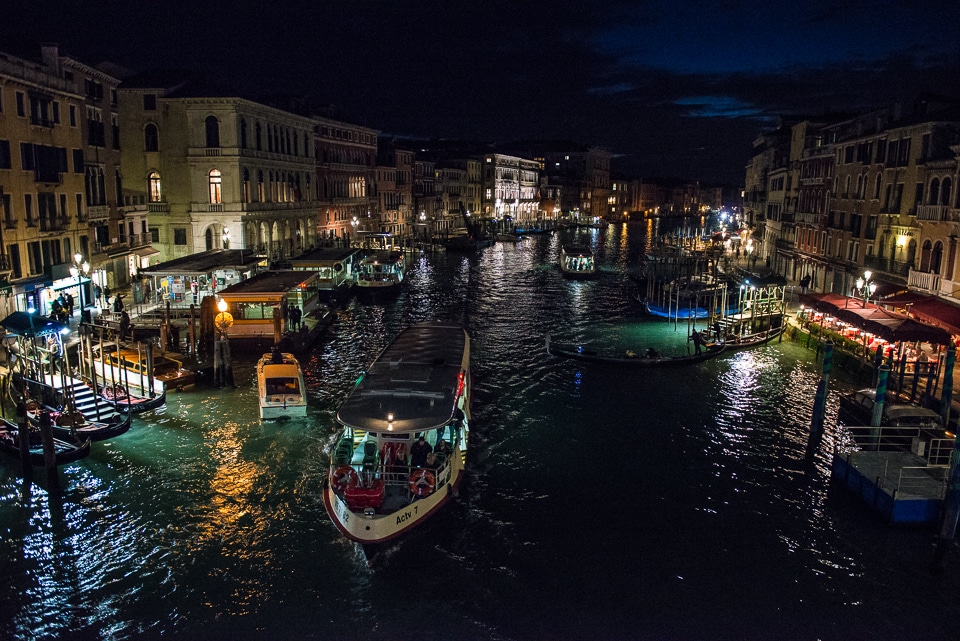 [48] Grand Canal at Night, Venice, Italy
Part of the charm of Venice is that there are no cars. But that doesn't mean there isn't traffic. Sometimes the canals at rush hour are fun to watch.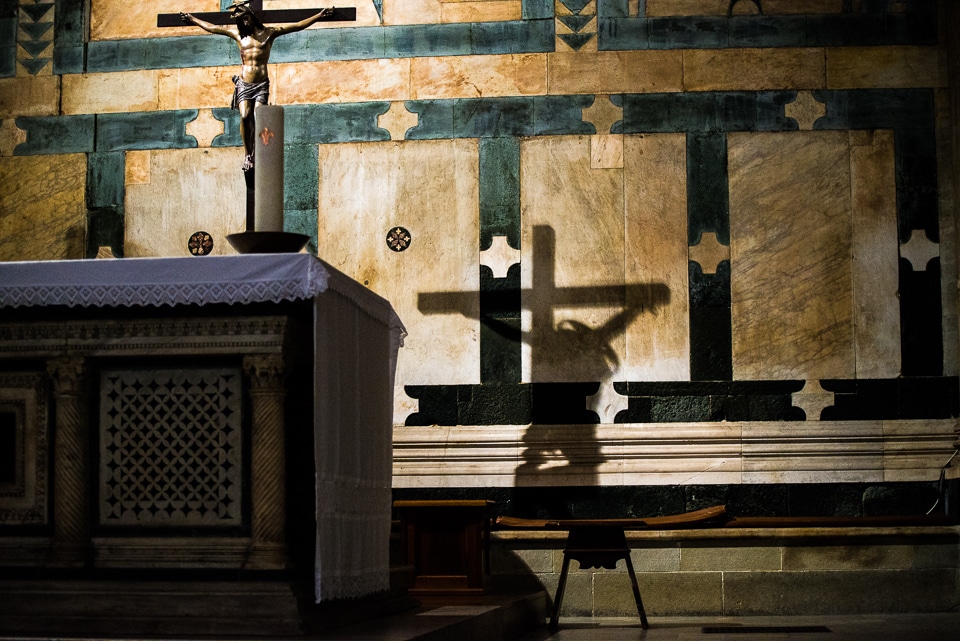 [49] Shadow of the Crucifix, Baptistery, Florence, Italy
I took about 2000 photos of Florence's churches in the two weeks we were there, and I think this is the one I like the best.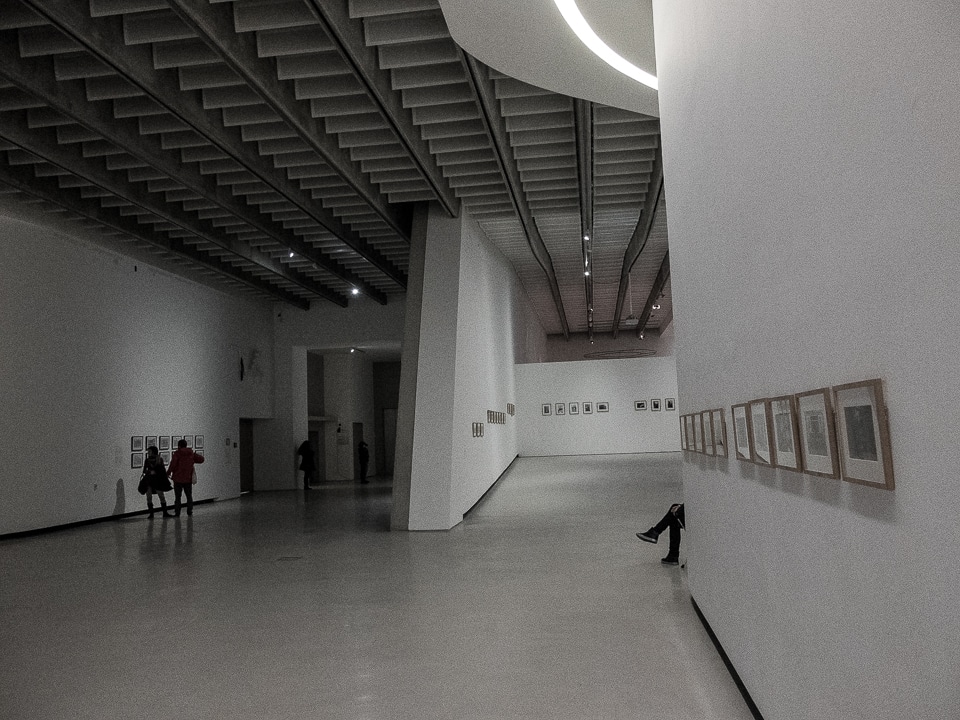 [50] The MAXXI Museum, Rome, Italy
We took a tour of "modern" Rome into an area in the north of the city we'd never been to before. As part of the tour, we saw the MAXII Museum whose name incorporates the Roman numerals for 21, as in 21st Century. It just opened a few years ago. I liked the building itself more than any of its exhibits.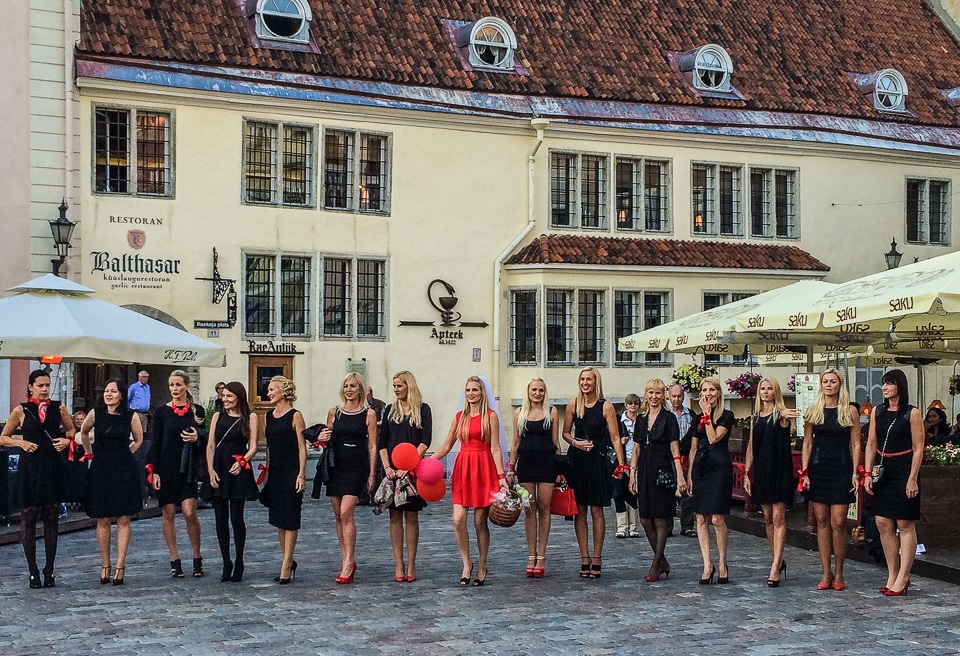 [51] Bridesmaids and Bride, Tallinn, Estonia
This is a bonus 51st photo, just because I couldn't leave it out. We were walking through the old part of Tallinn when we came upon this group of young women lining up for a photo. I suspected they were models for a magazine shoot. But I asked one of them, and no, they were a bride and her friends just out for an bachelorette weekend and they'd brought along a professional photographer so none of them had to bother with their selfie phones.
We've done a year-end photo post since we started Travel Past 50 in 2013. Here are links to all the annual photo posts: 2013, 2014, 2015, 2016, 2017, 2018, and 2019.
You can help yourself get ready for your own travels by reading our Get Started Planning Your Trip Now page.
You can see (and buy prints) of most of our travel photos in one place on this page.
We love traveling–with the right gear. We've gathered a lot of the stuff we use to make travel more pleasant and efficient all on one page. Shop our Travel Past 50 Amazon page to find our favorite gear. If you purchase something from the store, Travel Past 50, as an Amazon affiliate, may receive a small commission at no extra charge to you. Thanks.
We never leave home without our travel insurance. Nor should you. Search for the travel insurance from Allianz that best meets your needs, whether it be an annual plan or a single trip.
Note: This post and other posts on TravelPast50.com may contain paid or affiliate advertising links.