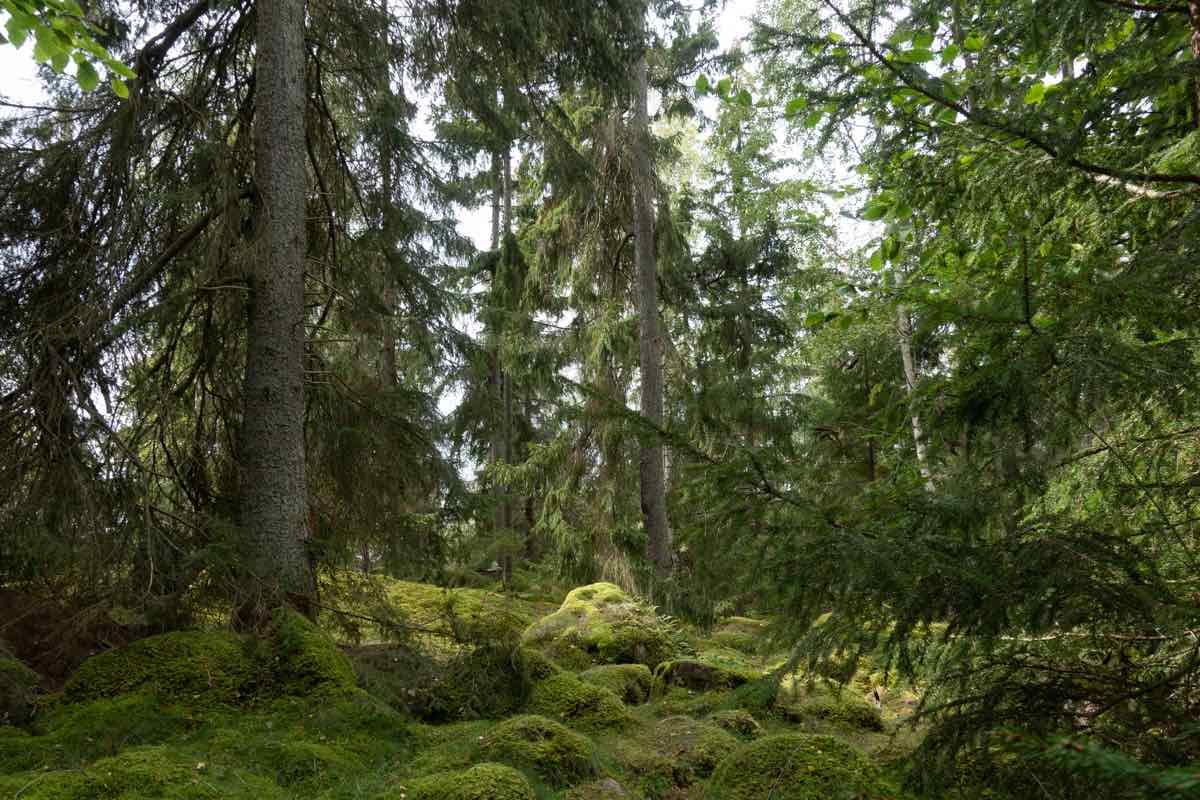 She had mentioned in her soft but serious voice that she wanted to talk. Finally, on our last evening together, six of us pulled our chairs close and leaned in over our dinner plates to hear what our guide wanted to say. I assumed she'd share details about her business.
We were six visitors from four countries traveling in Sweden to attend the Adventure Travel World Summit (ATWS) in Gothenburg. But first, our assignment was to participate in a "pre-adventure." None of the six of us had met before, but we'd all selected the same experience among some 18 wildly varying adventure choices offered throughout Sweden. We selected the "Foodie & Nature Tour Among the Woods and Lakes at Omberg" with a 5-day itinerary.
In this Östergötlund region of Sweden (located southwest of Stockholm, almost midway to Gothenburg), we'd get to know locals, eat great locally sourced food, hike in Sweden's most botanically diverse forest, take in two important lakes including big Lake Vättern, and learn about allemansrätten, literally 'the right of all men.' Practically speaking, this 'freedom to roam' concerns everyone's right to walk anywhere in Sweden, on anyone's land, as long as nature and landowners are properly respected. With freedom comes responsibility, as we instruct both children and travelers.
Our guide was Linda Staaf, owner of Woods and Water Sweden, a company that provides guided tours through Swedish nature–by foot, bike, or kayak. A long-time guide within the Swedish Outdoor Association, Staaf started up a kayak rental company and zipline park, then eventually developed Woods and Water to share her knowledge and enthusiasm for the outdoors with individuals and groups…in a sustainable way.
Which brings us back to the dinner conversation. Rather than talking about the history and growth of her business, Linda started the story of her personal trajectory in tourism. This fit, independent business owner, a single mom, recalled the tough times growing her small business, and reaching out for support from travel and tourism organizations like the Adventure Travel Trade Association (ATTA). At the same time she was working on marketing internationally, she was realizing the serious and imminent threats to her beloved natural playground: climate change. It's oft recited at ATTA conferences that tourism contributes close to 8% of carbon emissions, with 5% attributed to air travel.
Staaf just couldn't reconcile her personal responsibility with growing her business. With tears in her eyes even recalling the intensity of the decision, Staaf opted to draw a line that she feared might kill her business. She would not market overseas or to customers who would need to fly to her destination, nor support transfers from airports. She's limited her own air travel, and set out a number of goals for sustainability practices.
"Tourism is like fire," said Staaf. "You can cook with it, but it can burn your house down."
See more on responsible, sustainable travel here.
As tough as those choices were, it seems Staaf is now at the forefront of a movement described in part as flygskam, flight shame.  It's no coincidence the term has Swedish origins. Sweden, after all, is the home of Greta Thunberg, leader of the youth response to our climate crisis. Greta famously refused to travel by air to speak to the United Nations on the subject. Both Staaf and Thunberg reflect the essential psyche of Sweden, the deep connection to nature and the outdoors.
"Tourism is like fire," said Staaf. "You can cook with it, but it can burn your house down."
The adventure travel trade in particular is (and ought to be) leading initiatives to minimize or offset carbon emissions and maximize protection of local environment and economies. That includes, of course, no single use plastics, no waste left behind, using only local guides and locally owned and operated businesses, purchasing products made locally, keeping groups small for minimal impact, no geo-tagging on photos/social media, investment in education of staff, guests, locals, and young students, and the list goes on. (The ATTA's recent story about "flight shame" and its impact on adventure tourism also remarks on Staaf's actions.)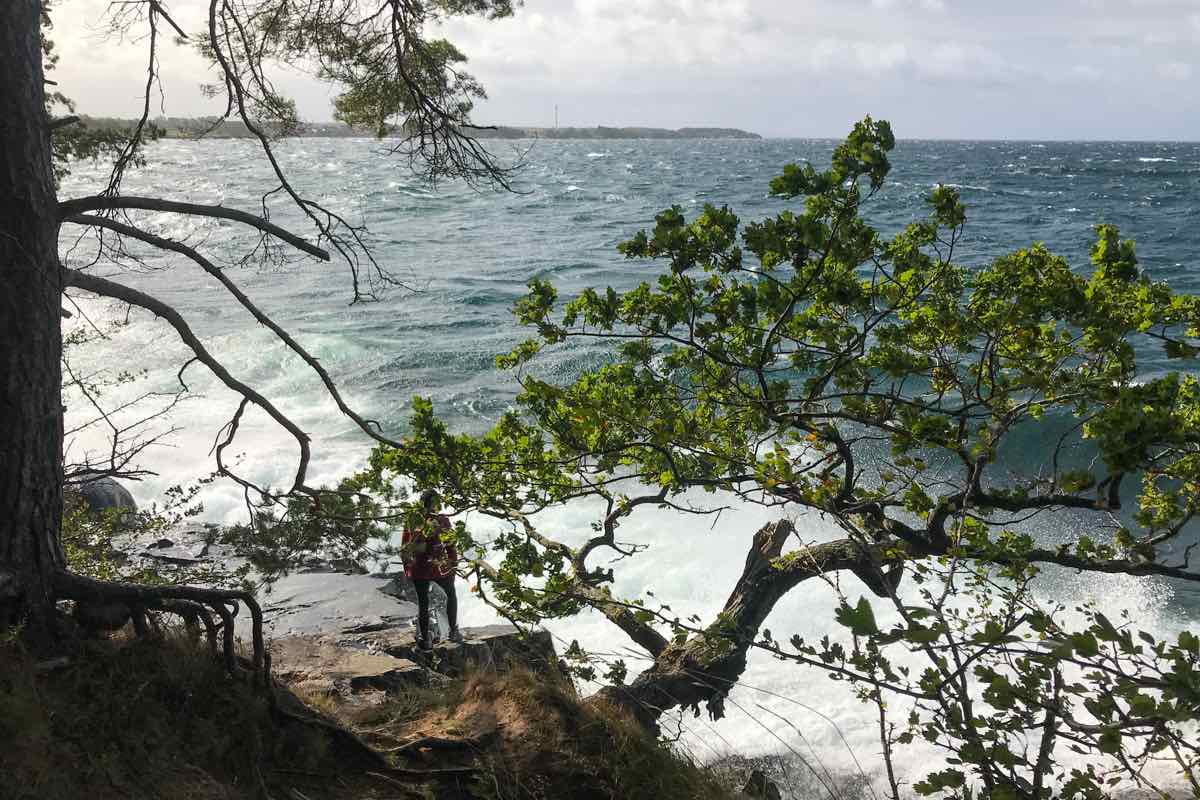 Maybe these efforts sound trite to you, but Staaf and hundreds of thousands like her (including your pals at Travel Past 50) understand there is no change without individual effort. This is no cliché statement like offering not to wash your hotel towels one day. Carbon offsets alone are nothing to brag about in marketing materials. Curtailing the emissions themselves is the objective. The six of us around the table could see and feel the depth of emotion behind Staaf's commitment and understood the calculations that had led Linda to this point.
"I suddenly realized how bad the travel industry is for the climate, and what problems tourism can cause for the locals if not managed properly," explains Linda on her website. "Tourism was my life – both as a professional and as a traveler myself and now suddenly I started questioning everything and thought about quitting. But if I did, I would not be able to change anything. So I came back to continue working with travel–but this time my mission is to make it as sustainable as possible, for the sake of our destination and for the climate."
Of course, this makes the six of us at the table think about our own travel and businesses, and we consider our options. If air travel cannot be avoided, for example, overseas travelers can choose to stay longer and avoid intermediate flights. Use trains, buses, and public transport systems. Mind your own consumption of single use plastics when traveling, and let your preferences be known to airlines and hotels. Select only locally owned businesses and local guides. These are all positive steps.
Besides Östergötland, we've written about other places in Sweden to enjoy the great outdoors. Read about Jämtland County adventures in winter, about five excellent day hikes around Östersund and Åre, and about a wonderful visit to Värmland County and Karlstad along Lake Värnern, Sweden's largest lake.
Sustainable Travel to Sweden
Be mindful. And that is what this visit to Östergötland Sweden allowed us to do. We practiced friluftsliv, using our time to relax the body and invigorate the mind; to walk softly (or exercise vigorously) and appreciate the nature around us; to eat locally grown produce and talk with local entrepreneurs.
However you take your travel, don't miss an opportunity to learn about Sweden's way of life, in particular people's relationship with nature. Here are highlights of what we enjoyed in the Omberg area with Woods and Water Sweden…and ways we realized we were facing the future of sustainable travel and ecotourism.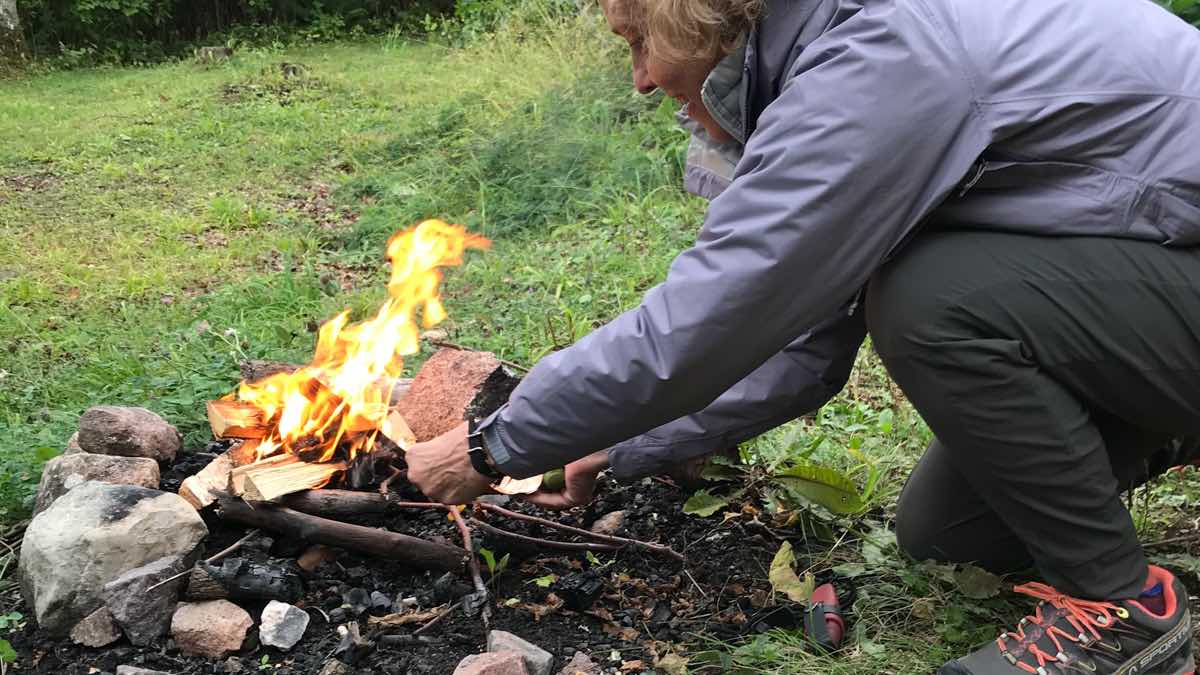 Friluftsliv: Enjoyment of the Outdoors
Friluftsliv is a great Swedish word that means more than the literal 'outdoor life' translation. Because outdoor living is so ingrained in Swedish culture, when asking someone about their friluftsliv, it's essentially asking, 'What do you do in your spare time," or "What do you do to stay happy?" What outdoor activity sustains you?
The best part of our visit to Östergötland was that we were constantly talking about these experiences in the outdoors, and hearing from locals how they integrate their friluftsliv into their daily lives. You can visit all these places on your own or with local guides.
Omberg Mountain Nature Area
It might be more of a big hill than a mountain, but Omberg is a local landmark visible from a distance, a nature preserve covered with forests and fixed with views over Lake Vättern and the surrounding farm lands. Trails through the forest are well marked; this is certainly a place you might hike sans guide. With a guide, though, there's plenty of information to gain on plant diversity, local history, geology, best allemansrätten practices, and best of all, lessons on starting a fire and laying out a cozy fika (a social break with hot coffee and sweet rolls). For those who'd rather hike solo, Woods and Water offers introductory sessions to help outfit and inform you in advance.
The experience in the forest made us all believers in the calming influence of trees, the delicate balance of plant life, the wild blast of winds against the rocky shore, and the magical folklore characters we could practically see in the woods.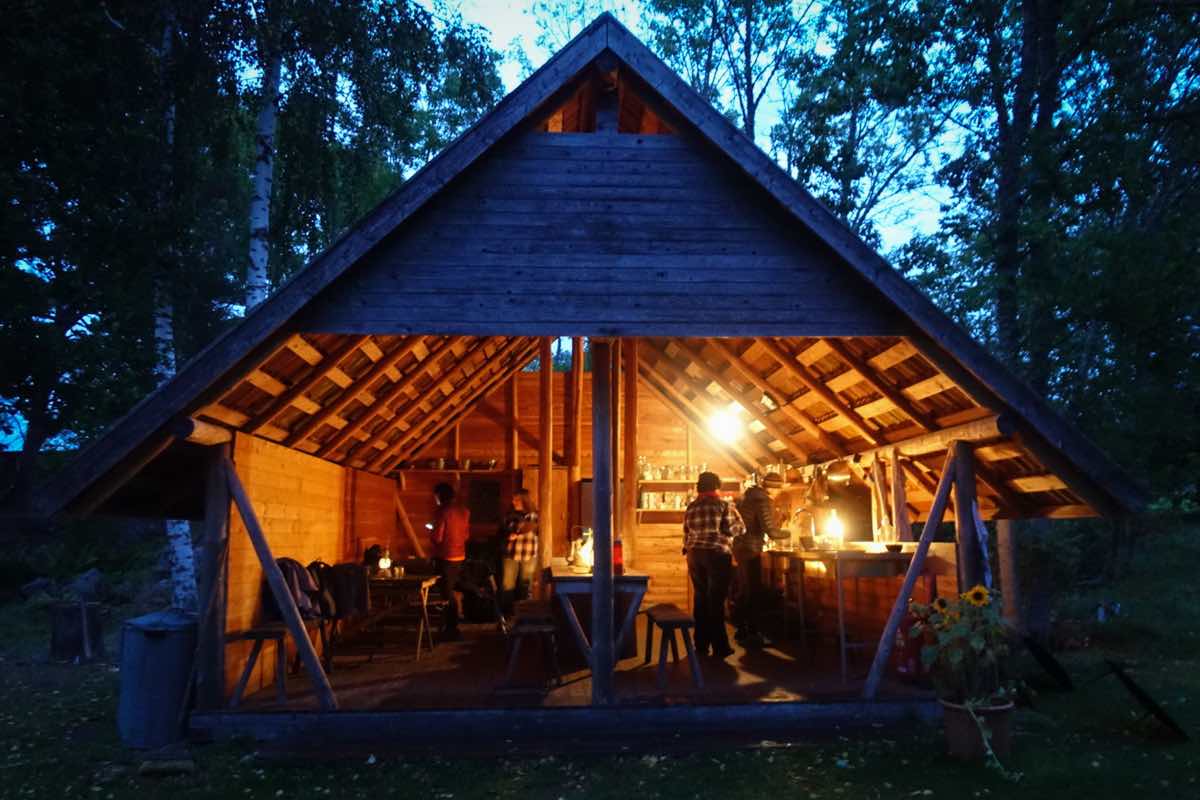 Urnatur
At Urnatur, our group of experienced travelers was fairly stunned at the detail and care that shows up everywhere in this "wood hermitage," a collection of huts and treehouses in the woods removed from the main farm buildings. The retreat cabins, without electricity or water, are Urnatur's way of inviting others to enjoy the very basics of the forest, the sounds and smells, the light and dark of one's own place in the woods. Each hut was individually constructed, each has its own personality. All are equipped with wood burning stoves and lanterns. Our group couldn't resist checking them all out before selecting our own hideaways. All together, this is a fantastic place for a personal retreat or a family or group gathering when seeking space, peace, creative time, meditation or education.
The owners, forester Håkan Strotz and biologist and designer Ulrika Krynitz originally set out to live sustainably on this ancient land, a longtime farm. Beside a small cold lake, the property still supports sheep, fruit trees, and garden spaces–where nearly all the food for guests is grown. In this second career for the couple, the mission grew beyond maintaining the organic farm in an economically viable way to inviting others to experience an environmentally sustainable retreat destination. Håkan still follows Sweden's forestation (or deforestation) policies, of course, and shares current news on their website's blog. Ulrika's designs are visible on textiles around the community, and her biology insights carry over to the gardens.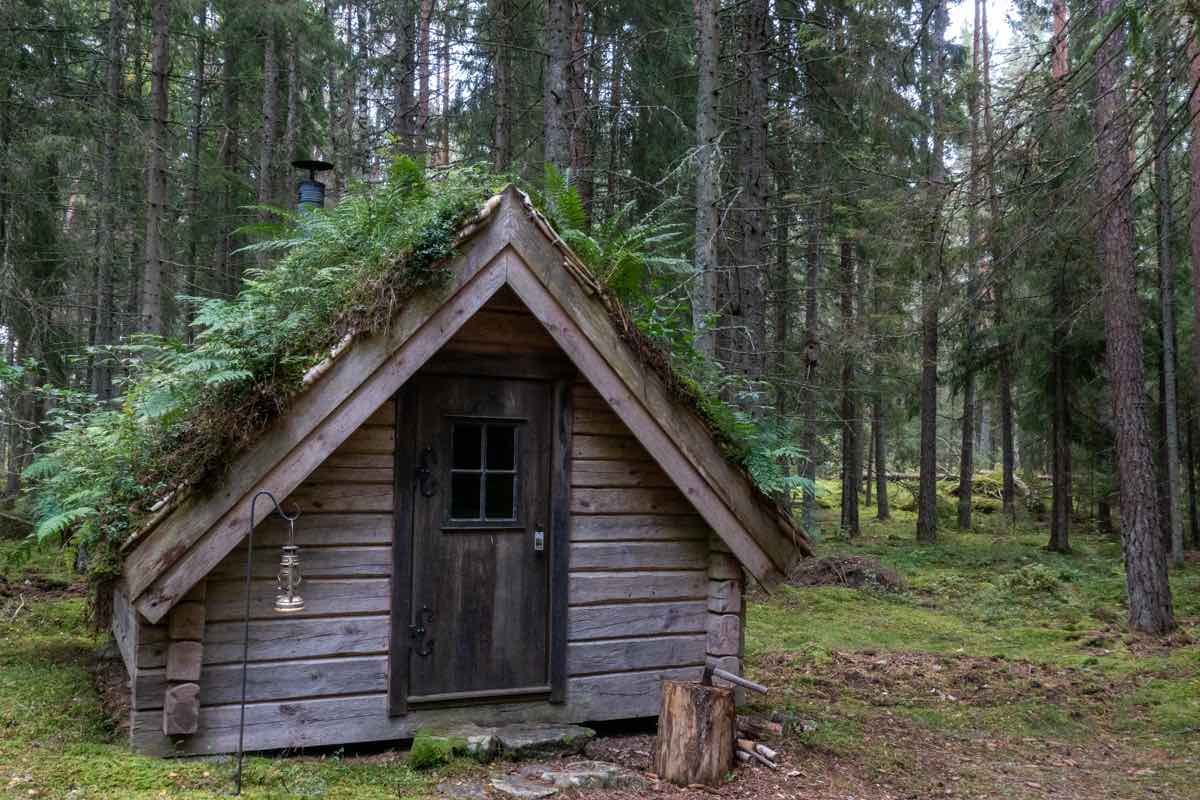 For dinner here, we cooked as a team using the outdoor kitchen supplied with grains and vegetables (and a recipe on the blackboard). Nothing tastes quite so good as a meal cooked outdoors and enjoyed by the fire. We took breakfast and lunch in Urnatur's main lodge, and it's there you might have a chance to chat with owners.
We didn't want to leave this lovely property, so we used the morning free time to immerse ourselves in it. I used the sauna followed by a quick dip in the lake. Others hiked in the area (allesmansrätten in practice), kayaked, or enjoyed the lakeside birding and scenery.
Naturum at Lake Täkern
More birding was in store at this famous lake on major migratory routes. The Naturum visitor center is a mini natural history museum, with free admission and nice exhibits about birds, reptiles, insects, and plants in the region. Birdwatching starts here: over 250 species have been recorded at the lake. Board walks and towers provide great viewpoints, and guides plus binoculars are available to help you acquaint yourself with both the birds and botanics along the shore.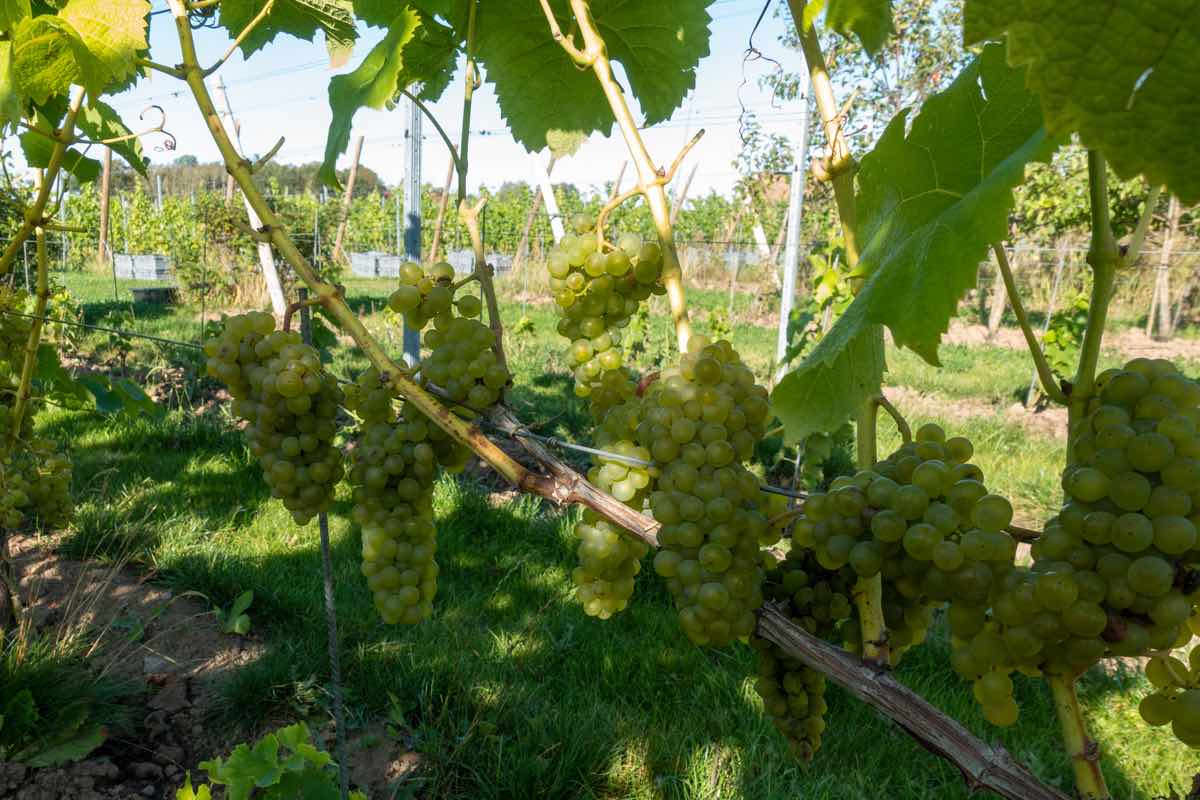 Vineyard Särtshöga Vingård
Continuing our outdoor experiences, we met with Niclas Albinsson to check out his Särtshöga winery. Here again, most of the enjoyment comes for hearing about the passionate personal endeavors to work with nature. Albinsson planted his first vines in 2013 and is producing his first sparkling wines this year. Meanwhile, he's also creating ice wine and ciders, restricting production to fruits that can withstand the winds and temperatures. Beside the vineyard are B & B guest rooms in a beautifully restored farm building. We were lucky to stay there and enjoy delicious wood-fired pizzas for dinner in the candlelit greenhouse converted to a dining room.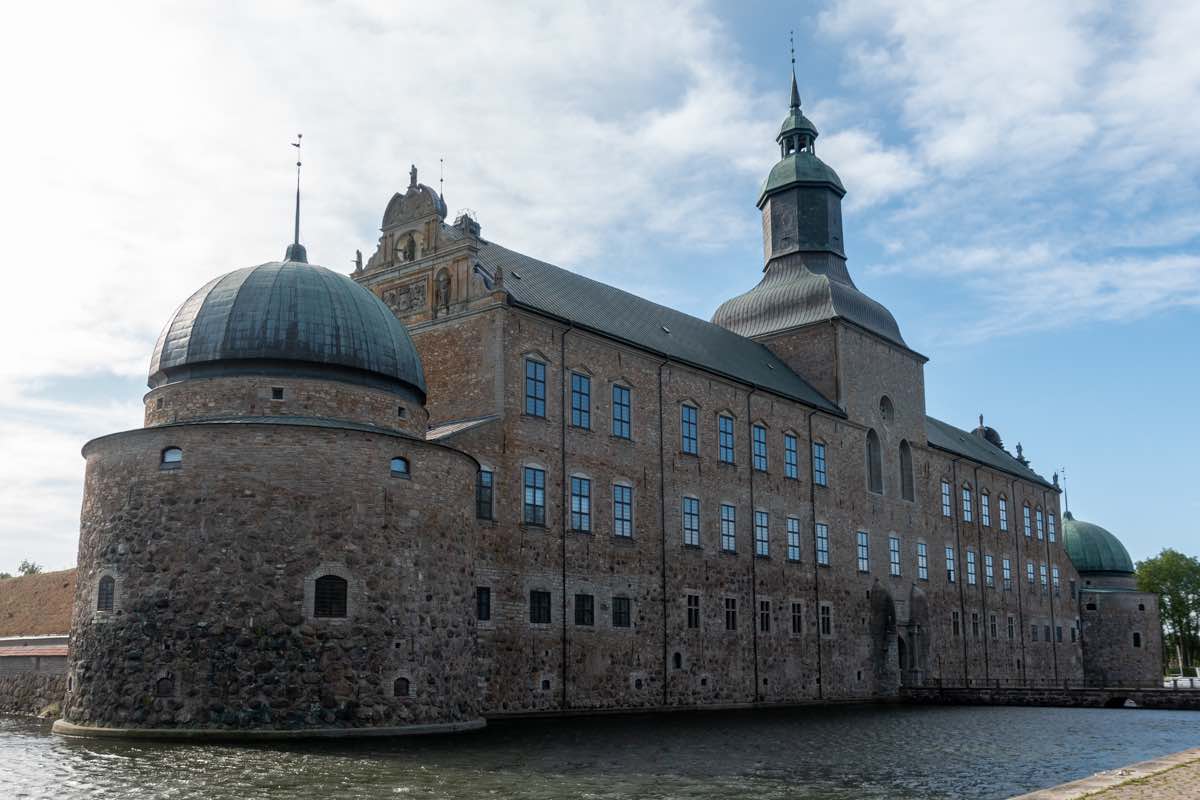 Historic Town and Sites
Vadstena
For a change of pace–and more good food–it's wise to spend a day in Vadstena. This small historic town on the eastern edge of Lake Vättern is well known for its castle and its monastery, and for the oldest town hall in all of Sweden. Because of its strategic location, accessible by land or boat, the castle was located here in the 16th Century for King Gustav Vasa. The castle is still used for events and is worth a tour to pick up on this era of Swedish history. Even earlier, in the 14th Century, St. Bridgit of Sweden established a monastery in Vadstena. That, too, along with the cloister church, is standing in good condition, some of it repurposed to a hotel. Vadstena's hospital museum offers a look into the town's long history of care for mental patients. And the main shopping street, largely unchanged except for the types of goods sold in shops, is a nice place to wander and catch some lunch.
Ellen Key home
I love discovering authors on our travels, and even more so if I can tour their home. The author Ellen Key (1849-1926) was new to me, but I could tell from her home, perched above the wind-whipped waters of Lake Vättern, that I would love to read and meet her. She wrote primarily about social issues, ethics and education, and is said to have inspired Swedish Nobel Prize author Selma Lagerlöf. In this house, designed by architect Yngve Rasmussen, the intelligentsia of Stockholm gathered, and that energy still seems to permeate the home. Note to self: look into the fellowships available to individuals seeking to work from the Ellen Key homestead.
Though the Ellen Key website is in Swedish, I did find this gem on the Freedom From Religion Foundation site, quoting Ms. Key: "But the most dangerous of all educational mistakes in influencing humanity is due to the fact that children are now taught the Old Testament account of the world as absolute truth, although it wholly contradicts their physical and historical instruction."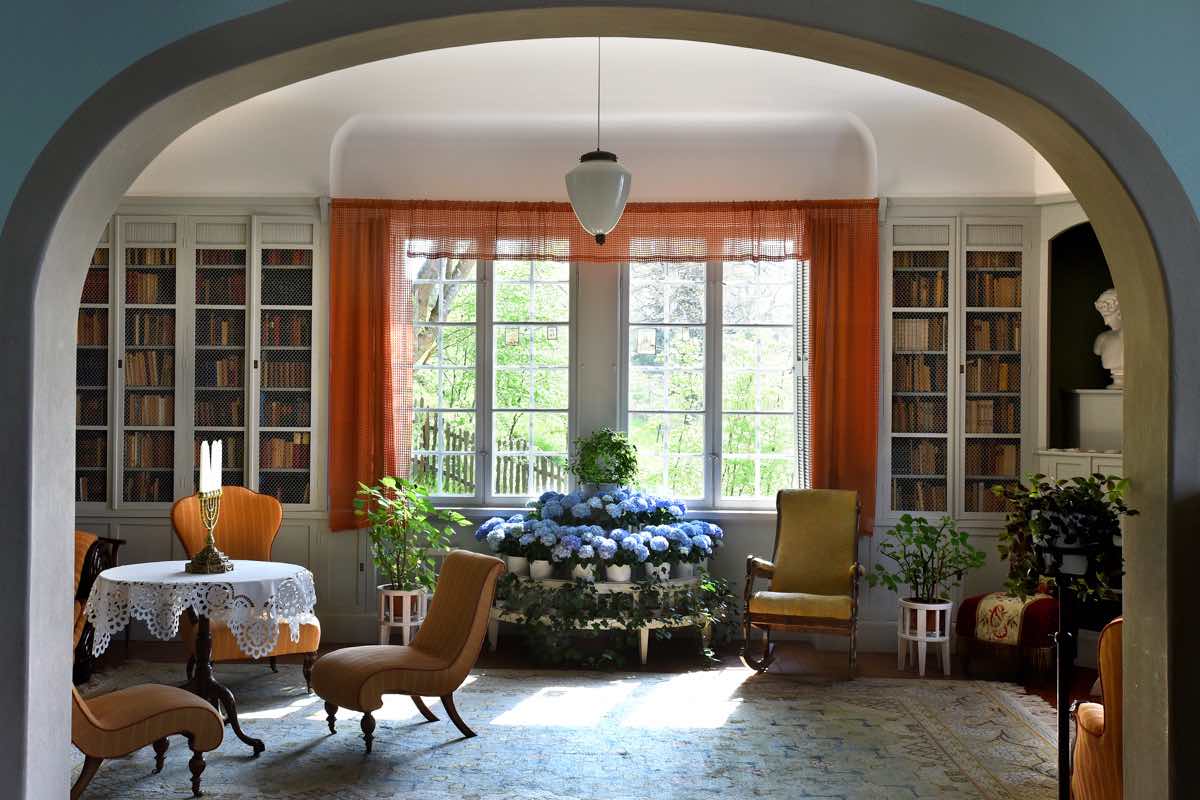 Where We Stayed
Mjölby Stadshotell. In case you need to stay a night in Mjölby on your way to Omberg, check out this historic hotel conveniently located across the street from the train station. The back of the hotel is a bit of a maze with new additions tacked on, but the bar and restaurant are cozy and friendly.
Särtshöga Vingård. An absolutely lovely farmstead B&B, with shared bath. Easy access to the outdoor activities described above, with the bonus of staying at the vineyard. I enjoyed a great night sky just a few steps outside my door.
Urnatur. See above, book a treehouse, and stay at least two nights for full enjoyment: Odeshog Hotels
Ombergs Turisthotell This is the most classic of old hotels in the area. The family who operates the hotel and very popular restaurant (actually two families of brothers) live on the top floor. Outdoorsy types use this as their base, and locals convene here for wonderful dinners or brunches. Most are single rooms with shared baths and showers down the hall. Ombergs Turisthotell, on the edge of the Omberg nature area, offers easy access to trails, and it's just a short walk to the Ellen Key house.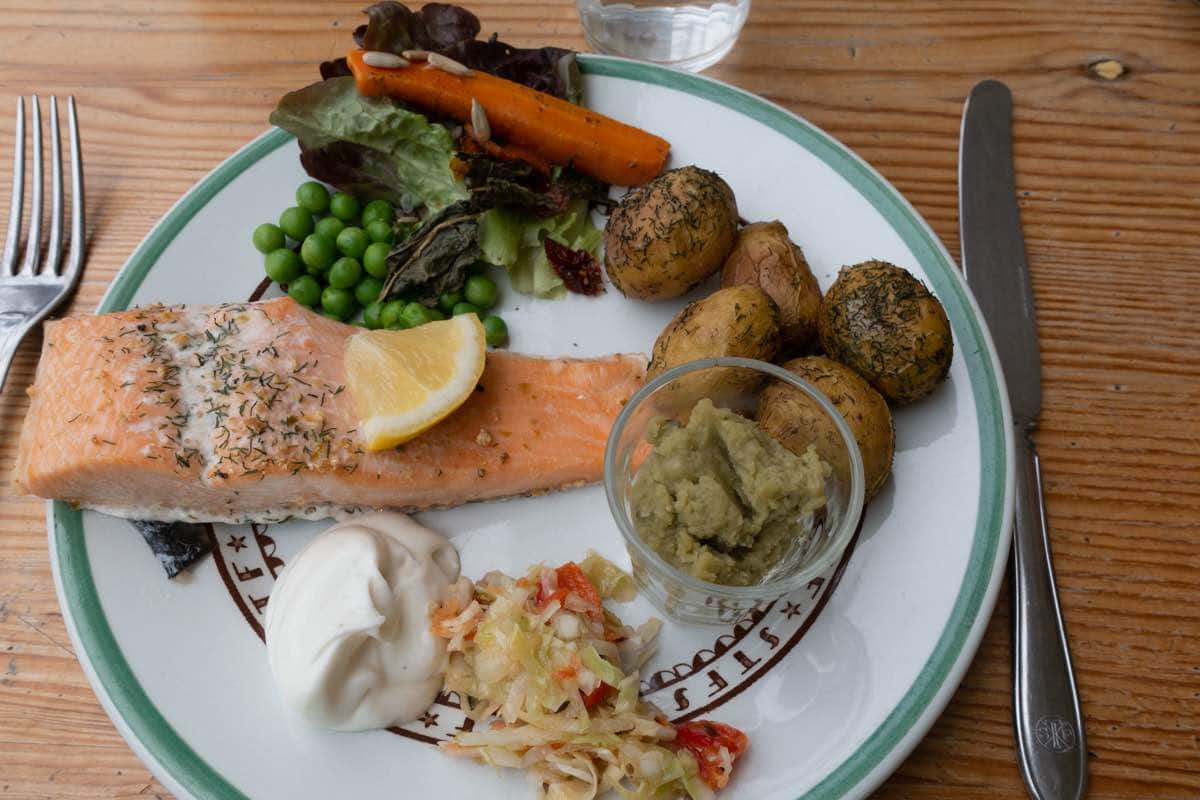 Where We Ate
Stocklycke, a café at Omberg operated by Hanna Theel, who is also owner of Tåkern Vandrarhem, a B&B nearby the winery. Cooperation among local businesses is the norm.
Väderstad Centralkonditoriet, a famous stop for fika, even more popular since being featured in the White Guide (the Scandinavian answer to the Michelin Guide). The cardamom rolls are excellent, and the setting–with tables scattered about in every room of this renovated home–is lively. On a sunny day, step outside to the rooftop patio.
Borgmestaren Gastropub is a bustling spot right on Vadstena's main street, with excellent food.
Ombergs Turisthotell The restaurant here is top notch and attracts locals as well as the hotel's guests. Serving breakfast, lunch and dinner, featuring homemade soups, locally grown produce, picnic lunches, and holiday spreads. Reservations are a good idea.
Särtshoga Vineyard. Homemade pizza baked in a wood-burning oven. We didn't expect this creative array of crispy pizzas, and ate ourselves silly.
Urnatur. Organic produce from the farm is provided to guests who gather at the outdoor kitchen to prepare their dinners. Inside, fresh fruits, soups, and hearty grains will satisfy while you lounge in this peaceful setting.
Visiting Östergötland
After five days walking in the woods and talking with guide Linda Staaf, I felt I was going back in time and steering toward the future in the same breath. Discovery, like travel, comes in fits and starts. One day everything seems normal and predictable, the next day we see a whole new way of viewing the world. This is what's happening in the travel industry now. One foot is marketing giant cruise ships and focused on luxury experiences, while the other is in the woods concentrating on protecting the trees and water and air.
In any case, the future of tourism depends on protecting the cities and nature preserves and waters we want to explore. In the woods, the layers of desire for more more more start to peel back, and we discover happiness is just being there, aware. For people like Staaf who go a step further, the joy is in protecting those moments and sharing them with others.
You can help yourself get ready for your own travels by reading our Get Started Planning Your Trip Now page.
We love traveling–with the right gear. We've gathered a lot of the stuff we use to make travel more pleasant and efficient all on one page. Shop our Travel Past 50 Amazon page to find our favorite gear. If you purchase something from the store, Travel Past 50, as an Amazon affiliate, may receive a small commission at no extra charge to you. Thanks.
We never leave home without our travel insurance. Nor should you. Search for the travel insurance from Allianz that best meets your needs, whether it be an annual plan or a single trip.
Note: This post and other posts on TravelPast50.com may contain paid or affiliate advertising links.