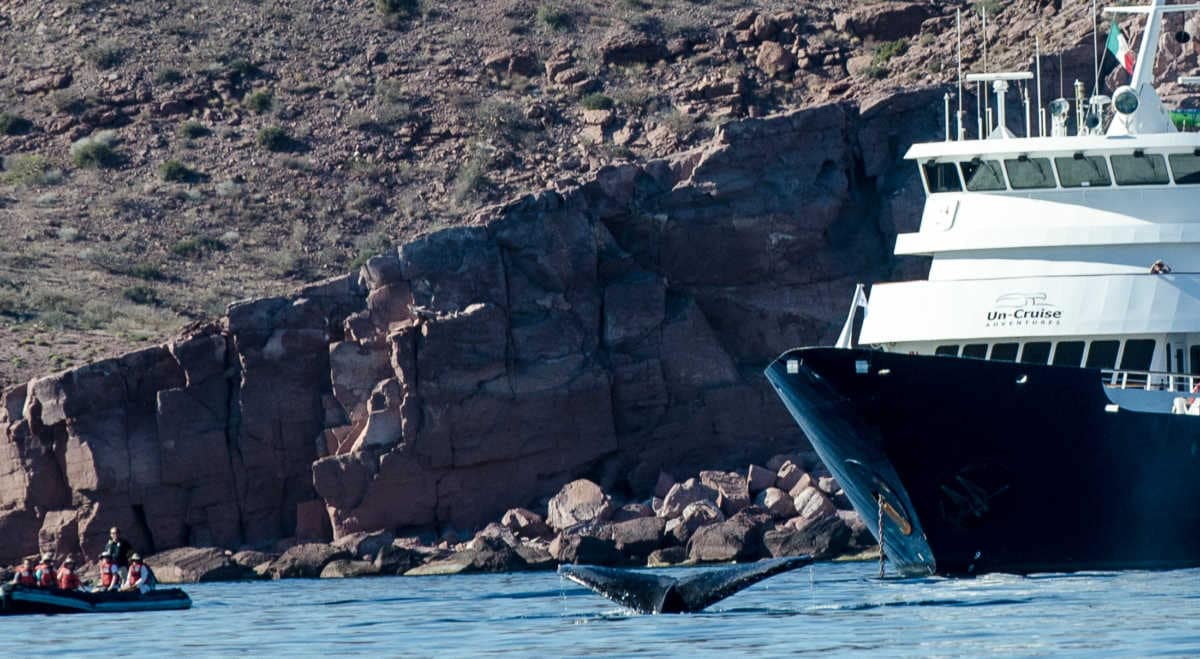 Just as we hoped, there was never a dull moment on our Baja cruise on the Sea of Cortez. One afternoon aboard the Safari Endeavor, we were chatting in the lounge with Jeremy Saenz, our Un-Cruise Adventure Expedition Leader, when someone spotted a Humpback Whale nearby. As is customary, the sighting was announced from the bridge so everyone onboard could keep an eye out. But unexpectedly, Saenz jumped up to request a skiff be launched so we could get out on the water for a closer look. Six of us were on a spontaneous whale hunt.
That's the sort of unplanned activity we learned to appreciate aboard this Un-Cruise tour. This Baja cruise was a great example of an active cruise, a small-ship Baja cruise on the Sea of Cortez with Baja California whale-watching tossed in.
Being actively involved in and responsive to the environs are part of the Un-cruise package. Within 10 days, I got to snorkel, kayak, hike, eat well, take in gorgeous scenery, and learn a fair amount about the marine and bird life in and around the Sea of Cortez. I was up close with whales, dolphins, sea lions, pelicans, frigatebirds, coyotes, sea stars, cacti and dozens of other marine and desert species previously unknown to me. Plus, I allowed time in a colonial Baja Sur town, San Jose del Cabo, on either side of the cruise to check out the local culture on land.
Some posts on Travel Past 50 may contain affiliate links. If you buy something through one of those links, we may earn a small commission. As an Amazon associate, we earn from qualifying purchases.
Our ship, the Safari Endeavor, is an 84-passenger vessel, with a crew of about thirty.  Passengers met in San Jose del Cabo, convenient to the Cabos (SJD) international airport. A bus ride to La Paz has replaced an earlier version of that leg by sea, saving time and some potentially rough waters around Baja's cape.
So, starting in La Paz, our first evening and morning aboard were filled with safety, equipment, and staff introductions.  But even on the first day out, it was apparent that this ship was going to slow for dolphins and detour for calm coves.
Each day, passengers are given a few options for activities, with indications of the level of difficulty. Most days involved shuttling off the anchored ship in skiffs holding about ten people. Activities and exploration ranged from snorkeling (sometimes off skiffs, sometimes from beaches) kayaking, hiking, beach combing, nature walks, and, on one occasion, riding mules through the countryside with the local family who owns the mules.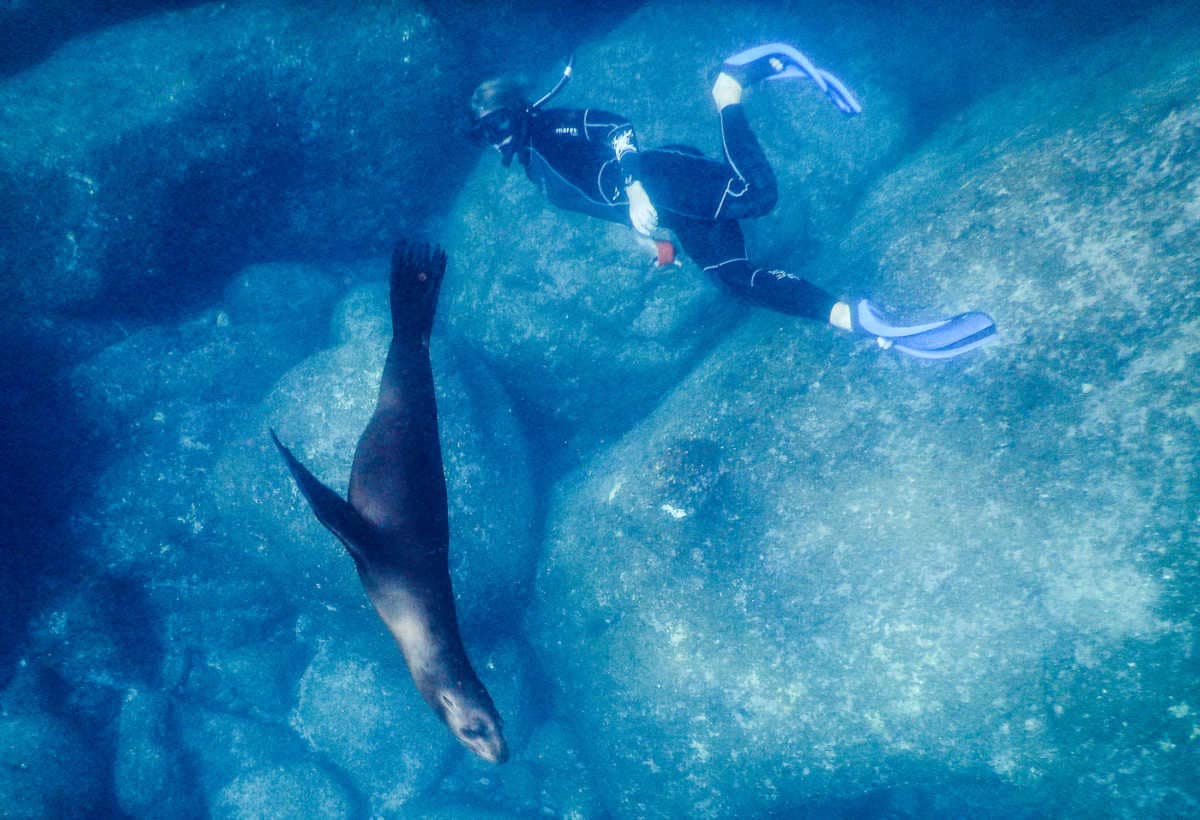 When conditions and time permitted, there was also free swim and stand-up paddleboarding, either off the ship or from the shore at beach parties. One calm evening (we were lucky on the weather this first week of March) the staff decided to set up a campfire on a secluded beach protected by rock cliffs. We shuttled over in the dark and enjoyed the fire and stargazing, s'mores, beverages, and an improvised talent show of fire-dancing and song.
The Sea of Cortez is a UNESCO World Heritage site. Our itinerary included stops along Espiritu Santo, Isla Coronado, and Isla San Francisco. Views of the rocky desert landscape and barren Gigantes mountain range were devoid of towns, buildings or roads. In the evenings we might see a few other sailboats, yachts, or fisherman. Only in the Bahia Agua Verde did we see signs of people camped out for the season.
Sunrises and sunsets are spectacular. A nice stretchy yoga class is offered at sunrise, when the sun is just hitting the rocky outcroppings.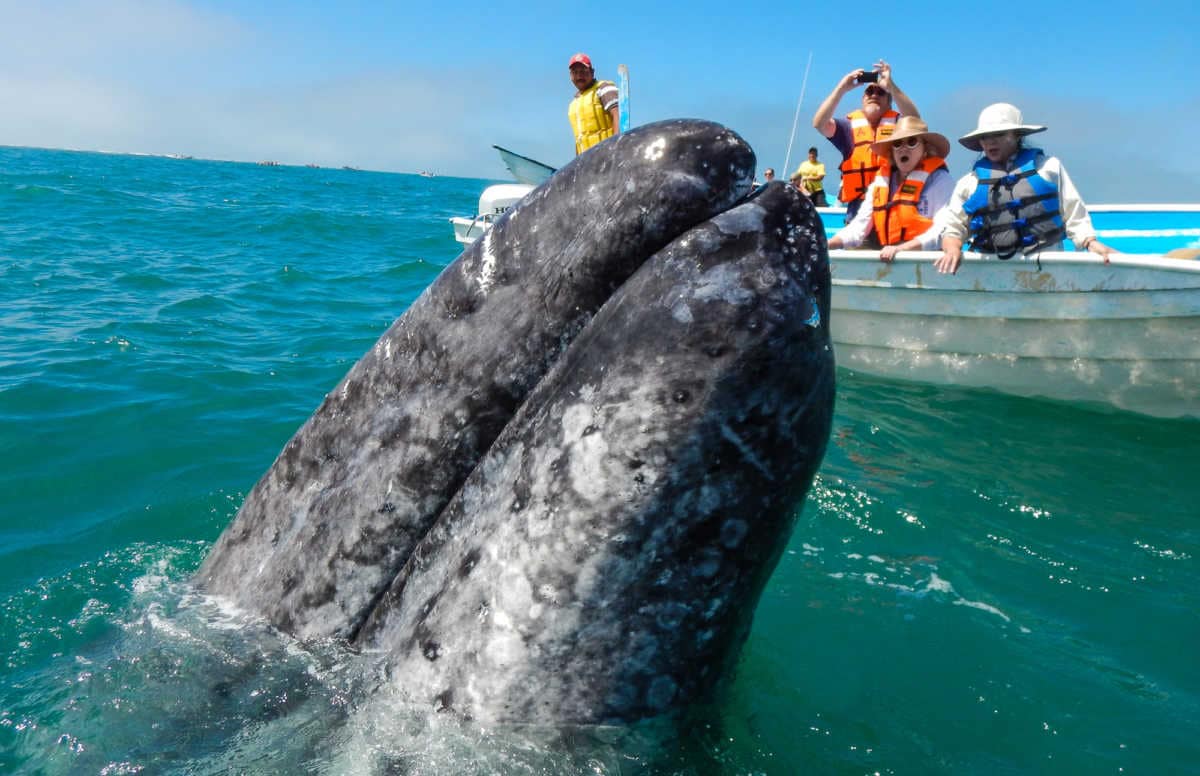 One day was devoted to heading by bus over to the Pacific for whale watching.  We docked at Puerto Escondido, a little town with a nice pier and harbor, substantial infrastructure, but precious little population–an urban vision that never came to fruition. (I was curious to meet the occupants of an RV with Minnesota license plates parked along the water there. But no one was home. Later I spotted two children paddling beside our docked ship. They said they were sailing around the world with their parents.)
The bus trip across Baja and the subsequent whale watching in Magdalena Bay off Lopez Mateos was handled by Desert and Sea Expeditions. We had a chatty guide who pointed out every last Magnificent Frigatebird and vulture along the way, much to his passengers' delight.
With so much activity off the ship, I didn't pay much attention to the accommodations. Though they don't compare to luxury river cruise cabins in size or style, standard cabins with twin beds are comfortable, with sufficient light, closet space, and bathroom and shower facilities.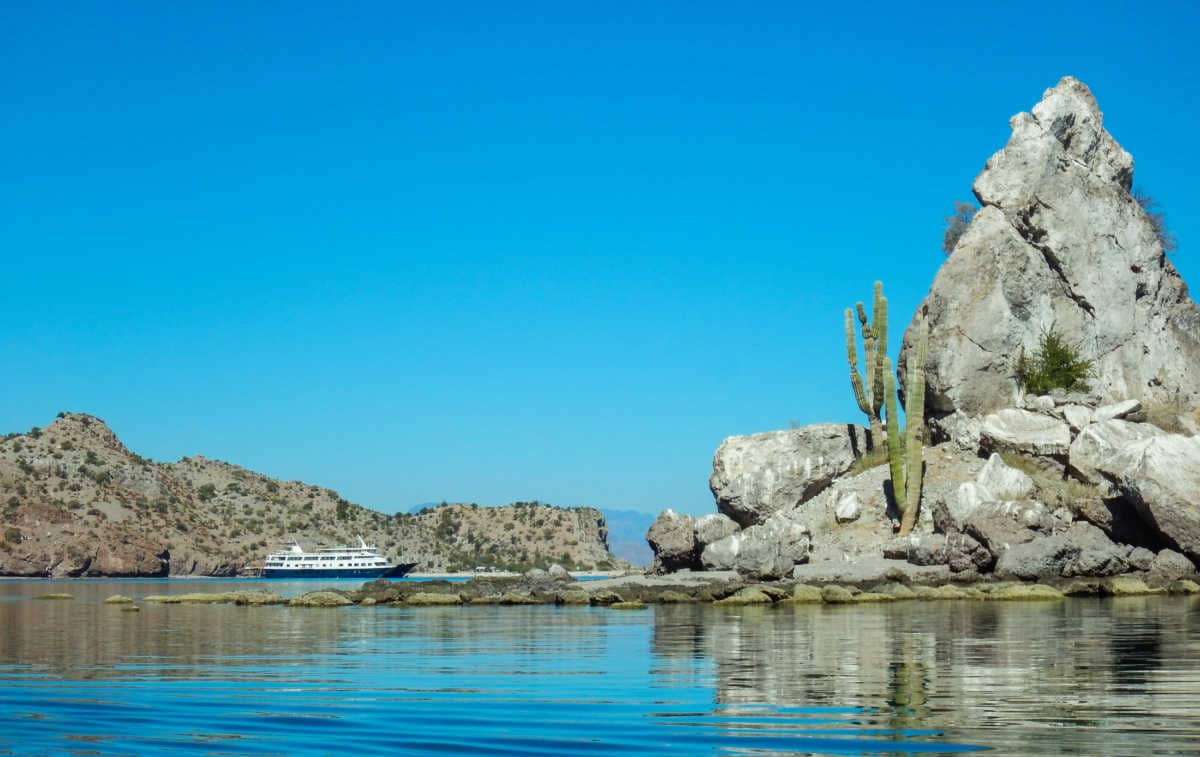 At meal times we were offered a choice of entrees–meat, fish, or veggie–and served at our tables. There was widespread appreciation for the reasonable portion sizes, fresh salads, presentation, and the staff's willingness to adapt to individual requests. The ship is all-inclusive, meaning wine is included with meals and the bar is always open. There's no additional charge for drinks, which worried me when I heard cheers for the bartender Chris before we embarked. But this active and fairly fit crowd was not the sort to abuse the privilege.
Three members of the crew are the wellness staff, providing a 30-minute massage for any passenger who's interested, also included.  Yes, I availed myself!
Because I was so ignorant of the Sea of Cortez, I was pleased to find recommended reading on the Un-Cruise website prior to the trip. Naturally I didn't do the reading in advance, but did make use of the reference library on board to check out John Steinbeck's Log from the Sea of Cortez. Passengers enjoyed identifying various fish and plants they'd discovered, and recording their findings on a bulletin board tracking our collective sightings.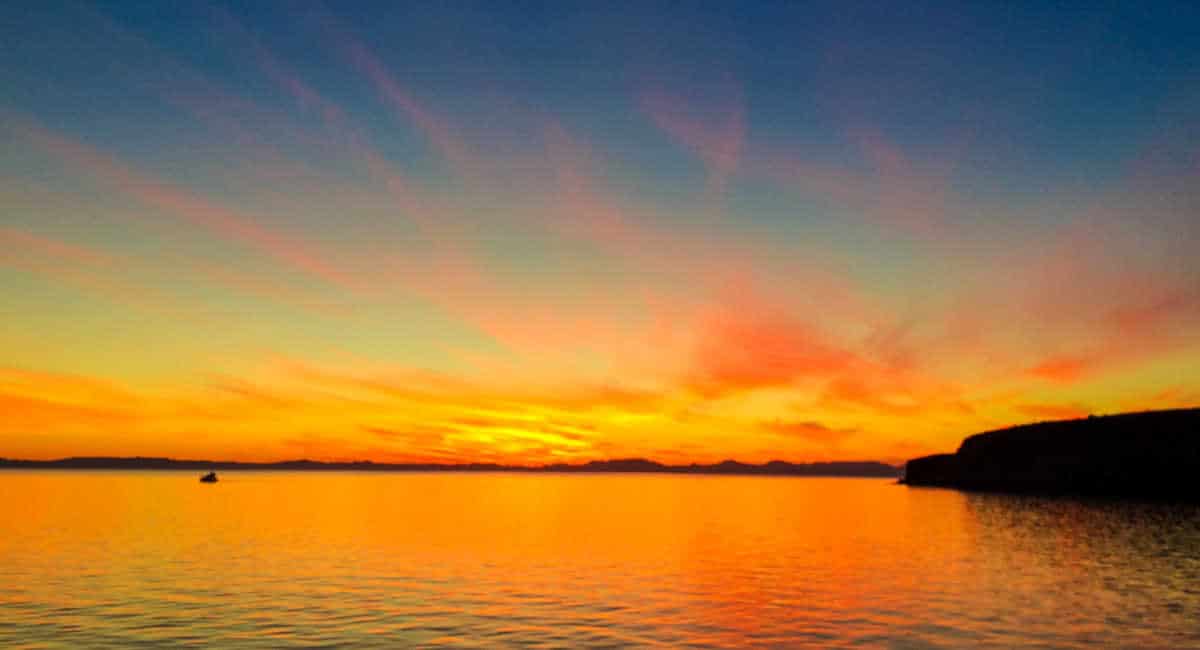 One of the joys of the trip was watching the crew's enthusiasm for exploring the far side of an island, spotting a rare bird, meeting a mellow sea lion pup. The crew is made up of well-educated adventurers, working hard to apply their science backgrounds or naturally observant habits to their environs.
The enthusiasm is contagious, and the amount that can be learned unending. Passengers from 10 years old to 80 were enthralled when the crew scooped up some plankton (the stuff that makes this sea a great ground for breeding and exotic marine life) and placed it under a microscope, so we could understand better the food chain and magic of the Sea of Cortez.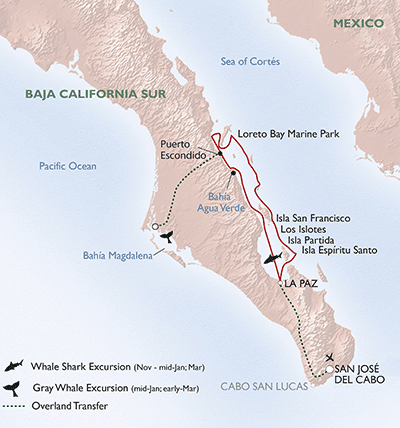 It might not be hard to please a Midwest girl who's escaping the gray days of March to cruise under the sun on a warm body of water.  Just witnessing the flat azure skies, turquoise waters, and golden brown desert mountains of Baja is a serious treat. But this trip, with it's respectful approach to the sea and desert, offered more. We were actively participating, carefully deciding how we'd explore each day.  Based on weather and wildlife patterns, every excursion may not yield an amazing encounter. But Un-Cruise Adventures will help you explore the possibilities.
I found my way onto this adventure via friend and fellow travel blogger Sherry Ott. Check out her fabulous photos and her story, "Why Go to the Sea of Cortez" on her blog, Ottsworld.com .
For more images from our day of whale watching, see this post.
If you like this story, save it or share it with a PIN, or use the social share buttons above. Thanks!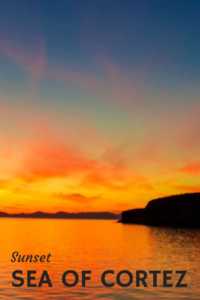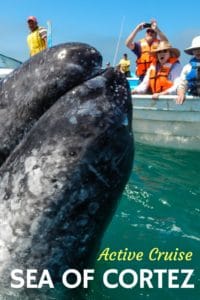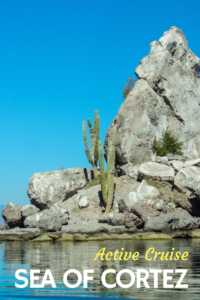 Travel Planning Resources
Looking to book your next trip? Use these resources that are tried and tested by us. Flights: Start finding the very best flight deals by subscribing to
Thrifty Traveler
. Book your Hotel: Find the best prices on hotels with
Booking.com
. Find Apartment Rentals: Find the cheapest prices on apartment rentals with
VRBO
. Travel Insurance: Don't leave home without it. We recommend
Allianz Travel Insurance
. Need more help planning your trip? Make sure to check out our
Resources Page
where we highlight all the great travel companies and products that we trust. See all of the gear and books we like in one place on our
Amazon shop
.