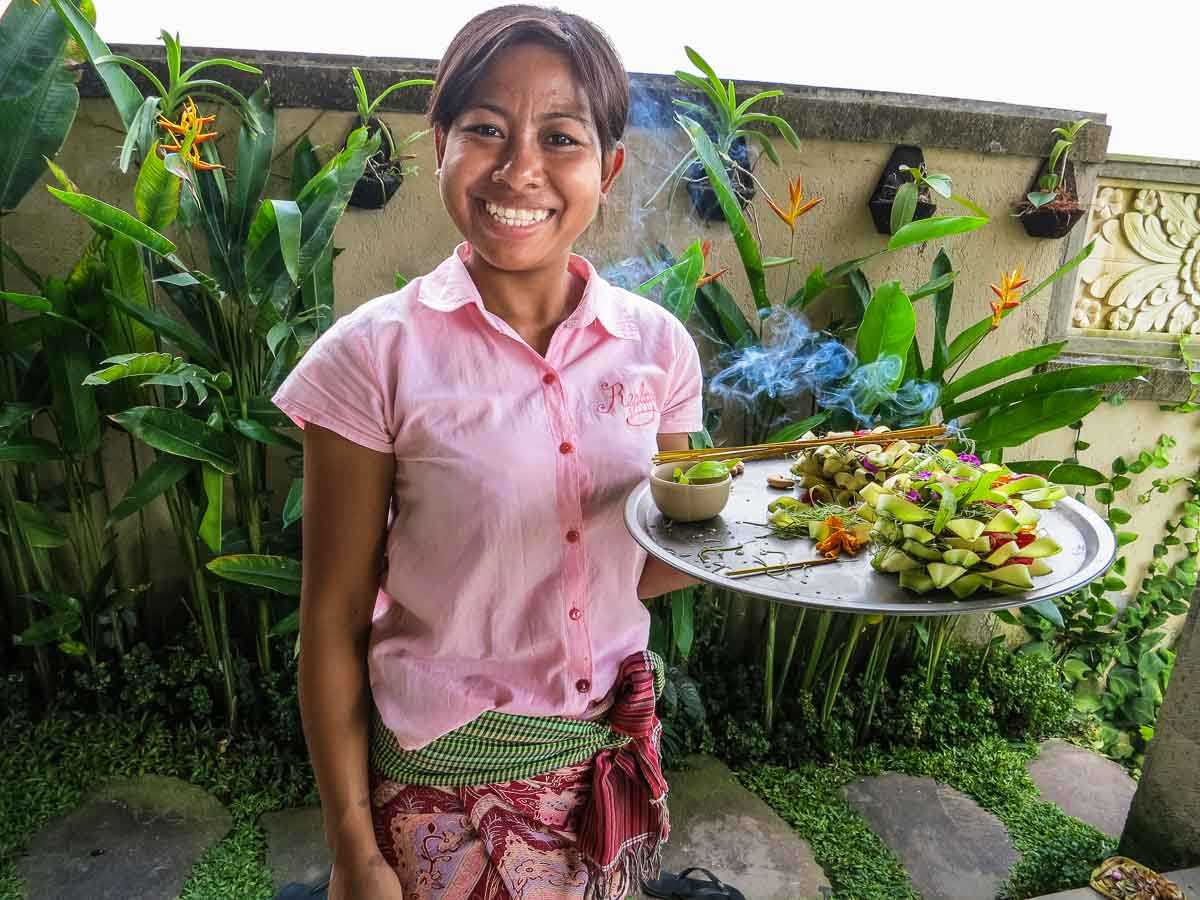 What to do in Ubud, Bali
1) First on the list of what to do in Ubud is always order a LARGE Bintang beer. It's as much as two small ones and it will cost thirty percent less. You know you're going to have at least two anyway, right? If you don't know that now, just wait till you get here and realize the average temperature is somewhere between soaking in sweat and heat stroke.
2) In the morning, order Bali coffee instead of a latte. It's much tastier, cheaper, and you can put in your own milk if you want. Don't drink the grounds at the bottom of the cup. Just leave them. They won't hurt you even if you are a little priss about your coffee.
3) Don't spend all your time on the main streets of Ubud, although they're kind of fun if you like to shop and be asked if you want a taxi every two minutes. Even on the days you do stay in town, get off the bigger streets and walk up the side streets. You'll find out of the way restaurants, bars, temple views, and people you may want to meet.
Some posts on Travel Past 50 may contain affiliate links. If you buy something through one of those links, we may earn a small commission. As an Amazon associate, we earn from qualifying purchases.
4) Here are a few places you'll want to eat and drink. Or drink and eat. The first thing to know is, because of the taxes here, you'll find any alcoholic drink other than the local beer (Bintang, which is actually very good) is expensive. If you insist on wine, you're going to be paying $40 a bottle for Australian swill. Don't do it. Just have beer or one of the great fresh fruit juices instead.
If you want a mixed drink, you'll also be paying, on average, about $10 a shot, and you won't have the view of the New York skyline to justify it. If you want to keep it real, go to Bar Luna for happy hour from 5 to 7 every night. It's on one of the aforementioned side streets just a block or so behind the well known Nomad restaurant, which is on Jalan Raya, the main street. Drinks are two for one, and only about $6 to start with. So, you're getting a nice drink for $3–and don't forget you're having two because it's so damn hot. They also have very nice appetizers for about $5, which you should have because they're good, and, hell, the booze is almost free. We've been there about six times, and will probably go back again.
The other thing to do is eat Balinese food at local restaurants, such as Warung Lada on Hanoman Road near Jalan Raya. The sort of noodle or rice and vegetable thing that the Balinese eat comes to about $3 and is delicious and filling. If you want to splurge all the way up to $6 or even $7 for your main course, I like Nomad on Jalan Raya, which has a Thai Prawn salad that's one of the most delicious I've ever had, and Bollero on Dewi Sita Street, where you can get a grilled chicken breast or tuna steak over braised vegetables and potatoes that will make you wonder what American restaurants have been doing wrong all these years. Like I said, both of these dishes are in the $7 range. Bollero's decor also features large photos of scenes of Bali from before all the tourists got here and made the women start wearing shirts. So some of your guys will like that.
5) Hire a driver to take you out of the city to lots of other places you should see. The best drivers will know where to go. Skip the sites where you will be competing with a huge bus full of Japanese or Chinese tourists and concentrate on the vistas they will know how to find. I recommend a fellow who calls himself Smiling Gede. He calls himself that because he is always smiling, and about 25 percent of all people in Bali are named Gede (really) and you have to be able to differentiate somehow. His phone number is 0819 3645 1246. You can also find him sometimes hanging out in front of Cafe Havana on Dewi Sita street when he's not got a job. I recommend hiring him for a day or two and just let him show you around. His English is good, and he's a good driver and a nice kid. And, a day will cost you less than a taxi ride from most airports to your house in the US.
We spent one day with him exploring most of the east end of the island. We saw the rice fields at Tegallalang, a stunning view of the caldera of Mount Batur, where we had a great lunch overlooking the mountain and lake, and the "Mother Temple" at Besakih, which you can skip if you want. There are plenty of great temples to see for free. They'll want to charge you $40 or so to follow the bus loads of other tourists into the Besakih temple, and for that they'll provide a guide that speaks about six words of English–four of which are "Give me a tip." Don't blame Gede. We made him take us there.
A second day with Gede was spent visiting galleries in Mas and Batuan, which are the centers, respectively, of wood carving and painting in Bali. In those towns, Gede can show you the galleries and artist cooperative were the best stuff is. You are welcome to walk around and just look at artists actually doing the work as well as seeing some remarkable stuff hanging on the walls.
You won't really be pressured to buy, and it's a great way to educate yourself on Balinese art. Sure, there are salespeople there, but most of them are really knowledgeable about the artists of Bali. A lot of the stuff on display is museum quality stuff, and will cost a hell of a lot more than the $5 drawings you can buy anywhere on the street. Serious art lovers will find themselves in a sort of nirvana that the only way out of is to shell out and take something home.
6) Speaking of museums, if you want to learn the difference between the street art and the good stuff before you venture into the galleries, go to the ARMA Museum of Balinese art in the south end of metro Ubud. ARMA stands for Agung Rai Museum of Art. And Agung Rai is the fellow we had a tour of Bali with. The Museum has representative pieces from most all the great Balinese traditional artists of this century. It's a small, but beautiful collection, which is made even more remarkable by the fact that Europeans, since World War II, have carried off a vast quantity of Balinese art for their own personal collections (and the occasional museum.) Agung had to go to Europe to buy some artists' work just so there would be at least one of their pieces on public display in their own homeland. The museum charges admission of about $4.40 and that includes an iced tea or coffee in their coffee shop overlooking picturesque rice fields that inspire so much of Balinese art. That's a hell of a deal.
7) One more tip: In Europe, you're usually much better off withdrawing cash from ATMs. Here, cash is king. You'll get about a six percent better rate by handing over actual one hundred dollar bills to the money changers than you would from the banks. Perhaps a little more risky, but I haven't been robbed, or even so much as looked as as a victim, since I've been here.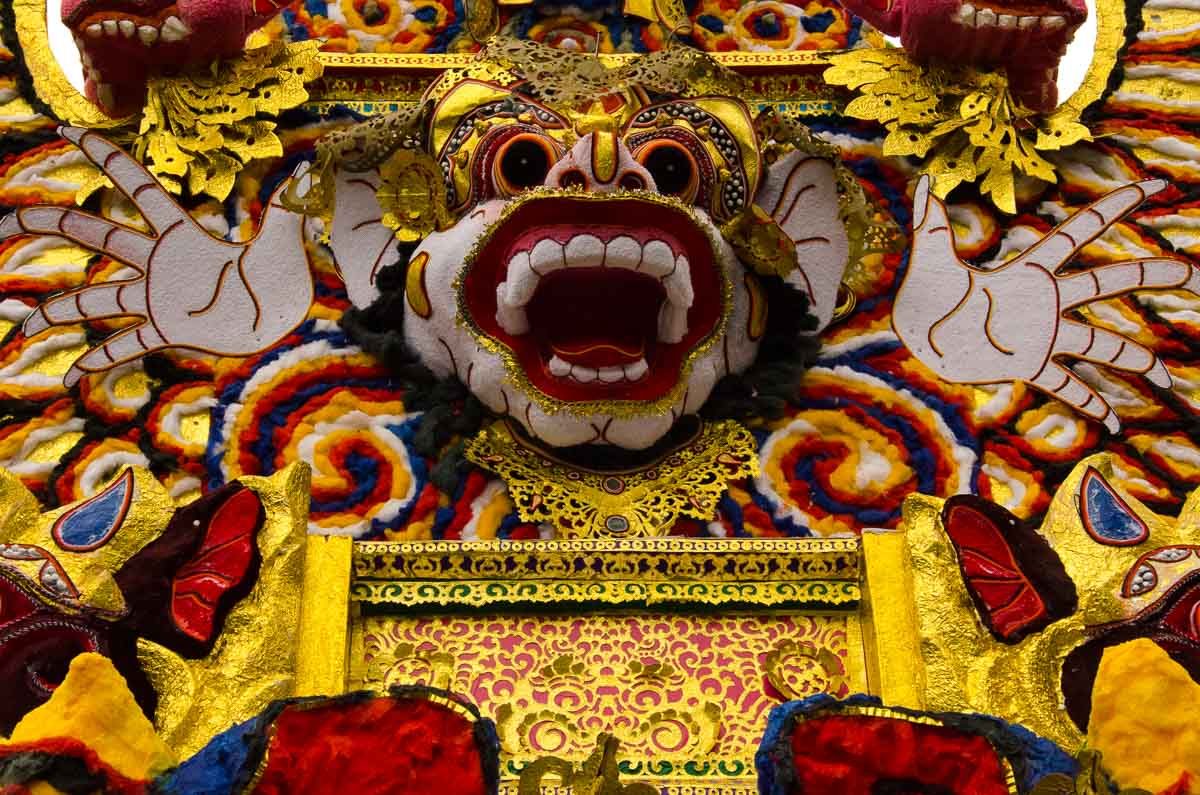 8) If you have the chance, and they don't come that often, be sure to attend a cremation ceremony.
9) Just walk around Ubud and soak it in.
Simply put, Ubud central is three long streets. There's Monkey Forest Road, which as the name suggests leads, to the Sacred Monkey Forest down the hill. There's Hanoman Road, which is parallel to Monkey Forest. And, there is Raya Ubud, which I think means Ubud's Main Street, that connects the two. There are lots of side streets too, with interesting stuff, but that not only messes up your sense of direction but also this neat narrative.
Monkey Forest and Hanoman are almost mirrors of each other. Both are lined with shops selling clothes, art, food and whatever else you can think of, including carved wooden penises which sport a bottle opener on the balls end. And wouldn't that make you the life of the party? I bought ten of them to use as hostess gifts when I return to the states.
Not really.
As for the clothes, art, food and whatever else, all things come in quality ranging from tacky and cheap to elegant and expensive–relatively expensive that is. Nothing is expensive by American standards here. A pair of flip flops is a dollar. A cotton sarong is a dollar. And so forth. The tip I got on negotiation was to offer 30 percent of the asking price. If that's not accepted immediately, try 35. Never, ever, pay more than 50 percent. If they won't budge, walk away. You can find the same thing down the street.
I have a hard time doing that with art, though. For some reason, I don't think $500 is too much to pay for a painting that I like and that the artist spent three months doing. My host disagrees, though. He's actually photographed a painting he saw in a local shop and taken the photo to Vietnam where he had the painting reproduced for $60. I've seen it, and it's quite nice. The original was $2000. They're both sort of Gauguin knock offs anyway.
My favorite stuff is the carvings. Ubud, and, it seems, Bali in general, is full of Hindu and Buddhist images. Every home and temple door is flanked with stone temple guardians. Courtyards abound, too, with Hindu gods. In our villa, there are ten shrines and statues outside. Five guard the front door of the main house, and five more are sprinkled through the grounds.
Wayan, our cook, changes from her work clothes into a beautiful sarong and sash twice a day in order to make offerings at each of the shrines. The incense that pervades the gardens adds to the magic sense of connection to the spiritual world and the other world that is Bali.
Where to say in Ubud
My view of this paradise is a bit colored by where we stayed. We skipped the crowded-with-young-Aussie-drunks beaches and headed inland to Ubud, a smallish town that seems to be populated only with smiling people, small tasty restaurants and shops, and people working their post harvest season rice paddies.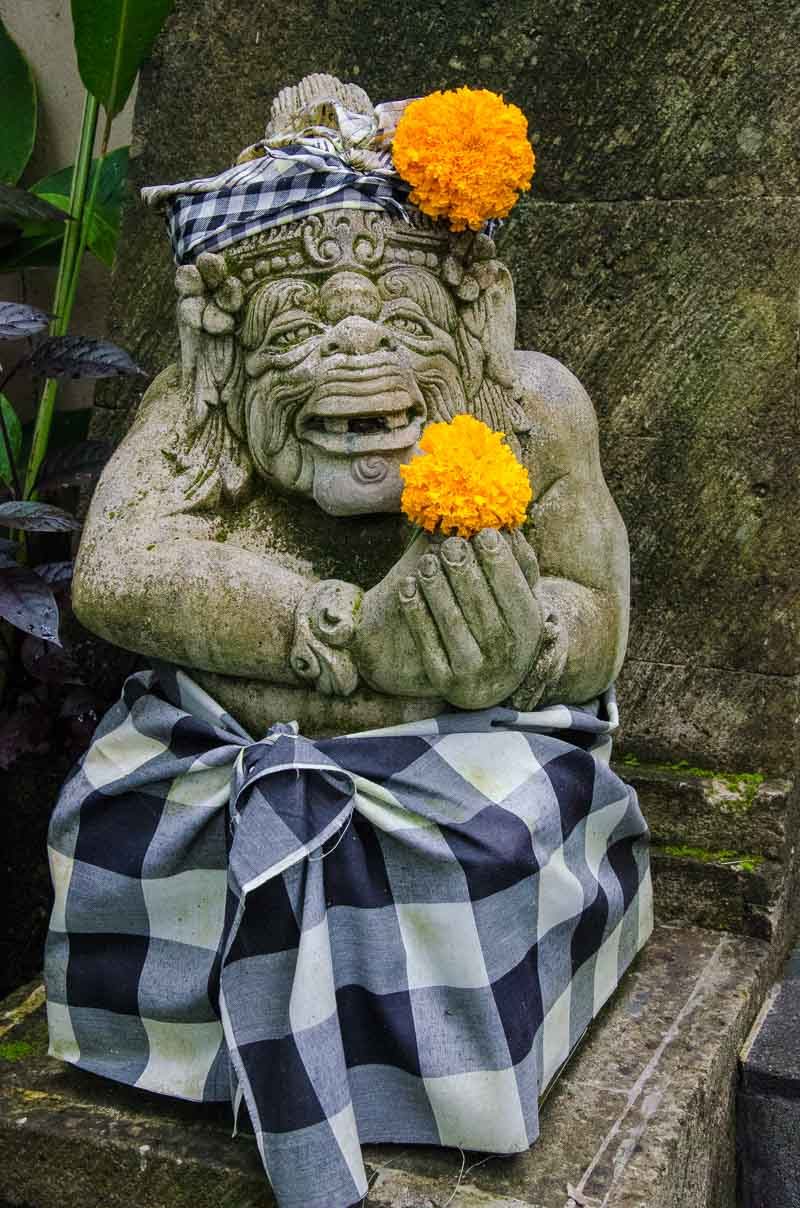 My view, I have to admit, too, is also tinted by where we are staying. We're in a private villa, Villa Satori, up the hill from Ubud village. There are, I'm told, a lot of private villas around Ubud, but this one is isolated to the degree that there are only a few others within walking distance up a one lane path. We're really in rice country, not tourist land. Its serenity is only accented by the crowing of roosters and quacking of ducks as they navigate, respectively, the raised paths between the rice paddies and the paddies themselves. Also at night, you can hear the distant gamelan–the repetitive yet magical Balinese dance music.
We're about an hour from the Denpasar airport, where we were met by a man sent by the Villa Satori's owners, and driven through the incessant Balinese rush of small vans and motorbikes up narrow roads to the bottom of the hill just at the edge of Ubud. From there, we had to walk about five minutes up the hill to the villa. That was no problem, however, as the staff of the villa, Ketut and Wayan, alerted by a call from the driver, met us where the road narrowed to a path. Ketut ran the biggest of our bags up the hill balanced on the back of his motorbike, while Wayan, who is not much bigger than her smile, insisted on carrying the other bag at least until Ketut returned on the bike and took it from her.
While Ketut dropped our bags in our room, we halted at the outside dining area off the living room and above the pool. There, Wayan presented us with fresh papaya juice blended with ice and invited us to freshen up in our room before lunch. We walked down the steps to our room, where we found the bed strewn with flowers and canopied with mosquito netting.
A refreshing short nap and outdoor shower later, we came up for lunch, where Wayan served us a delicious lettuce salad with mangos, avocados, almonds and a most interesting Balinese spice which I can't translate other than to say it was just slightly peppery, which set off the sweetness of the mango and avocado perfectly. Subsequent meals from Wayan over the past three days have convinced me that she is the best cook who has ever lived. If I hadn't promised the villa's owners, I probably would have offered to marry her by now.
Both Ketut and Wayan are full time staff who come with the villa, so to speak. Wayan handles the kitchen and Ketut does the rest, including doing your laundry if you ask. Wayan also makes daily offerings of small bits of food, flowers, and incense to the myriad Hindu shrines spread through the villa.
You can find the Villas Satori on Booking.com. You can certainly find cheaper accommodations on Bali, but it's unlikely you can find them this nice unless you are willing to spend a lot more. I should mention that we are friends with the owners, and so got a tremendous deal. So, you could discount my glowing recommendations because of that. If you did, though, you'd be wrong.
If you don't stay at Villas Satori, here's a list of other hotels in Ubud.
If you need further convincing to visit Ubud, check out these images of Bali.
Finally, for some interesting history of the Subak rice growing system in Bali, read this.
Travel Planning Resources
Looking to book your next trip? Use these resources that are tried and tested by us. Flights: Start finding the very best flight deals by subscribing to
Thrifty Traveler
. Book your Hotel: Find the best prices on hotels with
Booking.com
. Find Apartment Rentals: Find the cheapest prices on apartment rentals with
VRBO
. Travel Insurance: Don't leave home without it. We recommend
Allianz Travel Insurance
. Need more help planning your trip? Make sure to check out our
Resources Page
where we highlight all the great travel companies and products that we trust. See all of the gear and books we like in one place on our
Amazon shop
.