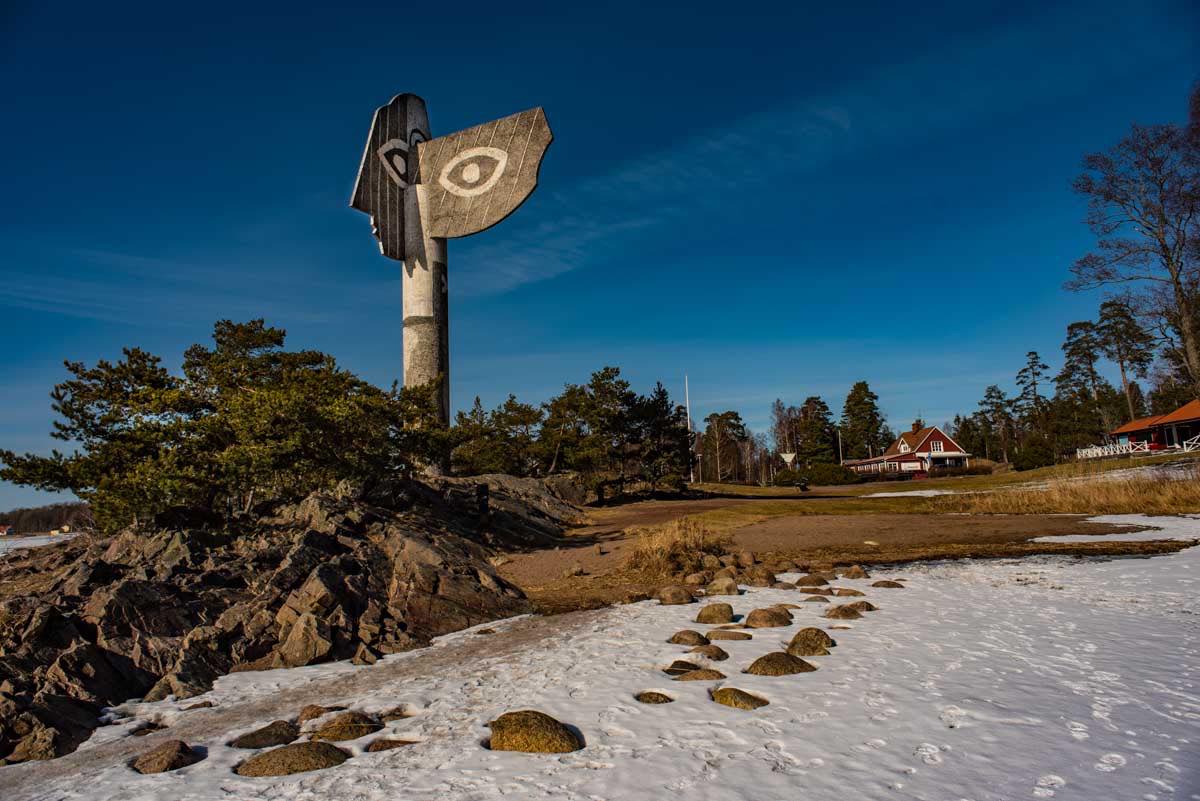 If you really want to get to know Sweden, visit the heartland, Värmland County. Karlstad, the capital city of Värmland, can be reached in just over two hours by train from Stockholm (and roughly the same from Oslo or Gothenburg). This county on the middle-western border with Norway rewards its visitors with 10,000 lakes and a well-rounded cultural landscape.
As it happens in most countries around the world, travelers benefit by venturing outside major metropolitan areas. Here in Värmland, the brisk cosmopolitan ways of Stockholm give way to open enthusiasm by locals for their homeland and cultural high points. This is the land of adventure among lakes, rivers, and woods. The towns are lively and the countryside infused with the energy of great minds and creativity. Värmland's famous include Alfred Nobel and Selma Lagerlöf (the first woman to win the Nobel Prize for literature), Lars Magnus Ericcson (Ericcson telecommunications), and Sweden's top dance bands, not the techno variety but the foot-stomping barn-dancing folk variety.
[For other suggestions on places to visit in Sweden, see this story about our adventures in Åre, Sweden, in Jämtland.]
Värmland represents this confluence of business and recreation, arts and cuisine, manufacturing and natural resources. We get the feeling that people from Värmland both work hard and play hard. The region satisfies a wide range of tourists, whether they come from Stockholm, greater Europe, or the Americas. If you can't decide where to begin, start with the Värmland tourist office in Karlstad for a range of ideas and custom tours. Do what you want!
What to See and Do in Värmland, Sweden
Start in the cities to enjoy what they have to offer, and as a jumping off point for further adventures.
Karlstad, Sweden: A River Town
Starting in Karlstad, it's easy to get a sense of the historic relevance of this entire region. The town, originally established in the 16th Century, sits on the northern edge of Lake Vänern, one of the largest lakes in Europe, at the mouth of the River Klarälven, the longest in Sweden. Karlstad is the gateway to the wilderness to the north and to Norway to the west.
But right here in Karlstad (pop. 90,000) a visitor might find adventure on or near the lakes and rivers, enjoy haute cuisine and charming accommodations, or discover international art and the roots of Sweden's literary and industrial history.
A visitor could do worse than staying at the historic Elite Stadshotellet Karlstad Hotel (built in 1870) near the city's shopping and restaurants and overlooking the river. From this vantage point, guests can watch the activity along the river in all seasons. Walkers, skaters, rowers pass this way, right below a sculpture of "Sola in Karlstad," a celebrated local waitress with a disposition matching the famed sunny skies of Karlstad. The fabulous Bishop's Arms Pub in the corner of the hotel is a cozy place to catch up on town talk.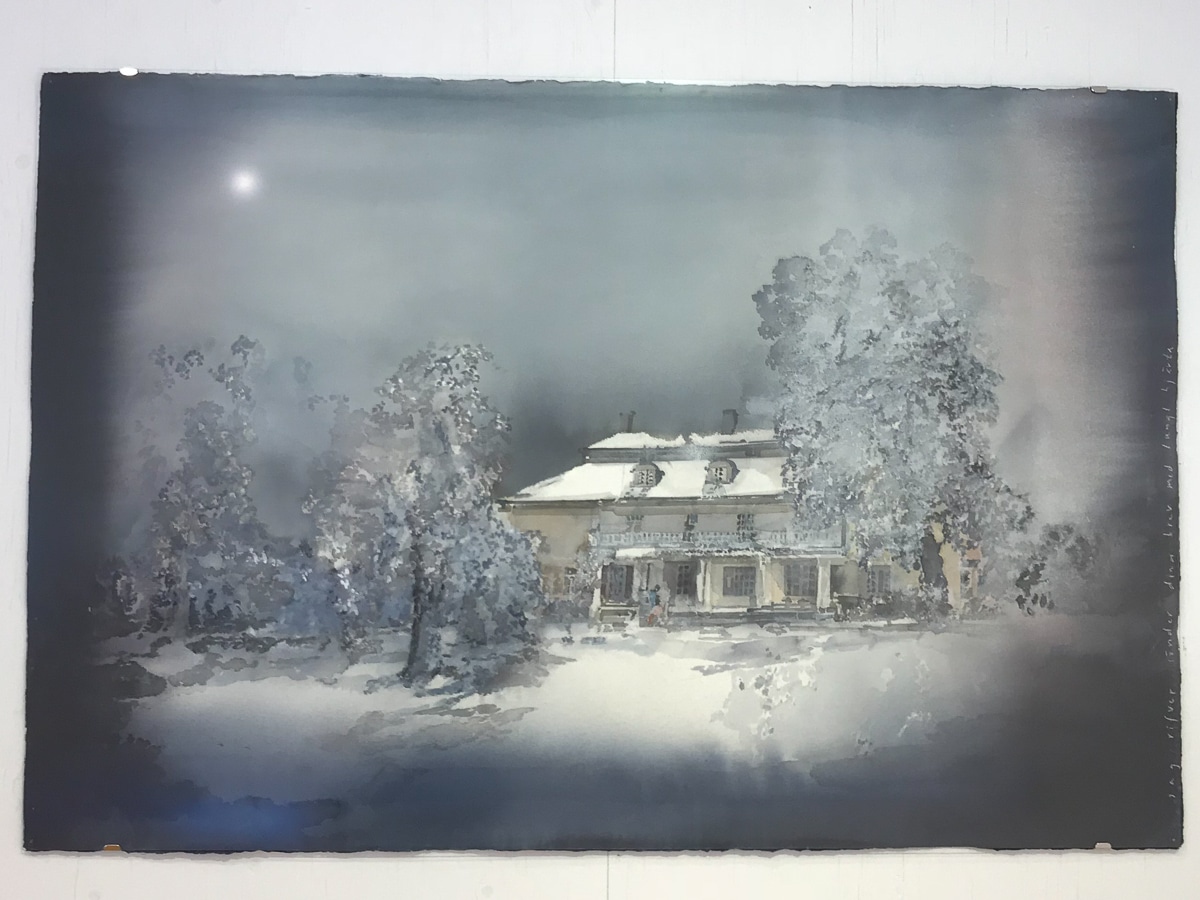 Apart from the river, the city's main attraction is the Värmlands Museum, much more than a county museum or gallery of local artists. The museum's architecture and siting are notable in themselves. The building combines a 1929 manor home, designed by architect Cyrillus Johansson in a Chinese temple style overlooking parklands, with a modern portion built in 1998. Much of the Cyrillushuset was being renovated when we visited, but we were able to enjoy a spectacular temporary photography exhibition ("We Have a Dream" by Albert Wiking with Oscar Edlund), and an enjoyable pass through the gift shop. As you can see by checking their website, Varmlands Museum reaches out to the world while staying grounded in the local creative community. Very impressive, both worldly and personal.
Nearby is Sandgrund, a museum devoted to the works of Lars Lerin. The Swedish artist's watercolors, oils, and collages depict landscapes and abstract images of foreign and domestic places.
Kristinehamn, Sweden
Kristinehamn seems to beckon Sweden's young innovators back home with its small-town cheer and opportunities. Many Swedes vacation in the area or have second homes here. One woman we met was happily preparing to make her lake home a permanent address. I've dropped a pin on my 'I-could-live-here' map; Kristinehamn makes the list.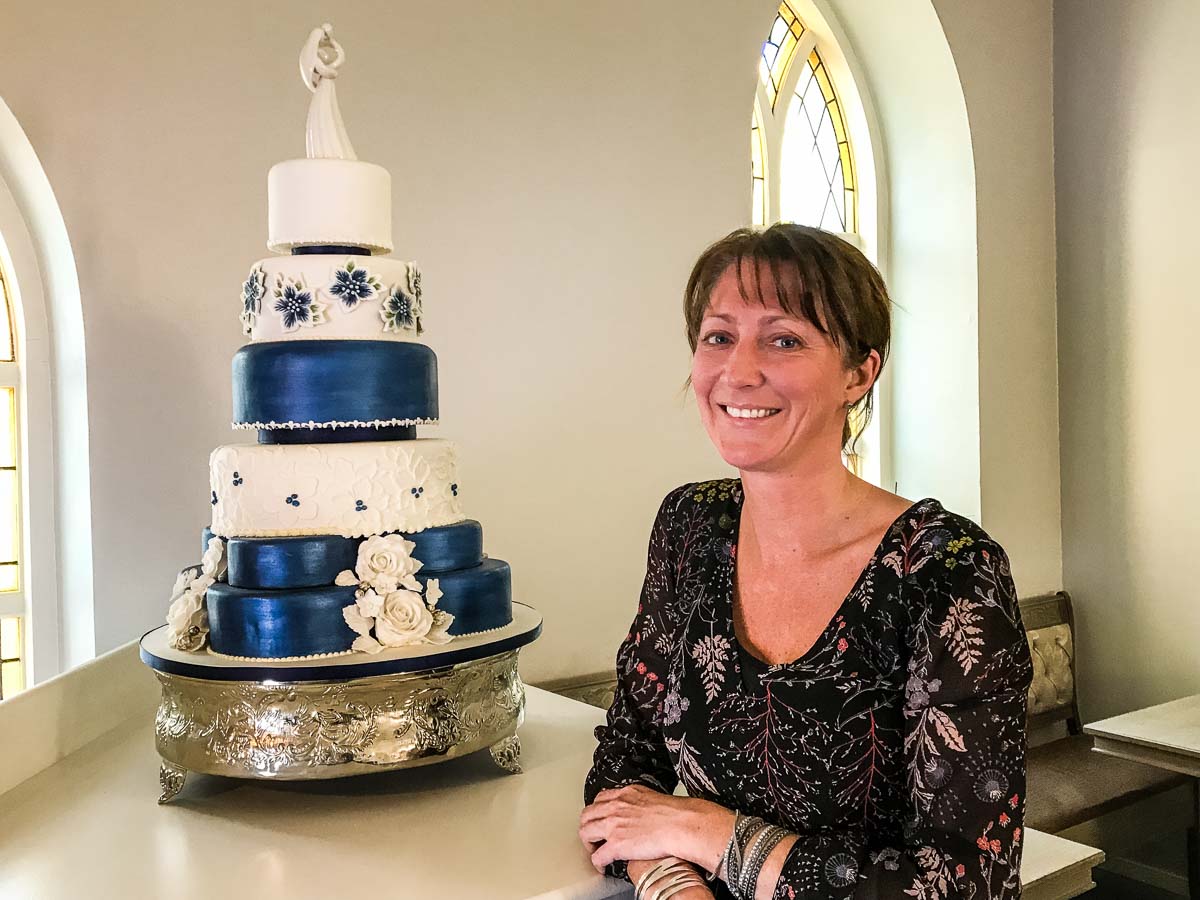 Kristinehamn (pop. about 20,000) sits at the northeast corner of large Lake Vänern, so it's best known for its access to the lake and to recreation.
Our first stop was to the jumbo and somewhat out-of-the-blue (why here?) Picasso sculpture. Actually, there is an explanation for its location: an artist from Kristinehamn bumped into his Norwegian photographer friend who was helping Picasso find a site for this concept. Kristinehamn officials approved the sculpture's installation before those lazy city bureaucrats (in, say, New York) could agree to terms. The concrete sculpture (possibly Picasso's largest) is 15 meters (50 feet) tall, with  striking facial features sandblasted from the stone. Take your time to view this art from all angles.
From the Picasso site, Lake Vänern and all its potential come into view. Beaches, ferries to islands, fishing boats, sail boats, and picnic facilities hint at the activities around the bend.
Kristinehamn is protected from the big lake, settled about 7 kilometers (4.5 miles) up a picturesque narrow strait. We had time for only one stop in town, the Sockerslottet. This sweet shop features cakes, pralines and pastries created by Gunilla Wall in the wonderful atmosphere of a converted church. While we enjoyed coffee, tea, and cake, Gunilla wowed us with her story (winning the first season of the TV competition "The Big Cake Battle"). She also showed us rooms in her latest project, the boutique hotel she and her husband have opened. The design details and personal touches are indicative of the love Gunilla has mixed into all her creations. We think a couple days here before or after a lake adventure sounds…sweet!
Note: Kristinehamn is only about 30 minutes drive from Karlstad, and is also on the Oslo-Stockholm rail line.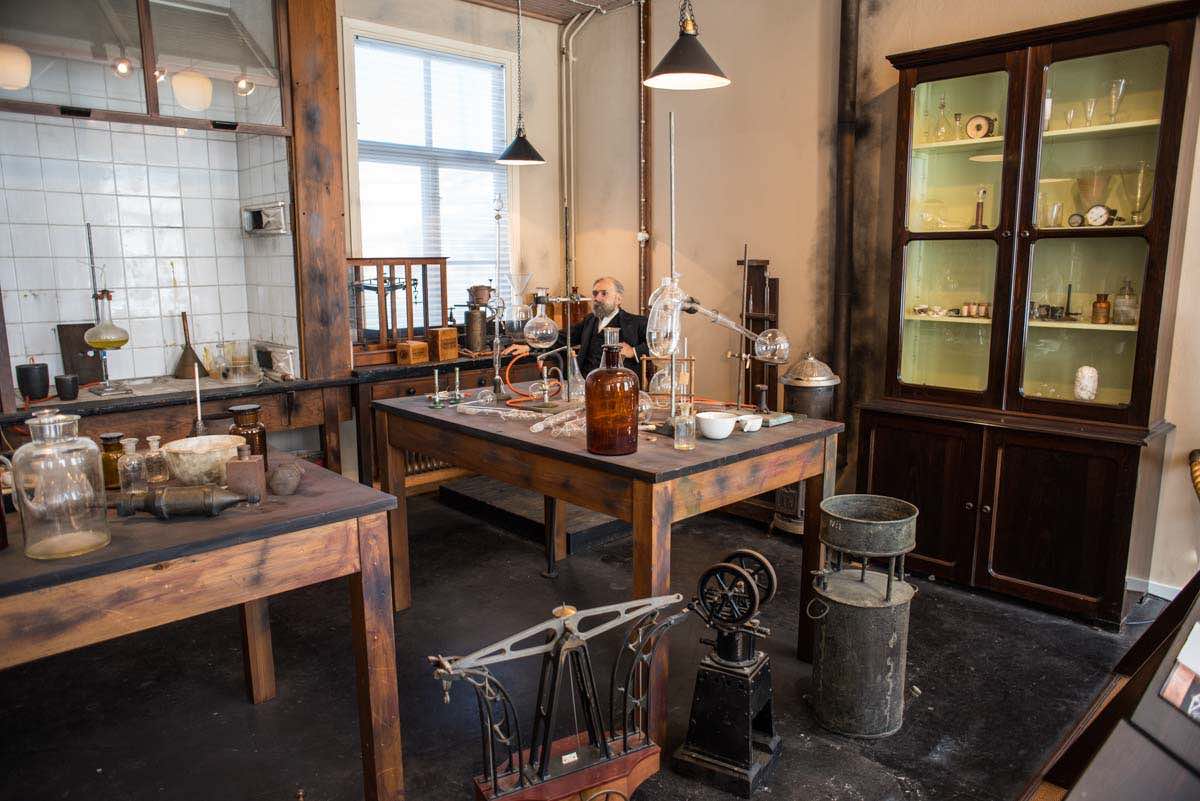 Karlskoga, Sweden, and The Alfred Nobel's Bjorkborn Museum
About a half hour east of Kristinehamn, and yet on another lake, Karlskoga (pop. 30,000) was established in the 16th Century. It thrived on iron ore mining and eventually became a company town. Bofors was the big ironworks company of the 19th Century. Turning production to cannons, chemicals, and other armaments, if became a diversified defense company in the 20th Century.
Who owned Bofors? For a while (1894-1896) it was Alfred Nobel who made his home in Karlskoga during that time. This turned out to be a big deal, because even though Nobel died in Italy, his will and testament establishing the Nobel Prize was honored, avoiding the corruption of his estate by various heirs.
To the museum! Visitors to the museum are guided through a manor home used by Nobel in summers, and through a stable and laboratory. All these spaces are great backdrops to learn about Alfred Nobel's family (in particular his father), his early work blasting tunnels for railroads, his research, experimentation and invention. Plus, we learned why there is no Nobel prize in mathematics, but I'm not telling.
Note, this museum is focused on the man, Alfred Nobel. If you are looking for a museum on the history of the Nobel Prizes and its winners, check out the Nobel Museum in Stockholm.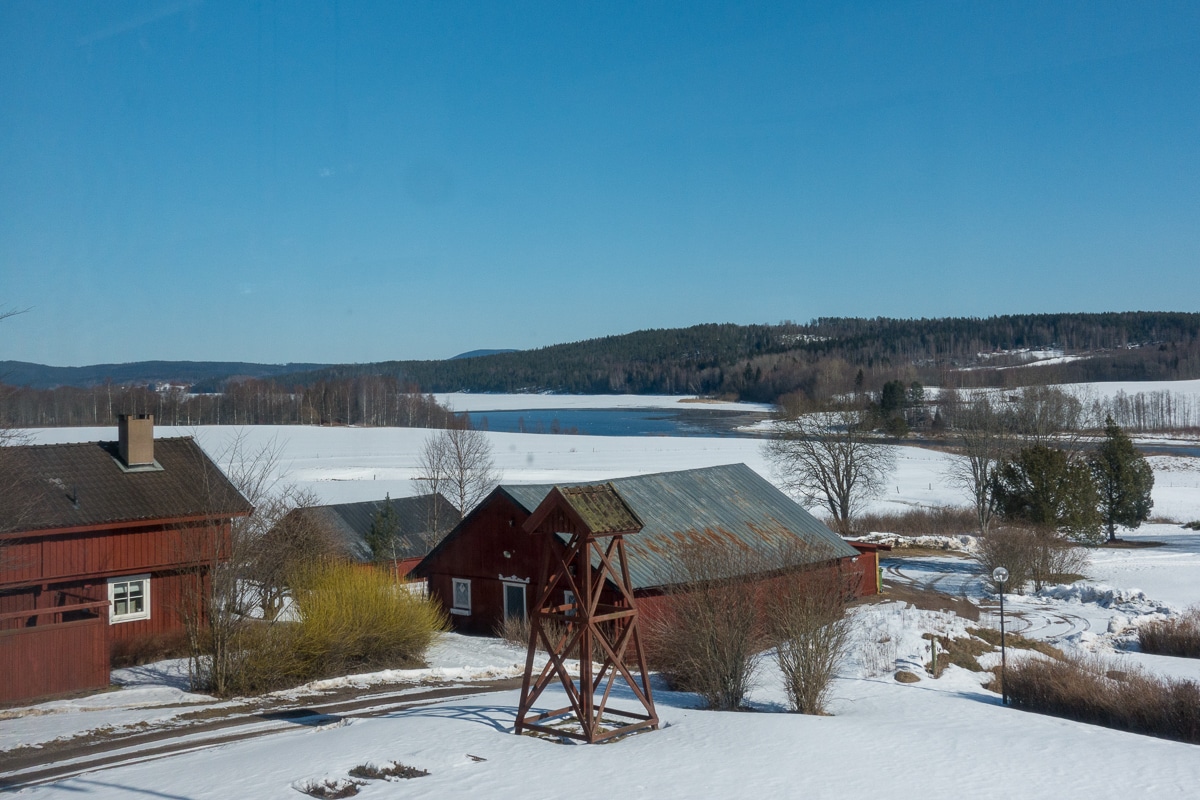 Sunne, Sweden
About an hour drive north of Karlstad, Sunne (pop. 5000) sits in the midst of many lakes, a center over centuries for hunters, fishermen, and landed gentry. One of the country's oldest spas was built here and still operates as the popular Selma Spa resort hotel. This would be a good spot to set off on your hiking or biking.
Or base your visit at Ulvsby Herrgård, a manor home on Lake Fryken that's been used for meetings and wayside rests for centuries. It was allegedly annexed by Queen Christina of Sweden in 1649, and did indeed become home to the county sheriff in 1700. Another county sheriff, Anders Wahlstrand, expanded the surrounding park and was said to be the inspiration behind the Lansman Scharling character in Selma Lagerlöf's Gösta Berling's Saga (see below). Back in private hands since the 1960s, Ulvsby Herrgård is simply focused on food and hospitality.
The Sunne area, with its many finger lakes, struck us as a great place for a canoe (or fishing) trip. Driving times, snaking around the lakes, may be longer than you think. But we'd recommend staying somewhere around Sunne to visit these remarkable attractions: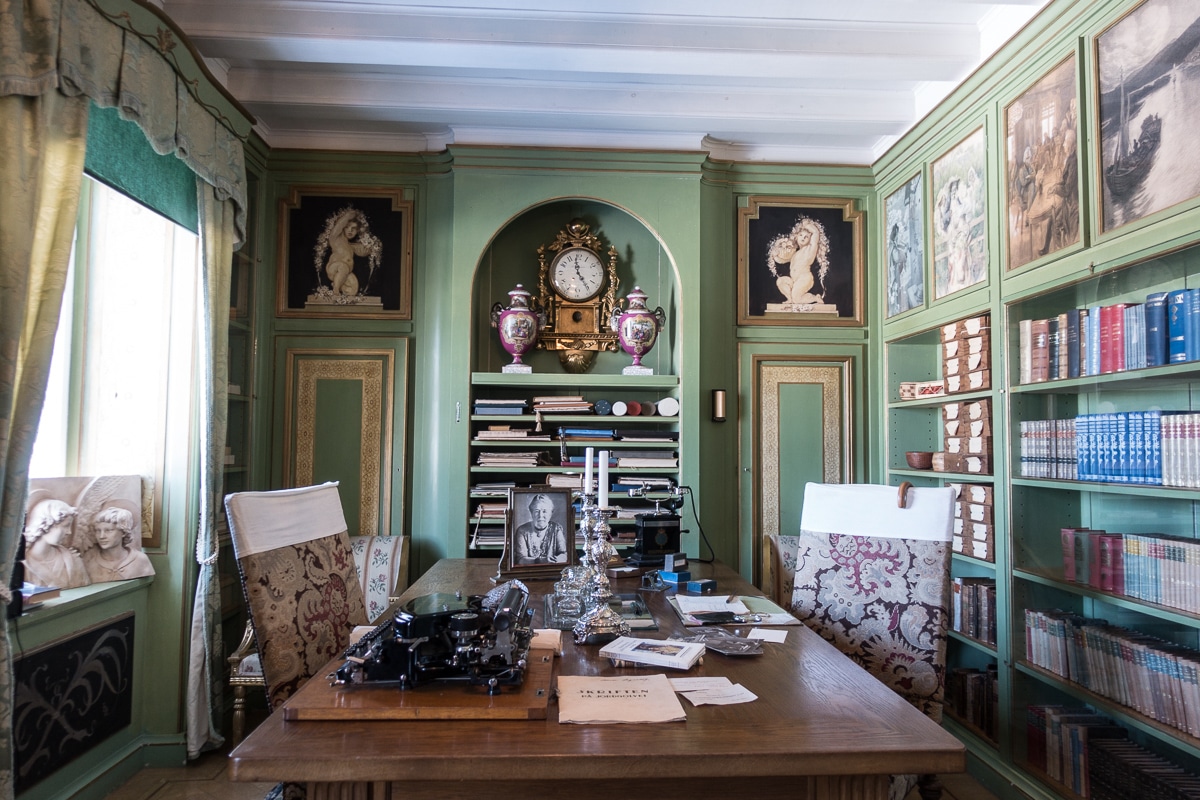 Mårbacka, Home of Selma Lagerlöf
20-minute drive from Sunne
Little did we know! We're so glad we toured Mårbacka, the home of Selma Lagerlöf, the first woman and first Swede to win the Nobel Prize in Literature (1909). Her story as a businesswoman, farmer, traveler, and local politician made me wish I'd known her–and certainly prompted us to start reading her work. Touring her home was one of the nicest surprises and most instructive moments of our tour in Värmland. The estate tour feels even more poignant because this home, where Selma grew up, was lost to the family after her father's death. She was able to repurchase the home and land after some of her literary success, and returned to live there.
Lagerlöf's debut novel, Saga of Gösta Berling, was made into a silent film starring Swedish actress, Greta Garbo. We've visited Garbo's grave site in the Skogskyrkogarden Cemetery, a UNESCO World Heritage Site.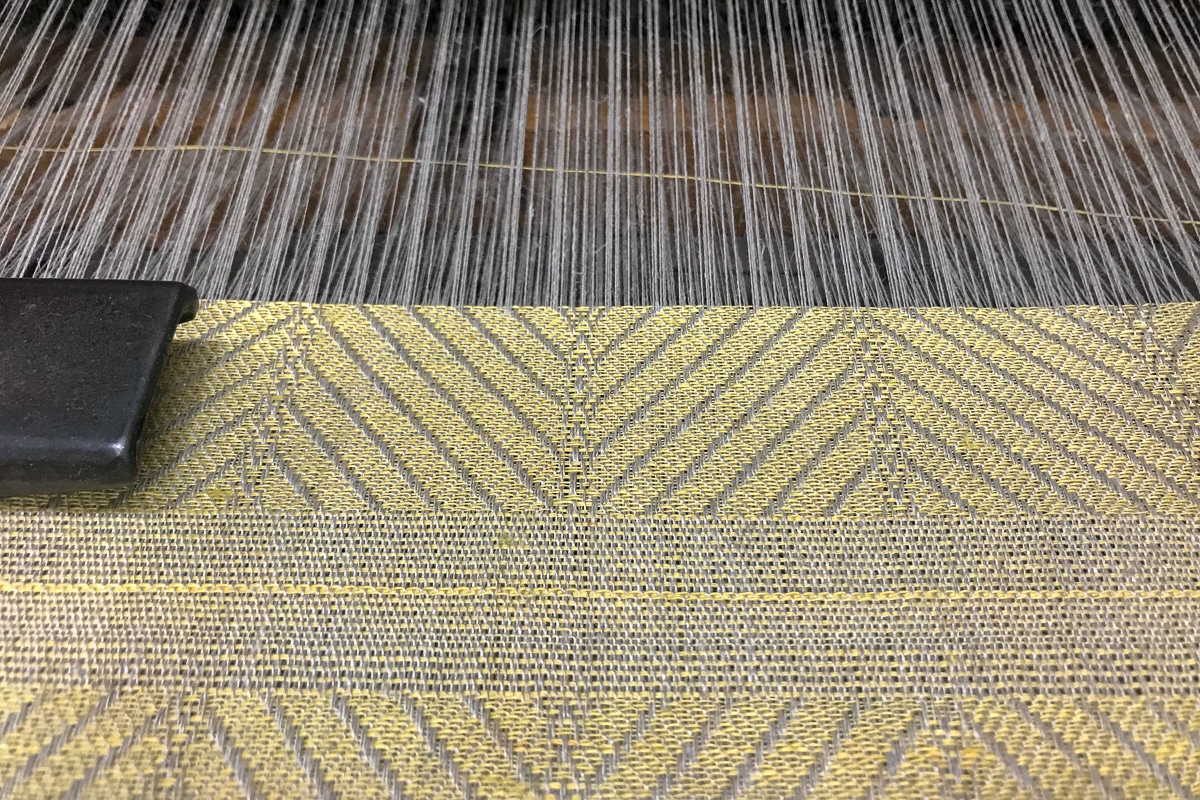 Klässbols Linen Weaving Mill
55-minute drive from Sunne
Klässbols would not be on the map were it not for the linen weavers there. The story starts, as many in Sweden do, from a need to survive in times of great poverty–and from the Swedish court's need for fine woven goods. At any rate, a tour of the current production at Klässbols covers everything from farming and flax to imported oriental damask patterns. Historic looms are on display, tracing the development to mechanical looms and the game-changing Joseph-Marie Jacquard invention of punched cards to translate patterns.
The family-operated Klässbols Linen Weaving Mill proudly produces linens for the annual Nobel banquet. Today the third and fourth generation Johansson family, still running the show, welcomes visitors to tour the plant and browse through their store. Special orders and online shopping are part of the current business model, as are a couple retail stores in Stockholm.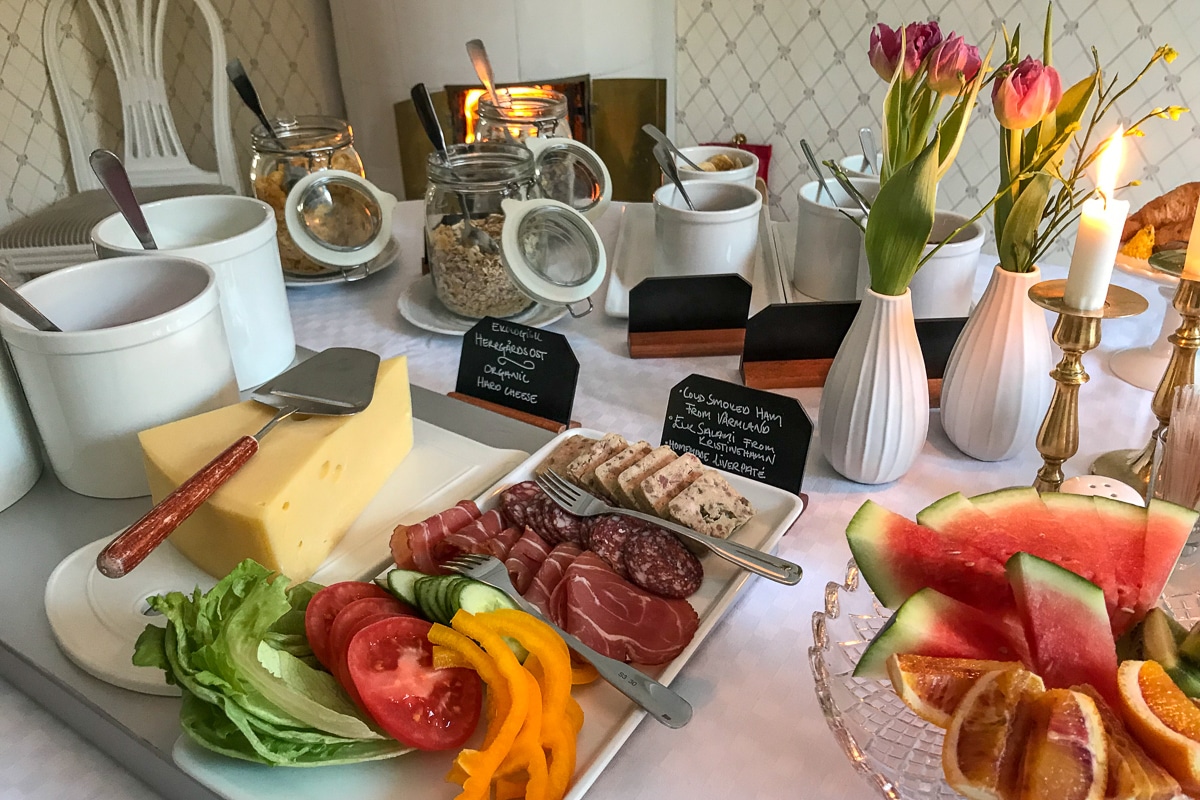 Food and Restaurants in Värmland, Sweden
We can't begin to describe all the great food we ate in this region of Sweden. But we can encourage you to visit Sweden's White Guide and check out the many restaurants from Värmland listed there.
The manor homes scattered around Värmland are among its most precious resources, and are fortunately graced with some of the world's top chefs. Our very favorite was Ölme Prästgård, a guest house and extraordinary restaurant in a former parish home.
For more, see the resources below, and also click over to our food post from greater Sweden, including restaurants in Värmland, Jämtland, and Gotland.
More Adventures in Värmland
Although our four days in Värmland didn't involve digging into any adventure options, we already have a great list of activities we know we'd love to try when we return. Here are some of the *starred* items:
Timber Rafting With a guide, assemble a timber raft and float it down the river, a la Huck Finn.
Canoeing Check out canoeing, fishing, and camping options.
Biking Choose from various lake trails or mountain biking.
Moose Safari In pursuit of the rare white moose and fabulous photos
Plenty of ski options For your winter holiday, or try the ski tunnel in summer.
Sweden Soundtrack
While you are booking your trip to Sweden, play some tunes by First Aid Kit, the popular folk sister duo from Stockholm. They recently released a new album, Ruins.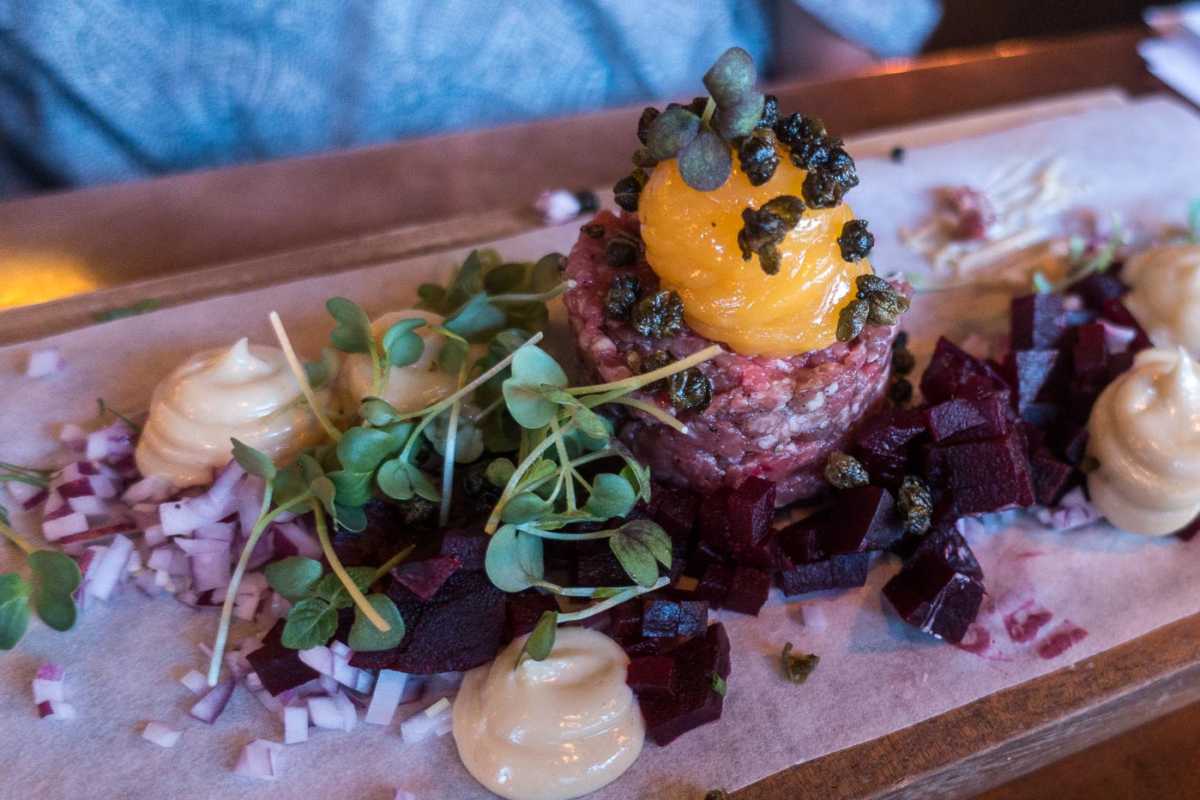 Resources
Stay and Eat
Here's a list of all the places we stayed in Värmland, and where we ate. You'll notice most of our fine meals were served right in our hotels. The county's many guest houses are variously used for events, meetings, family gatherings, or romantic getaways, with restaurant service throughout the day. So even if you aren't staying the night, you may want to enjoy a coffee or dinner at these fine establishements
Elite Stadshotellet i Karlstad Karlstad's grand hotel
Ulvsby Herrgård Sunne guesthouse and restaurant overlooking Lake Fryken
Domle Herrgård Historic mansion guesthouse with restaurant, park, tennis,and nearby beach and golf. Near Karlstad.
Bofors Hotell Karlskoga's exclusive international hotel and restaurant
Sockerslottet Kristinehamn Cafe, sweet shop, and boutique hotel
Ölme Prästgard 18th Century guesthouse and restaurant near Kristinehamn
Olssons Elektriska, contemporary Karlstad restaurant
NOTE: We traveled to Sweden in March 2018, hosted by Visit Sweden and with tons of support and good times provided by Jämtland-Härjedalen and Värmland regions. This and all our posts are based on our personal experiences and are not assigned nor reviewed by our hosting partners. 
You can help yourself get ready for your own travels by reading our Get Started Planning Your Trip Now page.
We love traveling–with the right gear. We've gathered a lot of the stuff we use to make travel more pleasant and efficient all on one page. Shop our Travel Past 50 Amazon page to find our favorite gear. If you purchase something from the store, Travel Past 50, as an Amazon affiliate, may receive a small commission at no extra charge to you. Thanks.
Note: This post and other posts on TravelPast50.com may contain paid or affiliate advertising links.
Inspired by this post?
Pin it here or use any of the social media share buttons above and below this post. Thanks!