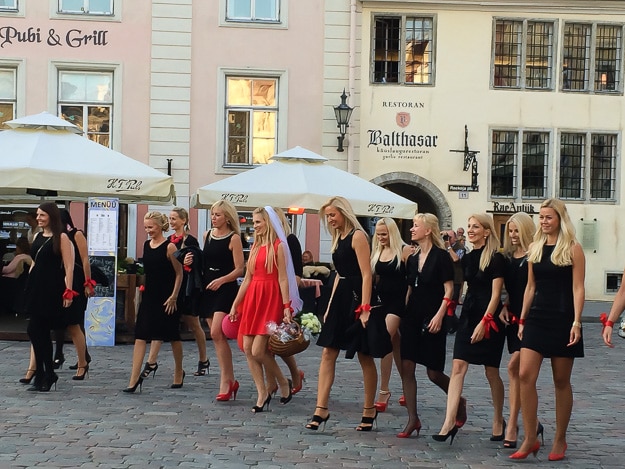 Tallinn, the capital city of Estonia, is 55 miles due south and just three hours by ferry from Helsinki, Finland. In fact, it may not feel too different from Helsinki at first, because Tallinn entertains a lot of Finnish visitors, especially of the bridal party and groom's get-away sort. The next biggest group of visitors to Tallinn–not unlike Finland–is from Russia.
In Tallinn, people seem comfortable in their post-Soviet era shoes, and it is a tourist-friendly town. Our June visit coincided with a big Harley Davidson rally. So it was easy to see leather at breakfast, lots of black at midday, and identifying T-shirts from most of the surrounding countries by night, such as "SNASCARF," Swedish Nascar Fans.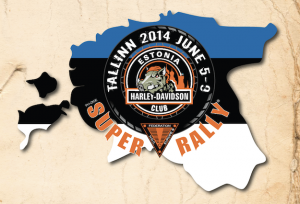 With no motorcycle to rally, we used the weekend to visit Tallinn landmarks on foot. The city is positioned along the Baltic Sea and up a nearby hill, so scenic walks include several good lookout points, a great mix of Catholic, Protestant and Orthodox churches, and a beautiful town hall along one side of the spacious old town square.
Some posts on Travel Past 50 may contain affiliate links. If you buy something through one of those links, we may earn a small commission. As an Amazon associate, we earn from qualifying purchases.
Tallinn always has been–and remains–at a crossroads. Taking the long view, Tallinn, like the Baltic Countries as a whole, has been tossed back and forth by neighboring powers, and in flux between invasions, war, destruction, and rebuilding. Medieval castles and merchant buildings reflect the Danish and German powers. Trade routes and Tallinn's membership in the Hanseatic League meant centuries of competition for control. By the 16th Century, Sweden and tsarist Russia were the predominant rulers, and finally, in 1710, Tallinn fell to Peter the Great. It's been largely under the sway of Russia ever since. Then, of course, German forces were exchanged for Russian (and vice versa) through the World Wars and 20th Century.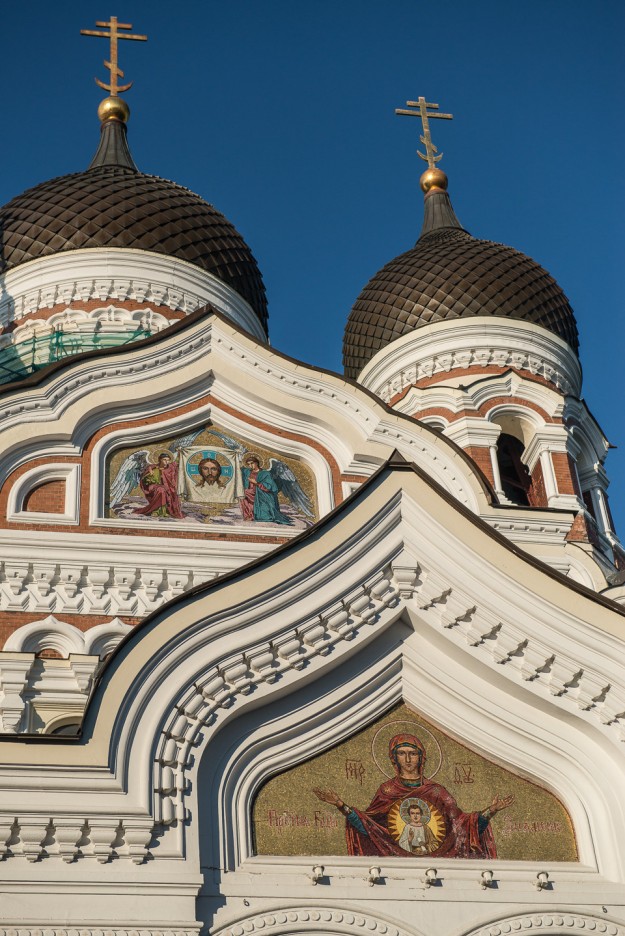 We visited the Alexander Nevsky Cathedral twice in our two days in Tallinn, Estonia. Once, for a tour of the inside, and another where we spent half an hour just walking around the outside. Unfortunately, like in so many beautiful churches these days, they didn't allow photos inside. I still don't understand why, but, hey, it's their church, and they have a right, I guess, to have it treated like a church instead of a tourist attraction. Of course, if I were running it, I'd do like they did in a few German churches we visited and charge you €2 for a "photo license," and use the money to help support the place. But, that's just me. The inside was lovely, particularly the columns that were painted in an Italianate "grotesque" style of winding vines and flowers. There was also a large altar piece featuring a lot of golden paint, or inlay. I couldn't be sure because they kept you back a good distance. Since this is a Russian church, there was a small army of middle aged Russian looking women in scarves who were engaged alternately in dusting and sweeping and glaring disapprovingly at any tourist with a camera.
The outside, however, presented no obstacles, other than the screens and scaffolding which enveloped two of the four cupolas. I managed, mostly, to keep them out of this shot by moving inch by inch around the exterior until I was able to capture a frame which revealed the two uncovered domes, the facade's mosaics, and yet omitted most of the scaffolding. If I ever come across a beautiful European church that isn't mostly covered in scaffolding, I'm going to be surprised.
The Nevsky Cathedral is part of the "Old Town" of Tallinn, which is designated a Unesco World Heritage site.
Not far from the historic old town center are Soviet hotels, renovated warehouses, a busy port, industrial buildings, neo-classic apartments, and modern hotels. The juxtapositions are intriguing: the Dome Church (Cathedral of St. Mary the Virgin) dating from the 13th Century, once Catholic, now Lutheran, isn't far from the St. Alexander Nevsky Cathedral, founded in the Russian Orthodox tradition. The Danish King's Courtyard, where artists set up shop, is just a few yards from Freedom Square, where song and demonstrations fueled the country's independence movement.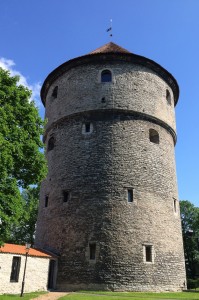 Just uphill from Freedom Square are a couple enormous medieval defensive towers, and beyond these runs a small curvy street along the old city walls toward a few impressive international manor homes. It's difficult to think of a place that features as many extant buildings from as many centuries, and established by such a range of outside influences. (Vietnam?) The Old Town as a whole is a UNESCO World Heritage site.
Near Old Town is the 1972 Soviet-built Hotel Viru. Hotel Viru, while still accommodating guests, is better known now for the popular KGB Museum. It's not so much a museum as a tour of a small part of the top floor of the hotel, where the KGB had a clear signal, lots of listening devices, and a couple crowded little offices filled with, of course, radio equipment.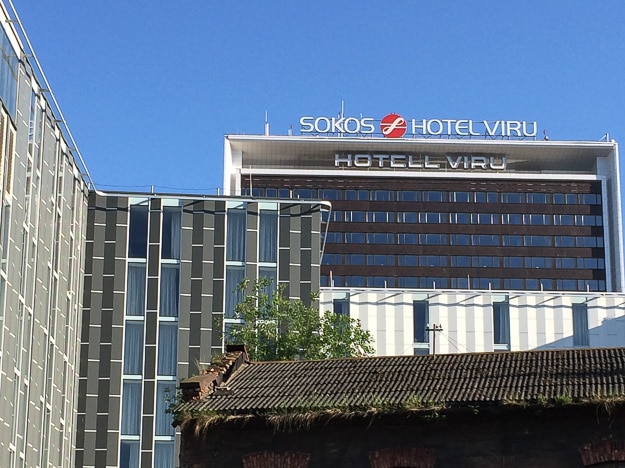 Our guide was a bright woman with even brighter red hair, and her delivery was equally serious and entertaining. Her tales of the activities on the 23rd floor were especially convincing since she used to work in the hotel as a floor manager, checking on the comings and goings of personnel and guests. The 23rd floor was, and is, unmarked; the elevator still only goes to 22. Secretive barely describes the atmosphere. A major construction fire, for example, 'never happened,' microphones in dishes magically avoided the dishwashers, and cameras in hotel room ceilings were only discovered during remodeling long after the Soviets had dismantled their equipment and taken off.
'Soviet Times,' as the period is usually called, continued from 1940 to 1991. For a sense of those times, do make reservations in advance at the KGB Museum desk in the back of the Hotel Viru lobby. Tours in English are only a couple times a day, and fill up regularly.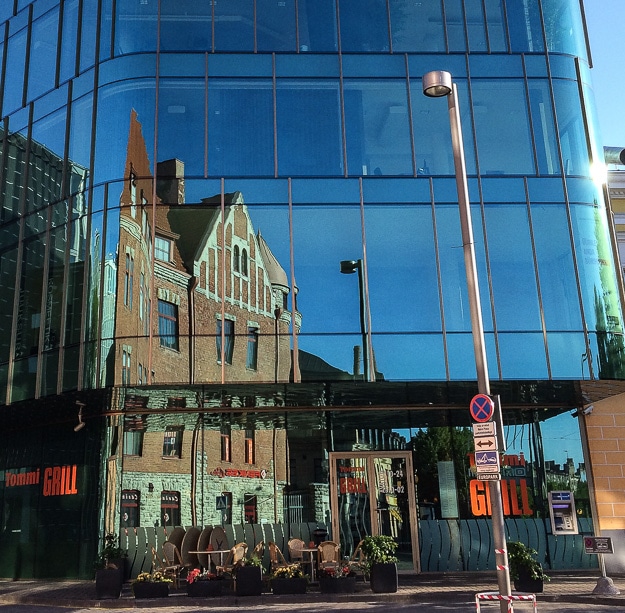 Another way to see Tallinn's 'then' and 'now,' side by side, is to visit the Rotermann neighborhood, a warehouse district being revitalized with offices, restaurants, apartments, shops and people-friendly streets and squares. It's a compact area, but an enjoyable to browse. We stopped for lunch at Restoran Platz, meeting our friendly waitress, Mari-Liis, who gave us all sorts of travel advice. After our dinner of marlin and salmon (seafood abounds in Estonia), we were also introduced to Vana Tallinn–a tasty, aromatic brandy.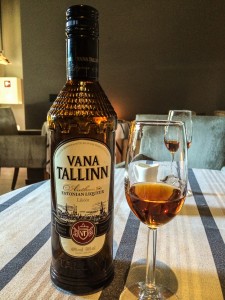 We asked everyone we met what Estonians' response was to the situation in the Ukraine. Crimea's annexation by Russia had been declared less than three months earlier. The concern is palpable, but everyone we talked to felt confident in NATO support.
In the news recently, two items harken back to Estonians' determination to remain independent. The New York Times wrote about the Estonian Song Celebration, a music festival that occurs every five years in Tallinn. Preparations and anticipation were at full throttle for the July 2014 "Laulupidu" event.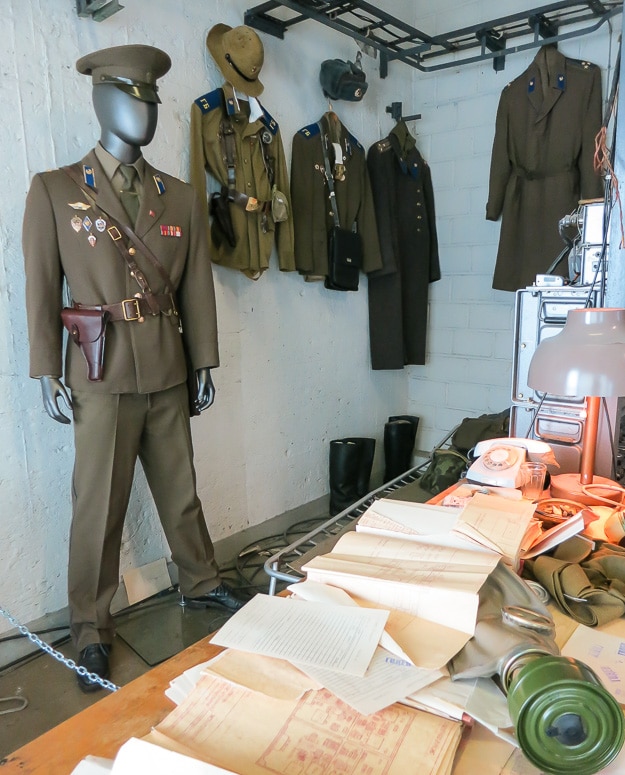 And after a missile launched from Eastern Ukraine downed Malaysian Flight 17, The Guardian covered this Estonian footnote: Steven Seagal, a buddy of Russian President, Vladimir Putin, was uninvited to perform at the blues festival in Tallinn this August.
In fewer than 25 years, since shedding the Soviet cloak, Estonia has burnished its cities and pubic services, renewed its proud independence, and rejoiced in its distinct language and culture. Tallinn is a fascinating place to visit. Our reluctance to leave was overtaken by interest in seeing more of Estonia. So we took Mari-Liis' advice and rented a car for two weeks, to drive around Estonia (including Tartu and Saaremaa) and into Latvia and Lithuania. More on these beautiful Baltic countries to follow.
Travel Planning Resources
Looking to book your next trip? Use these resources that are tried and tested by us. Flights: Start finding the very best flight deals by subscribing to
Thrifty Traveler
. Book your Hotel: Find the best prices on hotels with
Booking.com
. Find Apartment Rentals: Find the cheapest prices on apartment rentals with
VRBO
. Travel Insurance: Don't leave home without it. We recommend
Allianz Travel Insurance
. Need more help planning your trip? Make sure to check out our
Resources Page
where we highlight all the great travel companies and products that we trust. See all of the gear and books we like in one place on our
Amazon shop
.