Note: When we first visited Vietnam back in early 2012, we were in the beginning stages of travel writing and photography. Travel Past 50 wasn't yet formed, so our content was poorly organized across two separate blogs, such as they were. This story about food in Vietnam appeared originally on Kris' now dormant site, "HMSHenning," and Tom wrote a similar piece which was imported with all his "Andean Drift" content when we launched TravelPast50.com in early 2013. Just for fun, we thought we'd keep the two pieces: two different takes on the flavors of Vietnam.
Little did we know then that our next visit to Vietnam, seven years later to the month, would be accompanied by a couple grandchildren (under three), their parents, and a viable blog that drives us as much as we drive it. We won't have a chance to revisit these places in Ho Chi Minh City, Hoi An, or Hue, but will discover more of Hanoi. Expect a few new culinary notes and new posts on family travel in Vietnam.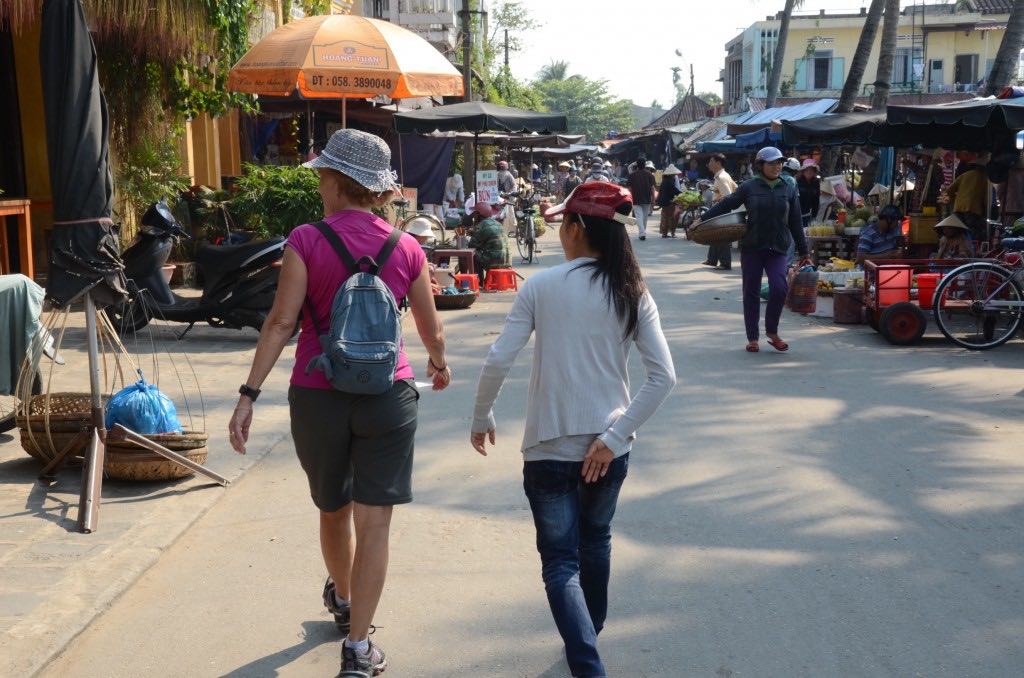 My advice for your culinary tour of Vietnam is to sit next to a friendly young Vietnamese native on your flight into the country. Vu Bich Thuy could hardly contain herself. Even though I was tucked inside my earphones and reading, she started asking about my visit to Vietnam. Before I knew it, she was writing in the back of my guidebook the outstanding local foods for each city I was about to visit.We talked and exchanged emails, and Thuy quickly followed up with a note listing some favorite restaurants in Ho Chi Minh City (HCMC, formerly Saigon), including addresses.
Eight days later, I'm now one city away from sampling all her notes, and I can testify that she is spot on. In Ho Chi Minh City, a typical dish is bahn xeo, a rice and wheat crispy crepe pancake folded over a mixture of shrimp, pork, sprouts, and spices. In Hoi An, the cau lau is the local version of rice noodles with pork. Hué is known for its incredible rice cakes (think thick patties of rice pasta) with a sprinkle of fragrant ground stir-fried shrimp. Another wonton version of this is standard breakfast fare. In Hanoi, we'll look for bun cha and bun muc, guessing these are fish soups with rice noodles.
Restaurants in HCMC and Hoi An
Thanks to Thuy and Lonely Planet, we found Nga Han Ngon in HCMC, a busy restaurant that offers table service and menus for a group of magnificent 'street' chefs, each preparing their specialties. In Hoi An, The Morning Glory restaurant provides a similar emphasis on appetizers and small plates typical of street vendors. While we sampled White Rose Dumplings, the staff presented Rice Paper Rolls with Shrimp and Pork, with thoughtful instruction on how to eat them.
Hoi An is known for its food, so we signed up for a cooking class there. The tiny restaurant, Huu Nghi, whose name translates to Friendship, first attracted us with its 4,000 Viet Dong ($0.20) "fresh" beers, and its position on Bach Dang Street just across from a busy riverboat landing. The charming young Min invited us in to try the food. She was feisty enough to say, "If I say it is good food, you know it is good food."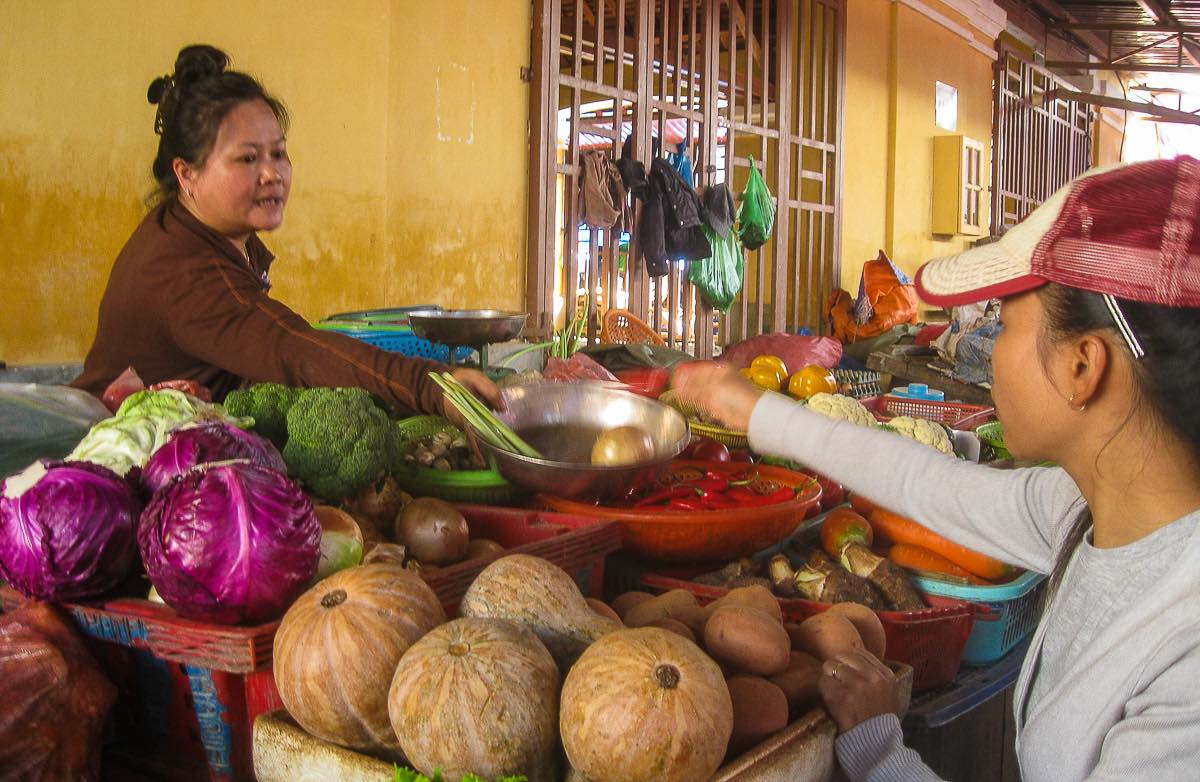 Cooking in Hoi An
The class, two days later, started off with a trip to the nearby market. Min bought lemongrass, garlic, ginger, banana leaves, and mushrooms. Her favorite vendor didn't take her money; I'm sure there is an ongoing balance of trade. I saw Min and other locals give small bills to the old woman sitting on the ground with her empty basket. "She has no family, no one, so…" Min explained. Deftly, Min also took me past a friend's stall where it was plain I wouldn't be excused until I bought a paring tool, made in China. "Say 'cam on'," Min coached me. Yes, thank you.
Back at the restaurant, more items were already prepared for our cooking. The freshest butterfish, pork, and shrimp had been purchased earlier at the market, which opens at 5:30 a.m. Garlic had been peeled, and other cooking ingredients assembled.
So we set in to slice and dice. Garlic, lemongrass, ginger. More ginger, garlic, and lemongrass. Some spring onions. With the help of a small blender, and some prepared fish sauce and soy sauce and "Five Aroma Powder," we made three fabulous dishes. See the recipes below!
And then of course we ate: Butterfish Grilled in Banana Leaf (butterfish, also common in Bali, is my latest favorite fish, but we decided trout or walleye could substitute), Shrimp in Clay Pot (the clay pot dishes are also a specialty of Hoi An), and Squid with Pork. The squid with pork was the newest taste sensation for me. A Chinese-Canadian who happened to be visiting the restaurant as we finished class couldn't help harken back to his mother's version of the same, and he vowed to try it when he got home.
Our instructors, Nga and Min, were great fun. Min translated as Nga talked through the steps, and we were not spared their laughter, encouragement and chastisement for our clumsy participation. All the while, Min's mother was in the back, rolling a pork mixture into rice paper for spring rolls. Min, 23, wants to stay on at the restaurant and enjoys working with her mother. Though it is not her family's restaurant, they've both worked there for years. Min makes about 2,000,000 Dong a month (less than $100), or 70,000 a day ($3.36).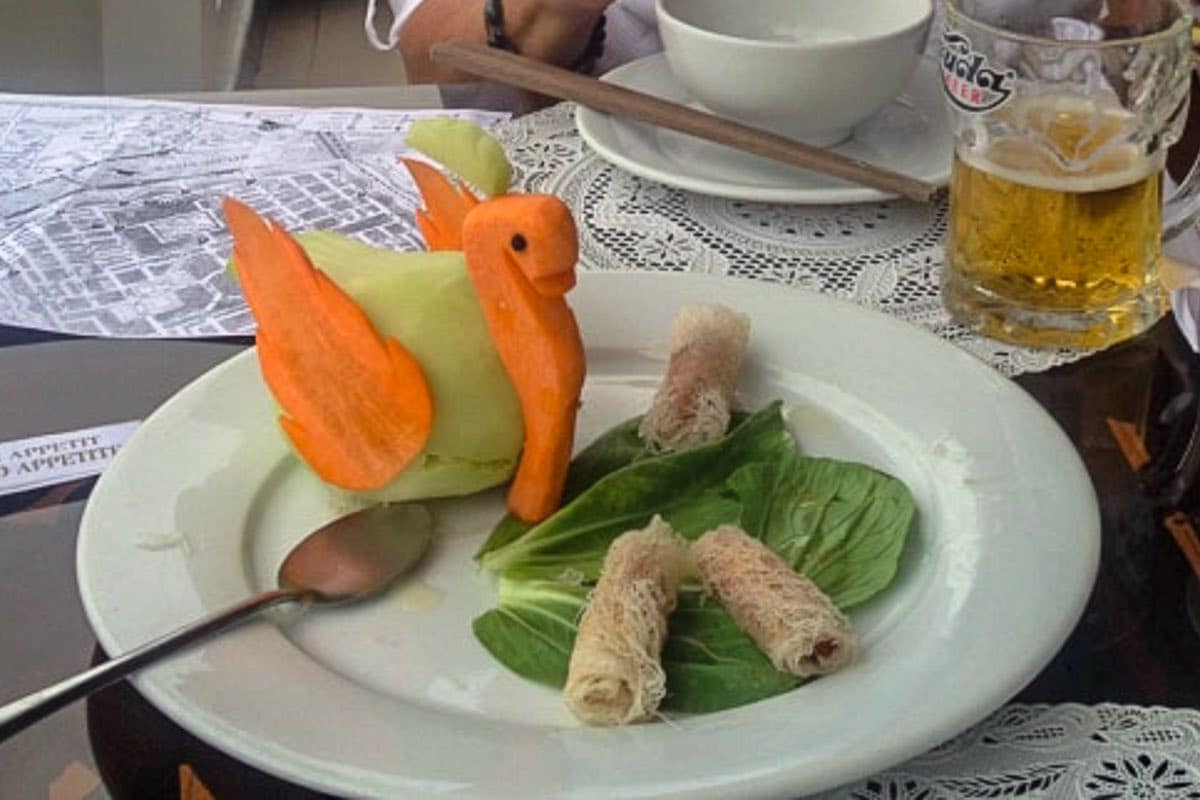 Restaurants in Hue
In Hue, we dined with our new friend, Randi, a friend of a friend. We made a beeline to one of her favorite street vendors on the river, Quan 99, and sampled aplenty! The young female chef apparently used to work at the Century Riverside Hotel where we are staying. The food was absolutely fresh and wonderful, better than it could be served en masse at the hotel. We feasted on folded rice pancake appetizers, stir-fried squash blossoms with garlic, fried rice, chicken wings, pork skewers, grilled quail, noodles. We shared it all and somehow easily went through 3 beers apiece, and paid just 500,000 Vietnam Dong (US$25) for the three of us.
We await the Hanoi specialties, and the wherewithal to recreate some of these dishes back home.
Recipes
Hoi An, Vietnam, is known for its food. In a country that has outrageously good food from top to bottom, the singling out of Hoi An prompted us to arrange a cooking class there at the tiny restaurant, Huu Nghi, whose name translates to Friendship. Our contact was the charming and feisty Min, who helped and translated as Chef Nga took us through each recipe, step by step. Here are the recipes. We can testify that all are tasty. Sorry for the mix of metric and US equivalent. I was writing as fast as I could.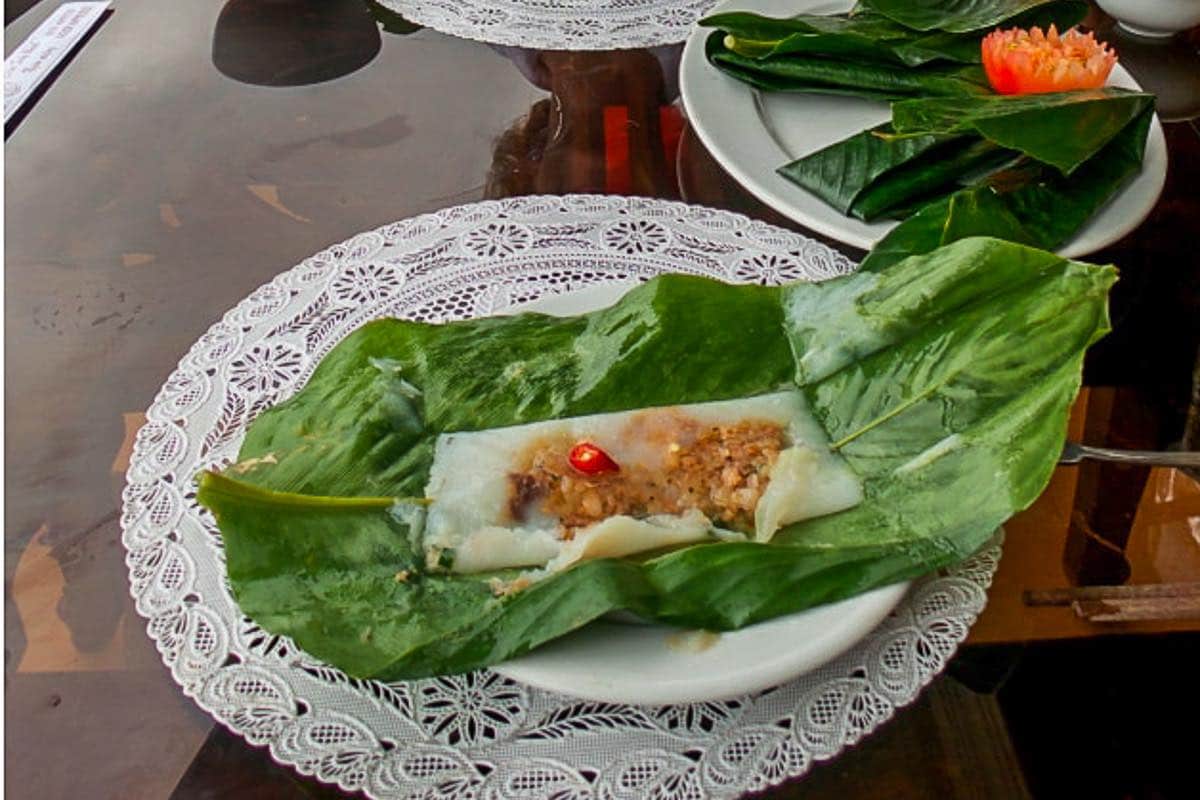 Grilled Fish in Banana Leaf
Ingredients
T Tbsp Garlic
2 Tbsp Lemongrass
½ tsp sugar
¼ tsp salt
1 tsp bullion, minced
1 Tbsp soy sauce
1 Tbsp canola oil
½ tsp pepper
1 Tbsp oyster sauce
3 spring onions
1 Tbsp ginger chopped from super thin slices
Directions
Slice garlic thin and mash with mortar and pestle. Slice lemongrass thin, then blend/mince together with garlic.
Mix together the garlic/lemongrass blend with the remaining ingredients above.
Place half the mixture on two layers of banana leaf. Lay the cleaned fish (about 400 grams for two) over the mixture, and then spoon the remaining mixture on top.
Wrap all tightly in the banana leaves, and let stand to marinate at least 10 minutes.
Bake on covered grill for 30 minutes.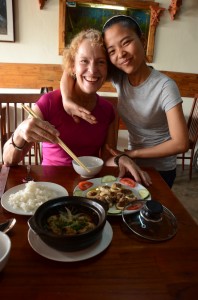 Vietnamese Shrimp in Clay Pot
Ingredients
3/4 pound small shrimp, cleaned, with tail on
1 Tbsp garlic, minced
1 Tbsp lemongrass
2 Tbsp soy sauce
½ tsp sugar
1 Tbsp oil
Fish Sauce
Five Aromas Spice*
Onions
Directions
Mix together the above ingredients except Fish Sauce, 5 Aromas Spice and onions.
Combine with the shrimp – enough to cover the bottom of the clay pot.
Add:
½ Tbsp fish sauce
1/8 – ¼ tsp "Five Aromas" spice (a pinch or two is plenty)*
Bring all to boil on high fire, then turn fire to low, stirring. Cook until liquid releases and then slowly as liquid begins to reduce.
Add:
3 spring onions, chopped.
¼ C very thinly sliced onion
Toss onions on top for last 3-5 minutes to finish.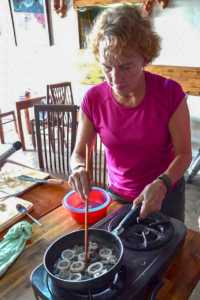 Vietnamese Squid with Pork
Ingredients
200 grams pork
3-4 mushrooms (flat, Chantrelle? Portobello?)
1 tsp flour
Squid, cut in 3/8" rings
2 Tbsp oil
1 Tbsp garlic and lemongrass mix, minced and then blended together
2 Tbsp soy sauce
Pinch of Five Aromas Powder*
½ tsp sugar
Cucumber
Tomato
Directions
Slice pork and mushrooms very thin; mince together in blender. Fold in the teaspoon of flour. Spoon the pork mixture into the squid rings.
Heat pan over high heat. Add oil, and place stuffed squid rings gently into the pan. Cook until the liquid releases and garlic turns yellow, turning midway through.
When the Squid/Pork rings are almost done, add the garlic/lemongrass mix, soy sauce, Five Aromas, and sugar. Toss to finish.
Serve with cucumber and tomato garnish, spooning the liquid over each serving.
*Five Aromas Powder: This spice mix might be available in your local Asian market. If not, Google Translate offers some help, but not much. "Bald, cloves, cardamom, cinnamon, State Repatriation," says Google Translate. Bald = Garlic, but I can't say much about Repatriation. In Vietnamese, it's "Hói, Dinh Huong, Tháo Quá, Qué, and Tiéu Hói Huong."
The ancient center of Hoi An is one of eight UNESCO World Heritage sites in Vietnam. Click the link to see a list of all of them.
This post was updated February 2019 from a post originally posted in 2012.
A visa is necessary for Americans to travel to Vietnam. We use iVisa whenever we need a visa for any country. Great service, and a small price to pay for them to navigate the visa process for you.

You can click the link above, or use this widget below to start the process of getting a visa for any country.
When you're thinking of traveling, your first stop should be our Travel Resources page, where we list all the essentials you need to make your travels easier, cheaper, safer, and more fun.
You can also help yourself get ready for your travels by reading our Get Started Planning Your Trip Now page.
We love traveling–with the right gear. We've gathered a lot of the stuff we use to make travel more pleasant and efficient all on one page. Shop our Travel Past 50 Amazon page to find our favorite gear. If you purchase something from the store, Travel Past 50, as an Amazon affiliate, may receive a small commission at no extra charge to you. Thanks.
We never leave home without our travel insurance. Nor should you. Search for the travel insurance from Allianz that best meets your needs, whether it be an annual plan or a single trip.
You can see (and buy prints) of most of our travel photos in one place on this page.
Note: This post and other posts on TravelPast50.com may contain paid or affiliate advertising links. As an Amazon Associate we earn from qualifying purchases.