Note: This post, originally published in 2015, describes how easy it is to enjoy even such a brief introduction to Málaga as this. For updates, read our more thorough Visitor Guide: What to Do in Málaga.
A weird RyanAir-induced layover allowed me to visit Málaga, unexpectedly. I spent one night there, my first visit to this popular town on Spain's southern coast, and it amounted to about six hours of walking around to get a feel for the city.
I found Málaga full of surprises. My expectations weren't terribly high; all I knew was that it had beaches and was visited by tons of British tourists. The narrow pedestrian streets of the old town quickly turned my thinking around, and I discovered more cultural landmarks than beaches.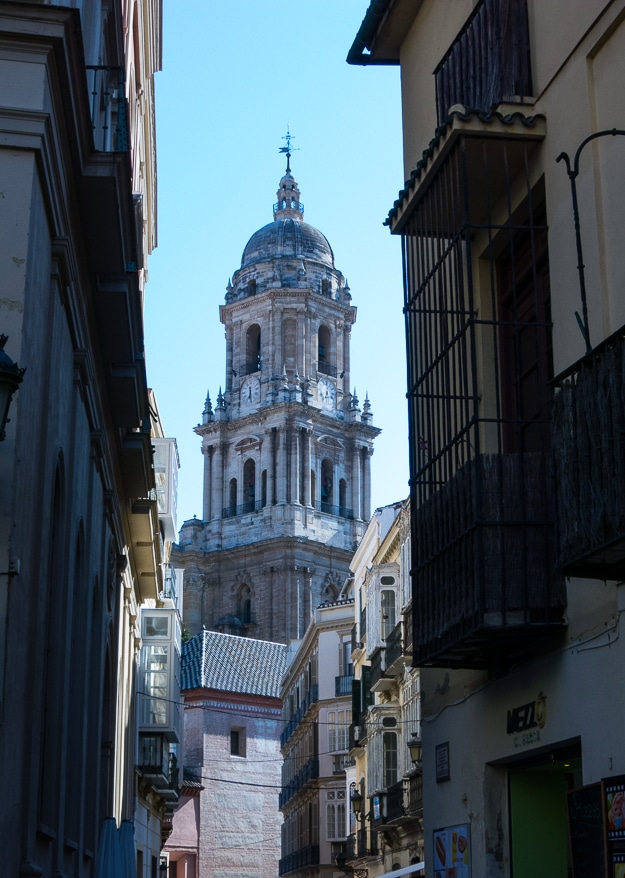 On my walk, I strolled by Málaga'a Picasso Museum, the Pompidou Centre, and the enormous Cathedral. On the map I also spotted the Contemporary Art Museum, Carmen Thyssen Museum, and the Collection of Russian Art/St. Petersburg. Mind you, I didn't have time to go into any of these venues, but it's always good to know art is available. Pompidou was featuring a temporary exhibit of late Miró drawings, and their collection exhibit focused on works by Picasso and Frida Kahlo. (Picasso was born in Malaga.)
High above the town stands the Alcazaba castle ruins, Roman theater ruins, and a connecting hiking trail and scenic lookout. Several wide boulevards and pedestrian thoroughfares make this a great city for walking. The observant pedestrian will enjoy architectural details reflecting Moorish, Gothic, Renaissance, and Baroque styles, with a smattering of art nouveau. These sights are all far removed from the beach town I expected, but not so far that you can't walk another 10 or 15 minutes to stick your toes in the sand.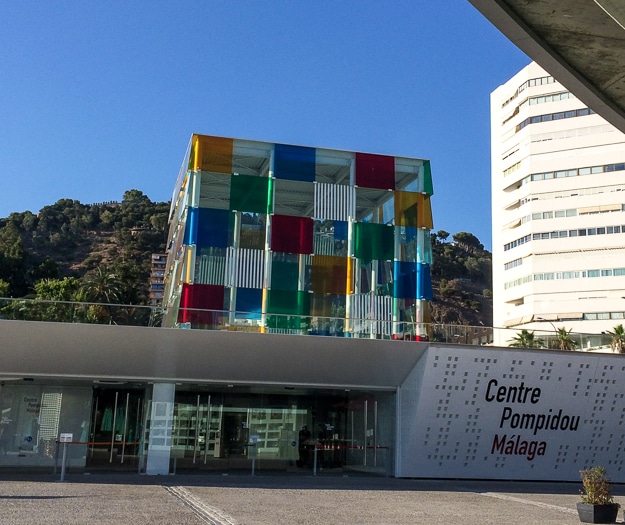 The beach is separated from the central old town by a spit of land forming a natural harbor. A bachelorette party I'd heard earlier making their way through town ended up dancing on the beach with their own trio of wacky oom-pah musicians. The sand was divided by boardwalks and chairs, and by old folks sitting to watch lively children and languid teens. It was a different scene along the harbor waterfront late on this busy Friday. Restaurants were filling up, a big basketball event was being set up, a catamaran sailed in, and a bulbous black submarine flying Spanish and Turkish flags was getting attention. Along the promenade, a couple small museums appeared to cater to cruise ships that might dock here. Do they? Not on this day, and I was able to enjoy a walk under the beautiful contemporary pergola.
As for the Brits, yes, they are among the visitors to Málaga. And some are there to stay. Across the street from San Antonio Church in the old town, I grabbed a table and a beer (micro beers are popping up in this part of Spain) to watch the fashion and faces flowing out of the church. It was a 'mixed' wedding ceremony–Harry and Claudia, English and Spanish–and a wedding party with plenty of ladies in hats (English), gents in tails (both), and women in extravagant colors and highest heels (Spanish). The blended future of Málaga.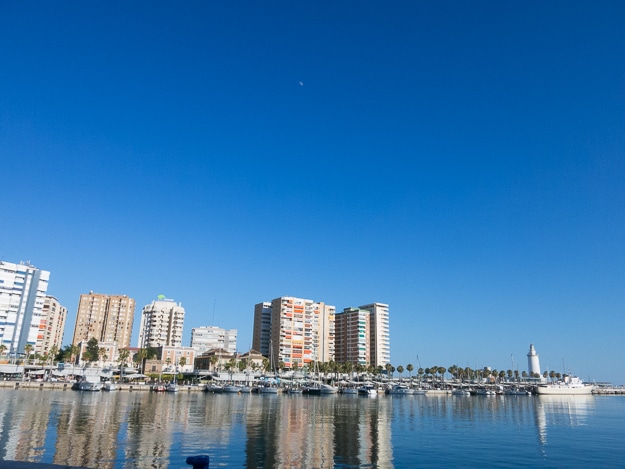 Along the main shopping street, Marqués de Larios, a succession of banners touting the University of Málaga and its School of Economics illustrated major changes in the city's development since the 1970s. The University, now with a community of about 40,000, has been a major influencer. Urbanization in Málaga has been dramatic and even traumatic. Development and renovations over the past five decades have planted both ugly and beautiful scenery. It's not hard to spot the ratty buildings of the 60s, nor the vacant storefronts hollowed out of substantial 19th century buildings. It's also easy to see that there is an economic force here–the University and tourism–that supports Málaga, despite its being one of the hardest hit areas of Spain's economic crisis.
So that wore me out, just thinking. I had my heart set on some couscous from a highly touted Moroccan restaurant near my hotel, but they were closed for holiday. (Now it appears they are permanently closed.) After some drifting, I happily found an outdoor place at the Taberna del Mentidero, right at the intersection of shopping, restaurants, and night clubs. While I people watched, I ate the most delicious fresh grilled fish. I'd tell you what it was, but I don't know, other than I took the waiter's word for it, and it was good. (It was dorado, or mahi-mahi.)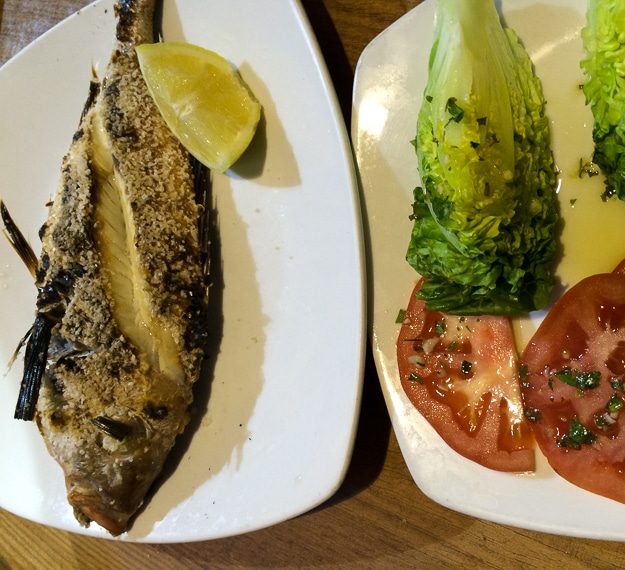 You can read these posts about Malaga's Cathedral, and a Malaga food tour. For more tips, jump to our Visitors Guide: What to Do in Málaga.
When you're thinking of traveling, your first stop should be our Travel Resources page, where we list all the essentials you need to make your travels easier, cheaper, safer, and more fun.
You can also help yourself get ready for your travels by reading our Get Started Planning Your Trip Now page.
We love traveling–with the right gear. We've gathered a lot of the stuff we use to make travel more pleasant and efficient all on one page. Shop our Travel Past 50 Amazon page to find our favorite gear. If you purchase something from the store, Travel Past 50, as an Amazon affiliate, may receive a small commission at no extra charge to you. Thanks.
We never leave home without our travel insurance. Nor should you. Search for the travel insurance from Allianz that best meets your needs, whether it be an annual plan or a single trip.
You can see (and buy prints) of most of our travel photos in one place on this page.
Note: This post and other posts on TravelPast50.com may contain paid or affiliate advertising links. As an Amazon Associate we earn from qualifying purchases.