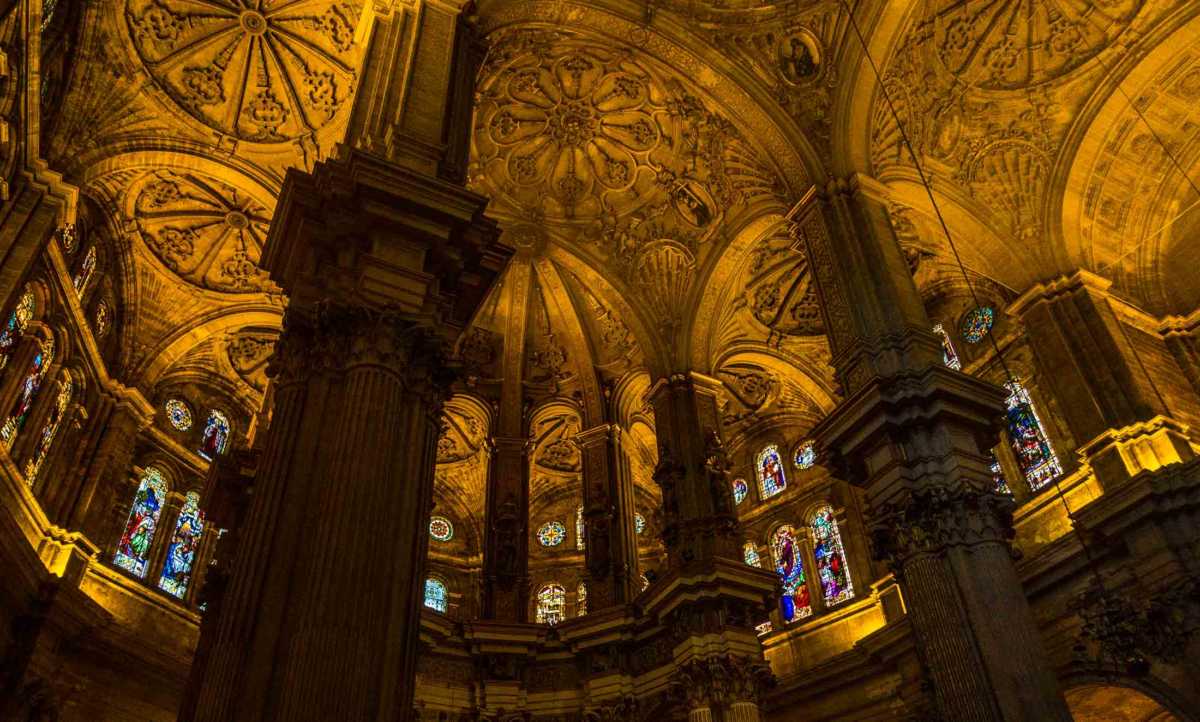 The Cathedral of Malaga is a late Renaissance masterpiece, which distinguishes it from many of the cathedrals of Spain, which were built a couple hundred years earlier, in the Gothic style. It was started in the early 1500s, soon after Malaga was recaptured from the Moors in 1487, and after the final "reconquest" in 1492 of the last Moorish outpost of Granada, just up the road a piece.
There's a lot of Baroque work in here too. But what really struck me was the massiveness of the columns, and their exaggerated classical capitals. The columns themselves lend a real sense of weight and grandeur to the cathedral, but unfortunately also make it really difficult to get any sense of the sweep of the lovely windows of the apse. They are set back from the altar, which is surrounded by the columns, so there's no way to really get a look at them all at once as they peek out from between the massive supports.
At any rate, the ceiling, as you can see, is quite lovely, and perhaps that makes up a bit for hiding the windows.
Our visit to Malaga also included the Malaga Food Tour from Devour Tours.
Thanks to Eurail, for providing me and my friend train passes that got us from Madrid to Malaga and Sevilla this week. Nothing better than the trains in Europe. And no better way for an American to take advantage of them than with Eurail.
You can help yourself get ready for your own travels by reading our Get Started Planning Your Trip Now page.
We love traveling–with the right gear. We've gathered a lot of the stuff we use to make travel more pleasant and efficient all on one page. Shop our Travel Past 50 Amazon page to find our favorite gear. If you purchase something from the store, Travel Past 50, as an Amazon affiliate, may receive a small commission at no extra charge to you. Thanks.
We never leave home without our travel insurance. Nor should you. Search for the travel insurance from Allianz that best meets your needs, whether it be an annual plan or a single trip.
Note: This post and other posts on TravelPast50.com may contain paid or affiliate advertising links.