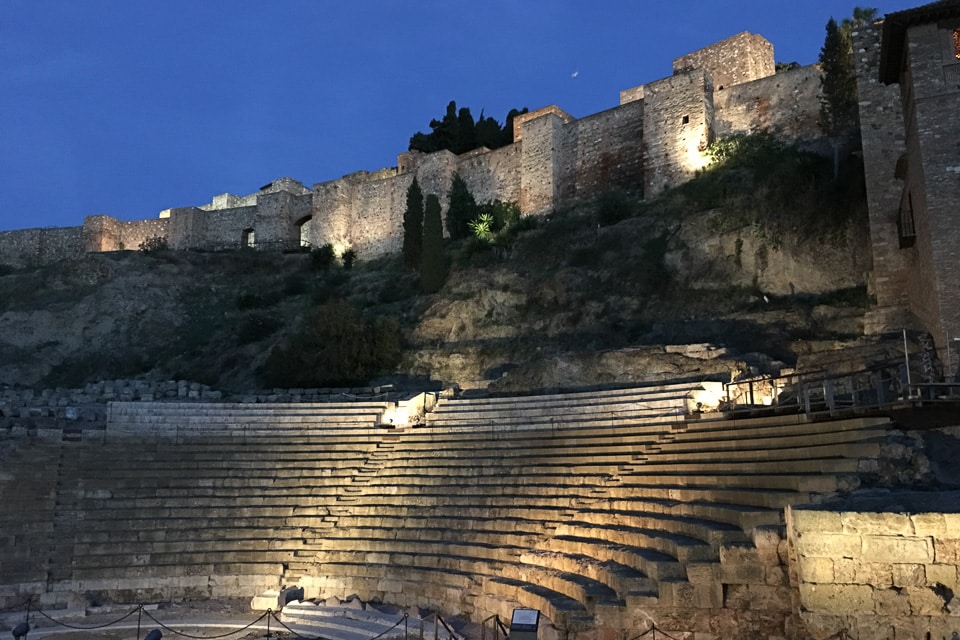 Like many great cities in Spain, Málaga comes off as an important international city attracting visitors and residents from around the world, while retaining its particular Spanish and regional heritage.
Largely due to its seaside location at the mouth of the Guadalmedina River, Málaga has been populated for some 2800 years, since Phoenicians settled there around 770 BC. Following the Punic Wars, it became an important Roman city, and later home to Moors, Jews, and ultimately the Christians who established modern-day Spain.
The Málaga port is busy today, bringing passenger and cargo ships and a regular stream of yachts. Don't imagine ugly port city trappings, though. It's also a seaside town designed for pedestrians and showcasing parks, shady arcades, broad beaches, and botanical gardens, in addition to the pleasant historic center near the waterfront.
The climate makes Málaga an attractive destination for Northern Europeans, yet it still, surprisingly, remains relatively unexplored by North Americans. Málaga isn't a tourist town, per se, nor a beach town. Instead, its size (the sixth biggest city in Spain at 580,000), historic monuments, arts and culture museums, food and shopping create a wonderful city that easily absorbs visitors and provides an array of activities for residents and visitors of all ages and stripes.
Just as you might dedicate several days to Madrid or Barcelona, Málaga deserves a few days of your time. Its finer points may be too subtle to capture in a day, so read on to see what we love about Málaga and why we'll keep going back. We've come to appreciate Málaga's historic layers, its traditional Spanish flavors, and its contemporary vibe. Oh, and did we mention Málaga beaches?
Here's what to look for when you're on your Malaga city break:
Málaga Historical Sites
It makes sense to explore the biggest, most obvious historic sites first, to get a sense of the city of Málaga. All these sites are within minutes on foot.
Roman Amphitheater
Built in the reign of Augustus and used until the 3rd Century, Málaga's Roman Theater was eventually a source of stone for the nearby Alcazaba and then buried for centuries. Since its rediscovery in the early 1950s, the site has been restored and many original elements, particularly in the stage area, preserved. It's free to visit and is a nice place to sit a spell and take in the local surroundings.
Alcazaba Fortress and Gibralfaro Castle
The Alcazaba was a Muslim palace and fortress built in the 11th Century on the Gibralfaro hill next to the Roman Theater. In fact it was built upon a Roman fortress and designed for maximum security with over 100 towers and three concentric sets of walls. Don't expect the decorative remains of the Alhambra in Granada (built a bit later). But with imagination and spectacular views over the city, it is worthwhile.
The best views are from the Gibralfaro Castle a bit higher up, (faro being Spanish for lighthouse). The defensive site probably predates the Romans, but the castle was built in the early 14th Century.
Tickets to visit the Alcazaba and Castle can be purchasesd separately or in combination.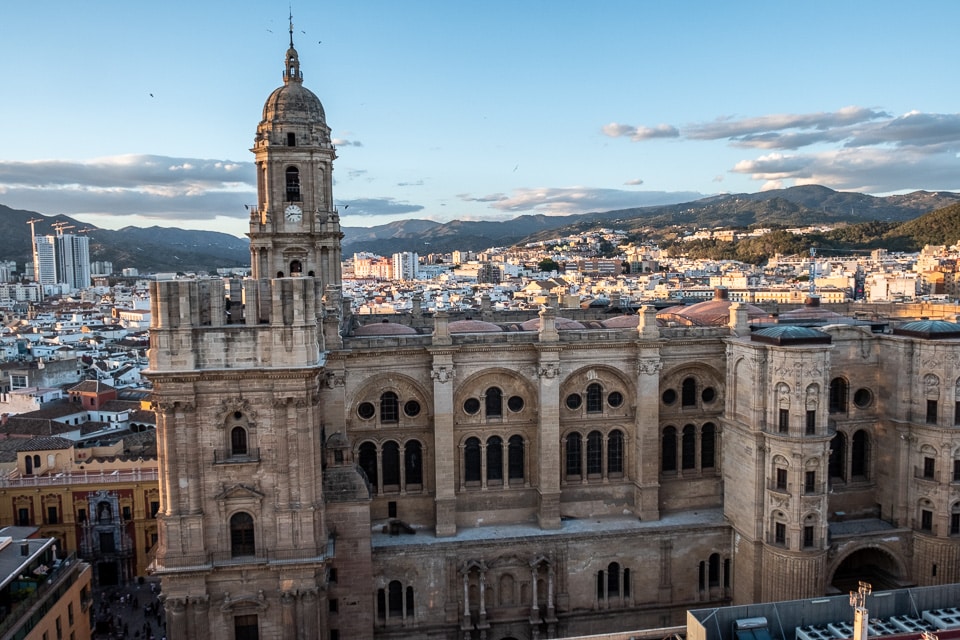 Málaga Cathedral
As is typical in Spanish cities, the center of Málaga is dominated by its cathedral, the Cathedral of the Incarnation. The fortress-like exterior and the solo tower (the second one was never completed) give Málaga cathedral a quirky, lopsided look. Inside, though, is an interesting combination of styles, from Gothic to Renaissance to Baroque, as the church was constructed over some 200 years, from the 16th to 18th Centuries. The Málaga Cathedral is on our list of 12 Great Cathedrals of Spain.
Málaga Museums
With nearly 40 museums in Málaga, it's easy to explore beyond the first three best known. Take advantage of Málaga's international collections to learn more about this historic city and its place in world and art history.
Picasso Museum
No matter how much of Pablo Picasso's art you may have seen, this appealing museum in a former palace is an eye opener. The Picasso Museum Málaga is located here because Málaga is the birthplace of the world-renowned painter. Though he spent little of his life in Málaga, we see some of Picasso's early art and, most impressive, his studies and progression as a (mainly) self-taught artist. Picasso studied paintings at The Prado, developed his eye and skills, and then set off on his own path. Do allow time for the gift shop.
Centre Pompidou Málaga
A Málaga landmark, the colorful cube of glass at the foot of the main pier was originally considered a "pop-up" version of the famous Pompidou modern art museum of Paris. This Centre Pompidou Málaga version displays a concentration of Spanish modern art and appears to be here to stay.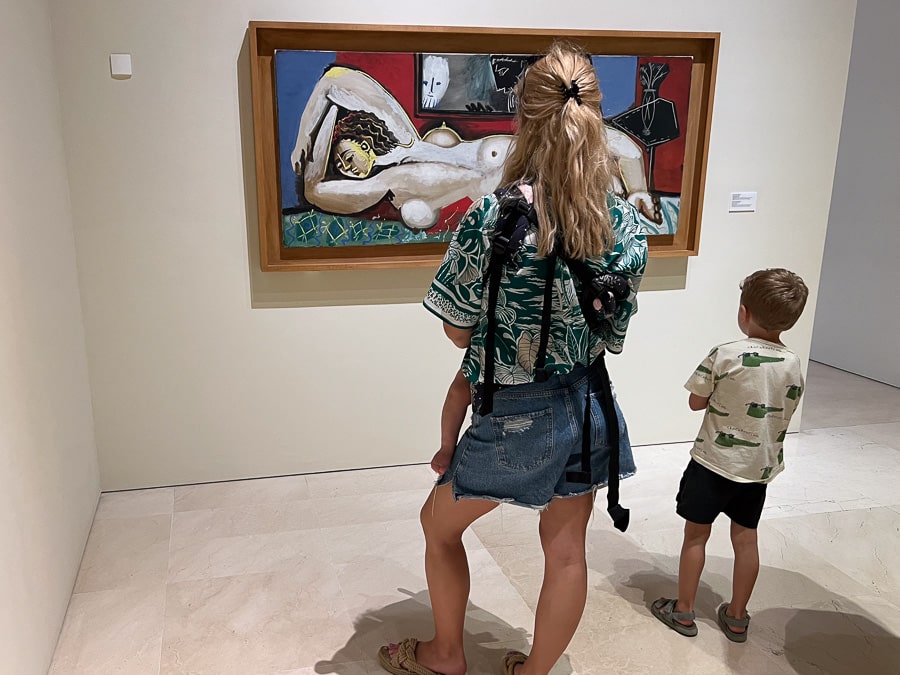 Carmen Thyssen Málaga
Spinning off from the Thyssen-Bornemisza Museum in Madrid, this Carmen Thyssen Málaga museum focuses on 19th Century art dominated by romanticism and landscapes with attention to Spanish artists. Look for masterful works by Sorolla, Esquivel, Fortuny, Madrazo…and a couple rooms of temporary and contemporary exhibits. The museum shop is a destination all its own.
Málaga Museum
For a wonderful surprise, visit Málaga Museum which combines one floor of art (moved here from its previous palace setting where the Picasso Museum now resides) and another floor of archeology exhibits. The museum is in the original customs house of Málaga with its well-restored dramatic interior patio.
CAC
The Center of Contemporary Art is for all forms of art. Besides visual arts, find performance, film, music, a library, and educational activities.
Collection of the Russian Museum of St. Petersburg
By all reports an excellent museum, so we're including it here even though its exhibition schedule as been disrupted by issues surrounding the Russia Ukraine War. In a statement on its website, the Russian Museum reiterates its dedication to the "enormous potential for transformation through dialogue and art," and announced plans to exhibit works of Picasso and other modern, contemporary international artists for the summer of 2023. Let's hope peace and art are on display soon.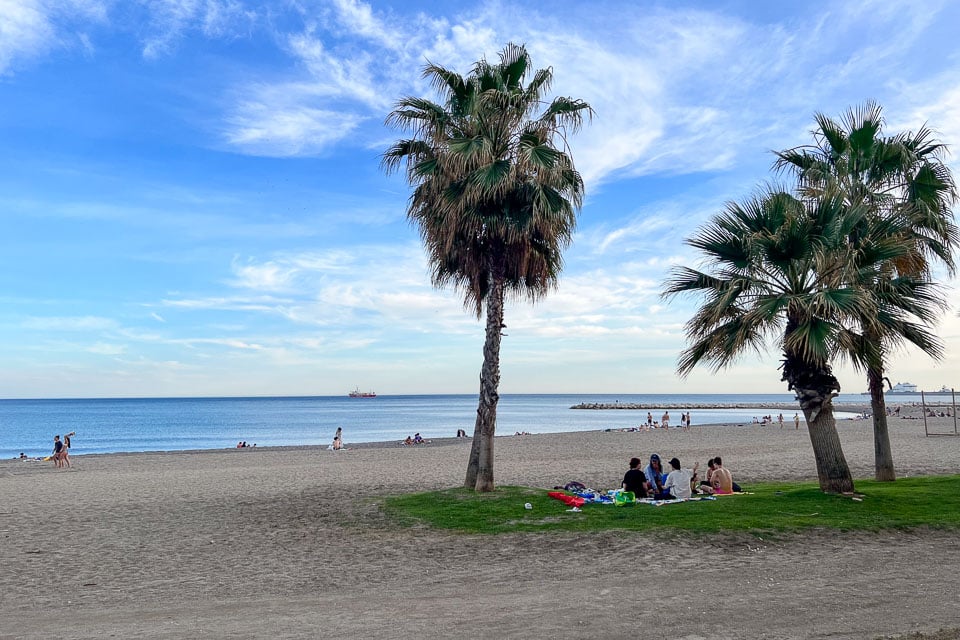 Málaga Beaches and Parks
Naturally, setting foot in Málaga means heading to the shore to look out over the Mediterranean Sea, to walk the pier (called Muelle Uno) and waterfront, and ultimately to sink little toes into the wide sand.
On the way to the beach, it's easy to enjoy some shade in Parque de Málaga, a veritable tropical garden planted with local and imported trees and featuring fountains and benches amongst curving paths.
Across the street and along the waterfront is the equally enjoyable pedestrian arcade called Muelle Uno (Pier One). The extension toward the sea, leading to Málaga's iconic lighthouse and newer cruise ship moorings, is lined with shops and dotted with restaurants and entertainment.
And then suddenly, you are at the beach! Just on the east side of Muelle One, Malagueta Beach is popular with everyone from residents to visitors and cruise ship passengers.
Walk further east for some quieter scenes at both Playa de la Caleta and Playa de Pedregalejo. Both offer some grassy knolls for shade lovers plus local chiringuitos, or beach front grill shacks, where you can sample the local fish. See our Bar and Restaurant section below.
Further afield are Playas del Palo (further east at the former fishing village of El Palo) and Playa del Peñón del Cuervo
To the west of city center, in the direction of Torremolinos, Playa de Huelin and the nearby park of the same name are part of a large recreation area carved out of what was formerly an industrial neighborhood.
La Concepción Botanical Gardens, just six kilometers north of city center, were originally created in the mid 19th Century on neighboring estates in what was a then a robust agricultural area. The City of Málaga has improvoved and managed the property, widely regarded as one of the best botanical gardens in Europe, since the 1990s. Find historic plants, historic buildings, a cafeteria and shop.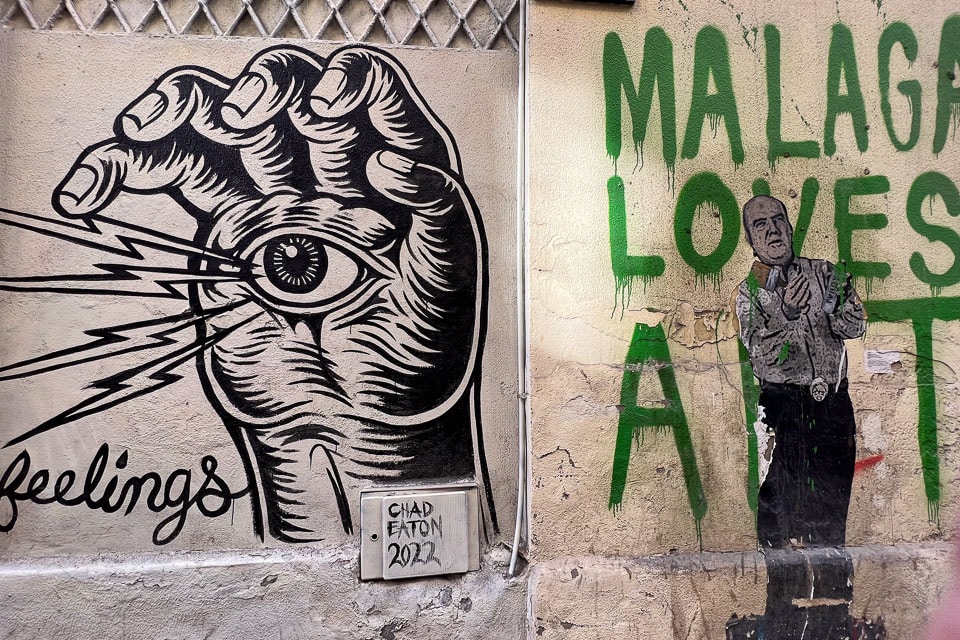 Málaga's Central Neighborhoods and Squares
Most visitors never get past the Historic City Center. And that's OK, because it is filled with shopping and restaurants (see below). The old town is roughly defined by the river bed on the west, the sea on the south, Plaza Merced on the east and Plaza de la Constitución on the north. All the monuments and museums mentioned above (excepting the Russia Museum) lie within this central neighborhood.
Plaza de la Constitución is notable for anchoring the shopping district and for its embedded bronze replicas of newspaper front pages announcing the passing of Spain's current constitution in 1978. It's been named this, though, since 1812.
Plaza de la Merced is notable for the corner apartment building which was Pablo Picasso's birthplace. The square is also lined with tapas bars and big enough to hold special events, tented exhibitions, or simply a bunch of neighborhood children playing ball. The Merced neighborhood to the east is a quiet residential area fun to walk. The Merced Market anchors a good food scene in this international neighborhood.
Soho is the trending neighborhood just south of the Alameda street. By day, wander around to have a look at the protected street graffiti. In the evenings find one of the fine restaurants and you'll be surrounded mostly by locals.
Teatinos neighborhood is the University of Málaga district, so expect a big selection of affordable and international restaurants.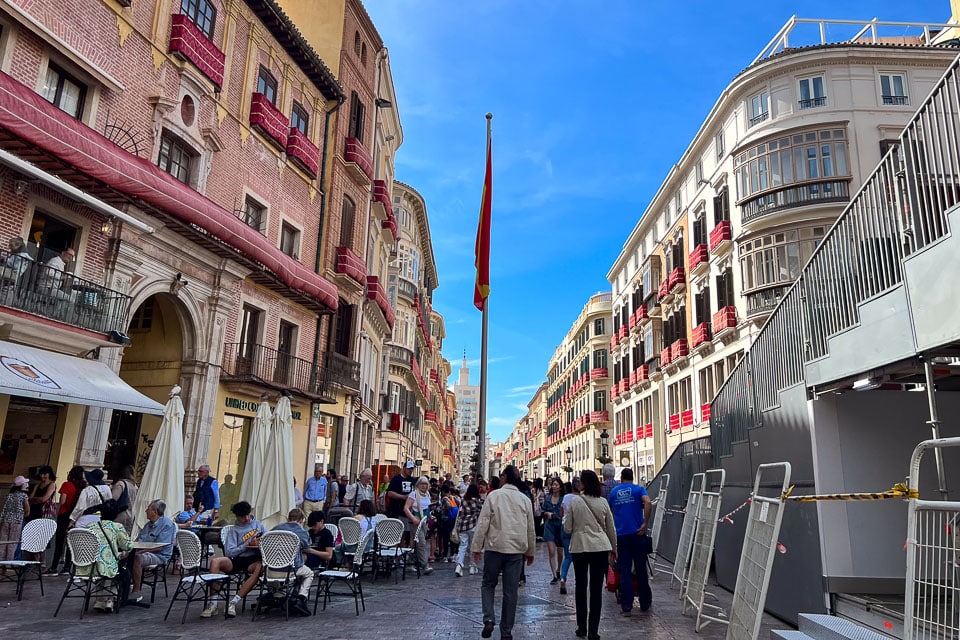 Málaga Shopping
General shopping notes
Spain's always been known for leather goods (shoes, gloves), ceramics, stringed instruments, inlaid wood, damascene metal work (Toledo), hand-painted fans and, of course, olive oil, wine, and jamón Ibérico. These product lines are still crafted in Spain, and appear in specialty shops, home décor stores, and even in department stores (the biggest of which is El Corte Inglés.
Notable Spanish brands and designers include Desigual, Custo, Balenciaga, Loewe, Zara, Massimo Dutti, Adolfo Dominguez, Mango, Pull & Bear (children and teens) and more. Popular Spanish shoe brands include Manolo Blahnik and Pikolinos and espadrille innovators Castaner.
If you are doing any serious shopping, remember to keep your receipts. VAT taxes are reimbursable at the airport, if you remember and allow time!
One final note about shopping in Málaga: don't forget to shop the many museum gift shops.
Calle Marqués de Larios
This main shopping street runs from the Alameda Principal up to Plaza de la Constitución, featuring name-brand stores and Spanish specialty shops.
Calle San Juan
Parallel to Larios is this smaller more local shopping street. At the lower end, shop in the beautiful Atarazanza Market food hall. Continue north to San Juan Church. Don't miss the espadrille shop opposite the church, where you can treat yourself to a pair, made on the spot, starting from €11.
Muelle Uno
For souvenirs, colorful clothes, and that hat you forgot to pack, stroll along the pop-up and permanent shops along the pier.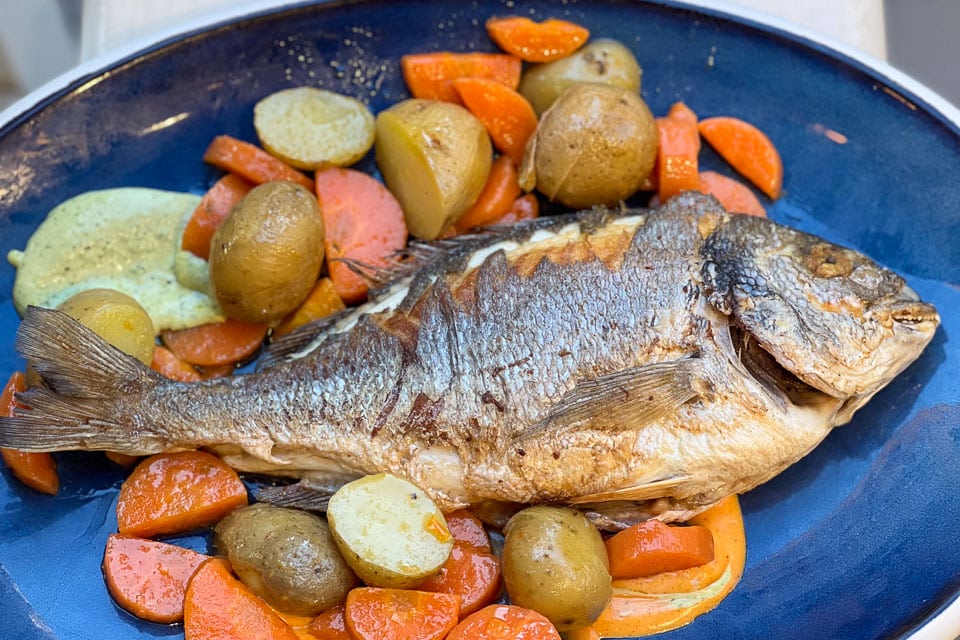 Málaga's Best Restaurants and Bars
It's hard to limit the list of Málaga's best food and drink establishments. For now, we'll tease with this small selection of what to eat in Málaga.
Atarazanas Market
A market to rival any of those in Spain's biggest cities, the historic Mercado Central de Atarazanas sells Málaga's finest olives, fish, nuts, meats, vegetables and fruit. Pull up a stool at counter, or purchase snacks for your remaining days in Málaga, or for the road or the ship!
El Pimpi
Arguably the most famous restaurant in Málaga, and a sprawling enterprise. Outdoor seating turns fairly quickly, so it's worth a wait. Or, if you're lucky, you might find space inside at the bar or near the butcher's counter. Enjoy the array of celebrity signed photos lining the walls.
Speaking of famous, El Pimpi is situated near the grand apartment of local boy Antonio Banderas, who lives here part time and is known to participate in local festivities.
Restaurante Maria
A local friend recommended this for paella, as an alternative to the rice dishes served along the beach in chiringuitos. Restaurante Maria is a wonderful family-run business where we enjoyed a unique take on paella (a thin layer of rice with a slightly crispy top) and one of the best salads we ate during our month in Spain. Good wine list, too.
Los Patios De Beatas
Los Patios de Beatas features an exceptional wine list, great chef-driven local dishes, and excellent service. All this right in the center of town.
Chiringuito Tropical
This beach-side restaurant at Playa Caleta surpassed our expectations. You can hardly go wrong eating seafood seaside, but the wine and salads here are stand-outs, too. The local specialty, by the way, is espeto, skewered sardines grilled on open fires on the beach.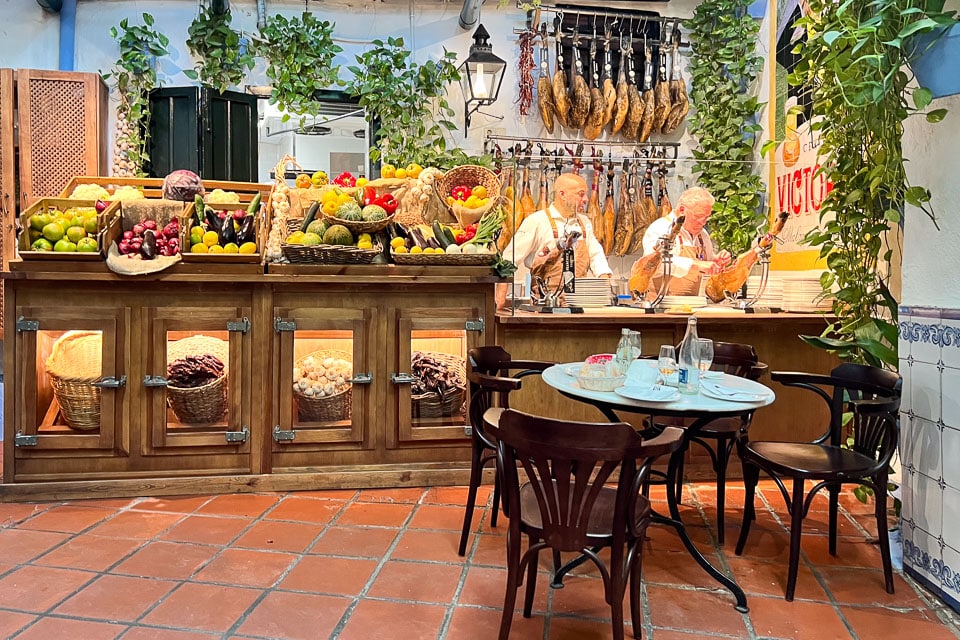 Atrezzo (Grupo Tercer Acto)
One of several restaurants in the Soho neighborhood operated by a smart local group who cater to local and international foodies. Atrezzo specializes in wood-fired pizzas and Italian fare.
Pez Lola
There are many places to choose from in the middle of the historic center that serve similar menus. We can recommend Pez Lola (C. Granada, 42) because we shared a really nice whole dorado (mahi-mahi), served with vegetables. Hint: see what looks good on the other diners' plates and order that!
Restaurante El Huesca
Even though this is just behind the Cathedral, Restaurante El Huesca seems off the beaten path and steeped in history. We enjoyed a late night snack at one of the few tables outside and could see this was a classic favorite for locals and special occasions.
La Recova
La Recova, billed as "cafe, tapas and antiques,' is simply a great spot whether you are grabbing coffee or breakfast or on the prowl for some vintage goods for yourself, your casa, or a good friend. Feels like home. Not open for dinner or late.
Oh My Crepe
Escape that hotel breakfast and enjoy the real deal here on Calle Cinteria, 9 (at San Juan) not far from the market. Sweet or savory options.
La Farola de Orellana
All we can say is there is a reason this little tapas bar at Calle Moreno Monroy 5 is elbow-to-elbow with locals meeting up for social hour, whatever time of day that might be.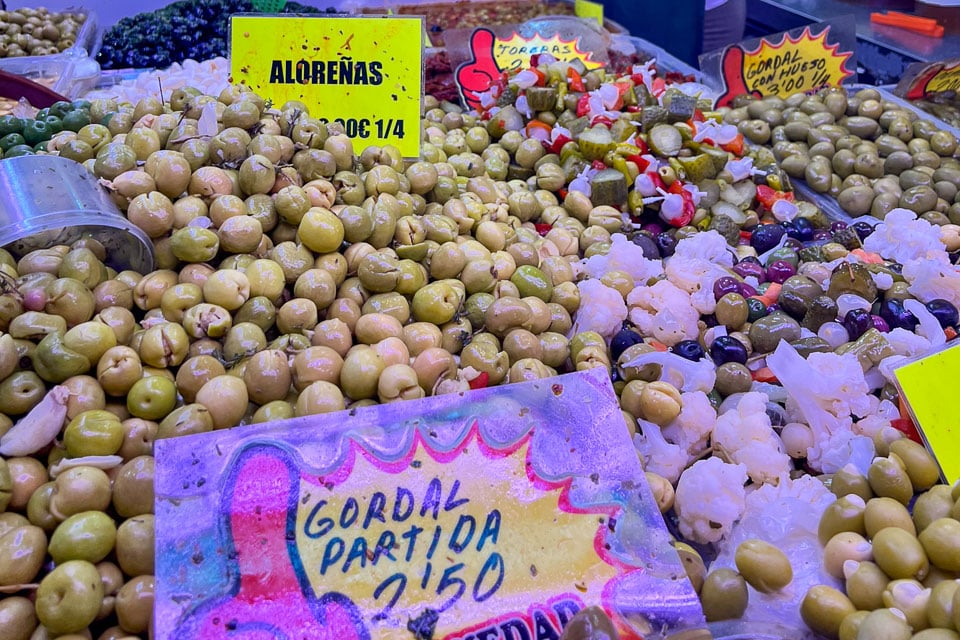 Day Trips from Málaga
Ronda
We've visited Ronda as a distinct destination, with an overnight stay (read about our car trip here). But this famous little town with spectacular bridges over the Tajo River gorge can be reached in under an hour and a half from Málaga. Tour the historic bullring, learn why this was a significant place for Ernest Hemingway, Orson Welles, and the Spanish Civil War.
Antequera
A UNESCO World Heritage Site, this small town with huge history goes back 5,000 years. Find burial mounds and dolmens, Roman baths, a Moorish castle, and gothic churches. This is a great hiking area within a rich agricultural zone.
Nerja
A picturesque little beach resort town about 45 minutes drive east of Málaga.
Malaga Festivals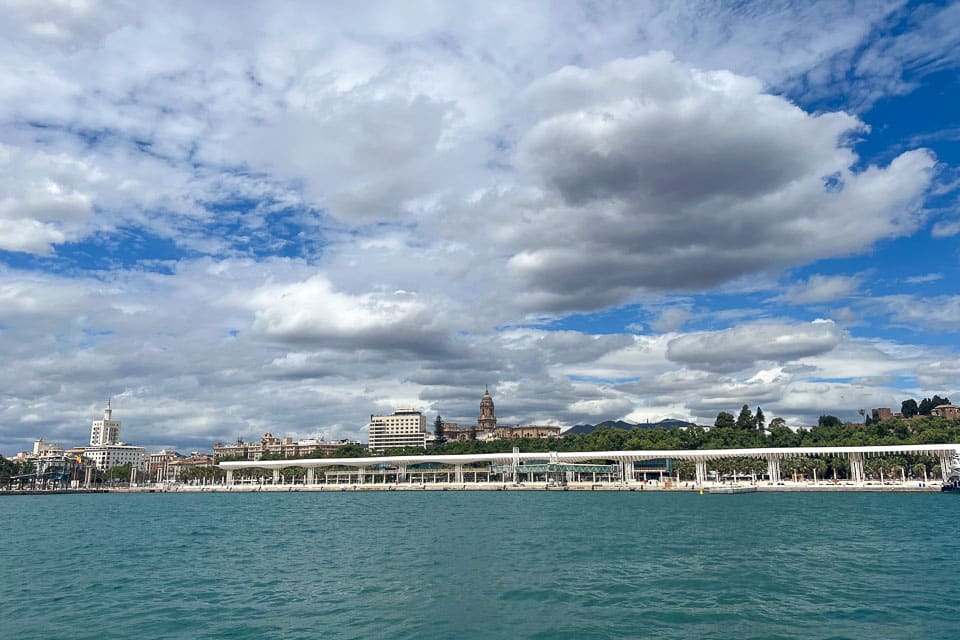 Holy Week
The Semana Santa, or the Holy Week leading up to Easter Sunday, is a big deal across Spain and primarily in Andalucía. While Sevilla is the first Spanish city that might come to mind for its Semana Santa processions, Málagueños take much pride in their celebrations and their huge tronos (the 'floats' carried by parishioners).
Málaga Film Festival
This annual festival held in March promotes Spanish and Latin American Films.
The Night of San Juan
The summer solstice celebration June 23 is also in honor of St. John the Baptist. It's marked with bonfires on the beaches, cleansing wading into the sea, personal wishes, music, and new beginnings.
Málaga Hotels
We've stayed a couple times at the AC Hotel Málaga Palacio. It's hard to beat this for its location, comfortable rooms with balconies, and great 360 views over the port and city from the rooftop bar and restaurant.
Also four-star and centrally located are the Hotel Soho Boutique Equitativa near the tourist office, and the Hotel Molina Lario on the city's main shopping street. The latter features the Matiz Restaurant with a seasonally rotating menu.
A bit more high end and literally higher up, is the Parador de Málaga Gibralfaro, part of the fine nationally-operated hotel system.
Gran Hotel Miramar provides the grandeur you might expect from a classic seaside resort. It is a bit of a walk to the city center, but just across the road from the beach.
Find the right hotel for your visit to Málaga with Booking.com or Hotels.com.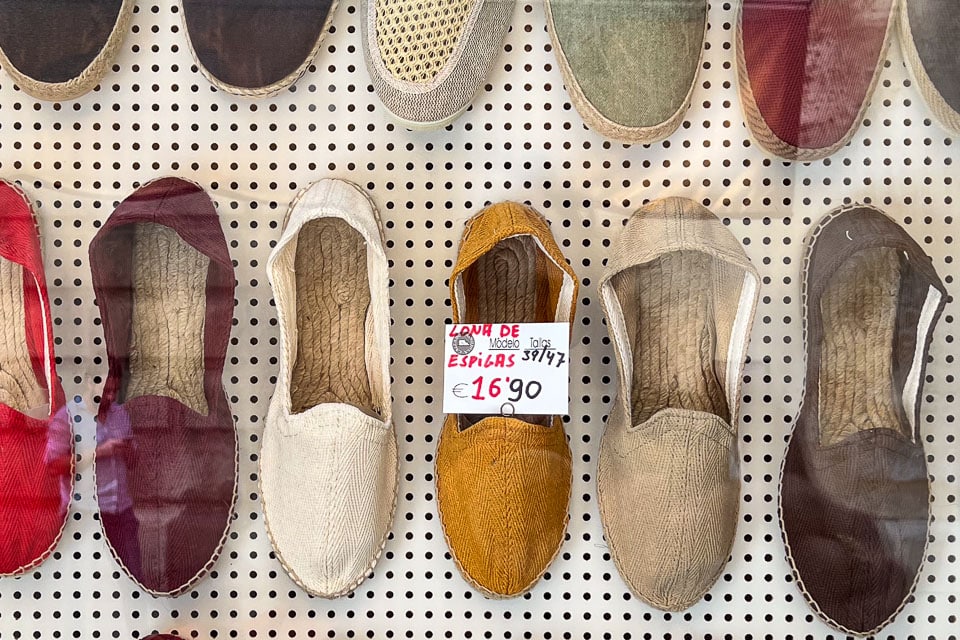 Tourist Offices
Málaga City Tourist Office, Plaza de la Marina, 11.
The main visitor center in Málaga is right near the waterfront. Start your visit here for up-to-date information on events and special offers.
For advance planning and inspiration, we also recommend the Andalucía Tourism Office. Find details on the province of Málaga as well as the entire Andalucían region, including Cádiz, Sevilla, Códoba, Granada, Jaén, Almería and Huelva. Their physical office is in Málaga's Plaza de la Constitución.
Spain National Tourism's website is really useful for preparing itineraries, pursuing special interests, or discovering the back stories of cities and sites throughout Spain. Check out their Málaga coverage here.
When you're thinking of traveling, your first stop should be our Travel Resources page, where we list all the essentials you need to make your travels easier, cheaper, safer, and more fun.
You can also help yourself get ready for your travels by reading our Get Started Planning Your Trip Now page.
We love traveling–with the right gear. We've gathered a lot of the stuff we use to make travel more pleasant and efficient all on one page. Shop our Travel Past 50 Amazon page to find our favorite gear. If you purchase something from the store, Travel Past 50, as an Amazon affiliate, may receive a small commission at no extra charge to you. Thanks.
We never leave home without our travel insurance. Nor should you. Search for the travel insurance from Allianz that best meets your needs, whether it be an annual plan or a single trip.
You can see (and buy prints) of most of our travel photos in one place on this page.
Note: This post and other posts on TravelPast50.com may contain paid or affiliate advertising links. As an Amazon Associate we earn from qualifying purchases.