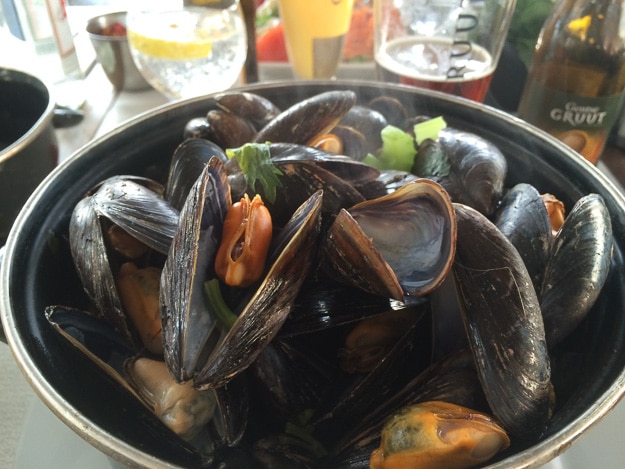 Sometimes we get caught up in sightseeing and forget to cover the basics on how we live–that is, how we eat, sleep, and navigate along the way. True happiness is finding good places to eat and sleep, and nice surprises in between. So let's back up. Here are recommendations from Belgium. More will (probably) follow from the Netherlands, Germany, Denmark, and Sweden.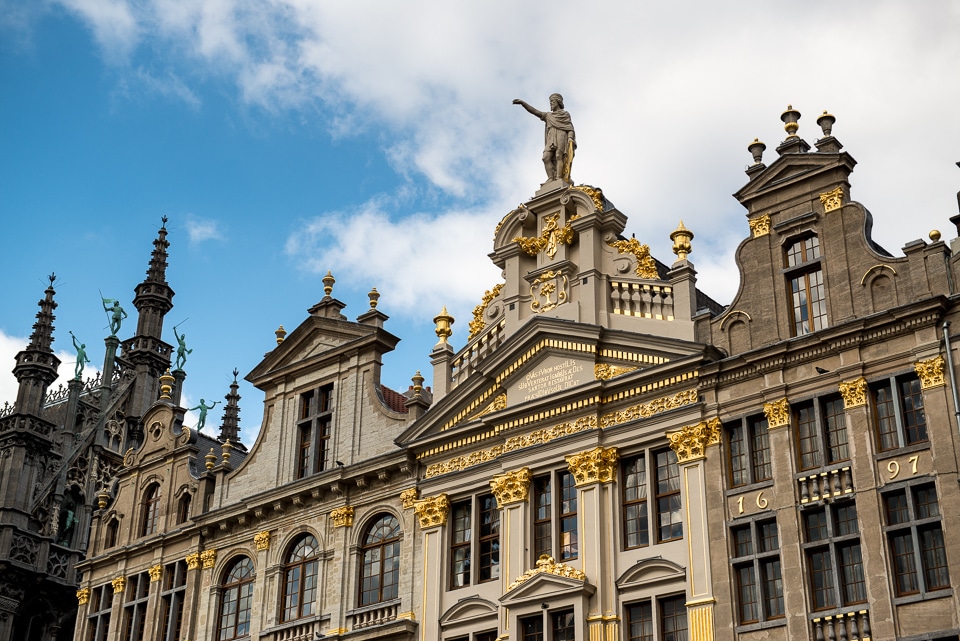 Brussels
One of the things about Northern Europe, as opposed to say, Spain and Italy, is that the main plazas of the cities revolve around civil rather than religious structures. That is certainly the case of the Grand Place in Brussels, where the square features the huge decorated buildings that were the headquarters of the various commercial guilds, along with the city hall and the "King's House." These are the facades of three of these guild halls.
Some posts on Travel Past 50 may contain affiliate links. If you buy something through one of those links, we may earn a small commission. As an Amazon associate, we earn from qualifying purchases.
The square originally served as a market place and was full of stalls where artisans and brokers traded commodities and manufactured goods. Today, there are still stalls set up on a regular basis. Since it was early spring while we were there, the square was full of flower vendors.
Our stay in Brussels at B&B Leopold II was cool because the place was owned by a young architect, Pascal Snoeck, who'd bought the 3-floor walk-up building (1905) and refurbished it, preserving the tile floors and wooden doors. Our room, decorated with a map and memorabilia from what was once the Belgian Congo, brought up conversations about the owner's family history, colonialism, and more, while we chatted in the big beautiful kitchen over breakfast. The broad Leopold II street is just outside the old town and perhaps in transition, but this B&B is an easy walk to major sites, and Pascal gave us many good recommendations.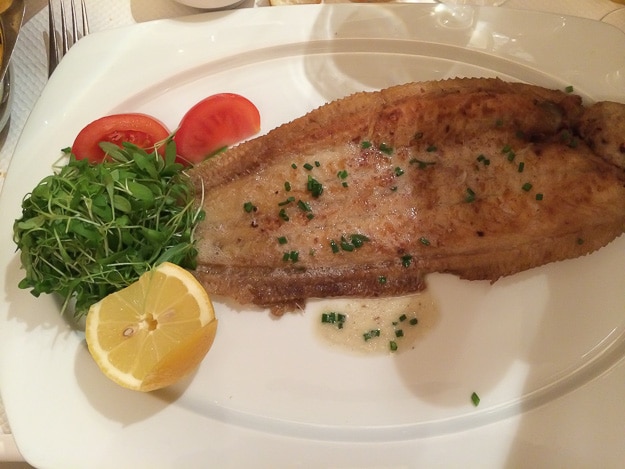 Brussels was our first stop on this journey, so between naps and museum visits we ate and loved eating. Every salad green tasted like the freshest we'd ever had. The best meal in Brussels, maybe in all of Belgium, goes to restaurant Bij den Boer, a fish restaurant recommended to us by several folks. I quickly ordered the sole, accompanied by frites (OK, French Fries) with mayo and a delicious bottle of Chablis. Top notch place. We were lucky to get a seat, and we stayed until closing.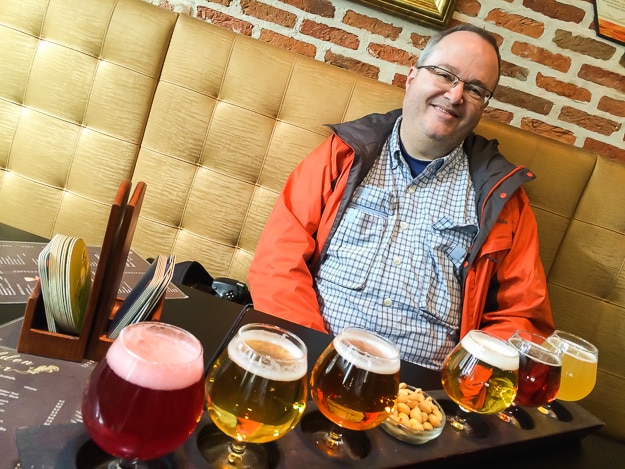 Also of note in Brussels: our first taste of beer(s). This tavern and others like it are just off the Grande Place. The beers are tasty and varied, as interesting as wine. (Even the Dutch drink Belgian beer. By the way, the farther north in Scandinavia we go, the lower the alcohol content in the beer. We're down from 7-9% in Belgium to 2-4% in Sweden.)
Other favorite spots in Brussels include the Magritte Museum (I have new respect!), the plaza pictured above, and the special WWI exhibit within the Royal Museum of Military History. This museum, in turn, is housed in one of the immense buildings constructed for the 1910 World Expo.
Restaurants worth checking out:
Le Scenario: just a normal place. That's why we liked it. Near the B&B Leopold II.
L'Ancien Bruxelles: Classic Belgian fare in the popular Le Sablon neighborhood.
Publico: Centrally located and open all day.
The Ardennes, Bastogne, and Mons
From Brussels, we rented a car and and headed to Bastogne, by way of the Ardennes Cemetery near Liége, as we'd planned. We were so kindly greeted in both places. The monument keepers at the cemetery walked us to my uncle's grave and ceremoniously rubbed sand from Omaha Beach into the engraved name on the headstone. They were also able to give me a copy of the entry concerning the crash of his bomber, details about the recovery of the body, and the disposition of his crew mates buried nearby.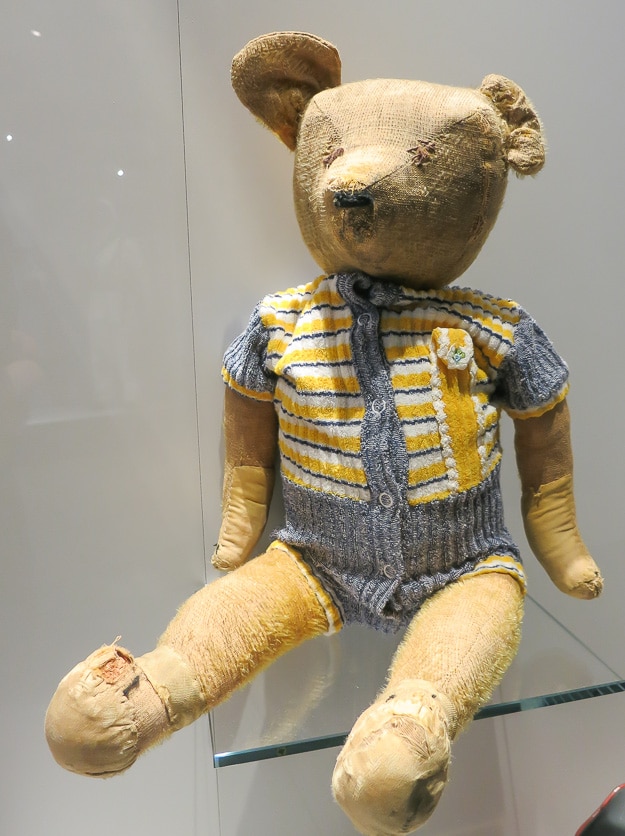 At Bastogne's newly remodeled War Museum, we were met by Mathieu Billa, who made himself available to us throughout our visit. The museum itself is a great example of the new direction history museums are taking: more interactive, and more balanced, presenting not only how nations become involved in wars,but how individual lives are affected. Mathieu also steered us to three nearby sites we enjoyed as much as the museum: The Peace Wood, The Easy Company Monument at Jack Wood, and The German Military Cemetery. We spent a couple hours at the museum, and another hour and a half walking around these monuments, getting a sense of the land. Tom's post, "The Bastards of Bastogne" recaps these sites and our experience.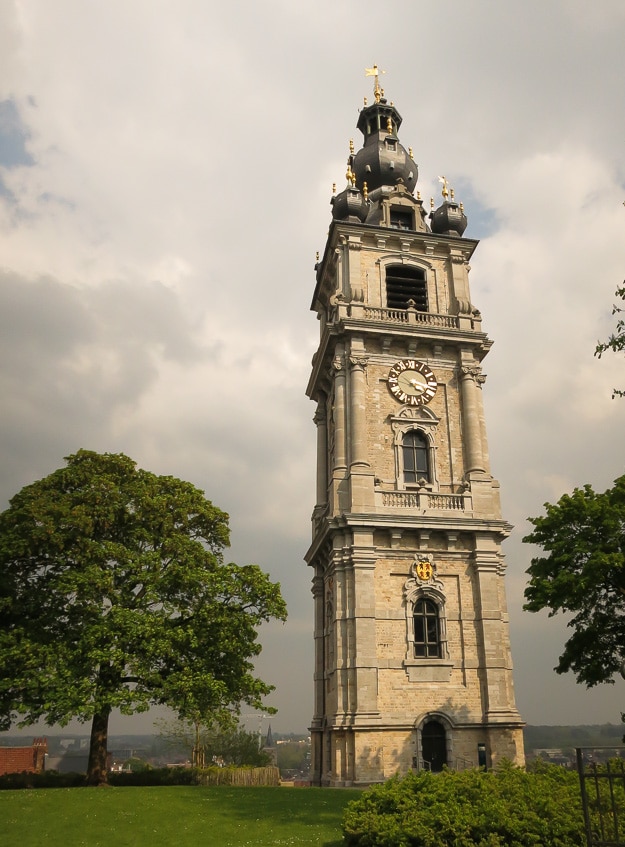 We took advantage of driving by making unplanned stops. We stumbled upon the Canal du Centre locks (Canal Lifts) between Bastogne and Mons. These World Heritage Sites are actually big tubs that were raised and lowered by filling counterweight basins with water. We stopped for lunch in Mons because if its outstanding belfry (one of several World Heritage belfries in Belgium and France) and managed to talk our way into a restaurant on the square. Petit Provence was about to close, so we were offered a limited menu. Darn that meant I had to eat lamb chops and Tom some tasty sausages.
Ypres and Flanders Field
We were headed to Ypres, a famous WWI site in the midst of Flanders Fields. Tom wrote a wonderful post about the history of this area in "Brave Little Belgium." I'll remember our B&B, Guesthouse De Wilde Wingerd, for one-eyed Alain and his wife, who was thrilled to have a new egg cooker. They were proud that the city was holding tough opposing the building of a big hotel, which would deprive the independent B&Bs of their livelihood, much like the small town battles against Target and Walmart in the U.S. In this case, the couple had invested in an addition to their house, about two kilometers outside of Ypres. Our room included a large rooftop terrace overlooking the backyard. (Future plans included tents or huts on the adjacent property for touring cyclists.)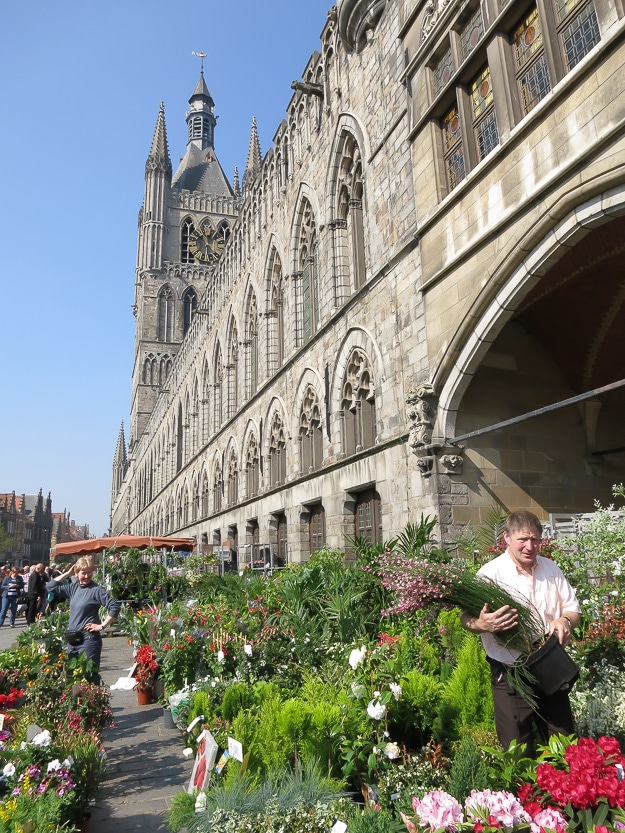 The old town was holding its first spring flower market, and offered great views from the castle tower and church belfry. We skipped the nightly ceremony in Ypres to relax in the square with a beer. Although Americans were here late in WWI, Ypres is essentially to the Brits what Normandy is to Americans. In Flanders Field Museum conveyed very well the trench warfare of the era. Both sides were so dug in that it was, in many respects, a war of inertia. We were pleased to find poetry by Wilfred Owen and Siegfried Sassoon among the exhibits. They are both notable war poets who didn't glorify the war as in the famous "In Flanders Field" poem by John McCrae. The Flanders Field Museum is holding many special events through 2014, commemorating the 100th anniversary of World War !.
Ghent
When everyone tells you to go to Ghent, go. It wasn't on our radar, but we loved it. With its university, canals, bicycles, and scenic architecture, it's a little Bruges without the hoards of tourists. We used Best Western in Ghent. (I can't remember it at all, but I can say BW is a semi-regular fall-back position for us. Consistent and reasonably priced, it's a good break after a series of B&Bs or dubious hostels.) Ghent will always stand out for us because of the Moule Frites along the canal, picturesque bridges, and for the sun break which inspired everyone to stop what they were doing and sit by the water to soak up the sun. It exudes a mellow university town vibe.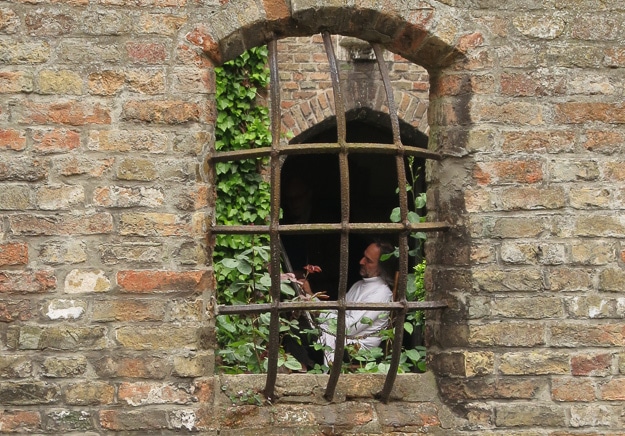 Bruges
Once in Bruges (amusingly pronounced Brew'-ghees by Siri), you're sure to see some interesting vignettes amongst the classic cityscapes. If you've seen the movie, In Bruges, it's really hard to walk around without muttering, "Fookin' Bruges!" (If you haven't seen the movie, do.) Our hotel, Hotel Portinari, near the info office and train station, happily not smack dab in the center, but an easy walk through shopping streets to the central squares.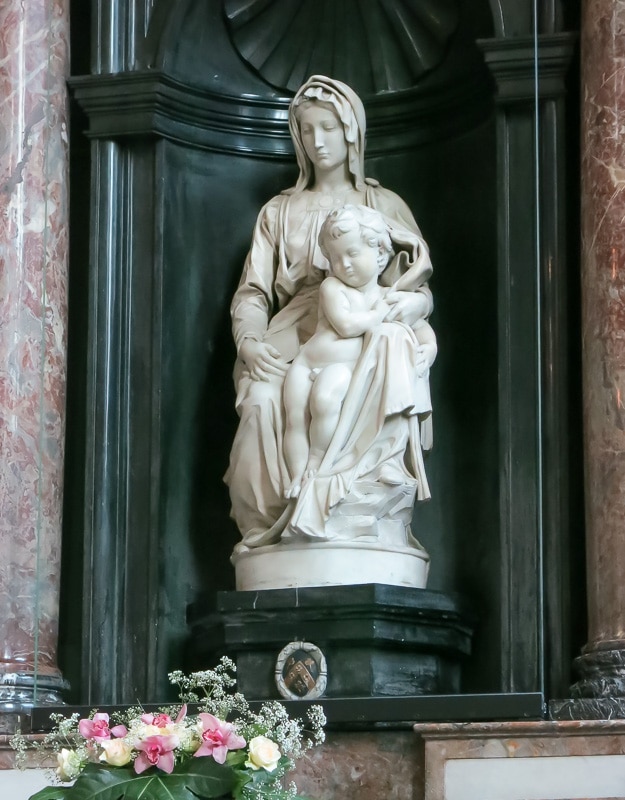 We were satisfied just walking around town. Sites that impressed us included the Church of Our Lady where (despite large sections being closed for remodeling) we were able to see Michelangelo's Mother and Child, one of the Nazi steals recovered by the Monument Men. The Hans Memling painting Martyrdom of the Holy Hippolytus is on display here, too. The St. John's Hospital Museum is fascinating, and we almost missed the impressive if not wacky Basilica of the Holy Blood. Yes, read about it at HolyBlood.com!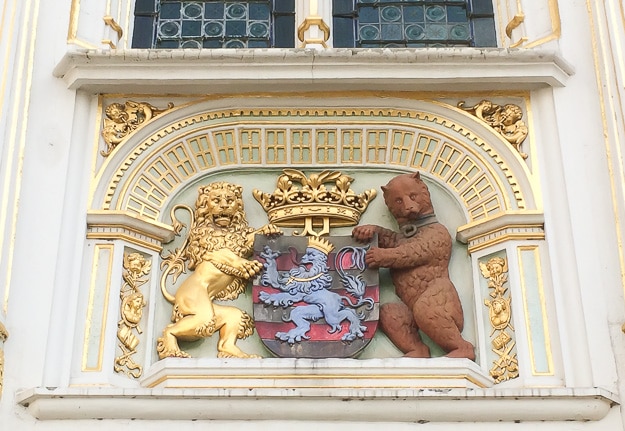 In Bruges, some of our favorite food finds to eat were:
El Rincon A peaceful place with a nice garden and excellent food.
Cambrinus My first $20 hamburger, and it was worth it. (But also a signal of prices to come in NL.)
Cafe Vlissinghe Thanks to our friend Grainne for directions to the oldest pub in Bruges, where we sat outside and relaxed.

Antwerp
Antwerp wasn't necessarily on our way to Amsterdam, but we were resolved to see the Museum Plantin-Moretus there. A friend from the printing business had mentioned it to us, and it is yet another World Heritage Site. So glad we got to see this rare museum in the home of one of the first commercial printers. The Plantin and Moretus family home also served as the store, library, foundry (for lead type), and printing and proofing shop. In addition to some of the world's first printing presses, artifacts include music books, a Gutenberg bible, atlases, science and medical books, and all manner of art prints. Oh, and portraits by family friend Peter Paul Rubens fill the living quarters. Highly recommended.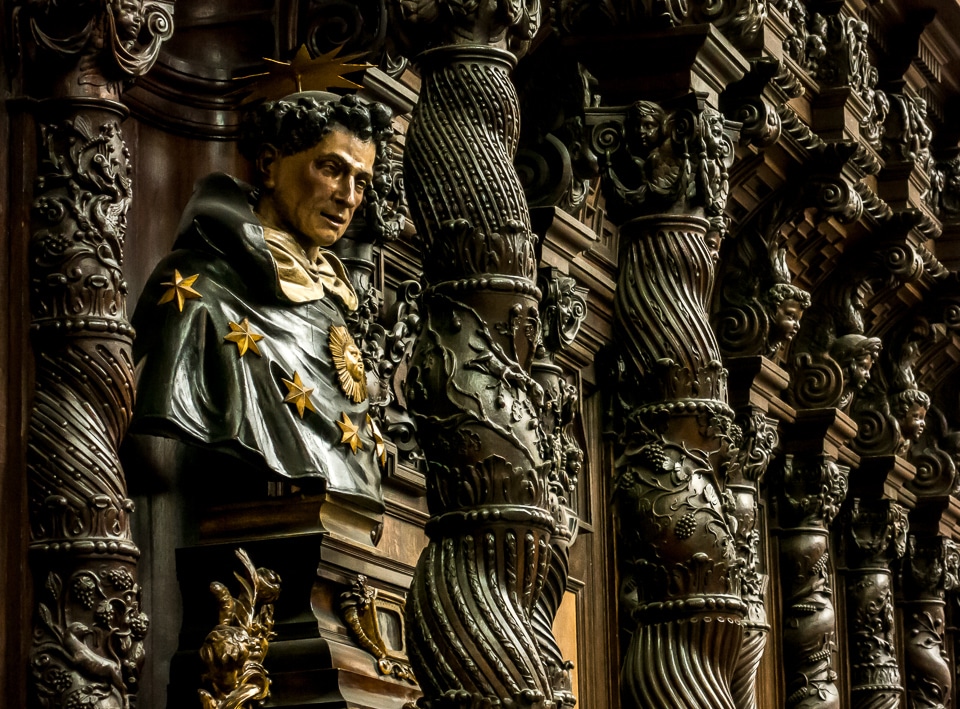 Be sure also to stop into the St. Paul's Church where you'll find an extensive collection of paintings by the Flemish masters, including Peter Paul Rubens, that line the walls. And, there are spectacular wooden carved confessionals under those paintings. And, there are fascinating reliquaries, including one of Saint Thomas Aquinas. company. All in all, quite an excellent church.
We'd go back to Belgium in a heartbeat, and could spend many more months sightseeing–and eating and sleeping–without retracing our steps.
Here is a list of UNESCO World Heritage sites in Belgium, with links to stories about ones we visited.
When you're thinking of traveling, your first stop should be our Travel Resources page, where we list all the essentials you need to make your travels easier, cheaper, safer, and more fun.
You can also help yourself get ready for your travels by reading our Get Started Planning Your Trip Now page.
We love traveling–with the right gear. We've gathered a lot of the stuff we use to make travel more pleasant and efficient all on one page. Shop our Travel Past 50 Amazon page to find our favorite gear. If you purchase something from the store, Travel Past 50, as an Amazon affiliate, may receive a small commission at no extra charge to you. Thanks.
We never leave home without our travel insurance. Nor should you. Search for the travel insurance from Allianz that best meets your needs, whether it be an annual plan or a single trip.
You can see (and buy prints) of most of our travel photos in one place on this page.
Note: This post and other posts on TravelPast50.com may contain paid or affiliate advertising links. As an Amazon Associate we earn from qualifying purchases.
Travel Planning Resources
Looking to book your next trip? Use these resources that are tried and tested by us. Flights: Start finding the very best flight deals by subscribing to
Thrifty Traveler
. Book your Hotel: Find the best prices on hotels with
Booking.com
. Find Apartment Rentals: Find the cheapest prices on apartment rentals with
VRBO
. Travel Insurance: Don't leave home without it. We recommend
Allianz Travel Insurance
. Need more help planning your trip? Make sure to check out our
Resources Page
where we highlight all the great travel companies and products that we trust. See all of the gear and books we like in one place on our
Amazon shop
.