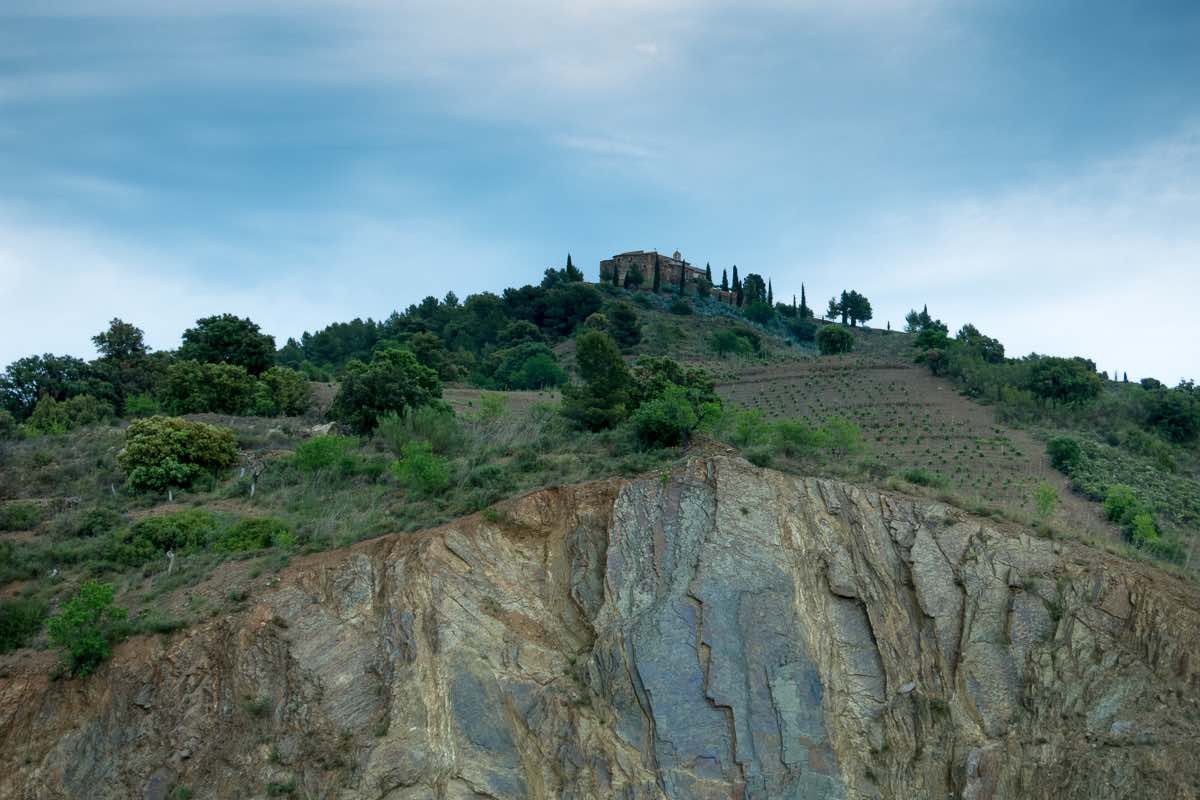 It's comparatively unknown outside of Spain, but the wine region of Priorat is among Spain's oldest producers. Over the past fifteen years, since Priorat was designated a denomination of quality origin (DOQ), Priorat has imported advice, improved quality, and wrapped its head around wine culture and gastronomic tourism. Now, as Spain's only DOQ outside of Rioja, wine tourism in Priorat is beginning to bloom.
During my first visit to Priorat, I realized I have no basis for writing about wine, (other than that I drink wine regularly and write almost as often.) I've tasted wine in Napa and Sonoma valleys in California, in Chile's central valley, and in the Rioja region of Spain. But this visit to Priorat in May 2015 was a turning point–the first time I could taste such an immediate connection between the wine and the ground it comes from.
The Priorat region is located in Tarragona, southwest of Barcelona in the southern area of Catalunya. Elevation ranges from 100 to 700 meters, and the steep mountains are often sheer rock, peppered with pines from time to time. Surrounding Priorat, like a donut around the hole, is the Montsant wine region. The area is fed by the Siurana and Montsant rivers, which fall quickly to join the Ebro River that flows into the Mediterranean near Tarragona, just an hour's drive away. Together, Priorat, Montsant and Siurana are applying for UNESCO World Heritage designation as a unique and ancient wine growing region.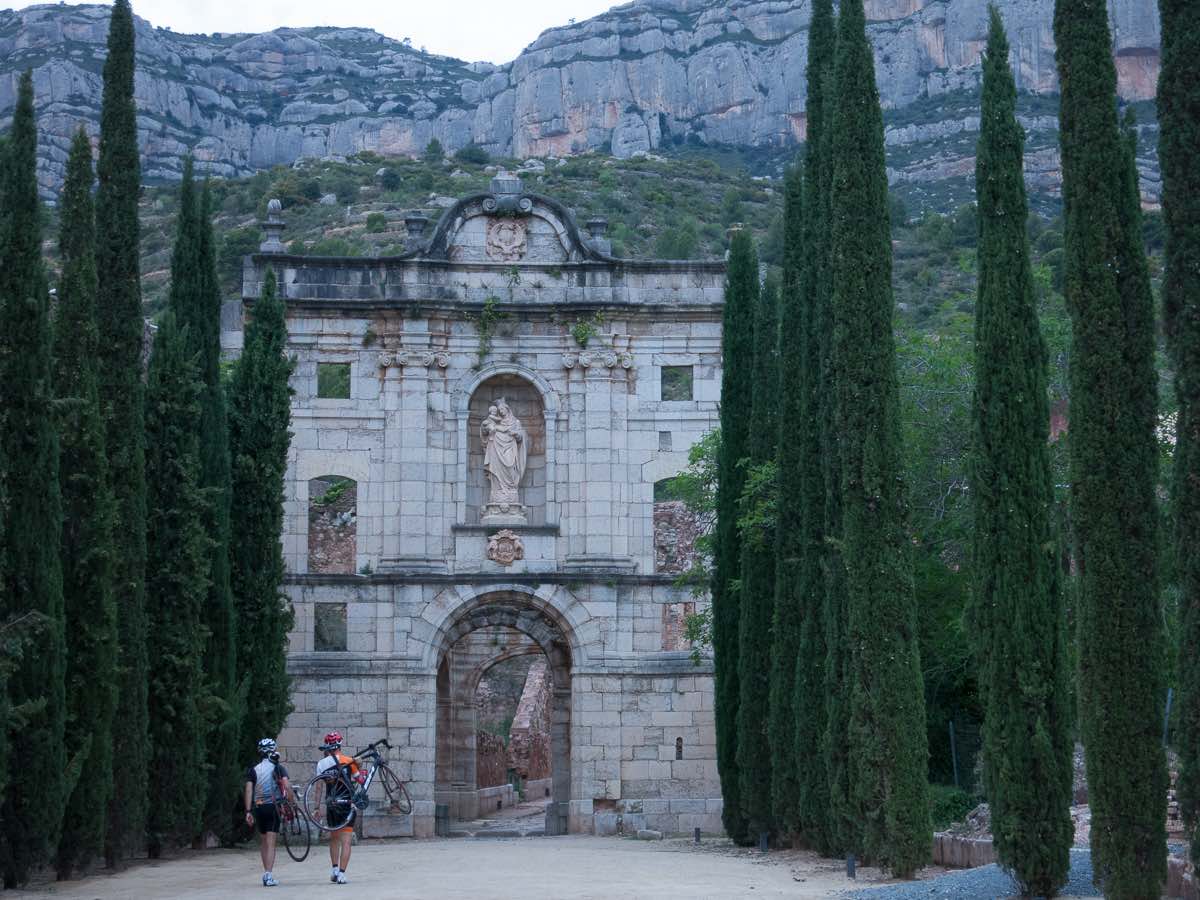 Historically, monks were the wine producers here. Priorat gets its name from the Carthusian monks who were the earliest vintners, cultivating from the 12th Century. Their production was centered on the powerful priory, Scala Dei, meaning stairs to God, so named because of the layered rock formations giving the perception of a stairway toward heaven.
The slate rock soil provides the essence of Priorat wines. The vines grow from dark, densely-layered slate that shows strips of mineral reds and yellows and a glittery quartz. The rocky land gets plenty hot under the sun, and very cool at night as the chilled air whips around the mountains. When you walk the steep vineyards, you wonder how any plant can grow out of stone, or how it can survive with lack of moisture. But on the contrary, the roots dig deep making plants sturdy in high winds, and the slate layers do retain some moisture.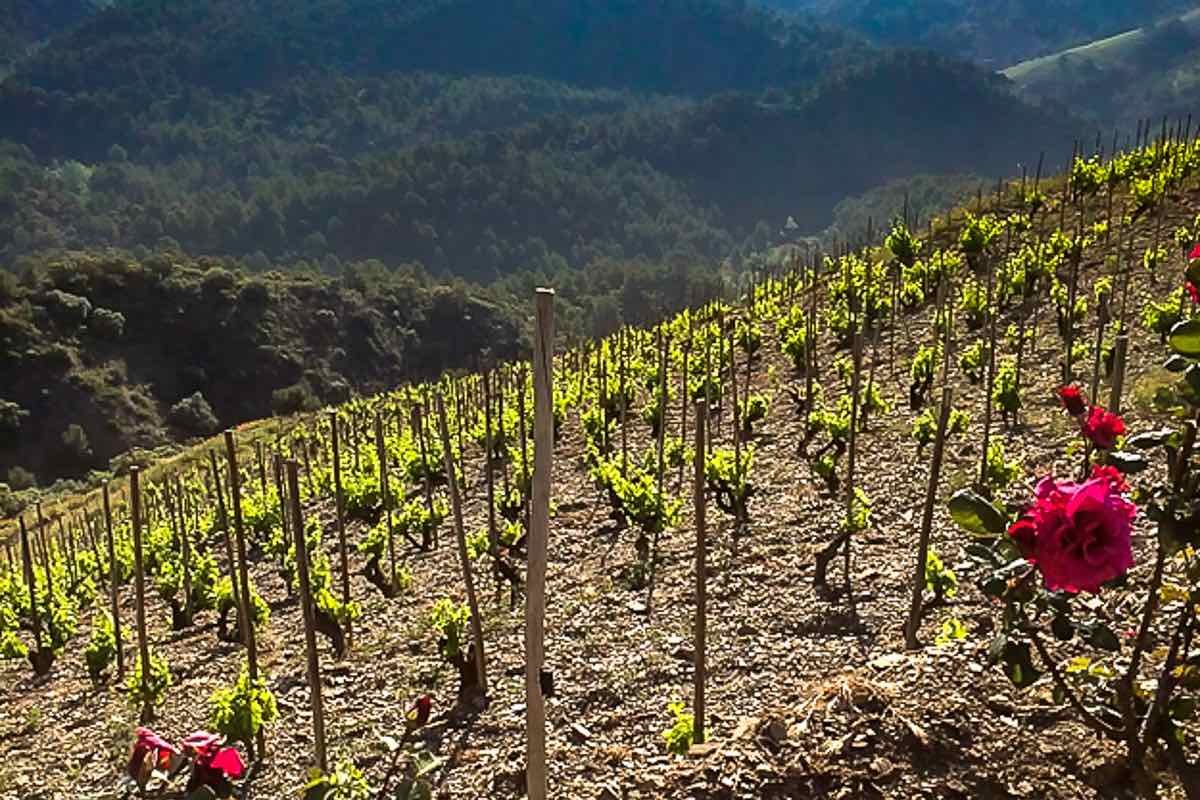 Specific to this area are grenache grapes (both white and red) and carignan (cariñena) grapes, though others have been introduced in the past twenty-five years. Where once the habit was to combine grapes, the tendency now is to create wine from just one source or from a couple grapes in combination.
Priorat wines can be hearty with alcohol, and the robust grapes need to be restrained in the process. Vintners tell you the challenge is holding it back. The quality comes from hand picking, from selectivity (sometimes producing less than a kilo of grapes per vine). And as in every other quality region, the superior wines are a result of healthy grapes, good weather, a tastemaker's combination of grape varieties (or no combination at all), and the magic of timing in and out of oak barrels.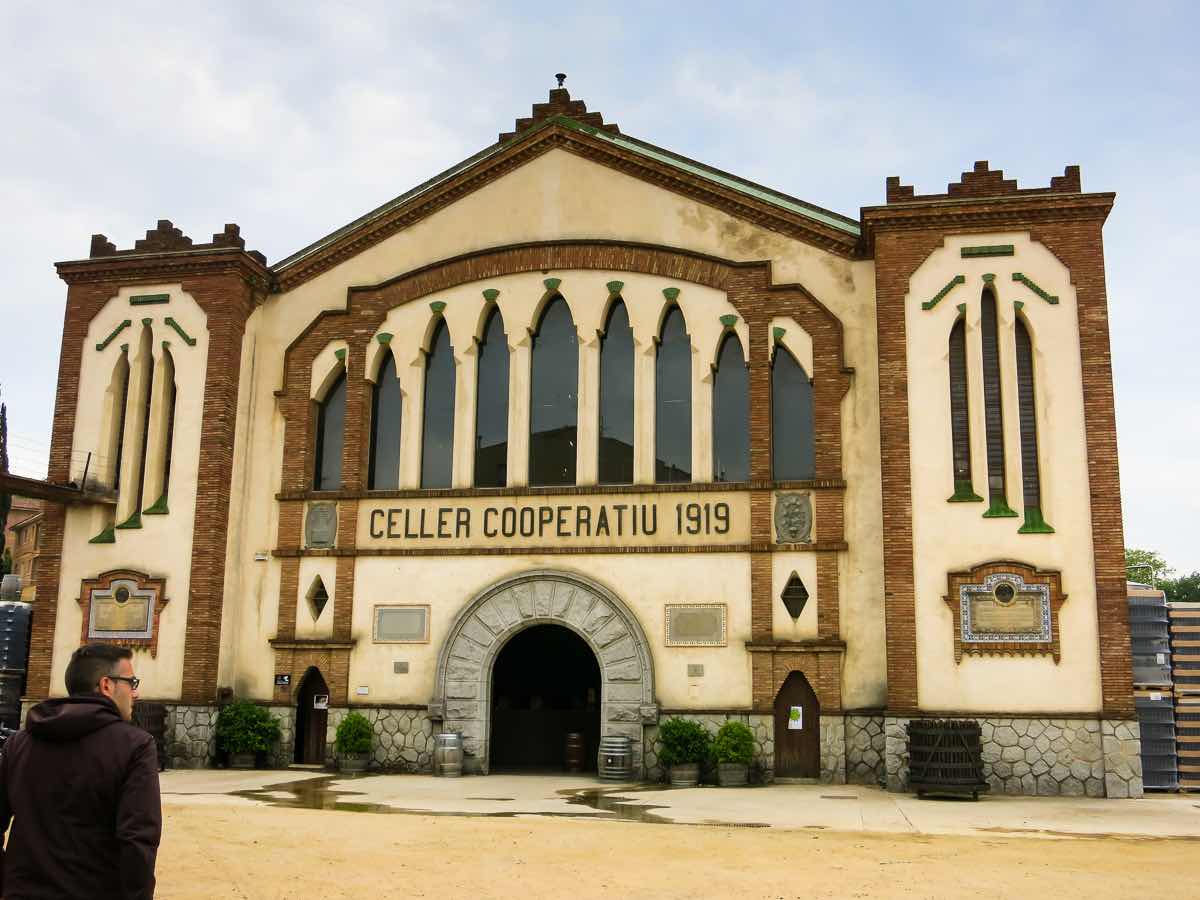 I'll admit I'm influenced by the tours and by being right there where the land produces grapes and the grapes are turned to wine. Here's what I tasted:
Falset Cooperative
In the town of Falset, the Cooperative handles grapes from about 390 farmers. It's housed in one of the region's Wine Cathedrals, so called because of their Catalan Modernist architecture using parabolic arches (similar to those in Gaudi's Sagrada Familia). This is a great place for an introduction to the area.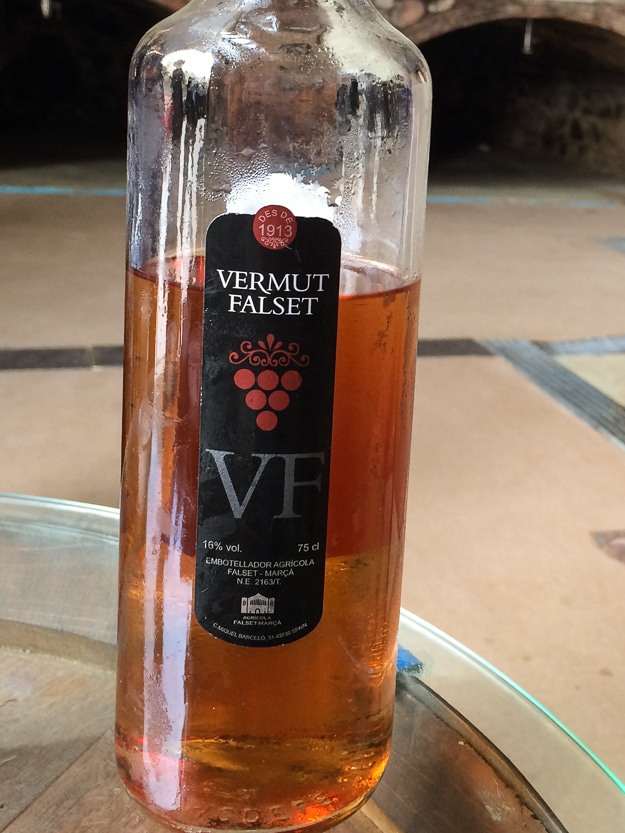 Vermut Falset
A sophisticated infusion of over one hundred herbs in a well-rested wine. I maintain Vermut is to Catalunya what Sangria is to Andalusia.
Lo Foc del Castell
A good introduction to the 'black' grenache. With 14% alcohol it's easy to discover flavors of the ground's minerals and the pine and nut trees that share the territory.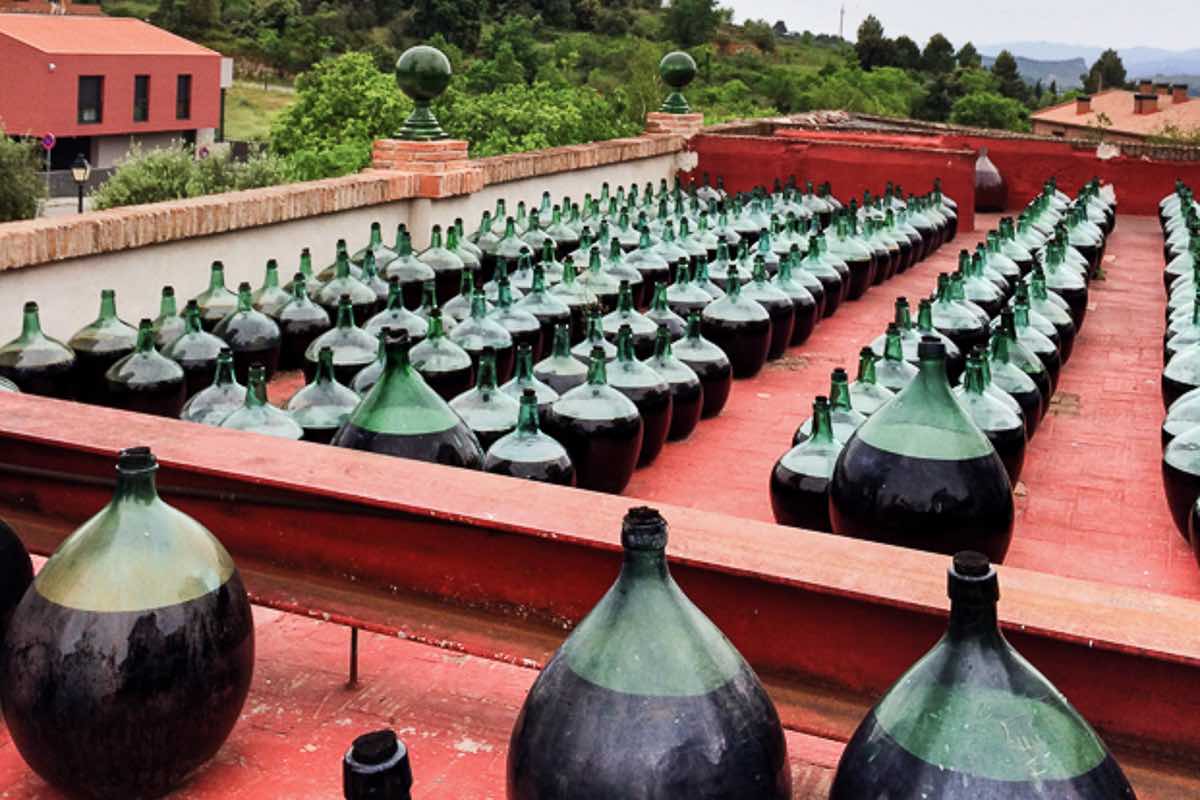 Verdama Tardana and Vino Rancio
The first is late harvest dessert wine; the latter uses the sweetest grenache and carignan grapes but the wine is held outside in the sun, giving it both earthly and sunny sky tones.
Hotel Hostal Sport wine tasting
The tasting in this family run hotel was presented by wine consultants YaLeLlamaremos, who also produce their own label, Comunica. These guys are representative of the new Priorat, made up of enthusiastic young winemakers and passionate business investors. It's worth noting that fifteen years ago there were eighteen vineyards in the area. Today there are more than ninety. We sampled: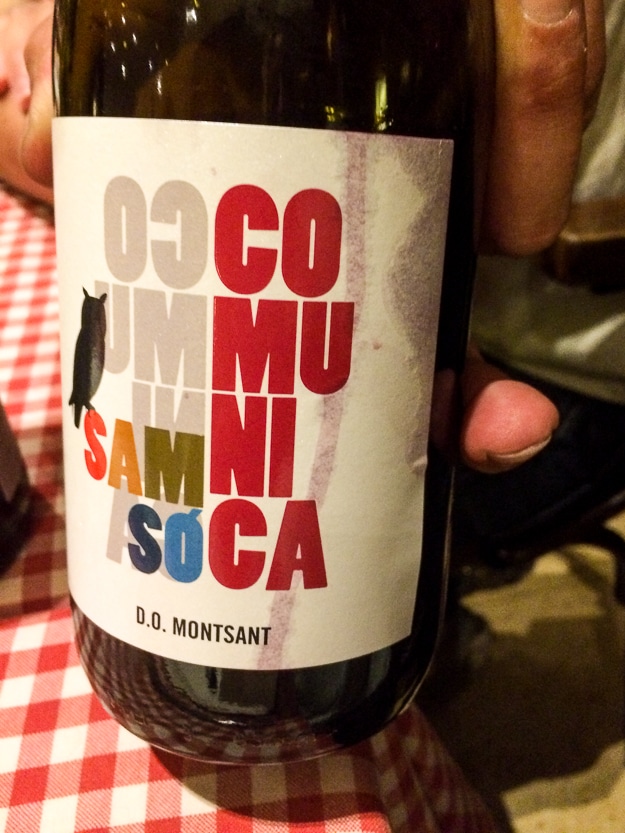 Riu Blanc (white grenache and macabeu grapes) with a fresh, clean match for the chalkier layers of of copper slate.
Riu A blend syrah, grenache and carignan, this red allows the deep fruits to come forward with the slate, limestone, and oak.
Comunica Samsó was a favorite. 100% carignan, from the limestone areas of Montsant; a dark and wild full flavor, with the scent of figs.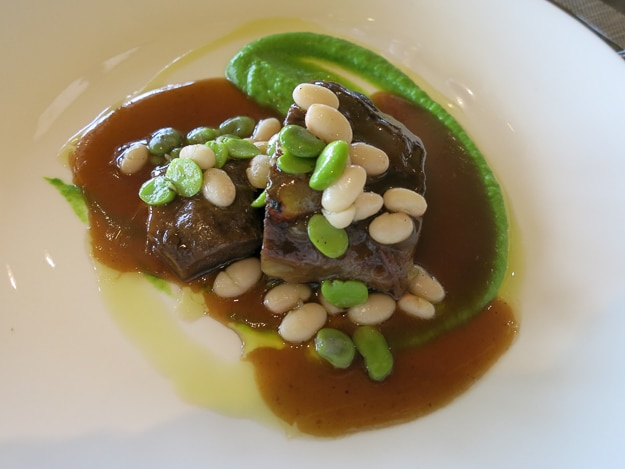 Buil i Gine
Thanks to arrangements through the TBEX travel bloggers conference, I was a guest at Buil i Gine twice. The winery is blessed with the restaurant Els Amics, serving the world class cooking of Marc Pi. So there's that, an experience I won't soon forget. We also stayed in one of the Buil i Gine guestrooms for three nights. The estate offers a gorgeous vantage point over Gratallops, one of the original Priorat 'clos' villages, and across the steep valleys and hills. The winner in the wine tasting in the Buil & Giné cellars was the 2010 Joan Giné Negre, a grenache, carignan, and cabernet sauvignon blend that melded blackberry and prune flavors with the balanced minerals and oak.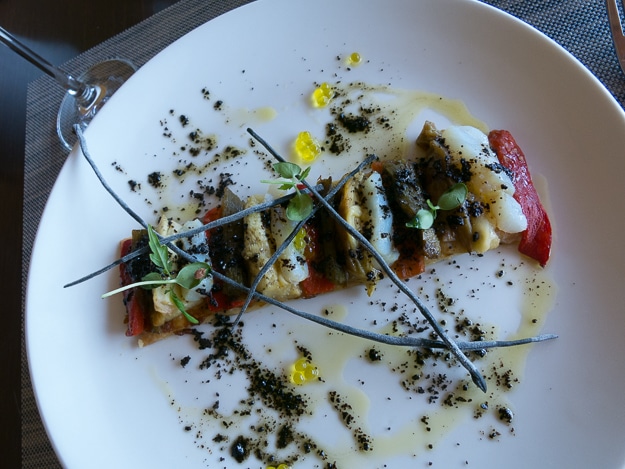 At Amics we enjoyed grenache whites and local reds based on our hosts' recommendations. Marc's wife and partner Rosemary Lima recommended bottles from nearby Clos Mogador and Clos Mas Martinet. Through them we also discovered excellent olive oil produced nearby–and participated in an olive oil tasting by Priorat Natur.
The area around Buil i Gine is covered with well-marked hiking trails for close-up looks at the rocks and longer views of the terrain. It's a good base for Priorat and Montsant discovery, and will surely persuade you to consider staying forever.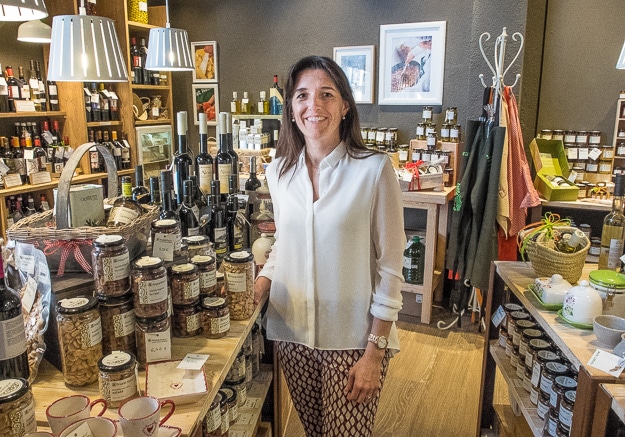 Castell Riudabella
Near Montsant, in DO ConcaBarbera, we met two generations of the Gil family (Jose Pedro Gil Moreno de Mora) that has resided in the Castle Riudabella since 1841. (The fortress was originally built to protect the monastery and support its agricultural production. After the state kicked the monks out in the early 19th Century, this parcel and many others like it were sold off to private parties.) The site is divided by an ancient rift, dividing the 200 hectares into slate soil to one side and limestone to the other.
Peter of the younger generation offered some of the first wines of his new business, Castell Riudabella. His parents, Pedro and Martina, served a wonderful meal of lamb prepared in the original wood-burning fireplace of the estate. They enjoyed introducing us to the property and its historic residents, visitors, and memorabilia. We enjoyed soaking up scene.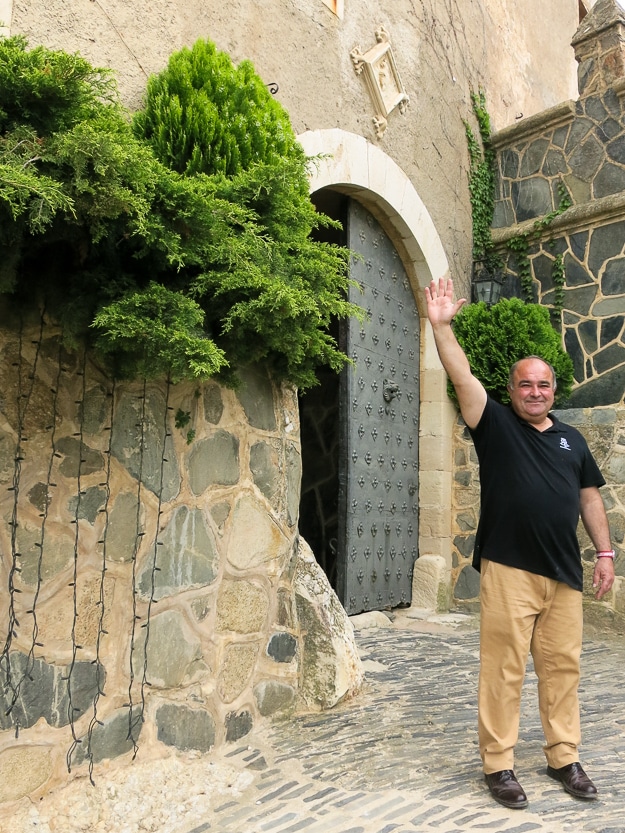 2014 Chardonnay – 100% chard with a only a quick stay in oak barrels so as not to overpower the full flavor. Lovely.
2012 Red 70% grenache and 30% carignan – A fine example of the influence of the slate earth and fairly extreme conditions of the area. This one will be awesome in another five years or so.
Muscat – I swooned over Pedro's homemade muscat, which to me tasted immediately like sunshine and the hot clay soil of Spain's high plains.
So how does Priorat wine taste? It tastes like the place it comes from, like the beautiful landscapes, and the rocky ground. Visit Priorat to check it out for yourself.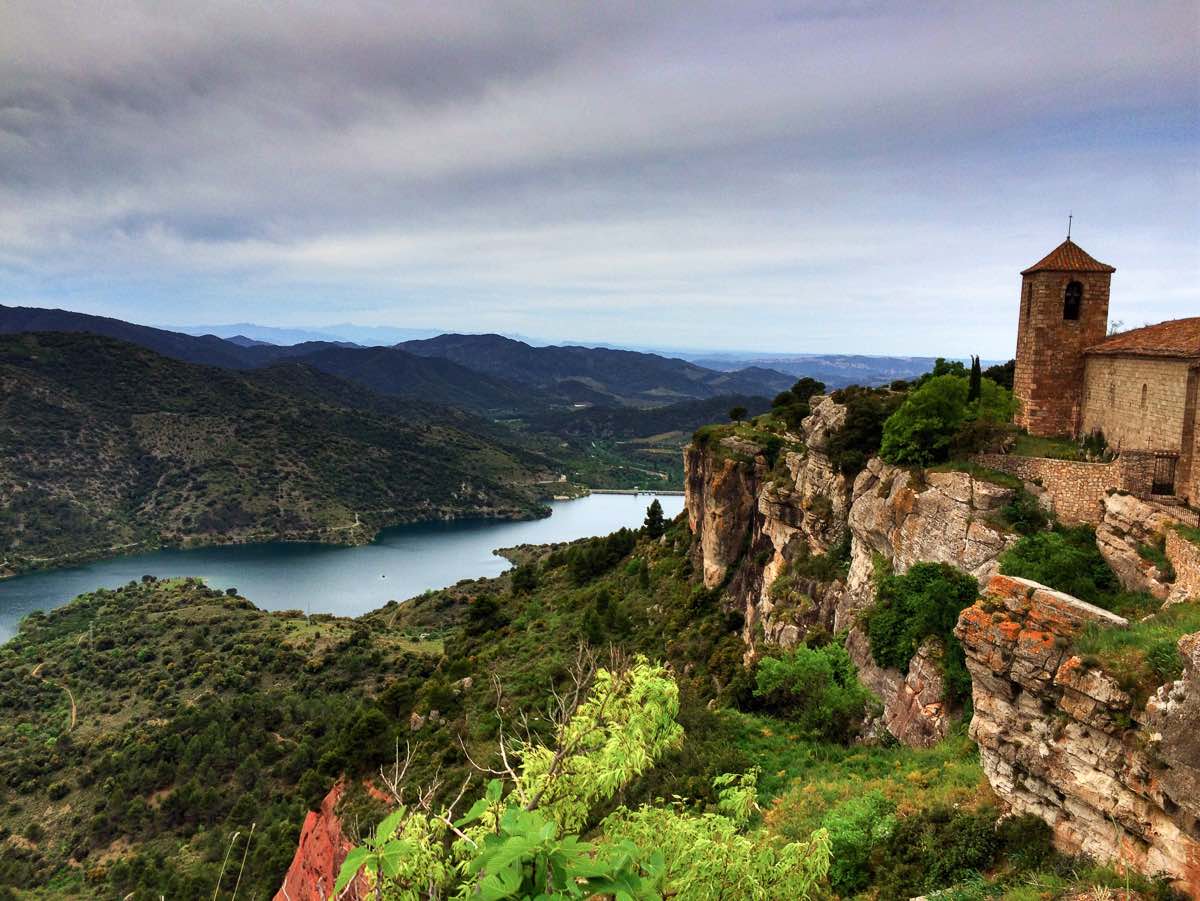 If you are interested in unusual wines like we are, you can read about other wine tours we've taken in Argentina, the Alsace region of France, and the central valley of Chile.
You can help yourself get ready for your own travels by reading our Get Started Planning Your Trip Now page.
We love traveling–with the right gear. We've gathered a lot of the stuff we use to make travel more pleasant and efficient all on one page. Shop our Travel Past 50 Amazon page to find our favorite gear. If you purchase something from the store, Travel Past 50, as an Amazon affiliate, may receive a small commission at no extra charge to you. Thanks.
We never leave home without our travel insurance. Nor should you. Search for the travel insurance from Allianz that best meets your needs, whether it be an annual plan or a single trip.
Note: This post and other posts on TravelPast50.com may contain paid or affiliate advertising links.