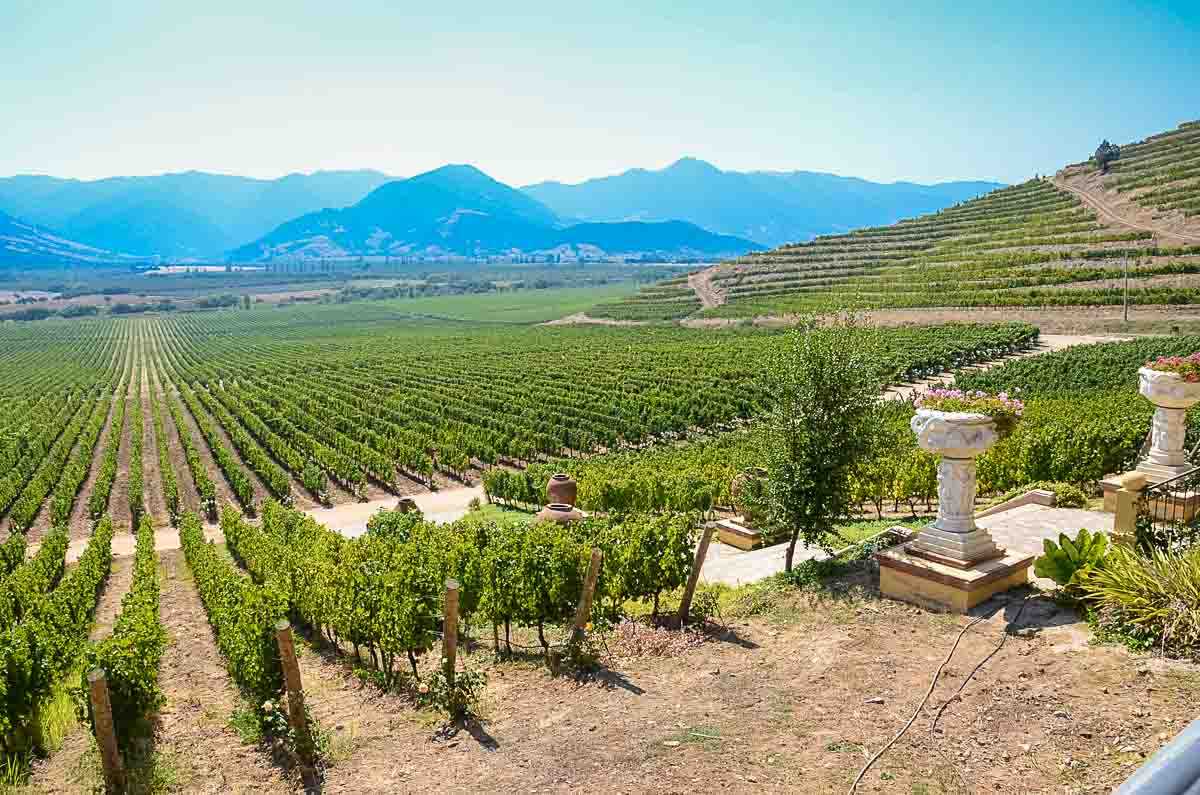 For some reason, after coming to the Chilean wine country near Santa Cruz, I sat around and drank Stoli for two days before moving on to the real reason for coming here. Maybe it was because we'd done our share for the Chilean wine economy while we were in Santiago and Concón the previous three weeks, or maybe I was just being lazy.
So finally we walked out a kilometer into the country from where we are staying in Santa Cruz to the Laura Hartwig vineyard to take the tour, but mostly to, of course, try the wines.
We walked up to the beautifully shaded main building, past the tennis court, past the polo field and the corral which housed the polo ponies, and past the long rows of vines. We were greeted by a lovely young woman named Karina who gives tours in both English and Spanish, but was relieved that we spoke Spanish, because, although her English is excellent, she was, a little bit shy about it.
Some posts on Travel Past 50 may contain affiliate links. If you buy something through one of those links, we may earn a small commission. As an Amazon associate, we earn from qualifying purchases.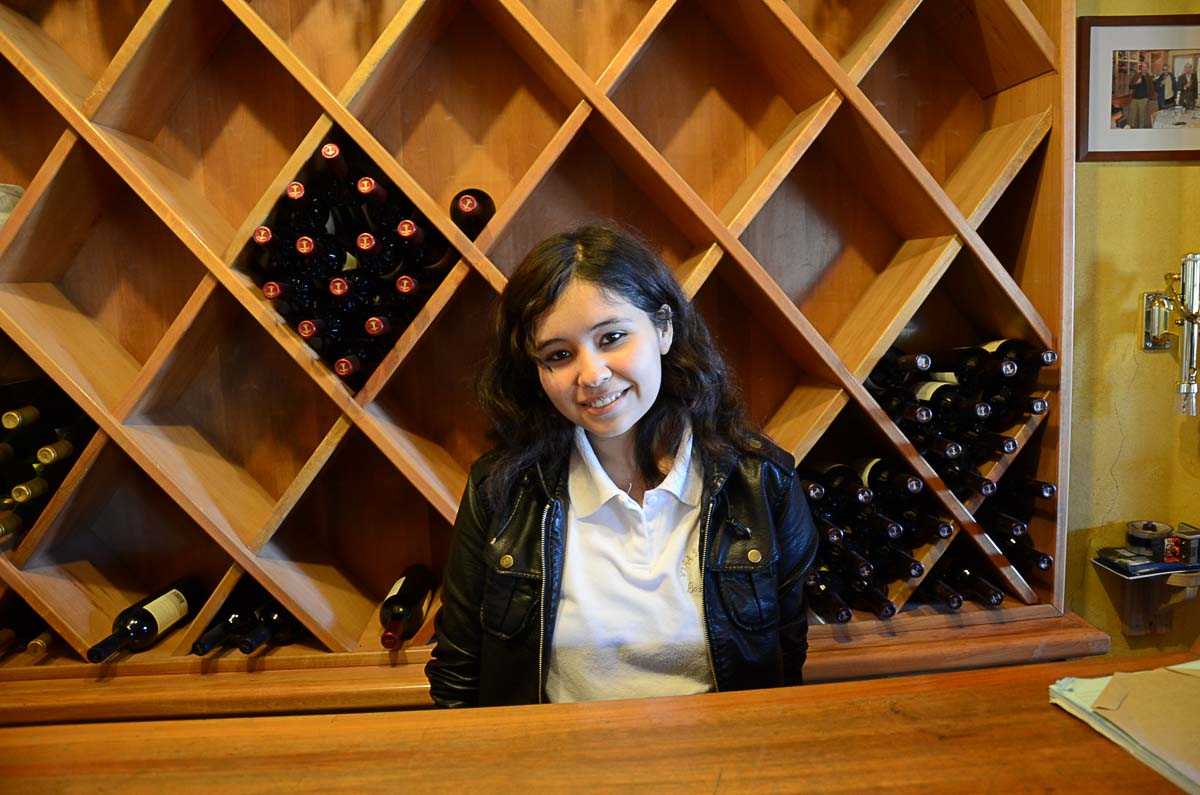 The tour itself was short, and encompassed the big stainless vats where the wine process starts, and the Zamboni-sized machine that crushes the grapes, but only after a squadron of women have picked through them and removed the lesser grapes, stems, etc. Then there are the other ladies who apply the foil and labels to the bottles by hand. No machine work here, except for the little thing that pressure seals the foil over the cork. And we saw the barrel room–full of French oak and wine smell.
The Chardonnay is aged in barrels for six months, we learned, and the Gran Reserva mixture of Cabernet Sauvignon, Syrah, Carménère, and Petit Verdot holes up for up to 24 months.
Now you know everything I know about Chilean wine making.
Of course, all that touring, which took about 10 minutes, will work up a thirst, so we went back to the tasting room where Karina started us out with the Reserva Chardonnay. Now Chile is usually known for its Sauvignon Blanc, the white wine which seems to do best in this climate, but there are some Chardonnays, too, although they are not too prevalent here in the Colchagua Valley. They're grown mostly higher up, we were told, where the climate is better suited for that grape. But this Chardonnay was very nice.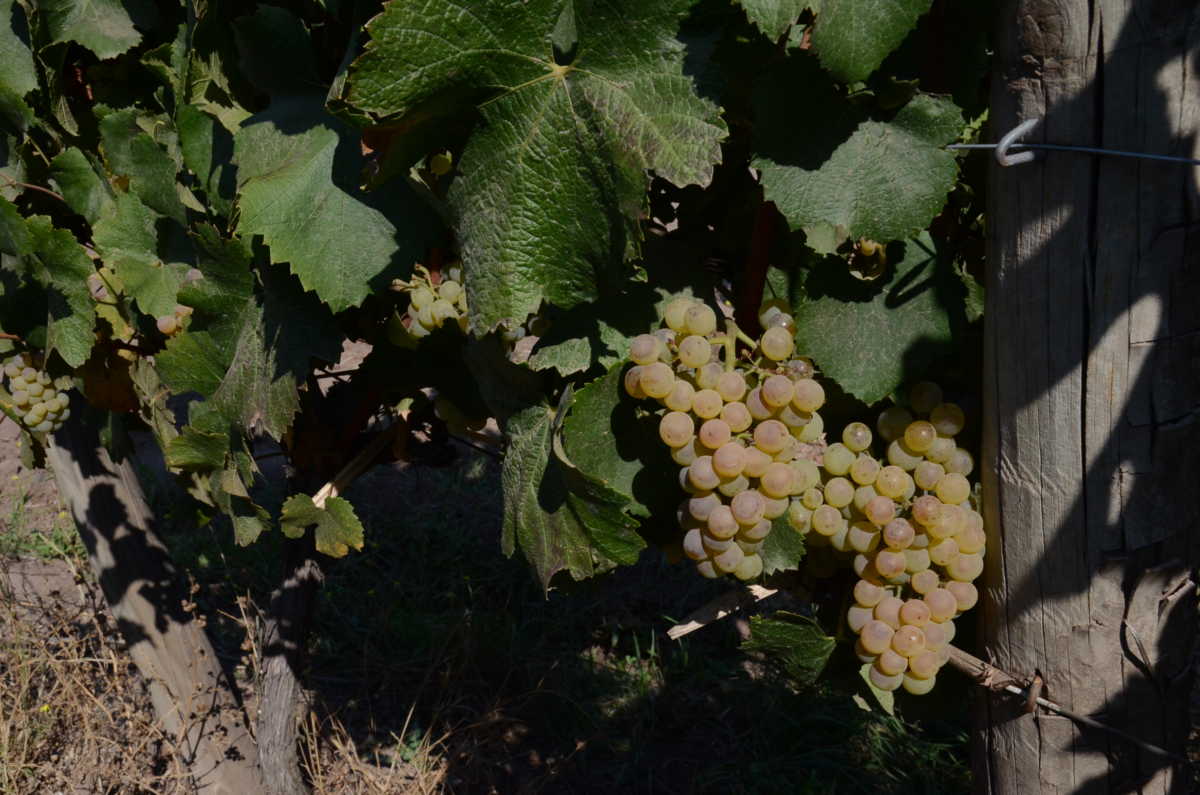 We learned that the reason that Laura Hartwig even makes Chardonnay is that Laura herself told her winemaker husband long ago that she would only agree to move back to Chile from Canada if he agreed to make Chardonnay, because that was her favorite wine. So, they do, and they do it well. It's not too thick like so many Chardonnays. It's light and fruity and even a little tart. (Too bad they don't export it to the United States or you could try it for yourself. It seems the Chinese, Russians and Canadians buy up all of Laura Hartwig's production of both reds and whites…so much that they're hard to find in Chile, too, unless you go to the winery or some local shops and restaurants.)
We moved on from the Chardonnay to a very nice Merlot and Petit Verdot blend. I'm not a Merlot fan, but the Petit Verdot made it way better than I would have expected. I'd never heard of Petit Verdot before. Evidently wines are not made from it exclusively, but it's used mostly in blends…at least here. It seems to work, because I usually find Merlot rather dry and thin and this blend overcame those shortcomings nicely.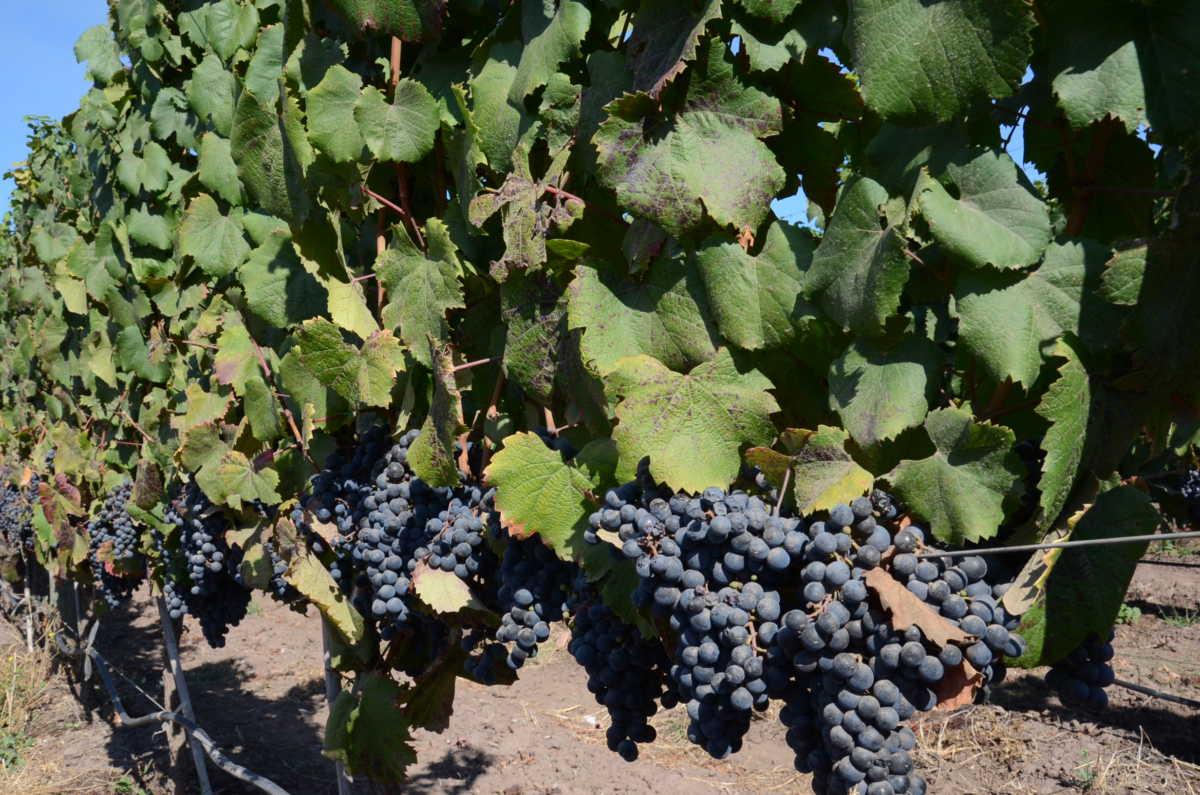 (The other grape I'd never heard of before is Carménère.  It's a grape that's all but died off in France, but is common here. I'd never heard of it before coming to Chile, but I'm damn glad to have met it now. It blends nicely, but also stands on its own very well. We didn't drink any of Laura's Carménère varietal, but we've had a few bottles from other vineyards with some nice red meat dinners here. If you find it in your local shop, try it. You'll thank me.)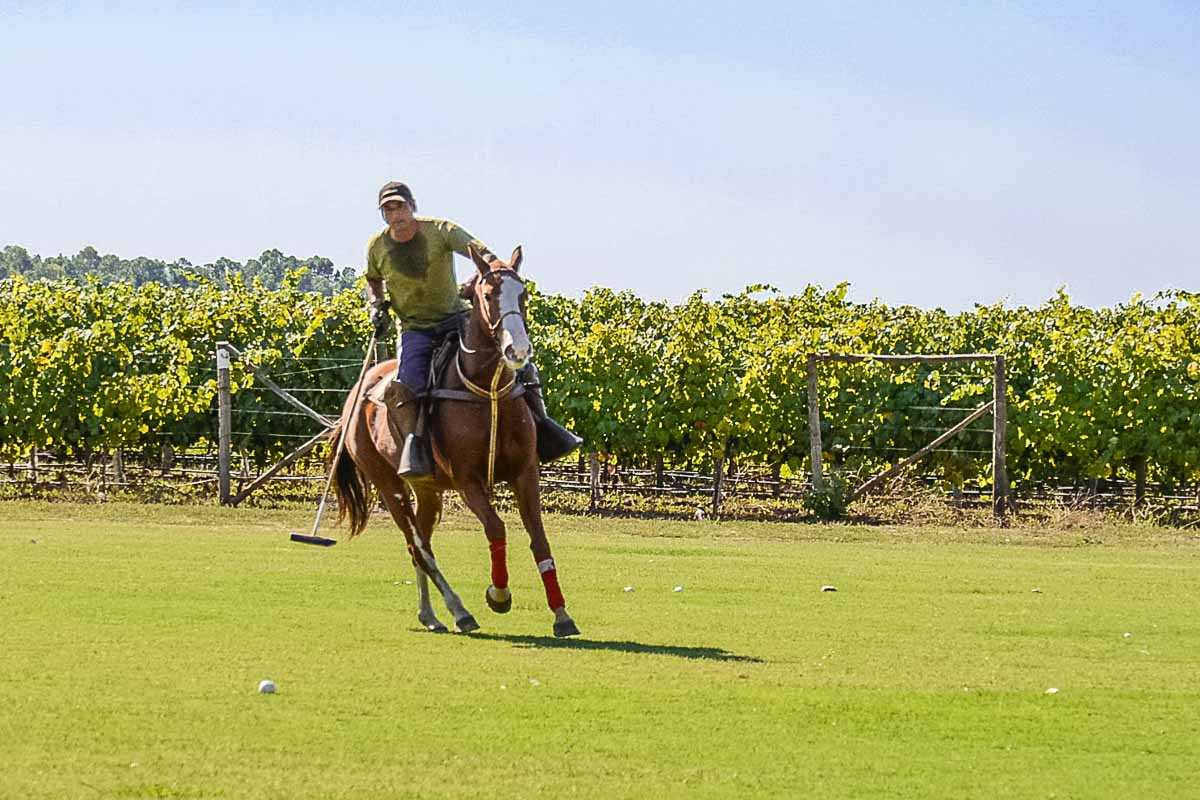 Then after the merlot blend and a little cajoling, and shelling out an extra 2000 pesos (about $4.50) each, we got to the Gran Reserva. The 2007 version, which, at the time, was the latest to make it out of the barrels and into the bottles, won a couple of gold medals recently at the big national Chilean wine competition.
Well deserved medals, I'd say, especially when it retails at the winery for only 13,000 pesos ($29) per bottle. If you ask me, it's one of the best arguments for blending of grapes I've ever tasted.
Most Americans are a somewhat reluctant to pay that much for a bottle of wine, but if the Chinese and Russians don't buy it all up this year (and it looks like they've already reserved most of it, if the stacks of cases in the warehouse were any indication) you should get a few bottles and save them for special occasions–like when you want a really good wine to go with some good red meat.
This is an update to a post from 2011.
If you are interested in unusual wines like we are, you can read about other wine tours we've taken in Argentina, the Alsace region of France, and the Priorat region of Spain.
Pin this to your travel or wine board.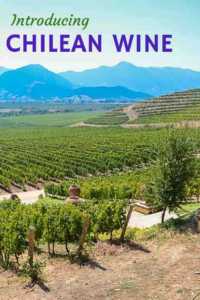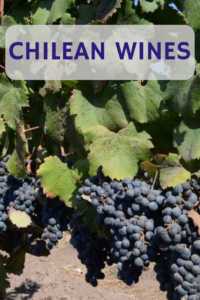 Travel Planning Resources
Looking to book your next trip? Use these resources that are tried and tested by us. Flights: Start finding the very best flight deals by subscribing to
Thrifty Traveler
. Book your Hotel: Find the best prices on hotels with
Booking.com
. Find Apartment Rentals: Find the cheapest prices on apartment rentals with
VRBO
. Travel Insurance: Don't leave home without it. We recommend
Allianz Travel Insurance
. Need more help planning your trip? Make sure to check out our
Resources Page
where we highlight all the great travel companies and products that we trust. See all of the gear and books we like in one place on our
Amazon shop
.