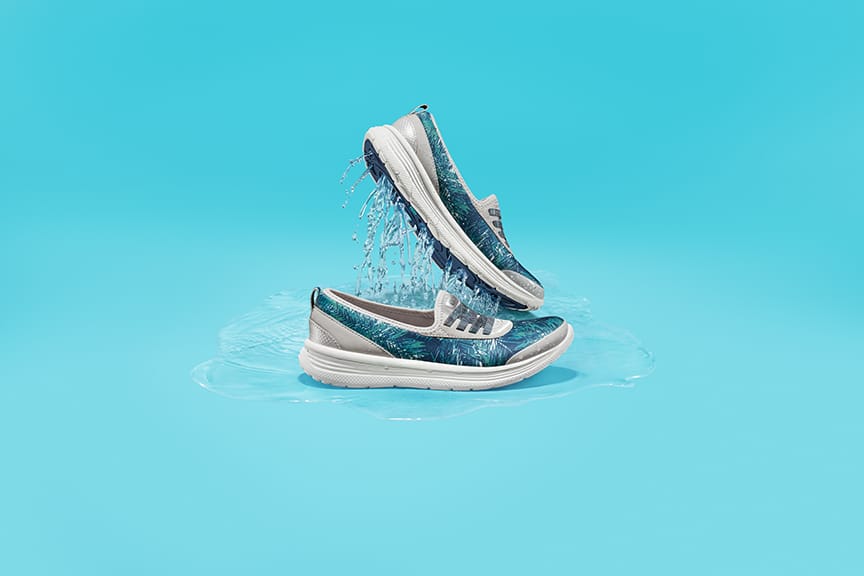 It's been a year and many miles since I last posted about travel footwear. I'm still relying on my fleet of black sandals. And, as I write, I'm wearing my Bernie Mev woven shoes that pack small and go anywhere. On the other hand, the clogs and moccasins I mentioned in that post I save for home use only (now that I have a home).
Specialty Shoes
Our travel this year has prompted us to don new shoes and try new gear. Fortunately, before traveling to the Galapagos in April, I was treated to a pair of new water shoes. I absolutely love the Bzees footwear. They make lots of lightweight comfort shoes, but I chose these water shoes because I needed something that would withstand active use both in water and on land. I put this pair to the test.
The Galapagos shores are mostly sharp volcanic rock, and Bzees' Sea Dogs' substantial sole carried me fine. Launching a kayak or landing a stand-up paddle board is a whole lot easier when your feet are protected. Because these Sea Dogs aren't mesh, they don't get loaded up with sand, as my previous pair of water shoes did. The Bzees shoes are machine washable, too, so the nasty fish smells can be eliminated.
I'm abandoning my old water shoes for these, and I might try a pair of Bzees land shoes to fit my "city shoe" packing category.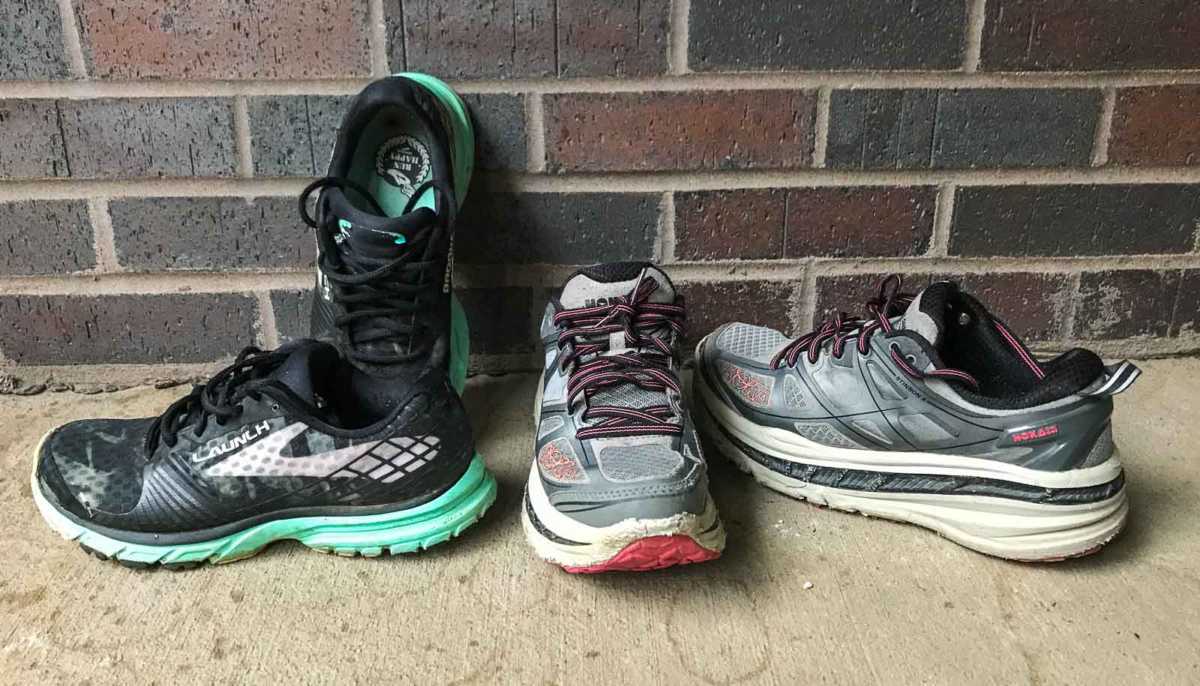 Running and Trail Shoes
Over the past year, I've updated my running/walking/trail shoes, too. Last spring I purchased a pair of Brooks Running Shoes. I love the close fit and light weight of these serious running shoes. I hope to move on to a second pair soon, as a reward for recovering from my knee problems. (Like Tony Lama cowboy boots, Brooks are under the Berkshire Hathaway corporate umbrella. Lucky me to pick up deals at the BH annual meeting in Omaha.)
I'm also in the market for a second pair of Hoka One One running shoes. I've had mixed experience with these. I like the height and stability of the sole, or rocker. But over time I've found a little discomfort in my toes.  I'm going to size up a half size if possible and report back. These worked well for our bike trip, as we weren't clipped in. And I even got a compliment on my Hokas as I wore them around Paris! Apparently they were the invention of Frenchman and mountain runner Nicolas Mermoud.
Footnote on Packs
We recently updated our packs and luggage recommendations. After hiking in the Galapagos and biking in Brittany France, we both heartily second our nods to the Osprey and Camelbak hydration backpacks.
So now it's on me to get in running form. For the time being, I'm hydrating, biking, and…still walking.
Some links on this page may have been placed by companies from which TravelPast50.com receives compensation. This compensation may impact how and where products are mentioned within a post. Opinions expressed here are the authors' alone, and have not been reviewed, approved nor edited by these companies.
We love traveling–with the right gear. You can check out a lot of the stuff we use to make all our travel much more pleasant and efficient all on one page. Click here to see it. If you purchase something from this page, Travel Past 50 will receive a small commission at no extra charge to you. Thanks.
Get all our travel tips delivered to your inbox
Subscribe to our email newsletter