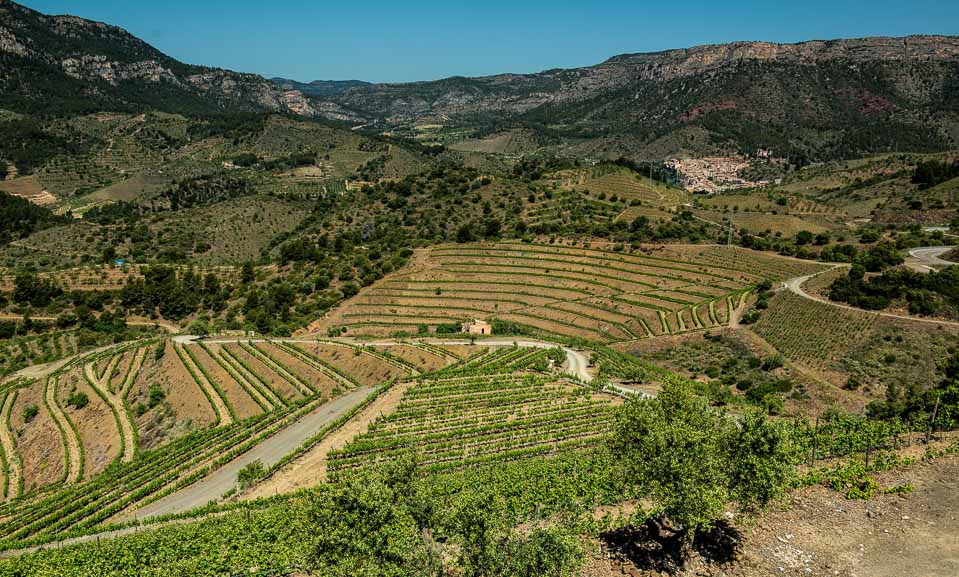 We spent several days in the Priorat region of Spain last month, and other than drinking the fine wines that Priorat produces, we also managed to look out the window of the Buil & Gine Vineyard guest rooms where we were staying and admire the view.
It's under the hot sun and in the very dry slate soil that the Priorat region creates its special wines. While many vines of the rest of the world can create two to three kilos of grapes per vine, the vines of Priorat average around half a kilo of grapes per vine. Common sense then tells you that the fruit will be more concentrated and intense than the typical.
If I had to quickly describe Priorat wines, those are just the adjectives I would use: concentrated and intense. And delicious.
The Priorat wines are just beginning to be carried by discriminating wine sellers in the United States. They can be a bit expensive due to their quality and scarcity. But don't hesitate to spend a bit more to give them a try sometime, especially with a good steak or some rare lamb. You don't have to do it all the time, but every now and then you should treat yourself.
There's a movement underway right now to declare the Priorat region and the neighboring region of Montsant as a Unesco World Heritage site because of their unique soil composition, and the fact they've been producing wines there for about 900 years. A deserved place among the unique landscapes of the world, if you ask me.
Get all our travel tips delivered to your inbox
Subscribe to our email newsletter