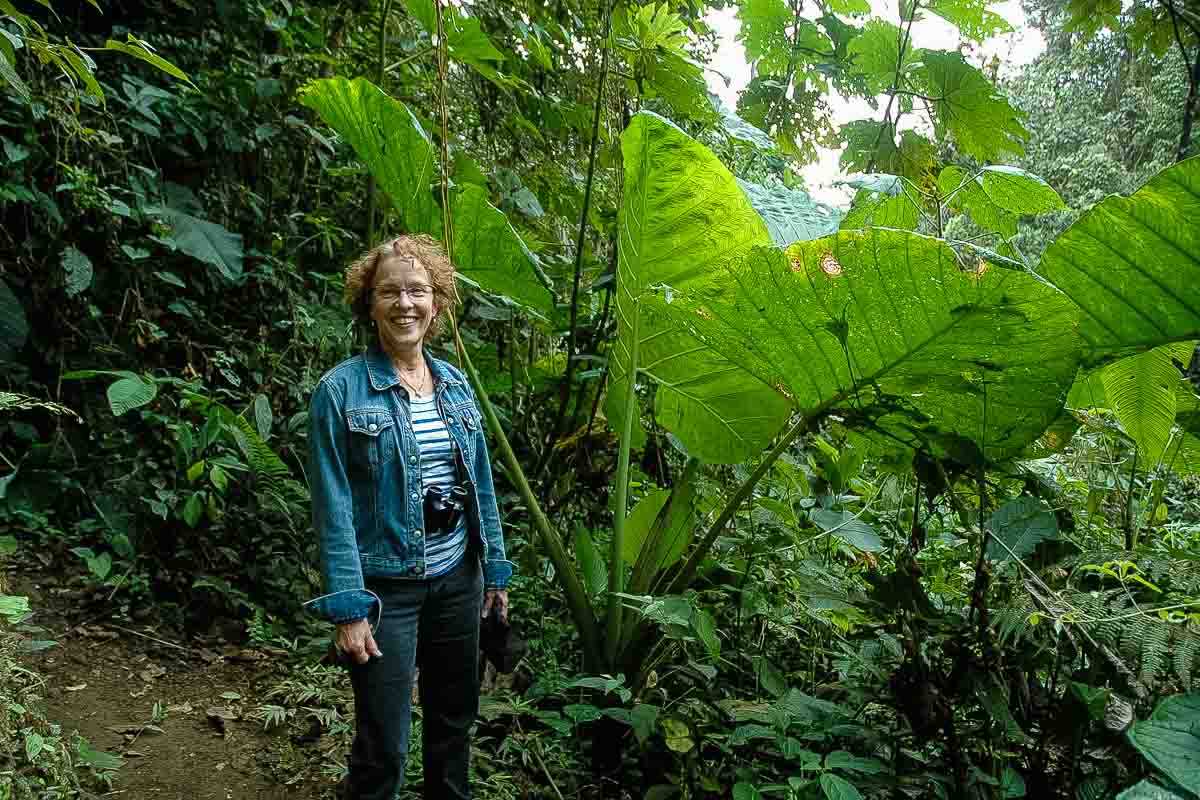 Traveling through Ecuador can be both breathtaking and discouraging. I'll get to the breathtaking part later, but I wouldn't be honest about how beautiful Ecuador can be if I didn't also mention that it can be damn ugly, too.
You can see it all on your way from Quito to the Mindo cloud forest near Milpe.
Starting about the time you pass the airport on your way north out of Quito, it starts to get very ugly…and by ugly I mean man-made ugly. As you ride the urban bus, the charming colonial buildings of the city center first give way to modern, undistinguished office and commercial buildings. (Ecuadorian concern for architectural distinction seems to have ended sometime around the end of the 17th Century.) From the merely pedestrian, though, as we move toward the border of the city, we get the truly ugly cinder block dumps with a little paint thrown on them. Finally, we come to the exurbs, where they haven't bothered to finish any of the cinder block structures, and have thrown the detritus of both the abandoned edifices and daily life along the side of the road.
It takes about 45 minutes to go from the first world of Central Quito, where people blithely throw their food wrappers and banana peels on the street (but at least the city pays someone to pick them up,) to the third world, where every level spot along the highway–and most of the steep slopes falling away from the road bed–are dumping grounds for anything that has no use. Heaps of construction debris and rusted car hulks get ugly a lot faster than a few orange peels, too.
This continues for a long way out of Quito proper through some of the old towns that used to be free standing, but are now threatened with the creep of Quito's urban disfigurement. In fact, it goes pretty much until you get near Mitad del Mundo, where the surrounding landscape is now distinguished by the mountains sliced in half to get at their granite and gravel and cement. The granite is used to beautify the walls and streets of central Quito; the gravel and cement are the main elements of the unsightliness of the rest of it.
It's a bit of a relief when you reach the northern bus terminal and transfer to an intercity bus for the west. In some sense, these mostly new buses are a refuge from the packed urban bus you've just left…but not wholly. The intercity buses of Quito are on schedule, clean, comfortable, but unfortunately, Ecuadorian noise machines. It's not that the bus is creaky or the passengers vociferous, it's just that, for some reason, the bus company assumes you need entertainment in the form of very loud music played through a 70s disco volume speaker system that takes up about a third of the space of the overhead luggage rack.
If you have your noise canceling headphones you used on your airplane trip down here, I recommend you bring them. They won't be as soothing as they were on the plane, but at least the pain level will be diminished slightly. For some reason, Ecuadorians seem to be able to sleep through this. I had no such luck, especially as I had neglected to bring my over the ear headphones and had to make do with my "running" headphones for my iPod. I jammed them as far into my ears as I could, and cranked up some rather raucous country music, which was able to mostly defeat the painful thump and crackle of the overhead speakers.
The motion sickness of the rocking bus on the Andean switchbacks pretty much makes reading impossible, so I resigned myself to staring out the bus window at the sides of the mountains rising from the road, or the precipices falling away from it, depending on which side of the mountain we happened to be on at the moment. We climbed up the west ribs of the Andes for a while, and while still on our side of the summits, I smiled at how the terrain rapidly changed from urban waste to georgic landscapes of corn fields and pastures terraced into the steep Andean slopes. There were goats, llamas, and cattle standing lopsided munching on the natural cover.
There is no part of the slope that is unused. All the way to the top of the mountain are sectioned fields surrounded by rudimentary natural fencing, rock walls, and short wind breaks. I imagine these fields look little different than they did when the Incas ruled here. The only concession to our current century are the barbed wire fences that keep the livestock from wandering onto the highway and the occasional track of a well-used Japanese pick up truck.
It was like this all the way up to the pass where we crossed over the west rib and headed down the other side of the mountains. All of a sudden the light green and brown of the cultivated land disappeared. Through the clouds below us was nothing but the deep bright green of the jungle.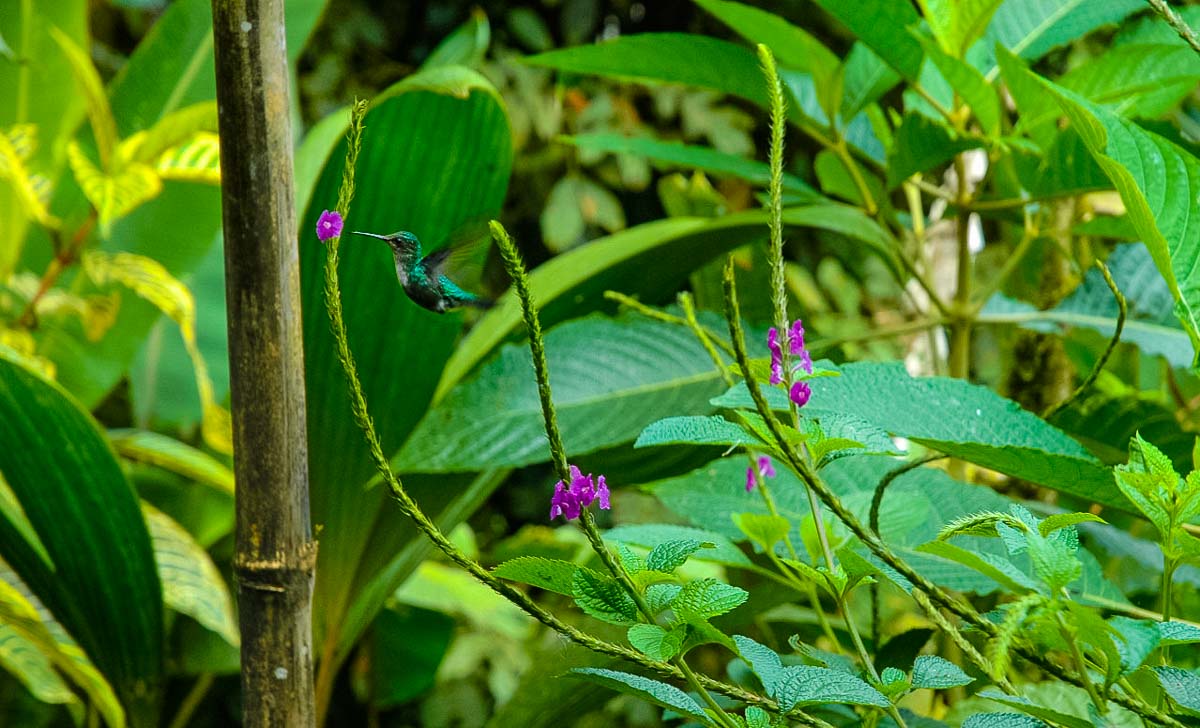 Jungle is a relative term in Ecuador. They use two words, bosque and selva. I'm not sure of the actual nuance in the Ecuadorian sense. The dictionaries usually translate bosque as forest and selva as jungle. Ecuadorians seem to use bosque for the landscape of the west and selva for the east, i.e. The Amazon jungle. I think it would be safe to say then that selva connotes a lot more wet…and a lot more mosquitoes. One significant difference is that you don't need any shots for the bosque, but you are required to have the yellow fever vaccination to go to the selva.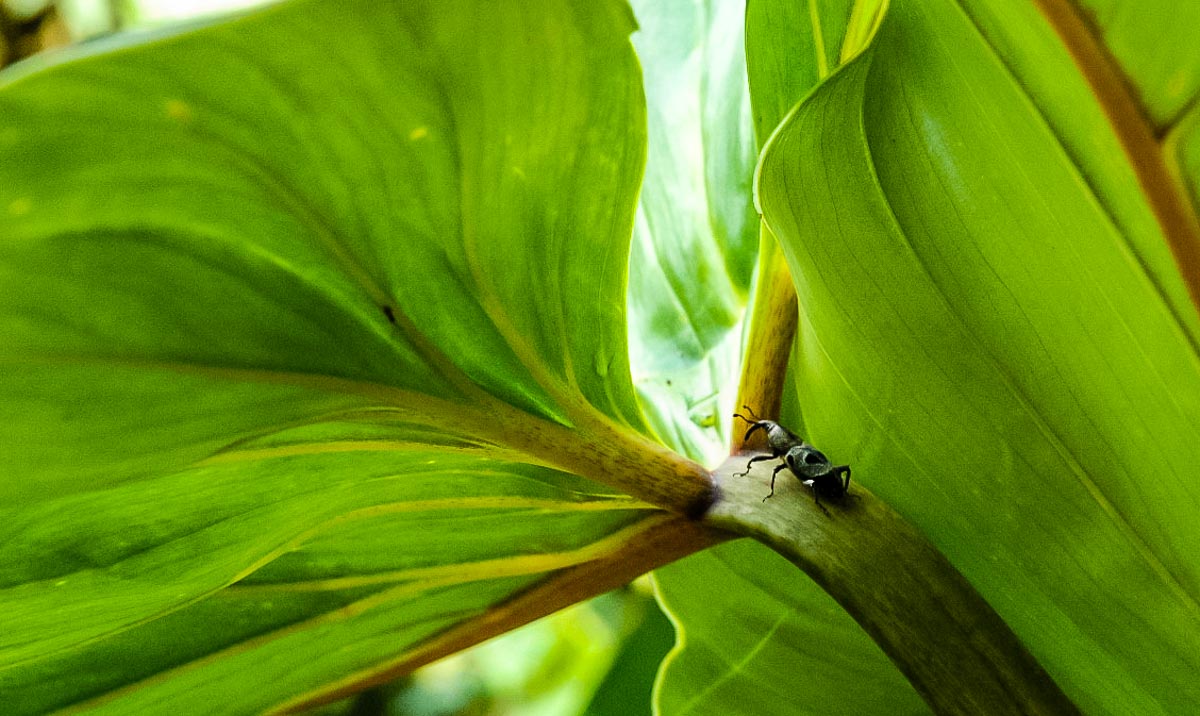 So, about that bosque we went to. The good news is that, while there are a lot of bugs, especially by Quito standards, where there are almost none, they don't seem to be the kind that torment mercilessly. Don't misunderstand. There are some bugs, and they do bite a bit, but it's not bad. Especially when you think of what it could be. Nevertheless, we covered ourselves with 100 percent deet. Better safe than miserable, I say.
The bosque, which in the case of the west slope of the Andes, is referred to in the guide books as a "cloud forest," is just that. From the first glimpse as we crested the pass, we could see nothing but deep green shimmering up from a varying fog far below us. In a way, it was like looking down on the tops of clouds when you are in an airplane, except the glimpses of land are of course much closer and of more vibrant color than you can discern from seven miles up.
As we came down the highway, every switchback revealed a new valley below. All were giant fissures, swaddled in cloud, between cheeks of deep green mountainside. It was so thick that, from a distance, it was near impossible to pick out any individual trees–only the vast undulations suggested the uncountable layers of flora below.
As we passed through, there were some small towns, and some areas of cultivated land that looked much like what we'd seen on the east side of the mountains. I wondered at what vast labor it must have cost hundreds of years ago to chop and burn away forest to make some small pastures or corn fields that now might still support only a few families. No corporate farming here. The people we saw in the sparse fields were families–very sun-browned men and women with hand tools chopping hard earth. Not much sense in buying a tractor here. If you turned it sideways on one of these slopes, there's no chance it wouldn't tip over on you.
We made a mistake and got off the bus one town too soon for our destination–the charming valley town of Mindo instead of the utilitarian highway pueblo of San Miguel de los Bancos. After asking about twenty folks in Mindo where the San Jorge Lodge was and getting a lot of "There's no such thing in Mindo," we finally found an internet cafe where we could call up the emails in which we'd arranged our lodging and Kris got around to reading the instructions which told us to take the bus to Los Bancos instead of Mindo.
Duh.
So, we got a taxi to run us in the direction of Los Bancos, which is about half an hour away. (By the way, in Mindo a taxi is a guy with a truck who doesn't have anything else to do right now.)  We started off on the way to Los Bancos, and between mountains managed to find a cell signal that worked long enough for us to call the lodge and then pass the phone off to the taxista so he could to get directions off the highway into the forest.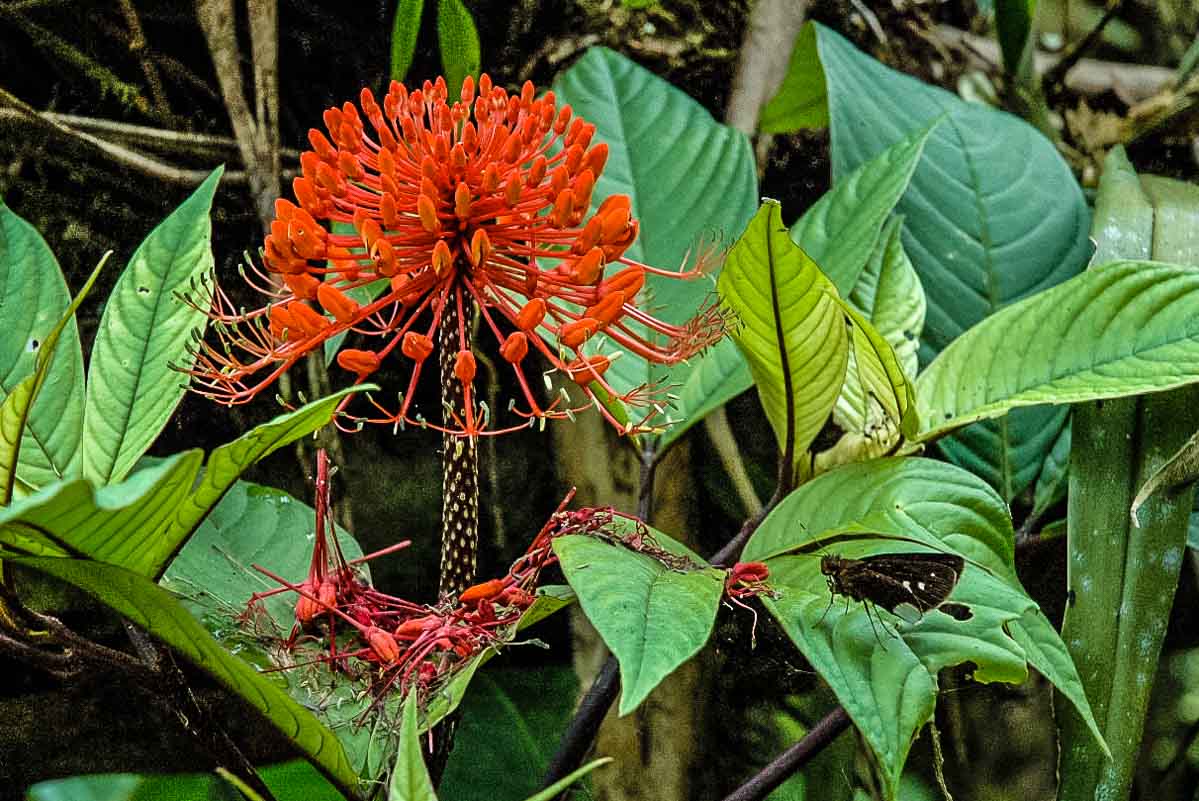 The turn off the highway led us on to a road through some farm land and down into the valley of the forest. As the road changed from hard pack, to rough gravel, to rocks the size of watermelons, we got closer and closer to the green. After a few kilometers of coccyx crushing bouncing, we came to a metal gate which opened onto a gravel car park big enough for a couple of cars and a turn around. Beyond the car park, was nothing but jungle and a small hand painted sign pointing down a narrow path to the lodge.
Just into the forest was a small house where the lodge staff lives. A woman came out onto the porch and pointed down the path. "Take the third turn to the left," she told us, "where there is a bench." We walked on, the sun disappeared, and we hoped to run into the bench soon because other than for the path winding ahead of us, we were completely surrounded.
Part way down the path, though, we were met by José, the man who had given the taxi directions. "You were lucky I was up by the road," he told us. "Because there is no cell signal at the lodge." So, he guided us down to the lodge, another couple hundred meters below, and into another order of magnitude of forest density. We were just in time for lunch. We dropped our bags on the porch, and continued down the path another twenty meters to the eating area.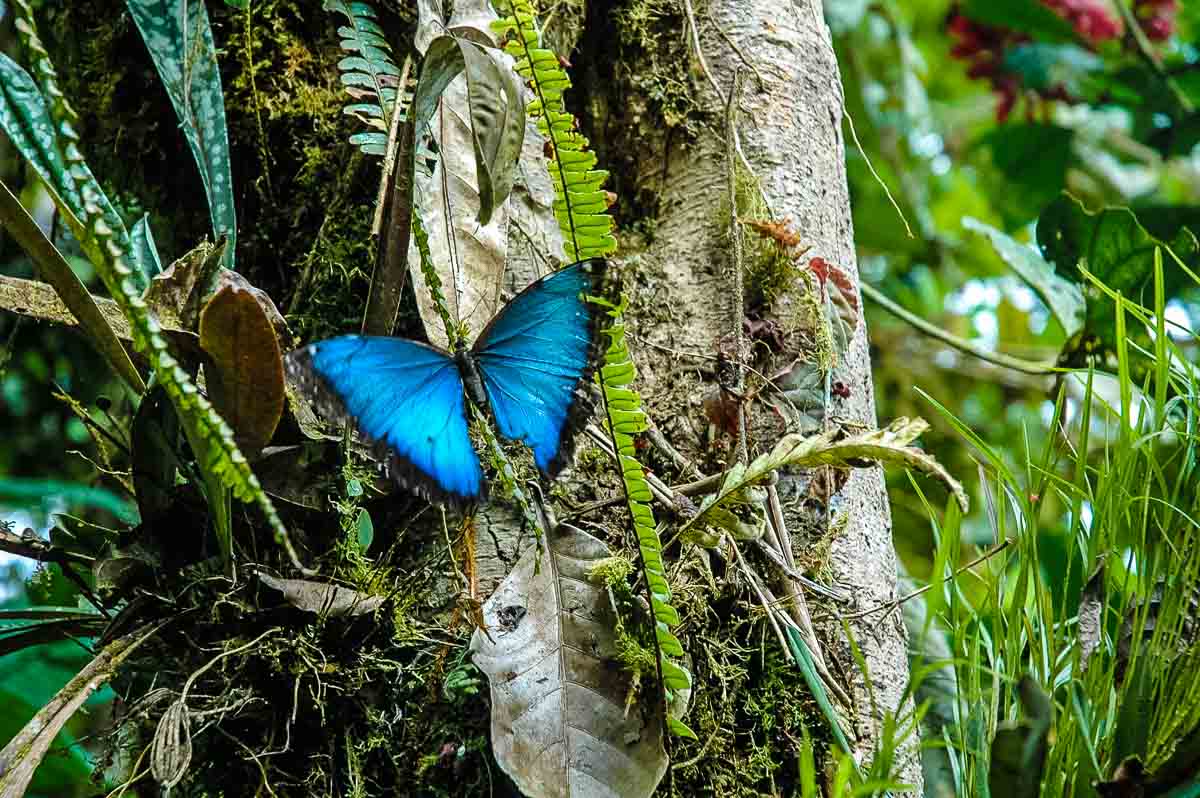 There we were greeted by a dozen American, Canadian, and English bird watchers, or "birders," as they preferred to be called. If you look up "birder" in the dictionary, you will see it means a person who carries an expensive camera with a very long lens, and/or a very long pair of binoculars that requires its own special harness, wears a jacket with special pockets to carry a very thick reference book through the jungle, and unlike you or me, isn't looking down all the time for snakes.
All the birders were just back from a long hike up to some vantage point or another, from which, we later learned, they were able to spot and identify 106 species of birds. While we ate the sumptuous four course meal served to us by two waiters in white shirts and bow ties, I learned that this part of Ecuador was indeed among the best birding territories in the world. (All Kris really had told me in advance was that there were hummingbirds, which in itself wouldn't distinguish it much from my mother's back porch in Iowa. She had also told me it was in Mindo, and that it was up in the mountains, instead of 2000 meters below Quito. She has promised that the next time she arranges a trip, she will pay more attention to the details of where we're going.)
So, although we're not birders, and only have an expensive camera with a regular lens and a short pair of binoculars, Dr. George Cruz, an American-educated veterinarian who gave up his career treating animals to pursue his avocation of watching birds, indulged us with a brief explanation of what was the purpose of his "Eco-Lodge." George, (which is what his business card says, although he was called Jorge,) has bought five acreages in remote areas of Ecuador and, along with his family, constructs bird watching tours for mostly North American groups. These tours are comprised of visits to all of his lodges scattered in diverse environments of northern Ecuador, from the high mountains above Quito to the forest valley where we now were. All of these sites, evidently, are home to different types of birds, and so can keep a serious birder busy for at least a couple of weeks.
In fact, George leads the tour around to the five sites and hikes up and down the mountainsides providing expert commentary on birds in English for those interested in such things, and an amiable conversation in Spanish about most anything else for people like us who don't know a sparrow from a turkey buzzard. I presume he'd also be amiable in English, too, if you don't speak Spanish. (But speaking Spanish allowed us to discuss American and Ecuadorian politics without raising the hackles of one of the birders, who  happened to be politically somewhat, shall we say, of the Fox News persuasion, and wasn't shy about telling all of us what was wrong with Democrats and Ecuadorians. I'm fairly sure his second language was High German.)
So, I didn't get any decent bird pictures, except for a hummingbird. But I did get some nice close ups of some other jungle creatures, which you can see here.
We chose not to go on the bird hike the next morning for two reasons: I don't watch Fox News when I'm in the United States, and the hike started at 5 a.m with a pre-breakfast straight up climb. Either of which would have been sufficient. But, George had provided us with a trail map and left us on our own to hike the jungle, with only the barest admonition to stay on the paths, "because there are animals in the jungle."
When he said that, I turned to Kris and said, "And by animals, he means poisonous snakes." To which she replied, "There aren't any poisonous snakes here." And, then George said, "Yes there are. Some really bad ones."
So there, Kris.
So, Kris and I tramped through the forest between meals. And we stayed on the trails. She did a lot more tramping than I did, because, well, I had a good book, and there was a nice hammock on the veranda. And although Kris also likes a good book, she likes tramping through jungles more than I do. We got some nice pictures of some of the animals on the hikes, too. But we didn't see any snakes, much to my disappointment. I was so going to point one out and say, "Look Kris, there's a snake."
What you should know about staying in the Ecuador cloud forest
Some pure information: the meals were served on the veranda three times a day, and were multi course delights on a quality equal to the best restaurants we've been to in Quito. The guided bird tours are part of the package, or you can ignore them and go on your own along the marked trails like we did. The accommodations were quite nice: comfortable beds in the rustic styled lodge built of native timber. Hot water for showers was plentiful, and filtered water for drinking was provided. You could wander down to the eating area for a cold beer or a glass of wine when you wanted, too.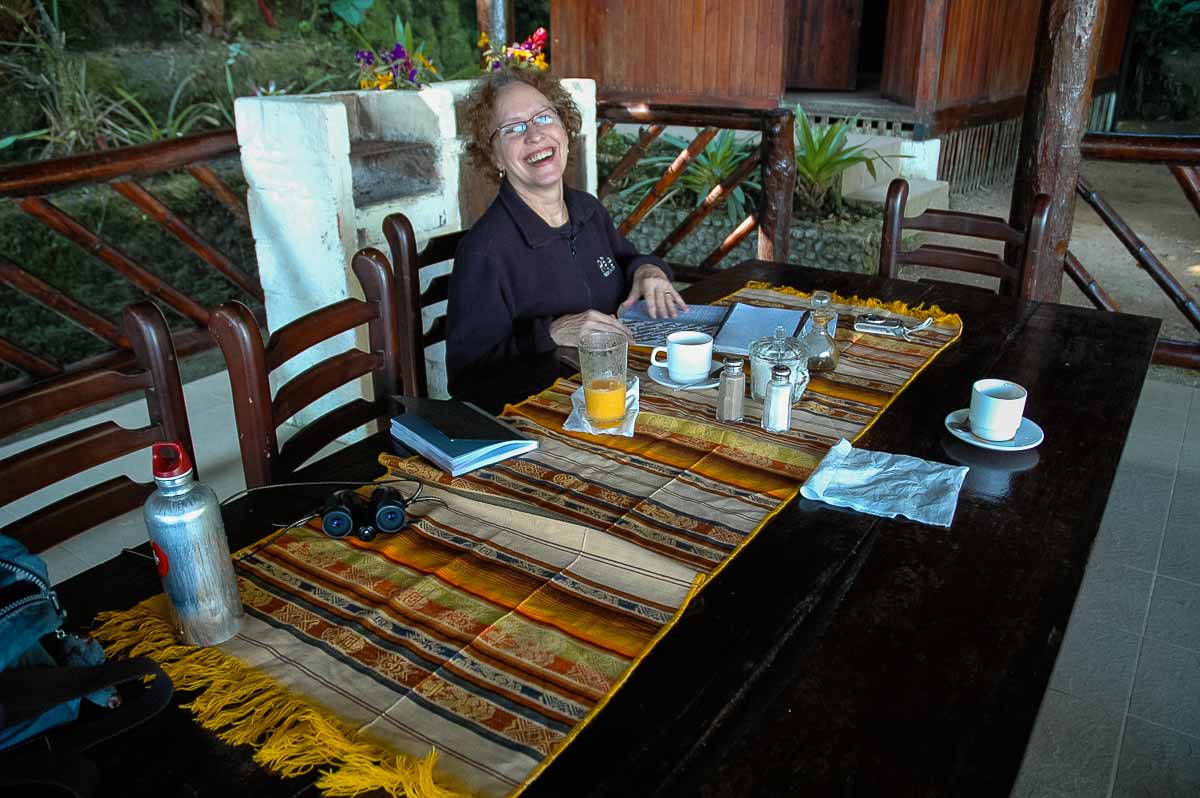 Transportation from Quito can be arranged also, so you don't have to detour through Mindo if you don't want to.
Hammocks for reading or dozing were hung on the veranda outside our rooms. And, the veranda also provided a sweeping vista of the valley below where you just went for a hike. In the afternoons, the clouds rolled up the valley and obscured the view of the floor, but in trade, magnified the sound of the multiple waterfalls you'd seen on your hike.
The cost is very reasonable, by American standards. For the two of us, it was $156 per night, (although I doubt if that's still the rate) and that included all three substantial and excellent meals. They even quiz all guests on their food preferences and gladly provided vegetarian meals or meals without red meat (for me) on request. I got sea bass when the rest were having steak, and if you like the sea bass you get in the U.S., you should definitely try it here, 3000 miles closer to the source.
The web address is www.sanjorgeecolodges.com. Do it. You'll think it's one of the coolest places you've ever been, even if you just spend a whole day with your ass in a hammock.
It worked for me.
This is an update of a post originally written in 2010.
Here's a post from another Ecuadorian adventure from 2010.
You can help yourself get ready for your own travels by reading our Get Started Planning Your Trip Now page.
You can see (and buy prints) of most of our travel photos in one place on this page.
We love traveling–with the right gear. We've gathered a lot of the stuff we use to make travel more pleasant and efficient all on one page. Shop our Travel Past 50 Amazon page to find our favorite gear. If you purchase something from the store, Travel Past 50, as an Amazon affiliate, may receive a small commission at no extra charge to you. Thanks.
We never leave home without our travel insurance. Nor should you. Search for the travel insurance from Allianz that best meets your needs, whether it be an annual plan or a single trip.
Note: This post and other posts on TravelPast50.com may contain paid or affiliate advertising links.