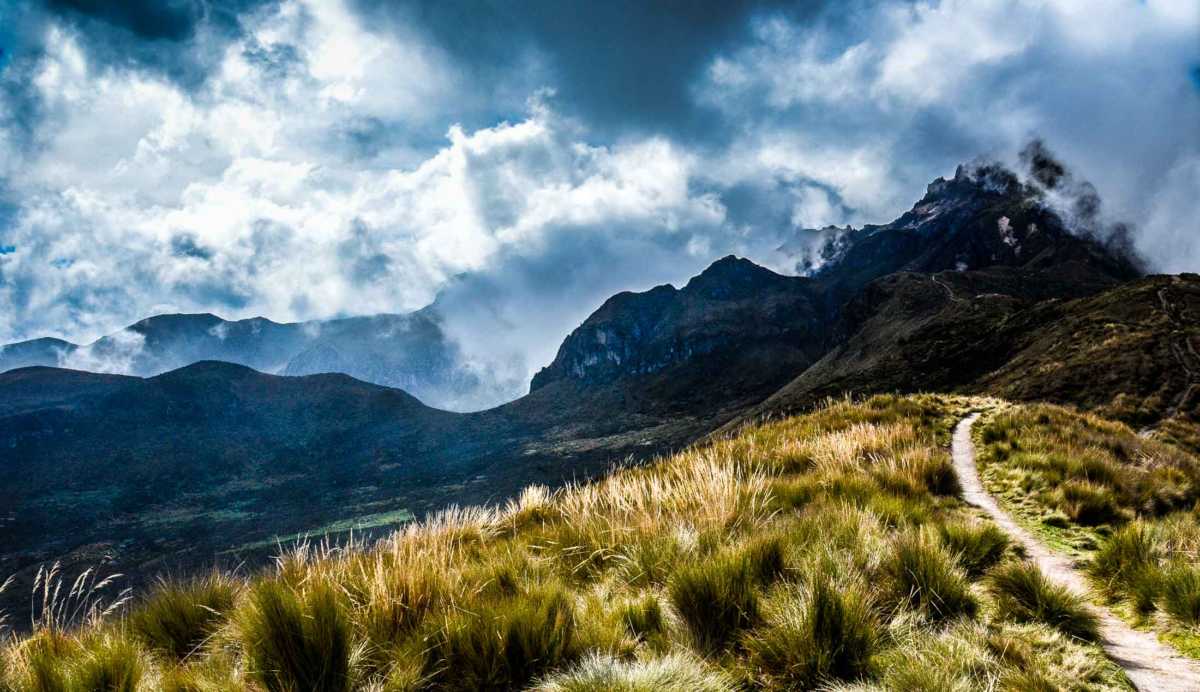 When you say "I'm going for a hike" in Quito, there are basically two kinds: the relatively level type through the city, where you can aspirate enough diesel bus fumes to give your lungs the color of a Chilean coal miner's, or the vertical type up one of the local mountains, where the air is cleaner, albeit quite a bit thinner. We chose the latter, which is really sort of a stupid thing to do for a man my age.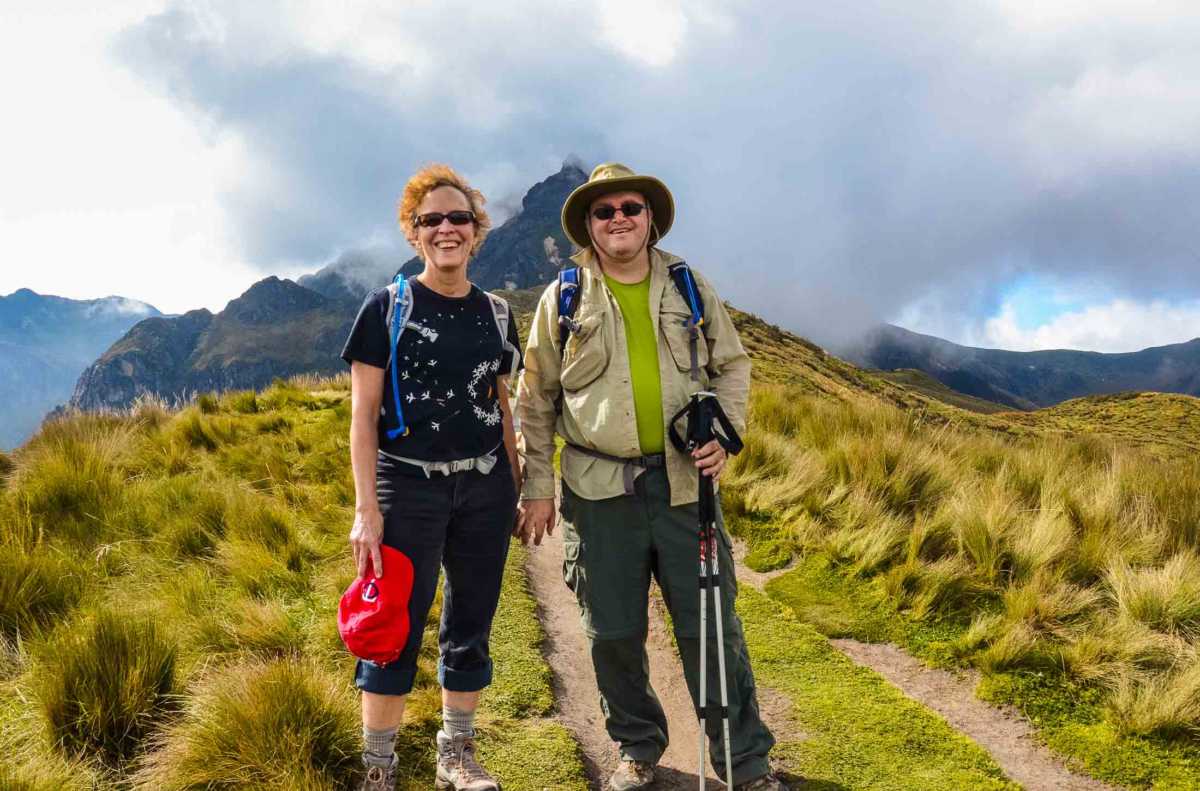 The big volcano that provides the northwestern limit of the city of Quito is called Pichincha. I link here to the Wikipedia entry, mostly because it hilariously declares that both peaks of Pichincha are "easily climbed." We tried the shorter peak, Rucu Pichincha. By shorter I mean it's only 4700 meters (15,400 feet.) The name "Rucu" means "old man" in Quechua. I would extrapolate that name a little bit to mean, "Tom, you're too old to climb this."
Quito proper is at about 2850 meters, or about 9350 feet. You can hike from the Quito valley all the way up Pichincha, but the best way is to get a head start by taking the Quito Teleferico up to 4050 meters. It costs foreigners $8.50 round trip, (less for students and people with Ecuadorian ID) and even if you're going no further than the top of the cable car, the views on a clear day are worth it. You can see all the biggest Ecuadorian volcanoes from there, and you get a nice view of a big city, too, if that interests you. Go early in the morning, before the inevitable clouds roll in, if you want to see more than the city below you.
But, because it was Sunday, we dawdled getting started on our climb, and didn't reach "base camp" at the top of the Teleferico until almost 2 p.m. Nevertheless, we started up the mountain toward the peak, naively believing that we could get there–and back–before dark.
After about two hours, we reached the foot of the peak itself. Luckily, that's when the clouds began to surround the peak and we decided that climbing the rest of the way blind, as well as freezing, would not be a good idea. Or, that's our story and we're sticking to it. I did speak to my friend Christian, who regularly runs up Pichincha for exercise, and he confirmed that starting up the peak at 4 p.m. while it's clouded in would have been very stupid and dangerous–so there.
In a nutshell, though. This top picture is why we turned back. it was getting cloudy, and the temperature on the trail had just dropped about 10 degrees. And, there's snow up there. And up there is about 4700 meters, or 15,400 feet. Which was about 500 meters up, and a few kilometers ahead. And it was getting dark soon, as it does at the Equator where they don't have Daylight Saving Time. (Think about it.)
Like I said then, the weather was beautiful, albeit threatening. And discretion is the better part of valor.

Here are some more tips for hiking locations, routes, preparation and equipment, all in one spot.
You can help yourself get ready for your own travels by reading our Get Started Planning Your Trip Now page.
You can see (and buy prints) of most of our travel photos in one place on this page.
We love traveling–with the right gear. We've gathered a lot of the stuff we use to make travel more pleasant and efficient all on one page. Shop our Travel Past 50 Amazon page to find our favorite gear. If you purchase something from the store, Travel Past 50, as an Amazon affiliate, may receive a small commission at no extra charge to you. Thanks.
We never leave home without our travel insurance. Nor should you. Search for the travel insurance from Allianz that best meets your needs, whether it be an annual plan or a single trip.
Note: This post and other posts on TravelPast50.com may contain paid or affiliate advertising links.
Get all our travel tips delivered to your inbox
Subscribe to our email newsletter