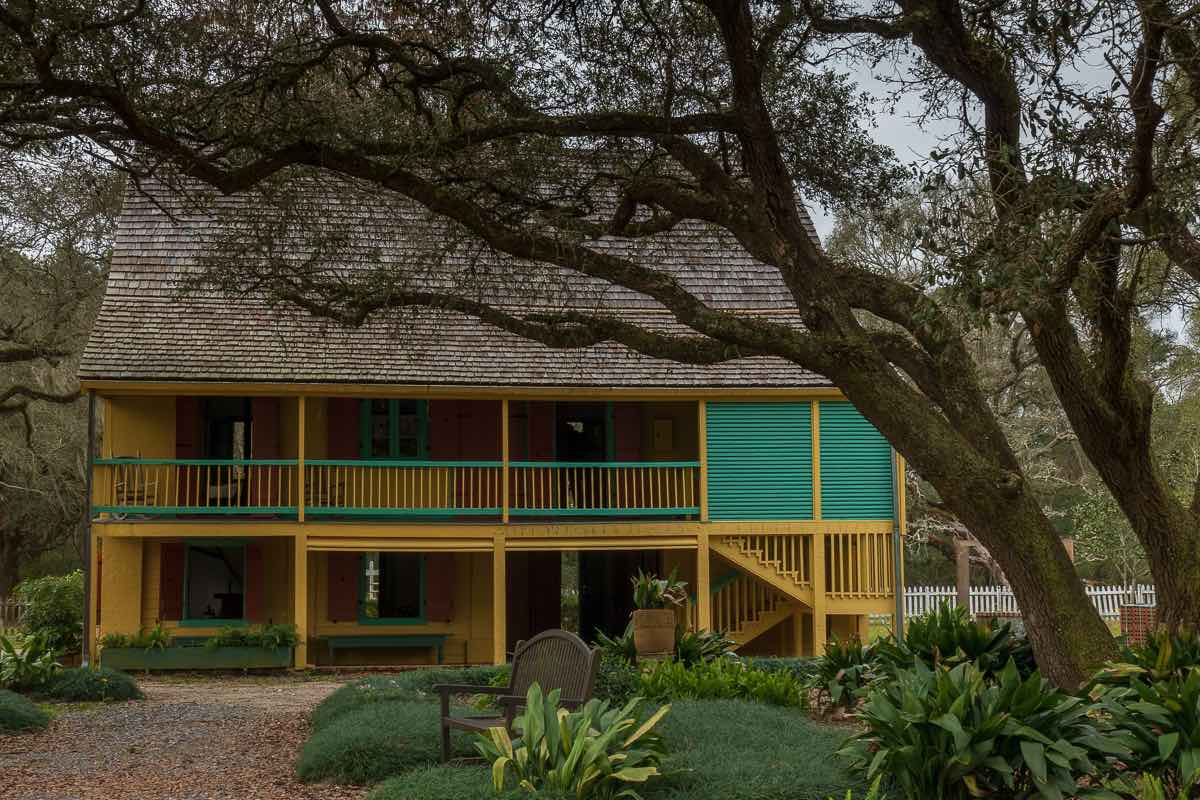 Let's put the usual New Orleans itinerary on its head. Instead of focusing on the business trip or bachelorette party that will barely take you out of the French Quarter, much less the city of New Orleans, consider starting up the road in Lafayette, Louisiana. Just two and a quarter hours driving time to New Orleans (140 miles), this town (pop. 126,000) offers all the food and music you want, with a close-up view of local history and Creole and Cajun culture.
Reach Lafayette by air (LFT) or drive from New Orleans, Baton Rouge (one hour) or Houston (three and a quarter hours). We combined three nights in Lafayette with three nights in New Orleans (sans a business or party agenda!), flying into Lafayette via Atlanta, and departing from New Orleans (MSY). Our rental car was at the ready in Lafayette for our day trips to small towns around Lafayette, and easily returned to the New Orleans airport, no extra charge.
Somebody (the visitors' bureau?) dubbed Lafayette, Louisiana, the "Happiest City in America." Maybe. We just know it as friendly and accessible and a great window to this part of the world.
Some posts on Travel Past 50 may contain affiliate links. If you buy something through one of those links, we may earn a small commission. As an Amazon associate, we earn from qualifying purchases.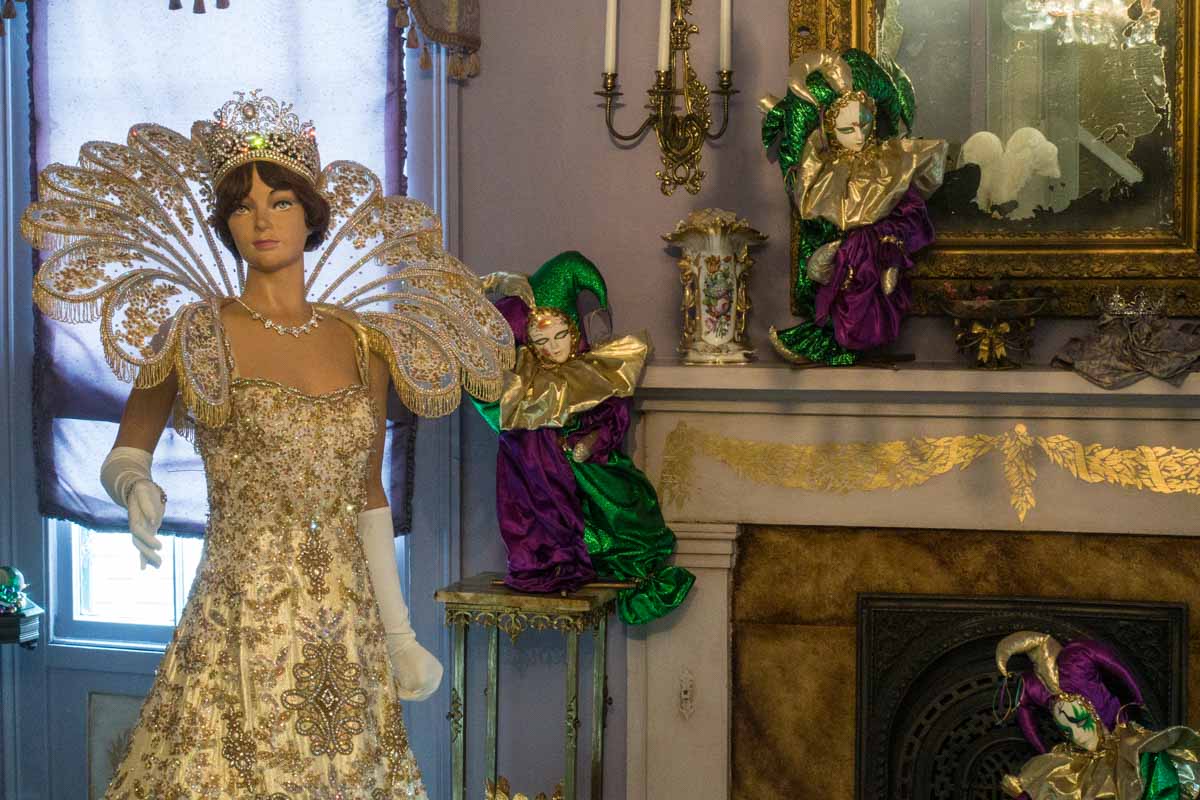 Discovering Lafayette
Lafayette's famous for its food and its music, and those commodities are abundant all year around. What might surprise visitors is the town's historic and cultural attractions. Our January visit placed us at the start of the Mardi Gras season, so our first stop, at the Visitors' Center, yielded our first culinary and cultural delight combined: a piece of King Cake! Not just any King Cake, but the Amaretto Walnut cake with a custardy inside from Keller's Bakery. The best we'd ever tasted.
Tom happily practiced his French at the visitors' office, but that was about the extent of our exposure to le français, besides seeing a lot of French names on roadside signs. But let those names be a reminder that a full understanding of the area requires some knowledge of the Acadian (or Cajun, as the name has evolved,) people and the legend of Evangeline. (Here is Tom's post on the Evangeline poem and legend.) Also, here's the story of our visit to the original Acadia in Nova Scotia, Canada.
The historic and cultural sites in Lafayette range from the Jean Lafitte National Monument (closed during our visit due to the government shutdown) to the city's cathedral, to a founding father's home, to centuries-old spreading oak trees.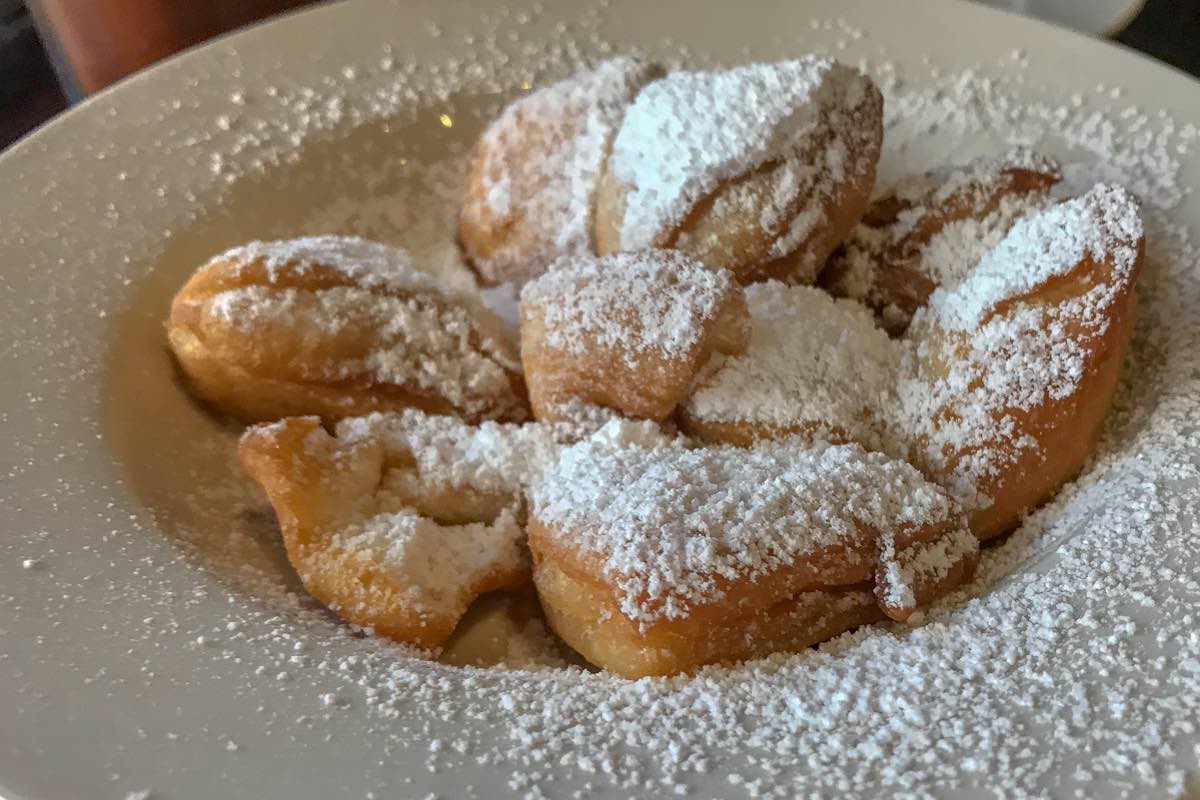 What to see and do in Lafayette
Even without the history lessons offered by the Lafitte Monument, we found plenty of opportunities to absorb Cajun and Creole culture. The Alexandre Mouton House (also known as the Lafayette Museum) is still managed by the "Group of 24," the women's group that's maintained the property since the 1950s. In a short tour of the house, we learned that the original owner, Jean Mouton, originally used the property as a "Sunday House," a place to rest from the long journey to town to attend church. He eventually donated part of his land for construction of the town's cathedral. His son, Alexandre Mouton, expanded the home and became a local statesman and governor of Louisiana.
Here, too, we learned more about local Mardi Gras traditions than we ever would have dodging party animals in New Orleans. Costumes on display are donated by the participating 'royalty.' Leading the festivities each year are the Napoleon and Josephine couple, and the Gabriel and Evangeline duo. The elaborate attire is worn one season only. The social events and processions are distinctly more family friendly in a town like Lafayette than in heavily touristed New Orleans.
Lafayette is the largest city in the Lafayette Parish. A parish is the Louisiana equivalent to county, but so called because they were originally defined by church parish rather than secular government. The 'parish' nomenclature is just one reminder of the predominance of French Catholicism in this part of the world.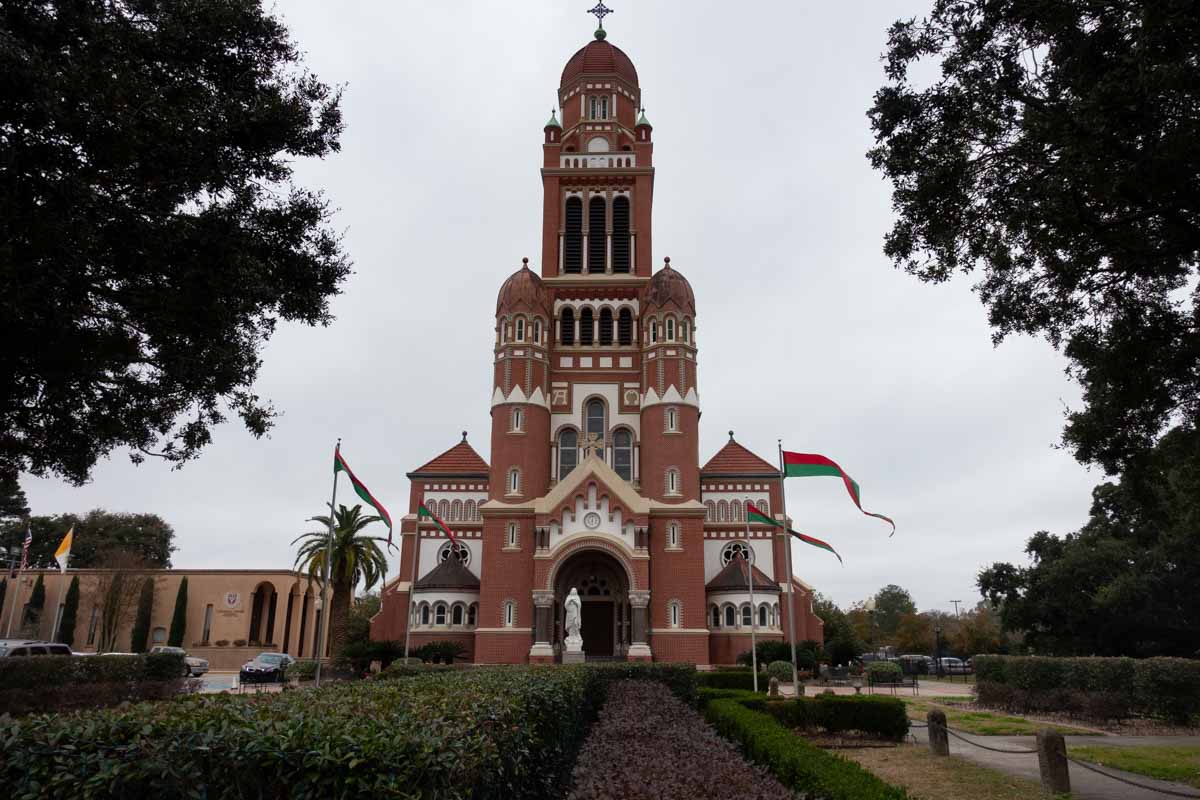 In Lafayette, the original parish, called St. John of Vermilion, dates back to the 1820s. The current church, St. John the Evangelist, was constructed from 1912-1916. A church bulletin calls the architecture 'Dutch Romanesque,' but we saw elements of Moorish, German, even art deco influences. The cathedral cemetery lies behind the church, and beside it is the gigantic Cathedral Oak, estimated to be almost 500 years old. (Living oaks over a certain age are granted names, so you may be given directions like, "Turn right at the Evangeline Oak.")
The Lafayette Cathedral's offices contain a little museum that holds a collection of rosaries from all over the world (we liked the skull rosary the best) and a strange display of 18th Century figurines set in an imaginary Italian village, complete with a procession of Magi leading to the Holy Family. All anachronisms aside, it's a pretty impressive collection of Neopolitan-crafted figurines.
In a fortuitous stop into the Acadiana Center for the Arts our first morning in Lafayette, we happened on the last couple tickets available for a performance of "Farewell Alligator Man," a tribute to Jimmy C. Newman. Newman, from Lafayette Parish, spent more than 50 years working with the Grand Ol' Opry. The talented band include guest appearances by Marty Stuart and Doug Kershaw. Quite a treat. Don't miss the Art Center's gallery, either.
At all the museums and attractions, it's easy to feel the community strength in Lafayette, actively supporting arts and culture.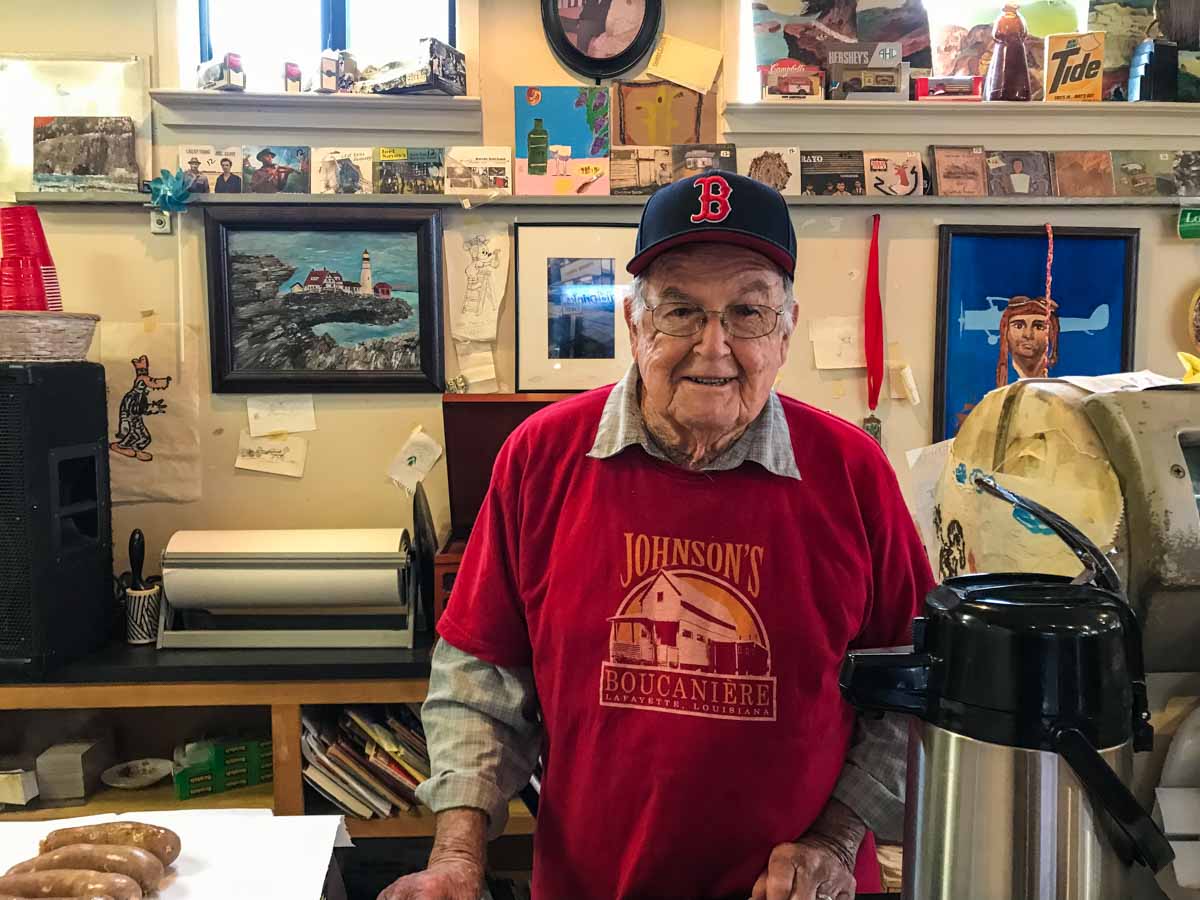 Where to eat in Lafayette
We focused on Downtown Lafayette for food and entertainment. It's likely you'll find yourself chatting with locals relaxing, visitors passing through, and vendors willing to share their favorite food, music or shopping recommendations.
Just go for broke first thing in the morning, like we did, and start with a heaping boudin omelette at Dwyer's Cafe downtown. The famous boudin sausage (pork and rice) fills the omelette which is then covered with hollandaise and served with a big buttery biscuit. With Tom's French Toast and coffee, our bill came to $24. The place was hopping. We had to ask our server if the tattooed fellows carrying guns were for-real cops or just exercising their rights. I guess I was relieved to learn they were police, just barely undercover.
Johnson's Boucaniere is the place to go for a well-cured meaty breakfast or lunch. Simply delicious pulled pork or pulled chicken sandwiches are menu favorites, served with coleslaw on top or on the side. Johnson's, a Lafayette staple since the 1930s, of course makes its own boudin, smoked meats, and BBQ sauce.
A surprise find in downtown Lafayette is the Spanish restaurant Pamplona. A friendly vibe, a nice wine list, and some wonderful taste treats like bacon-wrapped dates, garlic shrimp, calamari, mushrooms, and Asturian Fabada.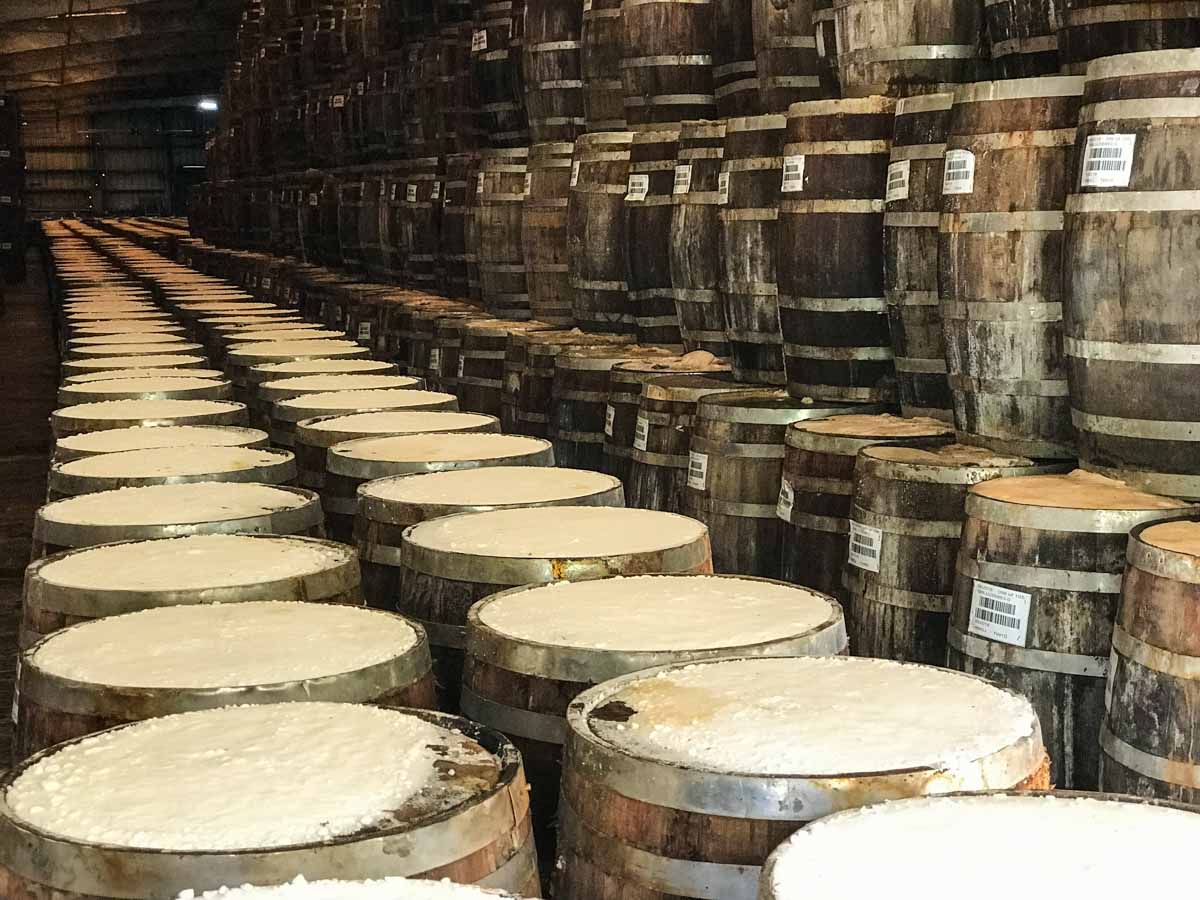 Drinks and music in Lafayette
Blue Moon Saloon and guest house was nearly empty when we showed up late afternoon on a cold day. We stayed warm with some local brews and the happy hour deal of $4 whiskey (Redemption Rye) with beer. As we watched crews setting up for a six-band charity show, we enjoyed talking with our young well-educated bartender about earned and unearned stereotypes of the area.
At the Wurst Biergarten downtown, order at the counter, grab some food from the food truck, and make yourself comfortable at one of the picnic tables. Live music nightly. Our Lafayette insider, a young hip-hop musician, likes the variety of music here. "You never know what to expect." Craft vendors and a second-hand store nearby keep everyone happy.
Road Trips Around Lafayette
For us, the real joy of our stay in Lafayette Parish was driving around to nearby small towns and parishes. Here's a sampling which will, we hope, inspire you to allow plenty of unstructured time for your visit to the region.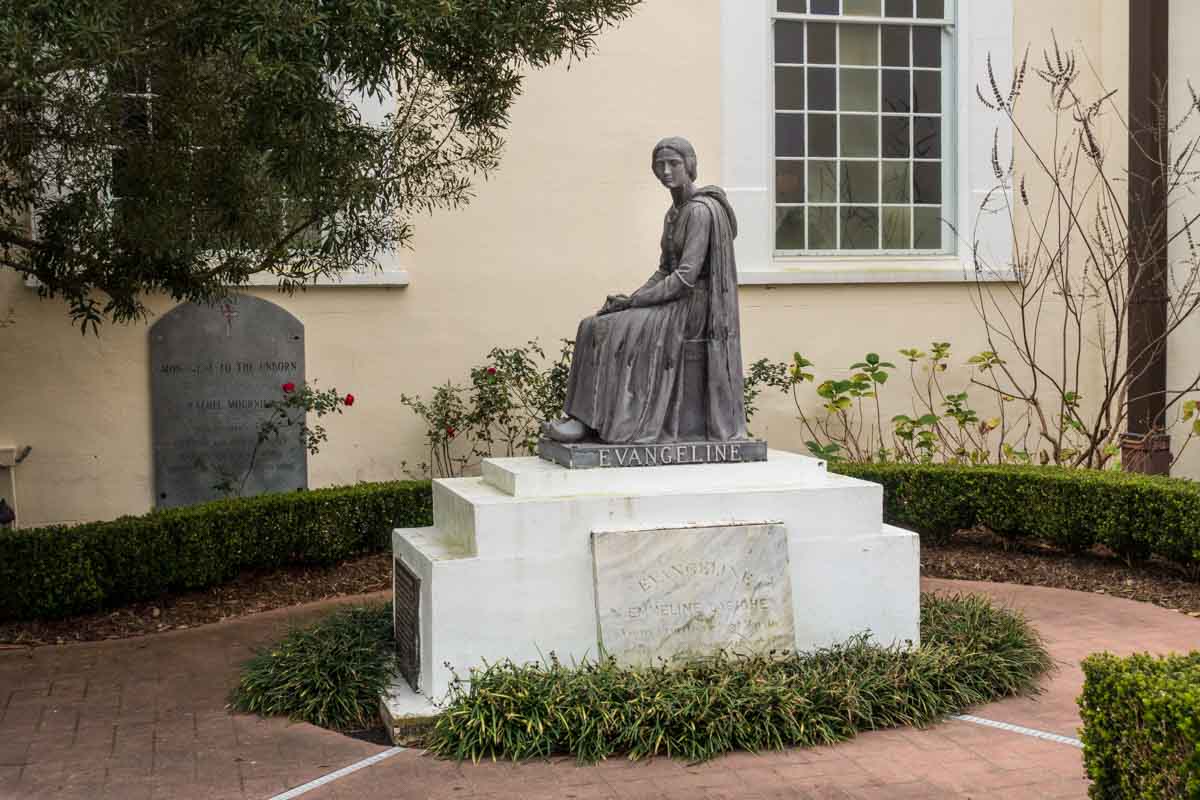 St. Martinville
We started here in search of the Evangeline legend, first stopping at the Longfellow-Evangeline State Historic Site where we had an excellent witty guide. This is a fine setting to tour a traditional Acadian home, learn about the early and evolving distinctions between Creole and Cajun terms, and stroll through the grounds. When we asked our guide about the Evangeline gravesite, she was sure to dispel any notion of a real tomb, and dismissed the statue of a demure, seated Evangeline by explaining, "No Acadian woman would sit and wait for her man."
Nevertheless, a park along the Bayou Teche in St. Martinville is dedicated to the classic Longfellow poem and love story. The Evangeline Oak spreads over the small plaques and a clubhouse nearby hosts many a wedding party. For the persistent, note that the statue of Evangeline can be found behind the plain St. Martin de Tours Church. You'll have to park and walk around back to see it.
Breaux Bridge
On weekends, people head to Breaux Bridge for Zydeco breakfast at Buck and Johnny's. We were content to sit in the bar, a bit removed from the dance floor and overly amplified music, but felt plenty festive eating crawfish estoufee, a Tasso sausage omelette, and beignets…with a Bloody Mary.
The visitors office down the street seemed mystified at our wandering in to seek advice. We were in search of a good bayou museum, which we'd find later in New Iberia.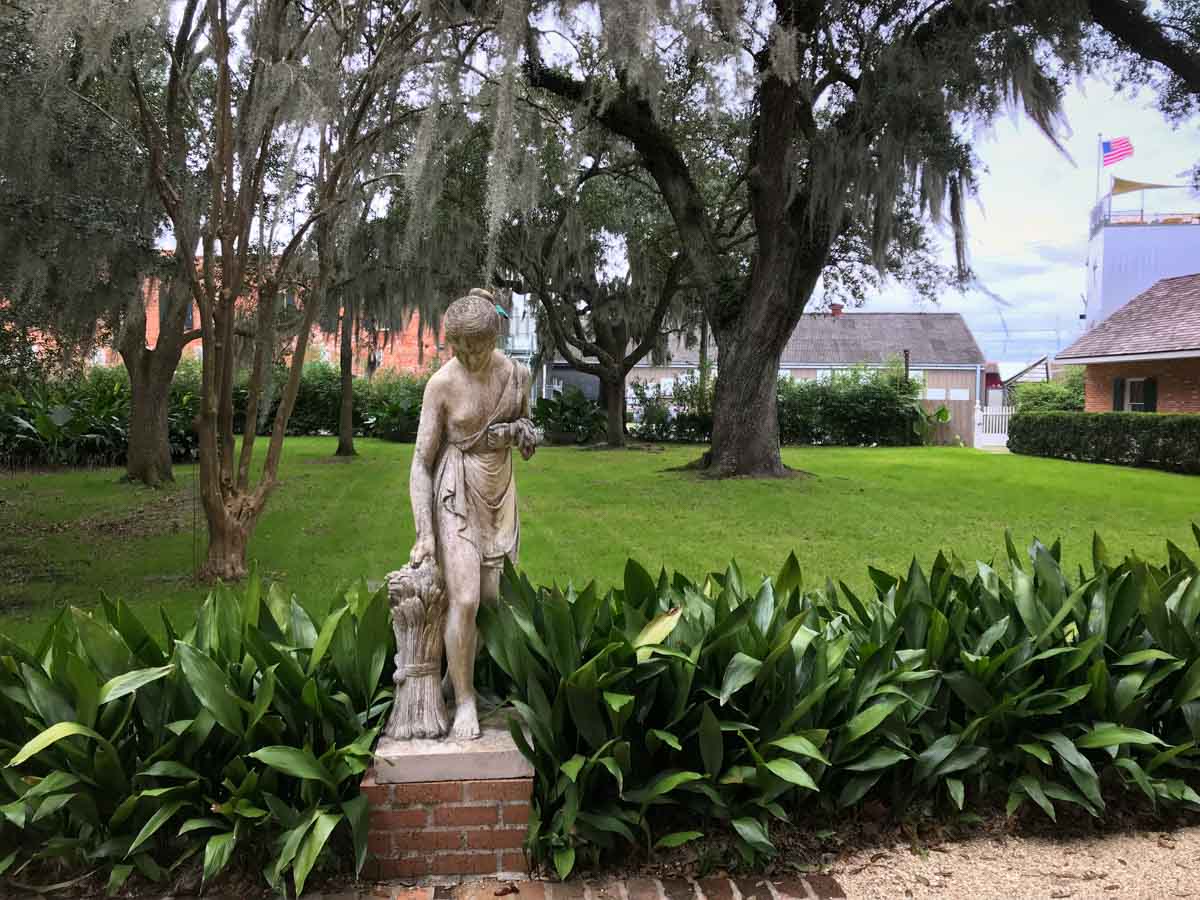 New Iberia
For several reasons, New Iberia was a favorite stop. The Shadows-on-the-Teche Mansion tour is definitely worth while, offering a personal family story from the antebellum era up into the 20th Century. (The family plantation was ultimately and ably run by the matriarch after her husband's death). New Iberia, by the way, gets its name from the Spanish settlers who were imported here to beef up the population and work in the late 18th Century.
Time walking around the picturesque small town was especially fun for Tom, who is a fan of James Lee Burke, a native son whose tales of atmospheric Acadia he enjoys. We picked up a signed first edition of Burke's latest at his Main Street bookstore, Books Along the Teche. Burke no longer lives in town, so keep your expectations in check.
We finally found the historic context we were craving at the Bayou Teche Museum, also on Main Street. This excellent little local museum covers the area's sugar and cotton trade, salt mining history, sunken steamer ships, and daily life around the Bayou Teche.
We missed opening hours at the highly recommended Cafe Jefferson down the road, but were satisfied with the sushi and rolls at Bojangles Oysters and Sushi Bar. (Cafe Jefferson is notably on Lake Peineur, which was accidentally drained in 1980 when oil rigs pierced a salt dome. Hm.)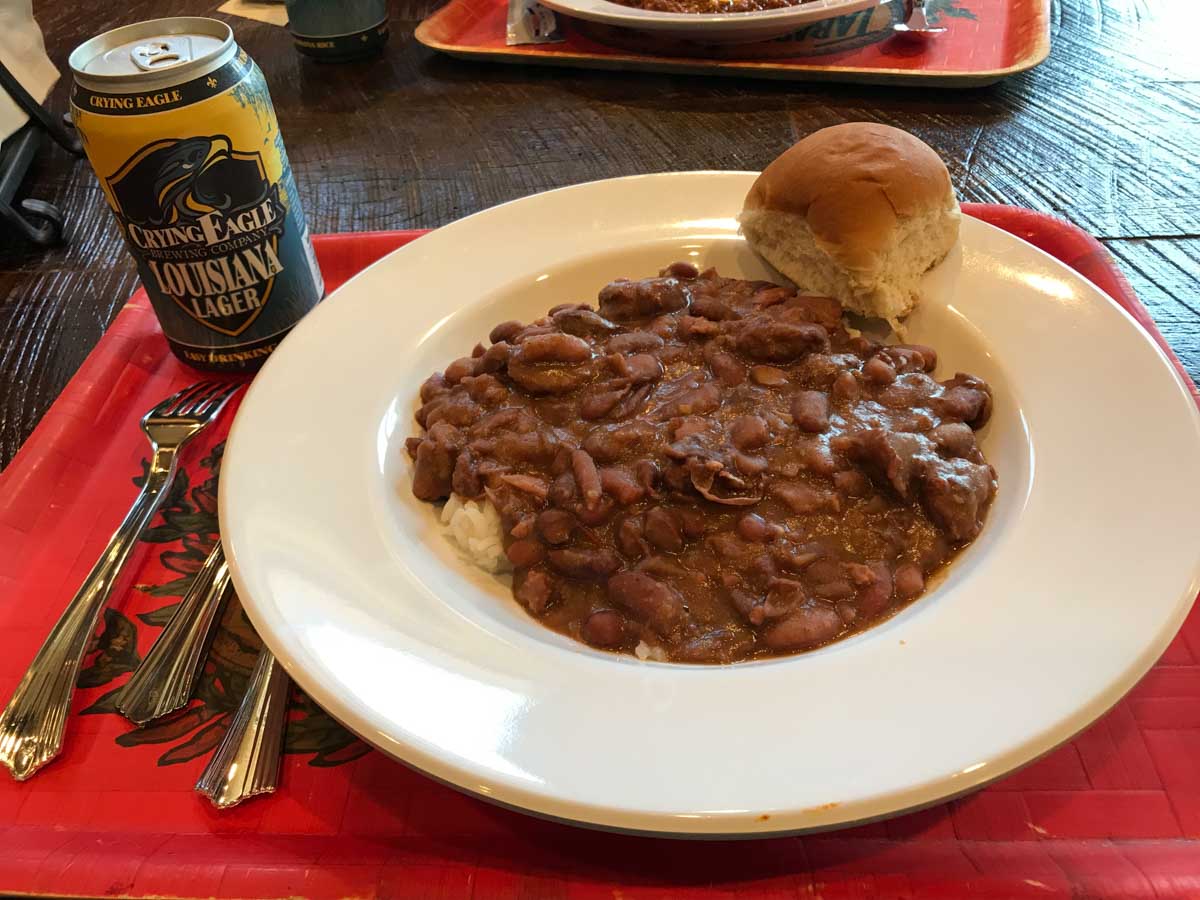 Avery Island
Finally, on our way from Lafayette to New Orleans, we made our way through Avery Island to tour the Tabasco Pepper Sauce Factory. At our own pace, we walked through and enjoyed seeing the marketing history as much as the family and product information. One of the fascinating aspects of this area is the geologic formations; the 'island' ring is created by a salt dome. Check out drone shots or Google Earth. Nearby land is open for drive-through or walking tours of the "Jungle Gardens," an impressive arboretum and conservation area created by Edward McIlhenny of the Tabasco dynasty.
Our leisurely drive to New Orleans coincided with the infamous NFC Championship game between New Orleans Saints and Los Angelos Rams, in New Orleans. We listened on the radio, returning our car to the airport just as the entire city gasped at the "no-call" that sealed the Saints' fate. The loss was a huge bummer for the city, and we felt the collective deflation over the next three days. Read our next post for Tips on Combating Pain and Misery in New Orleans. We hope we helped the city recover, in our own little way.
Interested in hearing more about Lafayette and the surrounding area? Listen in as Kris speaks with Graeme Kemlo of Travel Writers Radio about fun things to do in the area. [12:00 minutes]

Travel Planning Resources
Looking to book your next trip? Use these resources that are tried and tested by us. Flights: Start finding the very best flight deals by subscribing to
Thrifty Traveler
. Book your Hotel: Find the best prices on hotels with
Booking.com
. Find Apartment Rentals: Find the cheapest prices on apartment rentals with
VRBO
. Travel Insurance: Don't leave home without it. We recommend
Allianz Travel Insurance
. Need more help planning your trip? Make sure to check out our
Resources Page
where we highlight all the great travel companies and products that we trust. See all of the gear and books we like in one place on our
Amazon shop
.