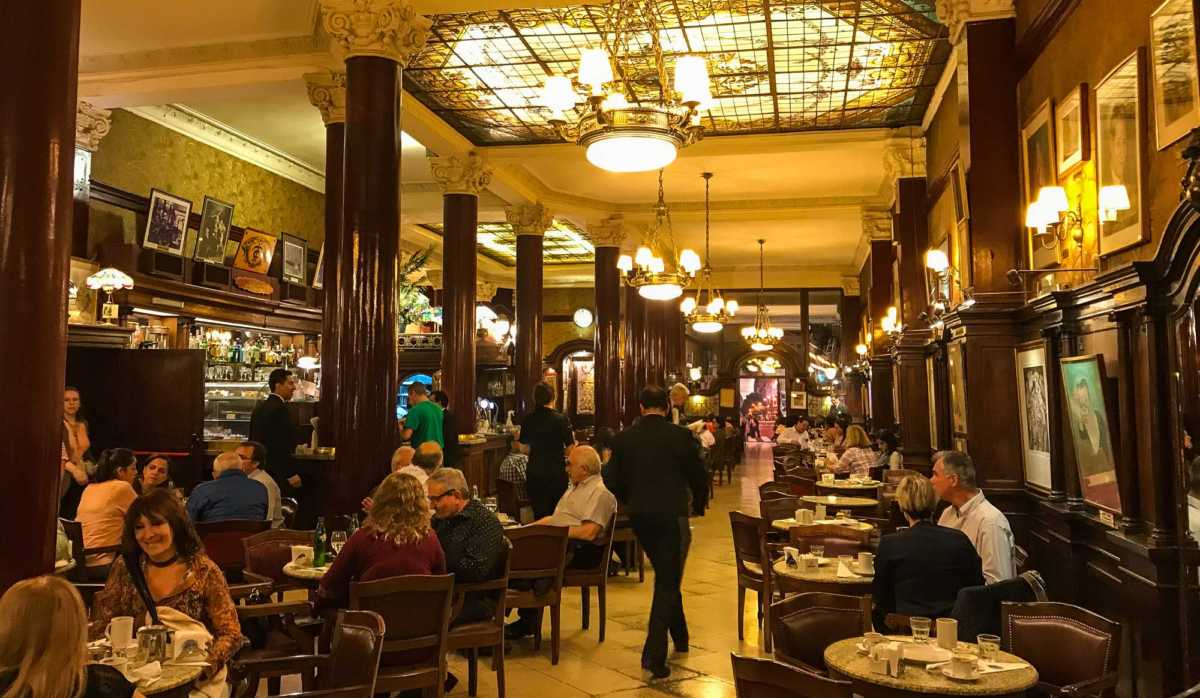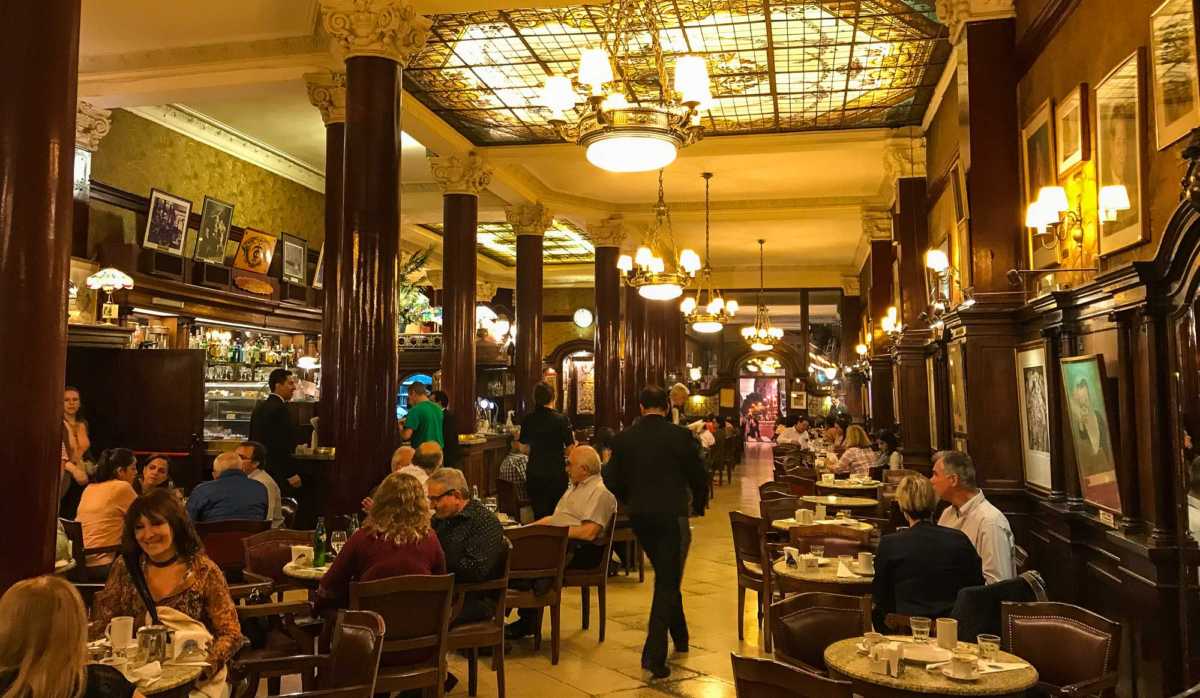 Thanks to friends' recommendations and a couple tours, we got acquainted with the city of Buenos Aires quickly. It helped that our visit was broken into three stays of about four nights each (October 2017, springtime). Bits and bites at a time, we were introduced to great tastes of the eclectic Argentine capital and picked up on the city's personality and history. Our familiarity was enhanced through a lightly guided tour of the typical local cuisine with Say Hueque Tours, a tango lesson at a real Buenos Aires milonga, also via Say Hueque, (no touristy tango show for us.) We took this fun wine tasting tour with Context Travel.
And we did a good amount of walking about on our own, taking in the Belle Epoque architecture of the Recoleta neighborhood and the prototype Argentine modernity of the waterfront Puerto Madero. If you go, don't miss the stroll through the Plaza de Mayo, where crowds used to gather to hear Eva Peron speak from the balcony of the Casa Rosada, the presidential residence.
Here's what made getting to know Buenos Aires entertaining and easy.
AirBnB
When we first arrived in early October, we stayed at an AirBnB in the Palermo Hollywood neighborhood. Besides enjoying our bright, sunny place (with exceptional maps, notes and recommendations provided by our hosts), we were well situated between the busy center of old Palermo and a more residential area. This neighborhood, known as the Audio Visual area due to the TV and recording studios here, offered plenty of coffee shops and restaurants, grocery stores and services right at our feet. Just across Calle Dorrego was a big flea market, a great hodgepodge of antiques, furniture, and tchotchkes.
Coming back to this same AirBnB after our side trips to Ushuaia and Salta made us feel right at home and prepared for Buenos Aires Part Two. We even returned to a favorite neighborhood restaurant, Cucina Paradiso for a second dinner of their fabulous fresh homemade pasta.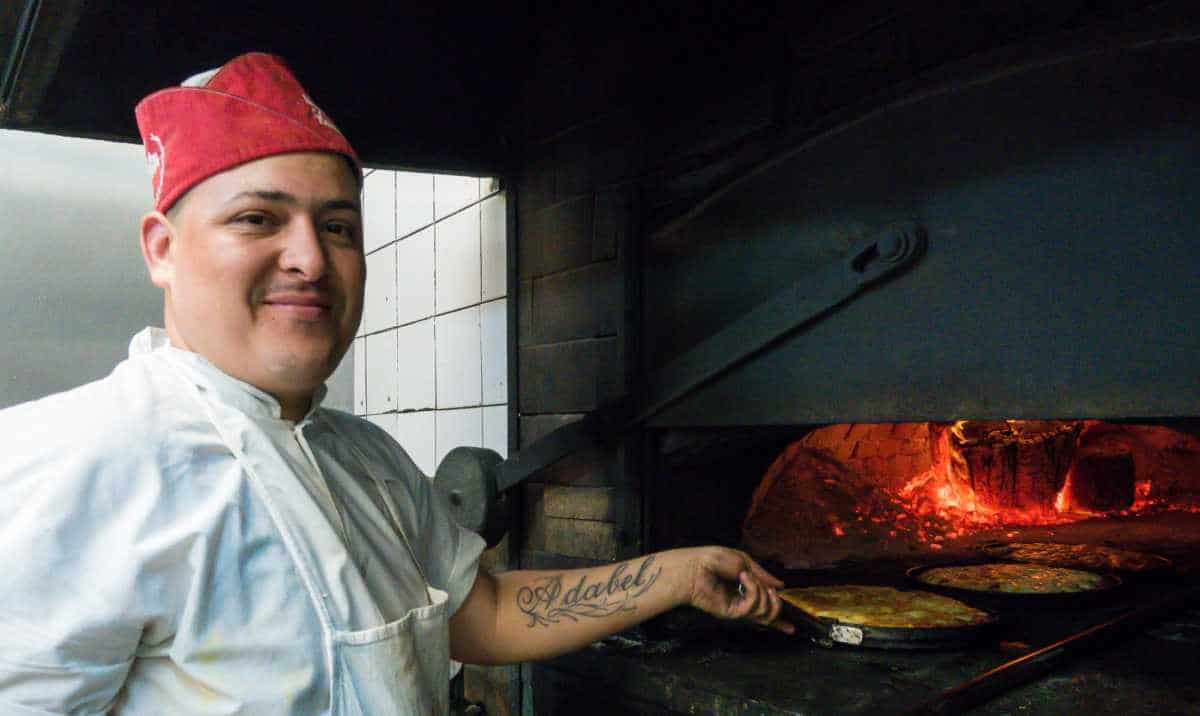 Taste of Buenos Aires tour
Argentina's history and mixture of culinary styles came through as we chatted with our two Say Hueque guides, Marcela and Vanesa (both vegetarian). We started with empanadas, everyone digging in as if we were family. Typically filled with seasoned ground meat, ham and cheese, or roasted vegetables, modern empanadas are probably not too different from those made up in the Andes or near Salta, considered the home to this popular Argentine staple. At La Americana (see resources below) we ate the best empanadas of our entire month in Argentina.
We could see the influence of Italian and Spanish immigrants: thick cheesy Italian pizza slices pulled from wood burning ovens; rich chocolate and churros similar to Spain's; Italian-style gelato in dozens of nut, fruit, and chocolate flavors.
The historic "Notable Cafes," a recognition given to dozens of establishments that evoke the era of early 20th Century Buenos Aires, inspired our imagination. The etched glass mirrors, wooden wainscoting, aproned waiters, and marble-top tables made us think of one-time coffee drinking, cigarette smoking intellectuals talking over the arts and politics of their country. (There's very little smoking in Buenos Aires these days, by the way.) These Notable Cafes still churn out delicious foods and drinks. Go out of your way to include a few of these cafes in your visit.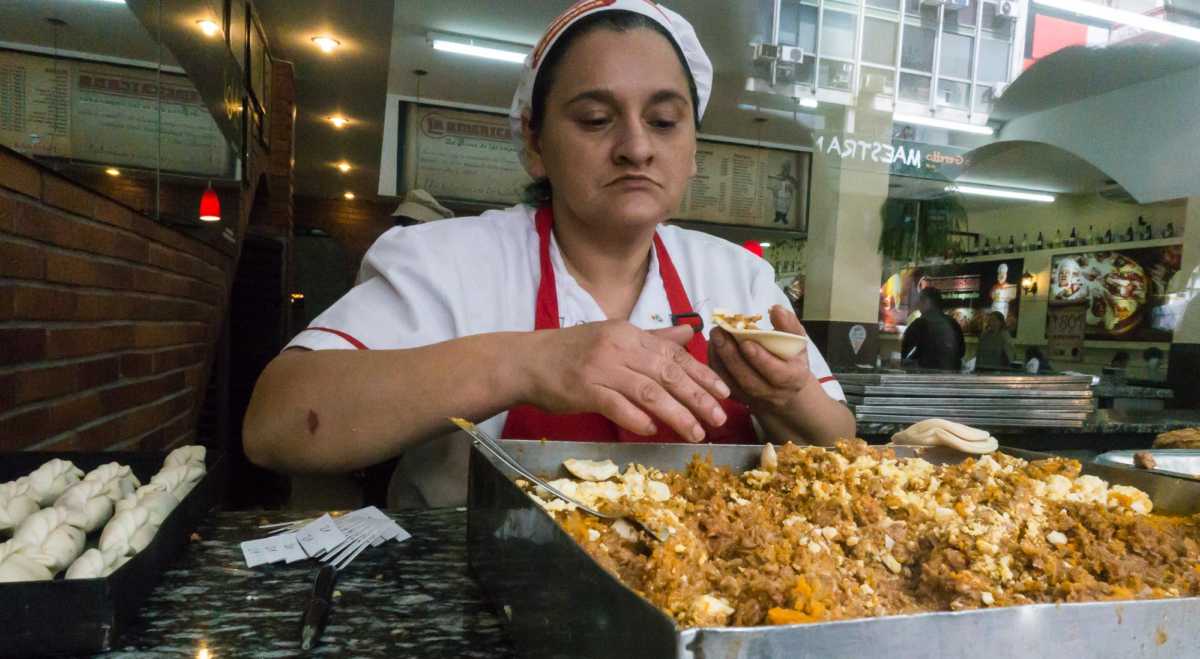 Tango. Just Try It
Fortunately, we were scheduled for a tango evening at La Viruta milonga later the same day, with our same Say Hueque guides. So Vanesa and Marcela had extra time to reassure us that absolutely no experience was required to join in a class, and that if we could stay up late, we'd see some of the city's best tango dancers stop by after 2 a.m. when the cover price (150 ARS, or about $8.50) was dropped.
Thanks to their encouragement, we did it! We showed up, we tried, and no one was injured. Tango, it seems, is harder than it looks, or we were thinking too hard, or both. But it was a great and memorable experience. We enjoyed learning some basics, and loved watching other more graceful bodies moving around the dance floor.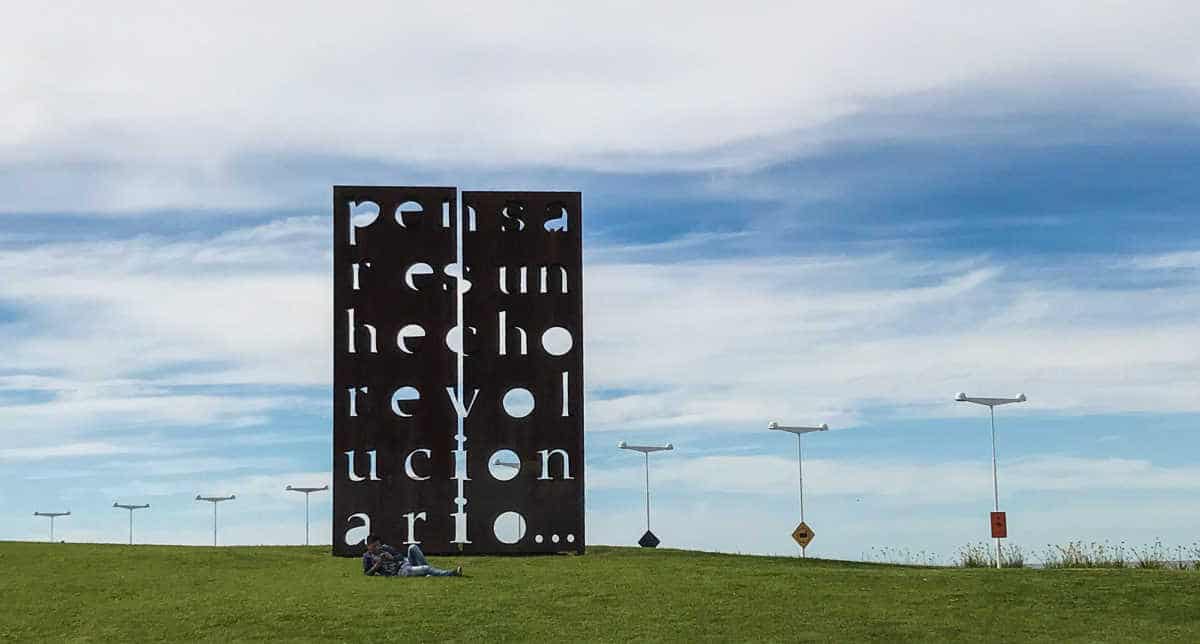 Walking Buenos Aires
The milonga and the bar where we met are both in the Palermo neighborhood, and it turned out we walked down these streets several time while we were there. It's hard to recognize the nighttime lights and glamour during the early morning, when dog walkers are the only others on the street. BA sleeps in. No matter the time of day, it's best to watch your step, not only for the doggie doo, but for the myriad missing paver tiles and random obstacles on the sidewalks. Buenos Aires is undergoing a lot of construction. At the same time, it shows signs of needing ever more.
On the third leg of our visit (after a side trip to Uruguay) we chose to stay right in the center, near where we'd taken our food tour with Say Hueque. We walked to our AirBnB from the port, skirting a demonstration and threading up and down the center's shopping streets, many of which are pedestrian only.
Thanks to generous friends, we were armed with lots of recommendations. On our own, we were sure to head to San Telmo on a Sunday for the famous market, Recoleta Cemetery, Remembrance Park, and the kinetic metal flower sculpture. We managed to find a couple respectable parrilladas (steakhouses) and classic restaurants, skipping the publicized ones in favor of what looked good and was nearby. (We only missed once, too hungry and tired to find a better venue.)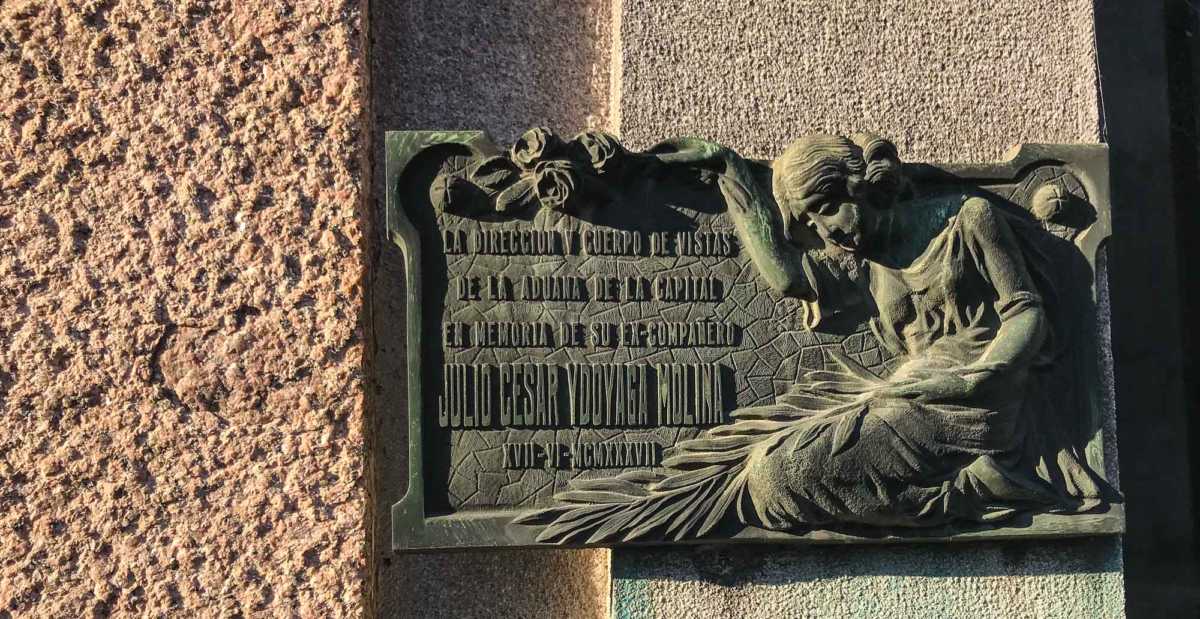 More Phenomenal Finds in Buenos Aires
Per usual, the tours we took resulted in excellent personal recommendations by the guides. At their suggestion, we made our way to one of the most beautiful bookstores in the world, El Ateneo Grand Splendid. And we spent hours at Kirchner Cultural Center (CCK) on our last day. This is an astounding, enormous space (formerly the post office building) with absorbing exhibits, like 'Les Visitants' (Guillermo Kuitca) or the photo exhibit by Gaby Hernstein. With more time–as in more days or weeks–we'd have gone back for music and performing arts–maybe even a tango lesson. Everything at the cultural center is free.
To cap it off, we checked out Cafe Tortoni, another notable cafe. Jammed with history, art-filled walls, display cases, statues and memorabilia of famous visitors, this is a place to savor. A late night snack can morph into more tango, if you please.
All in all, we were taken by "the Paris of the south," and will gladly return some day. It was bigger than we realized, and also more cosmopolitan. Like New York City, its character is based on waves of immigrants. There's pride in distinct neighborhoods, a wealth of eating and shopping options, and, of course, the sort of energy that shows itself in rival soccer clubs, in hearty street demonstrations, in artistic activity, and in sincere discourse with visitors.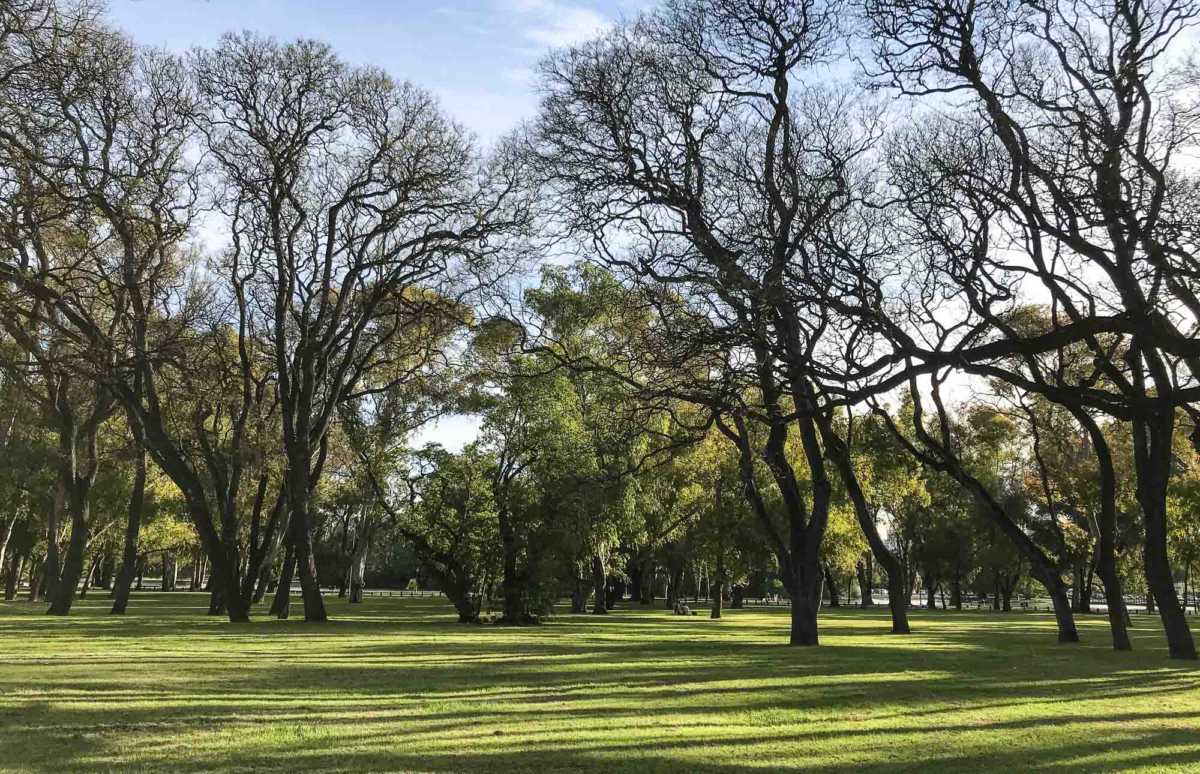 More Resources
Check out the Buenos Aires official tourism site. We should have studied this useful site earlier.
Visited on our Say Hueque tour:
La Americana "The Queen of Empanadas" Yes, they're the best.
Güerrin Porteños love their slice of pizza. Ask for for a piece of fainá (a chickpea flatbread) on the side.
La Giralda Try Fernet, the popular herb liqueur usually ordered with Coke. This classic place also serves rich chocolate and churros.
El Gato Negro – a spice shop with an old school pharmacy feel.
Heladeria Cadore Gelato the way you've imagined it. This place dates back to the late 1800s
La Academia Pool and billiard hall, open all night
Also recommended:
Clark's Reasonable price, convenient location near Recoleta Cemetery, and a mighty fine steak.
Sorrento When beef is not enough (or too much) try this restaurant specializing in fish and seafood, plus pasta.
Getting around
Buses and metro can be accessed with a SUBTE card, purchased at kiosks. Instead, we jumped around via Uber. Since Uber isn't sanctioned, drivers may ask you to sit in the front, for appearances.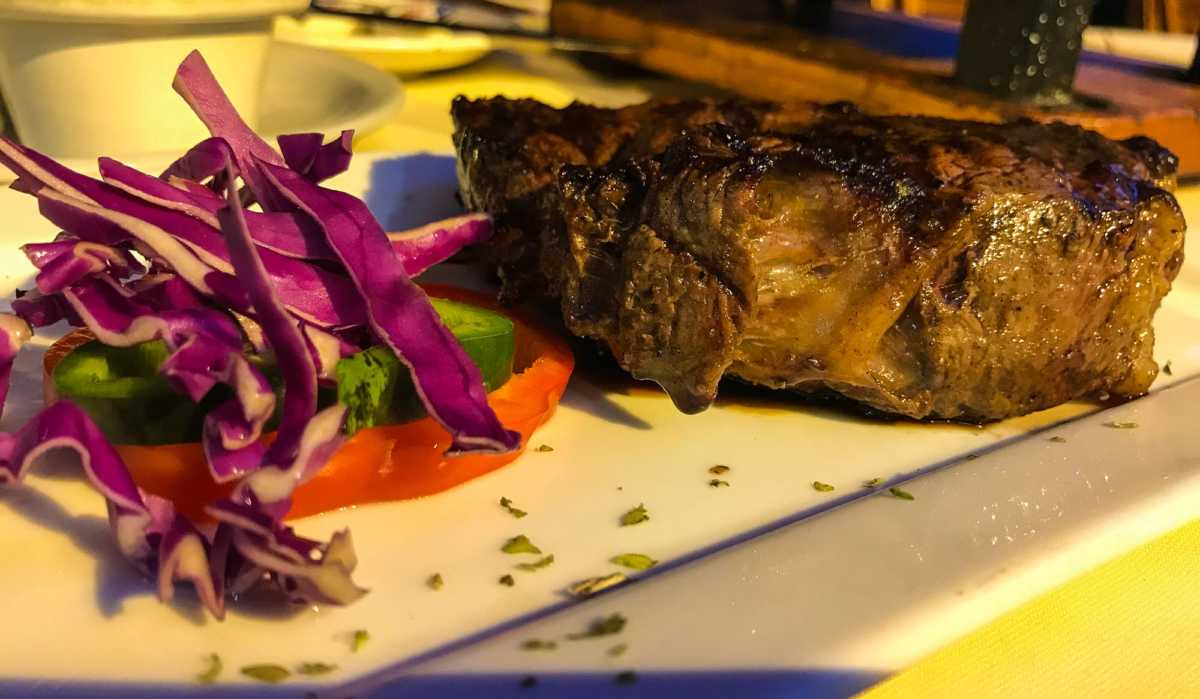 Note: We were hosted on the food tasting tour and tango evening by Say Hueque. Some links on this page may have been placed by companies from which TravelPast50.com receives compensation. Even though this compensation may impact how and where links are placed, opinions expressed are the authors' alone (that's us), and have not been reviewed, approved nor edited by these companies.
The other great place to visit in Argentina is Tierra del Fuego and the city of Ushuaia. See the details of our trip to Tierra del Fuego here.
You can help yourself get ready for your own travels by reading our Get Started Planning Your Trip Now page.
We love traveling–with the right gear. You can check out a lot of the stuff we use to make all our travel much more pleasant and efficient all on one page. Click here to see it. If you purchase something from this page, Travel Past 50 may receive a small commission at no extra charge to you. Thanks.
Note: This post and other posts on TravelPast50.com may contain paid or affiliate advertising links.