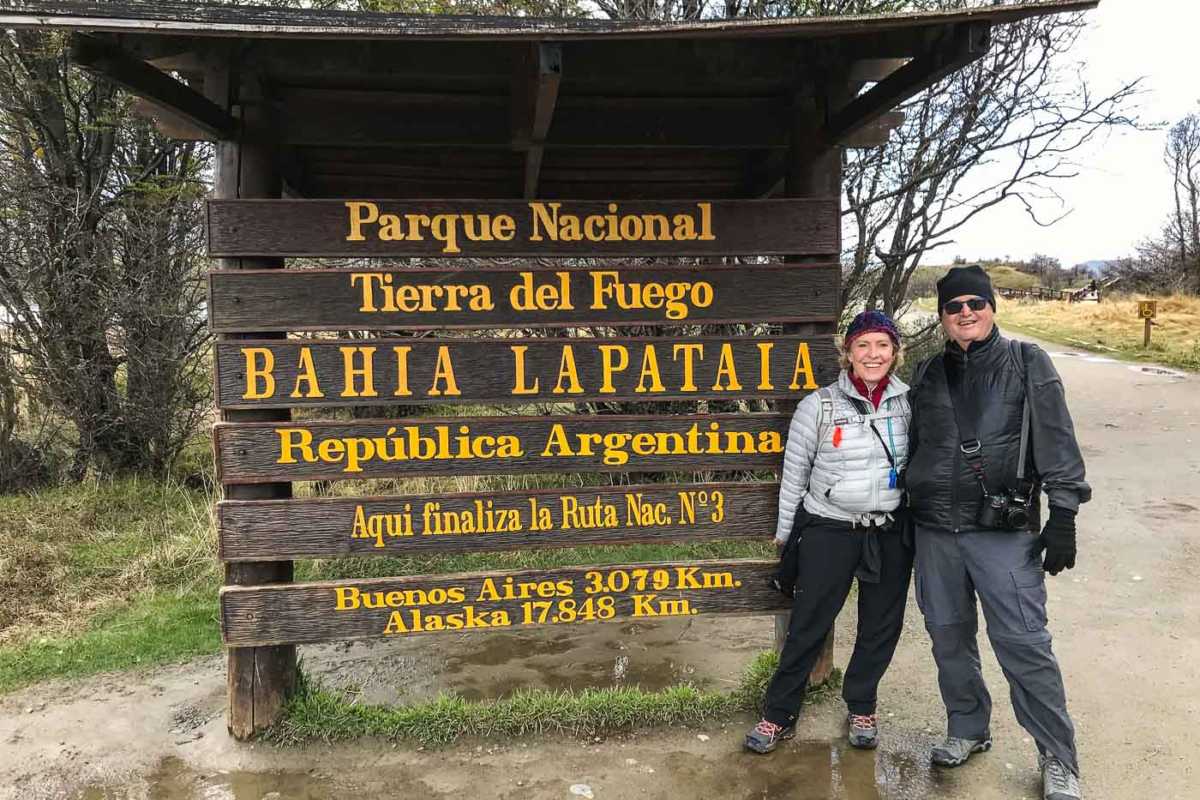 With its back to the world, the town of Ushuaia on the island of Tierra del Fuego at the southern tip of Argentina, casts its gaze to the South. From here, the self-proclaimed southernmost city in the world, (a title also claimed by the town of Puerto Williams, Chile,) the big view is across the Beagle Channel, where Charles Darwin passed through, over the string of mountainous Chilean islands, and beyond to Antarctica.
(The Beagle Channel is south of the Strait of Magellan, and provides a more direct and hospitable sea passage at the southern end of South America. Either, though, will allow you to avoid the notorious bad weather and high seas around Cape Horn. Punta de Arenas, on the Strait of Magellan, is also the preferred jumping off point for hiking the neighboring Torres del Paine region of Chile. But that's another story.)
Behind us, on the north side of town, the Martial Mountains wall off the rest of the world and manage to block the winter sun as it passes low across the sky. In Ushuaia, at 54.48 degrees south, days are short in winter and light is always at a premium.
Some posts on Travel Past 50 may contain affiliate links. If you buy something through one of those links, we may earn a small commission. As an Amazon associate, we earn from qualifying purchases.
A little history of Ushuaia and Tierra del Fuego
The earliest settlement of indigenous people in Tierra del Fuego dates to around 8,000 BCE. Europeans first explored the islands during Ferdinand Magellan's expedition of 1520; Tierra del Fuego and similar names for the area arose from sightings of the many bonfires that the natives built. (According to one legend, the original inhabitants wore no clothes, which would certainly explain the plethora of bonfires. Tierra del Fuego is cold.) Settlement of the island, and particularly Ushuaia, by those of European descent did not begin until the second half of the 19th century, at the height of the Patagonian sheep farming boom and of the local gold rush.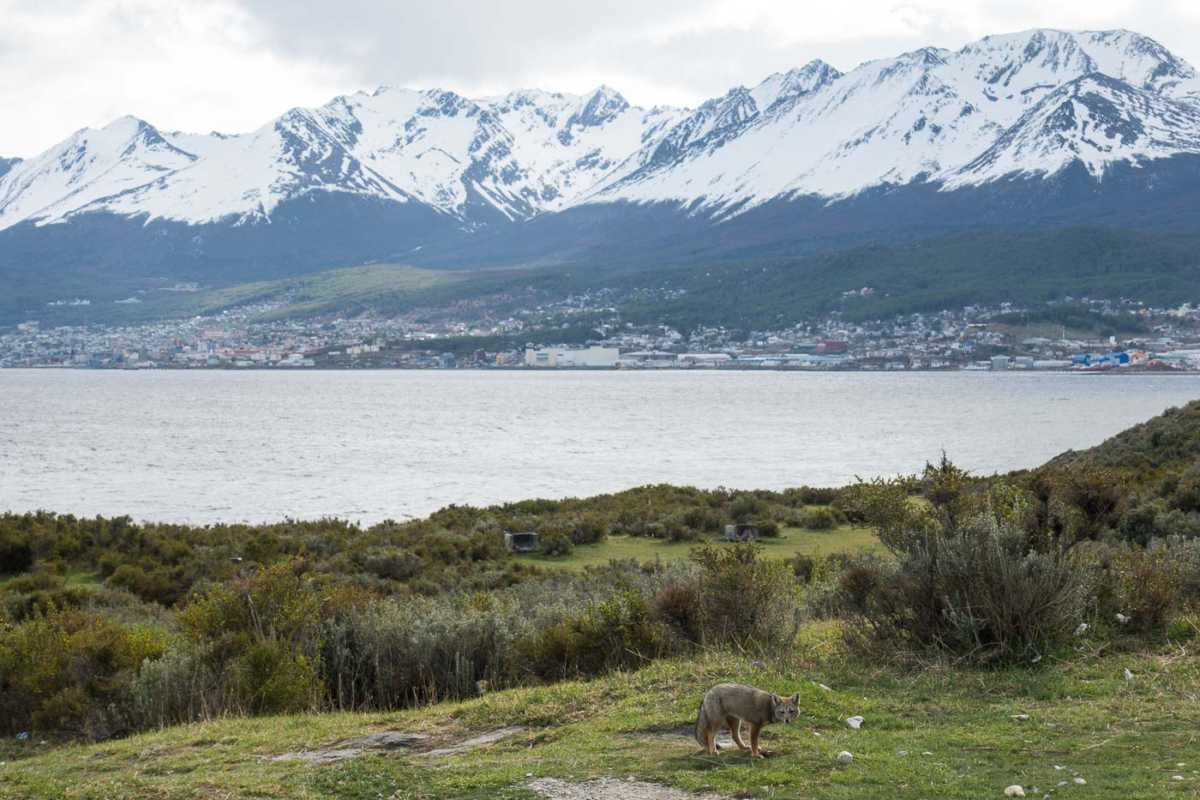 Ushuaia Today
Ushuaia, population 70,000, is widely known as a jumping off point for cruise ships to Antarctica. But we visited with the intent of staying and exploring the town and surrounding area. It didn't take long to appreciate why wilderness lovers want to stay here and dismiss the rest of Argentina, if not the modern human race.
Connections to the rest of the world are as sparse as the landscape. The town's port hosts freight ships, research vessels, a few expedition cruise lines in season, and a passel of fishing boats. A ship wreck and an Argentine Navy vessel close by the esplanade reminded us of the strategic significance and this land. A new airport sits on the tongue-shaped Peninsula Ushuaia, and offers much safer landings than the old airstrip nearby.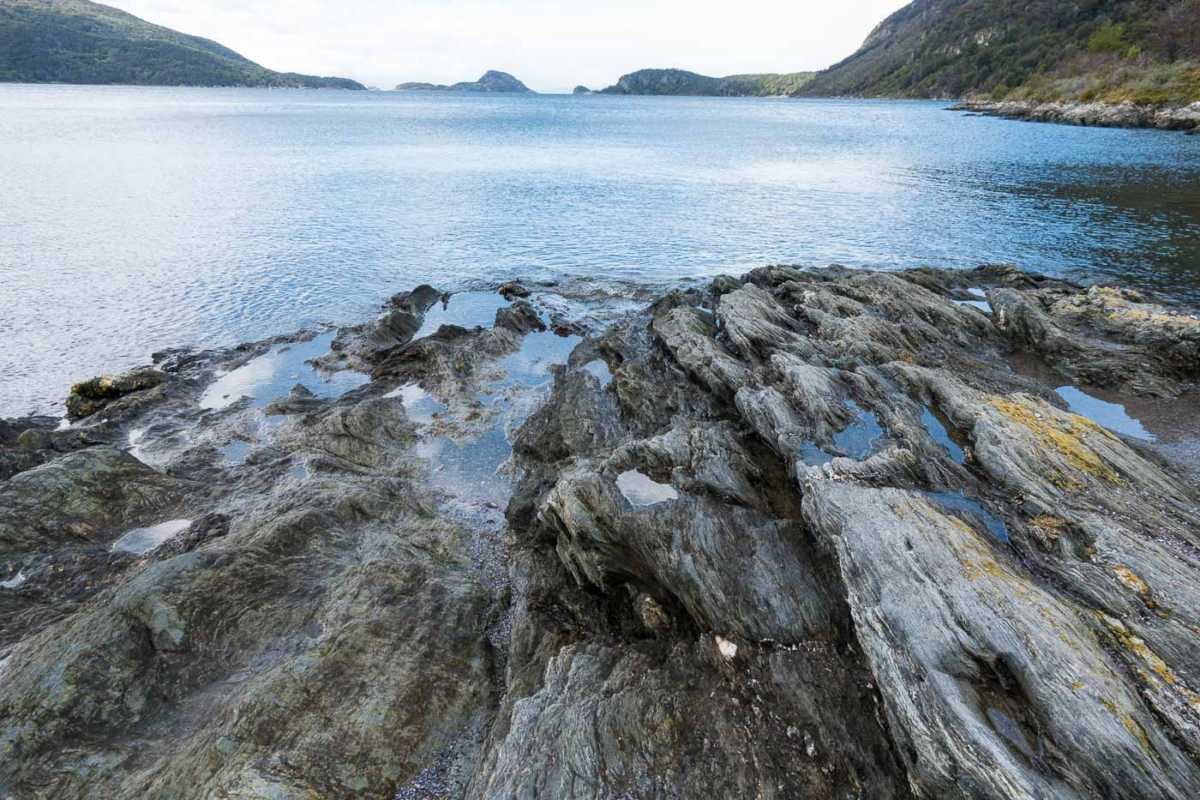 A few roads lead out of town, and the Pan American Highway famously ends here in Tierra del Fuego National Park. But to travel even to the mainland of Argentina takes a day: 12 hours by road passing into the Chilean half of Tierra del Fuego island, followed by a ferry crossing of the Strait of Magellan, and then more driving to steer back to the Atlantic Coast of Argentina.
When we visited in October 2017, in early spring, we joined up with our expert guide Juan Ronco of Tierra del Fuego Aventura. We must have won some cosmic lottery to be matched up with Juan, whose passion and knowledge carried us along throughout the itinerary.
Over three days, we hiked, ate, and imagined life here from the earliest explorers' time. Hikers and nature lovers take note: you'll feel a direct connection here to the few people who've tread this ground, simply because they number so few.
Our walks took us through hills and valleys where we felt the persistent winds. We noted peat bogs, fast cold rivers, and scrappy woods with stark vegetation (winter's bark, lenga, beech). We spotted water and song birds, as well as a fox. And we saw the massive changes in landscape made by North American beavers introduced in the mid 20th Century.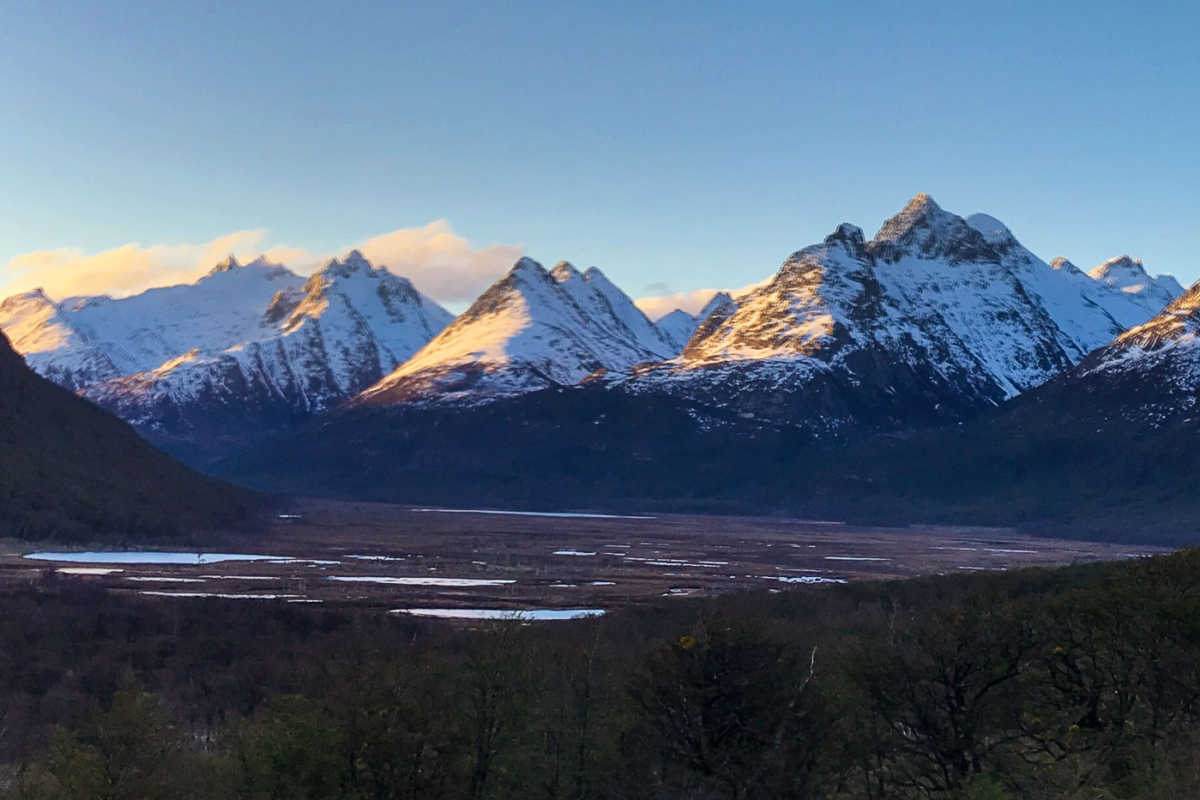 Driving toward the tree line at 600 meters, we stopped for a view of Lago Escondido, and ended up staying for a half hour performance by a young condor.
We bounced off road to the enormous Lago Fagnano, which slices nearly all the way through Tierra del Fuego. Then we rested in a hollow to picnic, protected from the loud crashing waves and blustery wind.
Every shore line–lakes and ocean–delivered enormous views of dark gray rocks, clear water, white-capped mountains, and blue sky to us small people.
We warmed ourselves in the hut at Ushuaia Blanca, the winter sports property of Patricia and Rodrigo Conejo. While we enjoyed bean stew, grilled meat and flaming coffee, we could envision the scattered residents of the last century, offering to help their neighbors while struggling to maintain themselves.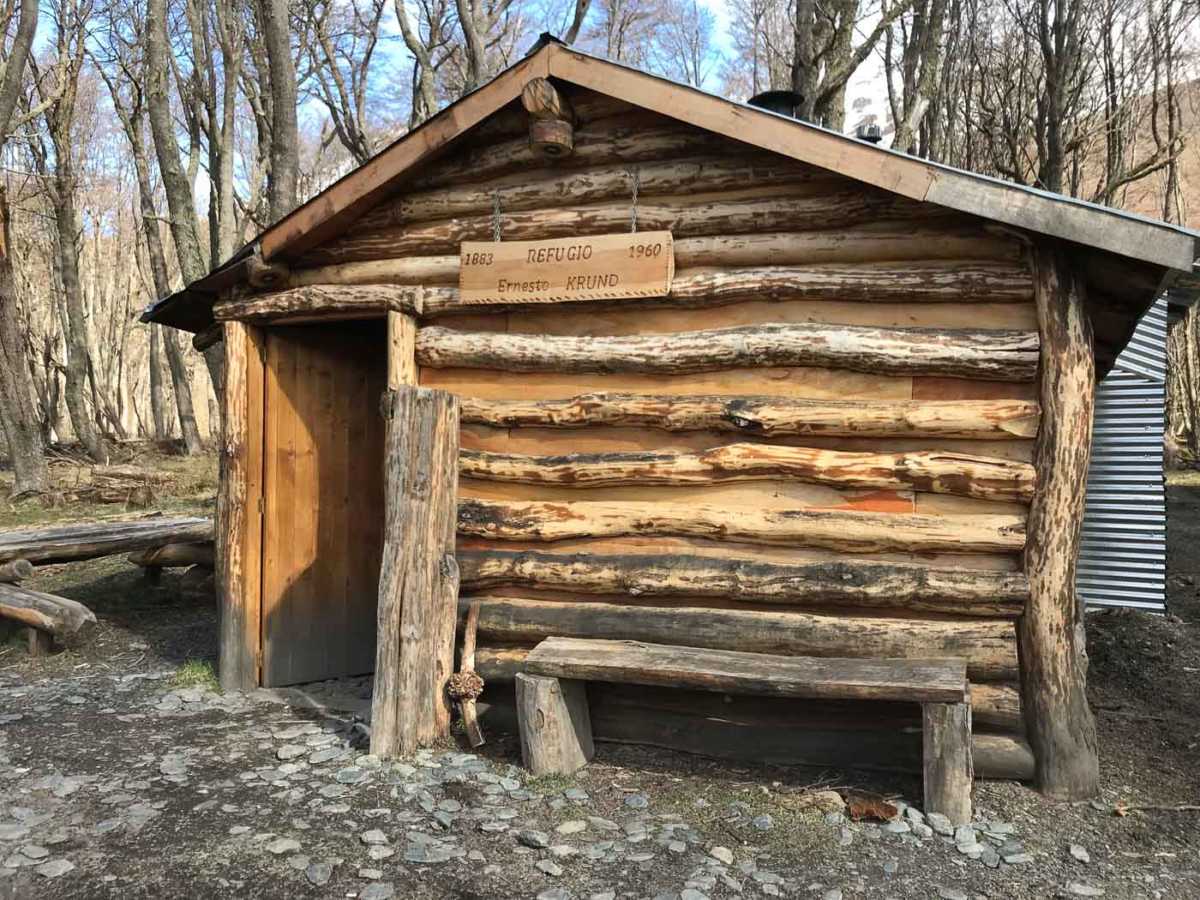 Since this trip, I've been reliving the hikes and reading more about the 'land of fire" (named for the fires the native Yamana peoples used to communicate across distances). Our guide Juan is featured in a book, Fire Walking, about his trek with two others around the entire Mitre peninsula of Tierra del Fuego. The simple diary conveys respect for the few people who've visited this territory and shared refuge, and demonstrates the earnest desire to be lost in nature even as it's being discovered.
The overall sensation of visiting Ushuaia's environs is of being among a fortunate few to walk around this vast place; of being a bit player among the earth's elements; of enjoying the juxtaposition of flora and fauna against the rocks, water, and sky; of focusing on Tierra del Fuego with our backs to the rest of the world.
When You Go
Hotels
Las Hayas Resort
Los Cauquenes A wonderful resort, so nice I skipped a bit of touring to enjoy the view and the food and my comfortable room.
Restaurants
Kuar 1900
María Lola Restó
Activities/Tours
Ushuaia Blanca A winter resort with year-round activities.
Tierra del Fuego Aventura Expeditions and tours in Tierra del Fuego and beyond.
Other popular activities include fly fishing in the myriad nearby streams and skiing at Cerro Castor, just outside Ushuaia.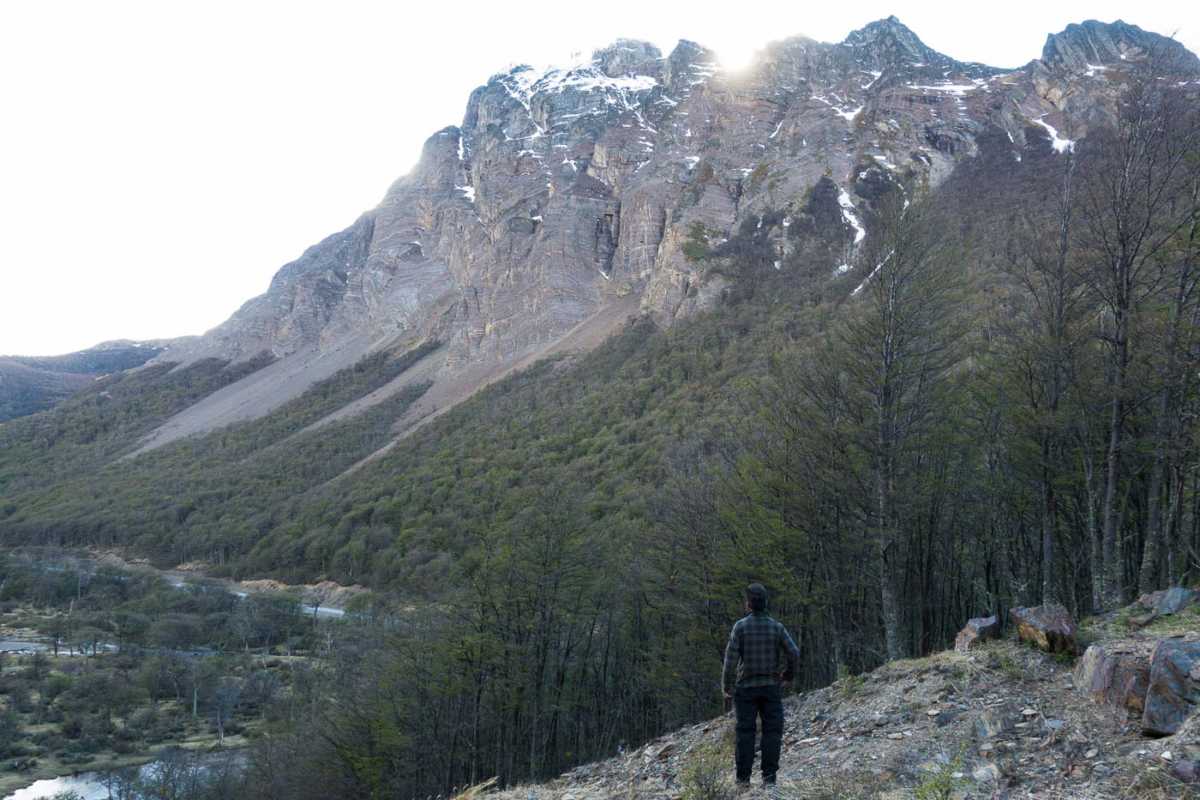 The beauty of Tierra del Fuego
In a way, it's senseless to write too much about the beauty of Tierra del Fuego when technology allows you to carry a camera without resorting to a pack mule. We spent five days in Ushuaia and spent all of those hiking and spotting vistas like these. It was pretty much non stop, except for the times we were driving to new locations. And then we stopped many times to get views from the road.
One of the benefits of hiking all around Tierra del Fuego (aside from learning to like wet feet) is the consistent vistas of water, rock, and snowy mountains. The southern spring provides plenty of snow and water–and lovely clouds–to make your landscape even more inviting. Even in warm spring, bring layers, because the weather can change in a matter of minutes. On one side of a hill, you're in warm sun. On the other, a cold breeze kicks up from the Beagle Strait. As anyone who has been to this part of the world can tell you, there's a bit of a wind. Constant wind. The chill wind that vexed mariners since Magellan first sailed through here. It's not a part of the world for the faint hearted. But the rewards are manifest. Just look up.
Note: we were hosted on this trip by Tierra del Fuego Aventura along with other others, as part of the Adventure Travel World Summit (ATWS) pre-summit adventure. The Summit was held in Salta, Argentina, up north at the opposite end of Argentina.
The other prime spot to visit in Argentina is, of course, Buenos Aires. See the details of our trip to Buenos Aires here. Also, wine is an essential element of any visit to Argentina. Check out our story on our Buenos Aires wine tour here.

Here are some more tips for hiking locations, routes, preparation and equipment, all in one spot.
Travel Planning Resources
Looking to book your next trip? Use these resources that are tried and tested by us. Flights: Start finding the very best flight deals by subscribing to
Thrifty Traveler
. Book your Hotel: Find the best prices on hotels with
Booking.com
. Find Apartment Rentals: Find the cheapest prices on apartment rentals with
VRBO
. Travel Insurance: Don't leave home without it. We recommend
Allianz Travel Insurance
. Need more help planning your trip? Make sure to check out our
Resources Page
where we highlight all the great travel companies and products that we trust. See all of the gear and books we like in one place on our
Amazon shop
.