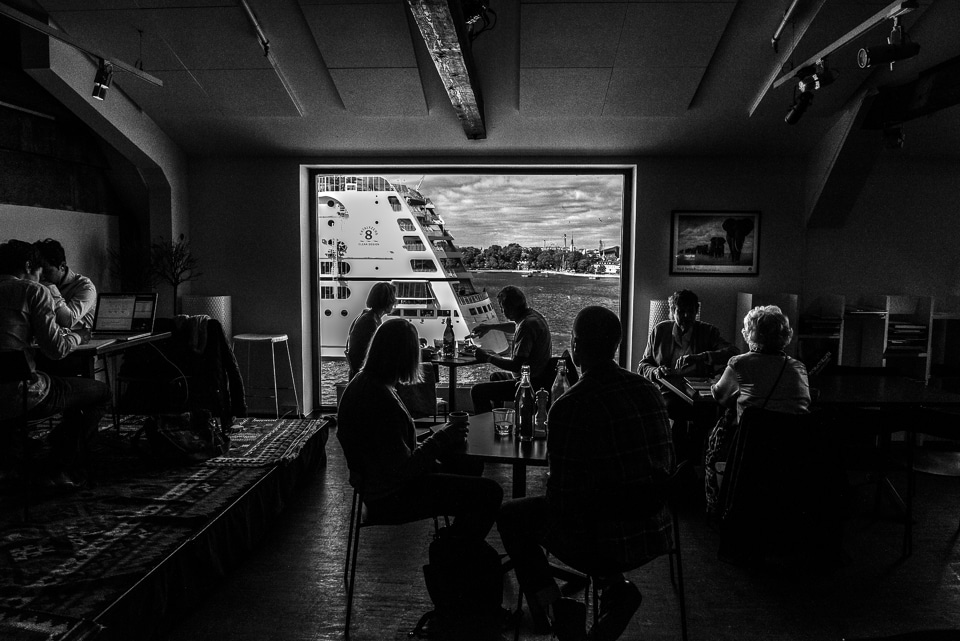 Not a lot to say about this shot, other than we were at the Fotografiska Photography Museum in Stockholm and thinking of eating, when this big cruise ship passed by the cafeteria window. (That, and being at Fotografiska puts me in an artsy photo mood.)
Four years ago, we didn't stay for lunch but, now, four years later, the Fotografiska Museum has greatly expanded their restaurant since we last visited. This time we stayed for lunch and a glass of wine. Quite nice! And there are even more seats by the windows to watch the traffic go by.
We're now visiting Stockholm again in March 2018 and made a trip back to this fantastic small museum–which is right on a shipping lane–again.
Some posts on Travel Past 50 may contain affiliate links. If you buy something through one of those links, we may earn a small commission. As an Amazon associate, we earn from qualifying purchases.
Museum is a slightly misleading title for this art gallery, since we've been here twice now and the exhibits are completely different from the first time. (Doesn't a "museum" have some sort of permanent collection? But whatever you call it, Fotografiska is one of the best museums in Stockholm.)
Honestly, I don't remember what we saw last time, but this time we lucked into two wonderful exhibits.
First was a collection of self portraits by the South African photographer Zanele Muholi. She made various props and headdresses out of some pretty funky everyday objects and photographed herself using very high contrast lighting and post production and came up with some stunning images. There was an accompanying video in which she talked about her life as a black lesbian in South Africa, but I sort of discounted that as being peripheral to her stunning images. Check her out if you have the chance.
The second exhibit was a more conventional, yet exceptionally creative exhibit of the magazine work of the veteran Ellen Von Unwerth entitled "Devotion: 30 Years of Photographing Women." A dazzling and gorgeous collection exhibiting the craft of fashion and portrait photography that looks effortless on the surface but is devastatingly difficult to actually pull off. Yeah, she's photographing professional models, actresses, and pop stars, mostly. And she owes a bit of her style to fellow German Helmut Newton. But she won me over completely with her photo of Penelope Cruz smoking a cigar. And, that's not the only smoking shot from this exhibit.
Wow. Just wow. One shot after the other.
Fotografiska consists of three rather large galleries and rotates exhibits through the three on a regular basis. My impression is that each exhibit lasts around two to three months. So, what you'll see depends on what's on when you're there. The only consistency is what you'll see will be good and original.
We entered Fotografiska on our two-day Stockholm Pass. The Stockholm Pass grants admission to all the best Stockholm museums and also includes boat tours around the Stockholm islands and more. A two-day pass costs 795kr, which is almost $100US, but if you go to three museums a day, and take a boat tour, you come out ahead. My advice is to do some research before you get here and figure out if it will work for you. If you're museum geeks like we are, it's probably going to save you some money. Normal entry to Fotografiska is 145kr, btw–about $17.50US.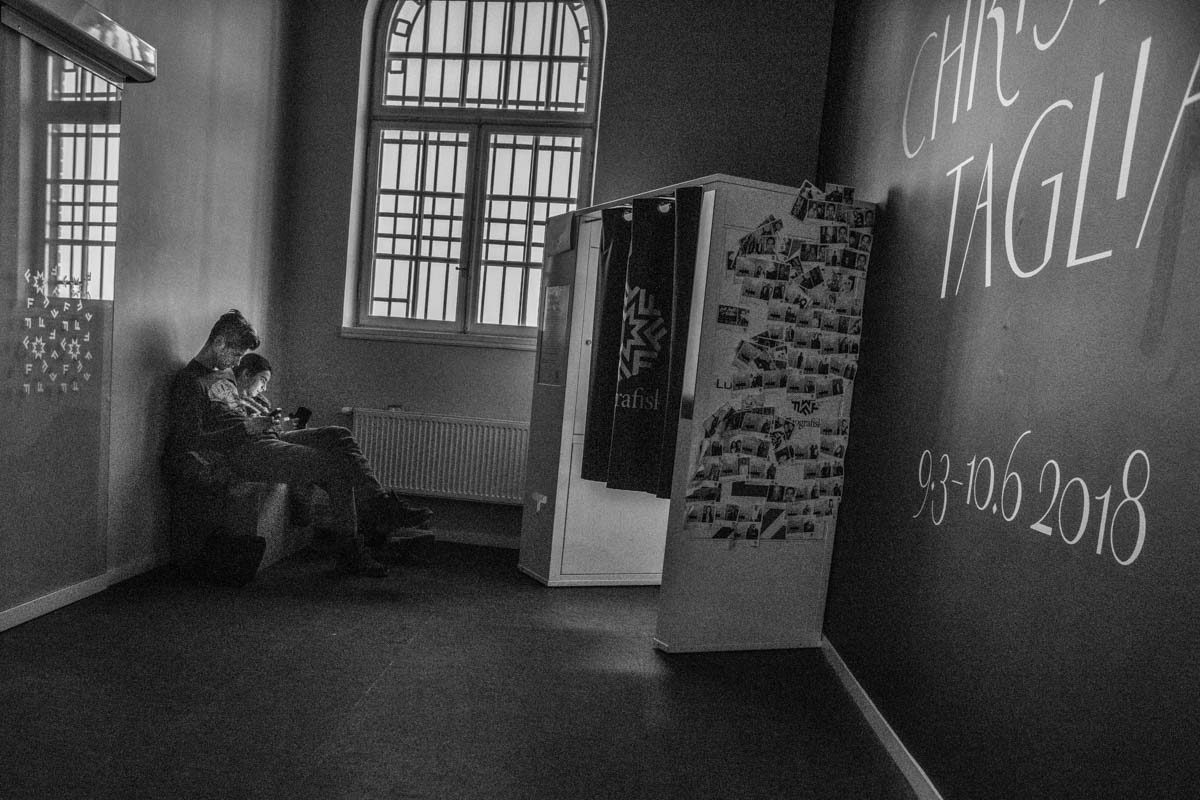 This is a bit of an update to a post originally published in 2014. We're happy to be back in Sweden and Stockholm. Thanks to Visit Stockholm and Visit Sweden for the tickets to the museum, and more.
For a couple more suggestions of what to see in Stockholm and surrounds see these posts on Drottningholm Palace and the Skogskyrkogården Cemetery. Both are UNESCO World Heritage sites in Sweden. Check that link for more suggestions of UNESCO sites to visit.
Where to stay in Stockholm
When we're looking for a place to stay in Stockholm, or anyplace, for that matter, we always check Booking.com. Click this link for a list of recommended Stockholm hotels. If you book a hotel in Stockholm using this link, Travel Past 50 will receive a small commission.
Tours of Stockholm
If you book any tours of Stockholm using the links below, Travel Past 50 will receive a small commission.
Travel Planning Resources
Looking to book your next trip? Use these resources that are tried and tested by us. Flights: Start finding the very best flight deals by subscribing to
Thrifty Traveler
. Book your Hotel: Find the best prices on hotels with
Booking.com
. Find Apartment Rentals: Find the cheapest prices on apartment rentals with
VRBO
. Travel Insurance: Don't leave home without it. We recommend
Allianz Travel Insurance
. Need more help planning your trip? Make sure to check out our
Resources Page
where we highlight all the great travel companies and products that we trust. See all of the gear and books we like in one place on our
Amazon shop
.