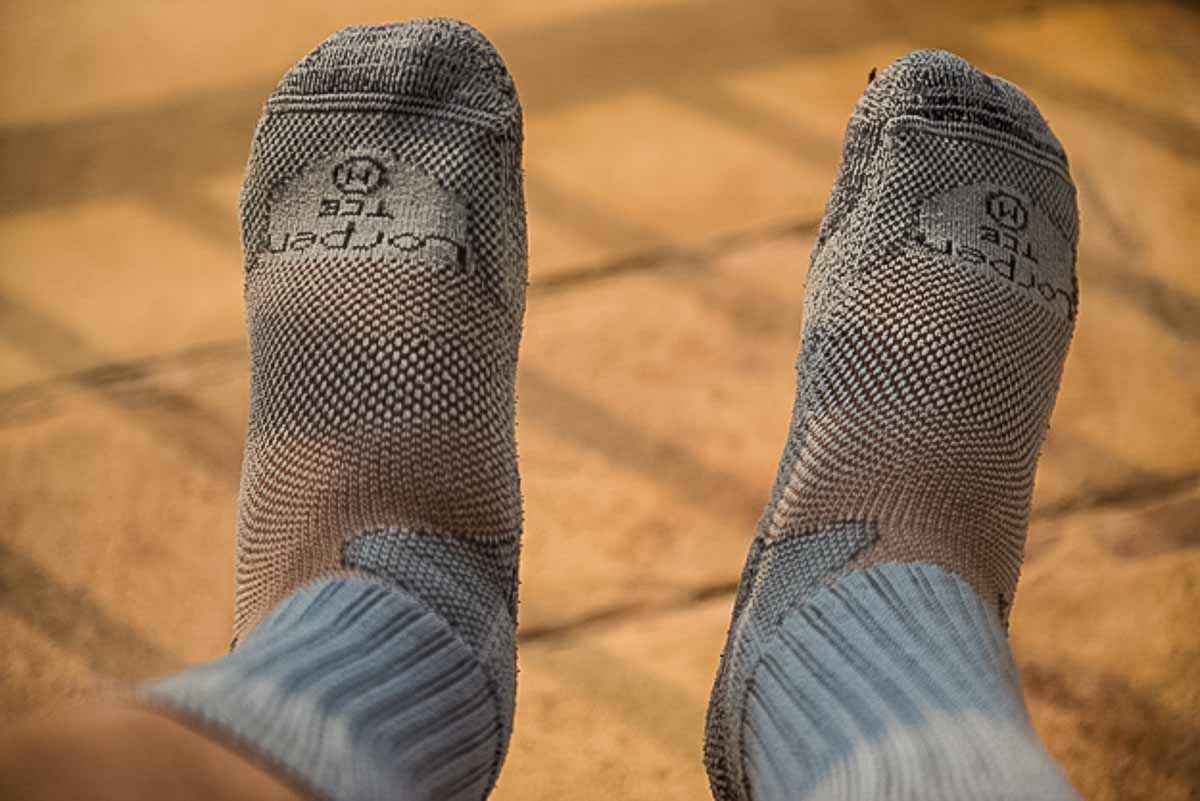 To see all of our posts on tips for the Camino de Santiago, click here: Camino de Santiago.
As I said before, the Camino de Santiago is mostly about your feet. Take care of them with the right shoes and socks, and they will take care of you. Blisters are inevitable. But, if you treat them properly, they're not too bad.
Socks
There are many theories about choosing socks and as many types of socks as there are theories. Here are the two that I used. I started out with WrightSock Men's Coolmesh II Lo Single Pack Socks that are a sock within a sock. The theory of this type of sock is that the inner sock moves with your foot while the outer sock moves with the shoe. If all works as planned, the friction is between the socks rather than between foot and sock, and blisters are prevented. This sort of works. I got blisters while wearing the Wrightsocks, but who knows if they would have been worse without them? From what I know now, I would say these are more running socks than hiking socks, and I'd avoid them.
This two-sock method could also be tried by actually wearing two pairs of socks, and I did see people with a very light pair of inner liner socks and a heavier pair of outers. I don't see why this wouldn't work, except that that's just one more layer of heat being held into your shoe as well. And heat means sweat, and sweat increases friction, and you know the rest. Blisters.
The main thing is find socks that absorb moisture and wick it away. The wicking away moisture is absolutely key. Those kind of socks are the ones that really prevent blisters.
Friction prevention and heat and moisture dispersion isn't the only function of your socks. Padding is also important. On many days you'll be walking for hours over sharp broken rock. On many other days, you'll spend a few hours on asphalt or hard crushed pebbles. On most days, you'll get a little of both. That pounding bruises feet.
I ended up buying a pair of Lorpen T3 Socks at a store along the way. These were trekking socks, medium weight, made in Spain, and provided the padding that the Wrightsocks were lacking. (In fairness, Wrightsocks are available in heavier varieties. I was using the Coolmesh variety, which are pretty thin.) The Lorpen socks were made of a material called Coolmax and did a great job of wicking away moisture. Those turned out to be my first socks of the day from then on.
First socks of the day?
Probably the best piece of advice I got, and will now pass on, is change your socks midway through your daily walk. Sit down, take off your pack. Take off your shoes and take off your socks. Take a rest while you let your feet dry out in the air. Rub them for a while and work out any knots. Re-powder or re-grease your trouble spots. Take out a fresh pair of socks (which I packed every day in the outside pocket of my pack) and put them on. It will change your whole outlook on the day when you stand up and your feet feel like you're just starting out instead of like you've already been going for three hours.
Some other hiking sock choices you should try
One more note on socks: I've recently bought a few pairs of Falke Men's Cool Trekking Socks. They are expensive, but they're, believe it or not, made for right and left feet, just like shoes. I have now worn them day after day on long walks and they are very comfortable on my usual day walking around town. If I were doing the Camino again, I'd definitely take a couple pairs.
And another note: in my never ending quest for the perfect sock for hiking, I've recently acquired a couple pairs of Point6 Merino wool hiking socks. I haven't had the time yet to thoroughly test them on long walks, but that comes soon as I'm about to hike a large part of the St. Olav's pilgrimage in northern Sweden. If anything, that might be a tougher test than the Camino. I've used them on a couple of day hikes around the Twin Cities area so far, and the short story is I love them. (Update, October 2018. I wore these socks on several 10 kilometer hikes in the African bush on hot days. Loved them.) One thing I like about the Point6 is their fit. They seem a little tighter and molded to my foot. In addition to providing a bit more arch support, that also means they slide around in the shoe a bit better, and that's a friction reducer.
Padding is important
One other thing to keep in mind. My Camino experience is that thicker socks (as long as they breathe) are better than thinner ones. The Camino surface is often hard, and the padding is important. Both the Lorpen and Falke socks come in various weights. I love them all. But be sure to try on your shoes with the socks you are going to wear. If you bought your shoes for thin socks, and you end up wearing thicker socks, it's not going to be as pleasant as you would like.
Foot powder
There are, again, two theories of how to treat your feet before putting on your socks: powder and grease. I'm a powder guy. Specifically, Gold Bond Medicated Foot Powder. Some people insist putting a Vaseline-like substance on your heel and between your toes is the best way to stop friction, and they're entitled to their opinion. I like keeping my feet as dry as possible as the best way to reduce friction. And that means powder. Put it between and on the top and bottom of your toes, on your heels, the top of your foot, your instep. In fact, just coat your foot in it before you put your sock on. Do it again when you change your socks midday. The other advantage to powder is that it's light. A small container will last you the entire Camino, with enough left over to treat the inside of your shoes every now and then to help dry them out (and smell better.)
One final thought: another choice is between crew socks and ankle socks. A personal preference only, but I like crew length socks better. I don't know if the moisture wicks up the leg and out into the air, but it's a theory anyway. It seems to me that with ankle socks, all the moisture would stay in the shoe. You can dispute if you like and you'd probably be right, but I just don't know.
Read Kris's post on what it's actually like to walk the Camino de Santiago.
To see all of our posts on tips for the Camino de Santiago, look here:
The gear you want to pack
The right clothes
Your first aid kit
Walking sticks
Shoes or boots?
The best way to carry water
The backpack

This is an updated version of a post originally published in 2013.
When you're thinking of traveling, your first stop should be our Travel Resources page, where we list all the essentials you need to make your travels easier, cheaper, safer, and more fun.
You can also help yourself get ready for your travels by reading our Get Started Planning Your Trip Now page.
We love traveling–with the right gear. We've gathered a lot of the stuff we use to make travel more pleasant and efficient all on one page. Shop our Travel Past 50 Amazon page to find our favorite gear. If you purchase something from the store, Travel Past 50, as an Amazon affiliate, may receive a small commission at no extra charge to you. Thanks.
We never leave home without our travel insurance. Nor should you. Search for the travel insurance from Allianz that best meets your needs, whether it be an annual plan or a single trip.
You can see (and buy prints) of most of our travel photos in one place on this page.
Note: This post and other posts on TravelPast50.com may contain paid or affiliate advertising links. As an Amazon Associate we earn from qualifying purchases.