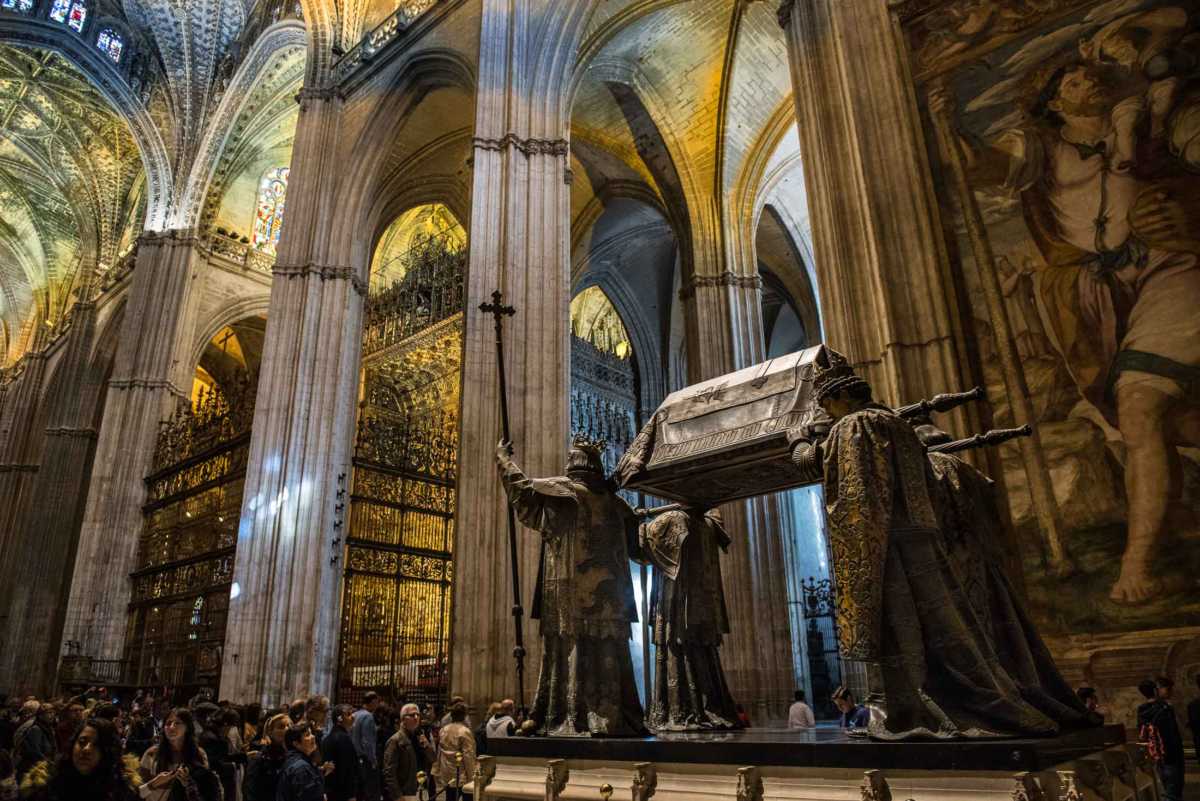 No matter what you might think of Christopher Columbus, or Cristobal Colón, as he's known in Spain, you have to admit that he is perhaps the (non religious) person who most affected the history of the world–for good or bad.
Because, although evidence mounts that other Europeans reached the Americas before Columbus, he was the one who brought back the news to Europe. And after that, there was no stopping the Europeans from swarming in to sweep up the riches our continent had to offer.
At any rate, here's the tomb of Christopher Columbus in Sevilla. Or what is said to be his tomb after his remains were brought back from the New World. His grave his been around the world, so to speak.
But the question of where Columbus is buried is still in dispute.
Columbus died in the Spanish city of Valladolid. It was his wish that his grave be in the New World, so his daughter-in-law took Columbus' bones to the Dominican Republic, where he rested in the cathedral of Santo Domingo until 1795. But when the Spanish retreated from the Caribbean, the bones of Columbus came with them, and he's now buried in the Cathedral of Seville, the city from which he left for the New World.
Today, the Dominican Republic claims Columbus is still buried there, but, according to Wikipedia, DNA testing evidence suggests the bones in Sevilla are the real thing.
There is no dispute, though, about the catafalque itself. It's a lovely piece of art. The tomb of Columbus is carried by figures representing the kings of the four regions of Spain: Castilla, Leon, Navarra, and Aragon. The coats of arms on the kings and the surroundings are also full of symbols that require a separate article to elaborate. I invite you to check that out for yourself.
Here's a shot with some of them visible.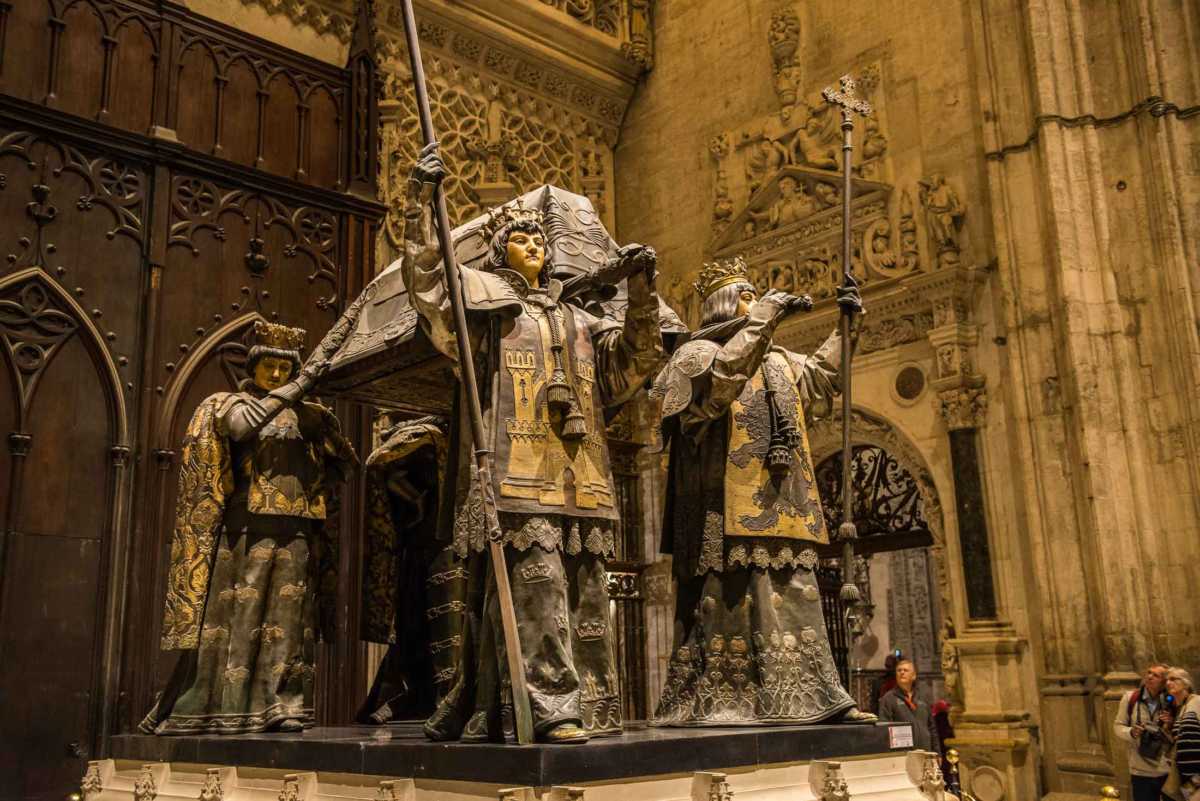 The Cathedral of Sevilla is a Unesco World Heritage site. Spain is the country with the third most Unesco sites. To see a list of all the Spanish sites, with links to our posts about them, click here.
The Cathedral of Sevilla is also one of my Seven Wonders of Spain.
You can read more about what to do in Sevilla here.
When you're thinking of traveling, your first stop should be our Travel Resources page, where we list all the essentials you need to make your travels easier, cheaper, safer, and more fun.
You can also help yourself get ready for your travels by reading our Get Started Planning Your Trip Now page.
We love traveling–with the right gear. We've gathered a lot of the stuff we use to make travel more pleasant and efficient all on one page. Shop our Travel Past 50 Amazon page to find our favorite gear. If you purchase something from the store, Travel Past 50, as an Amazon affiliate, may receive a small commission at no extra charge to you. Thanks.
We never leave home without our travel insurance. Nor should you. Search for the travel insurance from Allianz that best meets your needs, whether it be an annual plan or a single trip.
You can see (and buy prints) of most of our travel photos in one place on this page.
Note: This post and other posts on TravelPast50.com may contain paid or affiliate advertising links. As an Amazon Associate we earn from qualifying purchases.