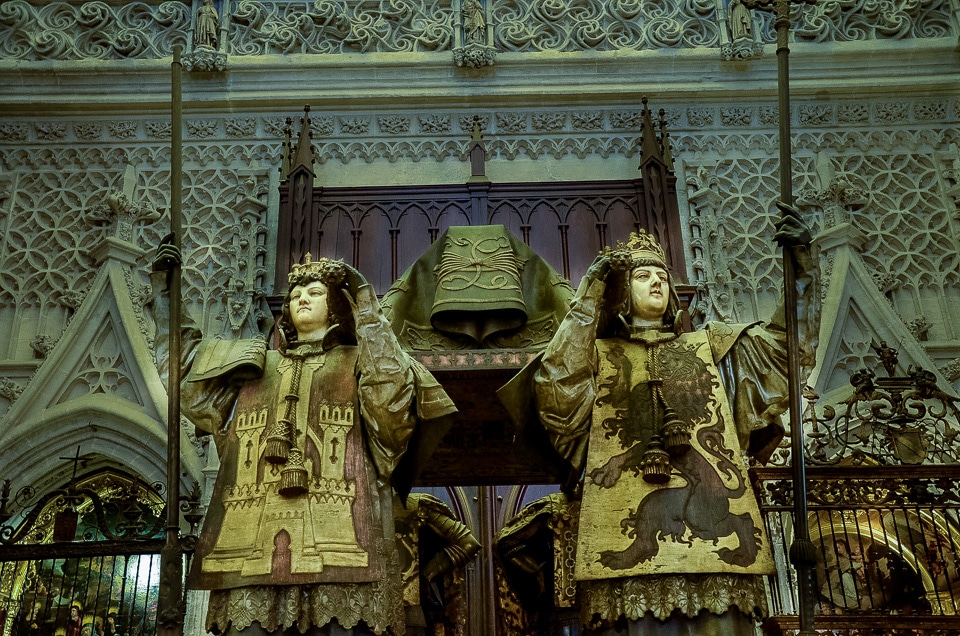 The tomb of Christopher Columbus stands in a side of the Cathedral of Sevilla, Spain atop the shoulders of four enormous pallbearers who represent the four kingdoms of Spain. (That's Castilla and Leon on the tunics of the two guys in front.) There's a little controversy here as to whether the Admiral is actually in this box. The Dominican Republic also claims his grave. There is also controversy over whether Columbus was Italian or Spanish. The Spanish certainly claim him as their own, and there is no controversy as to who sent him to the Americas.
Near this spot in the Cathedral of Sevilla commemorating the importance of the year 1492 in the history of Spain. Columbus discovered the "New World" and send back a letter to his patron, Queen Isabel, telling of how easy it was going to be to plunder these lands and enslave their people. The Christian Spanish accomplished the final defeat of the Moors in Granada. And the Christian kings also expelled all the Jews, or forced them to convert to Christianity. A year worth noting, for sure.
October 12 is the big Spanish national holiday, probably equivalent to the American Fourth of July. It's also a big day for Italian Americans, U.S. Government and bank workers. Of course, the descendants of the people who were here before Columbus may not be in such a celebratory mood.