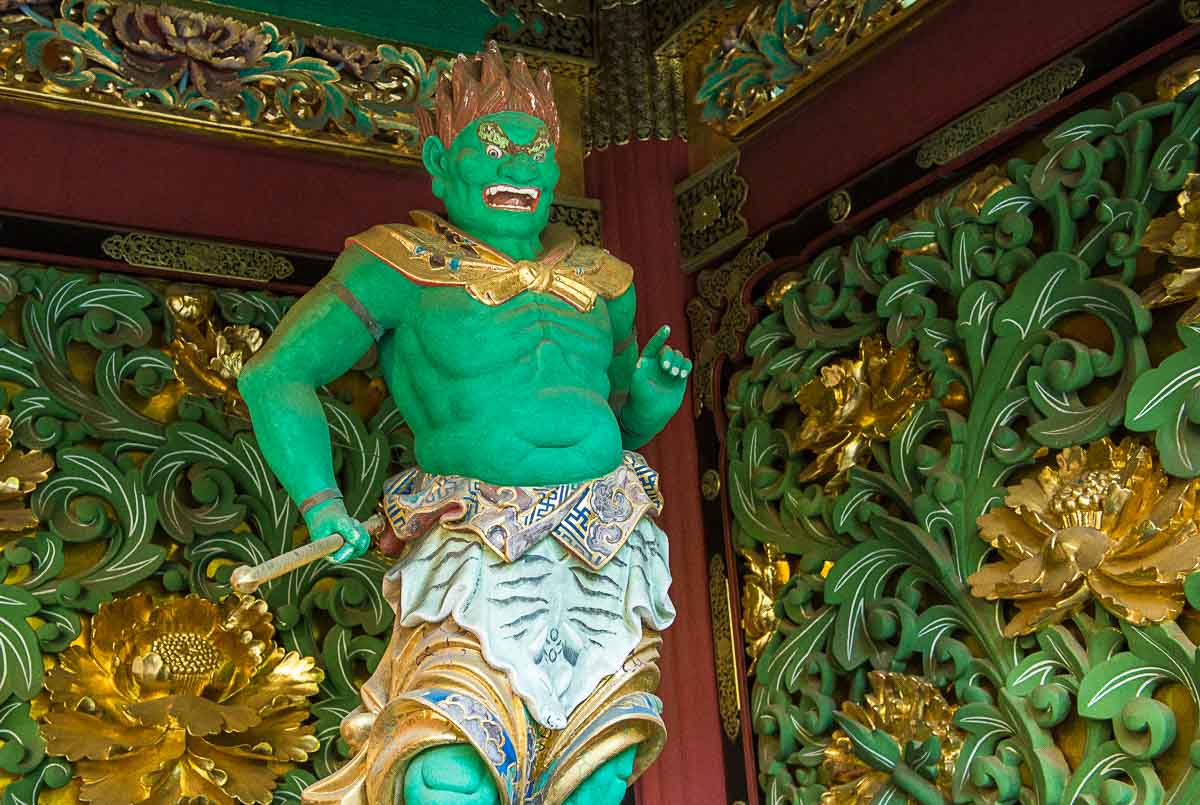 The city of Nikko, Japan is the home of some of the most ornate temples of the Edo period. The Edo period, from the early 17th to the mid 19th century, was characterized by the rule of the Shoguns of the Tokugawa Clan. These Shoguns, or military rulers, built themselves some fantastic shrines, temples and mausoleums.
The Shrines and Temples of Nikko form a complex composed of 103 religious buildings within two Shinto shrines and one Buddhist temple, located in a picturesque natural setting. The buildings, most of which were built in the 17th century, are arranged on the mountain slopes so as to create different visual effects. The first buildings were constructed by a Buddhist monk in the 8th century.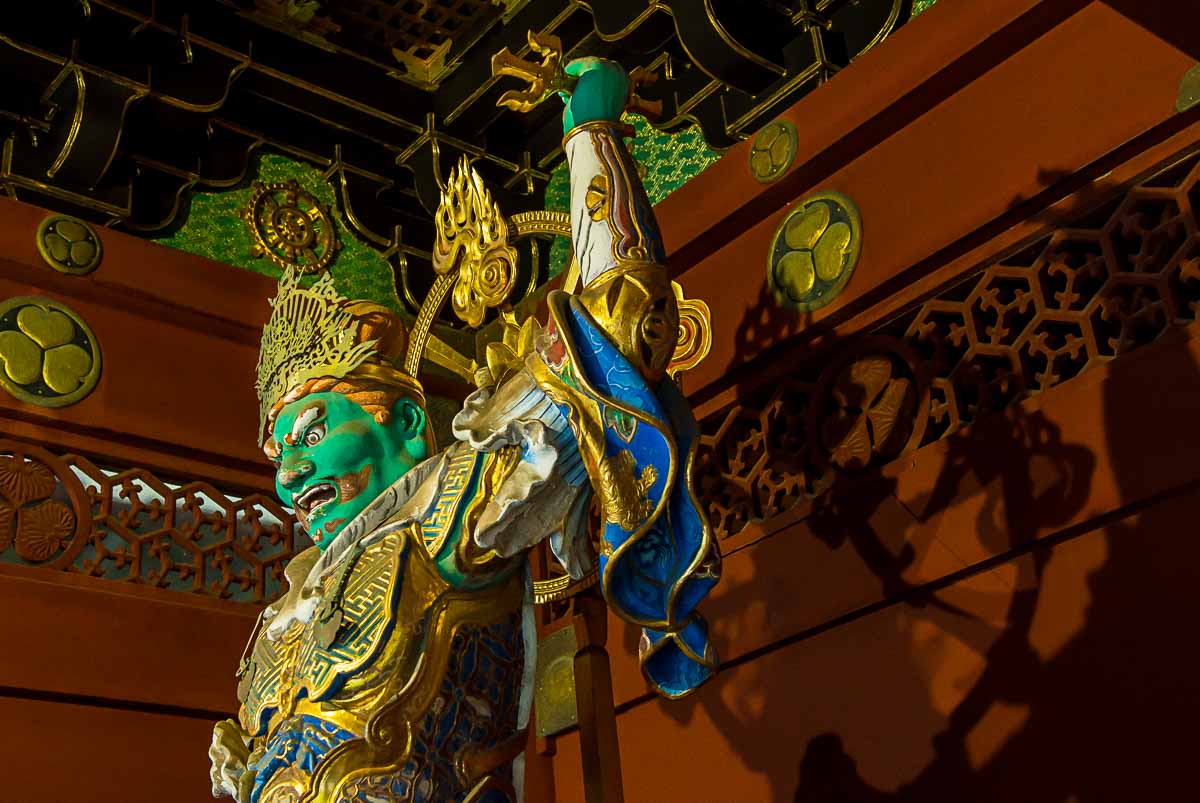 The Toshugu Shrine centers around the mausoleum of Ieyasu Tokugawa, the first Shogun. As is usual, such shrines are guarded by two warrior gods such as this one. This guy was made even more ominous by his shadow on the wall behind.
Some posts on Travel Past 50 may contain affiliate links. If you buy something through one of those links, we may earn a small commission. As an Amazon associate, we earn from qualifying purchases.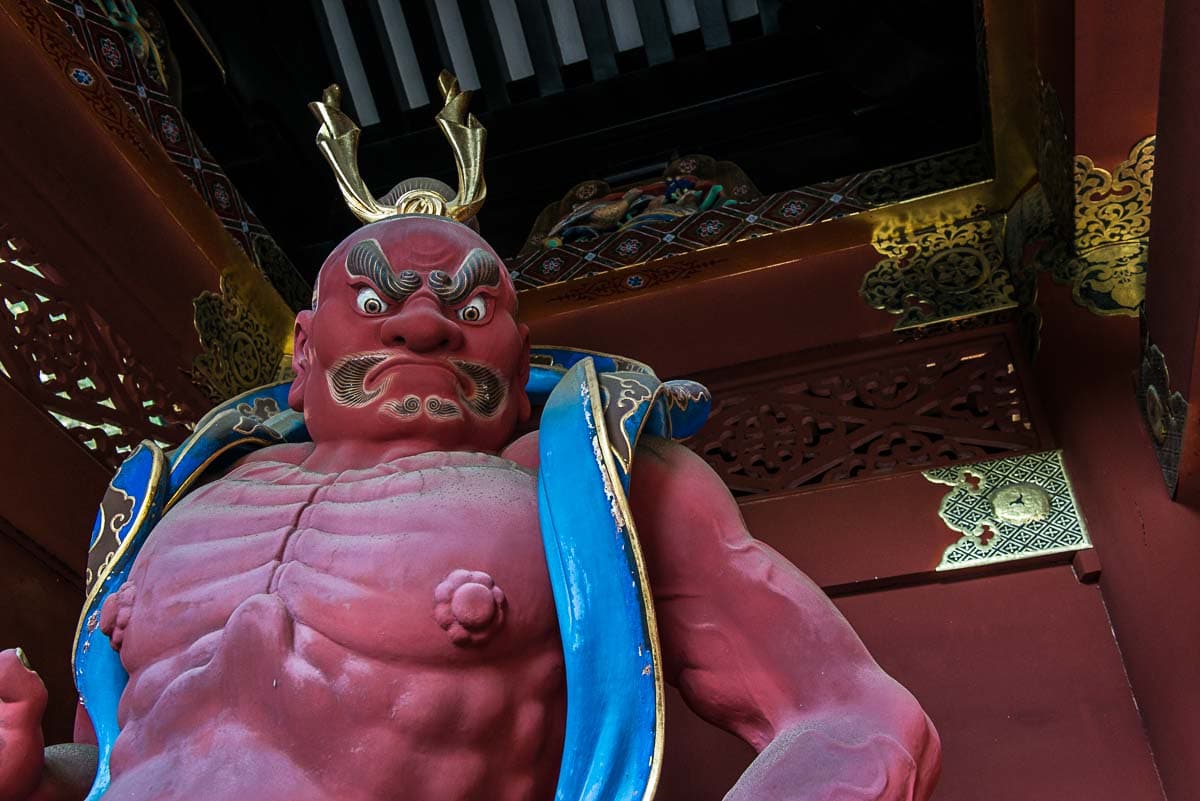 It would be fruitless for me to write about the historical context of these temples, because I know next to nothing about them. So let me just post a few pictures, and you decide if you'd like to visit Nikko.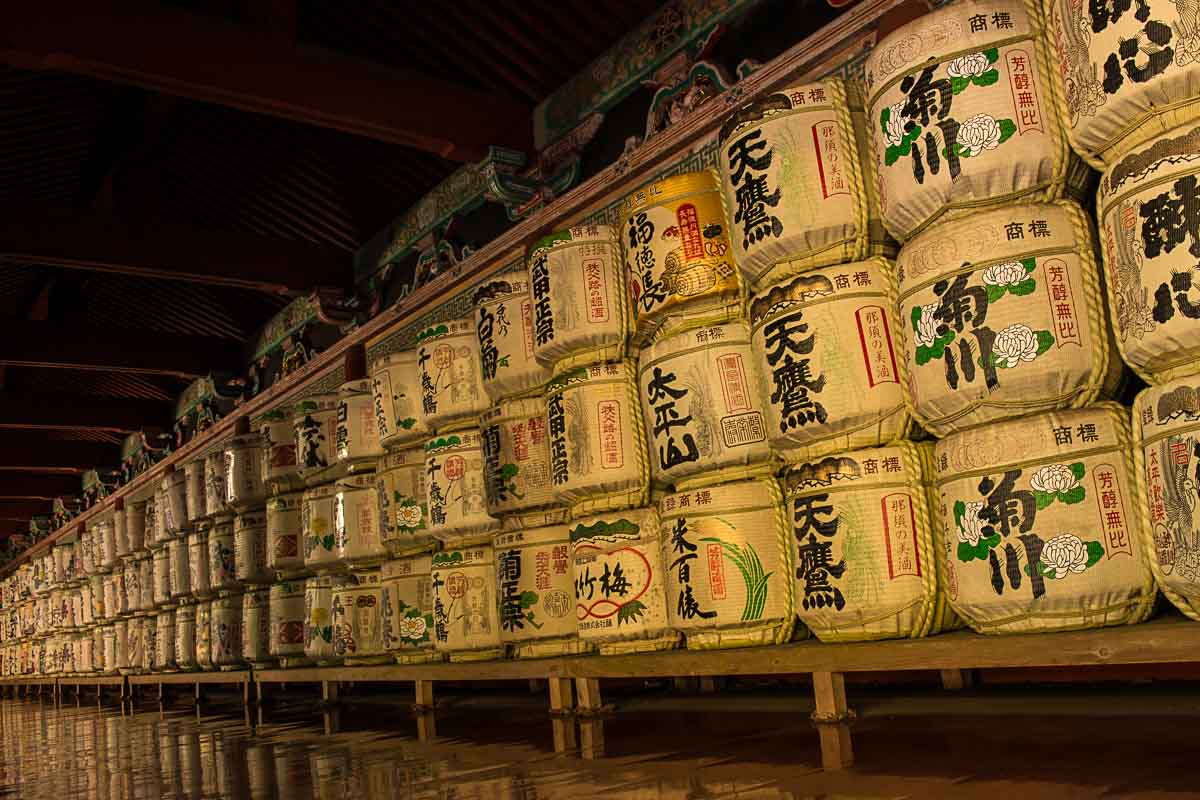 When displayed near a Shinto shrine, such barrels are called kazaridaru, which means "decoration barrels." The barrels on display are actually empty, but symbolize sake's significance in Shinto ritual. In Japan, sake has always been a way of bringing the gods and people together. At the shrines' semi-annual festivals, people are given rice wine to drink so they would feel happy and closer to the gods. It is typical for sake manufacturers to donate wine to the shrines for this purpose.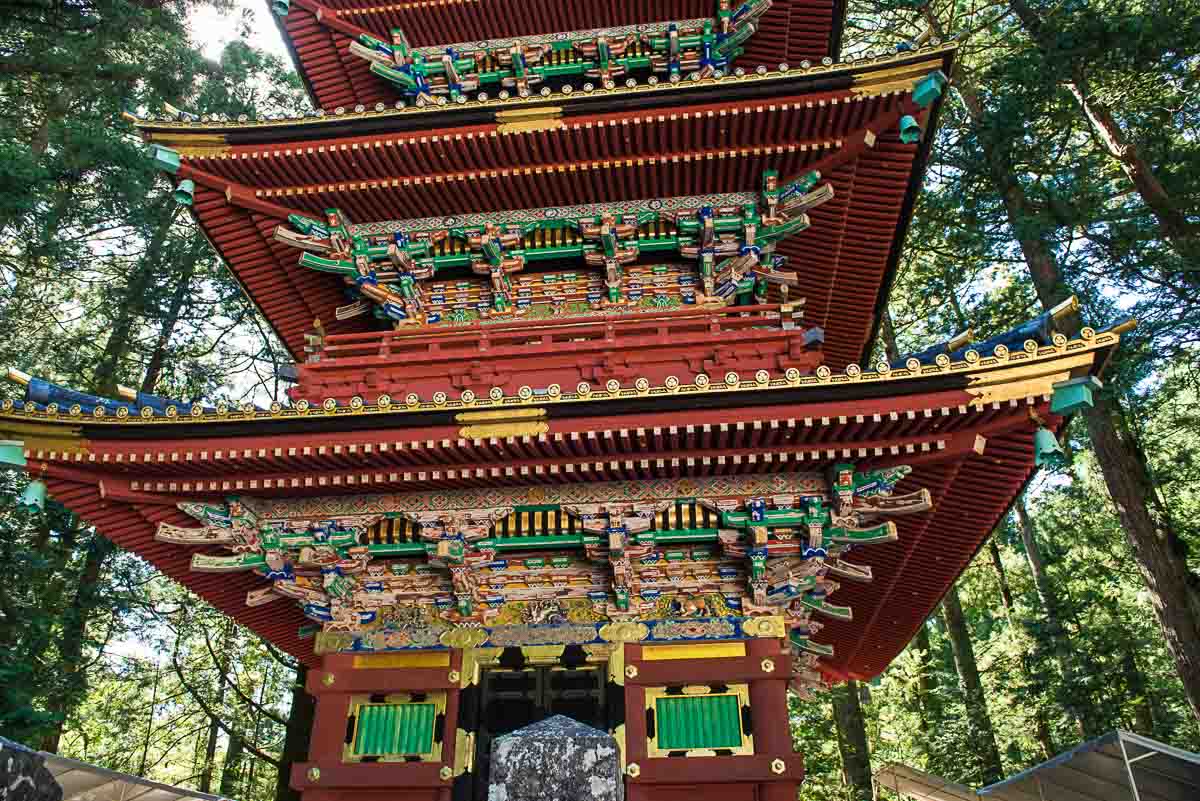 A multi-story pagoda is a Buddhist refinement of the more ancient Hindu stupas. In its simplest interpretation, a pagoda symbolizes a sacred mountain. Often, pagodas also include sacred relics of saints or kings–or in this case, shoguns.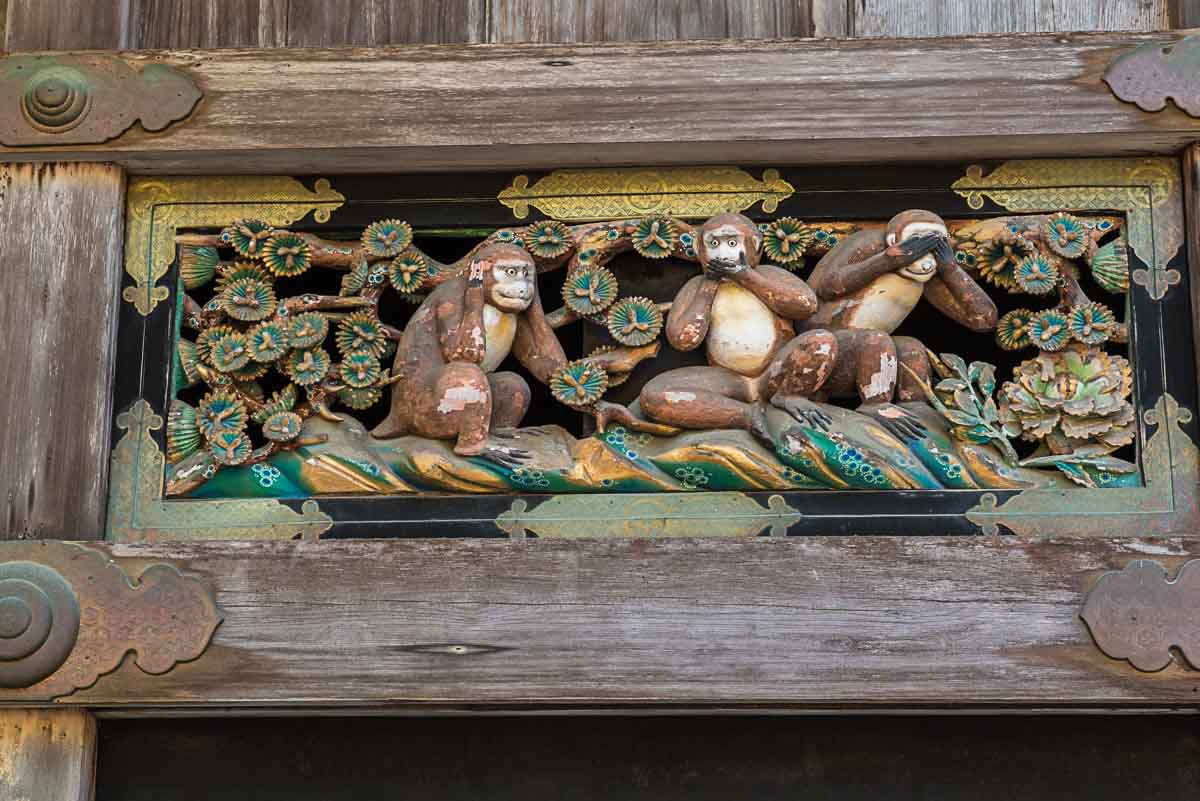 One of the most interesting notes at the Toshugu Shrine is a series of eight carvings above a door depicting aspects of Confucius's Code of Conduct. The second is the famous maxim hear no evil, speak no evil, see no evil depicted in the actions of three wise monkeys. This is the first known depiction of the famous saying. Though the teaching had nothing to do with monkeys, the concept of the three monkeys originated from a Japanese play on words. In Japanese, -zaru is a negative suffix of the three verbs, matching zaru, the modified form of saru "monkey" used in compound words. Clever, huh?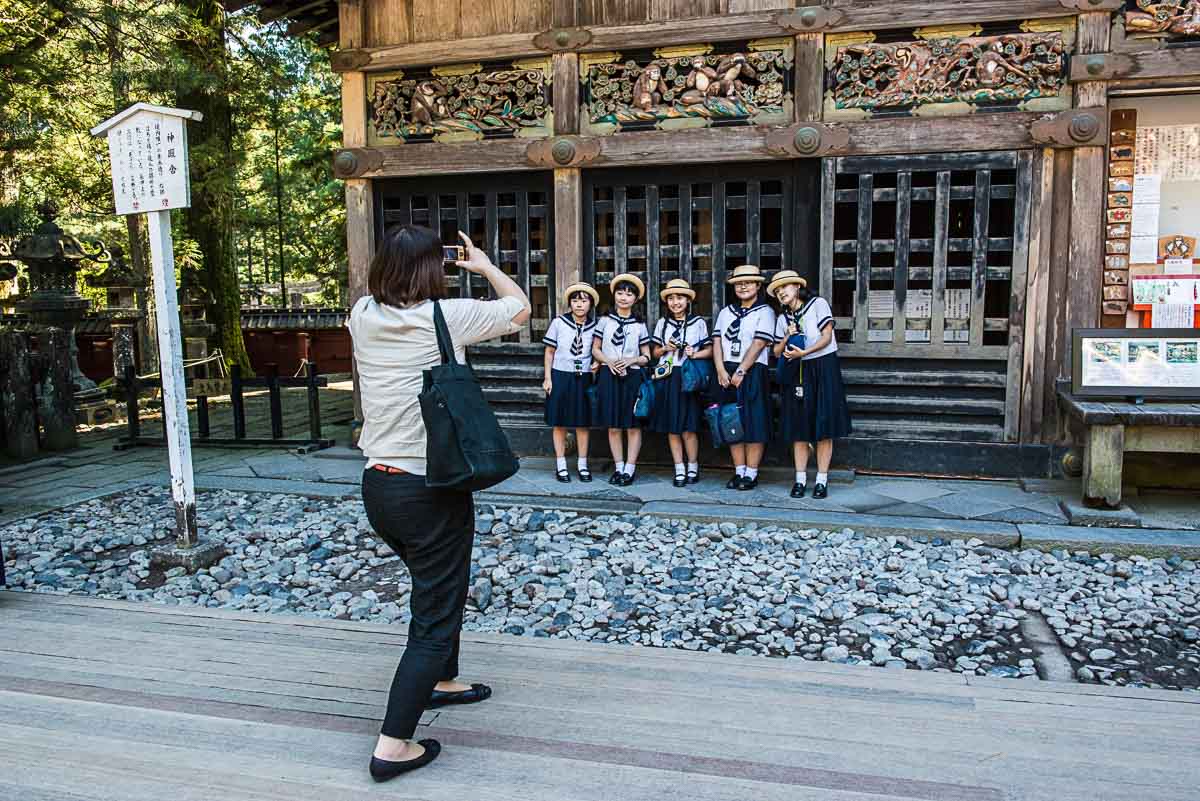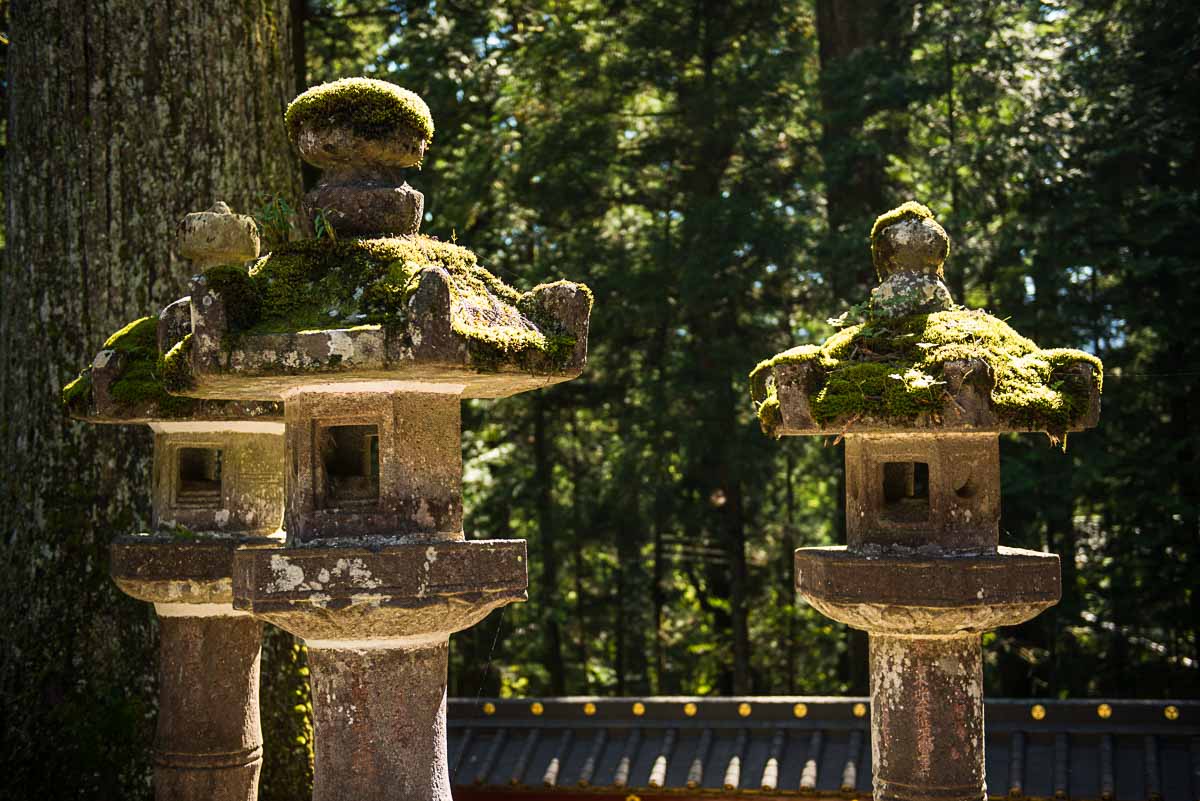 Another motif worth mentioning is that the Nikko landscape is punctuated by hundreds, maybe thousands, of lanterns. I wish I could come and see them lit during festivals. Originally, the lanterns were introduced to Japanese religious ritual by Buddhism. They have a dual role in the ceremonies: to provide light and to be symbolic offerings to Buddha, because light symbolizes the Buddhist teachings.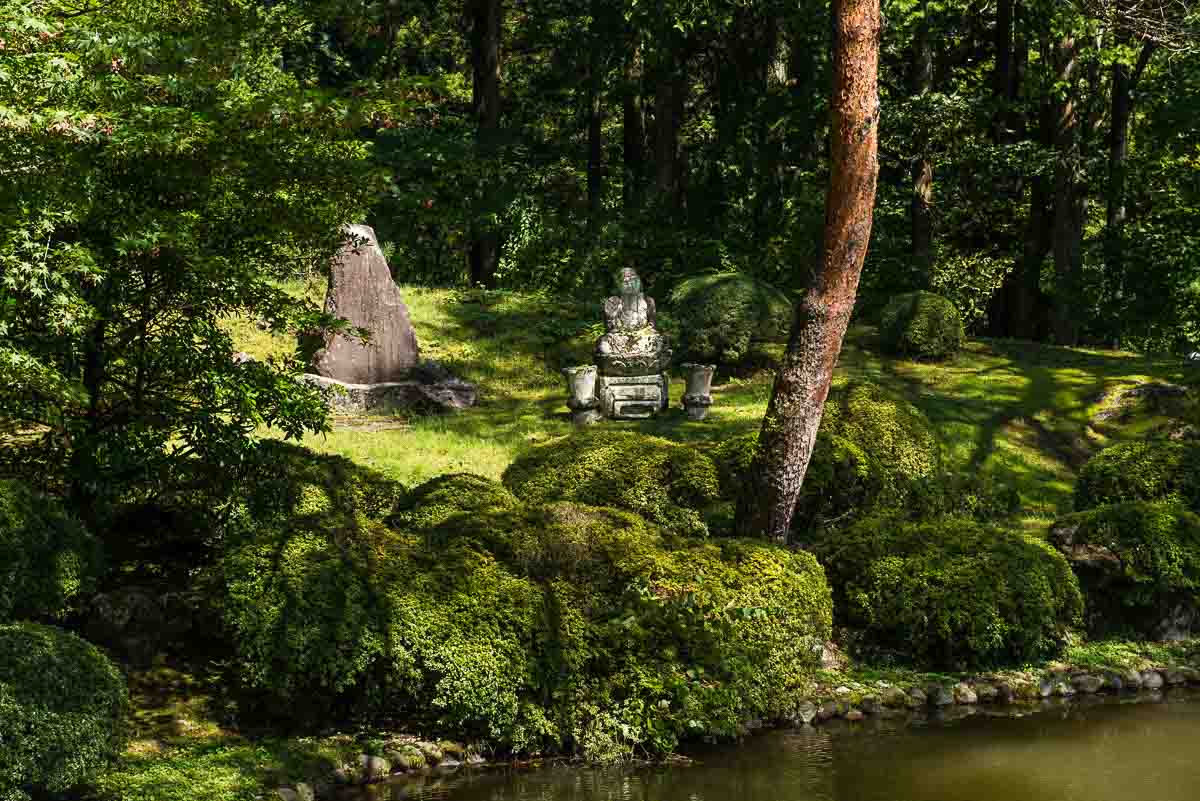 Finally, the landscape itself is a shrine. The Japanese are expert at squeezing the most beauty out of the simplest placement of objects. No ostentation is necessary to worship the gods with aesthetic display.
Here is a photo of another small Shinto shrine that we stumbled upon by accident in Nikko.
The area of the temples just outside of the town of Nikko is a Unesco World Heritage Site in Japan.
The best way to get around Japan is the Japan Rail Pass. Click on the link to check it out. You must buy Japan Rail Passes before you go to Japan. They're not available in Japan.


You can help yourself get ready for your own travels by reading our Get Started Planning Your Trip Now page.
We love traveling–with the right gear. We've gathered a lot of the stuff we use to make travel more pleasant and efficient all on one page. Shop our Travel Past 50 Amazon page to find our favorite gear. If you purchase something from the store, Travel Past 50, as an Amazon affiliate, may receive a small commission at no extra charge to you. Thanks.
Note: This post and other posts on TravelPast50.com may contain paid or affiliate advertising links.
Travel Planning Resources
Looking to book your next trip? Use these resources that are tried and tested by us. Flights: Start finding the very best flight deals by subscribing to
Thrifty Traveler
. Book your Hotel: Find the best prices on hotels with
Booking.com
. Find Apartment Rentals: Find the cheapest prices on apartment rentals with
VRBO
. Travel Insurance: Don't leave home without it. We recommend
Allianz Travel Insurance
. Need more help planning your trip? Make sure to check out our
Resources Page
where we highlight all the great travel companies and products that we trust. See all of the gear and books we like in one place on our
Amazon shop
.