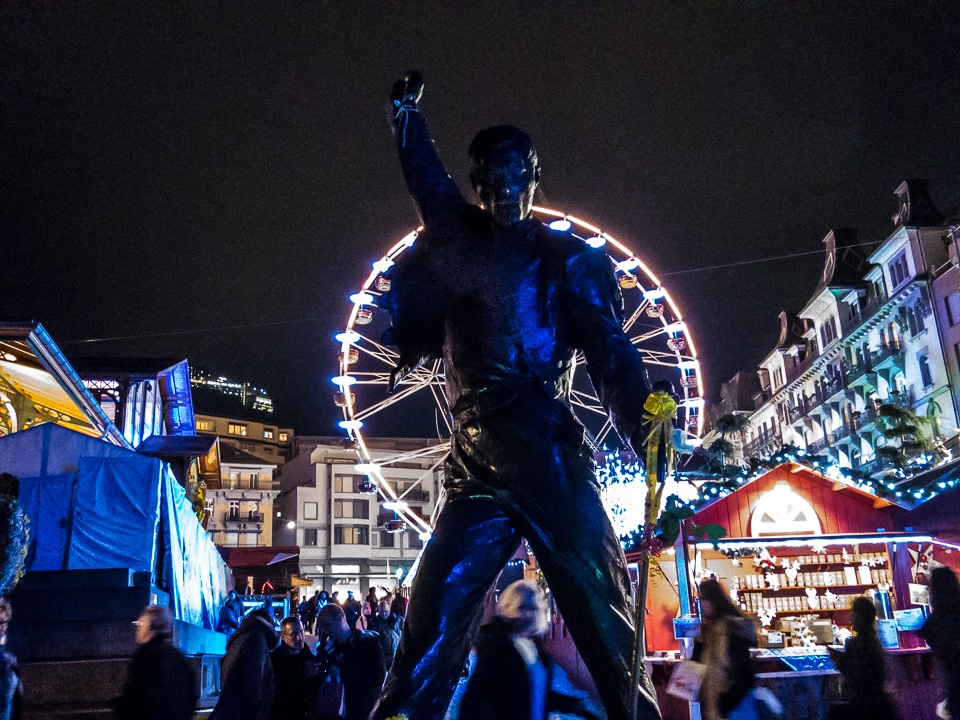 When I think of music and Montreux, of course the famous jazz fest comes to mind. You know, people like Sonny Rollins, Count Basie, Chick Corea, Herbie Hancock, who have all played there. In the last few years, the repertoire has been expanded and many rock and blues stars have played Montreux, including B.B. King, Buddy Guy, Camarón de la Isla, Chuck Berry, George Clinton and Parliament-Funkadelic, Eric Clapton, Luther Allison, and Bo Diddley.
I couldn't find any record of Freddie or Queen playing the Festival, but Queen did record an album there, and Freddie fell in love with Montreux and owned an apartment there. His statue, according to a person from Montreux I spoke with, is always bedecked with flowers from his fans.
Mercury died of complications of AIDS in 1991.
Not much I could do with this shot. There was no light on the front of the statue, and the tiny little flash on my Canon S110 just wasn't up to the task of lighting a dark statue. So, I cranked up the ISO to 6400, held my breath and squeezed. 1/15 sec at f/2.7. I like the silhouette anyway.
I've recently updated my photo equipment page to account for a lot of recent purchases to enhance my kit, So please click here for more information.
You can buy prints of my photos on my Smugmug page.
Get all our travel tips delivered to your inbox
Subscribe to our email newsletter