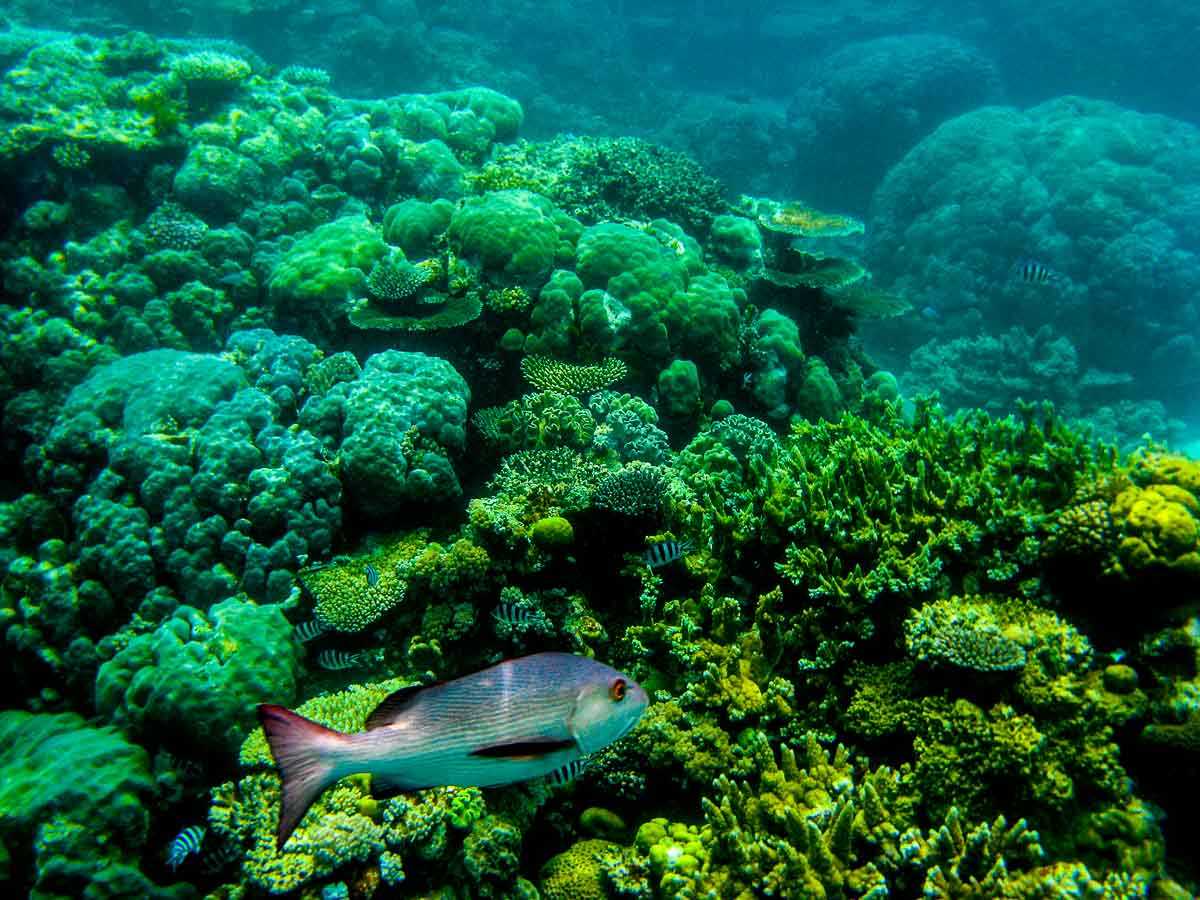 The Great Barrier Reef, off the northeastern coast of Australia, is a world-renowned natural wonder. Stretching over 2,300 kilometers (1,400 miles), it is the largest coral reef system on the planet. With its vibrant marine life, crystal-clear waters, and stunning coral formations, the reef attracts millions of visitors each year, including snorkeling enthusiasts like, I must say, mostly Kris. I don't think it would be too much to state that Great Barrier Reef snorkeling is sort of the sport's Holy Grail.

This is an update of a post originally published in 2012.
Snorkeling Basics
Before embarking on your snorkeling adventure, it's important to familiarize yourself with the basics. Snorkeling is a water activity that allows you to explore the underwater world while wearing a mask, snorkel, and fins. It's a relatively easy activity that doesn't require advanced swimming skills, making it accessible to people of all ages, including those of us of, shall we say, over 50.
Choosing the Right Gear
To fully enjoy your snorkeling experience on the Great Barrier Reef, it's crucial to choose the right gear. We'd suggest investing in a high-quality mask that fits snugly and provides a clear view underwater. Also, and especially important if you're relatively new at this, you should opt for a dry snorkel, which prevents water from entering the breathing tube when you dive under the surface. Additionally, try out your fins to find ones that are comfortable for you and will help you navigate with ease.
Sometimes, of course, if you're traveling across the world for an extended period, you might not have brought your personal snorkeling gear with you. In that case, your outfitter or cruise boat supplier should have gear you can borrow, and someone who knows how to get you the best fit possible.
Before embarking on our Great Barrier Reef snorkeling tour, we did our homework. We found Divein.com, an excellent resource for everything related to snorkeling. I highly recommend checking it out for a fun and comprehensive understanding of water sports.
Best Time to Visit
The Great Barrier Reef is a year-round destination, but the best time to visit for snorkeling is during the Australian summer, from December to February. During this period, the water temperature is warm, ranging from 25 to 30 degrees Celsius (77 to 86 degrees Fahrenheit). The weather is generally pleasant and calm, offering ideal conditions for a snorkeling day trip to explore the reef's vibrant ecosystem.
Popular Snorkeling Spots
The Great Barrier Reef is home to numerous snorkeling spots, each offering a unique underwater experience. One of the most popular jumping off spots to the Reef is Cairns, in Queensland. That's where we stayed, and where our tour boat operator picked us up to take us on a one-hour drive to the actual embarkation point at Port Douglas.
Another possible jumping off point for Great Barrier Reef snorkeling tours is the Whitsunday Islands, south of Cairns. The Whitsunday Islands are known for their pristine beaches and crystal-clear waters, ideal for snorkeling adventures.
Safety Tips
While snorkeling on the Great Barrier Reef is an exciting experience, be careful to not get ahead of yourself. Your tour operator should be doing this for you, but keep in mind that it's your ultimate responsibility to prioritize safety. Before getting into the water, ensure you have basic swimming skills and are comfortable in the ocean. Always snorkel with a buddy and inform someone on land about your snorkeling plans. Apply reef-safe sunscreen to protect both your skin and the delicate coral reefs. Finally, remember to take breaks, stay hydrated, and listen to the instructions provided by your tour guide or instructor.
Environmental Conservation
It's also crucial to keep in mind the impact visitors have on the delicate ecosystem of the Great Barrier Reef. When you're on your Great Barrier Reef tour, avoid touching or stepping on the corals, as they are fragile and take years to grow. Do not feed the marine life, as it disrupts their natural feeding patterns. Furthermore, be sure your tour operator prioritizes sustainable practices, such as using reef-safe sunscreen and informing you about critical reef conservation.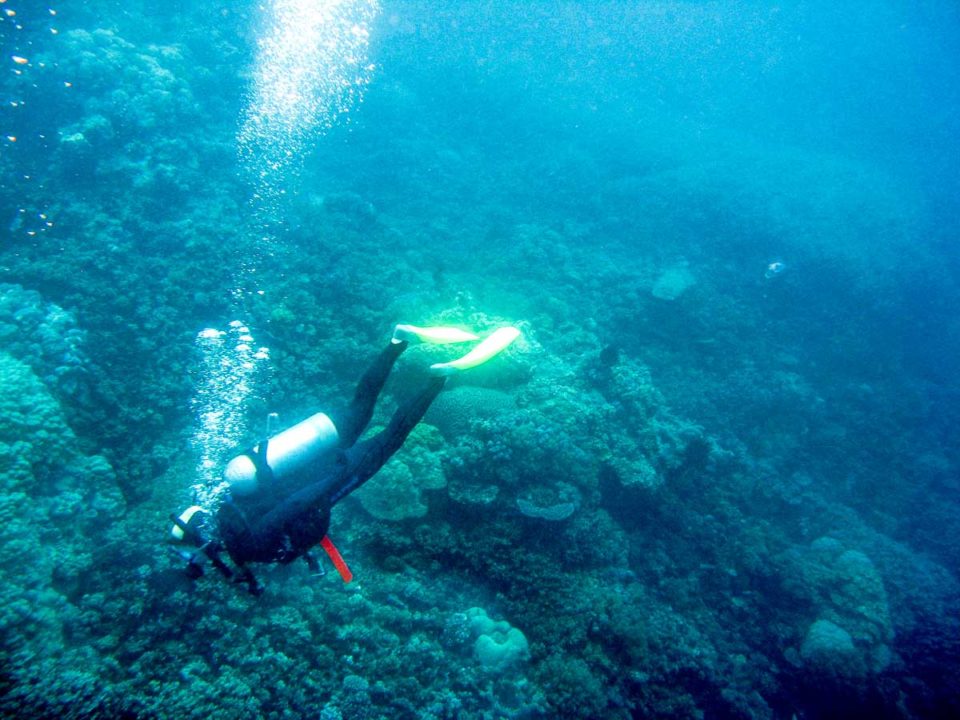 Marine Life and Coral Reefs
The Great Barrier Reef, of course, is what you think it will be, so there's nothing I can add to the literature here. It's a cacophony of color and life that one should see. As you snorkel along the reef, you'll encounter clownfish, parrotfish, and angelfish darting through the coral. If you're lucky, you'll see larger creatures like sea turtles, dolphins, and even manta rays. And the only way to see all this it is to catch a boat, put on a mask and snorkel (and perhaps a "stinger suit," depending on the local jellyfish population) and dive in. That's what we did.
The Inner Reef and the Outer Reef
So what is the difference between them and which should you chose?
The Outer Reef
Most images you see of vibrant corals and colorful fish are of the outer reef, and this is what most people expect to see when they head to the Great Barrier Reef. You should realize most outer reef sites are very far offshore and can take up to two hours to reach by high speed catamaran.
The outer reef's distance from the mainland has its advantages. The visibility at the outer reef is much better than the inner reef because of the absence of run-off from nearby islands. Second, the outer reef grows from the ocean floor rather than from the islands, forming dramatic drop-offs that make for impressive snorkeling and diving. The outer reef is home to more hard coral species and larger fish species than the inner reef.
The Inner Reef
The inner, or fringing, reef is the parts of the reef closer to the mainland or islands. Inner reef sites are generally made of more soft corals which smaller fish species call home. Seagrass meadows, important feeding grounds for turtles, are often found around island in the inner reef. The inner reef's proximity to land makes it accessible from the beach, and the sheltered waters mean it's perfect for beginner snorkelers.
The Whitsunday Islands is the location most associated with the inner reef, but you can also visit two spectacular inner reef locations from Cairns. Green and Fitzroy Islands can be easily reached by a short boat trip. The islands also have a variety of alternative activities available so you can enjoy your snorkel and return to laze about on the beach or explore the island.
The Tour We Used
After asking everyone who might know about which tour operator to take to the reef, we ended up taking the suggestion of our hotel and going with Quicksilver Cruises out of Port Douglas. The hotel made the booking for us, and also arranged for the Quicksilver shuttle bus to pick us up right at the hotel door for the hour trip to Port Douglas where we boarded the boat.
Let's just say that the whole cruise with Quicksilver was very professional and very well arranged. The instructors, both for the people who went scuba diving for their very first time, like Kris, and for me, who was contented to snorkel, were excellent. They not only told us how to do it, they also led tours of the reef, pointed out the various types of fish and other marine life, and, when it wouldn't do any harm, dove onto the reef bottom to pull up things like sea cucumbers for us to observe closely.
The boat part of the trip was about five hours, and we swam or dove around on three different parts of the reef. If you are so disposed, you can rent an underwater camera to document your trip. If you rent a camera on the boat, they give you the memory card to keep. (On land, you can rent the same camera at shops in Cairns for less. If I'd only known…) But, no worries, as they say here.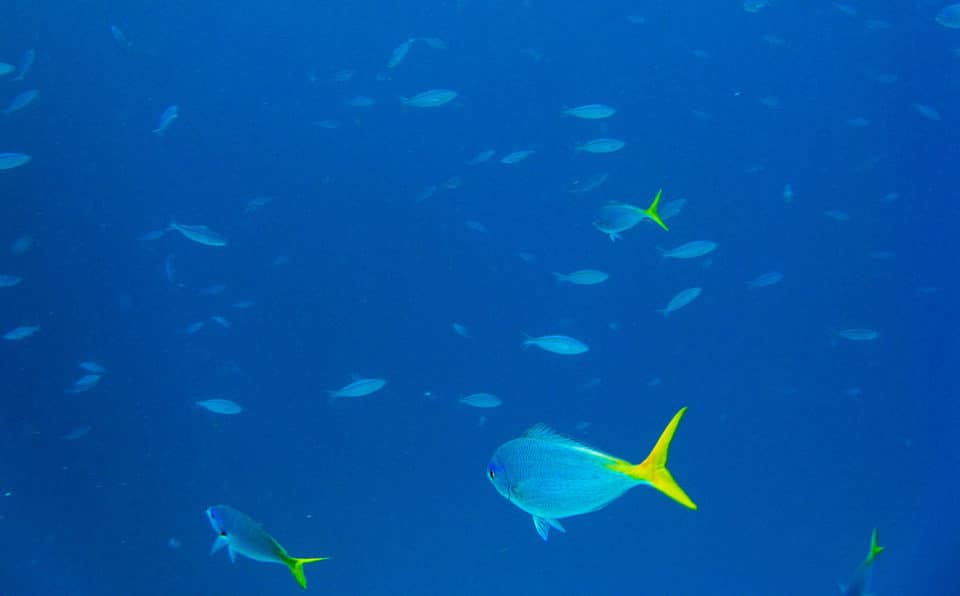 The excursion costs (as of 2013) about $600AUD (about $400 USD) for two adults. Today, Kris's introductory scuba dive would add $194AUD ($130 USD) on top of the base fee. My intro snorkeling tour would be $76AUD ($50 USD.) A very nice morning snack, lunch, and afternoon tea on board is included. Drinks, including alcoholic drinks are extra. (Don't drink until you're done swimming for the day, btw, in case you can't figure that out for yourself.)
The boat is a big catamaran. There were about 50 people on our cruise, and the crew was very adept at getting us all in and out of the water in quick order so there's not any mashup at the ladders or platform on the back of the boat. Scuba people go in first, btw, since they take longer to get ready. You come out whenever you want. I usually spent 20 or 30 minutes in the water. Kris always was one of the last out – right after they blew the boat horn that said, "We're leaving soon and we'll lose our license if we leave you behind."
All gear, including masks, snorkels, fins, stinger suits, and tanks are provided as part of the fee. We've paid a lot more for less.
Other Cruise and Tour Options
There are plenty of companies who offer snorkeling and diving cruises to the Great Barrier Reef. Here are some you can book via Viator:
Tours from Cairns
Tours from the Whitsundays
The Great Barrier Reef is a UNESCO World Heritage site in Australia.
FAQs (Frequently Asked Questions)
Is snorkeling on the Great Barrier Reef suitable for beginners?
Yes, snorkeling on the Great Barrier Reef is suitable for beginners. There are guided tours available with experienced instructors who provide safety instructions and guidance.
Do I need to be a strong swimmer to snorkel on the Great Barrier Reef?
No, you don't need to be a strong swimmer. Basic swimming skills are sufficient for snorkeling. You can use a flotation device if needed and snorkel in calm areas.
What should I wear while snorkeling on the Great Barrier Reef?
Wear a swimsuit or rash guard for comfort and sun protection. It's also recommended to wear a wetsuit in colder months or for extended snorkeling sessions.
Are there age restrictions for snorkeling on the Great Barrier Reef?
There are no strict age restrictions, but it's important to assess your own fitness and comfort level before snorkeling. Some tour operators may have minimum age requirements for safety reasons.
What should I do if I encounter a sea turtle or other marine creatures while snorkeling?
Enjoy observing them from a respectful distance without touching or disturbing them. Maintain a calm and passive presence to avoid causing any stress to the animals.
For more adventure in Australia, consider climbing Cradle Mountain in Tasmania. Also, while you're in Tasmania, check out the UNESCO World Heritage prisoner sites at Port Arthur.
A visa is necessary for Americans to travel to Australia. We use iVisa whenever we need a visa for any country. Great service, and a small price to pay for them to navigate the visa process for you.You can click the link above, or use this widget below to start the process of getting a visa for any country.
When you're thinking of traveling, your first stop should be our Travel Resources page, where we list all the essentials you need to make your travels easier, cheaper, safer, and more fun.
You can also help yourself get ready for your travels by reading our Get Started Planning Your Trip Now page.
We love traveling–with the right gear. We've gathered a lot of the stuff we use to make travel more pleasant and efficient all on one page. Shop our Travel Past 50 Amazon page to find our favorite gear. If you purchase something from the store, Travel Past 50, as an Amazon affiliate, may receive a small commission at no extra charge to you. Thanks.
We never leave home without our travel insurance. Nor should you. Search for the travel insurance from Allianz that best meets your needs, whether it be an annual plan or a single trip.
You can see (and buy prints) of most of our travel photos in one place on this page.
Note: This post and other posts on TravelPast50.com may contain paid or affiliate advertising links. As an Amazon Associate we earn from qualifying purchases.