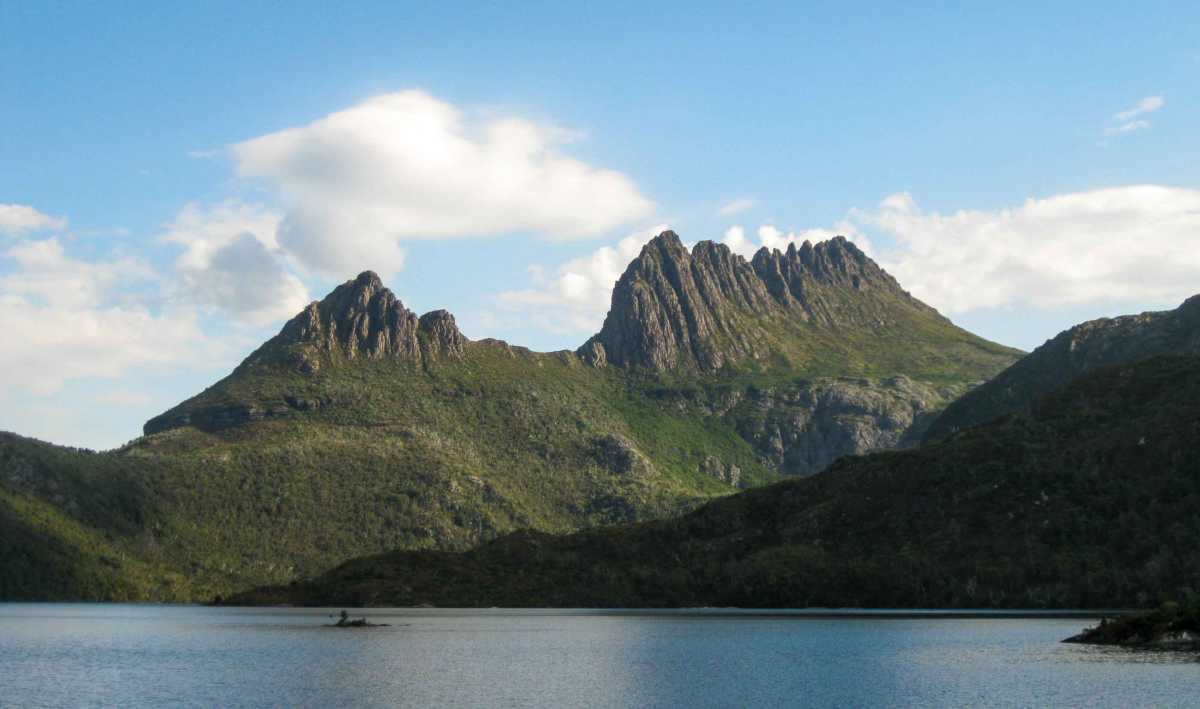 [NOTE: We traveled in Australia and Tasmania back in early 2012, using a rental car and our own devices to get around. Recently, World Expeditions asked us to write about a couple of our memorable hikes for their #BestMountainTrek series. I wrote about my 2011 experience hiking Patagonia's Torres del Paine here. While World Expeditions is sponsoring these posts, we have yet to participate with them on any of their tours. What I've discovered, though, as I recall climbing Cradle Mountain (besides the fact we're long overdue for another major hike), is that Cradle Mountain's Overland Track ranks on nearly everyone's top trek lists, and that World Expeditions runs several tours there, including a tour for women only. NOW you tell me! I want to go back. Enjoy the story.]

If there's a common thread to our adventure travel experiences, it's that we allow for spontaneity. In the case of trekking Cradle Mountain in Tasmania, that added to the thrill of climbing an Australian landmark we knew nothing about until we laid eyes on it. Had we known better, we'd have allowed a week to explore this spectacular area.
Originally, we stopped at Cradle Mountain just to have a look at the scenery on our drive from Strahan to Launceston. Cradle Mountain/Lake St. Clair National Park is part of the Tasmanian Wilderness UNESCO World Heritage Site, so we trusted it would be worth seeing. It was, and after gazing across Dove Lake at the jagged peaks, we stopped in the park's visitor center to learn more.
Some posts on Travel Past 50 may contain affiliate links. If you buy something through one of those links, we may earn a small commission. As an Amazon associate, we earn from qualifying purchases.
We found a bustling office full of eager hikers planning their treks up Cradle Mountain, and we were instantly interested in joining them. We'd have to wait until the next day for an earlier start. That suited us fine, as we'd be able to photograph the scenery in morning light, too. We chatted with a ranger to arrange permits and review the trail options.
While the picturesque mountain ridge is the centerpiece of the park, Cradle Mountain National Park offers a variety of experiences. The Tasmanian Wilderness Site represents 20 percent of Tasmania's area. Alpine heath, rainforests, glacial lakes surrounded by pines, and stands of deciduous trees coexist here. Bird and wildlife watchers have plenty to see, including the popular wombats. And trails are numerous and varied, including everything from wheelchair accessible paths, to easy walks under an hour or two, and the more challenging Cradle Mountain summit.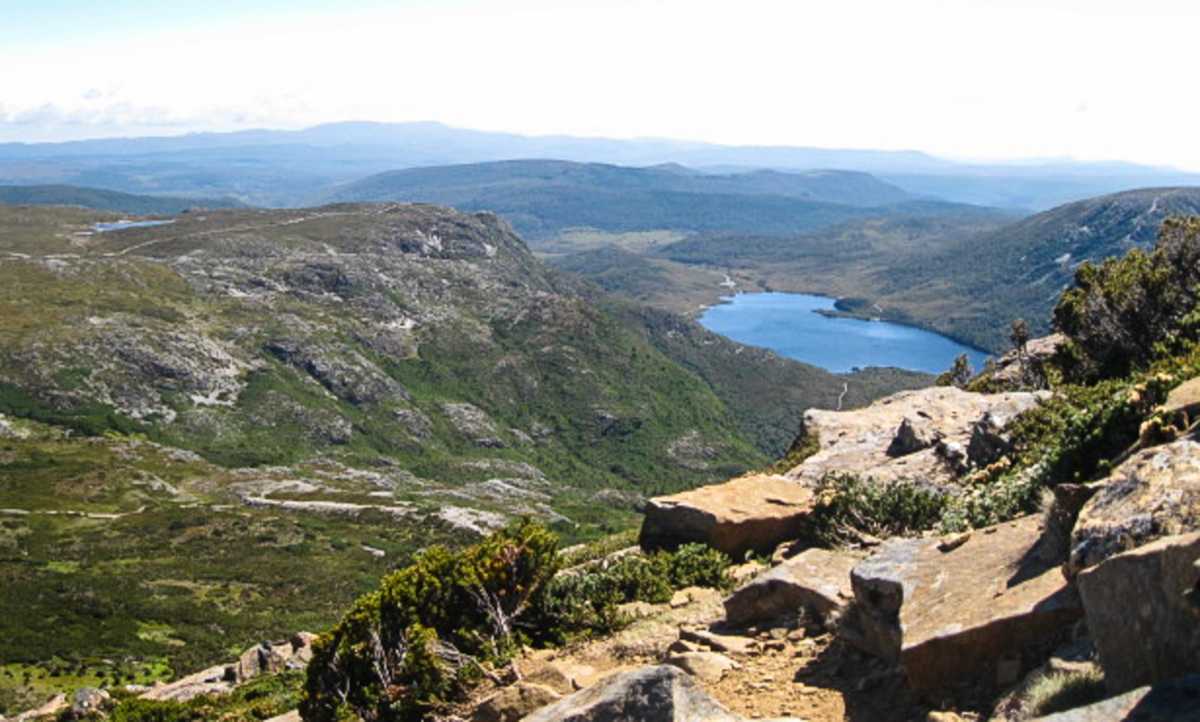 From the Cradle Mountain visitor center in the north of the park to Lake St. Clair in the south, there is also the renowned Overland Track, a 65-kilometer, six-day trek. This would be right up our alley–with some advance planning and help of experienced guides. In high season, advance bookings are required. There are plenty of sidetracks only locals would know about, and I'd want to be properly equipped for this undertaking. See? Spontaneity doesn't always win out. We only discovered the Overland Track existed once we were back in the U.S.
To summit Cradle Mountain, on the other hand, takes about six to eight hours from the visitor center, round trip. The ranger informed us, "A reasonably fit person can do it without too much problem." We took that as encouragement. Our climbing day was bright, mostly sunny, and we started off quickly, torn between peering at the botany at our feet and the massive rocks in the distance.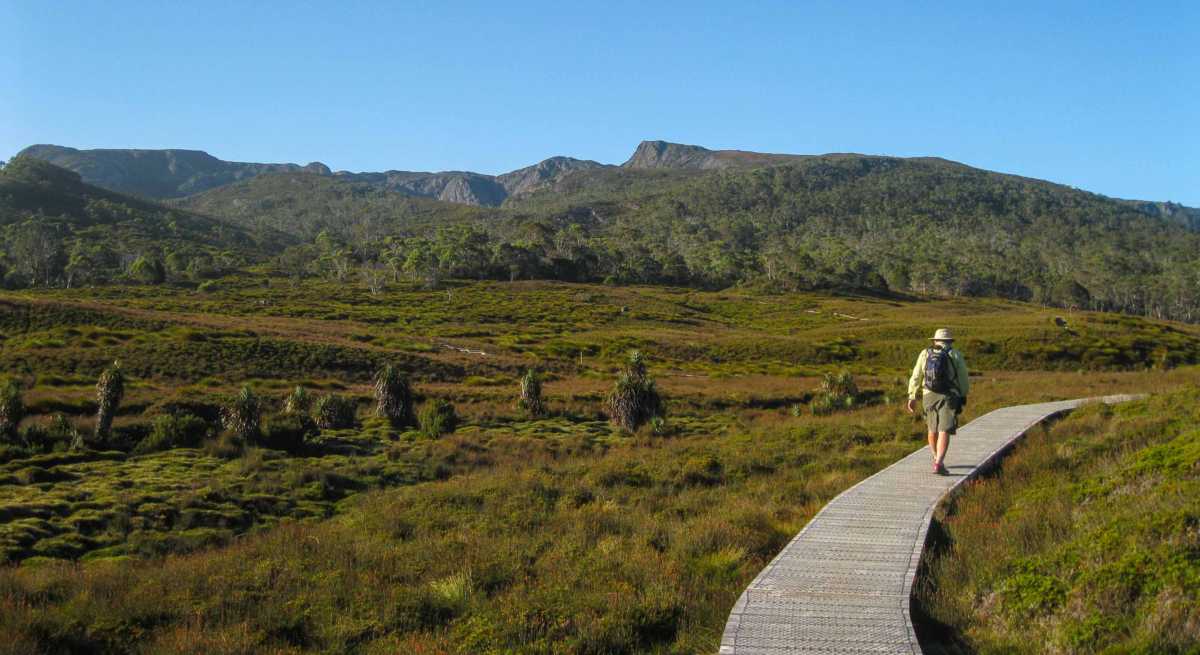 The approach to the most rugged part of the climb leads across a beautiful high meadow. The incline increases gently, almost imperceptibly, and we were a couple hours out before we realized how far the mountain was from our original view point (five kilometers) and how much elevation change there was, even to the base. The boardwalk changed to a well-groomed trail, which then disintegrated into the rocky lower reaches of the peaks.
At this point, the climb is over boulders, and the way is marked with metal poles at about 20-meter intervals. Footwork is a matter of personal preference and pace. As the wind picked up, we took our time and picked our path carefully, sometimes needing to backtrack to work our way to the next manageable steps. But it's a climb that doesn't require any technical experience. (This was before I learned a few tricks on the exceptionally well-prepared Via Ferrata climbs in Saguenay, Quebec.
I've always like heights, and I'm a scrambler. (Tom thinks I'm part mountain goat.) For Tom, though, and many others, this sort of terrain can bring on some anxiety. While not a situation that invites vertigo, trekking up Cradle Mountain will inspire respect for the rocks and great care in securing good footing. We ran into a couple people (alas, younger than us) who were out of their comfort zones. But there's an agreeable spirit en route: encouragement and assistance, usually in suggesting easier access points, flowed freely.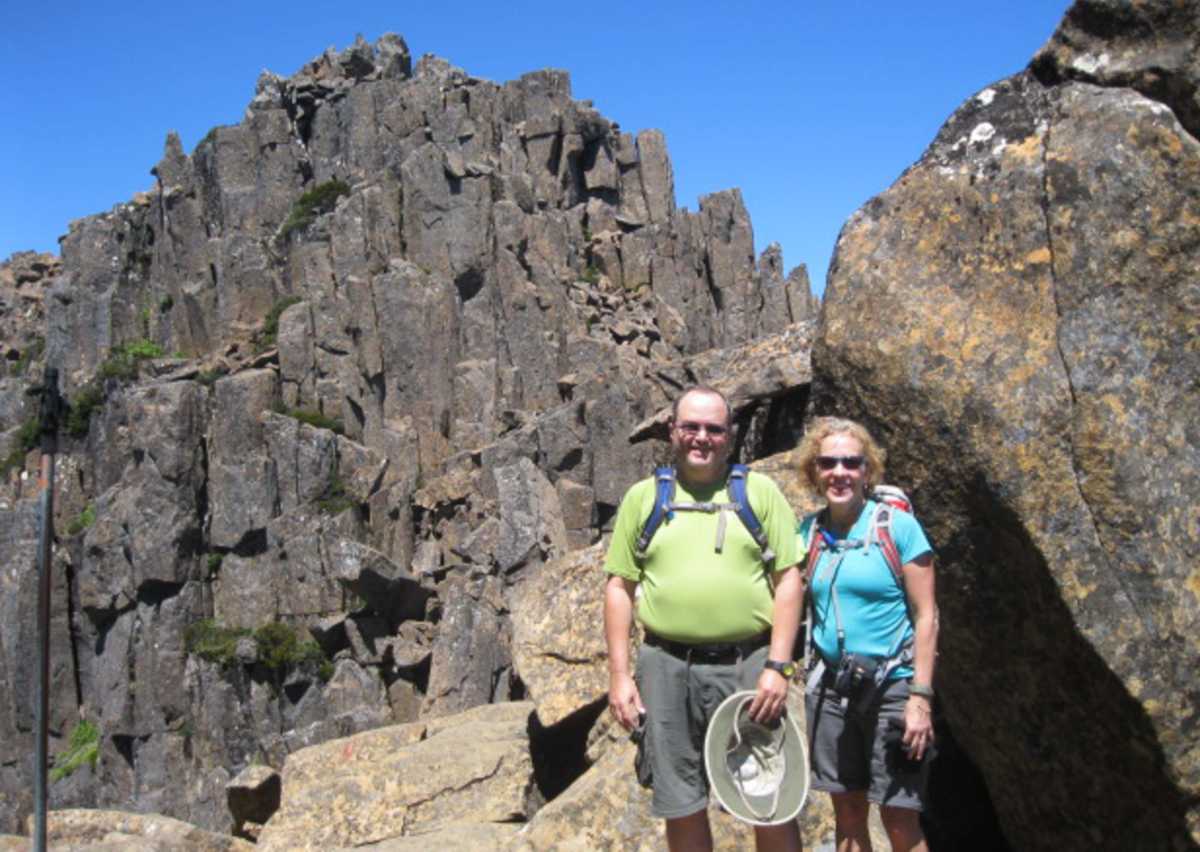 We made it! Or at least 98% of it. There was one tricky final stretch between us and the flat meadow cradle at the top. The wind picked up, Tom decided it was time to turn around. For once, I let it go, not requiring myself to complete the last steps. We were at the top for all intents and purposes, even if I didn't gallop around the crown.
The descent was, as all are, a different animal. Facing down and with the force of gravity and momentum, we found the crab walk, sitting down, resting, and discussing best routes were all acceptable practices. We may be slow, but we're sure.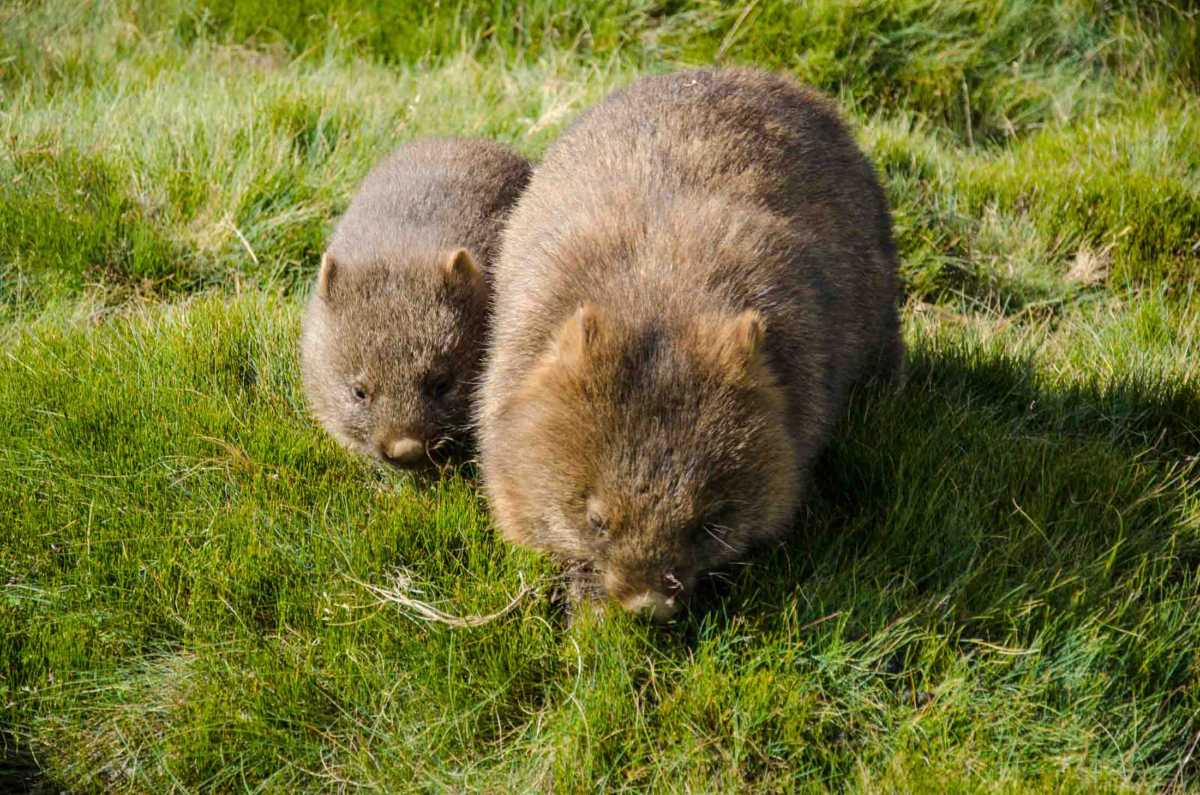 Given a choice of return routes, I selected the circle route rather than a return by the same path we'd ascended. (That's a habit of mine.) We came up the recommended way of Marion's Lookout, and returned via the other side of Crater Lake on the Horse Path trail. That meant we had to hustle to beat the dark. But once the trail evened out, we enjoyed spotting wildlife venturing out for the evening meal.
Yes, Cradle Mountain is harder than it looks, and further away than it appears, but gorgeous from both afar and close-up and hands-on. Had we planned ahead and joined up with a group like World Expeditions', we surely would have managed the ascent and return more confidently. Or stayed another week. As it was, we were proud of our day on Cradle Mountain, and eager to dip into a cold cider and guidebook to Tasmania to learn what direction to head next.
For more adventure in Australia, you'll want to snorkel on the Great Barrier Reef. And, while you're in Tasmania, check out the UNESCO World Heritage prisoner site at Port Arthur.
Here are some more tips for hiking locations, routes, preparation and equipment, all in one spot.
A visa is necessary for Americans to travel to Australia. We use iVisa whenever we need a visa for any country. Great service, and a small price to pay for them to navigate the visa process for you.
You can click the link above, or use this widget below to start the process of getting a visa for any country.
Travel Planning Resources
Looking to book your next trip? Use these resources that are tried and tested by us. Flights: Start finding the very best flight deals by subscribing to
Thrifty Traveler
. Book your Hotel: Find the best prices on hotels with
Booking.com
. Find Apartment Rentals: Find the cheapest prices on apartment rentals with
VRBO
. Travel Insurance: Don't leave home without it. We recommend
Allianz Travel Insurance
. Need more help planning your trip? Make sure to check out our
Resources Page
where we highlight all the great travel companies and products that we trust. See all of the gear and books we like in one place on our
Amazon shop
.