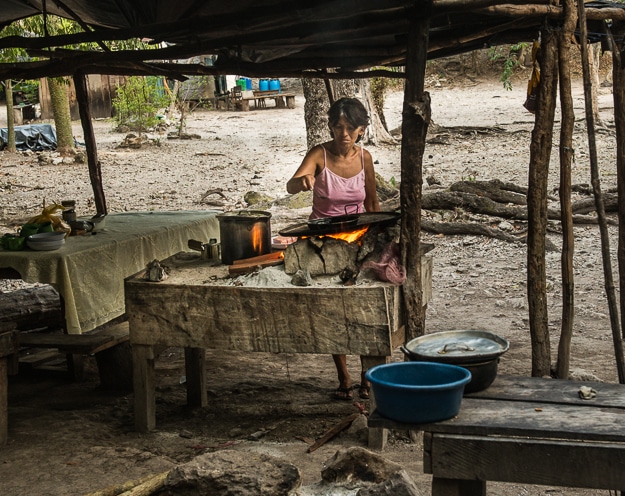 You can't start here. You'll miss a lot of the fun. This is Part Six. Parts one, two, three, four, and five are just a click away.
So Eric and I walked along toward El Mirador. And except for constantly hiking up my pants which were being pulled down by the water bladder, things were going much better. Soon after he relieved me of my camera bag, the path became a lot smoother–packed soil strewn with leaves mostly.
And we soon arrived at a bit of a clearing where the others were sitting waiting for us. We were halfway to our stopping place for the night, and they were all happy to see Eric, because Eric was carrying our snack: a couple of ripe papayas.
He took them out of his own backpack, placed them on a split log and used his huge knife to slice them into strips which he distributed to us all. Sweet welcome refreshment as we sucked the pulp off the rinds and then joyously tossed them into the jungle.
Since Eric and I had arrived at the clearing about 20 minutes after the others, we didn't get as much rest. Although he was relieved of the heavy papayas, as well as my cameras that finally found their way on the mules, we didn't have long to rest before Maria herded us back onto the path.
I did have time though to take off my shoes and socks though and have a look at my feet. As I mentioned earlier, I hated my shoes. When we were last home in Minnesota, I'd dropped into a Columbia store where they were having a sale on trail shoes. I had a perfectly good pair of Adidas shoes that I was planning on taking on this trip, but because after hot dry Central America, we were planning to hike in cold, wet northern England and Ireland, I bought myself a pair of waterproof trail shoes.
I asked the clerk, "How do these shoes breathe and dissipate heat?"
"Just fine," she said. "It's a breathable technology."
Now, I should have been smart enough to know that waterproof means dry on the outside, soggy on the inside. That's the way my so-called breathable Columbia rain jacket is, anyway. And, yup, that's just how the shoes worked, too.
And since I was concerned about weight, I only brought the Columbia shoes and not the nice light breathable Adidas trail shoes. I'd worn them a lot on day walks in Mexico and thought I'd broken them in alright. And, while I noticed that they were indeed somewhat hot, I thought they'd do.
Like I said, I hated them.
When I pulled off my shoes and gingerly peeled off my socks in the clearing, what I feared–and had been feeling–was quite obvious. I already had a big blister on the outside of each heel and under two or three toes of each foot. And, my dry socks and foot powder were packed somewhere under a ton of provisions on one of four mules.
And, although I'd even once written three entire blog posts about foot care on the Camino de Santiago (one each on shoes, socks, and blisters,) I had been too stupid to remember my own advice.
So, I put my wet socks back on. Carefully pulled on my hard, impermeable, agony shoes. Laced them up tight, which kind of hurt for the moment, but I hoped that they wouldn't rub so much as we continued, and headed off again.
Blisters aren't really too bad. They're more of an annoyance than a real pain. But, you do notice and compensate for them and change your gait. That's when your hips, knees and back begin to remind you what an idiot you are. And make you stop every ten minutes or so to stretch or otherwise contort your stiffening muscles–muscles which actually are hurting more than your feet–at least so far.
Oh well.
About 5:30, and only about 10 minutes behind the others, Eric and I walked into the camp at Tintal, which is another Mayan archeological site that is being infrequently and desultorily worked. The actual ruins were a little ways away from the camp ground. The campground was a fairly large clearing where a permanent structure to house an exhibition and provide a roof and a veranda for visitors had been constructed…and then abandoned.
There was a open walled structure with a plastic tarp roof which contained a rough picnic table and flat benches and a couple of logs to sit on. There was also a heavy table on top of which was arranged a rectangle of stone with one open side which provided the support for a metal grate and/or a tray. This was our cook stove. Along side it at a right angle was another similar stove that was just a bit smaller.
By the time Eric and I arrived, Maria already had fires going in both. Stewed chicken, rice, and, yum, more beans.
And, since the stoves were right by the eating tables, we would be nice and toasty while we ate.
Anyway, the rest of the troop went off to see the Tintal ruins, another half hour walk away, but I fished my blister repair kit and foot powder out of my pack which had now been liberated from the mules, took care of my feet, and sat around and drank jungle tea and talked to Maria.
She told me that my problem was "city feet." I already knew that. She said she had "country feet." Which she did. She'd walked the entire way from Carmelita in flip flops.
I set a goal for myself. When I got back to civilization, I was going to toss those Columbia "breathable" shoes in the nearest trash bin.
Next episode: Bees.
Here are links to all the chapters of The El Mirador Saga:
Part 1
Part 2
Part 3
Part 4
Part 5
Part 6
Part 7
Part 8
Part 9
Part 10