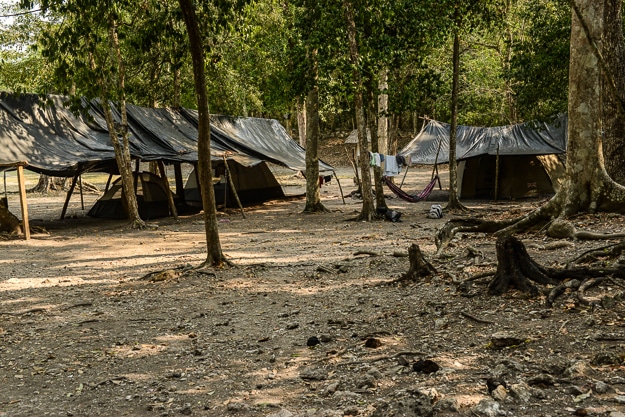 This is part eight of the El Mirador Odyssey. There are links to parts one through seven at the bottom of this post, if you want to back up and start at the beginning or somewhere in the middle.
I started out right on day two, except I was still wearing the hard sweaty shoes and was limping out of the gate on some big blisters. However, we were now in deep jungle and that meant shade, if also no breeze, high humidity, and since the sun was well up by the time we started, high heat.
But at least I wasn't carrying much. A light day pack that just had my 3-liter water bladder, an extra pair of socks, foot powder, and a roll of toilet paper. You never know when you'll need the last item.
I think because he was hungover a bit, but also because he still felt he needed to keep an eye on me, Eric matched my pace for the most part. He could see I was in some pain, and he encouraged me all along the way with a report of how long it was to the next rest stop. It didn't take me more than two or three such predictions though, to realize he was intentionally giving me false hope. If he told me it was an hour to a rest, it was an hour and a half. If he said two hours to Mirador, it was three.
He thought he was doing me a favor. And I suppose he was, in a way, by just reminding me at all that there was a clearing out there somewhere with my name on it. I would have liked it better if the clearing had been next to a cold running brook I could have soaked my feet in, but I guess I should have waited for the rainy season.
We stopped once in the morning for a 10 minute break, with more papayas. I wasn't ready to change socks yet as I'd only brought one extra pair today. So i just pulled them off and filled them with foot powder and pulled them back on. Gingerly.
Two hours later we stopped for about an hour for a lunch. I didn't mention the first day's lunch, but this was exactly the same: Pan Bimbo, which is the Latin American equivalent of the most insipid supermarket brand of over processed white bread you can imagine, and boiled lunch meat and cheese slices. And mayonnaise.
In other words, the exact same sack lunch my mother sent me off to school with for seven years of my life, minus the five cent bag of Fritos and a couple of Hydrox cookies.
Thus fortified, and after another series of Eric's time shifts, we made it into El Mirador's clearing around five. All in all, we were told it would take six hours, but it was closer to eight. I hobbled in only about ten minutes behind the main group, but I attribute that to the fact that, being behind the mules all day meant I had to watch not only for snakes but also mule shit.
The clearing where we were camping had probably been a plaza in the old enormous Mayan city. It was probably a hundred meters square and was bounded by remnants of Mayan walls. It had been assiduously cleared. Maria told us this is where Richard Hansen, the archeologist in charge of the site, landed when he came in by helicopter. And Mel Gibson, too, I bet.
Richard and Mel are sissies.
Maria continued, somewhat disdainfully, that Hansen had a house up on the hill with all the modern conveniences, including electricity from a generator that ran, among other things, air conditioning and a refrigerator. Again, according to Maria, the house is decorated with scads of artifacts Hanson has picked up in his years of digging. And, he uses the house to entertain wealthy donors who also helicopter in to see where their money is going.
I don't see much wrong with that, really. If they guy lives half the year here in this dirt and heat, he deserves some break. And, it's not like he hasn't been working, as we'll see tomorrow when we explore the site.
Nevertheless, the resentment from Maria was unmistakable as she began to cook our dinner.
As she prepared our beans and rice, Eric and Tono, the mule driver, began to pitch the tents under the permanent black plastic tarps that were strung between trees. It wasn't long before we noticed that there were only two larger tents, instead of the three smaller ones we'd had at Tintal.
We didn't know it at the time, but the tents at Tintal were sort of communal tents that all groups used. The ones Eric and Tono were setting up were the ones they'd brought along because El Mirador doesn't have anyone there to look after the equipment like Tintal does. And, we were told that Kris and I would be bunking in with Simon and Ana Maria, the other couple.
Fuck that.
Well, it got sorted out eventually when we decided to use a tent of another group that was a day (maybe two) behind us and that was pitched and left in another area of the camp. Since we were going to be at Mirador for two nights, we hoped the latter.
So, we had our own tent. We asked Eric to pitch it in the clearing so we could get some breeze, but he said he had to put it under the tarps to protect the tent.
This concept–that it was more important to protect the already worn tent than provide for the comfort of his clients–was not unfamiliar to me. "Third World Thinking" is how I describe it. It honestly wouldn't occur to him that people like his seven clients (who, btw, were a doctor, two engineers who worked for a high tech company in Germany, two guys who could afford very expensive dope, and two successful entrepreneurs,) wouldn't think twice about kicking in $200 to buy him a new tent if it came to that.
So Eric had no idea that I actually was serious when I offered him $200 to buy a new tent when we got back to town. But I was. I even had it with me. I was that desperate for a breeze.
But, I might as well have been speaking Mandarin, and we ended up under the tarp sauna again.
Here are links to all the chapters of The El Mirador Saga:
Part 1
Part 2
Part 3
Part 4
Part 5
Part 6
Part 7
Part 8
Part 9
Part 10