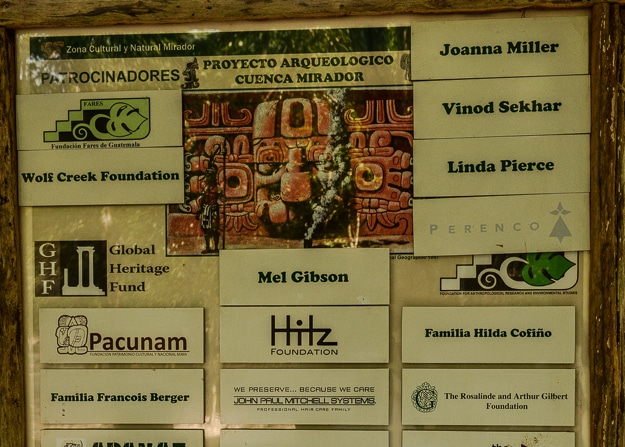 (If you haven't read this, click here and start there.)
After our three-day visit to Tikal we were taken by another taxi Thursday afternoon to a hotel in Flores, where we would be picked up for the van ride to Carmelita and our jungle adventure.
We knew we were getting up early the next morning for our 5 a.m. pickup so we decided to eat an early supper and go to bed to catch up on all that important stuff we do when we have an internet connection. Facebook and Twitter own us, basically.
We were just settling in when we got a call from the front desk. "There's a guy down here to see you about your tour tomorrow." So I pulled my pants back on and came downstairs. There was a young man sitting there who started right in in very fast, very accented Guatemalan Spanish, about tomorrow. After I convinced him to slow down a little, he conveyed that we were now being picked up at 4:30 instead of 5. I reiterated my questions: what do we need to bring? And got the same answer: sunscreen, bug repellent, water bottle, and toilet paper. "Anything else we need to know?" I pleaded, knowing that it really couldn't be that simple. "No," he said.
Now since we've done a fair amount of hiking, we know some other stuff to bring, so we packed some light clothes, our hiking poles, head lamps, my heavy camera equipment, toiletries, etc.
And we went to bed.
We set the alarm for 3:45 so we could shower, finish packing and be ready by 4:30. We were downstairs by then, with two bags each, only to be greeted by the same guy and his partner—on motorbikes.
Decision point. Screw this. I said to him, "We're not riding on motor bikes to your office to be picked up. If you can't pick us up here, like you said, we'll come over to the office and get our money back."
Damn. The office was only around the corner. We carried our bags over there where the van was waiting. Unfortunately, we were the first ones there. "Where are the others?" I asked. "Oh, they'll be here soon."
The guy in the office then asked us where we were going after El Mirador. We said, probably Antigua, and he immediately tried to sell us a bus ticket. We not so politely declined.
Just so you know, "Soon," to the Guatemalans, the Bolivian, the Basques, and the Argentinian who were joining us means, "one hour." By 5:30, most of us who were going to the jumping off point at the village of Carmelita were in the van and ready to go. We still had a few stops to make before actually getting fully on the road.
We made one stop to pick up Alex, whose job, as far as I could tell, had something to do with the tour, but in the beginning was just to play Bob Marley at high volume on a homemade Guatemalan boom box. Now, we were complete at nine in our well used Mitsubishi van, including the driver, whose name, as far as I ever learned, was something along the lines of Chooch. The jump seats were installed so we could all cram together and still have room for the luggage and six huge plastic water jugs.
By the way, nine people, plus luggage, plus heavy water jugs, in a van with no seat padding or shock absorbers. Sort of like being on a Delta flight.
The air conditioning in the van was also long gone, and since it was only about 6 a.m. now and the sun had been up for half an hour, it was only about 38 (100F) degrees. So, it wasn't too bad if the van windows were open and we were moving along.
But, just as we got moving toward the edge of town, we stopped for gas. Now, I'm not going to ask why the van wasn't filled the night before, but, I have to admit thinking it. After filling the tank, and running around back to rearrange some luggage that had shifted in the three kilometers we'd driven so far, Chooch now backed up a bit to put some air in the left rear tire. More on this later.
Now, finally, I thought, "We're off." Not really. We drove another few blocks where we stopped at a market—well, actually more like a shed—so Alex could buy eggs. But this shed didn't have enough eggs for sale. So we went to another, and then another, until we found someone who had four dozen or so. While we waited for those to be packed up by the chicken farmer, we got out to stretch our legs a bit, because we'd now been in the van for about an hour.
While the eggs were being packed up, Alex bought a cold drink and came back to the van. We all got back in, and so did Alex, until we reminded him that the eggs weren't actually in the van yet.
It was 6:30, and we hadn't left town yet.
Next: the actual road to Carmelita. If you can call it a road, which you really shouldn't.
Here are links to all the chapters of The El Mirador Saga:
Part 1
Part 2
Part 3
Part 4
Part 5
Part 6
Part 7
Part 8
Part 9
Part 10