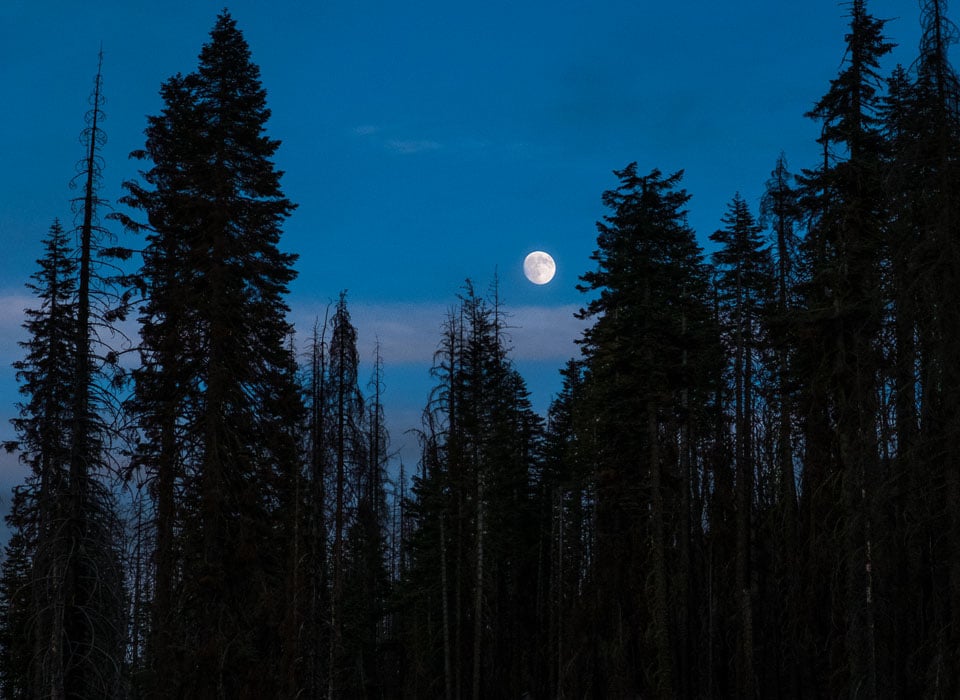 This shot was one of those happy accidents you run into now and then. Kris and I were driving through the Lassen Volcanic National Park after a day of hiking. We were in a hurry to get back to our motel south of the park because the only restaurant in town closed at 8 p.m.
But when we came over a hill, this scene was right in our face. Dinner could maybe wait. I yelled "Stop! Stop!" and Kris pulled up right in the middle of the road. I reached behind me on the floor for my "little" camera and took two shots.
I didn't know at the time that this was the so-called "Sturgeon Moon." The closeness of the moon to the earth at this time of year makes it especially bright. And, the rare smokeless night in the Western United States and the 8000 foot (2440 meter) altitude made it clear.
I intentionally underexposed the shot relative to the trees so that the moon would retain some detail. The white balance setting of daylight makes the darkening sky and intense blue and gives the moon its beautiful natural white.
Shot with the Fujifilm X30, ISO 100, f/6.4 at 1/200 second. The little zoom lens was zoomed all the way out to make the moon as big as possible.
And, here's a bonus shot. We kept driving and after a few switchbacks we were pointed the other direction into the sunset. The sun was already behind the mountains, but it left a nice sky behind as it dipped.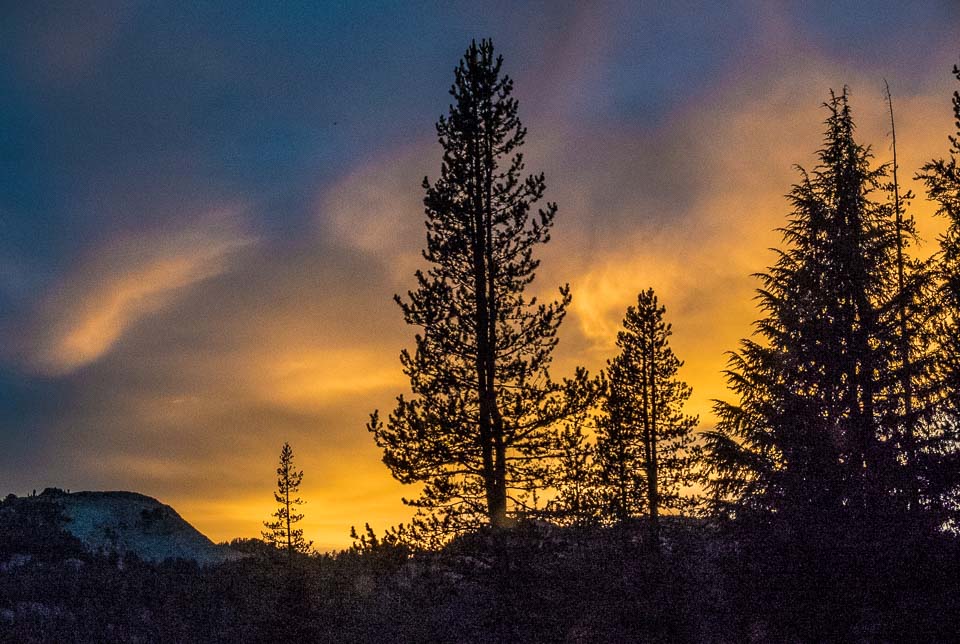 You can read more about our visit to Lassen Volcanic National Park here.
You can help yourself get ready for your own travels by reading our Get Started Planning Your Trip Now page.
We love traveling–with the right gear. We've gathered a lot of the stuff we use to make travel more pleasant and efficient all on one page. Shop our Travel Past 50 Amazon page to find our favorite gear. If you purchase something from the store, Travel Past 50, as an Amazon affiliate, may receive a small commission at no extra charge to you. Thanks.
We never leave home without our travel insurance. Nor should you. Search for the travel insurance from Allianz that best meets your needs, whether it be an annual plan or a single trip.
Note: This post and other posts on TravelPast50.com may contain paid or affiliate advertising links.
Get all our travel tips delivered to your inbox
Subscribe to our email newsletter