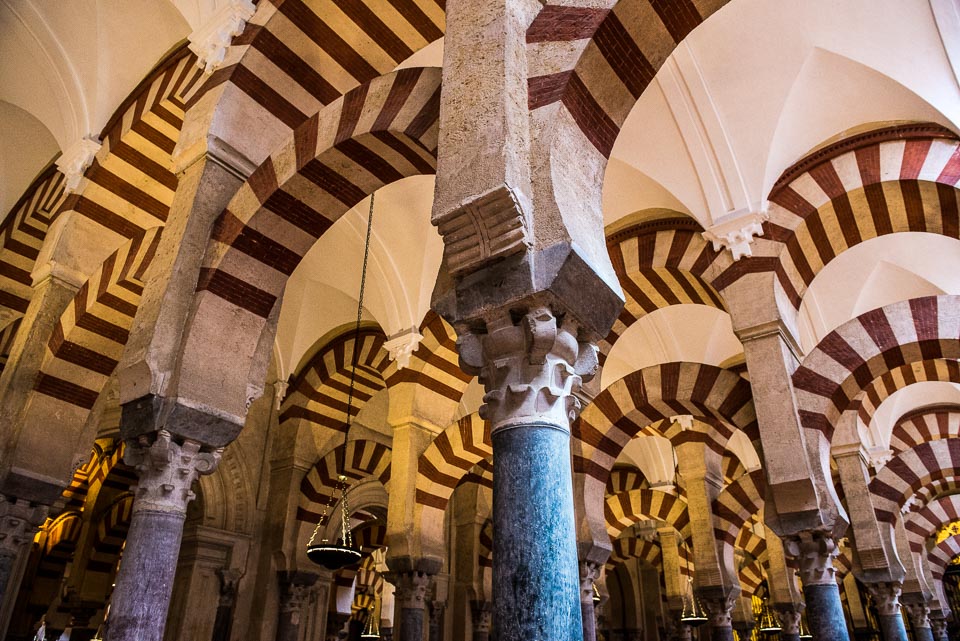 The Mezquita, or Mosque of Córdoba, is one of the real wonders of Spain. Along with the Alhambra of Granada and the Alcazar of Sevilla, it makes up the trifecta of Moorish architecture left over from when the Muslims controlled the Iberian peninsula.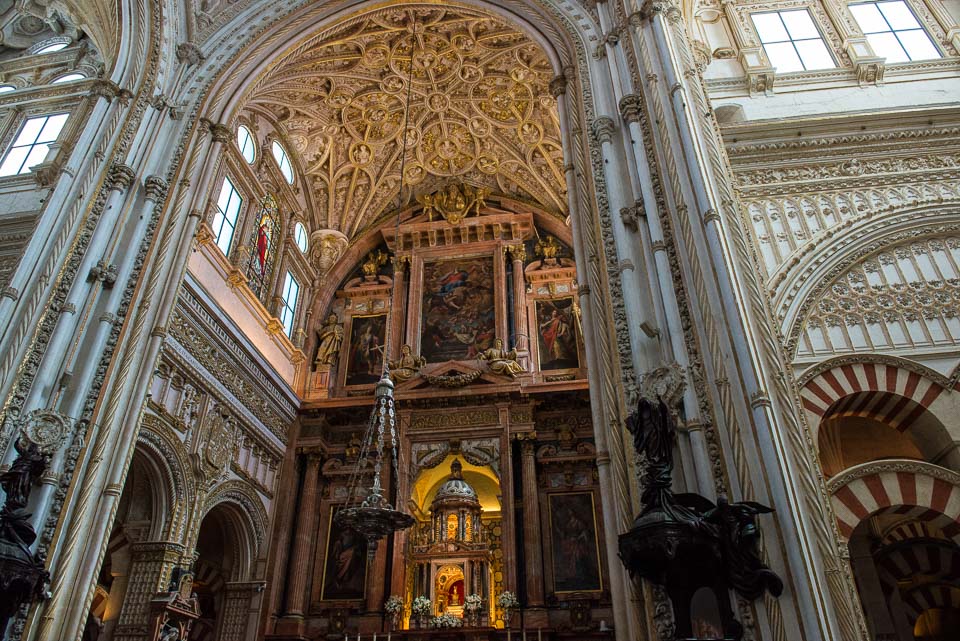 Regrettably, after the Reconquest of Córdoba by the Christian forces, the Christians eventually decided to repurpose the huge elegant mosque into a Christian cathedral, including filling in nearly all the niches around its interior walls with chapels and adding many sculptured scenes from the Christian stories as reliefs in the arches.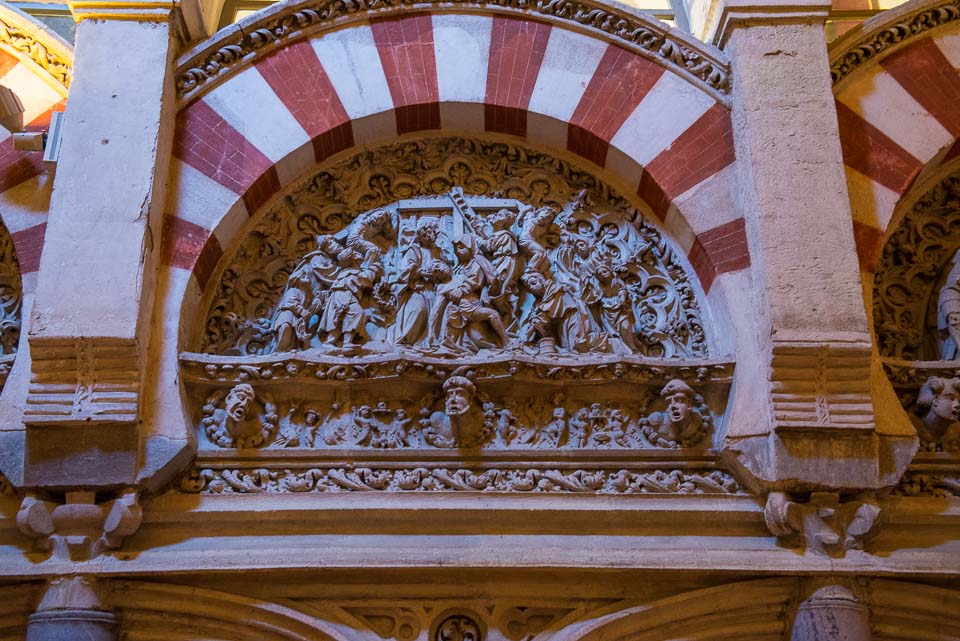 But, luckily all was not lost. The original effect of the geometry of the pillars and arches is still apparent in many vistas. Although those vistas are always cut short by the Christian intrusions, you can still get the idea of what the huge space must have looked like when the view down the rows of arches was uninterrupted and seemed to go on forever.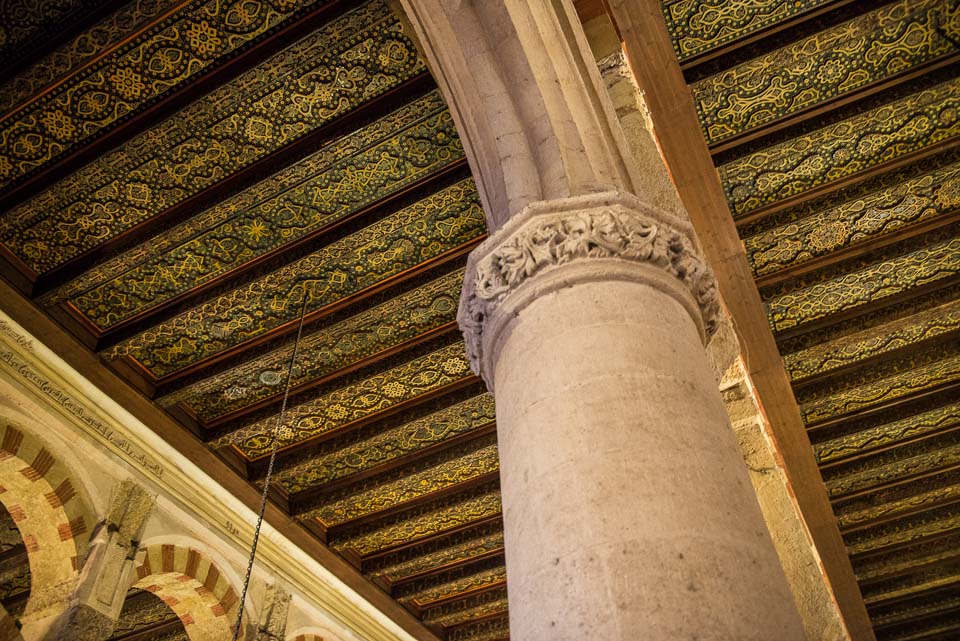 But the lost long view is redeemed somewhat by the preservation of a few of the original elements. There's a bit of inlaid wood ceiling here, and the Mihrab, or prayer niche in one side of the mosque was left alone to provide a spectacular counterpoint to the intrusion of the Christian church.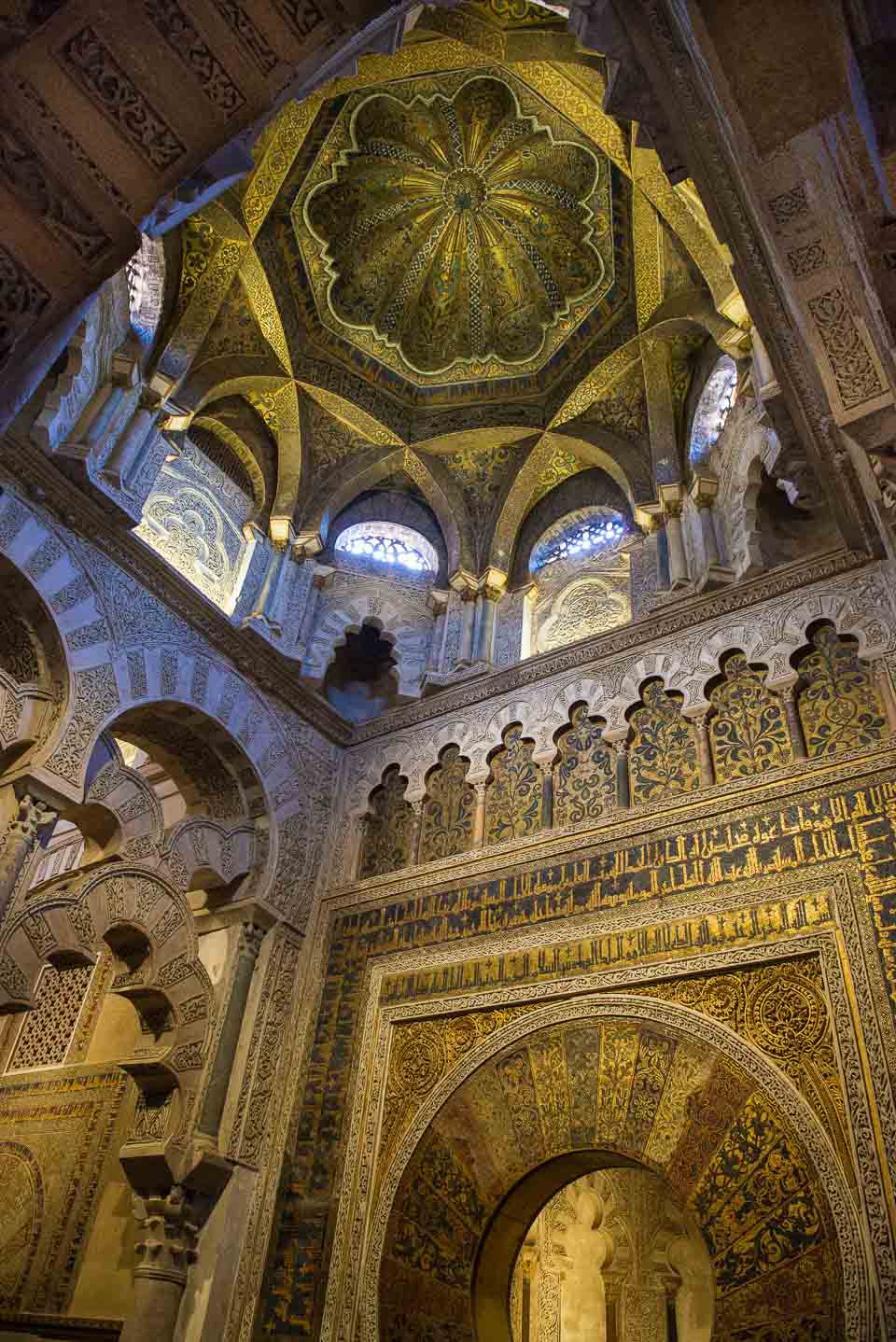 The Mezquita of Córdoba and the old center of the city is a Unesco World Heritage site. Here's a list of all the Unesco sites in Spain.
You can help yourself get ready for your own travels by reading our Get Started Planning Your Trip Now page.

We've gathered a lot of the stuff we use to make travel more pleasant and efficient all on one page. Shop our Travel Past 50 Amazon store to find our favorite travel gear, clothing, books, and more. If you purchase something from the store, Travel Past 50, as an Amazon affiliate, may receive a small commission at no extra charge to you.

You can see (and buy prints) of most of our travel photos in one place on this page.
We never leave home without our travel insurance. Nor should you. Search for the travel insurance from Allianz that best meets your needs, whether it be an annual plan or a single trip.
Note: This post and other posts on TravelPast50.com may contain paid or affiliate advertising links.