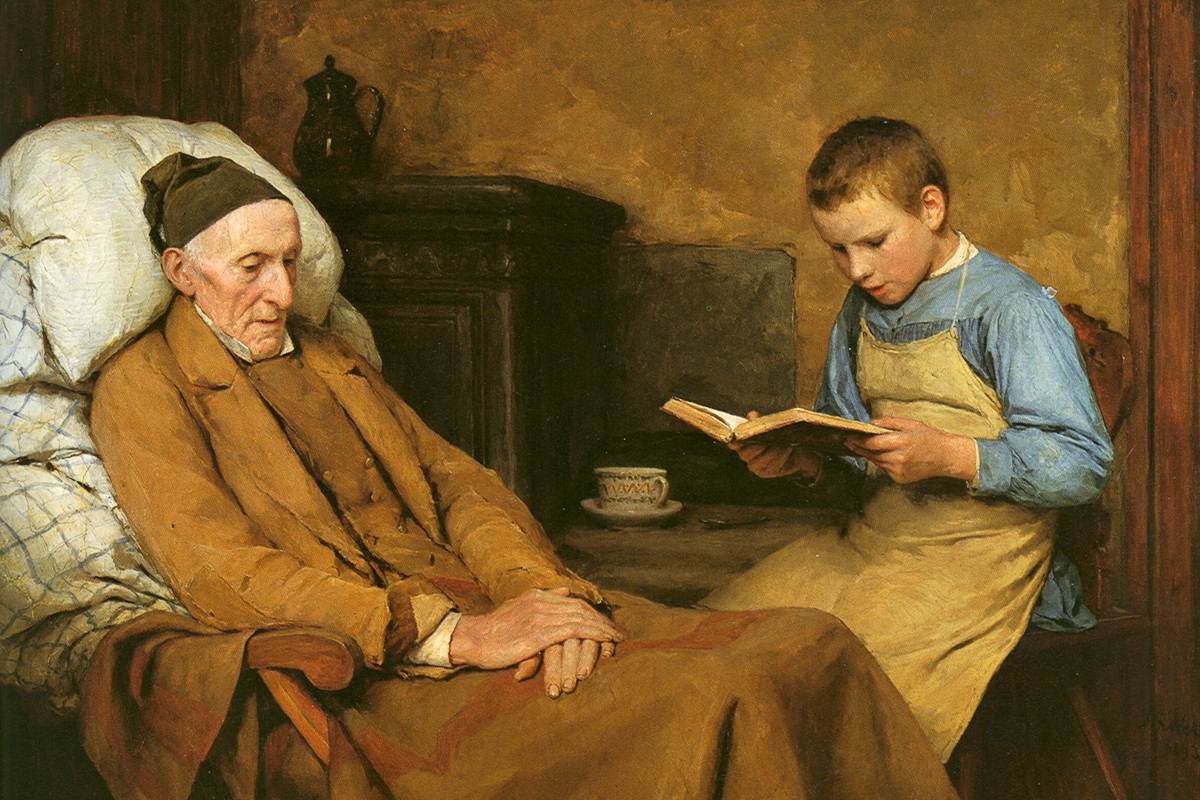 We're spending plenty of time streaming video on the television lately, but we've been doing a lot of reading, too. As long as we can't travel, we'll seek out inspiring travel books. That includes books we may or may not have ready before, set in countries we may or may not have visited before. So far, I've enjoyed slowly re-savoring Love in the Time of Cholera, by Gabriel García Marquez (set in Colombia), and The Decameron, by Giovanni Boccaccio, from plague-ravaged 14th Century Florence. Other favorites of late include The Killer Angels, a Pulitzer winning novel by Michael Shaara, about the battle of Gettysburg, and The End of October, a new novel by Pulitzer winning New Yorker writer Lawrence Wright. I warn you, The End of October is about a novel virus that plagues the world and could scare the hell out of you.
Next on the bedside table is the Complete Personal Memoirs of Ulysses S. Grant.
We're finally pulling books off our shelves for a serious perusal, and seeking new recommendations. In addition to combing the dusty corners of two English literature majors' libraries, I've also plumbed the minds of our contemporaries in the travel blogging business, asking for their favorite books that are redolent of another place. (The first condition of understanding a foreign country is to smell it, as Rudyard Kipling said.)
Some posts on Travel Past 50 may contain affiliate links. If you buy something through one of those links, we may earn a small commission. As an Amazon associate, we earn from qualifying purchases.
Here are a half dozen suggestions from that august group. And a bonus title of more recent vintage from me at the bottom.
Stay safe, and keep your mind traveling even if your body cannot.
Endurance: Shackleton's Incredible Voyage by Alfred Lansing
Most visitors to Antarctica come for the penguins. Observing tuxedo-clad birds as they slide along an icy surface is certainly entertaining. But I traveled to Antarctica for the imposing landscape, the challenge of getting there and to honor a true adventurer.
Reading the story of Ernest Shackleton in Endurance: Shackleton's Incredible Voyage, set the stage for my trip to Antarctica. Shackleton and five crew members rowed 1,000 miles to South Georgia, before arriving at a whaling station to save his marooned crew waiting on Elephant Island.
Saving the last third of the book to read during my voyage made me—probably the world's biggest scaredy cat—a part of Shackleton's story. Listening to the ice crack at night as the ship anchored in a cove off the Antarctic peninsula reminded me of Shackleton and his men standing by to watch their only means of transportation crack to pieces under the pressures of advancing ice.
Waves rocked the ship as we cruised to South Georgia while I read about Shackleton and his five-member crew bailing water out of the James Caird, which was little more than a dory. I stepped off a motorized rubber boat onto land in Grytviken, South Georgia. When Shackleton's party arrived, they still had to scale a mountain and slide down a waterfall.
Shackleton is buried in a graveyard on a Grytviken hillside. Adventurers toast his grave with a cup of whiskey. I bent down to thank him for an inspiring story.
From Donna Hull at My Itchy Travel Feet.
Memoirs of a Geisha by Arthur Golden
One of my favorite travel books that inspired me to travel all around Japan was Memoirs of a Geisha by American author Arthur Golden. Set in Kyoto, it follows two young girls who after the mother's death, have been sold off to living in a geisha house for the prettier Chiyo and a life of prostitution for the more plain Satsu. It shares most of the hidden intrigues of life in a geisha house, the training, rituals and also infighting that happens in this hierachy of geisha. Chiyo get's sponsored by Memehya – one of the top geisha at the time in Kyoto. Through Chiyo's eyes, we get to learn about the art of being a geisha and eventually becoming a full fledge geisha and renamed Sayuri. Rising to the top of the geisha hierachy Sayuri it goes through a series of events, war and eventual escape from the geisha life and personal happiness.
Through this experience we get to see everyday life in the geisha in Gion, one of the most prominent Geisha districts in Kyoto. While traveling around Japan and finally to Kyoto, I visited the famous Gion and Pontoncho districts in the hopes of seeing an geisha traveling from tea house to dinner venues around the district. Night time is when the district is active with the bars and restaurants active and open for business. But most of these bars and geisha venues are not typically open to visitors or foreigners, so the only chance to see these elusive geisha is outside while they are visiting to the various places around the district where they have appointments. You can eat and drink at many of the other places open to the public in both these districts and enjoy some local food or drink before or after you go out to look for geisha in their ornate and colorful outfits, make up and hair. It's a fun experience to do at night time and explore the districts and all of the lit up temples and other landmarks around the city to enjoy and photograph.
From Noel Morata of Travel Photo Discovery
Incidents of Travel in Yucatan by John L. Stephens
First published in 1843, Incidents of Travel in Yucatan by John L. Stephens, with 127 engravings by Frederick Catherwood, documents their 1841 expedition to explore the Mexican Yucatan peninsula. Stephens' writing has well withstood the passage of 177 years. It remains an eminently readable, engaging account of their journey on horseback, muleback and on foot through an unforgiving Yucatecan landscape where they found and documented ruins of the Maya civilization. In addition to Stephens' word paintings of the ruins they often lived in, the book is illustrated by Catherwood's detailed representations of their finds. Stephens' descriptions of the Spanish, mestizo and Maya people with who they interacted along the way are a fascinating glimpse back in time that can still resonate for today's visitors who stray from the well beaten tourist paths.
My two volume now dog eared paperback copy of this book was a graduation gift from a Williams College history professor who took a small group of students to the Yucatan in 1975. We met with the Mexican Minister of Tourism who showed us the as yet unrealized plans for what has become the tourist mecca of Cancún. I enjoyed reading the 1843 descriptions of some of the sites we visited on that trip. I reread the entire book when I later returned to the Yucatan and revisited the now largely restored Maya cities of Uxmal and Chichen Itza.
From Suzanne Fluhr of Boomeresque: Baby Boomer Travels for the Body and Mind
My Brilliant Friend by Elena Ferrante
My Brilliant Friend by Elena Ferrante is a series of four novels about two best friends Lila and Lenu. The story takes place in Naples, Italy, beginning with when the girls first meet in early grade school in the 1950s. It is a beautiful story about friendship and how it evolves over time as the two grow and follow different paths. Since Italy is my favorite country to travel to (and I am heartbroken by what is going on there with the pandemic) I love these books. When I was in Naples as part of a Viking Cruise, I was reminded of Lila and Lenu roaming the streets and markets. There are also scenes that take place on the Amalfi Coast, which is a magnificent part of Italy — where I experienced a best-ever post retirement family vacation several years ago.
Last year, My Brilliant Friend was adapted for television by HBO. The second season, or Book Two, was just released (you can likely find the first season, Book One, on demand). Wonderfully executed in Italian with English subtitles, Daniel Feinberg, film and tv critic for The Hollywood Reporter, says that " My Brilliant Friend is like a passport to an Italy from a different era." I would encourage you to read the books first and then watch the show. It will be more fun to follow the characters, including their families and friends.
From Judy Freedman of A Boomer's Life After 50
The Unexpected Mrs. Pollifax, by Dorothy Gilman
For a lighthearted read that takes me to exotic destination, I enjoy the Mrs. Pollifax series by Dorothy Gilman. In the first book, "The Unexpected Mrs. Pollifax", we meet our unexpected heroine. She is an elderly (which probably means over 50) widow who is bored of her "sensible life" doing volunteer duties and feels like she has outlived her usefulness. Her life's dream had always been to be a spy. So off she goes to Washington DC to visit the CIA and volunteers to be a cold war spy. As a result of a slight mix-up she is picked for a courier role that takes her to Mexico City. Not surprising, the supposedly straightforward assignment goes awry. How she handles this situation is diverting and should inspire all of us "of a certain age" to still surprise and exceed expectations. I especially love the audio book version which is read by Barbara Rosenblat who has one of my favorite reading voices.
From Rose Palmer at Quiltripping

Hawaii, by James Michener
I read Hawaii by James Michener during college finals. It provided a great escape and sparked my life-long love affair with Hawaii. Of course I know that Hawaii isn't a foreign country, even though quite a few Americans are still unclear on that concept. But they can almost be forgiven because it is so exotic and the islanders do have their own culture and language. When I became an elementary school teacher, I had a blast focusing on Hawaii for a special project. I made my first visit with my husband for a short escape from parenthood. And when I morphed into being a travel writer, I wrote some of my best stories based on island visits: a final family vacation with our high-school-graduate son on Maui; a mysterious adventure getting to the mule ride on Molokai; discovering the pleasures of Kona coffee and the aloha spirit on the Big Island. My son was married on Lanai. And one of my very best travel pieces centered on my dad's stint on Maui in the Marines training there after the Pearl Harbor attack during World War II. Writing that story changed my life. As I followed in his footsteps through the islands, I confronted some of my own demons. Currently, I am so looking forward to my next visit, which will probably be to Kauai. Or maybe Maui. And then again there is the pull of the Big Island.
From Carole Terwilliger Meyers, Travels with Carole
A Year In Provence, by Peter Mayle
In 1989, Peter Mayle published his memoir about life in the southern region of France called Provence. His book was so wildly successful that travelers would make "Peter Mayle pilgrimages" to the area just to see the towns that he wrote about.
Mayle wrote vividly and with great humor about what it was like to be a British expat living in the French countryside with neighbors, shop owners, and workmen who only spoke French. He wrote about his frustrations getting his house renovated and also about his love of French wine and cuisine and his growing understanding of the local French culture. I'm sure many of his anecdotes had been (slightly) exaggerated; however, this is what made his stories so amusing.
My visit to Provence began about 10 years prior to Mayle's book becoming a best-seller, when the hilltop villages such as Gordes, Bonnieux, and Menerbes had not been overrun by tourists. Things have certainly changed and reading his book after my first trip renewed my interest in the region. I have made repeated visits to the area because the towns are so beautiful. In fact, many have been designated "Les Plus Beaux Villages de France" (The most beautiful villages of France).
Before you head to Provence, check out Peter Mayle's A Year In Provence. It will not only get you in the mood for your trip but will help you fall in love with the region.
From Janice Chung at France Travel Tips
The Adventurer's Son by Roman Dial
The Adventurer's Son is the story of famed Alaskan explorer, naturalist, and National Geographic Fellow Roman Dial's two-year search for his son, Cody Roman, who disappeared into the Costa Rican jungle in 2014.
The day Dial's son, Cody Roman started into a jungle populated by snakes, anti-social illegal miners, and drug smugglers, he emailed his father with a very sketchy outline of his plans. It took Dial a couple of weeks to realize that his son was overdue, and to launch headlong into a organizing a search.
The first half of the book is the story of how Roman imbued his son with his prodigious outdoor skills as well as the adventurer's spirit. What makes this part of the tale painfully poignant is Dial's barely restrained guilt at raising his son to take such chances, when he could have settled for the tame existence of a staid college professor, albeit an Alaskan one.
The book is a heartfelt tribute to an extraordinary son, and a heartbreaking memoir of a father who has lost that son–and can't shake the feeling that it's his fault. All this is woven into the actual story of the complexity of mounting a search in a remote, inhospitable jungle and dealing with similarly inhospitable Costa Rican bureaucrats and police. All while not speaking the language. On that level, it's a tale not unfamiliar with anyone who has ever dealt with foreign authorities–especially the particularly frustrating ones in a Latin American country.
It's no spoiler to tell you that Dial's search doesn't come to a happy end. That's not the point of the story. The adventure of an extraordinary man and his extraordinary son make a sad, yet ultimately life-affirming tale, and a book that will  stick with me for a long long time.
From Tom Bartel, Travel Past 50
P.S. You can see some more of my travel book recommendations here.
You can buy all the books we've recommended in various posts here.
Travel Planning Resources
Looking to book your next trip? Use these resources that are tried and tested by us. Flights: Start finding the very best flight deals by subscribing to
Thrifty Traveler
. Book your Hotel: Find the best prices on hotels with
Booking.com
. Find Apartment Rentals: Find the cheapest prices on apartment rentals with
VRBO
. Travel Insurance: Don't leave home without it. We recommend
Allianz Travel Insurance
. Need more help planning your trip? Make sure to check out our
Resources Page
where we highlight all the great travel companies and products that we trust. See all of the gear and books we like in one place on our
Amazon shop
.