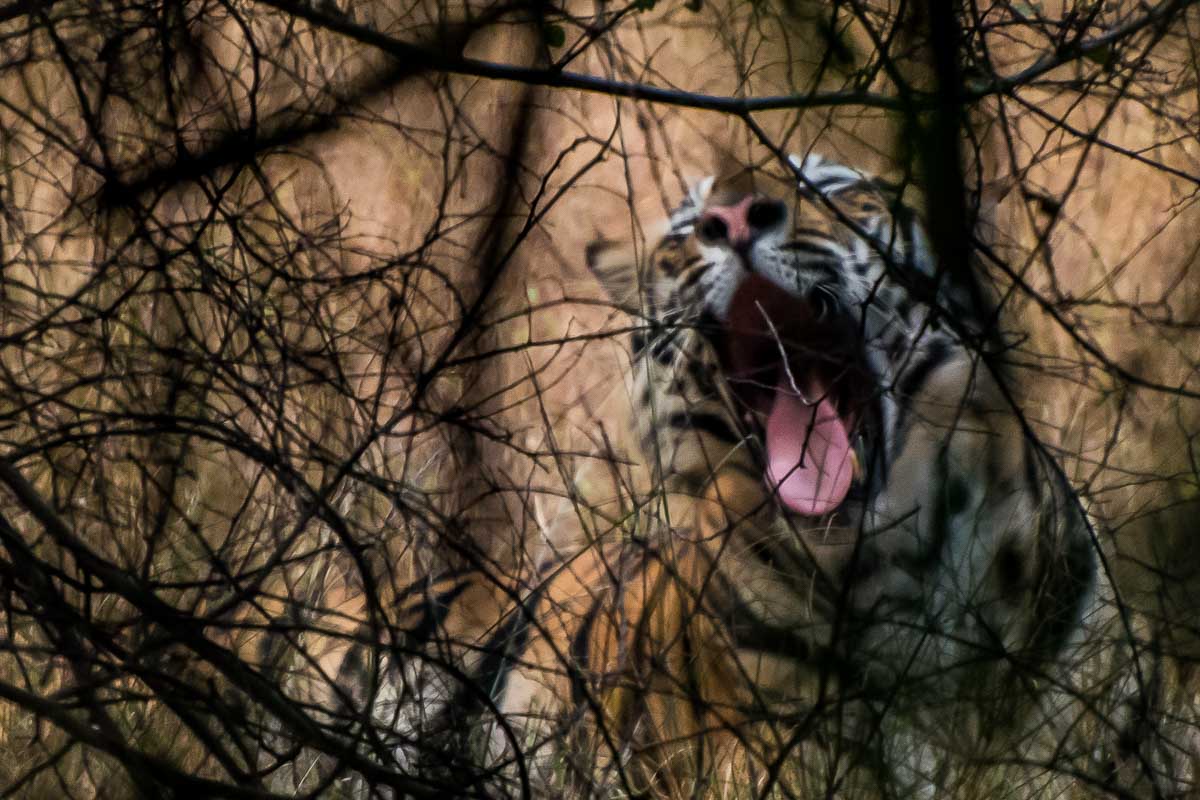 Although Madhya Pradesh, the central Indian state dubbed "the heart of India," hosts the world's highest population of tigers, our group of ten in three jeeps saw none on our first two early morning India tiger safaris. It was just as well. We had a lot to learn.
We were in Bandhavgarh National Park, known for its frequent tiger sightings. It's one of nine national parks in Madhya Pradesh, including six tiger reserves and not counting another 25 forested sanctuary areas. Working with Pugdundee Safaris, the plan was to visit three distinct parks during the week. While we drove around on dusty tracks through grasslands and forests, learning about everything except tigers, we were encouraged to hear that another group was enjoying good sightings in Kanha National Park, the area we'd travel to next.
For those without a singular focus on tigers, the safaris present a well-rounded introduction to India. Getting away from the crowded city views, safaris offer rich context to India's natural world and the central region's cultural heritage. Heavily forested Madhya Pradesh offers cleaner air, wonderful cuisine based on locally grown produce, and close-up opportunities to meet local people and appreciate their crafts and daily routines. With luck–and some good guides–you'll enjoy a tiger sighting, too. But that's just a piece of the Madhya Pradesh story.
Read about places to visit in Bhopal, the capital city of Madhya Pradesh, including our report on the craft communities that produce India's top handicraft goods.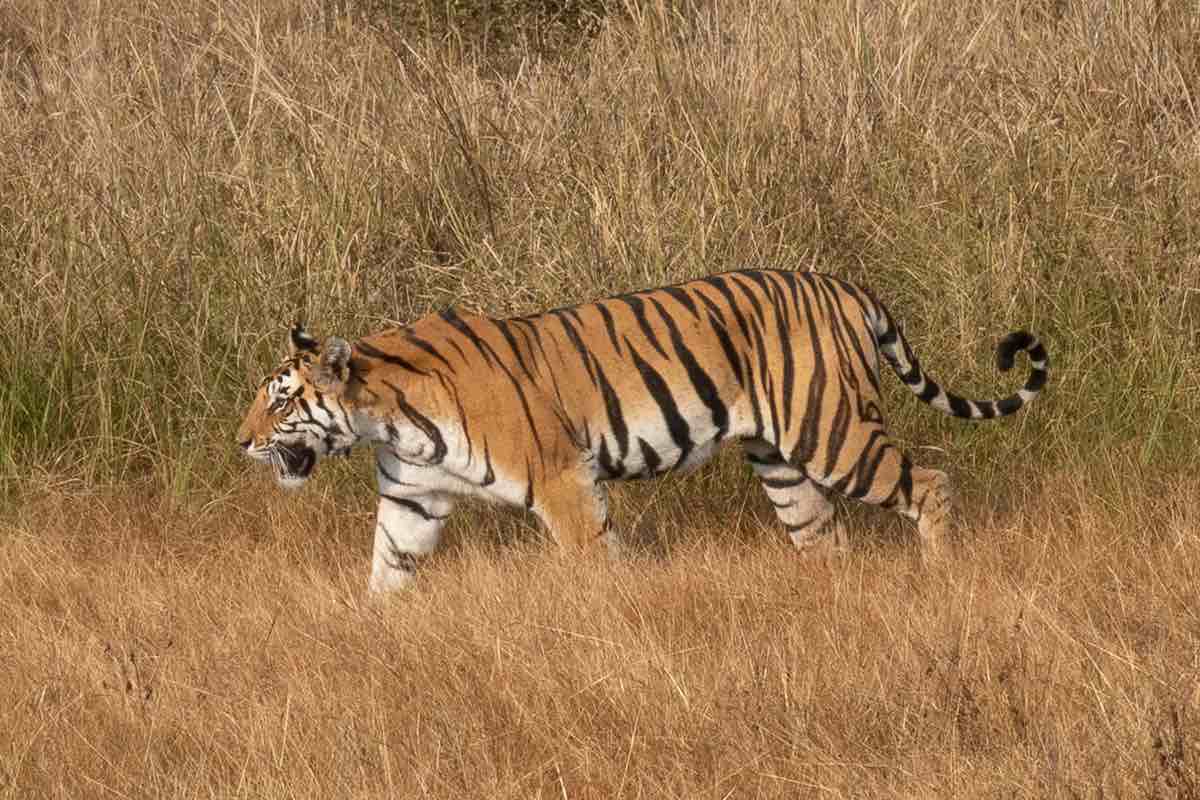 Jeep Safari: Tigers
First, about those tigers. Efforts to protect tigers and the parklands have been successful, with Madhya Pradesh leading the way. India in general and Madhya Pradesh specifically are realizing the increasing potential of wildlife tourism. On a local level, of course, this means jobs, improved education, and new demands on infrastructure, so each of these facets is developing at its disparate pace.
In all of India, the tiger population (these are Bengal Tigers) has increased from 1,706 tigers in 2010, to 2,236 in 2014, to more than 3,500 tigers in 2018. These counts do not include cubs who are still living with their mothers, which they do until age three or four.
Bandhavgarh (750 sq. km.) and Kanha National Parks (940 sq. km.) in Madhya Pradesh are home to about 75 and 108 tigers respectively. As fellow travelers who'd been to Africa pointed out, it's nothing like the African safari experience where you'll run across vast herds of wild animals. In India's parks, ringed by natural buffer zones, just 20% of the parkland is open to tourists. The number of vehicles allowed to enter each morning and afternoon is strictly controlled (advance permits required and passports presented on arrival). So, in the tourist zone–the 20%–only a couple dozen tigers live, and only a fraction may present themselves. And, of course, they may not.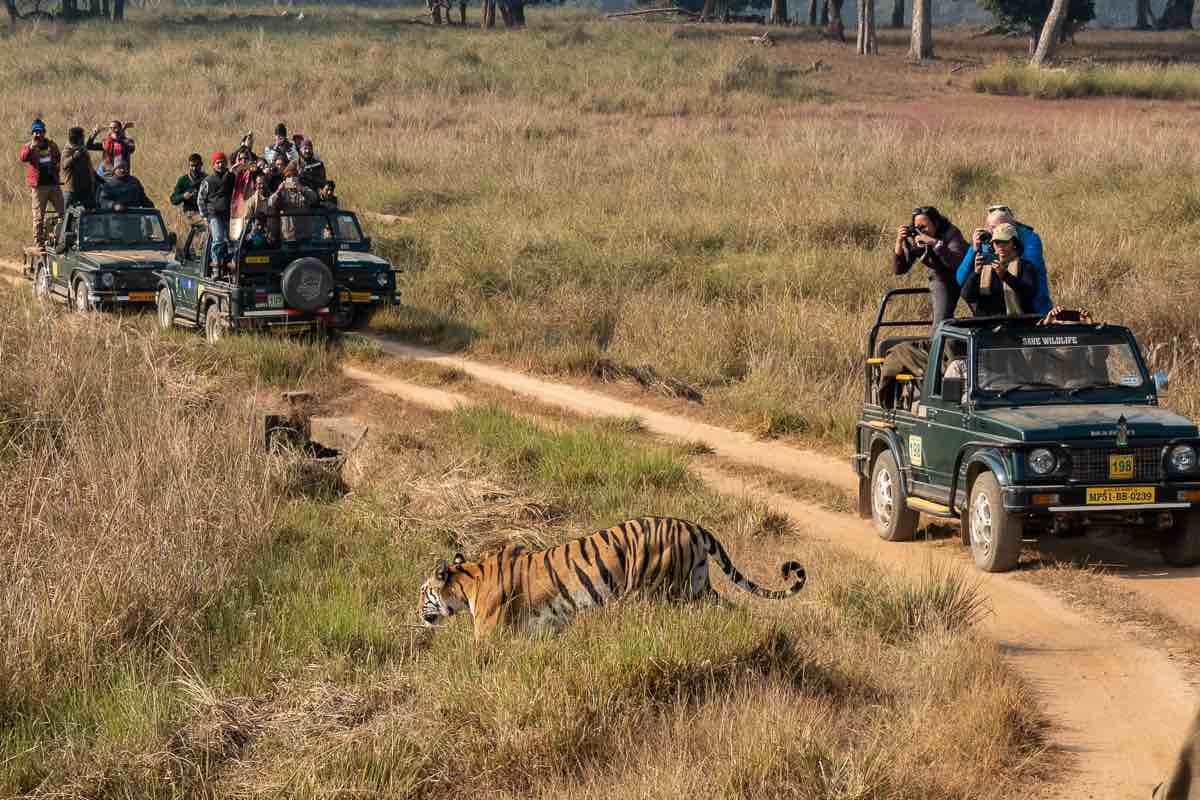 Without seeing tigers, safari guests can quickly pick up on key attributes of the land and the alarms that alert guides to potential tiger presence. In Bandhavgarh, for example, we enjoyed watching the sun rise through forests of tall, straight, hardwood sal trees, interspersed with teak, eucalyptus, bamboo and the eerie white "ghost trees" that shine in the moonlight. The grassy, open forest floor provided good visibility through the trees. Our guides pointed out monkeys (Langur and Rhesus Macaques), deer (lots of spotted and Sambar deer), song birds and birds of prey. Occasionally we passed another jeep, and the guides stopped to compare notes. Though we didn't understand their conversation, it was pretty easy to see on their passengers' faces whether they'd spotted a tiger or not. Two mornings of so many long faces made us start laughing.
The thrill of the day, even without a tiger sighting, was seeing a fresh tiger track, and then observing the guides' and drivers' attention tuned to the alarm calls. It's usually the monkeys that will give away the tigers' positions as they look and squawk, leaping across tree tops to warn of the danger. Deer, too, will bark and move off when they detect a tiger's presence. But deer, especially, are frequently caught unaware.
When the alarm is sounded, the finer points of the forest are lost to the chase. Jeeps seem to converge from everywhere as guides pinpoint the alarm position. (Use of mobile devices for communication among vehicles is prohibited.)
Day three in Kanha Park was our day. We were positioned between two spots that both seemed promising based on previous days' sightings and this day's activity. And sure enough, our guide positioned us at the right place at the right time. The engines were turned off and we waited, hoping a tiger would come out of the woods onto the grassland.
First came the mama tiger, named Neelam. We had several thrilling minutes watching her saunter straight toward us, crossing the road between jeeps. (No big deal; she's apparently accustomed to jeeps and the non-threatening people in them.) She moved off into the deeper grass of a shallow, headed toward woods on the opposite side.
We moved to another road beyond that shallow, and by now most of the jeeps in the park seemed to have lined up. While we paused to see where the mama tiger would emerge, we spotted cubs just coming out of the trees. Things got a bit frenetic, with the mother on one side of our road and the cubs (three big cubs of about 3 years old) on the other, more than a dozen jeeps, and a few crazy drivers yelling at each other to back up or move up, distracting from the wildlife scene.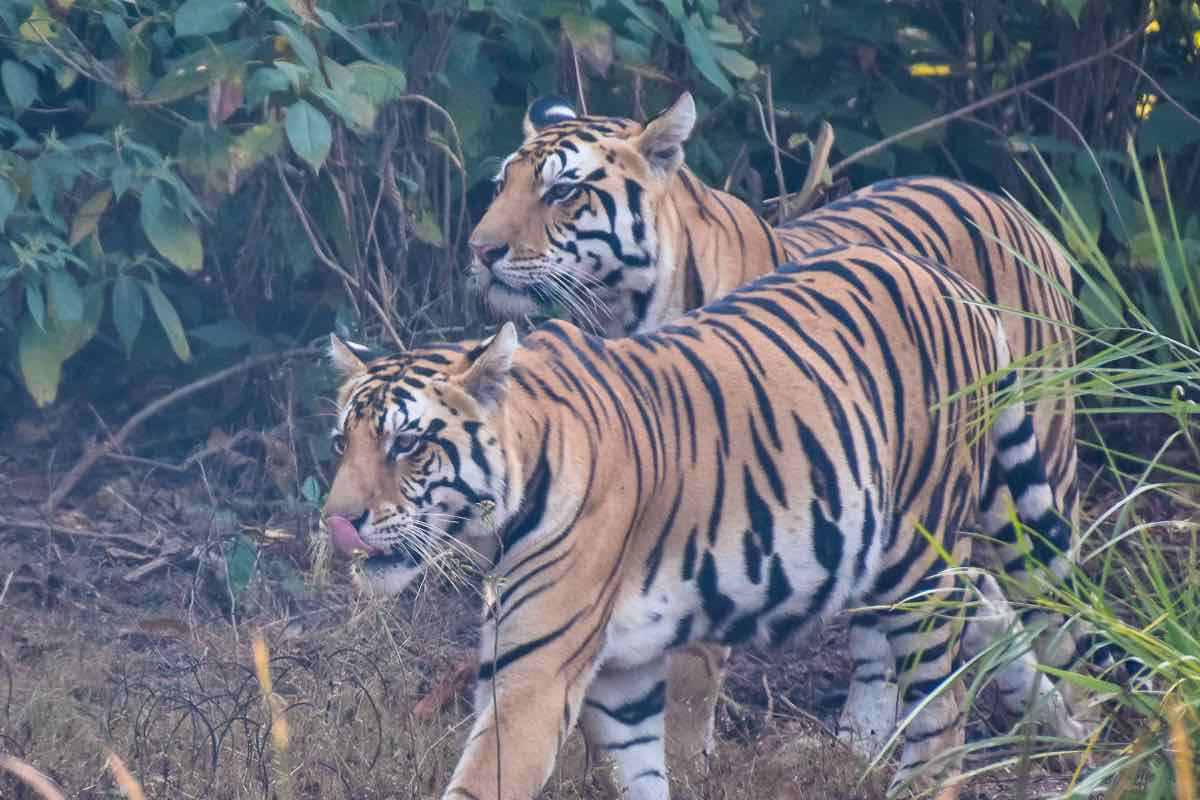 The mother tiger was gathering her cubs. She crossed the road and called to them with a soft growl, and then retreated to wait for them to come. One by one the cubs went to her, crossing the road between jeeps.
Our Pugdundee Lodge guide, Harpreet ("Happy") Singh, identified the tigers by their distinctive faces and stripes, and pointed out that one of the cubs was nicknamed "Charger." Sure enough, Charger, the third to join his party, was skittish and ornery about crossing the road filled with so many jeeps. He made a couple of aggressive moves toward the jeeps, with an un-cub-like roar, first to one side, then to the other. While scaring the hell out of some people who didn't expect this, he'd made his point and quickly trotted across the road to his family.
(A side note on photography here: unless you are perfectly positioned and with top notch photo equipment, it's best to enjoy the show. Consider, at least, watching with your eyes, not through the lens, while you shoot. Check out these other bits of advice from a safari photographer pro, Susan Portnoy.)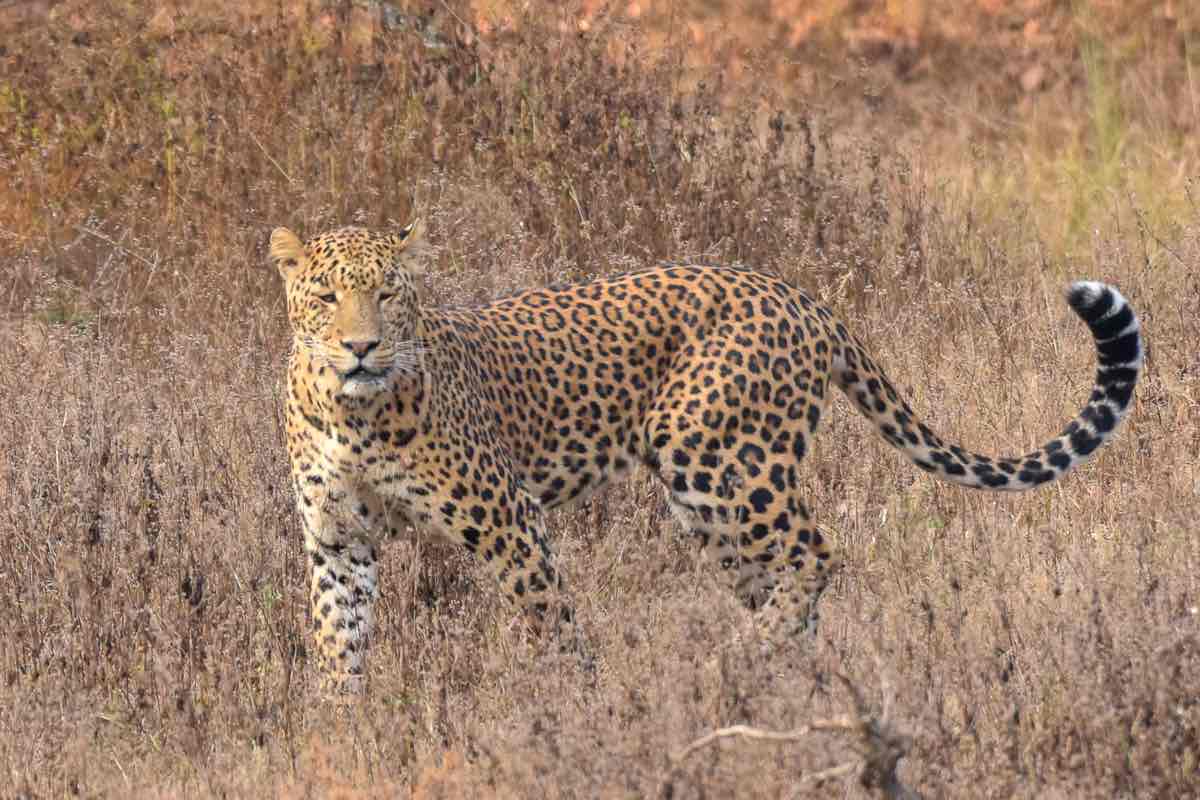 Jeep Safari: Leopard
The same afternoon, also in Kanha, we explored another sector, a rockier section that is favored by leopards–and therefore home to fewer tigers. (Leopards prey on tiger cubs.) We spotted the big, black, buffalo-like guar and, still high from our tiger sighting, simply basked in the forest scenery. Leopard sightings are rare. They are called ghosts of the jungle for being so elusive. A fresh leopard track on the side of the road gave us hope.
Soon an alarm was raised, and a couple guys in our jeep spotted what they thought was a tiger, set back in the forest. Only a glimpse. Our driver repositioned the jeep ahead of the moving cat, and we waited. Out onto the grassy area came a leopard! The ghost of the jungle was walking diagonally across the meadow, crossing about 20-30 yards in front of our jeep, and into the woods again. We had a couple minutes to watch, and our guide later conjectured that this male leopard was emboldened heading to find the female whose tracks we'd seen earlier. We were the only jeep in the park to have such a sighting that day, so we were four lucky people!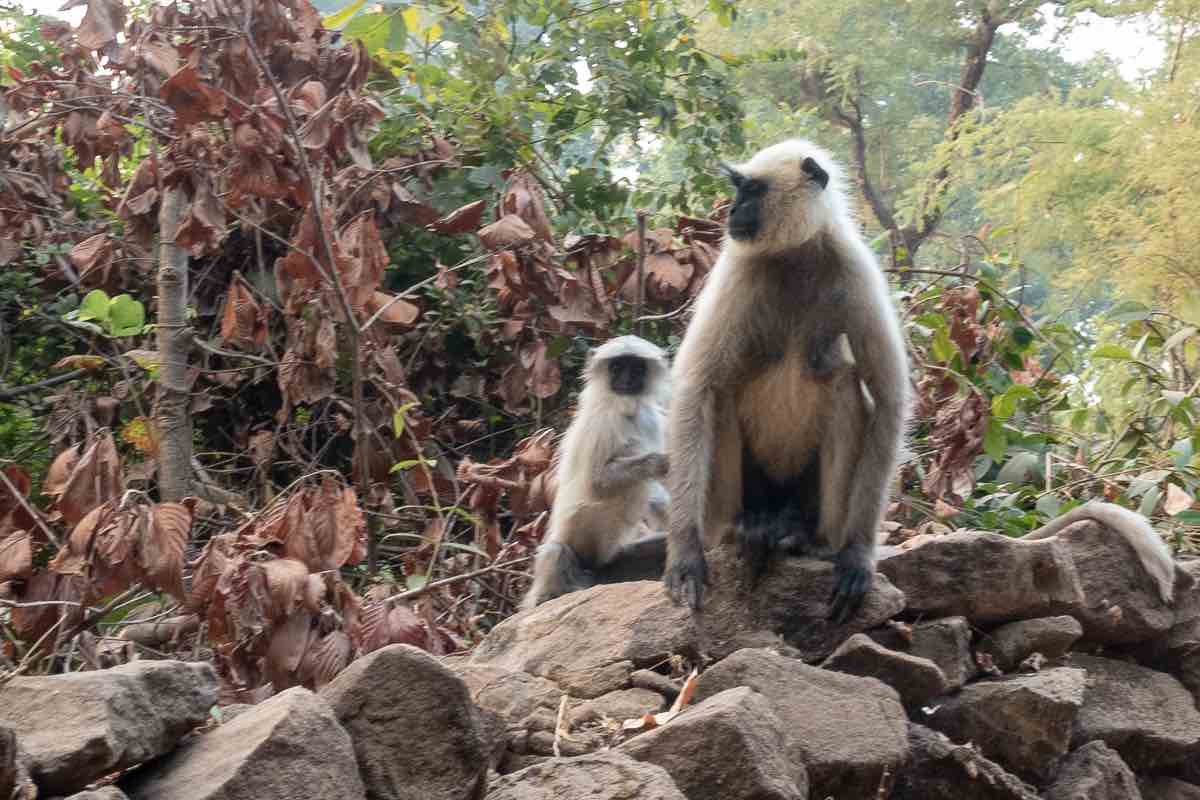 Walking and Canoe Safaris: Birding and Wildlife in Satpura National Park
Every park has its distinct landscape and personality. The vast, 2,600 square-kilometer Satpura Park along the Denwa River includes backwaters, grasslands, and the rocky forests that climb up to the "hundred mountains" for which the park is named. The Denwa, dammed in 1976, and the Sonbadra rivers attract all kinds of wildlife and birds.
Satpura isn't known for tiger sightings, although it too is billed as a tiger reserve. The park is huge (double the size of Kanha), only 15 vehicles are admitted each morning and afternoon, and the terrain is more conducive to leopards, sloth bears, deer, and guar. We wished for a sloth sighting to complete our imagination's trifecta, but settled for an abundance of bird sightings. One jeep in our group came upon a couple first-year leopard cubs in the road, and two travelers were able to snap a quick image before the cubs dashed into the brush.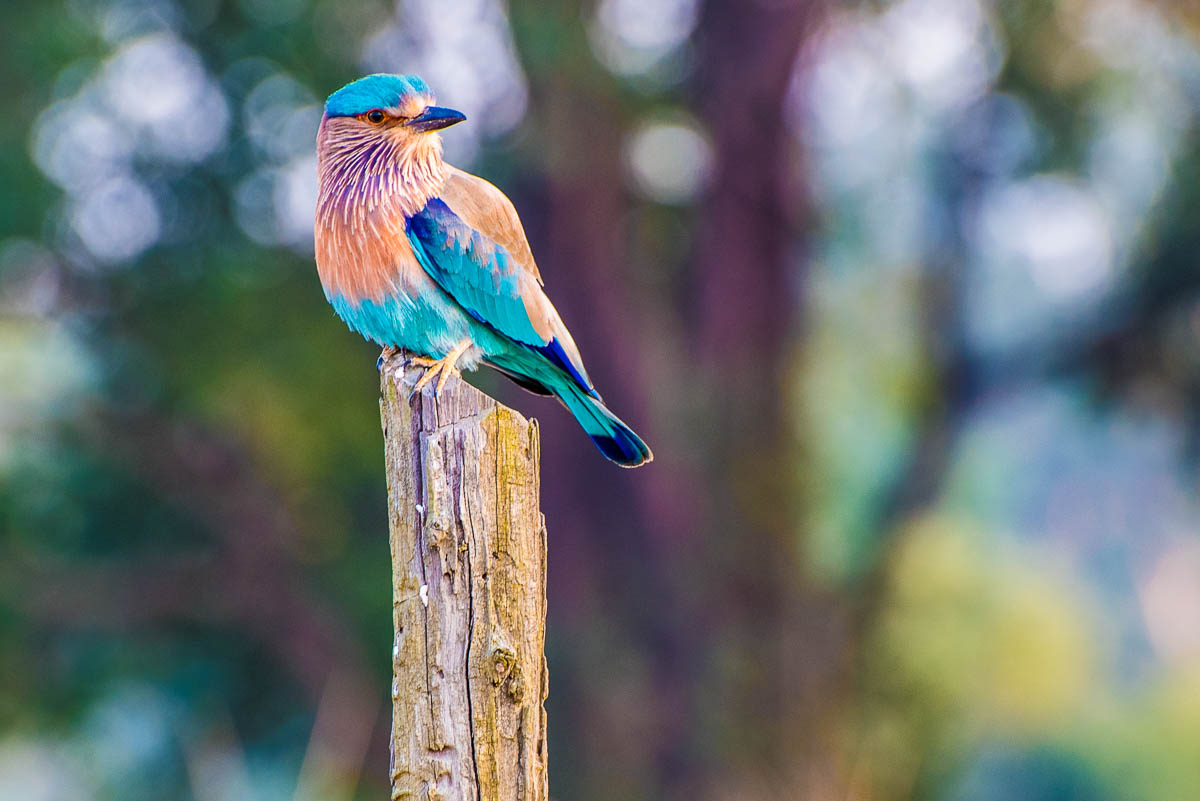 Perhaps the best way to visit this park is by walking safari or canoe. (This is the only Indian National Park to offer walking safaris.) This quieter approach would surely provide better bird and wildlife sightings. As it was, we saw a Grey-Headed Fish Eagle, herons, parrots, and peacocks aplenty, plus a crocodile.
Local Madhya Pradesh Culture
Apart from the forested lands of the national parks, much of Madhya Pradesh is agricultural, dotted with small villages spaced between larger market towns. Most families manage their own small plots, using what they can and selling the rest at market. Potatoes, garlic, onions, pumpkins, cauliflower, cabbage, and other vegetable sales are supplemented by chickens and dairy from goats and cows.
We stopped in the village of Surwahi, a prosperous little area surrounded by rice fields, meeting the 101-year-old elder, his son and daughter-in-law, his grandson, and a great grandson age 15. They invited us in to have a look at their courtyard and back lot, and the spry old man was eager to pose for pictures, proudly inviting his family around him.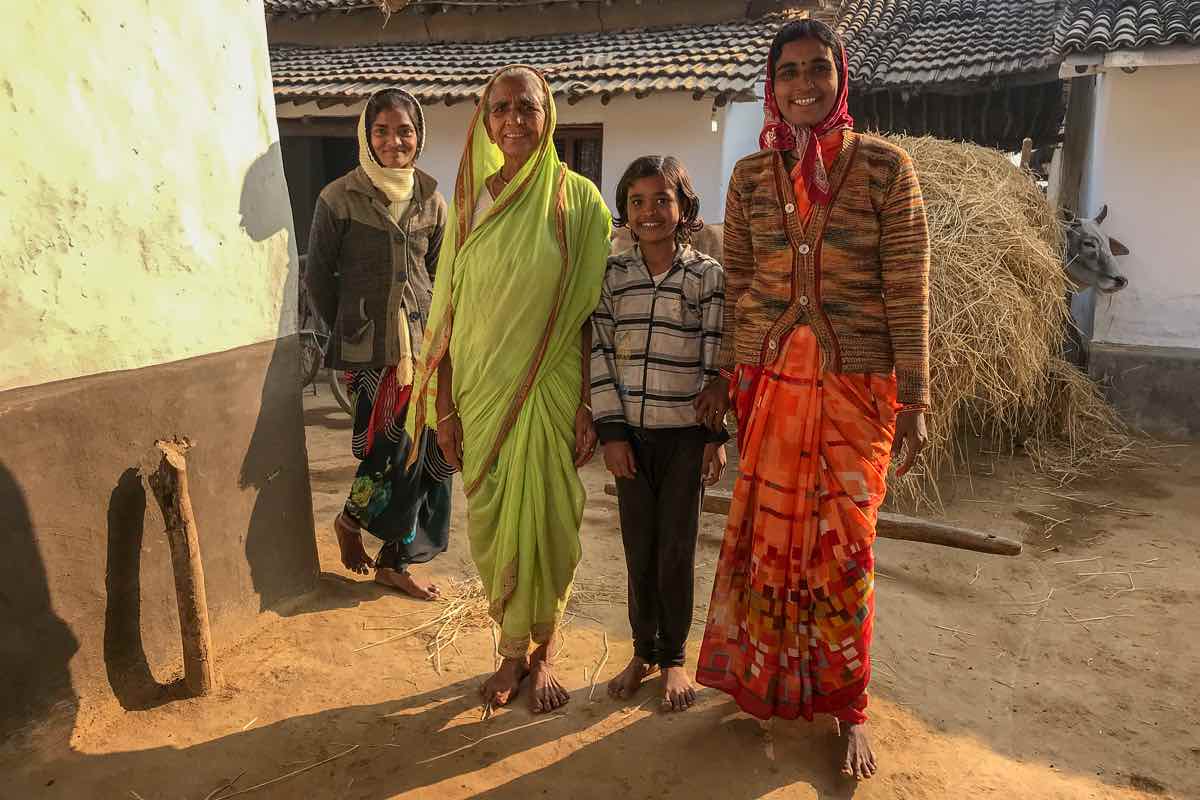 Homes and sheds are coated with plaster-like mud and painted in bright colors. The thick walls keep summers' extreme heat and winter cold out. Slick mud was being skimmed over the courtyard, too, to create a new, hard surface. On either side of the town's street (thankfully not shared with the main road), children and women sat on fences or front stoops, the clean homes and street interspersed with working cattle and mounds of hay. Older children greeted us with a few words of English, while younger ones shied away. As I turned around a corner, a group of women invited me into their courtyard for a picture–for no other motive than the comradery. Everyone smiled as I admired their dresses and guessed which two were sisters.
The local tribes of Gond and Baiga, we learned through our Pugdundee Safaris hosts, celebrate their frequent festivals with food, drumming and dance. Throughout Madhya Pradesh, local crafts incorporate local resources, and craft traditions are passed along from generation to generation. Examples of Gond painting, bead work by Baiga, ceramics, metalwork, and the famous textiles of central India can be found at shops and museums in Bhopal, the state's capital, and around the region. Check out the Tribal Museum in Bhopal for an overview, or any Mrignayanee workshop store to shop.
Food and Lodging for your Heart of India Safari
All our arrangements, including transfers, park entries, guides, meals and lodging, were handled by Pugdundee Safaris, who operate a string of six eco-friendly hotels that are in prime position for park visits and safaris. We started in Kings Lodge near Bandhavgarh (my room was at tree house level), moved to Kanha Earth Lodge at Kanha Park, and ended up at Denwa Backwater Escape across the river from Satpura National Park. Each property has its own personality, but they were consistent in providing knowledgeable naturalists, locally produced décor, excellent food, and good service. Most include spas and pools and/or nature trails, and all feature comfortable lounges and dining areas. We really appreciated their strict 'no plastics' policy (guest are given a metal water bottle they can keep), and the use of their own kitchen gardens.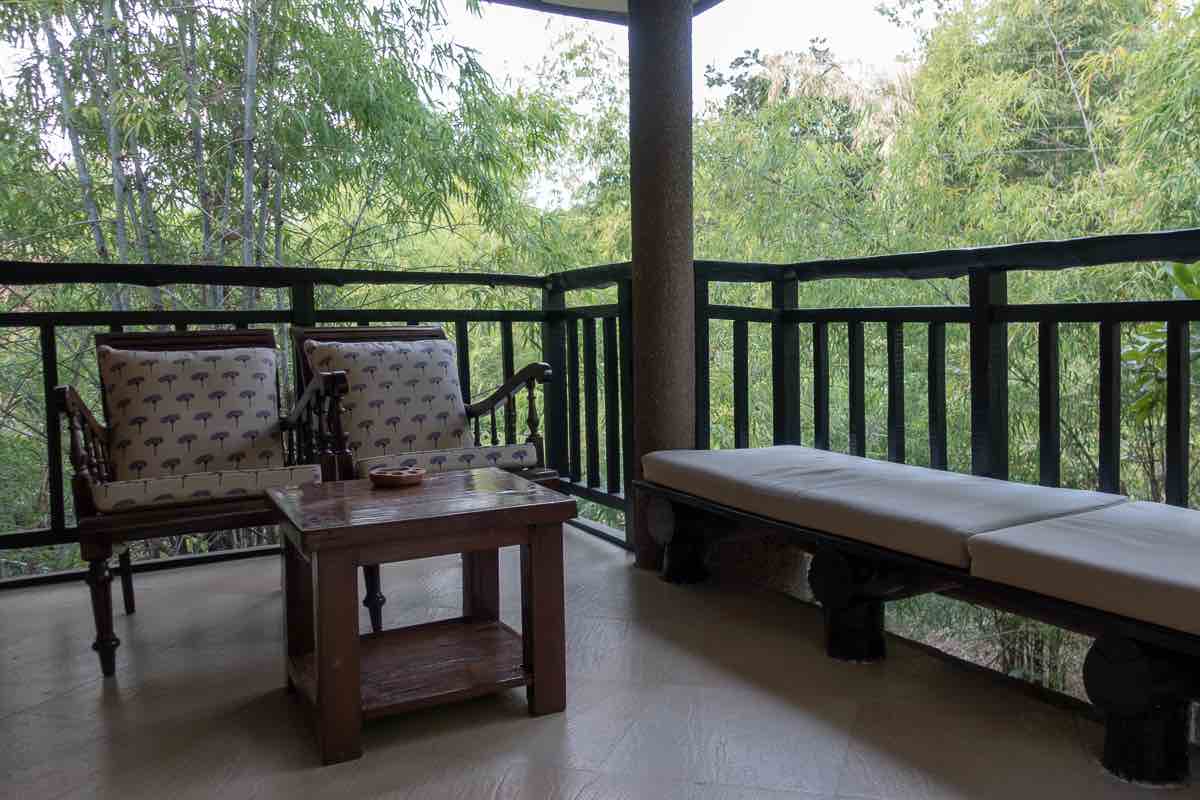 At Kings Lodge we met executive chef and author Michael Swamy, who presented a cooking demonstration. We toured the impressive kitchen garden at Kanha, and were treated to wonderful starters to nibble on with cocktails or wine before dinner. As the nights turned cold, we were treated to hot water bottles in our beds! Ahhh.
The typical stay at each lodge is three nights, and discounts are available for booking multiple lodges. We found it convenient and comfortable to start our tour of Madhya Pradesh with this entire itinerary in the hands of Pugdundee Safaris.
Transportation and Transfers
If you haven't been to India before (we hadn't) be aware there is no experience quite like driving across country and through towns. And there will be driving, since train routes are sparse and domestic air options limited. The great thing is that India is well-practiced at meeting confused foreigners at the airport. You can rely on your tour operator to have someone holding a sign with your name to help you to your car. (Comfortable Toyota Innova vans that seat 4-6 are popular these days.) But the crazy and inevitable part is traveling by car–no matter where to or for how long.
From Delhi, for example, we flew Spice Jet to Jabalpur in eastern Madhya Pradesh, where we were transferred by car (four hours) to Kings Lodge. A couple days and two jeep safaris later, we were in cars for four hours to get to Kanha Lodge. Then we spent nine hours enroute to Satpura. Finally we spent another four hours getting to Bhopal. No matter what order you visit the MP parks, you'll be starting about four hours from the nearest airport.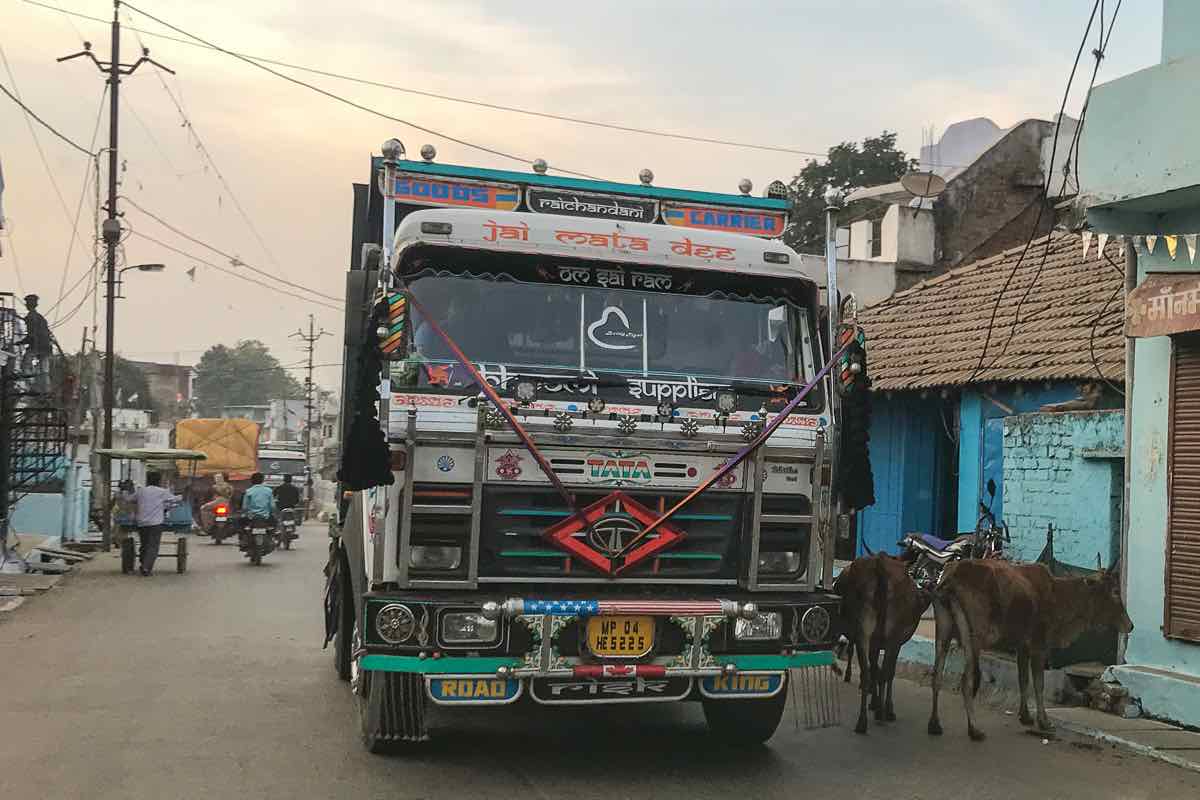 So, our caravan of three vehicles for the ten of us tore through villages, careened around blind curves, straddled lanes, and narrowly missed all sorts of hazards on the road. By hazards I mean cars, motorcycles, tuk-tuks (motorized and cycled), bicycles, pedestrians, buses, hand-pushed carts overloaded with vegetables, cattle, monkeys, dogs, mini vans packed with young schoolchildren, boys flying kites, storefront goods, market vendors and their produce, piles of dirt or rock, metal traffic barriers*, firewood bundled on the hunched shoulders of the elderly, school children strolling home, trucks, goats, and more pedestrians. All of these I noted in the road, not beside the road.
While the car darted in and out of all this, on one-lane roads with no shoulders, I half appreciated our driver's high-speed approach. Otherwise we'd never get anywhere. My other half was gasping and groaning, exhausted by my body English and sometimes even zoning out due to pure sensory overload.
For now, there is no getting around this part of your safari experience. The chances of improved infrastructure or keeping cows off the road are much smaller than spotting the ghost of the jungle.
*Two metal barriers, like sawhorses with stop signs, jut out from either side of the road. Usually cars just swerve through the obstacles, barely slowing. During our visit, there were additional check points set up due to elections; it's illegal to carry more than 50,000 rupee (about $700) on election day. Our tourist vans rarely had to stop because the company had anticipated the blockades and procured a permit. The permit was an 8 1/2 x 11 sheet of paper stuck to the windshield on the passenger side, never mind the blind spot.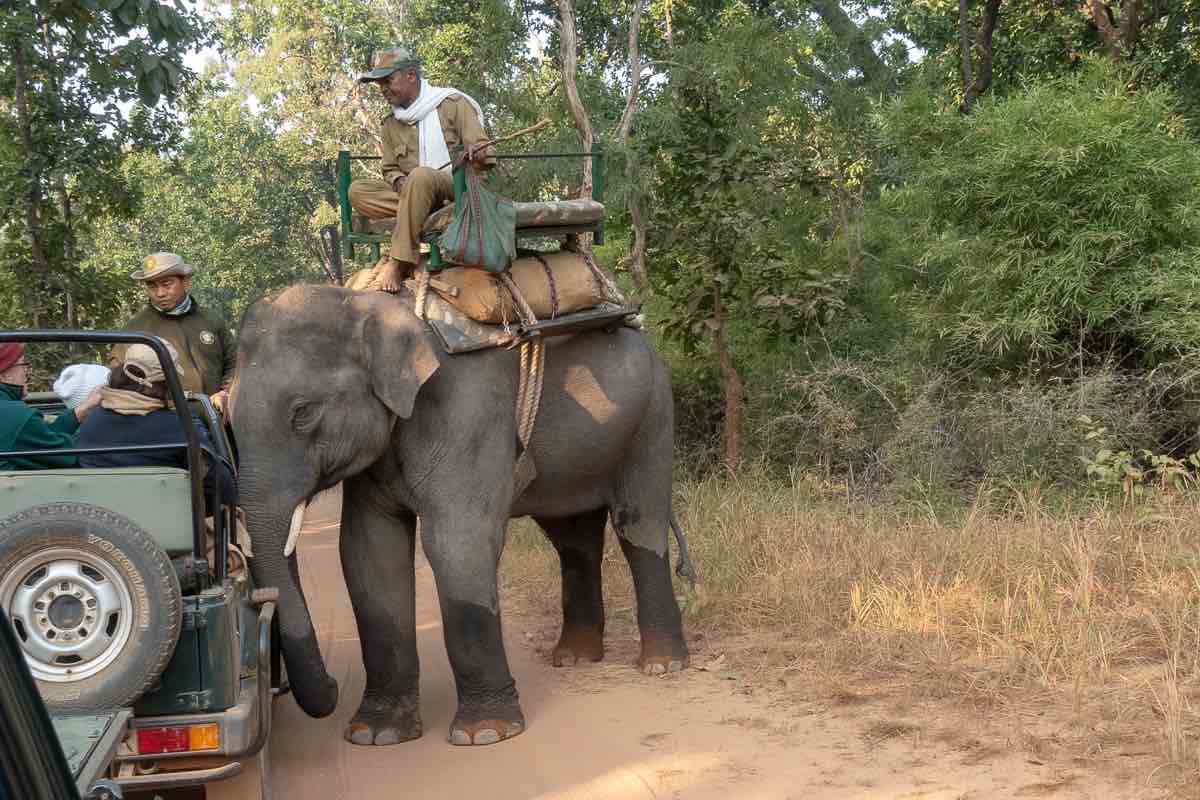 Are You Ready?
The India tiger safari experience isn't physically demanding, but it helps to know what to expect. Each outing in the jeep will be about three hours. The ride will be bumpy, dusty, and cold in the morning. Just hanging on might be tiring. (My activity watch counted each bump in the Jeep as a step, so I look active on paper!)
Packing for Safari
A neck gator is great to cover your face to protect from dust and cold. Our travels were around the first of December, and I put a stocking cap and gloves to use every day. Any time of year, it's advised to wear long sleeves and long pants. Layers and more layers compensate for the fast changing temperatures. I wore a rain jacket or shell to block wind and dust, and was happy I could hose down or rinse most of my clothes before continuing our travels.
Cottages at the lodges may be spaced out, so it's helpful to have a headlamp. Carry some extra toilet paper in your pocket for mid-safari visits to the bush toilet. (Have you been practicing your squats?) And hand sanitizer is…handy.
See more Travel Past 50 packing tips here.
Health and Vaccinations
I was over-prepared in this area, since in December we found very few flies or mosquitoes. The usual advice for Americans traveling to India is to be up-to-date with yellow fever, typhoid, and malaria vaccinations. Rabies may also be advised due to the large number of stray dogs. The main thing is to be prepared for stomach issues (we had none) with anti-diarrhea meds and maybe a stash of antibiotics. We've had no health problems, and found our accommodations and wayside facilities to be above expectations. Just be sure to drink only bottled water and to wash your hands frequently.
Due to poor air quality, those with allergies, asthma or other lung issues will want to carry inhalers, medicines, throat lozenges, or face masks.
Currency
Porters are common in India, if not in our usual travels, so I got used to help with my luggage. Be prepared with tip money, for porters, guides, and drivers.
Safari in the Heart of India
The whole notion of India as one big crowded city scene gives way to the natural environment of the safaris and the human scale of the villages. Yes, the experience in greater Madhya Pradesh is still filled with harrowing driving and an open-burning haze. But a safari in the heart of India comes with personal interaction with locals, appreciation of the national parks' landscape, introduction to dozens of wild animals, birds and flora, education about wildlife protection in India, and a chance to see a tiger.
Our travel to India was hosted by Adventure Travel Trade Association and Madhya Pradesh in conjunction with the travel conference AdventureNext held in Bhopal. We were also hosted on other pre- and post-conference adventures by local India companies including Pugdundee Safaris, PureQuest Adventures, India Insight Tours, and Banjara Camps.
A visa is necessary for Americans to travel to India. We use iVisa whenever we need a visa for any country. Great service, and a small price to pay for them to navigate the visa process for you.

You can click the link above, or use this widget below to start the process of getting a visa for any country.
When you're thinking of traveling, your first stop should be our Travel Resources page, where we list all the essentials you need to make your travels easier, cheaper, safer, and more fun.
You can also help yourself get ready for your travels by reading our Get Started Planning Your Trip Now page.
We love traveling–with the right gear. We've gathered a lot of the stuff we use to make travel more pleasant and efficient all on one page. Shop our Travel Past 50 Amazon page to find our favorite gear. If you purchase something from the store, Travel Past 50, as an Amazon affiliate, may receive a small commission at no extra charge to you. Thanks.
We never leave home without our travel insurance. Nor should you. Search for the travel insurance from Allianz that best meets your needs, whether it be an annual plan or a single trip.
You can see (and buy prints) of most of our travel photos in one place on this page.
Note: This post and other posts on TravelPast50.com may contain paid or affiliate advertising links. As an Amazon Associate we earn from qualifying purchases.